Week 6 – 13 April 2013
It was clear from the get-go that the group was taking their fishing seriously. The night before at the guides planning session Jako said "Alright boys, two weeks to go- let's give it the full treatment" and so we were on that slipway ready to roll before the morning sun had shrugged off the palm tree horizon. So it was still early days when Bill opened the scoring, in an early week GT shootout that's becoming a weekly tradition. True to form, that big ol' fish came cruising along the beach without a care in the world. Bill derailed it's flight plan with the black brushie, and what resulted was one of the best GT eats you could possibly ask for.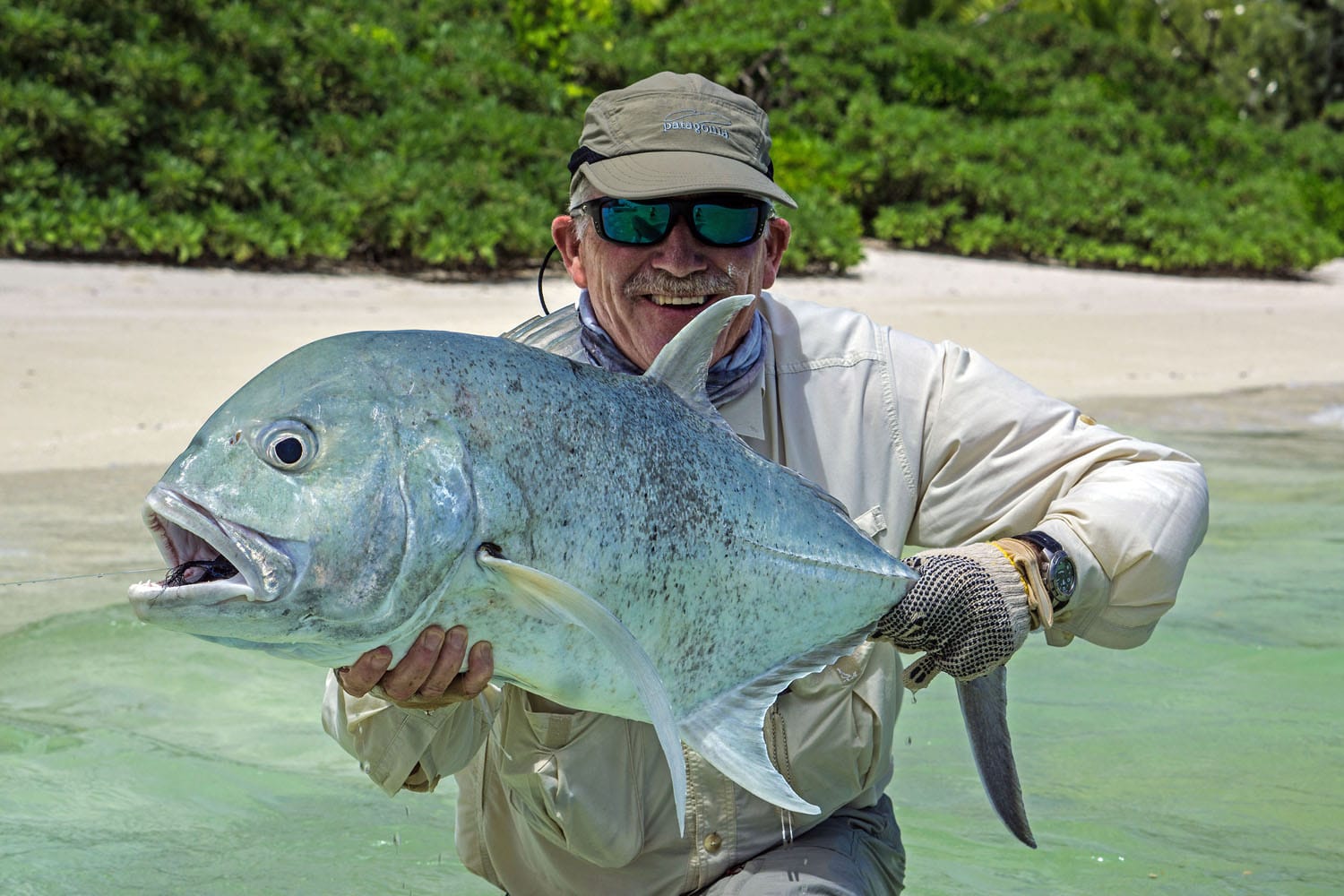 Wayne, not to be outdone, showed everyone what GT fishing at Farquhar is all about. Later that week he landed a 120cm behemoth on the flats. The smaller fish might take the fly with spectacular abandon, but watching a massive fish of that calibre casually inhaling the fly is a spectacle that would make most anglers come apart at the seams. Wayne managed to keep it together though, and it was up to Jako to ensure the fish came to hand. The fish had managed to weave its way through several bommies, and must have been surprised to see Jako follow suit. In a spectacular display of underwater aerobics he was only just able to wrap both hands around its massive scoots.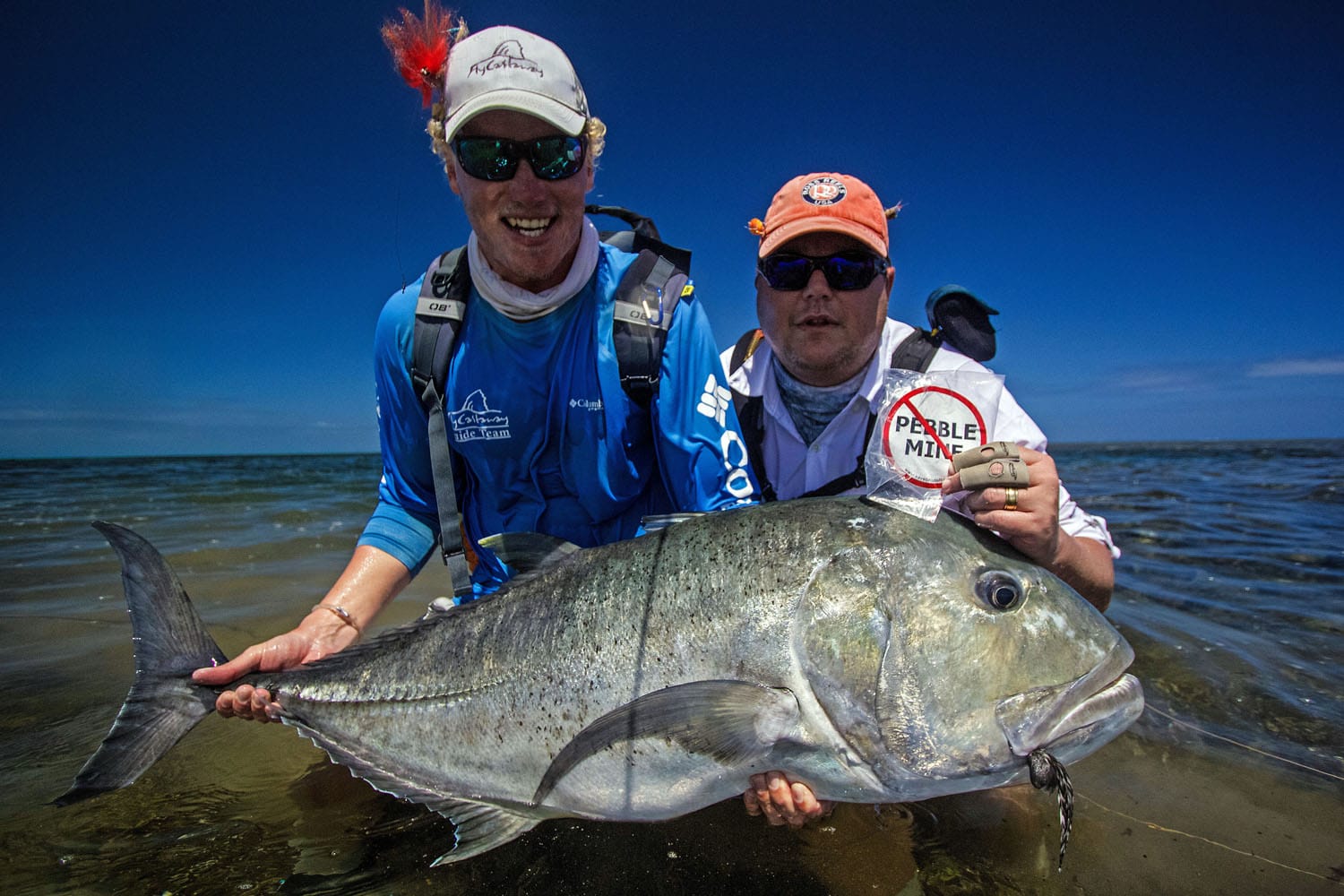 Coincidently Wayne also landed three triggers, a fish he had previously battled to come to grips with. Just to cap it off, Jako netted a large free swimming Yellow Margin Trigger after the fish had refused to take any of the flies being offered. Hey, it counts, right? To prove it wasn't entirely "Wayne's Week" Jeff stole the limelight on the last day by boating a large Dogtooth Tuna on fly, earning strutting status for the flight home.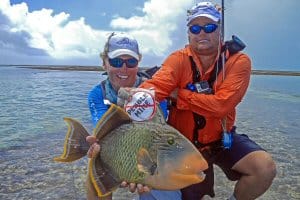 So while it was the end of the week for the South Africans, we had another week of the trans-Atlantic contingent to keep us going in fishing paradise. It should be a good one, these guys are just getting in the swing of things, and so to is the fishing.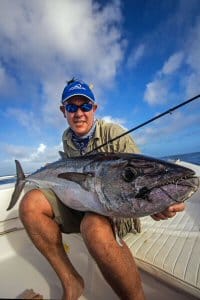 Week 13 – 20 April 2013
Fishing is among other things about good memories. I thought compiling a list of a few from the last week that spring to mind would give you more of an idea of what happens during a week on Farquhar Atoll:
• The Walk. A session with Bill, Rich and myself where every cut in the reef held at least a pair of GT's. Bill Landing a beautiful fish, Rich saying "God Damn it" every time he missed one.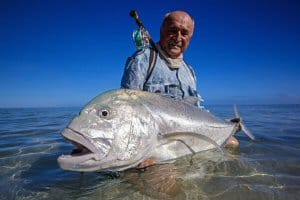 • Rich and Rob giving me the day off after The Walk due to epic chafe. The subsequent snorkelling session and listening to Rich's tunes while eating pizza.
• Jonathan's freak Bumpie, hooked and landed over the biggest, whitest sand flat on the atoll.
• Roberto's Italian swearwords usually associated with some sort of fishing related catastrophe.
• Roberto's 107cm GT and Jako once again landing the fish 100 yards away, right at the end of its initial run.
• Rob Ramsey's 108cm GT, and Rob's bewilderment at finding that Keegan had somehow lifted him onto the boat during the fight. No one knows when, where or how that happened.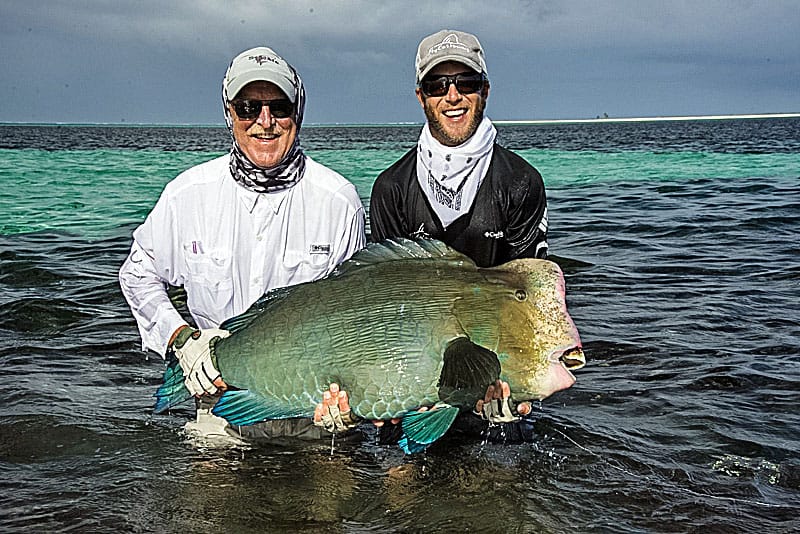 • Rich's 108cm GT and the pot of money that was lost on the fish. Oh, and Jako having to change his underwear after the fish ate the fly right next to the boat.
• Jim's one liners, and someone saying, "boy he don't say much, but when he does he sure packs a punch"
• Jim's Bumpie, and the fact that it was huge, and that he only let it take about twenty yards of backing, landing it in about three minutes- over coral.
• Craig laughing about "going commercial" on fish throughout an epic bommies bashing session.
• Seeing the guides gobsmacked when Paul returned from one of many early morning runs just after they'd made their first cup of coffee.
• Peter's flybox. It was beautiful, now it's empty.
• Peter's Golden Trevelly, and then his 120cm GT!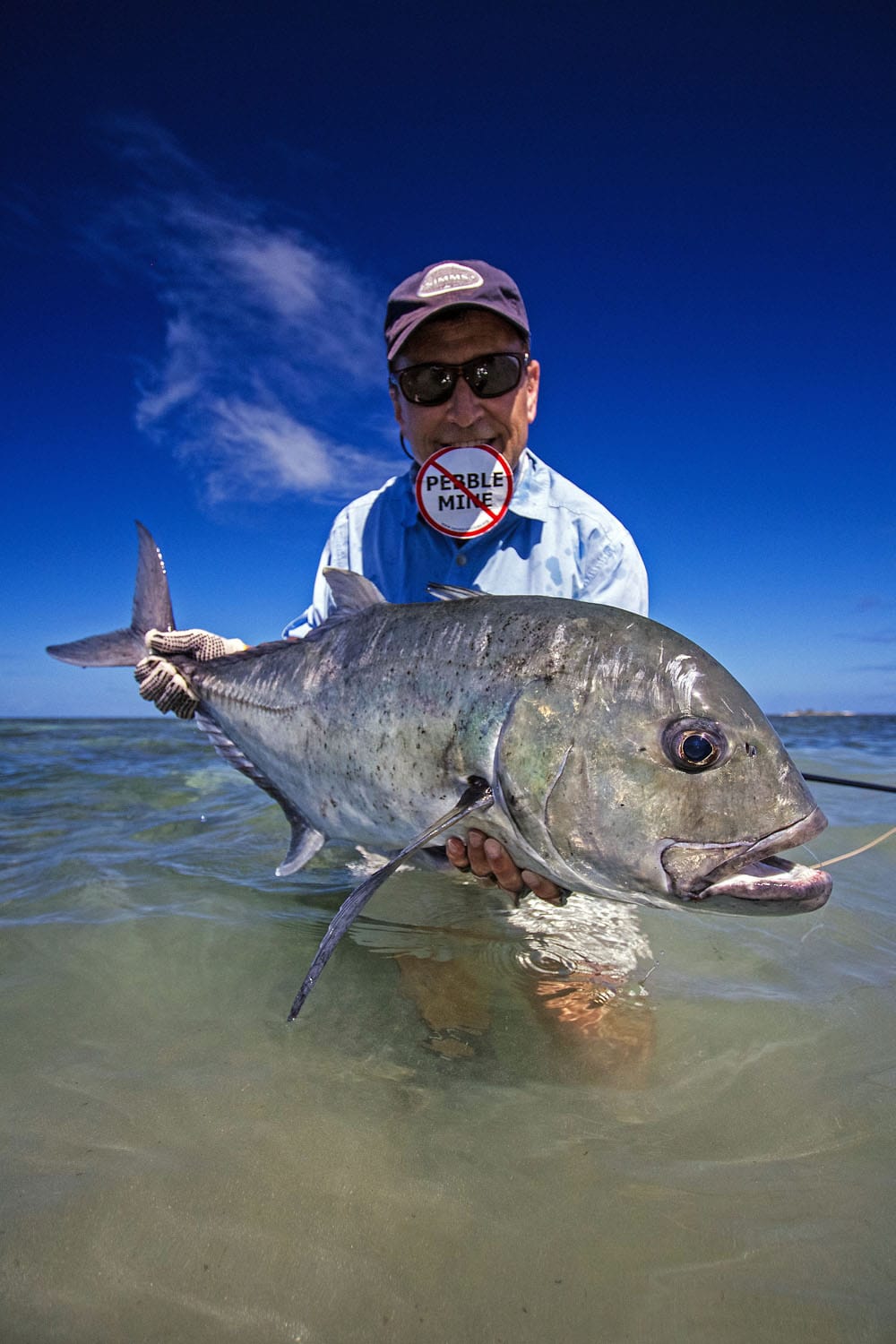 • Bud, quietly catching seven GT's – all in a gentlemanly fashion so as to suggest…this is easy.
• Rob getting the guides to sign his trip shirt, making us feel like rockstars.
• Craig and Jim getting a double up with some big snappers, and Craig saying  "Jim I'm glad you're here to see this with me" while posing for the photo's.
So there you have it, these are just a few moments from a truly memorable trip. As always we had a really great time guiding on Farquhar.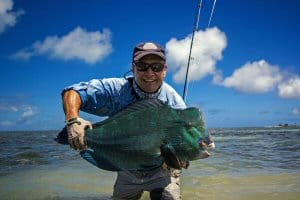 Till next week
James Topham