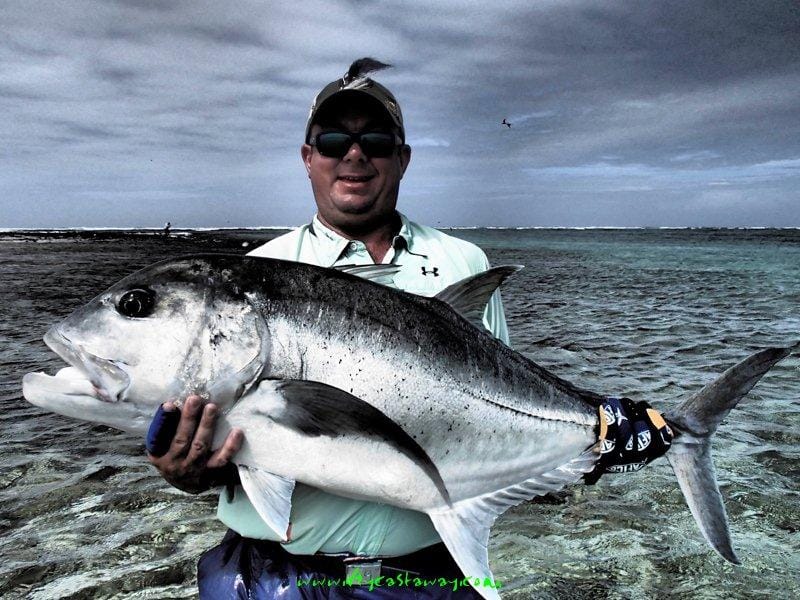 Arrival day
There is only so far that the human body can run on adrenalin before it finally decides it needs to sleep, and this is a common phenomenon that I have noticed occurs on all trips to the Seychelles islands. After months of build up and excitement the moment has finally arrived. After some frivolities of being set free the night before, everyone boards that IDC Beachcraft on the way to Farquhar and instantly falls asleep. This was to be no exception as my crew arrived on Farquhar Atoll. As usual Jako and his team were there to meet us, smartly turned out in matching kit and as eager as we were. After Jako's normal introductory briefing where he outlines safety on the flats a torrent of fishing tackle erupted from carefully packed bags. The guide team set about ensuring everyone was rigged up to their satisfaction before we sat down to lunch under the palapa while watching the pack of pet GTs maraud around the bay. Some of those fish are well over 1 meter and are awe inspiring.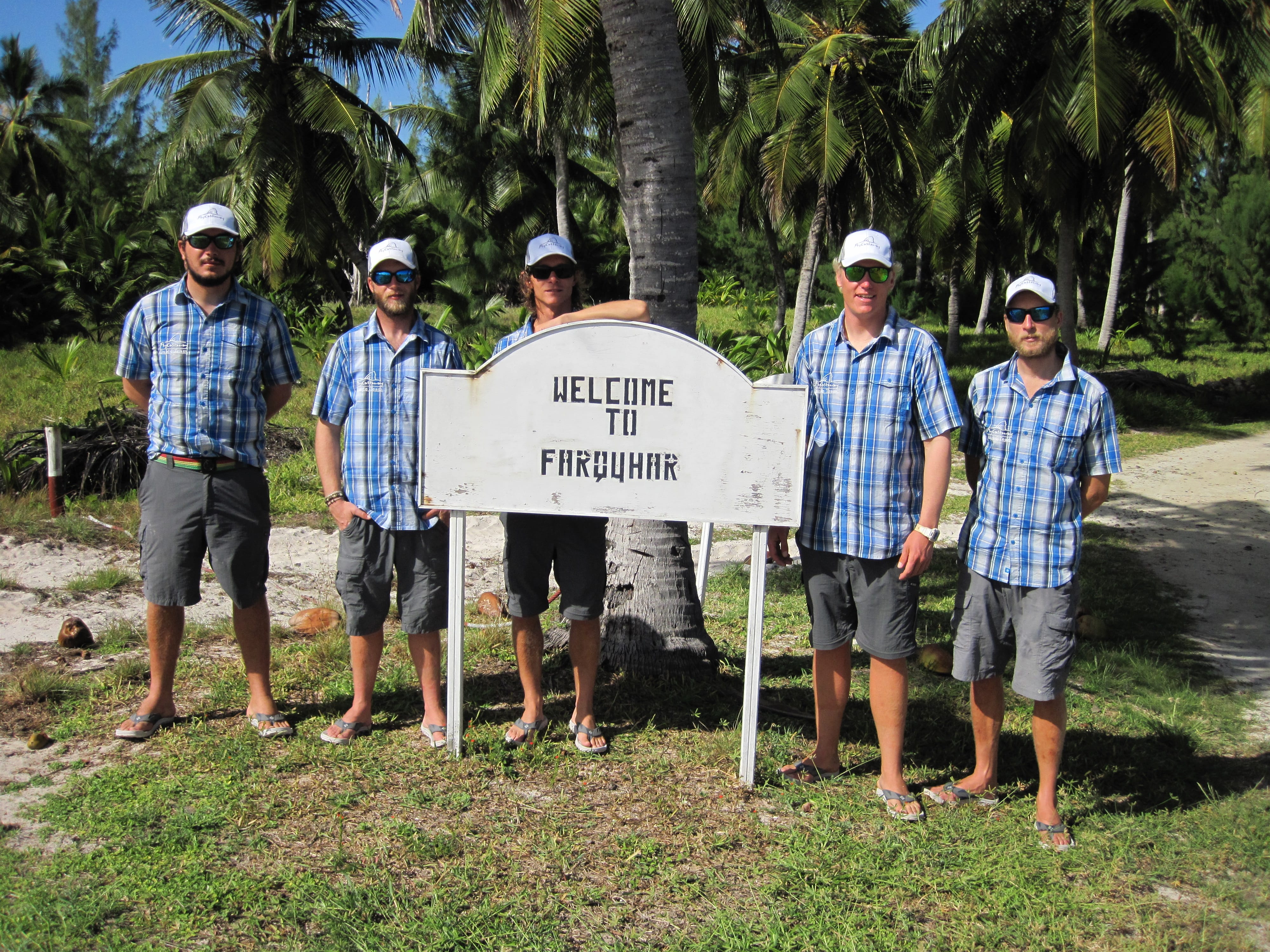 The first afternoon is always an unguided session as the guides finish up their weekly change over routine of boat and engine inspections and general admin. We split the team into three groups, one heading to the end of the run way, one to the west side and one into the bay. Jonathan and Ian went ahead as I was still assisting with some tackle refinement, and when I caught them up the tide was on the low and the push had just begun. I could see them half way across the large flat and as I slipped into the azure water strong memories came flooding back. Wandering out the edge I immediately came across a school of large bonefish feeding amongst the turtle grass and quickly caught one of  3 1/2lbs and one of about 5 1/2 lbs on a small sand prawn. Off the mark, I waded over to Ian and Jonathan. As Ian was a Farquhar veteran he went one way, and Jonathan and I took a walk along the bottom of the bay.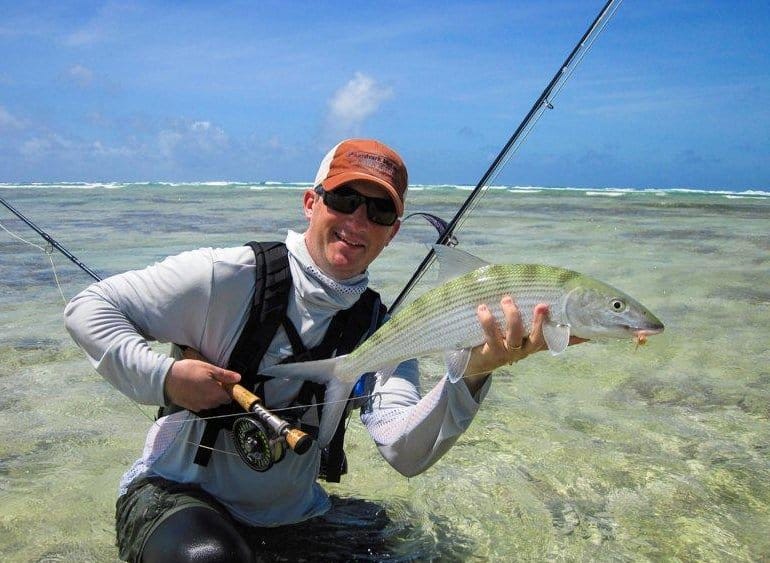 Although we did not encounter any GTs as I had done the previous November, I spotted a large yellow margin triggerfish tailing over the top of a small patch of turtle grass. Jonathan had never seen a trigger before, and put out a lovely cast to the right of him. He came flying over to inspect the fly and tailed on it twice before Jonathan raised the rod and pricked him. The hooked popped and the trigger went squirreling away. His first introduction to strip striking. As we headed back, another school of bones were feeding on the sand edge which got Jonathan out of the blocks. He had just released it when we saw a long dark shape wave into view. A five foot long Cuda had come out of the deeper water on the high spring tide looking for a snack. Although he followed Jonathan's fly for a short time he quickly lost interest, but was a sight to see. We caught up with Ian and made our way through the trees back to the lodge for some cold refreshment.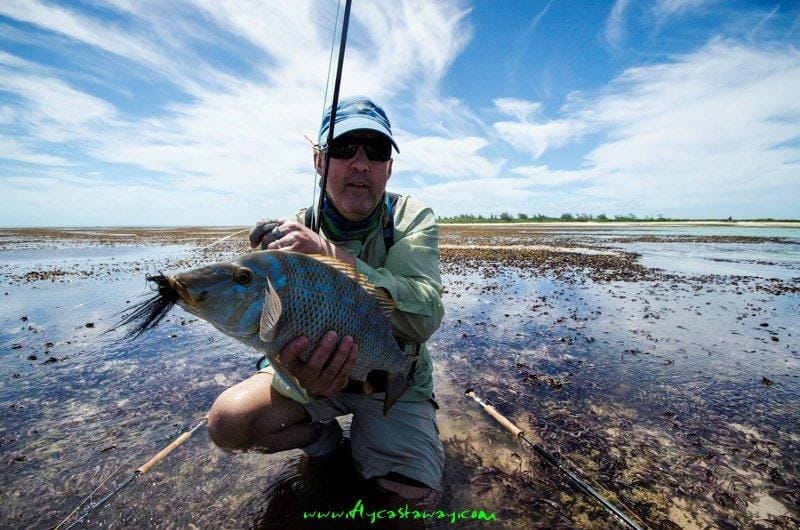 Sunday, Day 1
The first day dawned clear and bright with most of the group awake early with anticipation. I was to fish with Gordon and Jako, and as the tide was still dropping we started on the inside of the bay above the "Manaha Gaps" looking for bonefish and permit. The water was crystal clear and the stunning white sand bottom slipped into aquamarine. Sure enough we immediately started to see small pods of bones cruising along the edge in search of food. Again the sand prawn proved effective and I caught a couple in quick succession from the beach, while Gordon picked up a couple with Jako a little further out. We moved up to "Jacks Peril" and were greeting by three or four yellow tipped permit hoovering small crustaceans on the edge of the turtle grass. I still firmly believe that permit are the most irritating fish on the planet, and after several follows and heart stopping moments, again, it was not to be. I am still convinced they eat the fly and spit it out before you have time to react. One of these days I shall take courage in both hands and strike… maybe…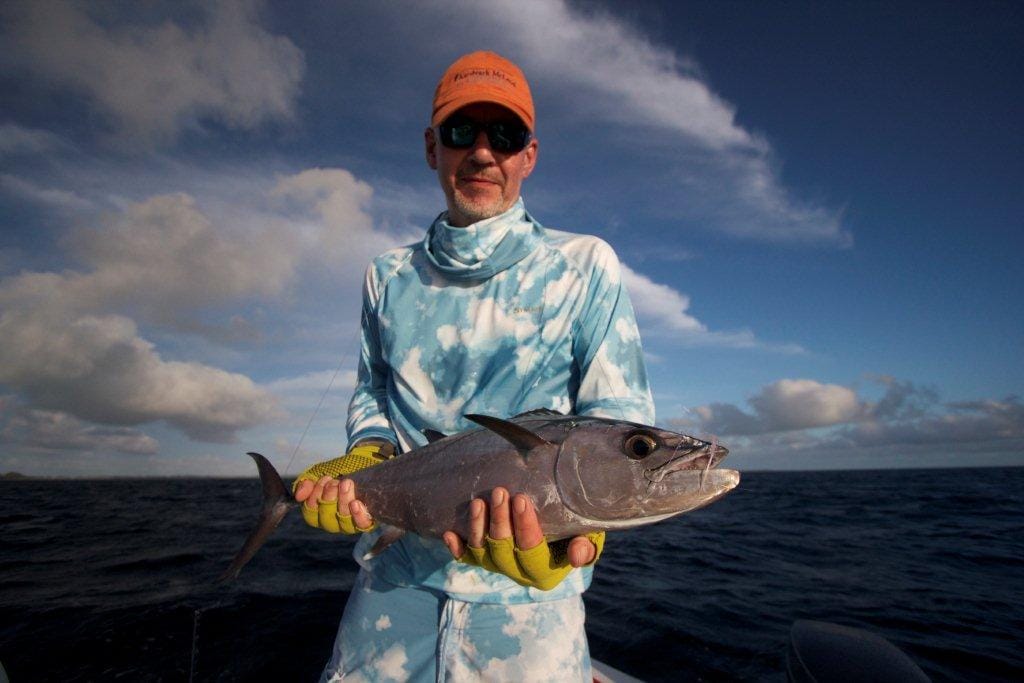 We ran around to the back of "2nd Island", had some lunch and then hopped out as the tide bottomed out. Along the edge of the turtle grass there are a number of large white sand holes making it the perfect habitat for triggers. Gordon had a couple of shots at tailing triggers but fly and fish did not connect. I think it is because seeing a disembodied head in sky camo is a bit scary. Suddenly out of the center of the blue a grey shape materialised… a GT! I yelled at Jako and Gordon fired his poodle out towards it. The fish heard the plop whirled around, and charged! As he frantically stripped to keep contact with the fly the fish smashed into it, turned and began to make good his escape. The rod went high, the line went tight, and the fly popped out of his mouth. Gordon hung his head knowing he had missed a chance and there was no need to point it out… much.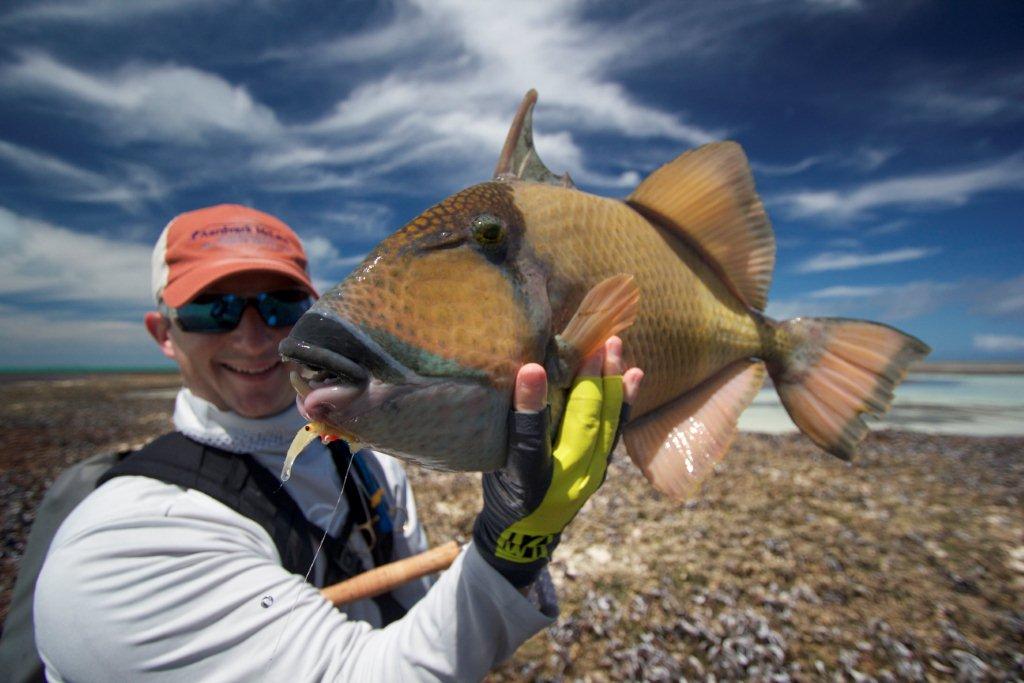 A short while later Jako spotted a flapping tail amongst the coral heads. A moustache trigger was tailing happily away. With a 17 lbs flouro point I dropped the sand prawn about a foot to the left and let it sink. When the fish turned in its direction I gave the fly a quick twitch, all that was needed to attract its attention. It came whizzing over and tailed hard. I tightened the line, felt the pressure and the fight was on. The trigger tore off, trying to thread its way through the coral heads to a coral bomie. I tightened up hard and began to fight him, knowing full well if he got in there the battle would come to a short end. Soon I had him into Jako's waiting hands, my best moustache trigger of about 7 lbs. Outstanding! As time had marched on we had a quick dredge off a mark opposite the lodge, caught a couple of doggies – one of about 25 lbs which tore apart my gloves, and then turned the boat for home. Supper was awesome… but look out for the home made chilli sauce… oof!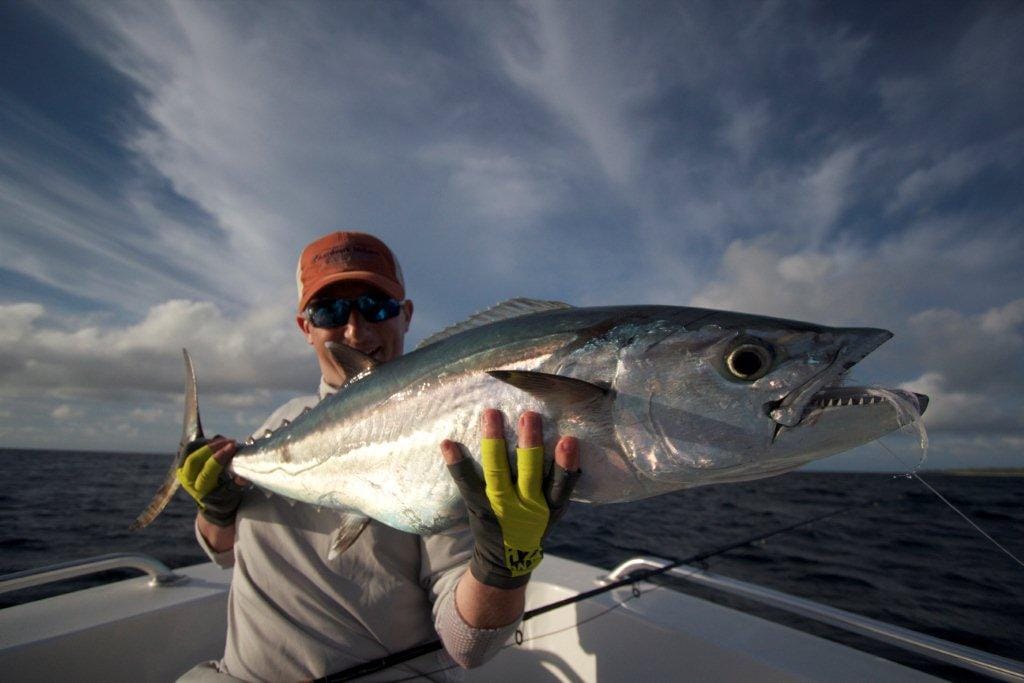 Monday, Day 2
I was up early again on the second morning, and watched the grey dawn split apart with cherry crimson as the sun came up. Jonathan was to be my boat partner, and we had Keegan as our guide. I was excited as Keegan had fished with me on his first day on Farquhar in November, and we had got on well. Although as the guides stick flies in their hats Keegan was beginning to look like a Roman Centurion, the crest made from a giant black Sempra.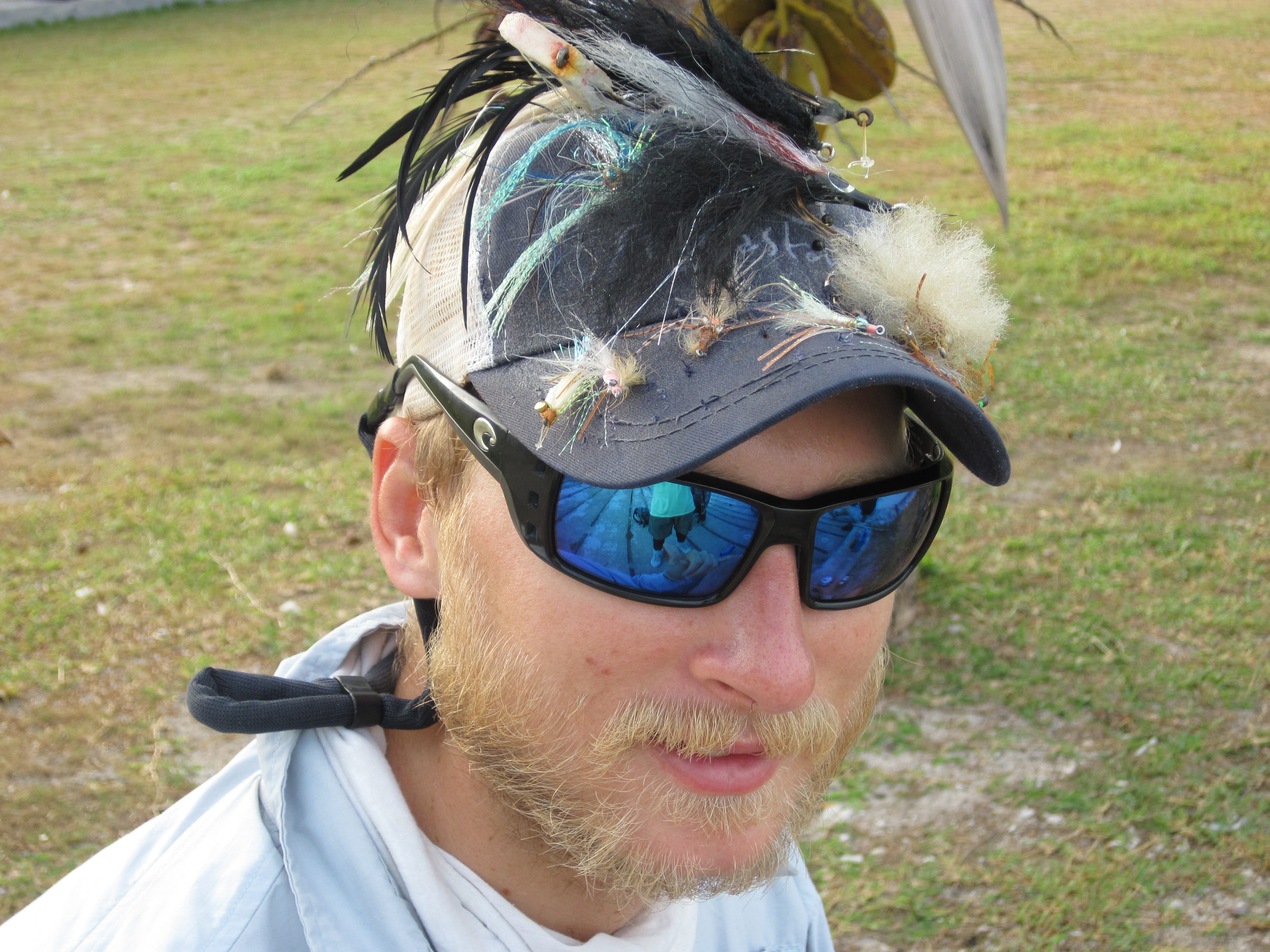 Our plan for the day was to fish the "Green Mile" on the drop and we hit the flat at waist depth. The drop was fast so we had to moor the boat as far out as possible. Keegan stuck close to Jonathan and I headed a little further across the flat. "Green Mile" is a massive flat of green turtle grass and normally has a good head of bumpies on it as well as GTs on rays. Sure enough in pretty short order Keegan spotted a GT on the back of a ray, Jonathan made the cast and bang! He was fighting his first GT of 70 cm. He very quickly found out that his reel was not up to the task and simply did not have enough drag to stop these bull dogs of the flats, and palming is not an option. I lent him a Hardy Fortuna X3 for the duration.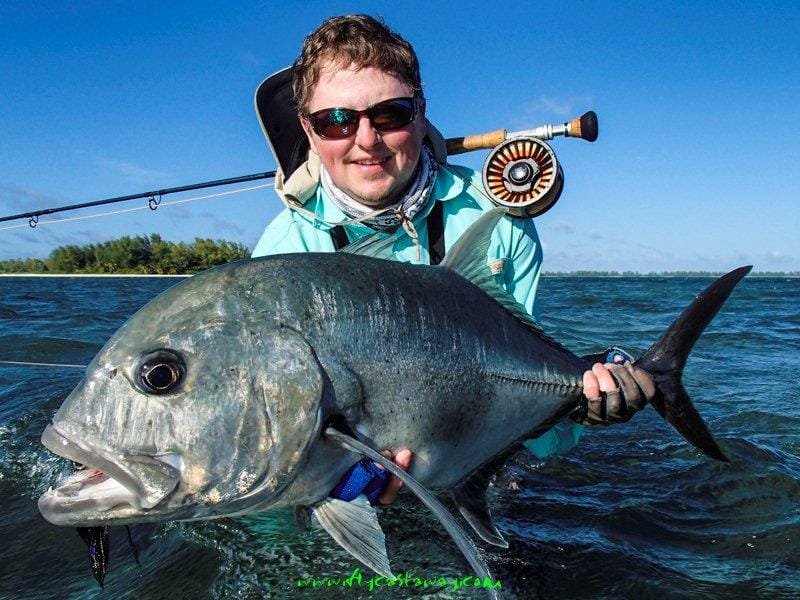 Along the edge as the tide dropped I came across a big school of bumpies waving their bluey green tails in the sunlight. I re-rigged my 9# outfit to 35 lbs flouro along with a crab pattern and proceeded to chase them 500 meters down the flat, but failed to hook up. They always seemed just out of reach, up tide and up wind. I veered towards the other two who were making their way across the apex of the flat and we encountered a large blue hole that connected to the inside of the lagoon. We could see some shapes nosing around in there, and thinking they were triggers I contemplated switching back to the 17 lbs rig. Jonathan and Keegan moseyed on round the corner and started casting. Suddenly Keegan yelled that they were golden trevally! Goldens are one of the rarest fish on the flats and one I have never caught so I quickly pulled off some line and waited. Jonathan had a couple of shots with the poodle which they chased but failed to hook up. Suddenly the small pack changed direction and came charging towards me.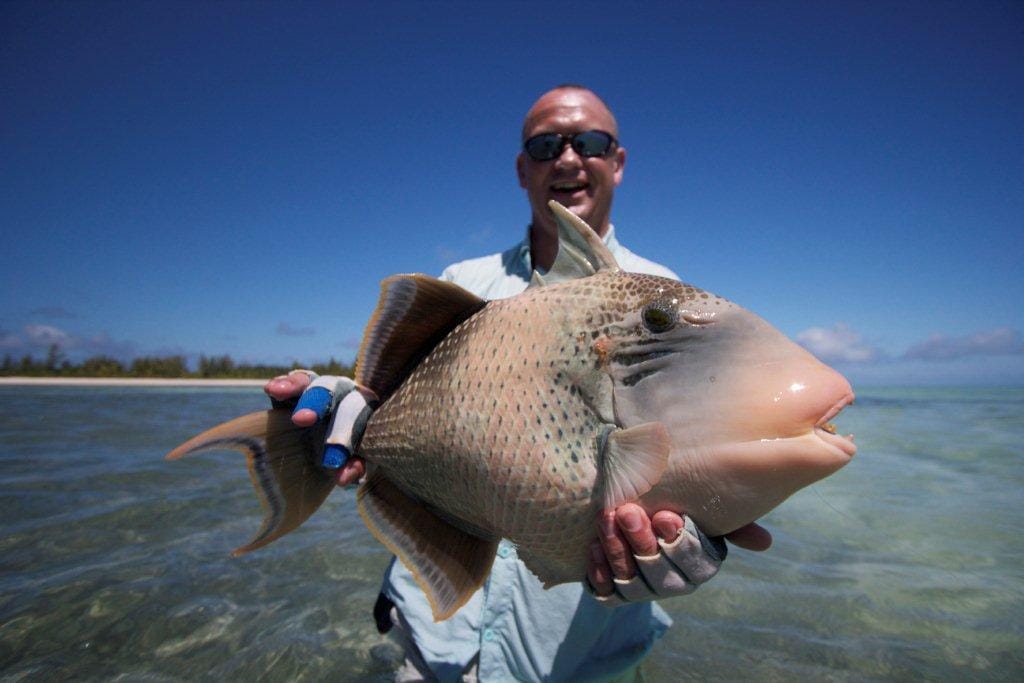 I picked up the loose line and threw a tight loop across the wind, plopping my crab pattern hard down in front of them and let it sink in the water column. As they came in range I gave the crab some long strips and they charged it. As I speeded up the strip they slashed at it and my heart was in my mouth…. I stopped the retrieve dead. The front fish hoovered the fly and turned left across me. In one motion I struck sideways while strip striking and all hell broke loose. This trevally was sooo strong! He began to pull string, but knowing the hole was full of coral heads I allowed him little line, now thanking my laziness for not changing leaders. Keegan came sprinting across to the base of the hole in case the fish tried to cut me on the edge, but I already had him under control and on the edge of the flat. I am still stunned by how much power that Hardy Proaxis 9# and Fortuna X1 reel have. Keegan lunged for the tail as it went past and the battle was over. Huge waves of elation and relief washed over me and I knew it was a fish of a lifetime. In fifteen years of saltwater fishing I had never even seen a golden trevally, let alone caught one. They are stunning fish exhibiting a downward tilting mouth which they use for hoovering up crabs and crustaceans. Their golden flanks are adorned with three dark stripes making them extremely distinctive.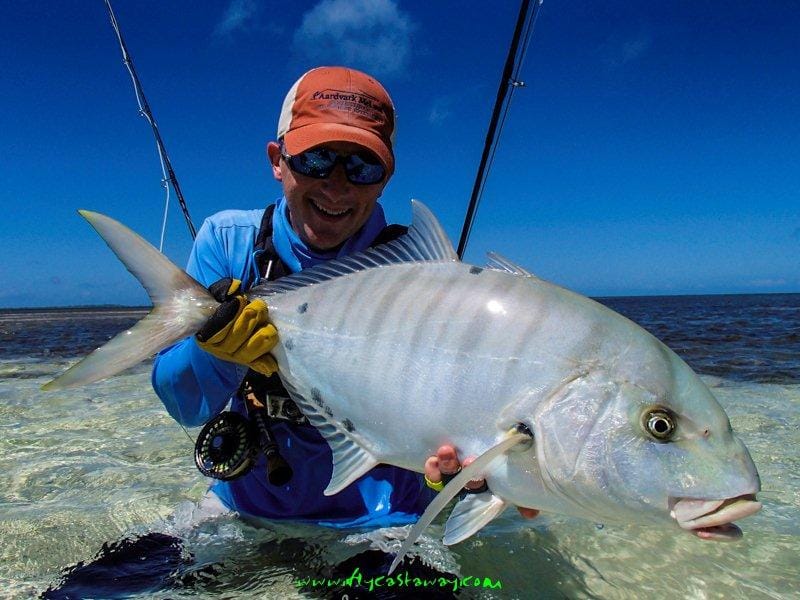 Jonathan was just as excited as Keegan and I and it creates a bond to share an experience like that. The three of us continued along the edge of "Green Mile" nearly as far as "1st island" before crossing right across to the ocean side. The tide was well out now and the rough coral was exposed, interspersed with white holes that GTs like to sit in. The going was slow, but you just don't know what you are going to encounter. Jonathan hooked a massive boha snapper in one of the white holes, but it coralled him almost immediately. Strangely it was the same bommie where I had lost another large boha on in November. We scrambled over the coral, looking out to the ocean side in case a dark cruising shape were to suddenly appear. As Keegan and Jonathan continued round the edge I investigated a small back area that still had some water in it. To my joy I found a moustache trigger rumbling around with his tail in the air. I cast the same crab out to it about a foot to the left on the white sand. With no hesitation it came screaming across and attacked it. I seem to understand better how triggers operate and how to feed them the fly without pulling it out of their mouth. I struck and the powerful little fish screamed off across the pool to try and hide in its coral house. I attempted to keep it out, but unfortunately he managed to get in there. Keegan came across to assist and as he pulled him out the trigger darted out and tried to bite him, feisty little guy. He was banked, photographed and carefully released to go about his business, if slightly upset.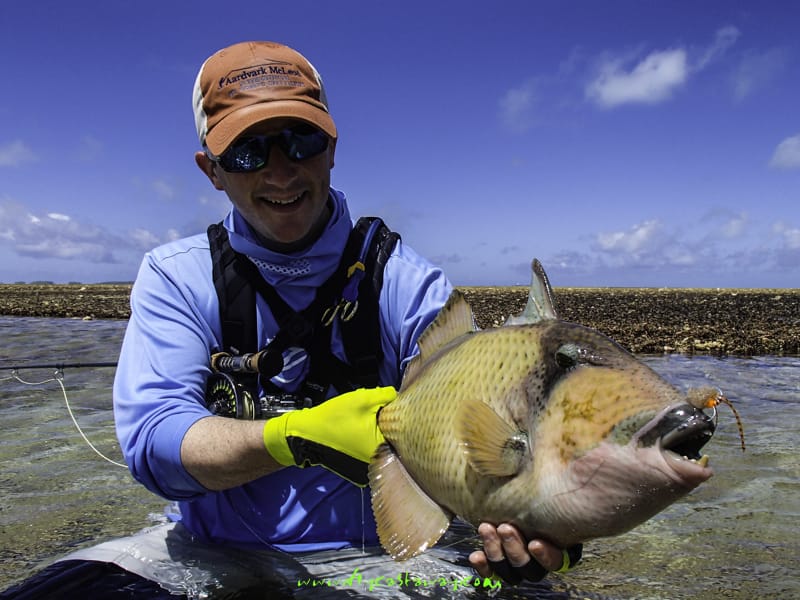 We finally made it back to the boat for our lunch, and I could really feel in my legs we had covered some serious ground, maybe seven or eight kilometres. As the push came flooding in, the light vanished. Keegan took us over to first stop, and by the time we got there a river was flowing across and we were in waist depth water again. The flood was gaining strength and making walking difficult and we suddenly heard a huge commotion behind us to see on the edge of the flat one of the largest sharks I have ever seen. There had to have been 4 – 5 feet between the tip of his tail and his dorsal which was still clean out of the water. The fish had obviously come in on the flood and realized there was not enough water so was making its way back out. The tail thrashed like a propeller on half tilt. Hmm.. I decided at this point to stand on the front of the boat and keep a look out while using the anchor to slow the drift. Keegan spotted a ray with a fish on its back, but he must have X-ray vision as I really could see absolutely nothing. Jonathan whacked his poodle out and was rewarded by a spray of water a like someone had thrown a large stone in the water as the GT tore off.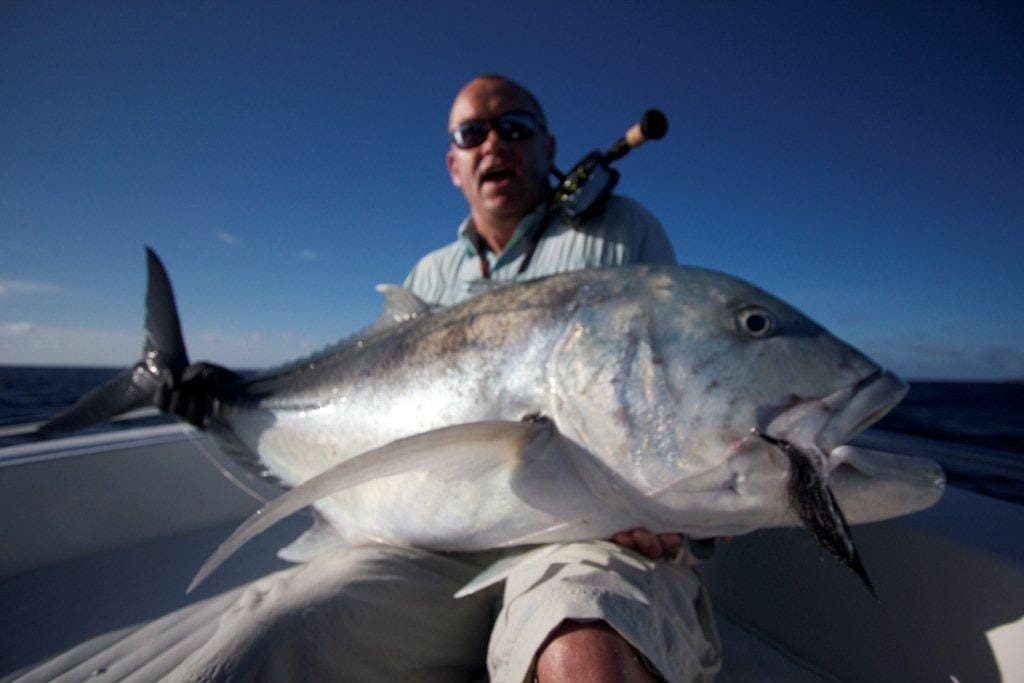 Keegan moved down the line to tail the GT as quickly as possible while Jonathan battled it and as he neared the fish there was another explosion of spray as a six foot lemon shark buzzed him and spooked. He quickly brought the 90 cm GT to hand as by now "first stop" was getting deeper by the minute. It was a cracking fight and Jonathan beamed. We all climbed on the boat buzzing with excitement and slightly nervous energy. As I was on the verge of a grand slam we ran over to the beach side of the bay and "Manaha Gaps" to try and find a bonefish to complete it, but were unsuccessful.. We headed home elated after an extraordinary days fishing. On arrival back at the lodge it turned out Ty and Andy had an even more incredible day with them both landing good sized GTs including one of 108 cm for Andy. He had also caught a golden trevally along with two massive yellow margin trigger fish and a multitude of other species. What a day! There was some celebrating that evening I can assure you we did our best to make a large indent in the beer stocks.
Tuesday, Day 3
When I poked my head out of my room the following morning the first thought on my mind was coffee… and the sky which appeared to be rather overcast. Looking to the south east I could see a buildup of cloud betraying a front. I was partnered with Jules that day with Scotty as our guide. Scotty is one of the most enthusiastic people on the planet, and despite feeling a little furry from the previous evening's festivities I could not help but feel infected by his chat and excitement. Our destination, "Deposé Island" and the surrounding flats which are one of the most picturesque areas I have seen. As we ran around the edge of the atoll the sky split into beams of sunshine and the weather began to perk up nicely.. along with my head. Jules had a quick cast at a GT at the top of Deposé but it had also been celebrating the night before and was having nothing to do with him.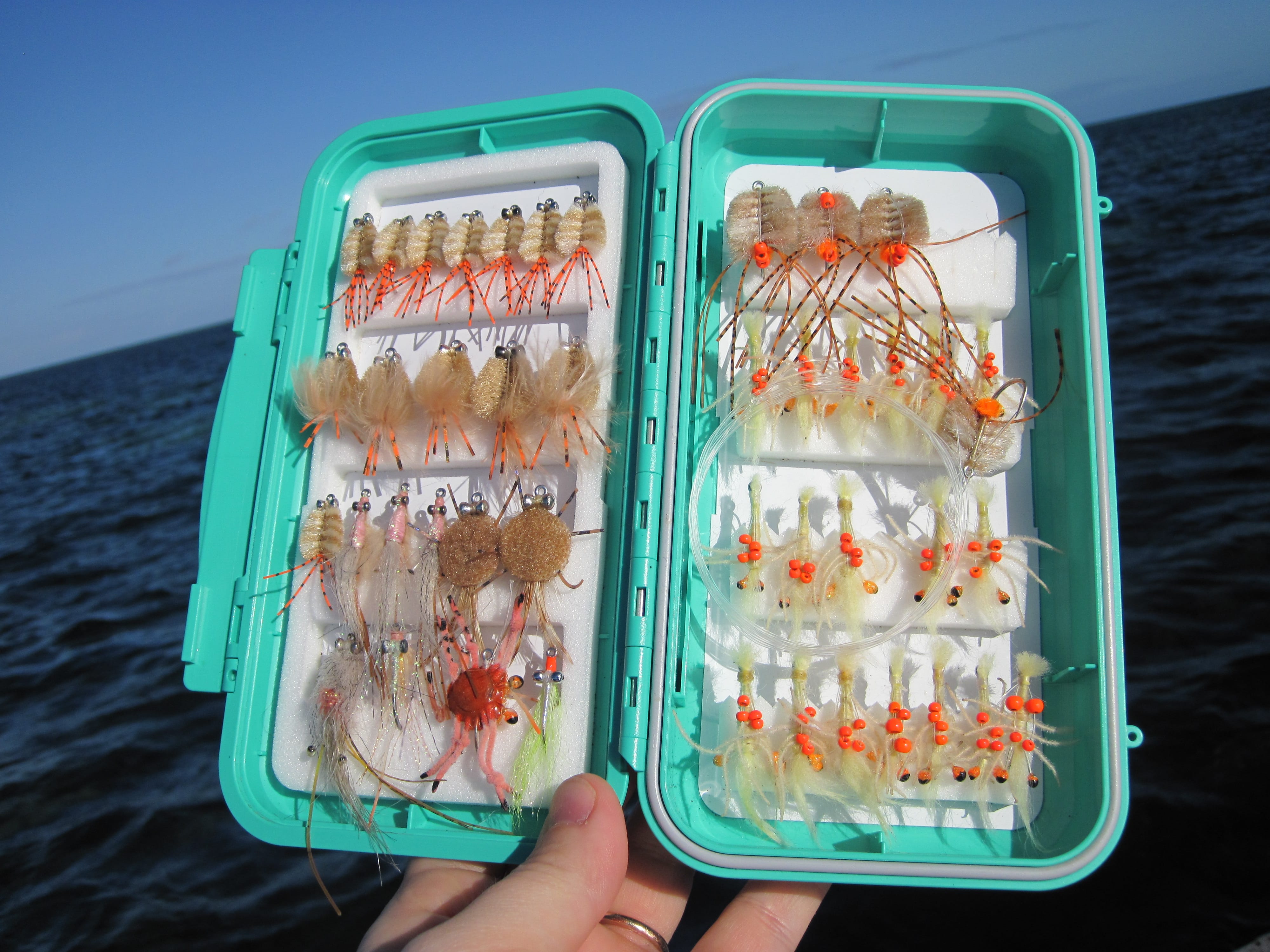 On arrival at "Have" it was just as stunning as I remembered. "Have" is essentially a large sand spit that runs eastward from the bottom of "Deposé" and is a little like a fish super highway from the ocean into the lagoon system. It is also blessed with near on perfect white sand that allows spotting from huge distances. This time we only saw a procession of milkies, so I jumped over the side and headed for the reef edge across the turtle grass as the water subsided from the flats to the edge. There was not much going on as we came off the edge, and then we came to the three lines of defense I remembered so well from my last trip. Three strips of turtle grass colored coral heads that made perfect watch towers across rollers. It does not get any more perfect.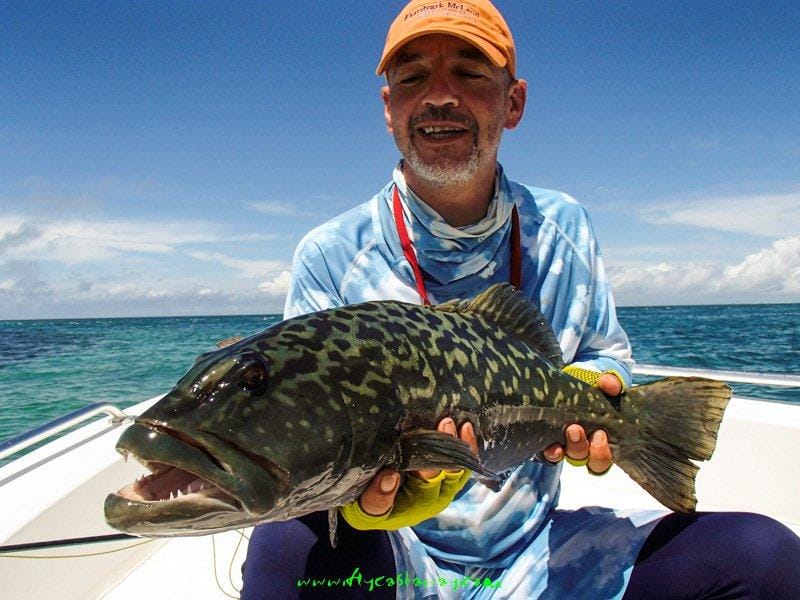 As we neared the reef, Scotty pointed out a shark in the waves and sent me off in hot pursuit while he and Jules made their way to the edge. Everywhere you looked were the tails of surgeon fish feeding on the crustaceans in the turtle grass. I was scanning for the shark hoping he might have a friend tagging along when I saw Scotty pointing and yelling as he launched a bewildered Jules through the surf to the outer edge. Sometimes I could only make out their caps and back packs festooned with rods bobbing in between the coral heads. Finally they made it up onto the outer heads and Jules began casting frantically before dropping the fly and almost immediately lifting into a fish.
While this had been taking place I too had been making my way to the edge, albeit the coral heads I was standing on where nearer the flat than theirs. In front of me I could see the waves lift as I scanned for movement. I kept an eye on the battle happening, but just then out of the corner of my vision a dark shape lumbered into view. My first instinct was that it was a large ray, and there might be a fish riding shotgun. As it got closer I suddenly realized that the whole dark object was one massive GT. I quickly began stripping off line, popped the 6/0 poodle out of the ring and began to wave it around my head like some kind of demented conjurer. I slapped the fly down in front of the fish and it turned towards it, very casually and decided to follow although it looked like the beast barely cared. It ambled passively behind the fly as I gave it long strips. Suddenly it was if a light bulb come on inside its head, it suddenly identified the floaty thing in front of it as food. The fish accelerated into attack mode, pectoral fins out, mouth agape as it charged through the surf towards me. I took several involuntary steps backwards as this massive fish smacked into my coral bommie, so large it could only manage to rest its chin on the edge as it tried to smash the fly. I can only assume that beaching itself like some disorientated pilot whale made the fish forget its snack and spook in a massive fountain of spray as I stood there contemplating whether it was after the fly …or me. Either way the exchange was over and I was left somewhat disoriented.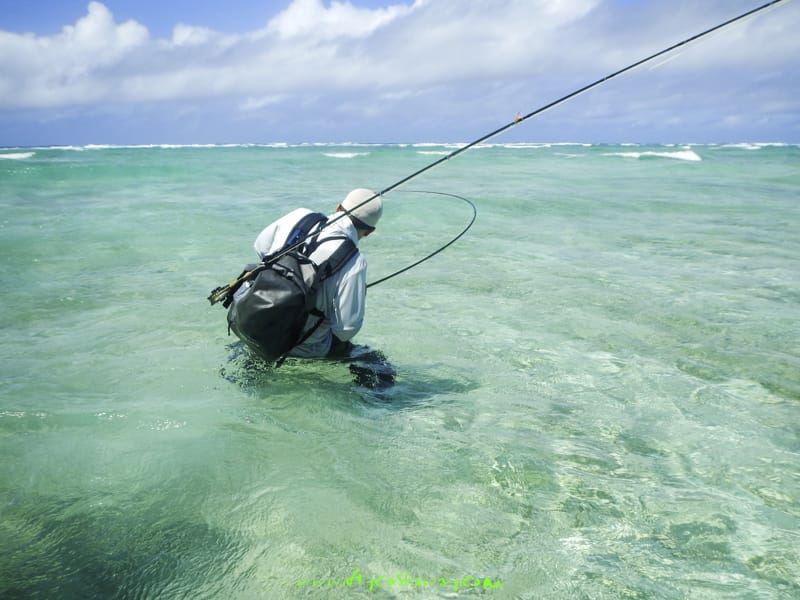 I made my way out to the other two to hear their story, still slightly in shock. It transpired that Scotty had spotted a fish on the back of a ray, but as the GT had come after in hot pursuit a cheeky blue fin trevally of about 8 lbs had snatched the fly. A specimen in its own right, this bluefin had been unceremoniously hauled in and dumped straight back into the water in an effort to have another crack at the GT. However they had then both witnessed George the giant GT trying to attack me on my coral bommie before swimming past them on its way to terrorize the local shipping. Scotty reckoned that fish was 1m 50 +and was at least 100 lbs. So glad it let me go or I might still be there playing it now. We fished back to the island looking for triggers, but the water by this point was flooding back onto the flats and not much was happening. We then spent the afternoon doing some offshore dredging, but that also proved fruitless so we headed home for an early shower and a long cold drink.
Wednesday, Day 4
By the time we hit Wednesday the daily routine was feeling much more natural. I was to fish with Ty and Kyle as our guide. The lodge pets, a pack of 32 GTs that live in the bay varying from 40 – 120 lbs saw us off as usual. Kyle gave us a safety briefing along with a lay out for the day and we were to fish "2nd Island" which has always been one of my favourite spots. The islands act like highways between the lagoon and the ocean, and "2nd Island" has a number of white holes and channels cutting into it. The day before had seen a number of fish on the back of rays refuse poodles, and Kyle was convinced this was due to their focused feeding patterns off the back of rays. Somewhere in the depths of my fly pack I found some 6/0 tan and white Clousers which looked perfect. As we cut out to the ocean to run around the atoll Kyle spotted some busting fish so we headed over. He put out the pencil popper and almost immediately there was an explosion of water as it was savaged. Ty was frantically trying to get his synapses firing as sleep was still slightly befuddling his brain as a pack of GTs, headed by a beast well over 100 lbs, bore down on the boat. The fly flopped out, the line got caught around his foot and by then they had submerged again. They came twice more to the teaser, but it was not meant to be and we moved on. Ty did assure us that he was now completely awake!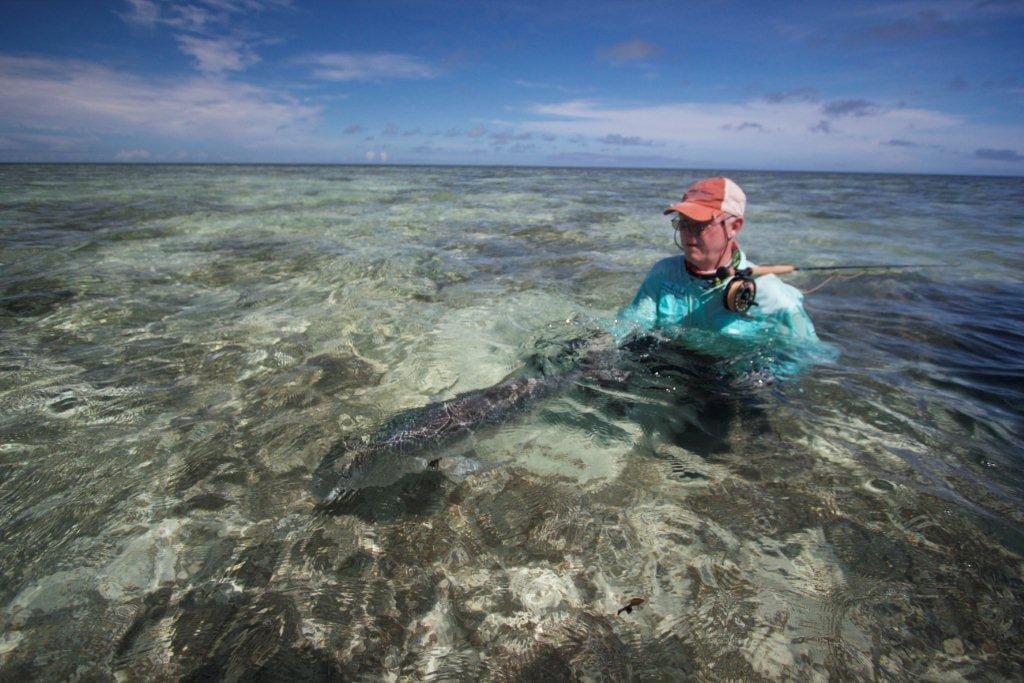 We spent some time drifting in between "2nd island" and "3rd Island" and saw a couple of fish, but no shots. Kyle putted us back up to "2nd Island" and we hopped out to find a pack of bumpies tailing near the edge. While Ty and Kyle slunk around the corner so that Ty could get the optimum shot across the wind I decided to go for it and started slinging out some back hand casts on the 9 weight. The James Christmas Box Crab sank down into the pack, I saw a bumpie roll over to inspect the fly and then everything went tight. The fish charged off with the rest of the pack like an enraged bison following the pack and I hung on for dear life. The first task when hooking a bumpie is to separate him from the pack, so I began to apply some serious side strain and to use my legs to pump and wind, all the while knocking the fish off balance by pulling his head down in the opposite direction. Either the hook would pull or he would cut me on the edge, so there was no point in pussy footing around. Rather than chase after him down the flat I decided to dig in and fight him with everything I had. Finally the pack made its way off into deeper water and the fish calmed down a bit. Kyle was already heading towards him going for the long landing tactic. Without a net,  the only way to grab a bumpie is to try and slip a fabric band into its mouth and wedge it in the gums away from the beak.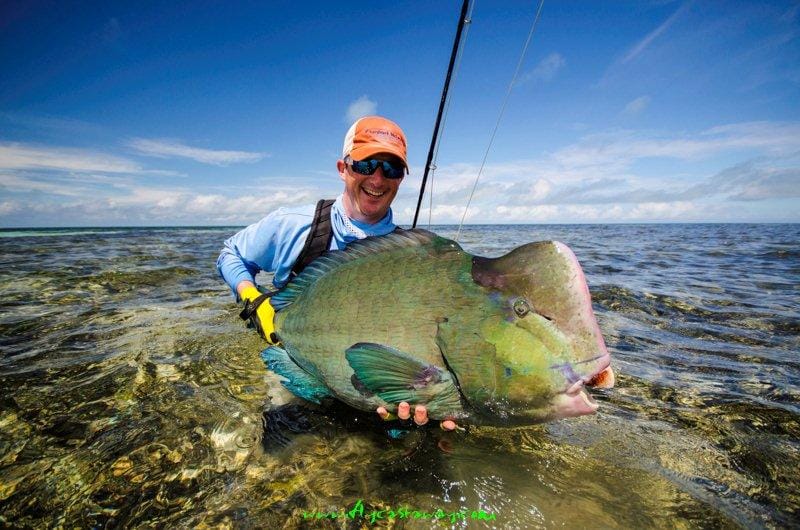 After chasing it back and forwards while the constant pressure I was applying began to pay off Kyle finally managed to gag it and jump on the fish.. landed! I was exhausted but exhilarated. Leader, knots and fly had remained intact, and it was a stunner of about 40 lbs. They are still one of the weirdest fish you will encounter on the flats, but also one of the largest fish you will ever see tail. We chased bumpies up and down the edge for another two hours with Ty coming so close and even hooking up a couple of times before we called it a morning and headed to "1st Island" to meet Jules and Phil for lunch. We had heard over the radio that Jules had landed a GT of 102 cm and a 25 lbs bumpy, so he had had a hell of a morning and was beaming all over.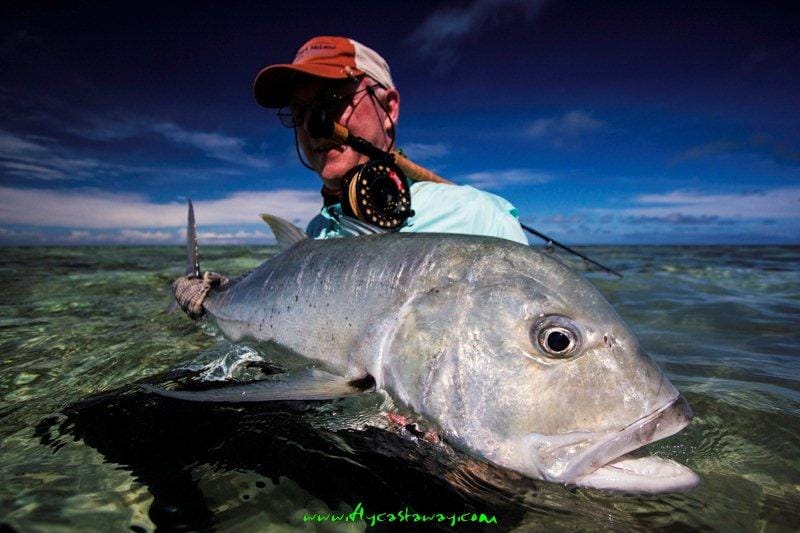 While we chatted and had lunch I saw a small trigger tailing below us. I grabbed a 9# and quickly hoicked him out while the others finished lunch. Very satisfying… The tide was pushing fast by this stage so Ty and I decided to give the offshore pinnacles another dredge. The few spots we tried proved fruitless so we had a quick scoot into the bay before heading home again for some cold beers.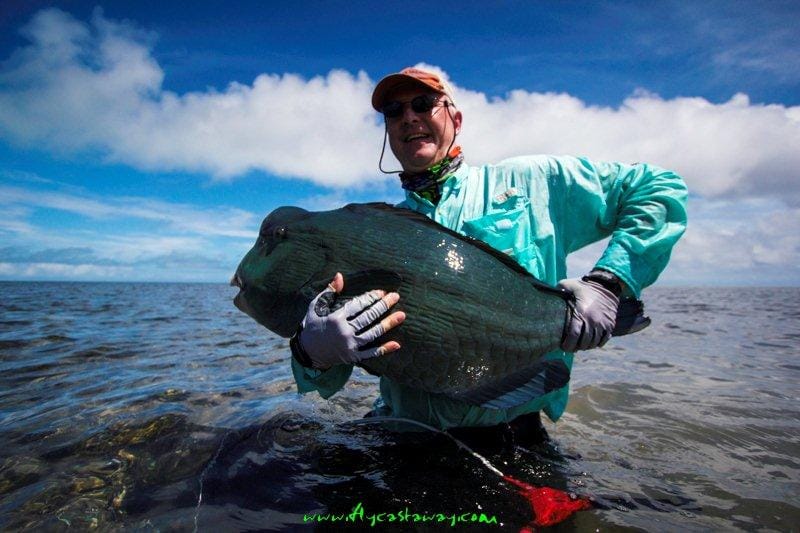 Thursday, Day 5
When on Farquhar in November last year the wind and weather had really been too tricky to get on to the eastern side of the atoll which was a shame. Thursday dawned clear and sunny, and I was to fish the "Long Walk" with Dave and James. We used Keegan as a taxi, dropped our cooler off next to "Manaha Gaps" and then Keegan ferried us to "South Point". As soon as we rounded the corner our little group were greeted by high sand banks that allowed a huge area to be seen from the higher ground. The sun came and went like someone turning off and on a giant light, but nevertheless it was possible to see from the shore right out to the surf. After a very short time we spotted a massive GT cruising the edge and Dave and James gave chase, but struggled with a cast directly into the wind. A short way down the beach he had a crack at a football of a moustache trigger on a coral finger, but after following the fly for a while it spooked. The three of us kept moving, and then as the tide dropped further we entered the water and pushed out to the surf line wading abreast. James spotted a small GT on shark. I chucked a speculative cast at it, the GT charged the fly and then turned away at the last minute before spooking away. Infuriating! I flipped to the reef side to make casting back hand easier for Dave.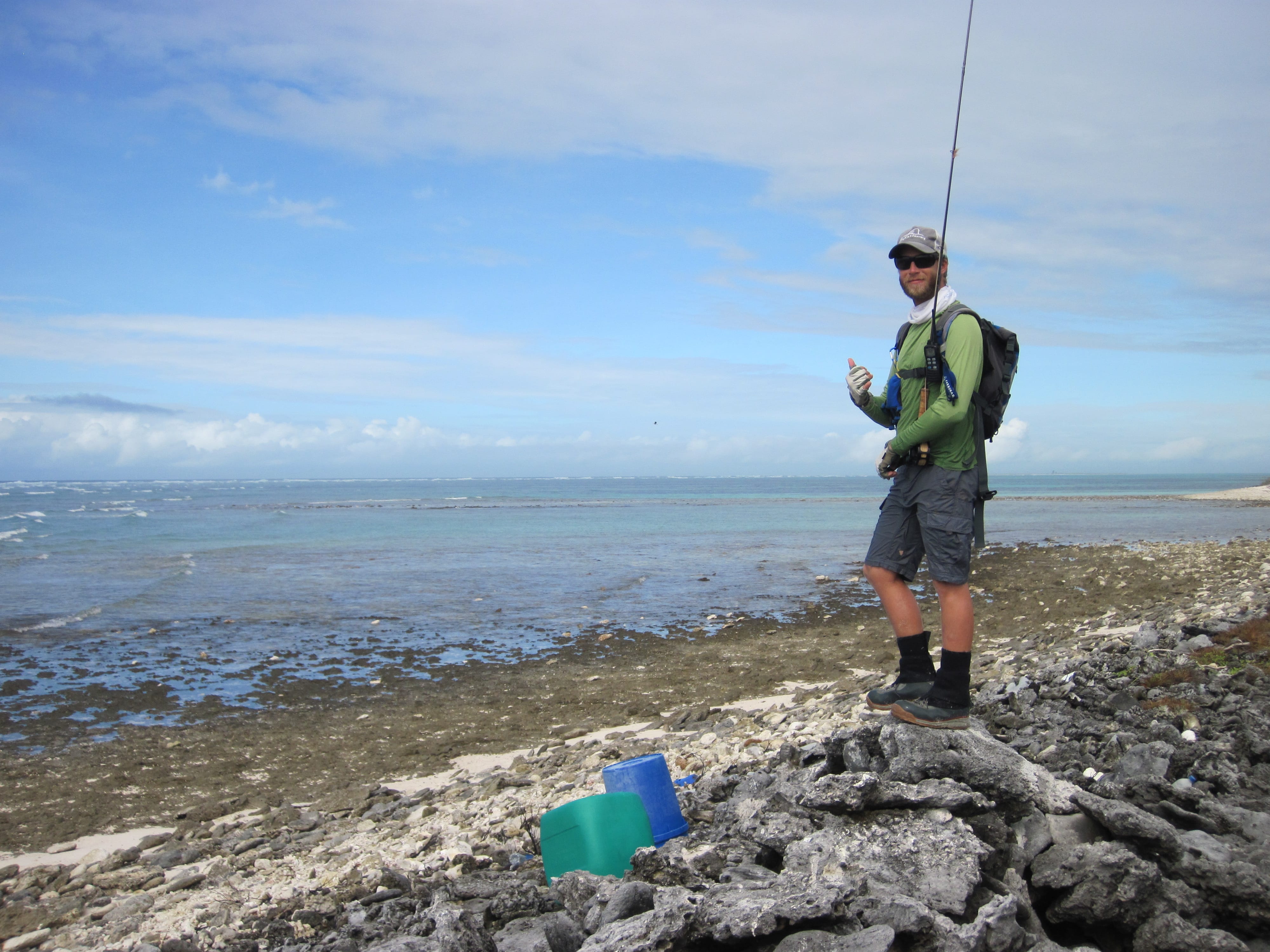 A little further along I caught sight of a blue shape out of the corner of my right eye as a GT came surfing in on a wave. This time I was ready and immediately threw a long back hand cast to intercept it. The black and purple fly slapped onto the surface, the GT roared in just like it was supposed to and trashed the fly before thinking it could just head back out to the ocean. I had other ideas and rapidly put the gears on him. In a short space of time I had him to hand, a lovely little GT of 15 – 20 lbs. I slipped the hook out and quickly sent him on his way. A little later we started picking up bones in the waves.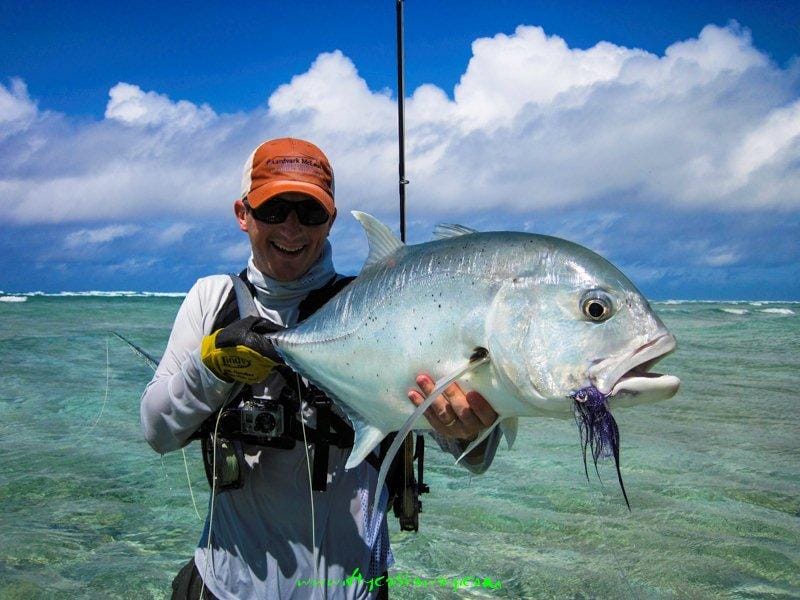 I landed seven and lost 2, biggest about 5 ½ lbs. Dave landed one and lost a beast through the waves, pinged on coral. Finally the ramblers made it up to the gaps, and after an amusing near hook up with a 3′ black tip shark we finally turned the corner to our awaiting cooler. It had been a 9 km walk and we were shattered.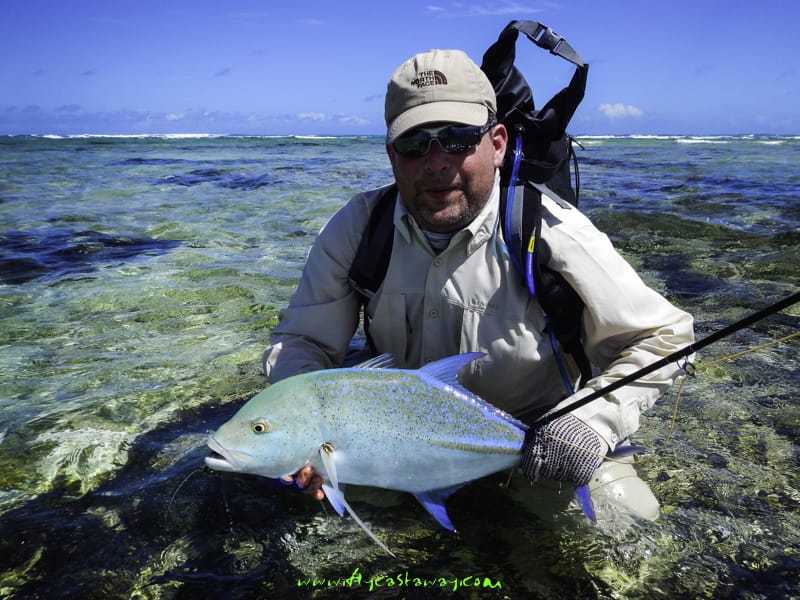 Friday, Day 6
So, the last day was here already. It is amazing how the time flies by. As I sat under the palapa sipping a coffee and staring out across the bay the sky was overcast, and a stiff breeze betrayed that the south eastern monsoon had started. It was going to be a tough day for sight fishing, time to put the Costa 580 sunrise "happy" glasses on. The long suffering Kyle was going to have to put up with Andy and I. As predicted, it proved to be a tough day, and after pottering around "Green Mile" and seeing a few spooky GTs on rays in the morning we moved round to "Jack's Peril" in the afternoon to look for bones and permit. After stepping on a few bones as we could see very little Andy and I decided to bow out gracefully and head home. As we had both been lucky enough to get amongst some good fish over the course of the week we really did not mind. Let the long process of cleaning and packing begin and the last nights festivities commence.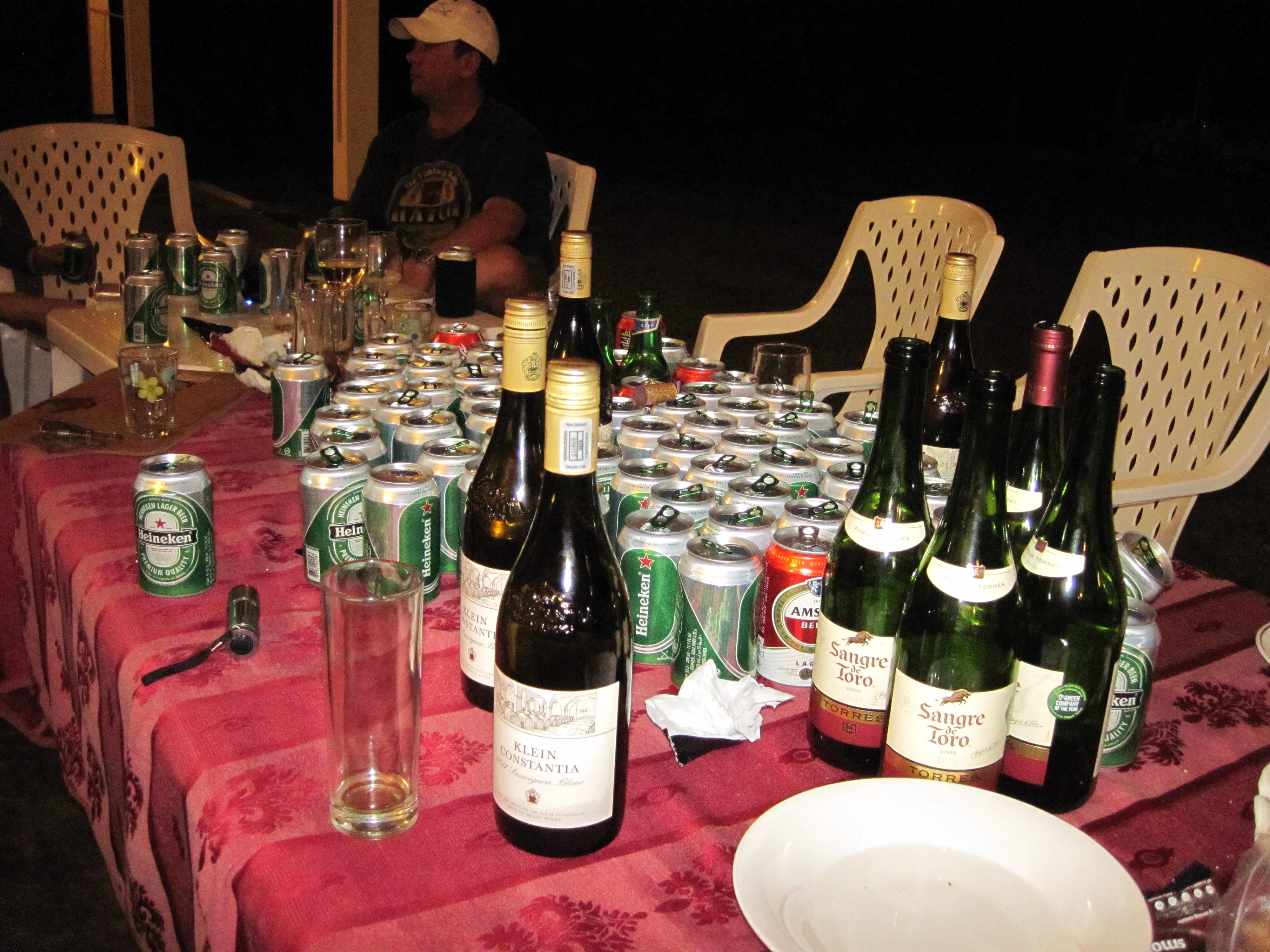 On returning back to the slipway and saying goodbye to the pets Ty and Jonathan returned after encountering some beasties at "Goulette". Ty had landed a GT of 104 cm finally acquiring the much coveted white "1m on the flats" hat. Jonathan had also produced the goods and landed another fish of 90 cm. It was a very satisfactory end to an excellent trip with a really cohesive group.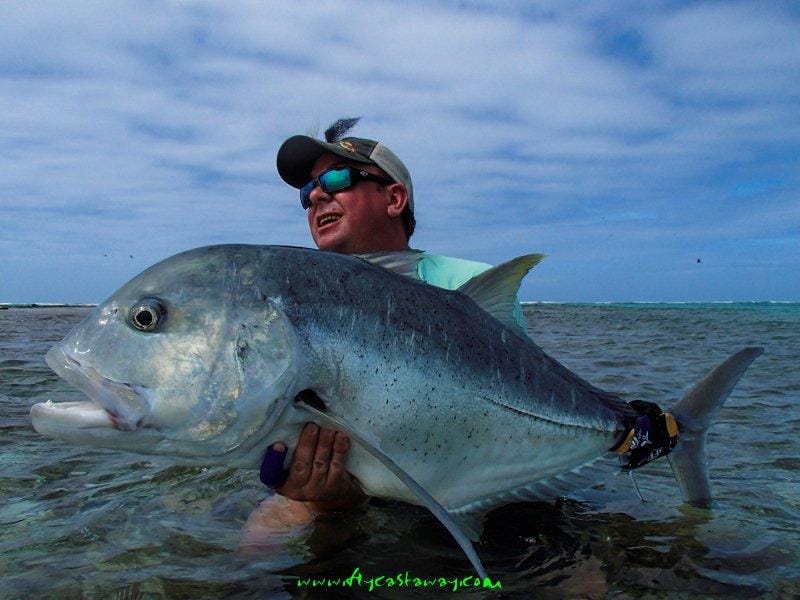 We finished the week having landed 10 GTs, biggest 109 cm to Andy. 5 bumpies were landed, biggest 45 lbs, but we lost 14. Also landed were 2 golden trevally, 2 bluefin trevally, 6 triggerfish, 26 bonefish, 3 doggies, 1 cuda, 4 bonito, and the usual numerous assorted grouper, snapper and mixed species. 3 GTs were lost in battle but what was very interesting is that we estimated seeing over 120 GTs including 3 behemoth fish. Top rod of week went to Andy with his slam (bonfish, GT and triggerfish) and largest GT.  Jonathan landed four GTs and was top GT rod. The guides are some of the finest I have fished with, and are incredibly motivated. Farquhar is not an easy atoll to fish, and without them not only would it be very dangerous wandering around, but so much time would be wasted. Thanks guys for putting up with us and our odd sense of humour….
I learnt a lot over the course of this week, and I think it is worth re emphasizing some key points. Although I knew of the symbiosis between GTs and rays, this was a week of hunting them on the backs of rays on the flats rather than free swimming. Often these fish started black like their buddies, but would then change colour to electric blue as they charged off to attack. When bait fish patterns don't perform go to large tan Clousers or crabs. When casting at a GT it is quite often a good idea to slap the fly down behind them as they will then whip around aggressively as they are already looking for the noise. Also if possible it is a plan to let the fly sink as when a baitfish is spooked it will flee to the surface to get away.  While spotting in deep water, a hard task at the best of times, always look for movement or dark objects as they are often rays. GTs like to hang around in cuts and pots at the bottom of the tide, and then move onto the flats as the tide comes in to hunt. The larger ones can be territorial and feed in a similar area, a bit like a good restaurant. Larger fish will often attack a fly slowly before accelerating to attack mode. Fish like to cruise the surf line on the hunt and often like to follow sharks as well. We are returning to Farquhar in November 2014, and I am already excited.