Another week at Farquhar has come and gone in a flash and what a trip it proved to be. Admittedly the GT fishing on the flats was tough by Farquhar's hi standards. This most likely due to the huge number of swimming crabs which were holding offshore (a phenomenon we observed last year) and which were drawing the bulk of the GT's offshore, however the other species our guests encountered more than made up for it.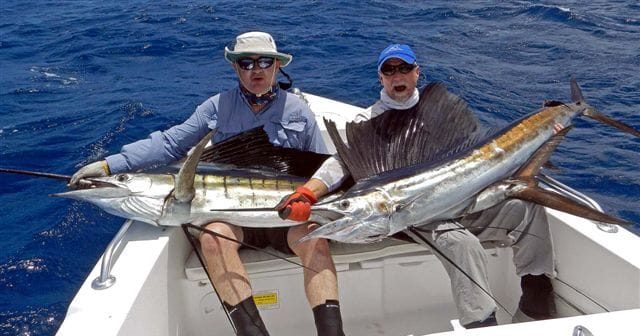 The Sailfish are just thick at the moment. Not more than 100 meters outside the main channel and packs of these lit up bill fish would appear slashing at our teasers. Subsequently we achieved not one but TWO double ups on Sailies, a truly remarkable achievement that Mike Caranci and Ray Sugiyama, as well as John Skidmore and Stuart Brown will remember for a long time to come.  It was exciting fishing for sure and again highlights the hugely impressive diversity Farquhar offers anglers.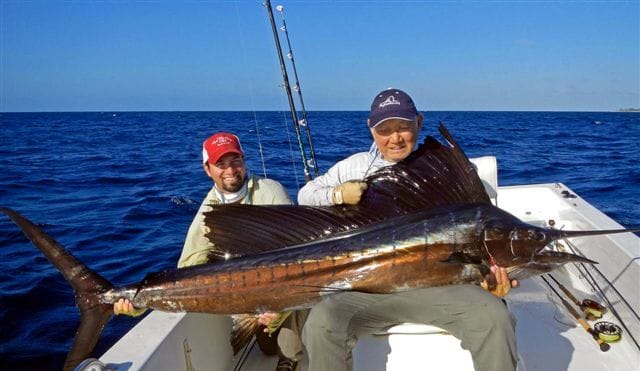 As far as the flats were concerned, the other usual suspects were around in good numbers. Bones, Bumpies, Triggers, Bluefin and host of grouper and snapper presented themselves. John and Ray added to their impressive offshore catches by landing two beautiful Bumphead Parrotfish, Ray's on the same day as his Sallie. His arms must have been pretty stiff the next day, of that I have no doubt.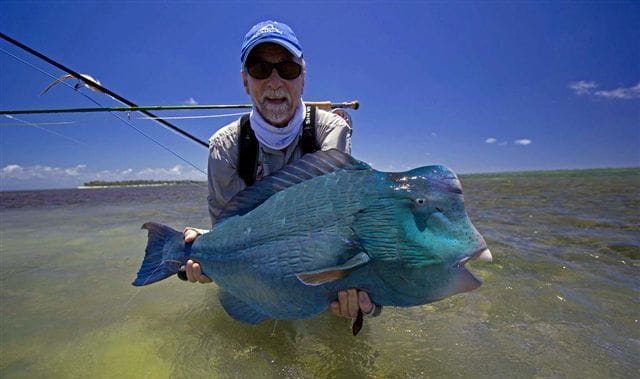 Triggerfish too were in good numbers and Michael showed off some truly classy angling landing two great fish during his trip. Hugely engrossing to fish for, these colorful crustacean eaters require stealth, accurate casting and nerves of steel. Often following the fly for meters it takes a steady hand to ensure the strike is perfectly timed. But when it all comes together its fantastic and an achievement to proud of. Congratulations Mike!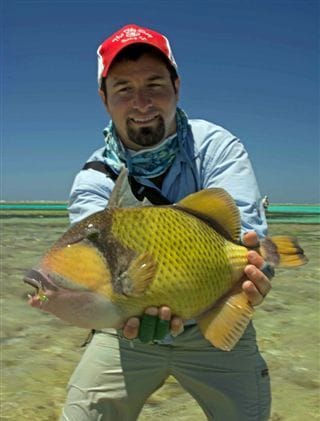 Although the GT's were by no means gale force we still saw our fair share and did manage to connect with a couple. Justin Williamson took his chances perfectly subsequently landing two really nice decent fish. Not to be outdone Alan showed impressive determination and was duly rewarded with another good size fish.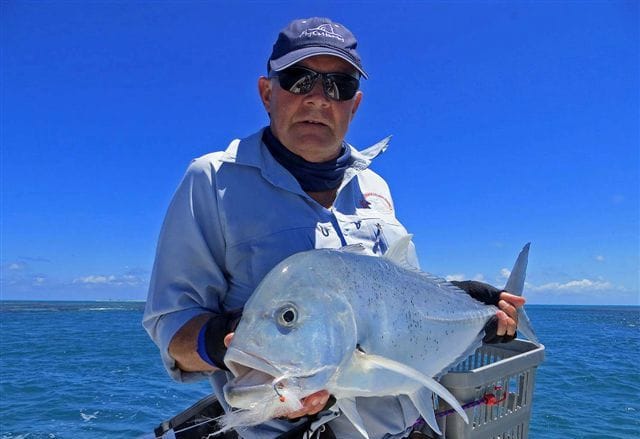 All in all, we enjoyed a terrific week. There were of course some truly memorable fishing moments, however the synergy and comraderie between this group of anglers was a pleasure to be a part of. In truth its weeks like these, which remind us how fortunate we are living and working in such a special environment.  
Until next week
James and the Farquhar Guide Team
If you would like more information on Farquhar or to hold space, please contact us or call us on 01980 847389.