Fish Legal (initially the Anglers Co-operative Association and later the Anglers' Conservation Association) was set up over 70 years ago by a group of anglers trying to protect their fishing from destruction by polluters. Their vision was to join forces, pooling money and resources, to fund an organisation with the expertise and financial strength to support members in taking legal action against those who cause damage to rivers, lakes and waterways.
Fish Legal has successfully fought everyone from rogue farmers to multinational corporations on behalf of its members.
Over 70 years they have built a large fighting fund, unique expertise and an enviable reputation when it comes to taking on the biggest polluters.  It is a genuine co-operative organisation which draws its strength from a wide membership to protect each and every member.
Fish Legal has a good track record of winning pollution cases against companies large and small and allowing compensation to be put where it is most needed – to the angling clubs and fishery owners, so that they can restore their waters. 
Not only does Fish Legal hold polluters to account but also acts as a deterrent to would be polluters. The work is not simply reactive, but proactive too to help avoid pollution and anything that might damage water environments.
Work undertaken includes:
Monitoring government agencies responsible for waterbodies to make sure that they are fulfilling their duties;
Influencing planners to ensure the interests of the environment are considered where there may be potential damage;
Challenging water companies where their operations might threaten the water environment;
Ensuring public bodies are unable to hide environmental information about the damage being done to our rivers, lakes and coasts;
In England, all this legal work is complemented by the Angling Trust's campaigns and lobbying activities.
If you believe in protecting  the rivers, lakes and seas that you care about, then please take the one step that can make that protection real by joining Fish Legal.
Fish Legal will be holding a fundraising event, including an auction, at Orvis in Stockbridge on 14th June. Details below: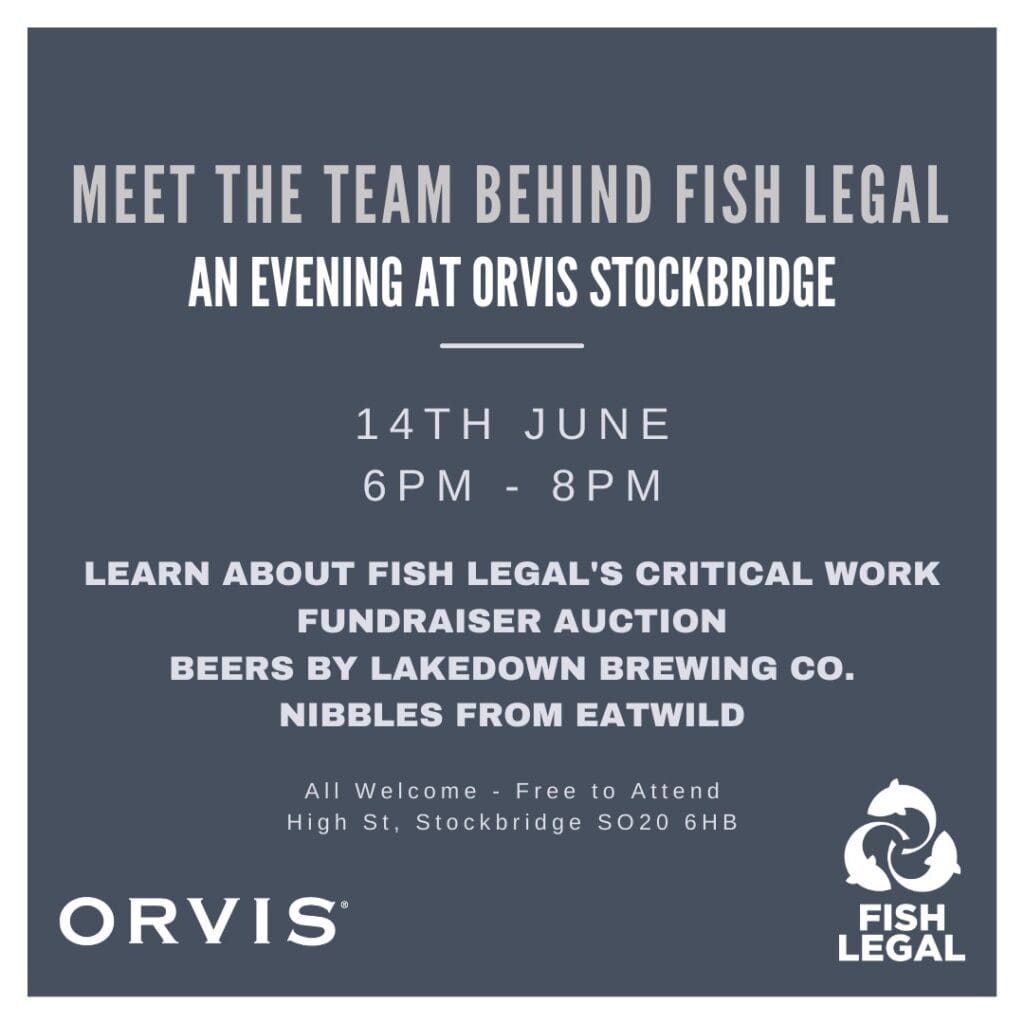 If you wish to join Fish Legal you will find all the details here