I have just returned from a week in Christmas Island (September 2018).  I cannot imagine I will ever have another week like it. To set the scene a few facts about Christmas Island in my opinion.
Positives:
This is possibly the best milkfish fishery in the world
This is perhaps the best trigger destination in the world
There are plenty of bonefish here, into double figures
Good numbers of GTs, some massive
During August, September and October there is a good chance of a Pacific sailfish, if you put in the time
Lots of tuna, some very large, weather dependent (outside the lagoon)
Some of the cheapest quality saltwater fishing in the world
Drinks reasonable (Ikari House), no problem with bringing your own duty free to consume in the evenings
Free laundry service (Ikari House)
Negatives:
It takes two days to get there and two to get back, involving two overnight stays (Hawaii); this adds to cost
Basic, but perfectly acceptable accommodation
Limited booze selection, canned beer only, some good wine but expensive
Bonefish are heavily fished and can be very skittish
Always the chance of difficult weather
No permit (as in fish, not permission)
My week started off badly when I found the half dozen Aussies I was sharing the week with arrived with large quantities of gin, which I had omitted to buy in duty free (see above).  My week took an immediate upturn when they offered to share this with me (one of those occasions when you meet a great bunch of guys when fishing).  Quid pro quo was I bought all the tonics.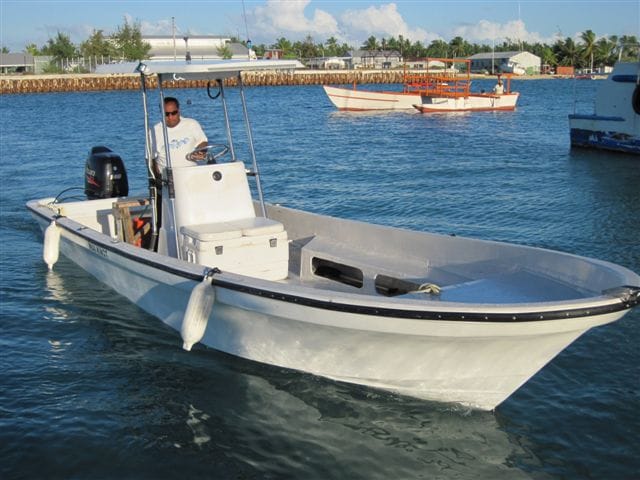 I will skip over the first three days, which all followed a pattern. I had taken the Premium package (fast fiberglass hulled boat, experienced guide and boatman to yourself).  This allowed me to dictate where I went and what I did, without spending additional time moving around on the slower traditional outriggers.  For me, well worth the money and I would highly recommend it.  I had English as my guide for the week and he was excellent.
Since I was able to specify my days we spent a couple of hours in the morning chasing milkfish (what I primarily went back for and, inevitably, the only species I didn't catch) and then went after bones and triggers.  I got into double figures (just) of bones every day in the 3-5 lbs range with one fish English estimated at 7 lbs that I lost to coral.  I cast to a lot of triggers, hooked two on my #6 weight; one bit me off, the other bit through my hook!  The whole lodge struggled to find fish and the weather was against us being cloudy and very windy.
As a qualification to the above I met a couple of Americans on the way back who had had very good bonefishing throughout the holiday, having had a particularly goof first day fishing Paris flat with 15+ fish each, most in the 5-7 lbs range.  Also, once the weather cleared up, the Aussies got in among the bones, the best in the week being 48 decent fish to one rod in day.
Day three had one noteworthy event.  We had seen fish scatter from sailfish so had a crack.  I had a good sailfish smash at my fly, but we couldn't get it to come again.  I also had a nice job fish and Bluefin trevally.
We had considered going for tuna, but it was rough outside the lagoon and no sign of birds, so we went inside the lagoon system.  This proved to be a mistake.  Some of the Aussies had come equipped with heavy spinning gear and had decided to chase tuna that day.  An hour after we went in the birds went crazy and all hell broke loose.  They had a fabulous day, everyone catching good tuna to 70 lbs.
Day four dawned much improved.  Sun and hardly any wind.  As usual spent the first couple of hours after milkfish, which we could now see and which were feeding much better. Result: zip, zilch, nada.  We decided to go for tuna, but spent time after sailfish first, this time with a proper teaser.  Success!  Sailfish on…. then sailfish off after 20 seconds.  Oh drat, or words to that effect.  There followed an instruction session from English on how to hook a sailfish; bit late.  Off to chase tuna.
No birds (again!).  Trolled for an hour and a half with no result and were just on the turn to go home when – fish on.  A nice 4' barracuda.  No, I don't want a photo with it thanks English, you can have the teeth.  We then started for home, gave it another half hour trolling before deciding to go after bones.  Just got to the mouth of the lagoon and – birds.  Not surprisingly we put the lines out again.  Over the next hour or so we lost one decent fish on the conventional tackle, caught a 20 lbs tuna on the fly and a 35 lber on the spinning rod.  So ended the day; few fish, but decent quality and a great day weather wise.  My Aussie friends also reported much improved bonefishing on the flats.
Day Five.  Oh, day five.  I cannot see myself ever having a day to match it.  Good weather, calm conditions, great expectations.  Two hours of fruitless fishing for milks later, the shine was going off the day.  We decided we would have one more go for a sailfish and then try for a GT.
Out goes the teaser and we troll the fly line as well.  Yes, I know the purists will object, but the decision was rapidly proved correct with a very nice bluefin trevally of around 16 lbs on the sailfish fly.
Time passes and we are thinking about trying the GTs.  Then a sailfish smashes at the teaser.  Then a different sailfish smashes at the teaser.  Suddenly we have four or five of them fighting over the teaser and fly.  Now I have to put English's instruction into practice.  Gather two to three metres of line in hand and release once the sailfish smashes the fly.  Get the timing wrong and guess how many fingers you lose?  Sailfish hits, line released, fish on, English just avoids getting a double hookup with the teaser.  The sailfish takes off like a rocket, I set the hook with three strikes using the rod and the full 35 lbs drag of the Hardy Fortuna – not advisable to use one's hand, those fingers again.  The boat takes off full power in the opposite direction! It stops after 20 yards. Apparently, they're setting the hook.  Somehow, I'm still upright, despite the fish and boat both trying to push me over the back.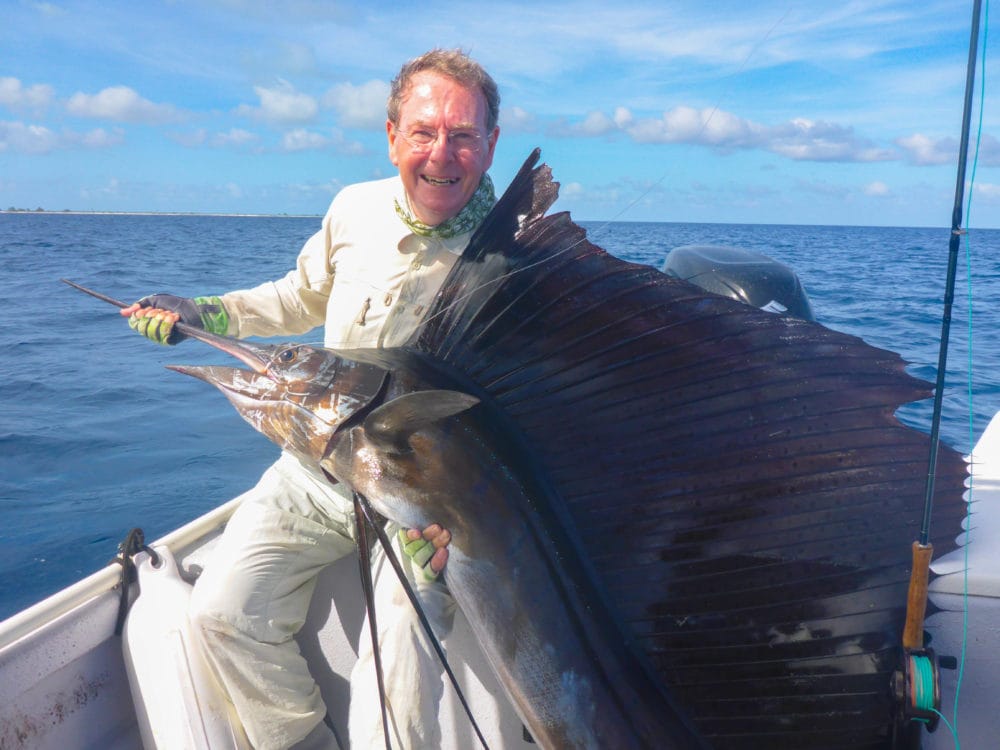 Sailfish, when hooked, are phenomenal.  Their power, their speed, the way these massive fish jump, is beyond belief.  When the lads at Sportfish loaded up the Fortuna they persuaded me to have colour coded backing; red and yellow changing every 50 metres.  I thought it was a gimmick.  Now I understand the importance since it tells me the fish has taken 250 metres of backing before it stops – and that after we have chased it with the boat for some distance.  Eventually it stops running, moves round a quarter of a circle 250 metres out and finally sits.  The adrenalin rush settles and the hard work starts.
It very soon became obvious that trying to pump a fish of this size with only 12" of handle on the #11 weight Hardy Proaxis as a lever was an enormous task.  After half an hour common sense finally took over.  The fish was broadside on to the boat so I moved to one side, tightened up and then walked across the boat, reeling in as I walked back.  Only gained a few feet each time, but it worked.  English christened this "Robin's Dance".  We eventually, after a little over an hour, got the fish to the side.  English hauled it in in two stages, head first followed by mid-section and tail.  What a fish!  Our estimate was 95-100lbs.  Probably 8' long.  A big fish for this area, although they do run to 140 lbs.
Once the fish was returned, we had finished back slapping and congratulation and taken a few minutes to recover we set off for a place English knows that regularly sees GTs.  I did say to English, after the last fight, a small one please; famous last words.
We anchored up off a coral head and were immediately into action.  I back cast to a 40 – 50 lbs fish and had an immediate take.  Unfortunately, a combination of imperfect back cast, wind and incompetence meant I did not have a tight line when the fish took, so failed to set the hook and lost the fish.  Over the next three hours several GTs went past, but none that I got a good shot at.  We spent the time waiting, casting at a lot of triggers (lot of follows, no takes) and having lunch.
Finally, a big fish drifted onto the coral head.  For once a good cast in the right place and followed English's instruction.  Fast retrieve for the small GTs, but getting slower as they get larger.  This fish cruises up to the fly – and swallows it.  Set the hook with three hard line strikes and for the second time that day a fish takes off like a rocket.  At this point English tells me we cannot chase the fish because it is headed for an area with a lot of coral heads, so I need to stop it from here.  Also, everyone tells me the way to catch large trevally is to bully them and they give up.  All very good advice, but when you have the fish from Hades travelling at 40mph away from you against everything that even the 35lb drag of the Fortuna can do and you have the Proaxis held as high above your head as you can manage to avoid coral; hard to follow.  Eventually the fish ran out of steam after a run approaching 200 metres.  By this time the boat has been disconnected from the anchor and "Robin's Dance" starts again.  At one point, as matters progress, English said "you do realize you're moving the boat!"  We expected a second run as we approached the fish which we didn't get, probably because the hook was well down.  This was a relief since it was the second hour plus long fight of the day.  English netted the fish and then pointed out, quite impolitely as it happens, that he was not going to be able to get the fish in the boat by himself, so I helped him haul it over the side.  For the second time that day, what a fish!  My previous best GT was a 108cm (~56 lbs) in Farquhar.  This fish measured around 128/129cm (approx. 100 lbs).  The best photo I have of it is with the guide; I just could not hold it fully upright and even English could only do so for a short period.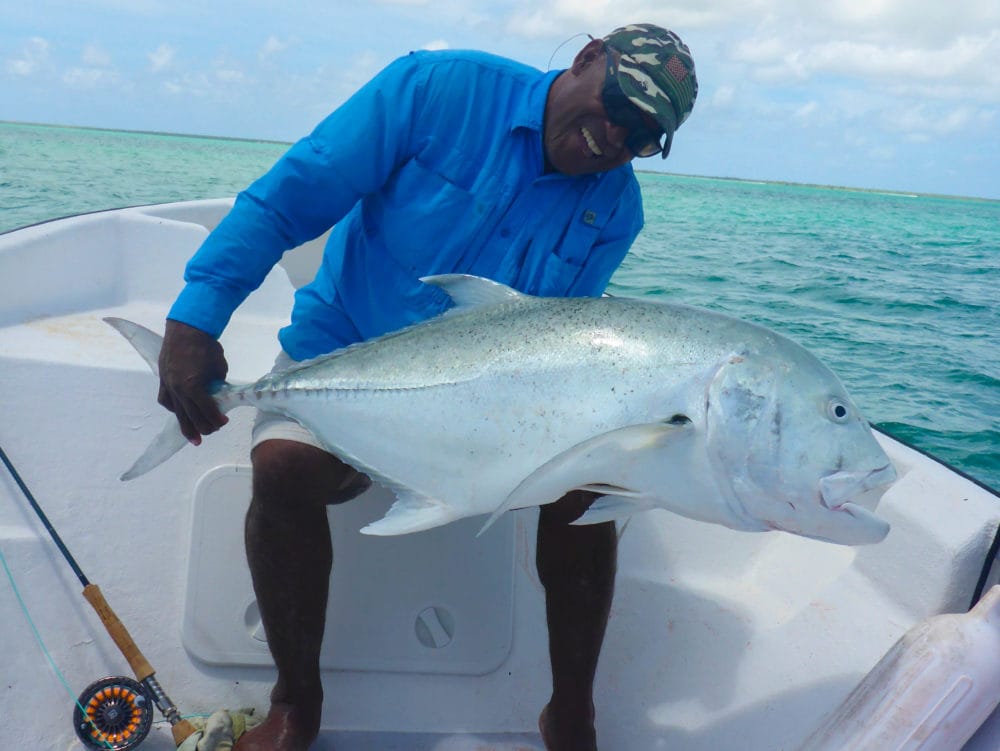 English later told me that, whilst seeing fish of this size is not that unusual they seldom take.  Perhaps it was because the guides always use straight black brush flies.  I didn't have one with a hook that passed inspection so mine had dark blue in it and a bit of lureflash; perhaps that made the difference.
Once the fish had been safely returned I was thinking in terms of slams.  We chased triggers for the next hour and a half, catching a nice 4 – 5 lbs bonefish, but the wind defeated me on the triggers.  Finally, we tried a coral head and I managed a Picasso trigger.  There are no official slams for this area and in any case the sailfish is considered open water and the others are inshore, so we are mixing slams.  Be that as it may, I am claiming a Super Grand Slam if we include the Picasso, a Grand Slam if we do not.  Perhaps for Christmas Island we should define Slams as any mix of bonefish, giant trevally, milkfish, sailfish, trigger and tuna?
That finished an unbelievable day, so back to the lodge for several celebratory gins.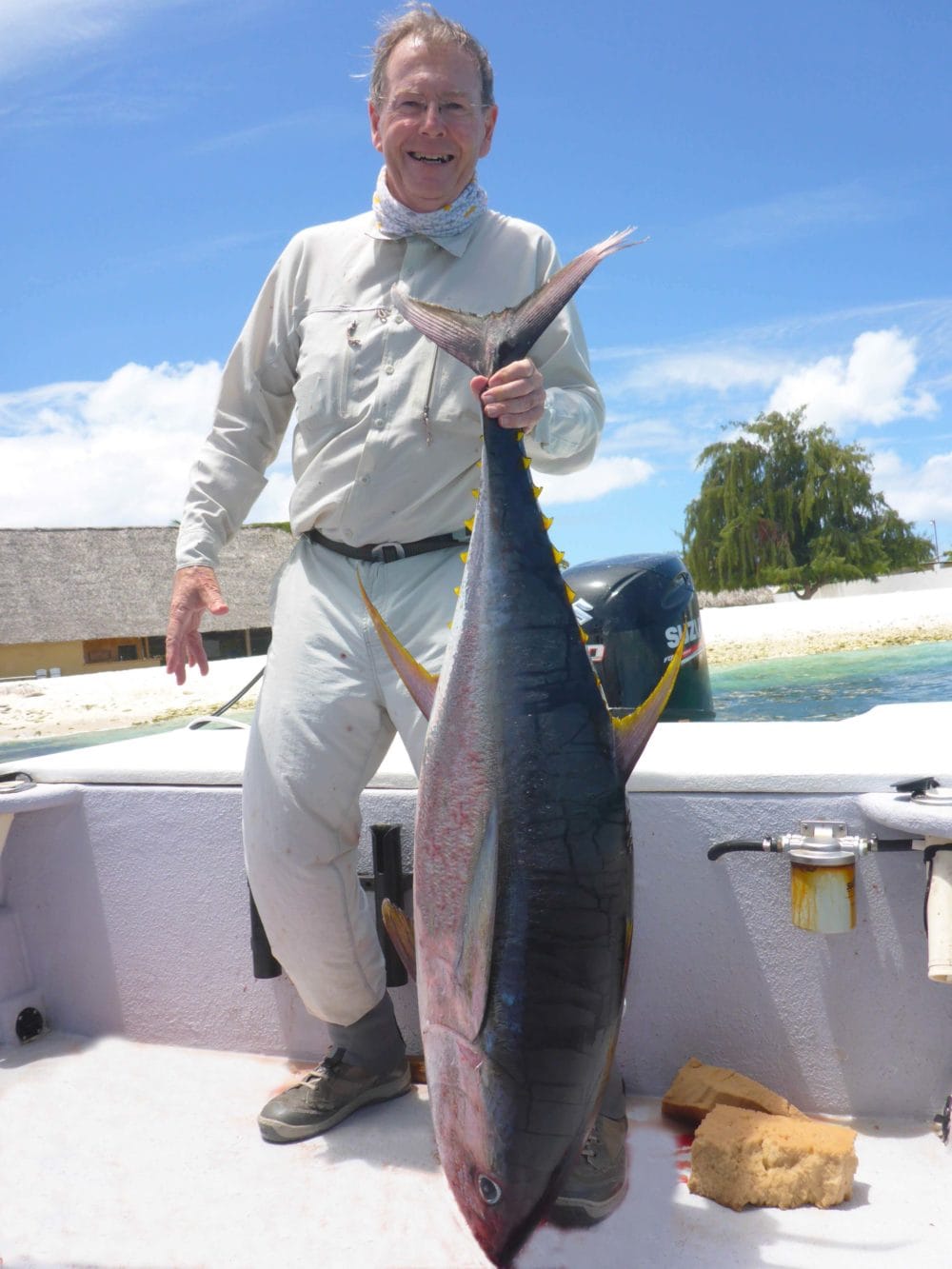 Day 6 dawned more overcast with a bit more wind.  Again, a couple of hours after the milks, put as many casts to feeding fish as the whole previous five days, still no joy.  We decided to go after bones to finish the day, but the guide suggested we try for sailfish on the way back.  I almost said no, being rather tired after the previous day, but what the heck.  No sign of sailfish and no teaser with us, but suddenly the boat turned through 90 degrees.  Why?  The guide had seen (4) birds, so maybe tuna. Just as the fly came round the corner – bang – fish on.  Big fish!  What the h**l have I got on here?  This blog is already too long so the short version.  A tuna, the guide reckoned 100 lbs, I think he was optimistic – perhaps 90?  On an #11 weight Hardy Proaxis and a Hardy Fortuna. Fitting as the reel is for..tuna.  Two hours and three minutes to land, the tuna dived to over 400 feet three times and I confess I had to let the guide take the rod for a few minutes towards the end to give me a rest.
So, three "fish of a lifetime" in two days and, arguably, a Super Grand Slam.
Does it leave anything to go back for?  Why yes, a milk, a double figure bone, a 15 lbs trigger, who knows what else in this fishery?
A final thought.  There are tuna out there two or three