We are all fully aware that salmon fishing in Iceland is not cheap. It has always been one of the more expensive options worldwide, especially when looking at prime time on many of the rivers which commands a premium. What many don't realise is that the lodges are all set up for anglers to share a rod.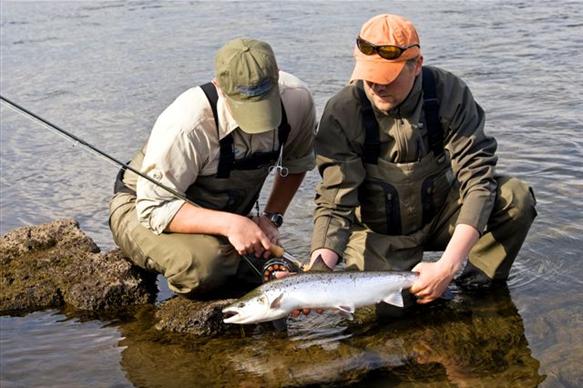 When you take a rod in Iceland your room will invariably have two beds in it, and this is due to most Icelanders fishing in this manner. The fishing hours in Iceland are longer than most, with a morning session running from 0700 – 1200, a break for lunch and a siesta followed, by another session from 1600 – 2200. The Icelandic rivers on the whole are prolific, so there is plenty of fishing to go round. As a single rod this can be a little gruelling and so many decide to share their rod with a friend or family member and conserve their stamina. It is not only the salmon lodges that offer this, but also the trout operations.
The cost saving implications are huge as the second rod only pays board and lodging which is a fraction of the cost of a rod. By adding this to the rod cost and splitting it in half suddenly the prices begin to look very different.  For example, 14 – 17 July on the Langá that is priced at £5,950 a rod becomes £3,350 when shared.
For more details on fishing in Iceland please do not hesitate to contact Peter McLeod or Alex Jardine or call our office on +44(0)1980 847389.