For over two decades Gabon has been on my radar for an unforgettable angling adventure. Finally the dream became reality and what an adventure it was! Welcome to "Jurassic Park" was the greeting from Keith Eldridge a regular angler from South Africa and veteran of Sette Cama lodge and the Gabon fishing scene.  I thought his comment was a little tongue in cheek.  How little was I to know. Gabon, a former French colony is a country with a small population compared to many African countries. Over 90% of the land mass is tropical rain forest and tourism is virtually non-existent. An oil and gas rich country with serious corporate infrastructure makes the country extremely prosperous and very harmonious.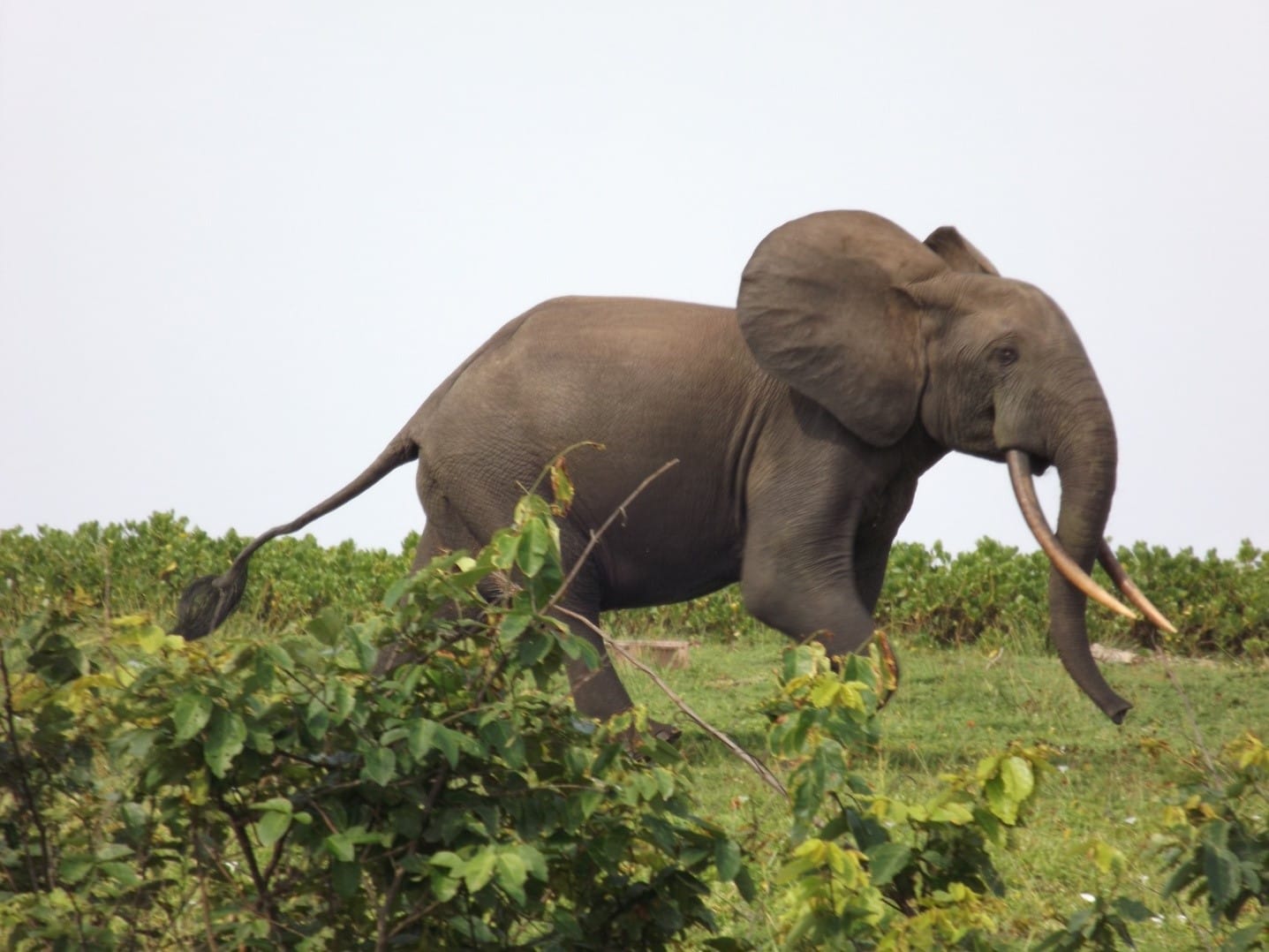 Gabon has the longest stretch of untouched coastline left on the African continent, and along with some massive estuary systems rich in nutrients, offers the avid salt water fishermen the opportunity to experience the thrill of targeting the numerous and unique species of West Africa with both spin and fly tackle.The abundance of large and aggressive game fish, all eager to attack a well fished lure, fly or bait is complimented by Africa's most pristine rain forest which creates the back drop to this one of a kind salt water fishery.  The fishing season runs from November to March.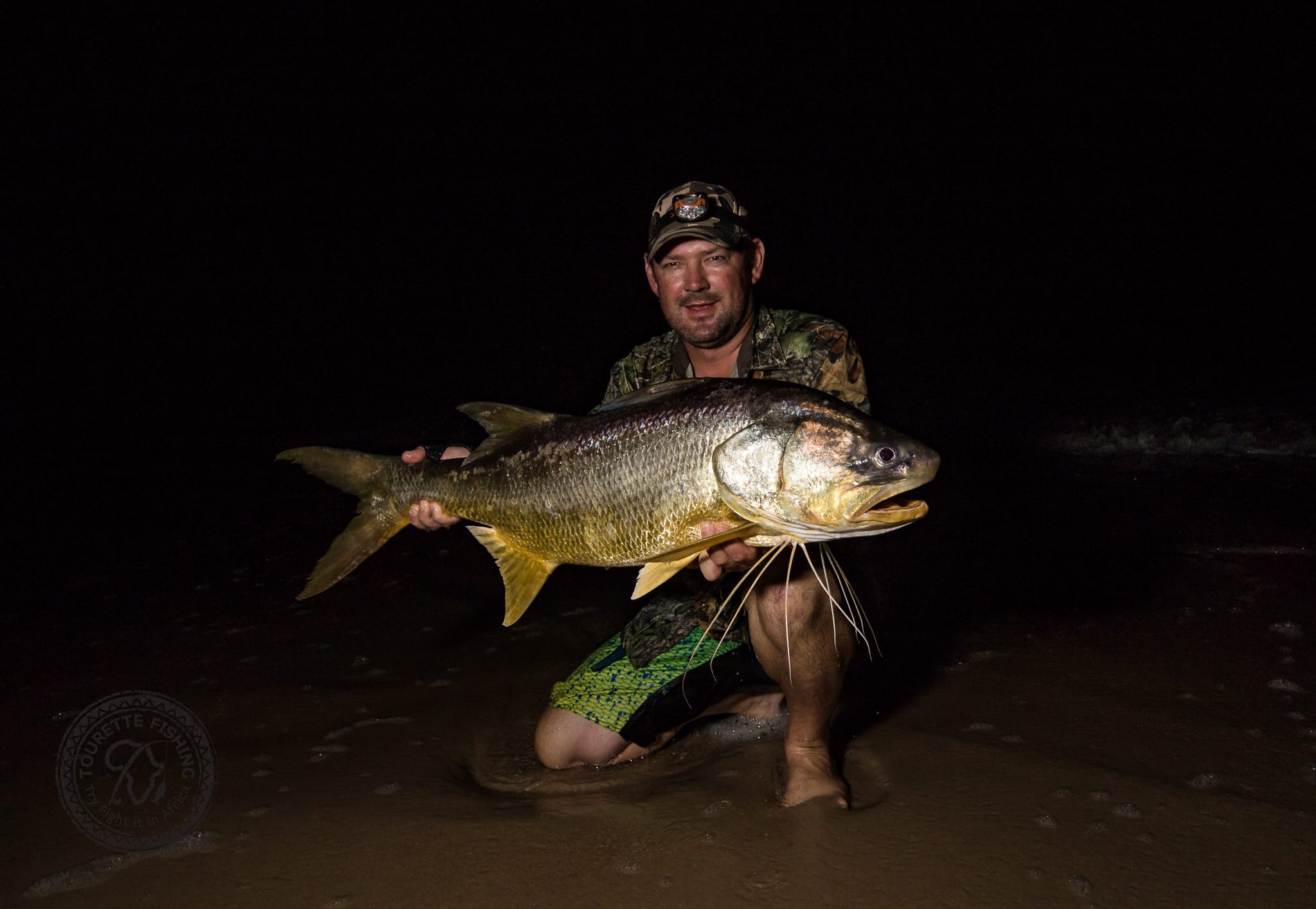 The fishing – six full days of mayhem. The day starts on average at 0330 with a wakeup call. A quick breakfast of coffee and toast before heading in pitch darkness to the river mouth for the first session of the day.  Depending on tides the best time for fishing in Gabon is in either the early morning from dark until a few hours after sun rise and then again in the evening from last light to fishing into the dark.  This makes for some very long days, but having a siesta every afternoon certainly helps.  Another option is to start the day fishing light tackle from a boat in the lagoon chasing White Fin Jacks, juvenile Snapper and Guinean Barracuda. I fly fished for the jacks and had many good fish on small clouser minnows.  Others in the group had good top water lure action on poppers and stick baits.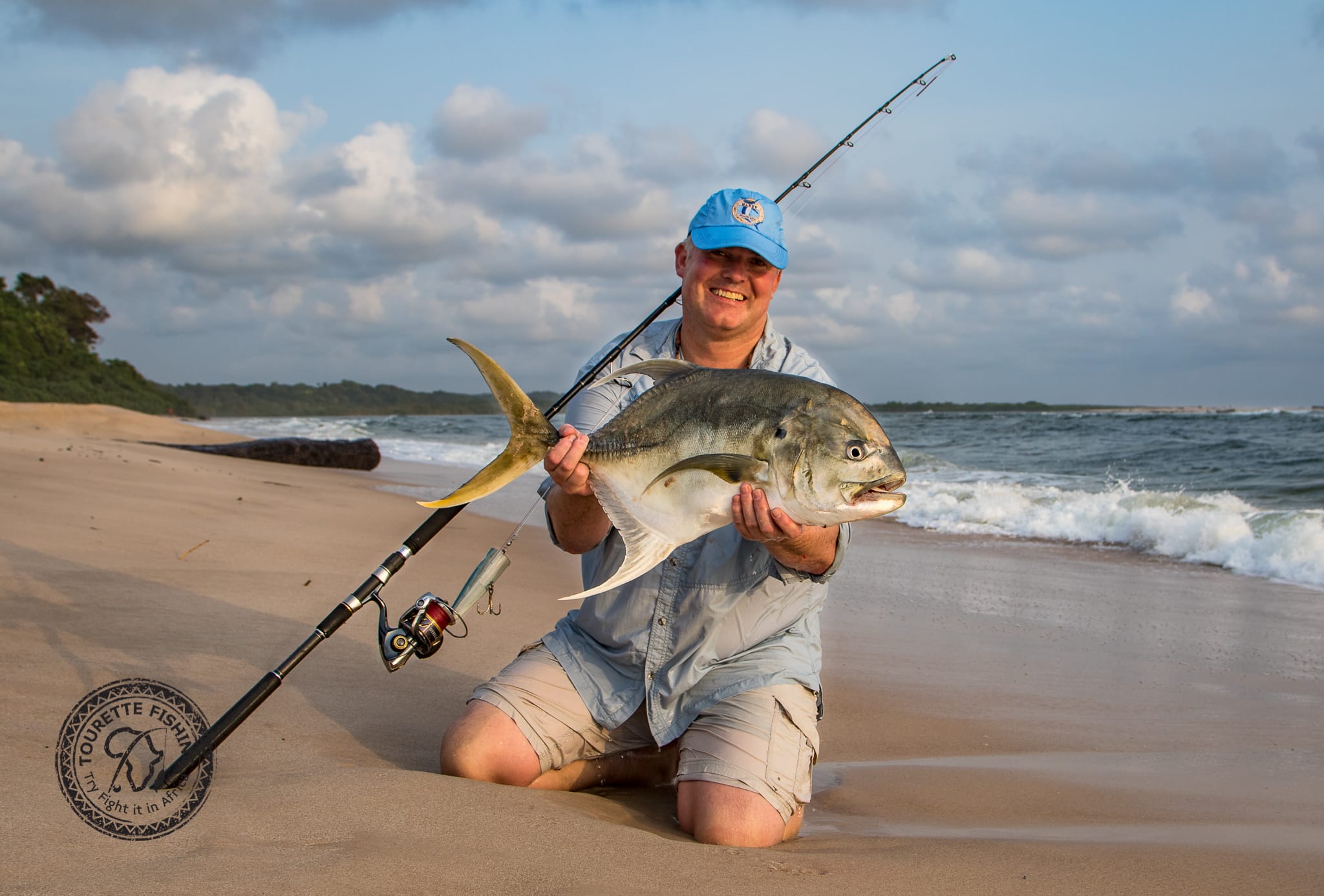 The big fish come to play after dark…..Standing in a surf line with waves crashing and water tumbling around you in the dark is initially a sensory overload.  Big fish come to hunt their pray in a few feet of water and I experienced seeing big Tarpon and African cubera snapper in knee deep water only metres away from where I was standing. Giant African Threadfin are one of the main trophy fish in Gabonese waters. They are very strong once hooked and can grow to well over 100lb in these waters.   They are a beautiful looking fish with a large forked tail.  The gold and yellow colouration makes their appearance look stunning.  These fish will strike a lure or plug and can also be caught on bait.  The more rain the better for these fish.  They prefer the fresh tannin stained water leaving the river mouth into the sea.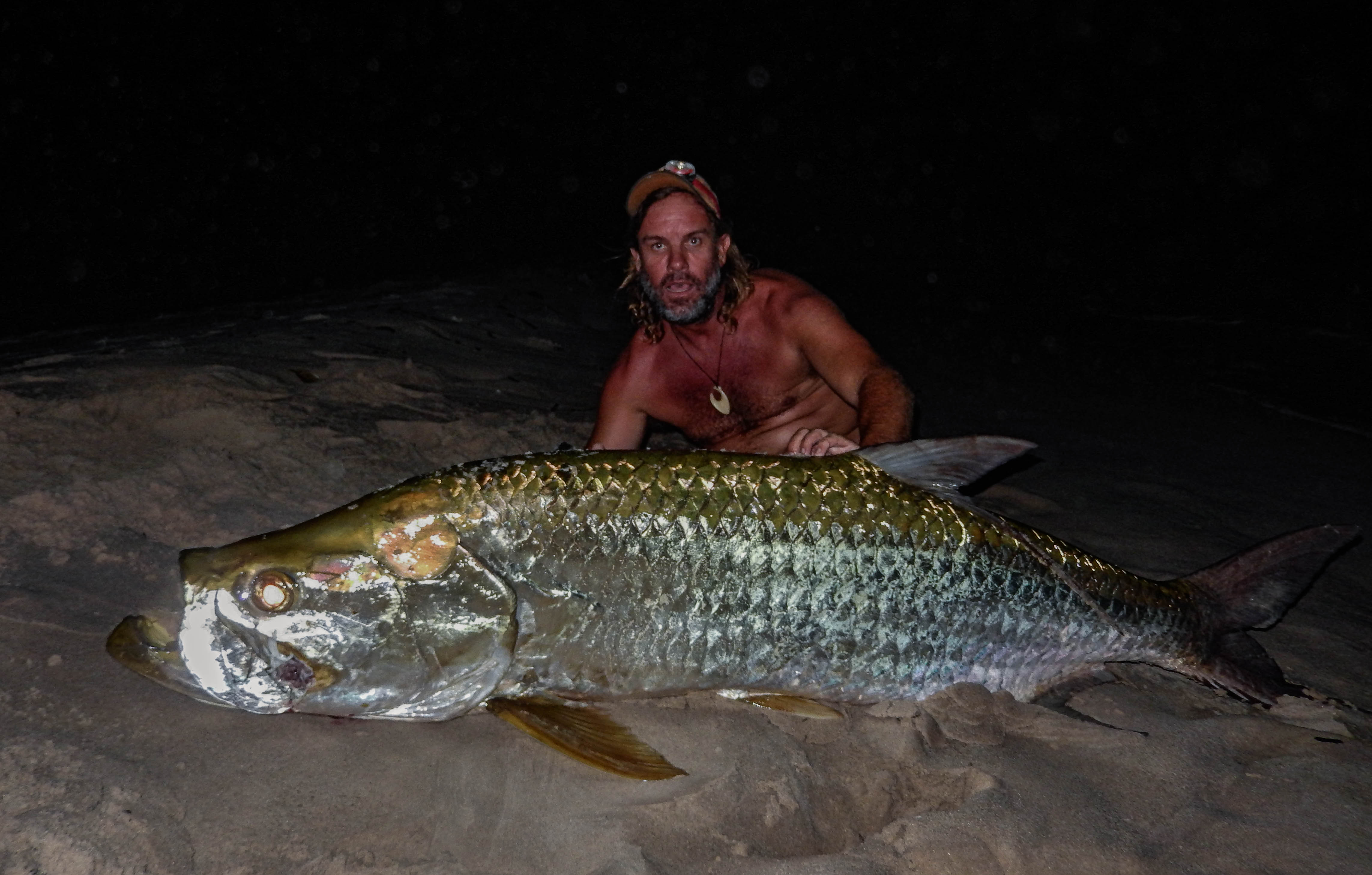 Over the week I saw several of the group hook a variety of very good fish only to have them eaten by a larger predator. Big bull sharks patrol the water's edge waiting for any opportunity.  Wading out to waist depth is NOT an option here.  Safety is paramount. In the surf and river mouth I mainly fished with two spinning outfits.  One medium heavy with 50lb braid and one very heavy with 90lb braid. Serious reels with decent drags are a must like the Shimano Stella range.  I had a fly rod ready in case the jacks started to bust bait along the edge, which they did every fishing session.  Just a case of being in the right place at the right time.
I also took a 13' beach casting rod for some bait fishing.  I really enjoyed the bait fishing as it's not something I've done many times over the years as a seasoned fly angler.  I enjoyed the anticipation of not knowing what might devour the bait at any moment.  I caught some very good fish on bait. Mark Murray from South Africa the head guide at Sette Cama is an expert surf and rock angler in his own right and is very happy to help rig bait and explain this technique in depth to those that want to bait fish.
Sette Cama is a truly wild place.  Located at the edge of Loanga National Park and the Atlantic Ocean. Wild life is in abundance here and the main feature is the elephant population.   Elephants regularly frequent the Sette Cama camp and are seen on most days travelling by boat to and from the lodge and to the river mouth for the fishing.  I watched one feeding only twenty feet away from my bedroom at the camp one night. Hippos, leopard, forest buffalo and red river hogs are also present along with an abundance of birds and monkeys. The wild life made for some incredible moments…. Seeing fresh hippo tracks in the sand by torch light when heading off fishing certainly got the heart racing knowing an animal with the reputation they have had only moments before been walking on the very same spot. On another occasion a bull elephant was walking just fifty meters behind us as we fished in the dark one night.
Sette Cama is a wonderful untouched part of our world. If you like the sound of visiting the extreme edge of sport fishing then this is the place for you. Be prepared to fish hard, become sleep deprived, be bombarded by sensory overload, but above all feel alive!  I can't wait to return. I now agree with Keith when he said welcome to "Jurassic park".
The logistics to get to Sette Cama are pretty straight forward. London to  Paris,Paris to Libreville, Libreville to Port Gental (overnight) then Port Gental to Gamba the following morning. Once you arrive in the very small town of Gamba you are collected by a lodge reprehensive and by 4 x 4 you travel 15min to the Ndogo river and take a 1hr boat journey to Sette Cama lodge. All the internal flights in Gabon are run by AirAfric which is part of the oil companies scheduled internal flight programme.
Peter Gibson will be leading a team back to Sette Cama in 29 March – 6 April 2017, so if you would like top join him on this extraordinary adventure then please contact us or call our office on +44(0)1980 84789.