Dorado River Cruiser, dorado fly fishing Buenos Aires Argentina
Our good friend and client Brett O'Connor recently returned from Argentina. During his time there he got to experience the new and exciting dorado operation that is operated from a mothership! Best of all, it is under three hours to access from Buenos Aires, which makes a short trip and stay perfectly feasible.
Here's a video created and kindly supplied by Brett, with his words and trip report following.
Yellow Fever, by Brett O'Connor.
 I'm a big fan of catching bars of silver, in the search of specimen salmon I have travelled as far as Iceland and Russia. As much as I love those trips, I fancied a trip that was a little bit different, so it was now time to try catching bars of gold. The Golden Dorado has been on my tick list for a while now. There's a new operation from Estancia Laguna Verde, the same team who bring you Jurassic lake. The new operation is called the Dorado River Cruiser in Rosario Argentina. A three hour car ride from Buenos Aries is followed by a two hour boat ride on the Parana river to the Dorado River Cruiser. The Parana river is colossal. It first starts in Brazil then winds its way down into Argentina, it is 4,880km long and only second in length to the Amazon.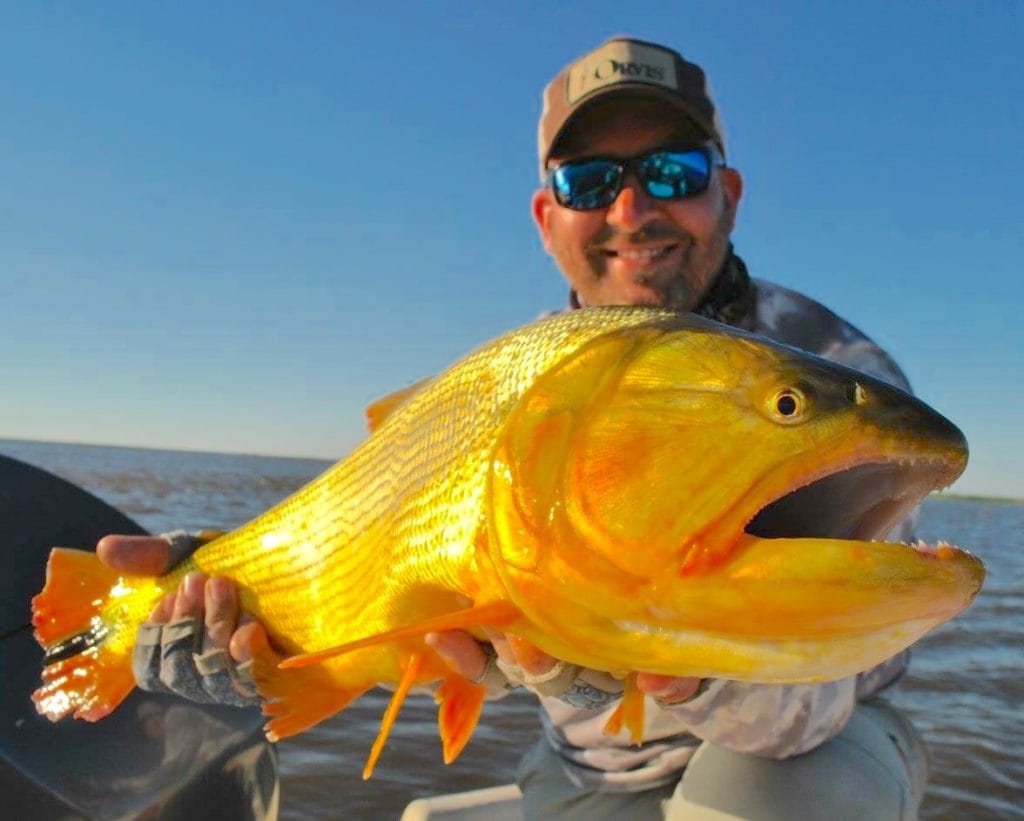 I was greeted by my guides Maxi 'chiquito' Boga and Dario Arrieta at the Rosario marina. Dario is called the Captain by his colleagues and is the head guide on the Dorado River Cruiser and a well respected guide within the Argentine fishing community. He resides on the Parana guiding on his beloved river so has in depth knowledge on the species. He's guided for all species of fish in both Argentina and Bolivia but he now prefers to focus on the Golden Dorado. It didn't take too long for me to understand his decision why. 
 The reason why the Golden Dorado River Cruiser is so unique, is the fact that it can be moved at a moments notice keeping you close to the action. Dario explained that the Dorado move in packs up and down a very large system hunting it's prey. So they station the boat on the hoards of gold, meaning customers get into the action straight away. While eating breakfast Dario tied a couple of extra patterns, a very large black and red fly pattern and the hook size not far off a bent tea spoon, and a very simple Chartreuse popper of a similar size. I realised then this trip wasn't going to be for the faint hearted.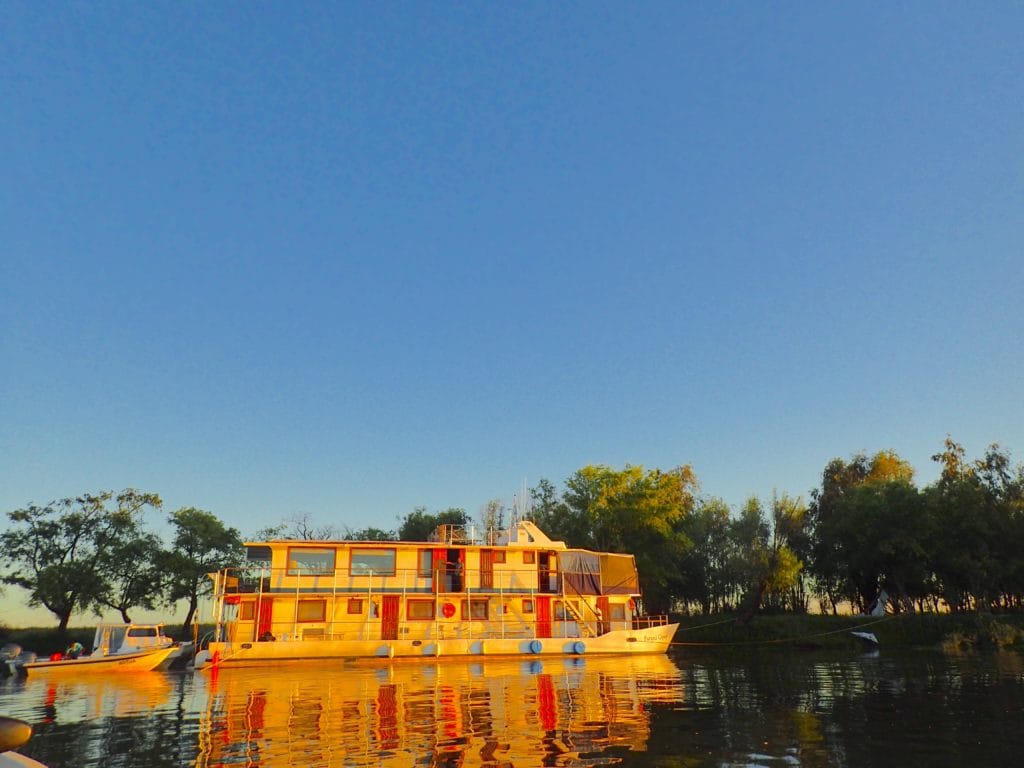 Within ten minutes of leaving the cruiser we noticed a pack of hunting Dorado up ahead with diving bait fish splashing around in one of the tributaries. Within five minutes I caught my first Dorado, quickly followed by another three. They were all small fish, but It amazed me how brutal the take was. This was no gentle draw or pluck at the end of the fly. The technique used, was to purposefully slap down this budgie of a fly as close to the bank as possible with an immediate strip, which was then quickly followed by a finger burning take. The fly wasn't that much smaller than the fish attacking it.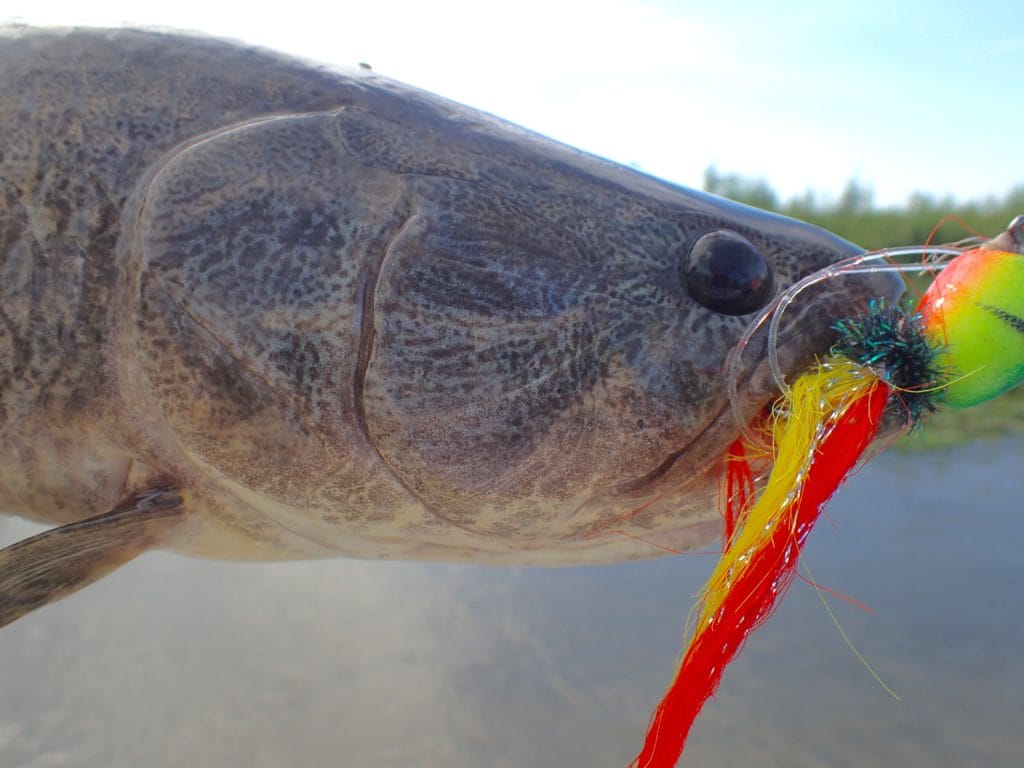 This was pretty much the formula for the trip, whether streamers or poppers get that fly as close to the bank or trees as possible. If you were 2ft short, forget it and cast again. A close cast often resulted in a fish grabbing it no sooner it hits the water. It then often wants to turn back to its lie, which it why you fish forty pound leaders and wire traces to stop it from doing so leading to yet more finger burns! 
 It also proved well to change styles at times too, by using more traditional techniques. Yes of course, you still need the smack down presentation followed by a quick draw of the line but then you may swing the flies into the riffle, maybe mending the line at times to get in down in the water column a little more. Sometimes the dead drift would work wonders, others just a slow working of the fly did the trick.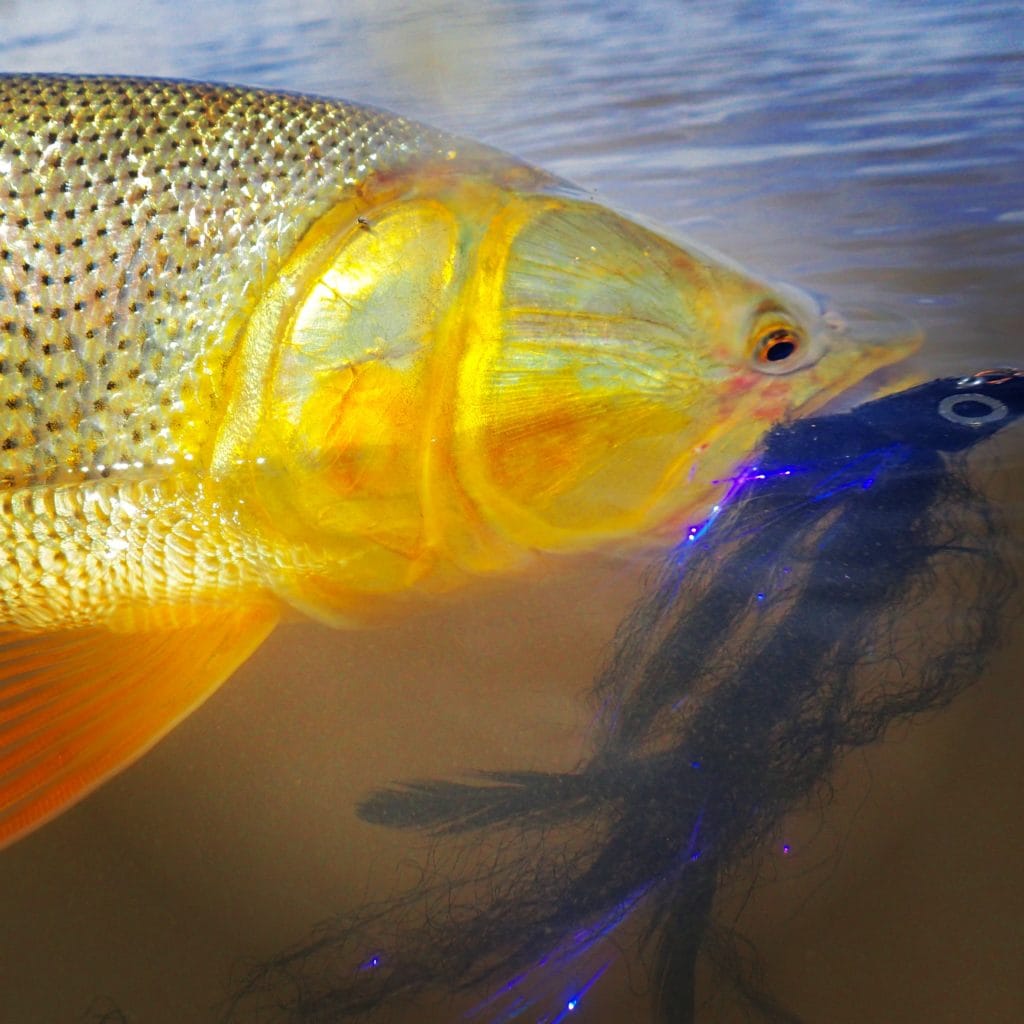 As for the kit, I used both 7 and 8 weights. My seven weight armed with a floater, my eight weight with a clear intermediate. I did take sinking lines with me, but they were not needed. Due to the temperature out there saltwater lines are a must. The Rio outbound lines were perfect for this style of fishing. 
While on the trip, I caught countless amounts of Dorado ranging from a couple of pounds to the early teens, and lost bigger. I was reminded by Dario that I shouldn't leave Argentina thinking Dorado fishing is easy. Luckily for me, the fish were on, the conditions were right. But as Dario explained, they don't really know enough about the Golden Dorado yet. There's not masses of books and information like trout and salmon, they're still really trying to figure them out. I was just lucky enough to have had a few red letter days.
The Parana river is also populated with other fly caught species as the wolf and vampire fish. Wolf fish were found lying in slacker water tributaries and require a cast onto the bank, which is slowly drawn onto the water. Again, just prepare yourself for the explosion. I often had the guides whispering 'be careful, be ready, pay attention…then bang! They weren't wrong. I did hook a vampire fish, but unfortunately it came off as we were landing it, so I'll need to return and put that right another day.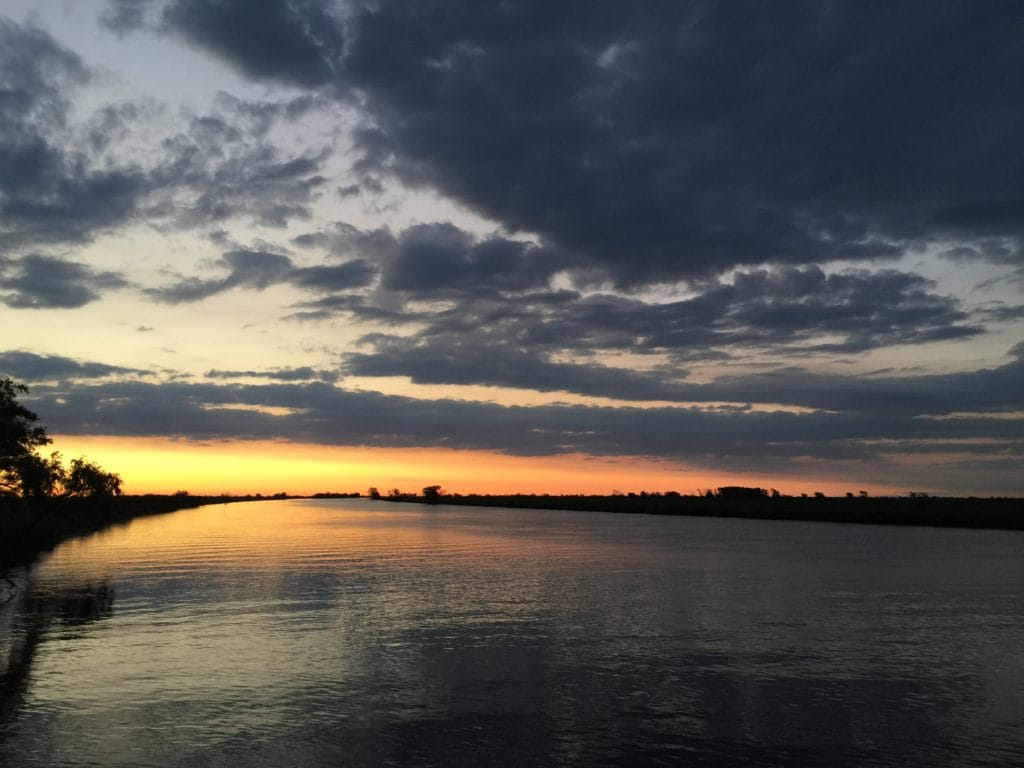 At the end of the days fishing, we returned to the Dorado River Cruiser, and were greeted with drinks and snacks while sharing stories with other anglers residing on the ship. The food and wine aboard was first class. It's fair to say on reflection of my fishing experience, I have yellow fever. The Golden Dorado has just jumped to the top of the list as one of my favourite species, and I'll most definitely be returning in search of more gold.
Dorado River Cruiser, dorado fly fishing Buenos Aires Argentina
For more information on this new and exciting operation please contact Steffan Jones or call our office on +44(0)1980 847 389.