There is no place on earth that offers the numbers of sailfish that Guatemala does. It is on the pacific side of Central America and has for a long time been one of the most prolific billfish fisheries on the planet.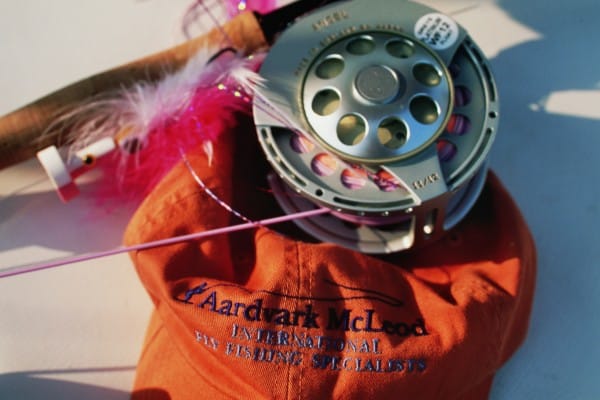 Guatemala fishing offshore often takes place in calm seas as far offshore as 50 miles. The geography and topology of the fishing grounds offer protection from rolling currents and during the prime fishing season of October through May, the vast majority of days offer calm seas and deep blue water, holding large numbers of pelagic fish.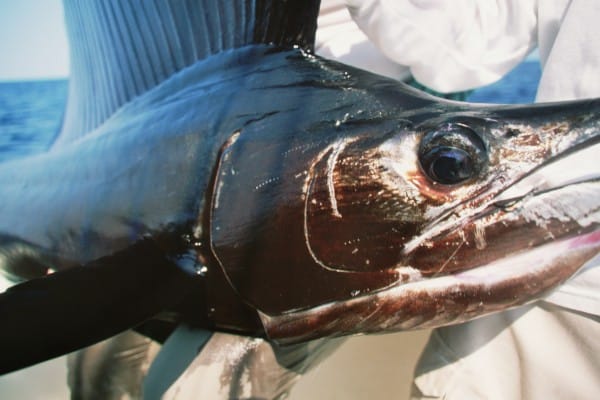 We are sometimes able to take advantage of these conditions by offering smaller and more economical charters for two or three anglers – but we have to take precautions. Constant vigilance of the weather systems are required when fishing in a smaller boat that far out, and while we can, and do, take all precautions…we can only control what we can see. The deep blue water holds large numbers of sailfish but also frequently offers the opportunity to hook into large blue and black marlin. These billfish are typically juveniles in the 300-500lb range, but can be bigger…a lot bigger. When an angler is locked onto these fierce fish, the boat handling becomes a critical component; the associated danger of tackling big marlin was evident last week in this picture from Panama – where aggressive boat handling backing down on a large marlin caused the boat to take on large amounts of water. Small(er) boats can fish the same grounds as our larger charter boats, but it is obvious why a larger beam with more freeboard is definitely preferable!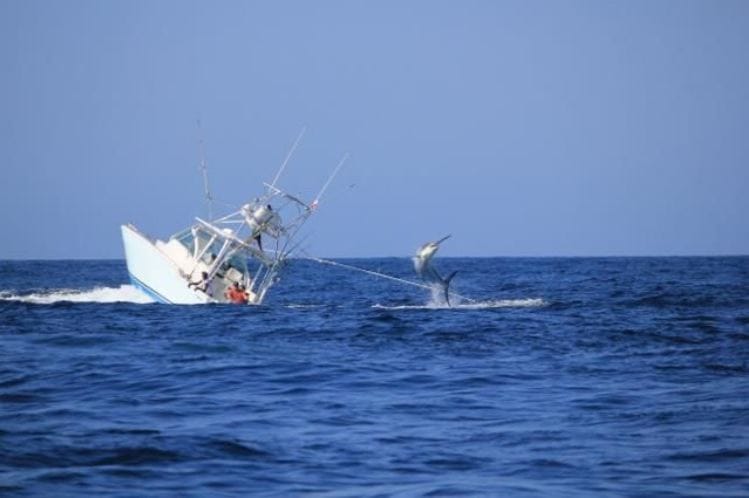 As we moved from January into February, the temperature of the water varied dramatically from day to day and the billfish moved with it. For a couple of days at the end of the month, we were dropping lines in at only twelve miles – but a day later that water had turned green and we were having to run as far as thirty miles before we could find good clean water. When we found it however, the fishing was prolific! Our boats were raising 30+ sailfish each day and our anglers were having a spectacular (and very tiring) time!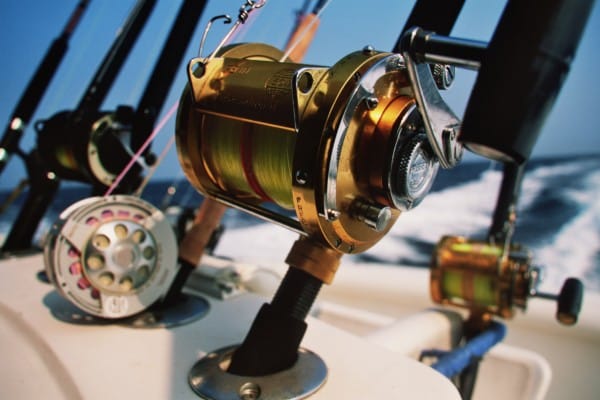 The fishing has remained good into February, although we have had a few days when, unusually for Guatemala at this time of year, the wind blew and white tops appeared on the waves. Our Bertrams of course are easily able to handle it – as well as any big marlin that come into the baits – and though our anglers had to brace themselves as they dropped baits back to the lit-up sailfish, they were faced with many opportunities as we continued to land double digit sailfish each day – some days in the thirty plus range. We still have some prime dates available in March this year – so if you are considering a trip, it seems that this season is living up to Guatemala's reputation as the "Billfishing Capital".
If you have ever wanted to catch billfish then Guatemala is the destination for you, offering excellent conventional tackle fishing as well as unbelievable fly fishing opportunities. For more details contact Aardvark McLeod or call +44 (0) 1980 847 389.