Rewa Eco-lodge is one of the only places to fly fish for one of the world's largest and rarest freshwater game fish, Arapaima gigas. If you're ready to challenge the Amazon jungle for the chance to fight 400 lbs of living dinosaur, you might just have what it takes to fish in Guyana.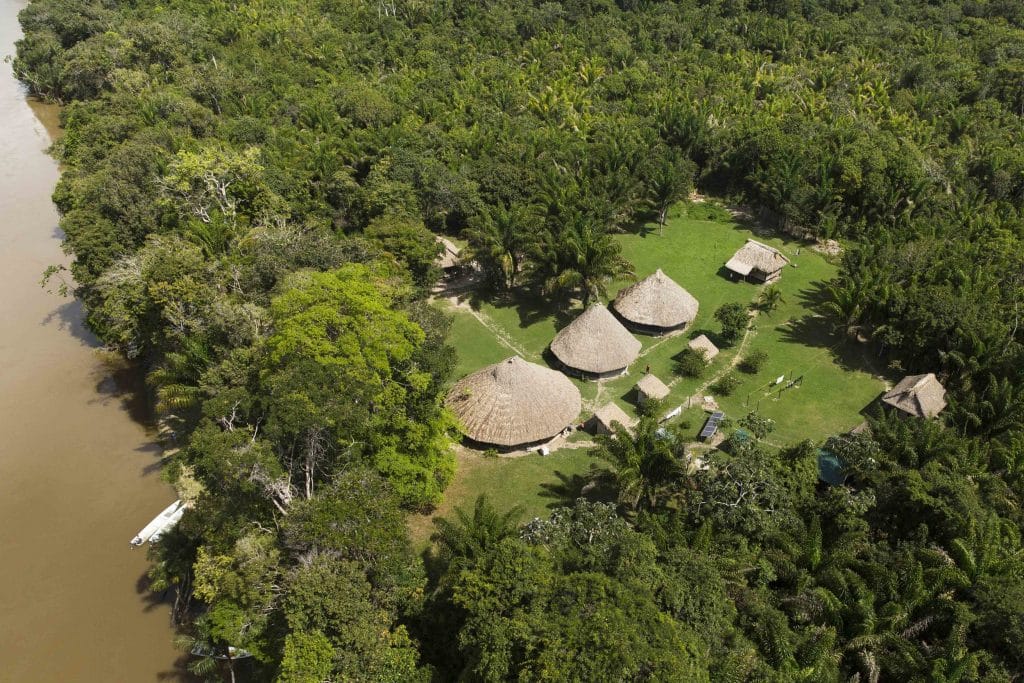 The arapaima is a top predator in the Rupununi and plays a critical role keeping the ecosystem in balance. It's also at the center of Rewa's sustainable form of ecotourism. To ensure the long-term health of the arapaima population, Rewa partners with the Indifly Foundation and conservation biologist Dr. Lesley de Souza to study and monitor the population. To gather data that informs best practices and regulations for arapaima fishing, Rewa villagers, with Lesley's guidance, track the species' migration and breeding behaviors which were previously a mystery. In order to protect the species, its crucial to know their movement patterns. This combination of actions has helped restore the arapaima population to more than 4,000.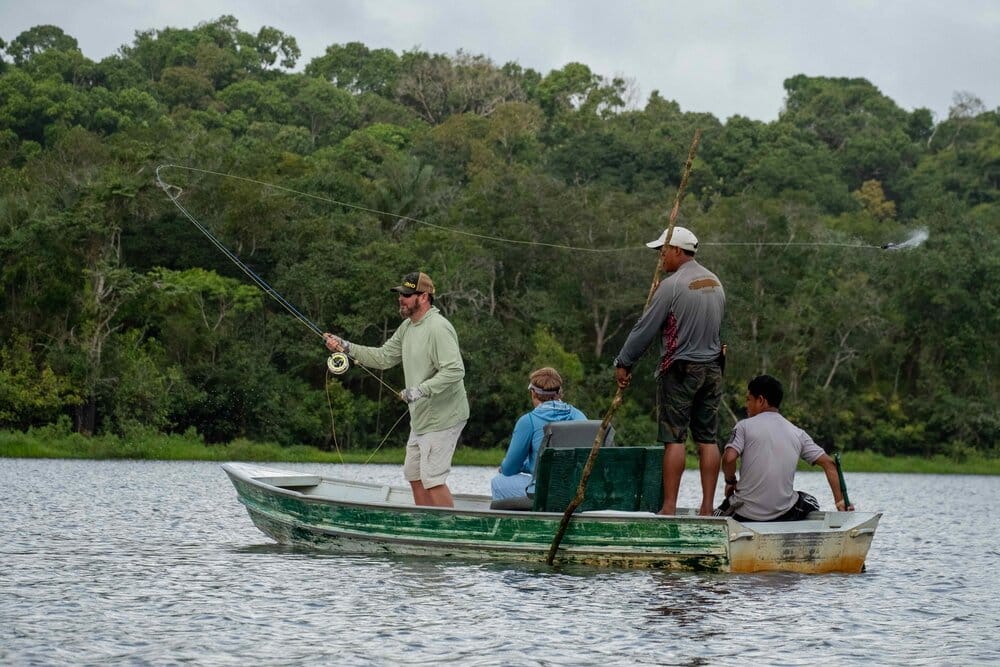 Arapaima are not your only fishing options, but they're certainly the largest, toughest and best-fighting fish you'll encounter not just in Guyana, but anywhere in freshwater. You will want a 12 # fly rod; we advise taking two or more, in case one (or more) loses the game of tug-of-war with these massive, powerful fish. In the waters surrounding Rewa Village you can also target peacock bass and payara, so you'll want to pack 8 & 5 # rods just to keep things interesting. The rivers have plenty of fishing options, and chasing the other species will allow you to check off a handful of species on your wish list.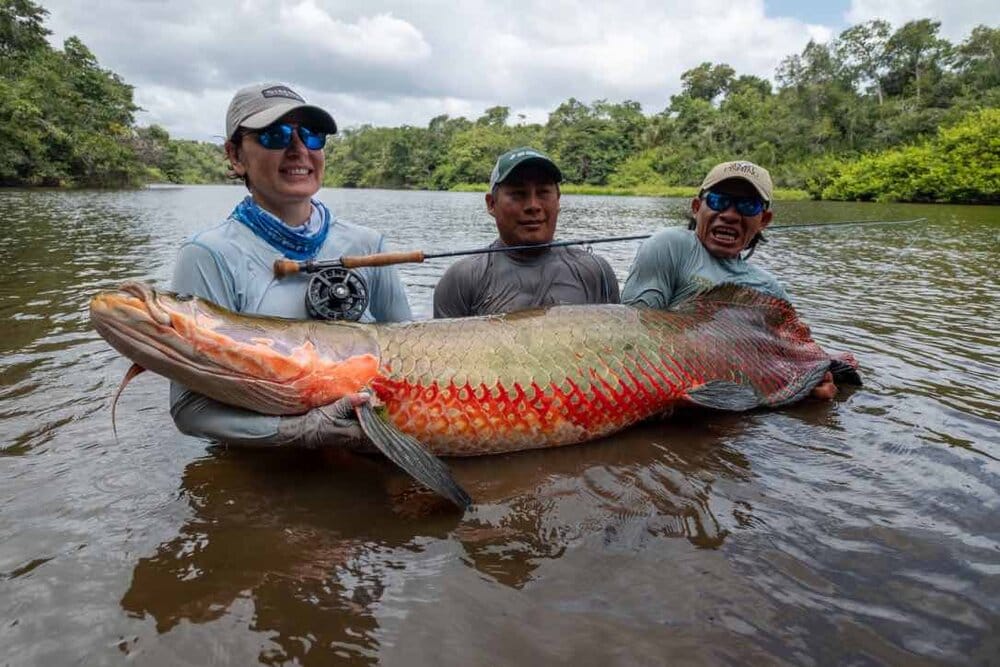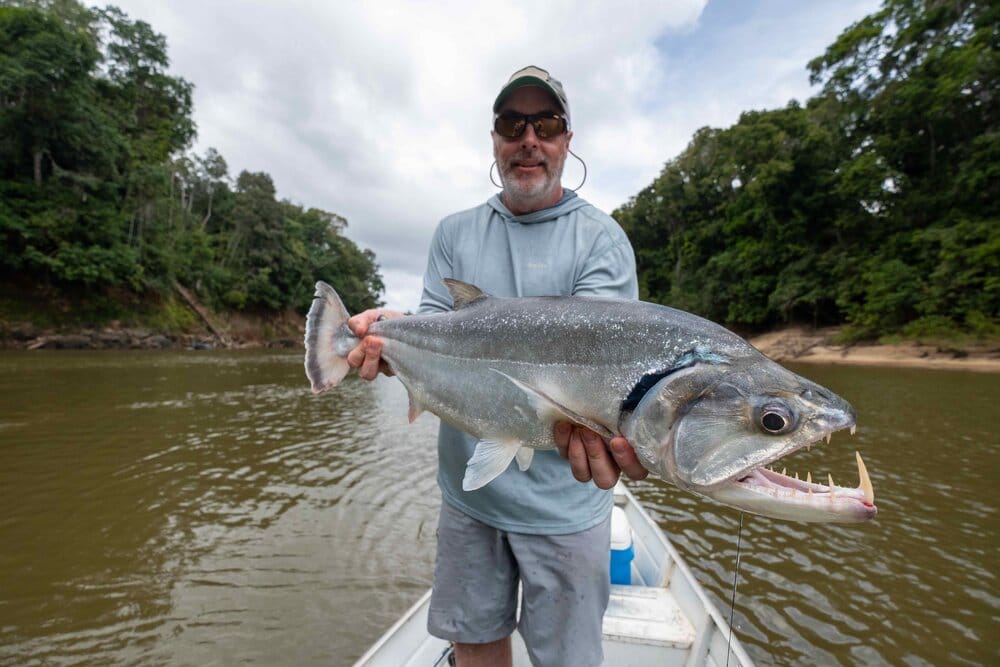 Accommodation is in two benabs with two bedrooms in each building that sleeps up to eight people and has three shared open-air bathrooms with a shower, sink and flushable toilet. There are three other cabins, each with en-suite bathrooms. In total seven rooms which can cater for seven singles or fourteen persons on a twin share basis. There's no hot water, since it's pumped from the river to a water tanks, but it is lukewarm from the sun's rays by evening.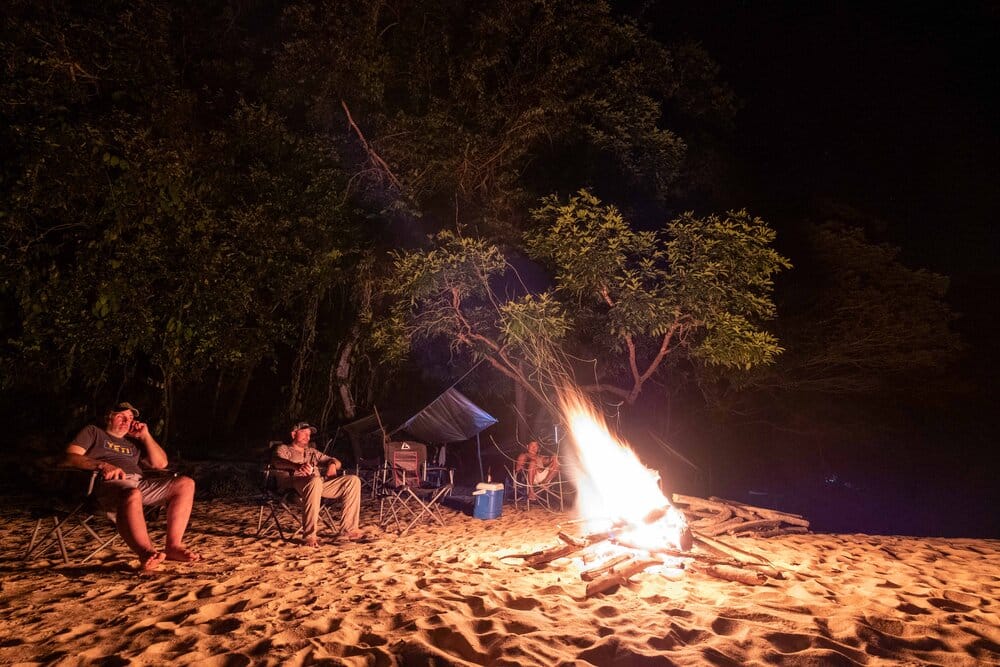 Breakfast, lunch and dinner are served in the thatch-roofed main dining area. After a long day on the water, step into the Laughing Arapaima Bar for a cold beer or rum and to share your fish stories with others.
Rewa Lodge Availability 2022-2023
29th Oct – 5th November 2022
12th Nov – 19th November 2022
19th Nov – 26th November 2022
4th March – 11th March 2023
11th March – 18th March 2023
18th March – 25th March 2023
Rewa Lodge Cost 2022-2023
US$7,600 per person
The price includes: In-country transfers, 1 hour 30 minutes charter flight into and 1 hour 30 minutes flight out of the region; meals and accommodation at Rewa Eco Lodge, 6.5 days guided fishing, the Arapaima license.
Not included in the price: Round trip airfare in and out of Georgetown, accommodation in Georgetown, meals in Georgetown, alcoholic beverages, flies, and terminal tackle at Rewa Eco Lodge.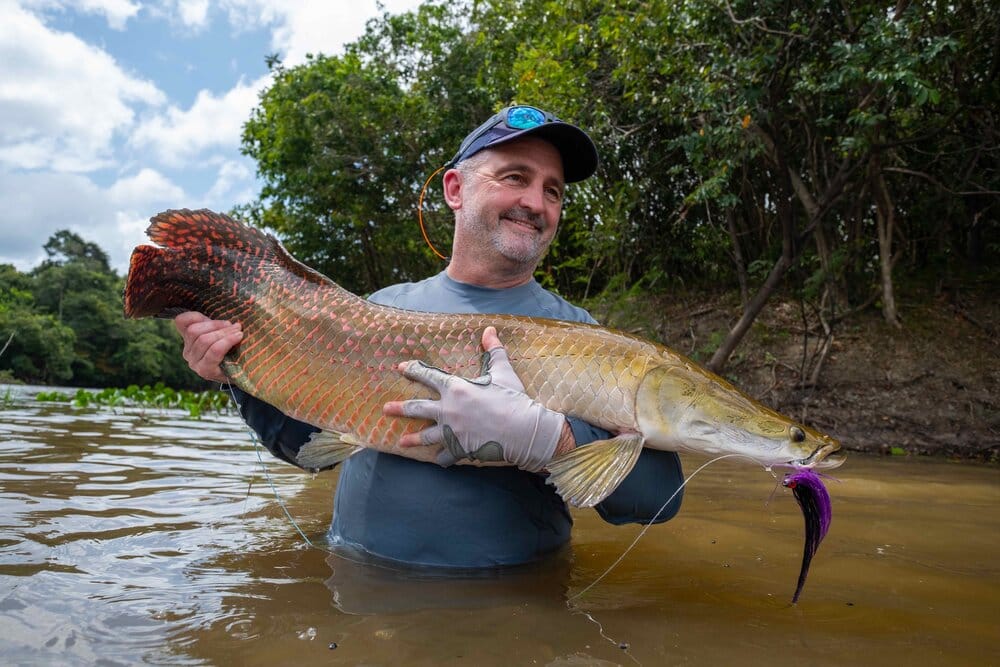 For more details on Rewa Lodge please do not hesitate to contact Peter McLeod or Alex Jardine or call our office on +44(0)1980 847389.