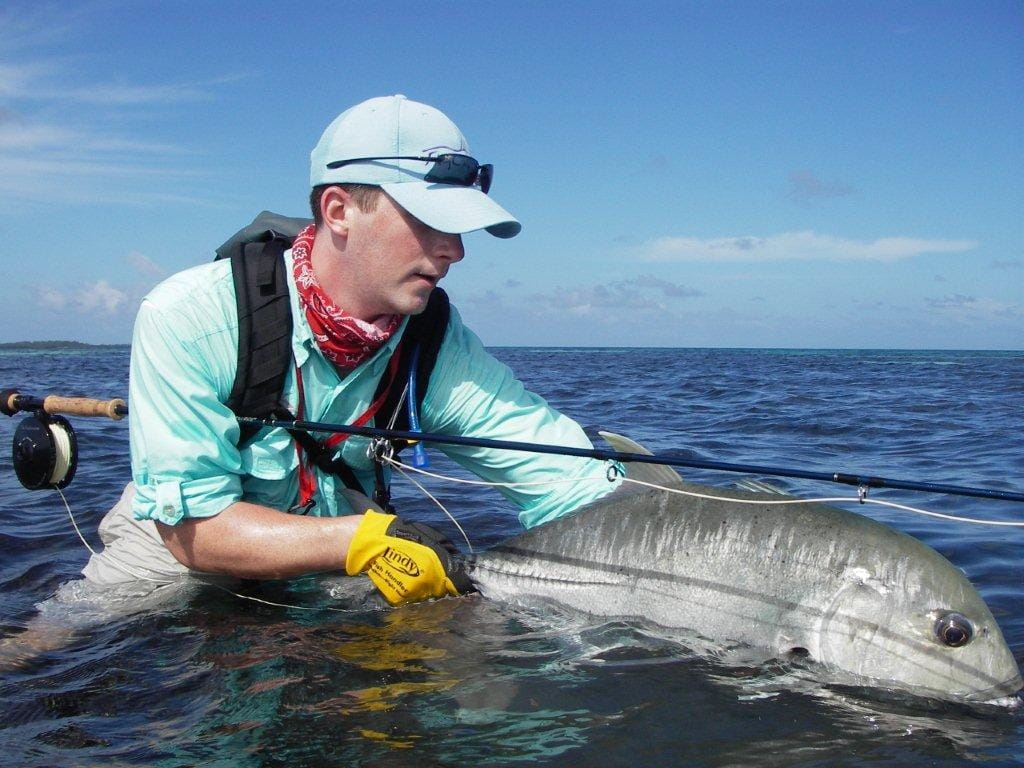 It is with extreme excitement that we would like to announce that once again it will be possible to travel to Cosmoledo Atoll in the Seychelles. The joint venture between Silhouette Cruises and Alphonse Island ensures that all client expectations are met and guests get to return safely to these magnificent atolls. Having fished it in both 2006 and 2008 this trip presents the best giant trevally fishing in the world.

Cosmoledo Trips:
In past years, Cosmoledo has become known as the best GT fishery in the world and has become the benchmark for anglers searching for the ultimate saltwater flats destination. The sheer numbers and variety of fish species has amazed the fly fishing world, with anglers from across the globe queuing up to sample the ultimate fishing playground, until it was closed 4 years ago due to piracy. Its been rested and the fishing has most certainly rejuvenated itself to an untouched ecosystem full of hungry GT's. It is a world filled with colour, where the daily dramas of a pristine ecosystem play out in front of your very eyes, a rare opportunity and privilege to gaze into a world, which has changed very little in the years that have passed. The Cosmoledo trip is unique in the fact that anglers get the opportunity to fish three atolls during their week, namely Assumption, Cosmoledo, and Astove. Cosmoledo is a stones throw away from the world heritage site of Aldabra, and in many respects resembles the latter, which is often referred to as the Galapagos of the Indian Ocean. Menai and Wizard islands occupy the east and west points and were named after the two ships that explored the atoll on the Moresby Expedition in 1822. South Island stands near the main entrance to the inner lagoon, while the second smaller entrance is just south of Menai. The northern islands are interspersed with numerous islets and banks, all of which see good numbers of large fish.
Guests are expected to arrive in Mahe the day before or early on the morning of the starting day of the trip, which commences with a charter flight to Assumption. The group will meet an hour before the scheduled departure time at the domestic terminal. The flight from Mahe to Assumption is 2 hours 45 min onboard a private chartered Beechcraft 1900. Guests are met by the the crew at the landing strip and are then led on a 5 min walk to the bay where the live aboard will be anchored. The group will spend the days fishing and exploring the islands, flats and channels of Assumption, Cosmoledo and Astove Atolls. On the last evening the mothership will cruise back to Assumption for where the charter flight will pick the group up.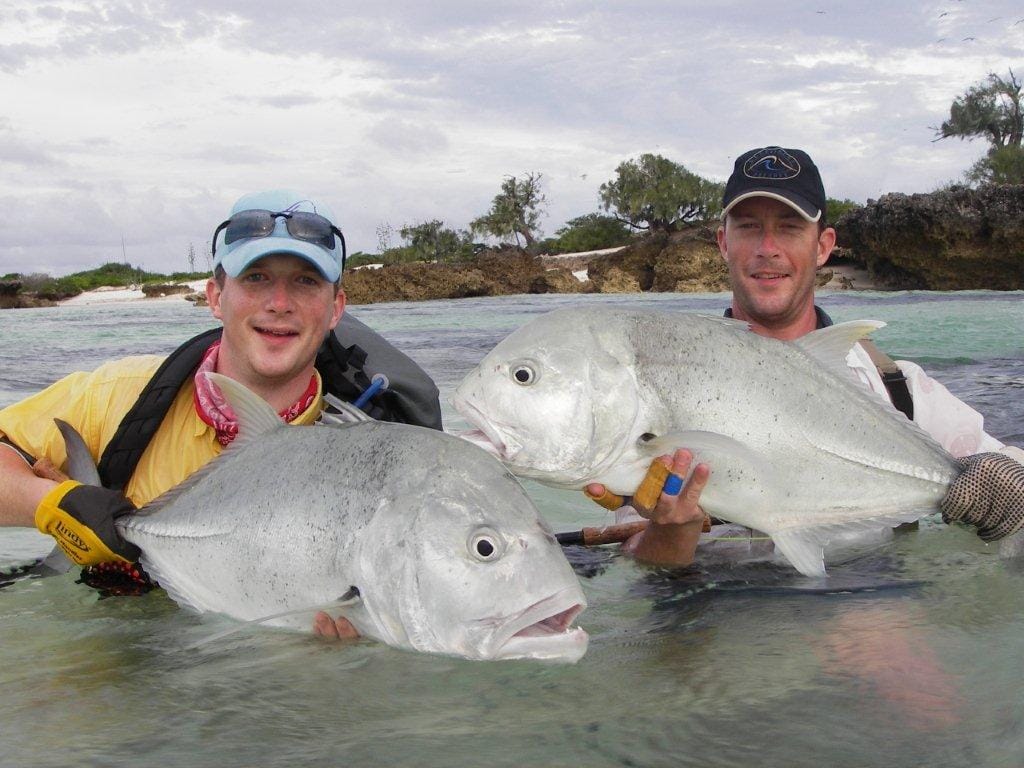 Location:
Cosmoledo Atoll 560 nautical miles SW of Mahe
Astove Atoll 570 nautical miles SW of Mahe
Assumption Atoll 610 nautical miles SW of Mahe
The Fishing:
Cosmoledo's large white sand flats, lagoon edges and channels are without question ruled by the notorious Giant Trevally, so much so that it is often referred to as planet earth's GT headquarters! GT's are however not the only species which can be found here in numbers. Bonefish, Milkfish, the finicky Indo-Pacific Permit and a host of Triggerfish species all call Cosmoledo home and hence make this truly special fishing destination.
Astove is a gem of the Indian Ocean and anglers get the chance to spend one or two days fishing this smaller atoll weather permitting. It is unique to the other outer atolls in that it has only one small channel linking the sea to the lagoon. This is one of the better areas to target the many large Giant Trevally that call Astove home. Astove has equally impressive fishing for Bonefish, Triggerfish and many others. Don't be fooled by its size of the small atoll, Astove has some of the best fishing we have encountered anywhere in the Indian Ocean. It offers travelling anglers the opportunity to target just about every game fish species found in the Indian Ocean.
Assumption is generally the final fishing option, as the mothership anchors in the calm lee of the island the night before guests are scheduled to fly back to Mahe. Anglers have the option to spend their last morning either walking and fishing Assumptions exceptionally beautiful beaches and surf zones, targeting some of the countless pelagic species which can be found just offshore or snorkelling the crystal clear waters just off the beach.
Deep water begins very close to shore at Cosmoledo, Astove and Assumption and it is possible to fish these fish filled waters from the tenders. Here the most common species encountered are Giant Trevally, Barracuda, Wahoo, Yellowfin & Dogtooth Tuna, Sailfish and the occasional Striped Marlin.
Security:
Even though the Seychelles water are considered to as safe there will be 4 security personal on board at all times as a precaution.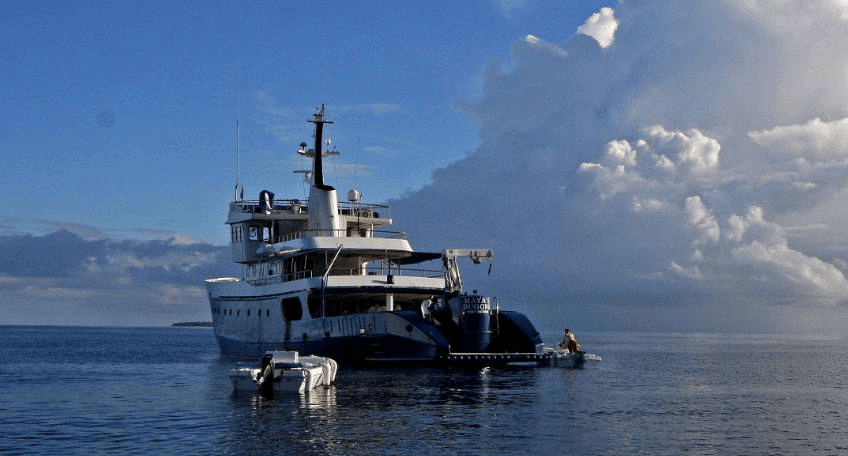 The Mayas Dugong:
The Mayas Dugong is an ex-research vessel which has been upgraded and modified into a mother ship catering for long range fly fishing expeditions. She is rustic and can accommodate up to 12 fly fishermen, four Alphonse guides, as well as 8 crew and 4 security who cater for your every need. A large, spacious and extremely stable vessel, she is the perfect base with which to explore the remote outer atolls of the Seychelles and other Indian Ocean waters. As a fly fisherman it would be difficult to find a better boat from which to operate out of, with its ability to store and transport four tender boats on its spacious aft deck. Because of its large size and high fuel storage capacity, The Mayas Dugong can cover long distances at good speed and comfort in almost any sea conditions, opening up new possibilities for exploring the Seychelles and surrounding areas.
The Dugong is four level vessel which offers 7 spacious guest cabins situated either on the middle, main or lower deck. Each has an ensuite shower and flushing toilet. The vessel also offers a comfortable salon and dining area. All cabins and indoor dining or entertainment areas are fully air conditioned, allowing guests a chance to relax in a comfortable environment after a long days fishing out on the flats or offshore. On the mid deck she is spacious and boasts a large elevated area with a magnificent view of its surroundings. This area is perfect for dining, sundowners and general relaxing. The lower deck's primary function is to store the tender boats and fishing tackle. The stern of the vessel has a set of stairs leading down to a large swimming platform, perfect for fishing from. This feature also allows for a safe and comfortable transfer from the tender boats to the main vessel. The chef prepares a mix of Creole and international food. Fresh fish can be served everyday if requested.
Specs:
BUILDER: Port Weller Dry Docks, Canada
YEAR: 1966
REFIT: 2011
BUILDING MATERIAL: Steel / Aluminium
LOA: 39.60 m
BEAM: 8.20 m
DRAUGHT: 4.40 m
SPEED: 10 knots cruise; 12 knots max.
ENGINE: Burmeister Wain Alpha 600 HP
GENERATORS: 2 x Iveco 52 KW and 1 x Mercedes 116 KW
ELECTRICITY: 380 v, 220 v, 24 v (No converters required)
GUEST ACCOMMODATION: 7 x twin ensuite guest cabins
PLUG POINTS: Round European Two Prong
Tender boats and guiding:
The Mayas' Dugong will have 4 Mini-Mahe Tender boats that will be skippered by our experienced Alphonse guides. As the fishing is predominantly done whilst wading there will be 3 guests fishing with 1 guide. The mini Mahe's get stored on deck after being lifted with one of our 2 cranes on board. All Cosmoledo trips are led by a team of world class professional fly fishing guides. During your stay on the vessel there will be four guides including one head guide onboard. Each guide is a qualified skipper, has first aid experience and is extremely experienced with regards all facets of fly fishing these remote saltwater destinations. Their passion and dedication is infectious and rest assured they will definitely go the extra mile in search of your fish of a lifetime.
Available weeks:
Week 1: 5 – 12 March 14 – Sold
Week 2: 12 – 19 March 14 – Sold
Week 3: 19 – 26 March 14
Week 4: 26 March – 2 April 14 -Sold
Week 5: 2 – 9 April 14
Week 6: 9 – 16 April 14
Week 7: 16 – 23 April 14
Week 8: 23 – 30 April 14 – Sold
Rates:
Fly Fishing Rack Rate (Sharing Accommodation 3 Anglers per Tender & Guide):
Fishing Package: USD 11,125 pp shared accommodation / sharing skiff and guide
IDC Flight: USD 3,375 pp Return
TOTAL: USD 14,500

Single cabin supplement USD 3000 (Max 2 single cabins)

INCLUDES:
7 Night package with all all meals included
Private charter flight
Six days fully guided fishing
Max Pax: 12 anglers (3 anglers to 1 guide)
Tender boat and fuel
EXCLUDES:
International Flights
Ground transfers on Mahe
All drinks (other than coffee/tea), laundry, items of a personal nature & telephone charges.
Any hotel nights necessary on Mahe
Travel and medical insurance
Tackle and flies
Gratuities
There is wireless connection that can be purchased via coupon while on board.

PAYMENT TERMS:
Reservations will be held for 2 weeks. We require a 50% deposit to confirm the booking, final payment is to be made 3 month prior to arrival.
This is going to be on a first come first served basis and it will be extremely popular. If you would be interested in going then please email us immediately.