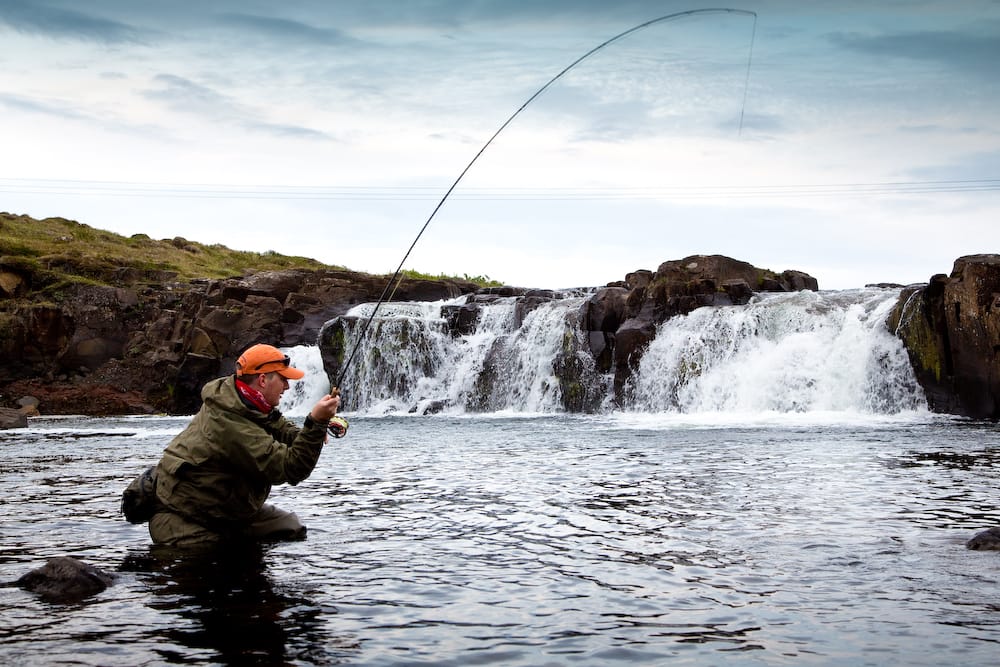 The autumn has proved to be very busy on the salmon fishing front and especially in Iceland. After the fantastic season we have just had many rods have opted to take up their space again for next season and some have looked to add another river. After some considerable juggling as we approach the beginning of September most of July is sold out across the country although we still have a few prime slots here and there. If you are considering going to Iceland next year then there is a genuine sense of urgency for space so please contact as soon as possible or it is very likely you will miss out. If you would like a quick overview of the rivers again and missed our Iceland brochure please click HERE.
The Langá has bounced back with a vengeance and after the phenomenal season this year has been very popular. As one of the most consistent rivers on the west coast in years gone by it has performed in all conditions and all the pools are easily accessed by vehicle.
30 June – 3 July 1 rod £3,080
3 – 6 July 6 rods £3,590
31 July – 3 August 8 rods £4,285
8 – 11 August 8 rods £3,570
11 – 14 August 11 rods £2,995
The river this year is pretty much sold out for July, but August can be exceptional along with a very good chance of large sea trout running at this time.
17 – 20 August 5 rods £2,640 (This slot will be hosted by Alex Jardine and is a special price for the group)
20 – 24 August 2 rods £3,490 (this is a four day slot, but can be split to 3 days.)
After the number of rods were reduced to only six the Laxa Dölum has taken on a new lease of life. It is one of the few river in the west coast that can be taken as an intact party. Mid-August weeks this year produced up to 200 fish and as Laxa I Dölum has a slightly later run that others around these dates would be considered prime.
6-9 July 4 rods £2,410
8 – 11 August 2 rods £3,580
14 – 17 August 1 rod £3,580
17-20 August 1 rod £3,580
A stalwart favourite these early season rods will intercept the early fish entering the river. It is an opportunity to fish this famous river for a fraction of the cost of a prime week.
27 – 30 June 4 rods £3,430
East Rangá
One of the prolific southern rivers of the south coast the East Rangá is the nearest thing to a safe bet.
24 – 27 July 2 rods £4,240
Autumn combinations
If you have thought about heading to Iceland for an autumn week then here are some ideas we would like to share with you. Famous big fish rivers, but later in the season. Again an opportunity to fish these rivers which still have salmon running them for a fraction of the cost or prime time.
Grimsá & Laxá I Kjos
10 – 16 September 6 rods £4,490
Svalbardsá & Hofsá
29 August – 1 September 3 rods £6,490
Hofsá & Svalbardsá
1-7 September 3 rods £5,850
Please contact us for more details and to discuss some wonderful trip options that are available.