Whether going as a standalone trout fishing trip or combining it with salmon fishing or a family holiday, Iceland offers some of the finest wild brown trout and char fishing in the world. There is a huge variety of rivers and lakes offering everything from nymph and streamer fishing through to some amazing dry fly action. Some offer good numbers of smaller fish, some provide anglers with the chance of monster, but all are set in the stunning Icelandic landscape.
If you have thought of visiting Iceland, but the salmon fishing prices have put you off, then you should consider experiencing some of the phenomenal trout and char fishing opportunities for the 2022 season: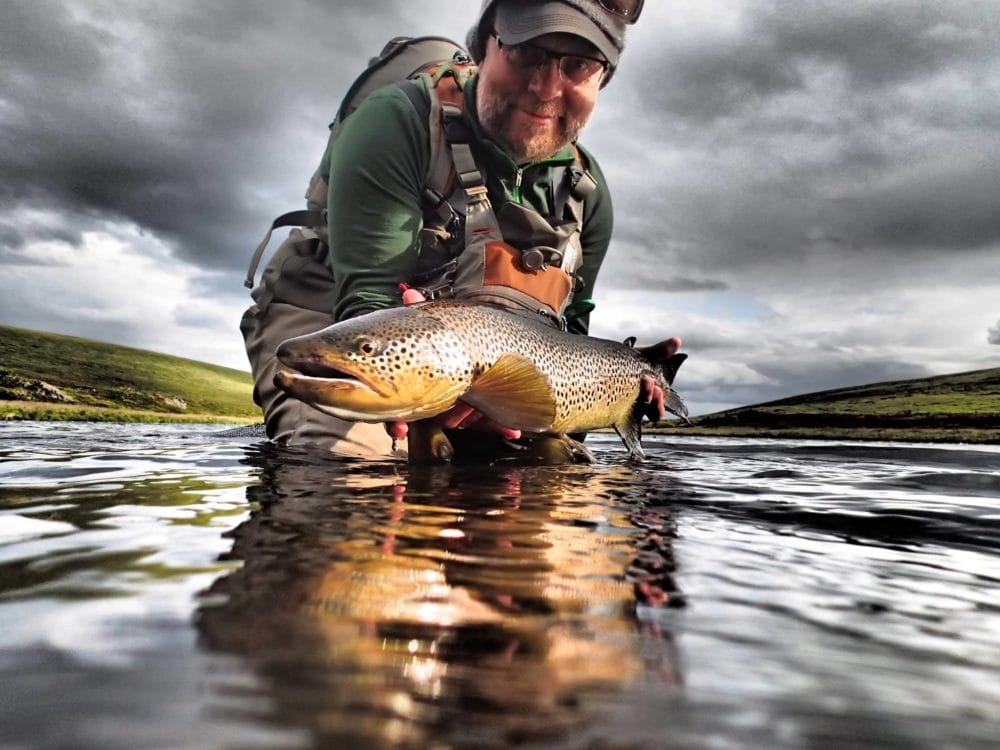 Laxárdal is the lower of the two sections on the upper valley of the Laxá Í Adaldal. Spanning 12 ½ km it represents perhaps some of the finest wild brown trout fishing in Europe. The river is wide and shallow, and not dissimilar to flats fishing as you wade out and cast at rises. Like the salmon beats below, the river bed is a contrast of black sand punctuated with laval rock creating superb lies for large brown trout. These Ice age fish have a large average size of 4 lbs, but unlike trout in other areas of the wold they remain insect feeders. Every year numerous 5-7 lbs trout are caught, with the occasional 8-9 lbs fish making an appearance. Some Icelanders fish with streamers, but upstream dry fly and nymph tactics are considerably more effective. Although there are none of our normal variety of biting mosquitoes in Iceland they do have a number of other chironomids that the trout feed on readily.
2023 Availability:
5 – 8 July: 3 days, 6 rods – £2,620 per rod
8 – 11 July: 3 days, 6 rods – £2,620 per rod
Other dates available on request.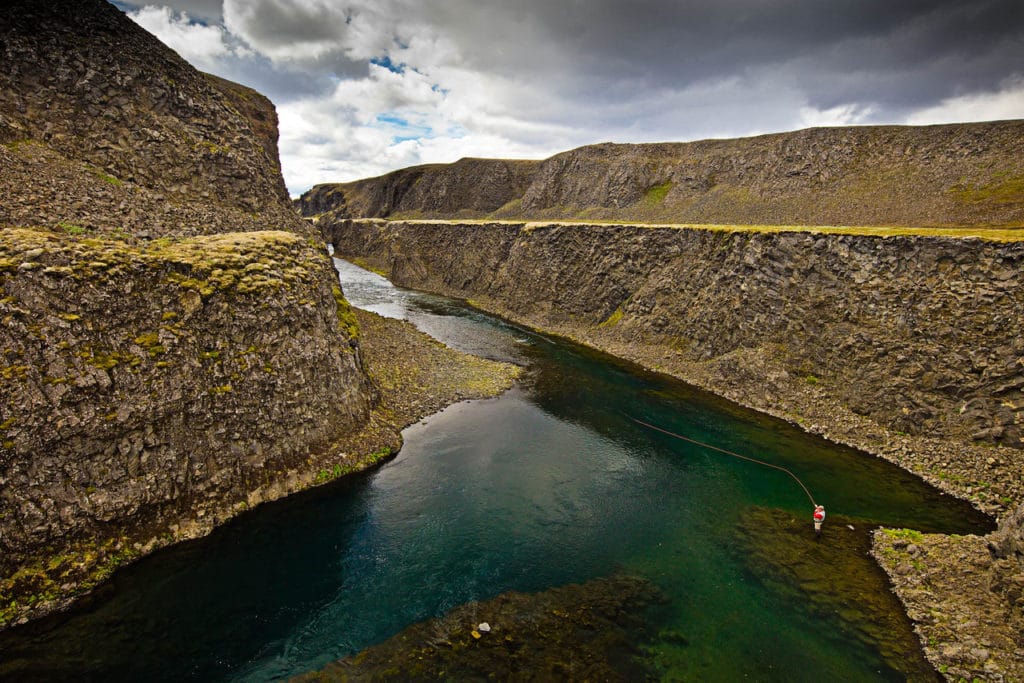 These two rivers are located in the central highlands of Iceland and out of some of the massive moraine lakes to be found in this area. The Kaldakvisl is over 16 miles of fishing and Tungnaa which is 8 miles long, both of which contain brown trout and arctic char to some pretty impressive sizes. Both of these rivers are based from a nicely appointed full service lodge located between the two making them easily accessible.The central highlands areas is desolately beautiful. As you climb from the green lower valleys up onto the plateau the scenery gives way to rock and lichens, the fall out from ancient volcanoes and lava flows now scraped clean by the winter snows. Through this landscape winds the Kaldakvisl, flowing through large open pools strewn with large boulders and deep blue volcanic cuts. The perfect environment for large ice aged brown trout and arctic char. The fishing up here is a combination of dry fly, nymph and streamers, really dependent on the weather conditions.The char average 3 – 4 lbs although there are specimens up to 7 lbs. the brown trout are sporadic but tend to be very big territorial brownies.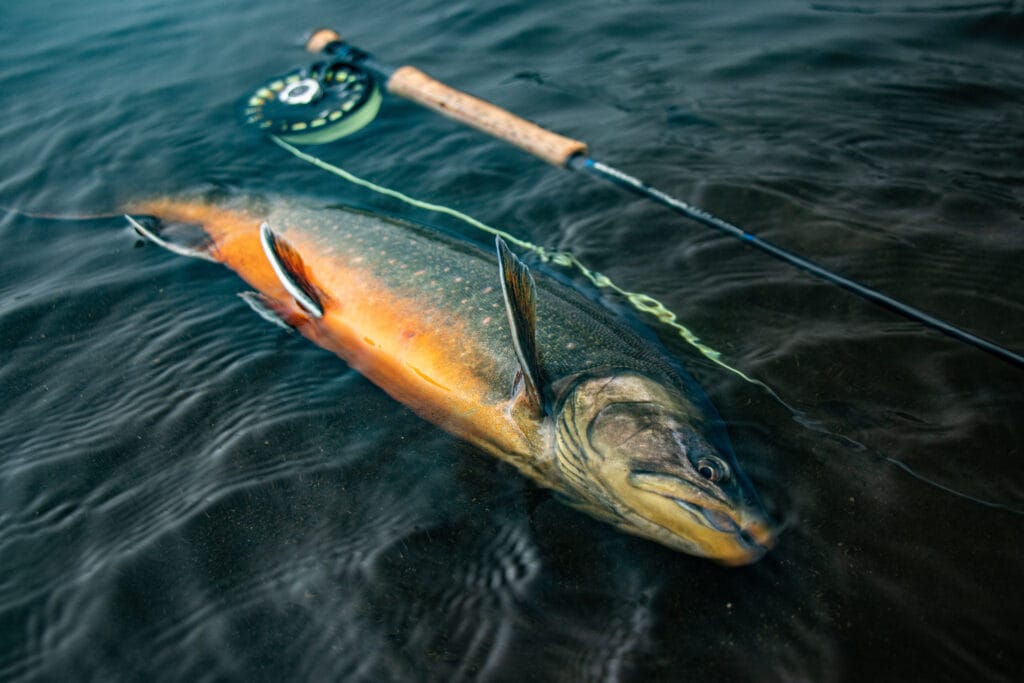 The Tungnaa in contrast is a smaller more intimate river in comparison. The top half runs through a ravine section of miniature canyons with some featured pools, but all easily accessible. Inviting pools hold very healthy populations of big char which will readily take flies. The river also holds large brown trout and I heard some incredible battle stories from amongst the other anglers. Fish average 3 – 5 lbs and some monsters up to 12 lbs have been landed. As the river flows further down the valley it begins to meander through glacial moraine making for incredibly easy access and wading in large open pools. This area is ideal for those that wish to catch big char but don't fish to do to much rock hopping. When the wind lays flat these areas can come alive with rising fishing which allows dry fly fishing for char and pretty unique.
2023 Availability:
4 – 8 July 2023: 1 rod – Aardvark Hosted Week
Other dates available on request.
2023 Cost:
£3,140 per person based on 4 nights / 3 days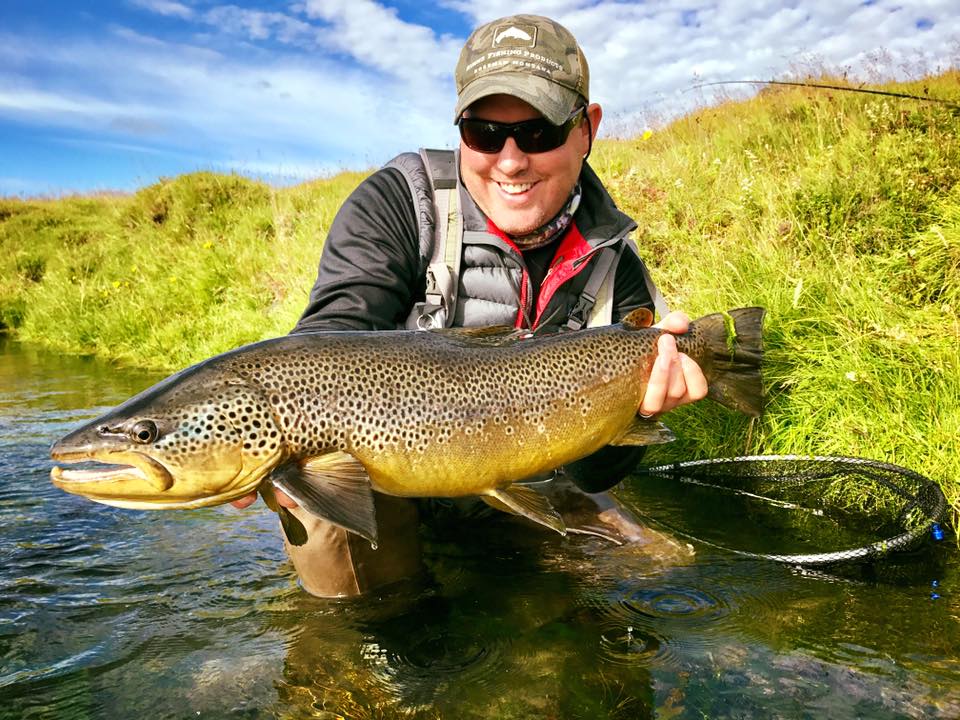 This smallish, gin clear Icelandic stream has been hailed as one of the best kept secrets in global angling. It is a technical river where stealth, among other attributes, is needed. Wild native brown trout swim its waters, remnants of the Ice age stocks that stayed on when the glaciers retreated. Real dinosaurs, relics from times past. They are on average 3-4 lbs, with the monsters ranging to 20 lbs. Every season several of 10 lbs + are caught, with many in the 5 to 9 lbs class. The season starts at the beginning of April, often in sub-zero temperatures, and it fishes to the end of September. Spring is most popular with the local anglers, when fishing with streamers and nymphs is most effective. Later, in June, July and August delicate dry fly fishing takes over and is most productive. Late in the season there are usually few rods fishing the river. It is an underrated time of the season as the browns tend to get very aggressive.
2023 Availability:
On Request.
2023 Cost:
Dependent on group size and level of service required.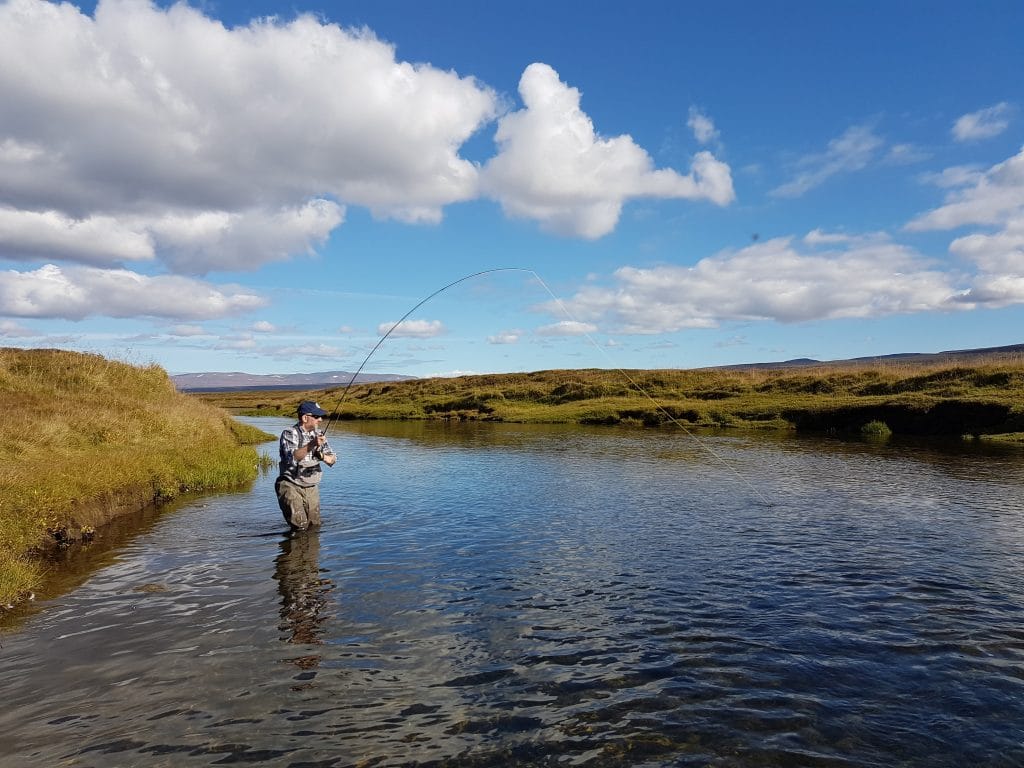 Mýrarkvísl is the lowest tributary of the Laxa I Adaldal on the north coast of Iceland and offers the perfect opportunity to have a private river system and lake for three to four rods combining brown trout, salmon and arctic char. It is an intimate river that holds a large head of brown trout along with a reasonable run of good sized salmon through the summer. Mýrarkvísl flows across the Reykjaheiði plateau for the first 15 km making it perfect for dry fly fishing for trout. It is not unusual to catch 15-20 browns a day with a 2-3 lbs average size. The river has a unique character with such diversity of fishing there will always be something to entertain from casting a nymph or a dry fly on the upper section to a rising trout, or trying to winkle out a large salmon in the canyon pools. Fishing on the Langavatn lake is also included. The lake holds a large stock of small Arctic char along with good sized brown trout.
2022 Availability:
8 – 11 July: 3 days, 2 rods – £2,850 per rod
25 – 31 July: 6 days, 4 rods – £7,170 per rod (also prime salmon fishing)
2 – 6 August: 4 days, 4 rods – £5,120 per rod (also prime salmon fishing)
13 – 17 August: 4 days, 4 rods – £5,120 per rod (also prime salmon fishing)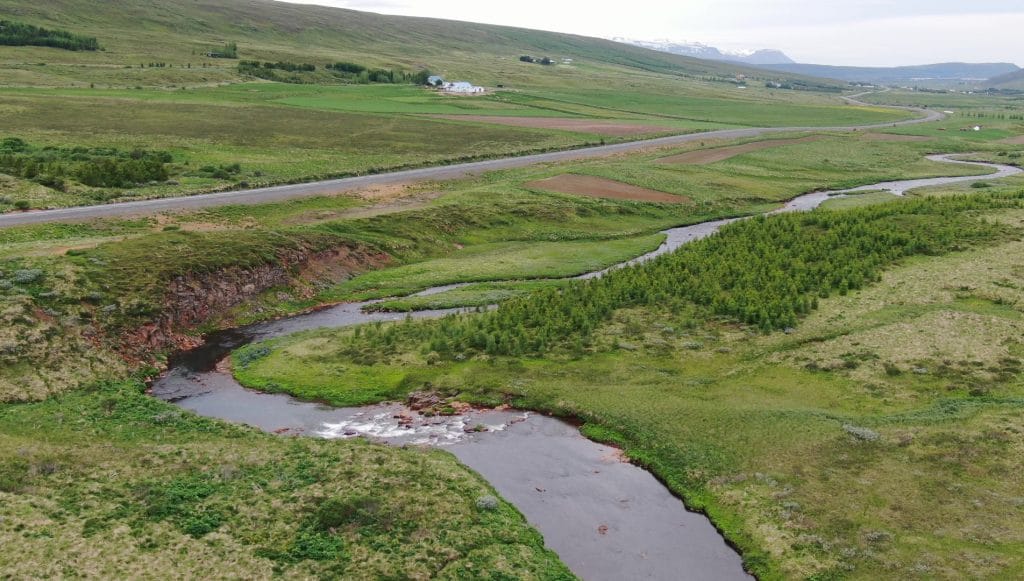 Reykjadalsa is a relatively small river that holds a great stock of brown trout along with getting good runs of salmon throughout the summer. The river runs through plains for the first 15 km making it perfect for dry fly fishing, after that the river falls a faster all the way up to the canyon at the top. Reykjadalsa is one of the tributaries of the Laxa in Adaldal as the it runs through the lake Vestmannsvatn and changes its name as it runs from the lake to the Laxá the river is called Eyvindalækur. The river has an amazing character with such diversity that there should always be something for every angler weather it is fishing the plains with dry flies, hitch or sight fishing for salmon and brown trout in the upper canyon pools. The fishing season starts on April 1st with brown trout fishing and at that time it is not unusual for angler to be catching 15-20 browns a day with a fairly good average size. Later in June the salmon start making their way up river in small numbers as the dry fly season starts. The focus is mostly on brown trout so there are not many salmon caught in June every year.
2023 Availability:
On Request.
2023 Cost:
Dependent on group size and level of service required.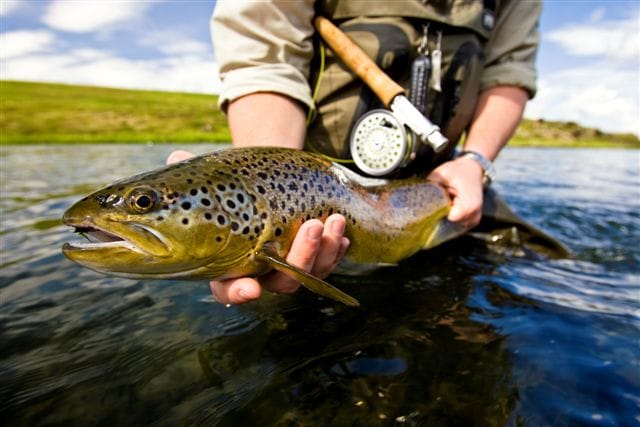 Myvatnssveit is the upper of the two sections on the upper valley of the Laxá Í Adaldal that flows directly out of Lake Myvatn. The section is 12 km and broken into beats that accommodate between two to three rods. These upper beats are wonderfully braided with fast runs, small pockets and crystal clear water. Pools for the most part are grass banked, wide, and with a relatively even bottom. The laval shelves create wonderful lies for large trout to ambush unsuspecting insects as they drift past. The varied water, from fast runs to glassy tail-outs offers anglers some very interesting fishing whether that is prospecting with nymphs or casting dries to confidently feeding fish. The wild brown trout average 2-3 lbs with fish of up to 10 lbs encountered every season. As these fish live in fast, powerful water they are extremely strong, and hooking one will test your tackle and skill.
2023 Availability:
On Request.
2023 Cost:
Dependent on group size and level of service required.
Lower Laxa I Adaldal Combo
The lower Laxa I Adadal is famed for its run of big Icelandic salmon, but it is certainly not limited to salmon only. Between the uppermost salmon beats and impassable hydroelectric waterfalls lie several small trout beats, until recently these have operated as standalone beats for a small number of rods each. For the 2022 season these beats will be combined and serviced from one lodge for up to 10 anglers. This will be a great chance for avid trout anglers to target the big wild brown trout of the lower Adaldal, a location known to enjoy the same spectacular dry fly action that made the upper river famous amongst trout afficionados. Due to the nature of the fishing, there is always the chance of encountering one of the big salmon too for those who want to try.
2023 Availability:
On Request.
2023 Cost:
Dependent on group size and level of service required.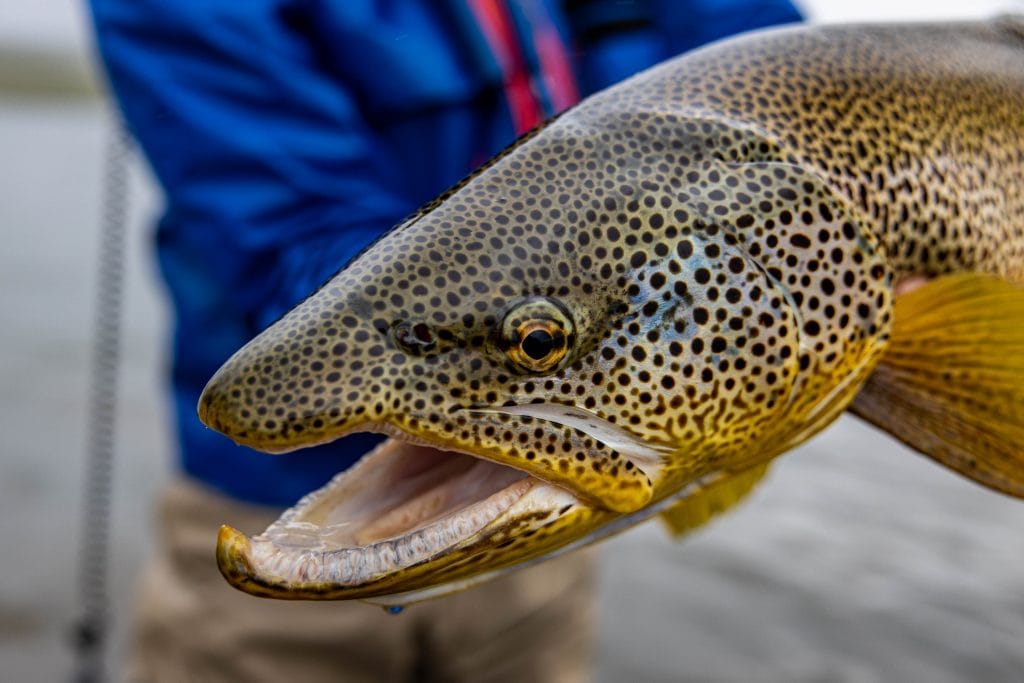 Despite being small, Lake Villingavatn is the home to some very large brown trout. It is the smaller cousin of Lake Thingvallavatn and has been kept under the radar for years, only being fished by A select few. From the lake a small stream runs into Lake Thingvallavatn, connecting the two lakes and allowing the Thingvallavatn trout to enter the lake. It has a four-rod limitation. Stealth is often needed here as the fish can cruise along the margins and wading is not advised. Casting along the banks and towards the weed lines usually produces the best results. Streamers are most productive here, for instance any patterns that resemble sticklebacks (local bait fish), however the browns will take nymphs and dries in the right conditions. The fish here have incredible markings and are some of the most stunning brown trout you will encounter in Iceland. Villingavatn is ideal for those looking to bump into a massive Icelandic brown trout, but might find fishing Thingvallavatn a little intimidating. A verity of accommodation can be organised from self catering to 5 star hotels.
2023 Availability:
On Request.
2023 Cost:
Dependent on group size and level of service required.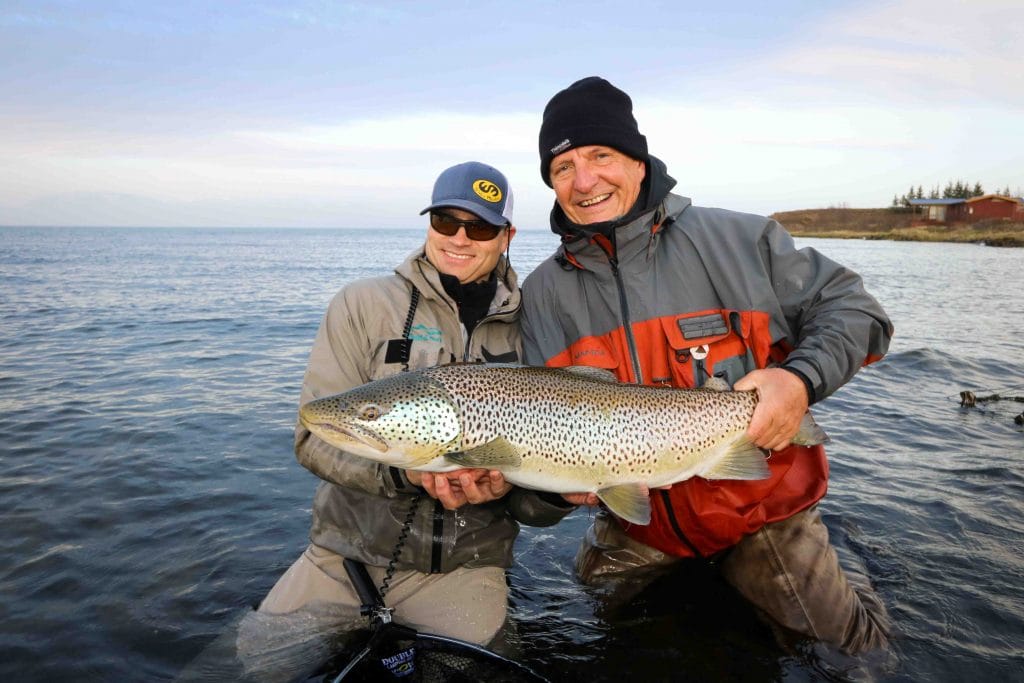 The season for Thingvallavatn is 15 April – September 15. Different areas of the lake fish better at different time of the year. Prime time is generally considered April to mid June when the trout chase the fry out of the deeper water. It should be noted that fishing during this period can be tough conditions wise and is not for the faint hearted. Long days of casting big flies in cold conditions, but the rewards can be huge. Rolling into May and June the weather improves and there is a chance for some nymph and dry fly action. In July there is still a good chance of hitting the big browns, but the density of fish will be less than early season as they will also begin to hunt in the depths again.There are various accommodation options open to us here, the simplest being a converted house on the shores of the lake that has makes an excellent full-service lodge. It has been very nicely fitted out and the ideal way to enjoy this fishery with the minimum of fuss. For those looking for something more comfortable there are a number of excellent hotels in the area that can also be used as a base.
2023 Availability:
On Request.
2023 Cost:
Dependent on group size and level of service required.
Lonsá
The Lónsá is a small river in the far north east of Iceland, tumbling over lava boulders at the top before gently weaving through wide grasslands down to the Greenland Sea. Whilst the river on the whole is small the fish found in its water can be much bigger than expected. The river offers great fishing for sea trout, sea run Arctic char and resident brown trout, a handful of salmon enter the river each year but are rarely caught. The fishing in June is primarily focused on the estuary section of the river where Arctic char and sea trout feed freely on baitfish and shrimp, building up their strength before running the river in early to mid-July. The upper sections of the river can also fish well for resident brown trout on nymphs and streamers in June. When the first runs of arctic char start making their way up river in a feeding frenzy the river suddenly offers a whole new experience. You can often see large shoals of silver char sliding into a pool. The run varies a little every year but usually around the first couple of weeks of July when the temperature of the ocean and weather conditions are just right. Chasing the first runs can be a great thrill as they usually consist of larger fish between 4-6 lbs.The runs continue to strengthen through the summer, reaching their peak in August. Throughout this time the upper river can also produce some wonderful dry fly and nymph fishing for resident brown trout. The accommodation is basic and comes self-catered as standard in the Ytra Lón Guesthouse. The rooms are comfortable and provide a great base during your fishing days. Catering can be arranged if necessary.
2023 Availability:
On Request.
2023 Cost:
Dependent on group size and level of service required.
For more information on trout and char fishing in Iceland please contact Alex Jardine or Peter McLeod or call +44 (0)1980 847389.