Whether going as a standalone trout fishing trip or combining it with salmon fishing or a family holiday, Iceland offers some of the finest wild brown trout fishing in the world. There is a great variety of rivers offering everything from nymph and streamer fishing through to some amazing dry fly action.
There are rivers that offer good numbers of smaller trout, some provide anglers with the chance of monster trout and all are set in the stunning Icelandic landscape.
Here are a few trout fishing ideas to consider for the 2019 season:
For more information on trout fishing in Iceland please contact Alex Jardine or call +44 (0)1980 847389.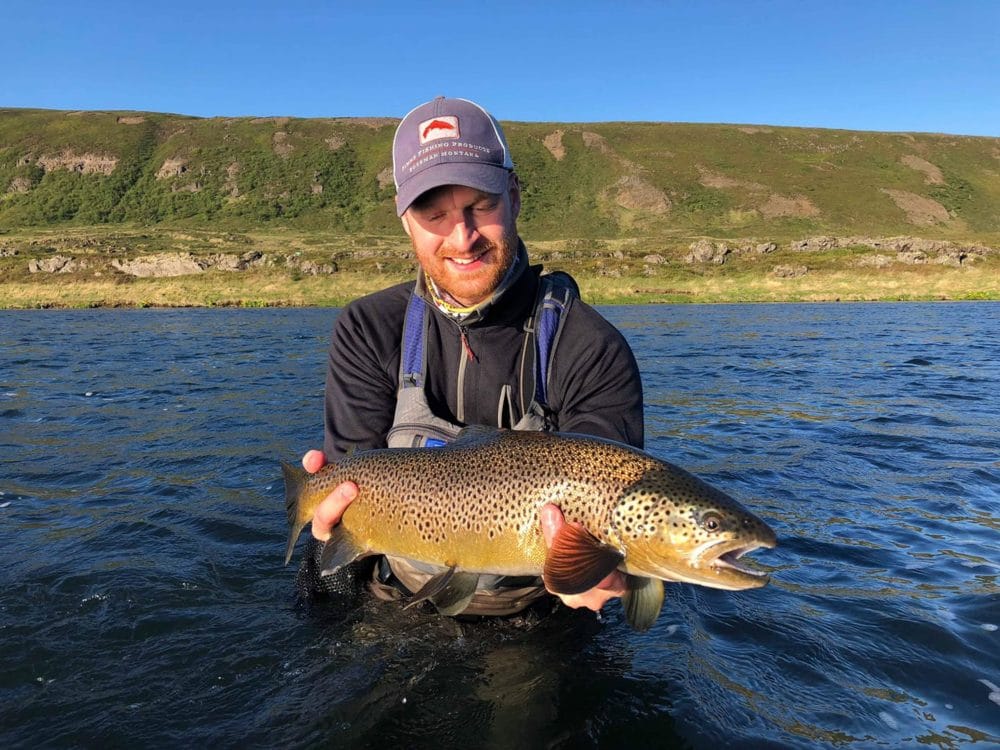 Laxárdal is the lower of the two sections on the upper valley of the Laxá Í Adaldal. Spanning 12 ½ km it represents perhaps some of the finest wild brown trout fishing in Europe. The river is wide and shallow, and not dissimilar to flats fishing as you wade out and cast at rises. Like the salmon beats below, the river bed is a contrast of black sand punctuated with laval rock creating superb lies for large brown trout. These Ice age fish have a large average size of 4 lbs, but unlike trout in other areas of the wold they remain insect feeders. Every year numerous 5-7 lbs trout are caught, with the occasional 8-9 lbs fish making an appearance. Some Icelanders fish with streamers, but upstream dry fly and nymph tactics are considerably more effective. Although there are none of our normal variety of biting mosquitoes in Iceland they do have a number of other chironomids that the trout feed on readily.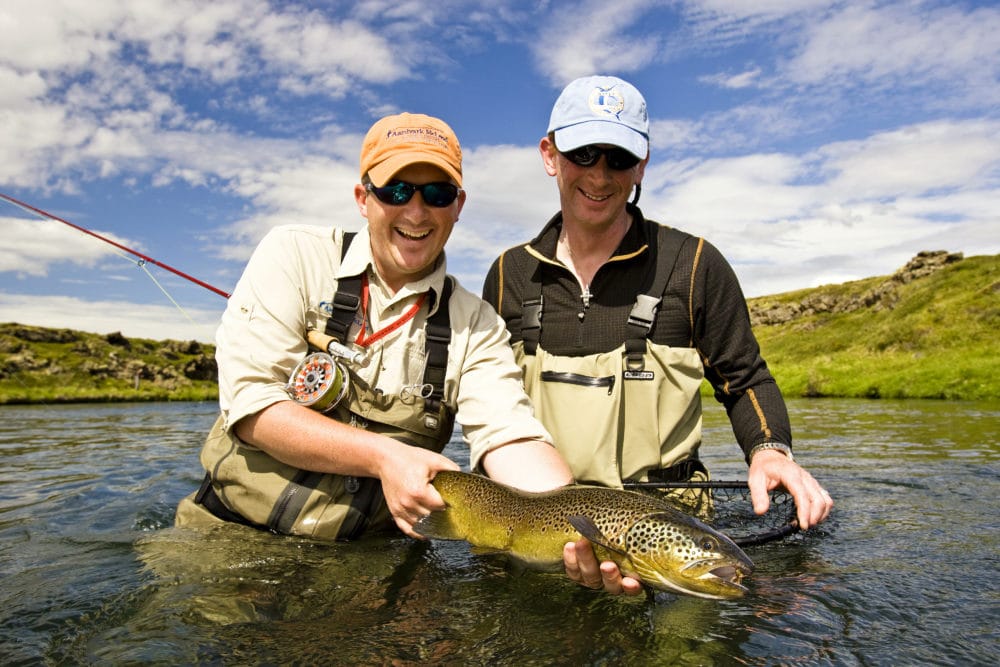 Myvatnssveit is the upper of the two sections on the upper valley of the Laxá Í Adaldal that flows directly out of Lake Myvatn. The section is 12 km and broken into beats that accommodate between two to three rods. These upper beats are wonderfully braided with fast runs, small pockets and crystal clear water. Pools for the most part are grass banked, wide, and with a relatively even bottom. The laval shelves create wonderful lies for large trout to ambush unsuspecting insects as they drift past. The varied water, from fast runs to glassy tail-outs offers anglers some very interesting fishing whether that is prospecting with nymphs or casting dries to confidently feeding fish. The wild brown trout average 2-3 lbs with fish of up to 10 lbs encountered every season. As these fish live in fast, powerful water they are extremely strong, and hooking one will test your tackle and skill.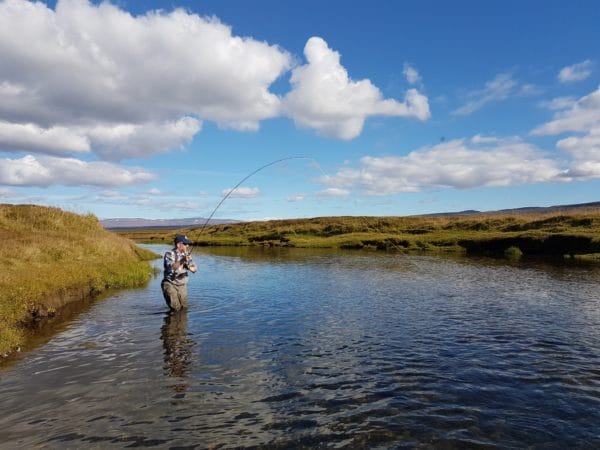 Mýrarkvísl is the lowest tributary of the Laxa I Adaldal on the north coast of Iceland and offers the perfect opportunity to have a private river system and lake for three to four rods combining brown trout, salmon and arctic char. It is an intimate river that holds a large head of brown trout along with a reasonable run of good sized salmon through the summer. Mýrarkvísl flows across the Reykjaheiði plateau for the first 15 km making it perfect for dry fly fishing for trout. It is not unusual to catch 15-20 browns a day with a 2-3 lbs average size. The river has a unique character with such diversity of fishing there will always be something to entertain from casting a nymph or a dry fly on the upper section to a rising trout, or trying to winkle out a large salmon in the canyon pools. Fishing on the Langavatn lake is also included. The lake holds a large stock of small Arctic char along with good sized brown trout.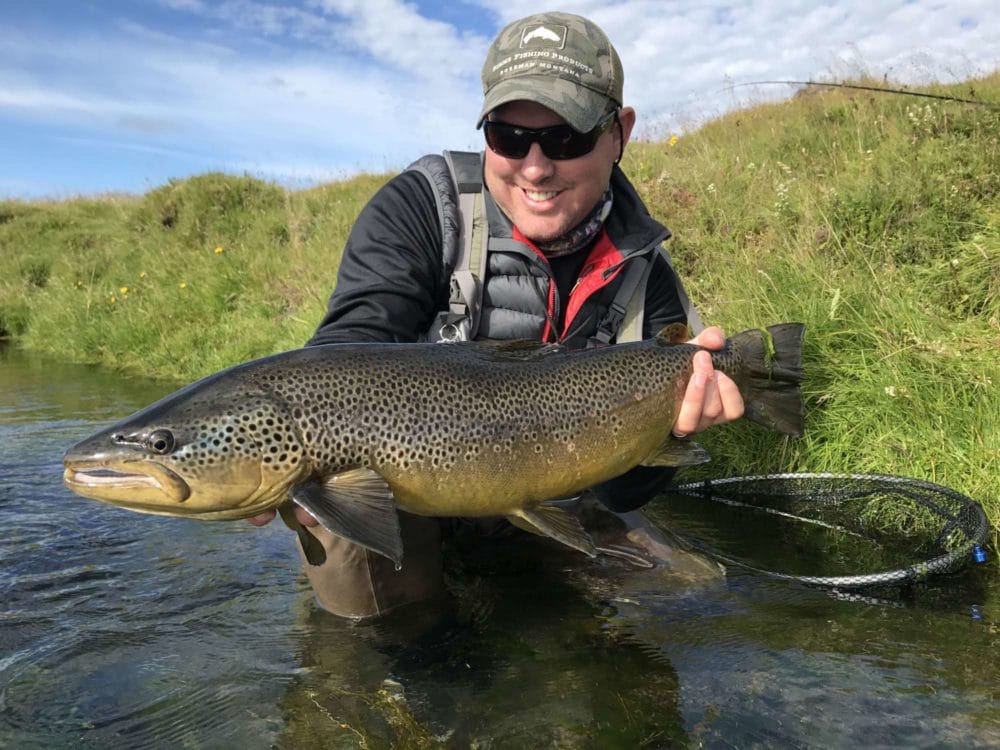 This smallish, gin clear Icelandic stream has been hailed as one of the best kept secrets in global angling. It is a technical river where stealth, among other attributes, is needed. Wild native brown trout swim its waters, remnants of the Ice age stocks that stayed on when the glaciers retreated. Real dinosaurs, relics from times past. They are on average 3-4 lbs, with the monsters ranging to 20 lbs. Every season several of 10 lbs + are caught, with many in the 5 to 9 lbs class. The season starts at the beginning of April, often in sub-zero temperatures, and it fishes to the end of September. Spring is most popular with the local anglers, when fishing with streamers and nymphs is most effective. Later, in June, July and August delicate dry fly fishing takes over and is most productive. Late in the season there are usually few rods fishing the river. It is an underrated time of the season as the browns tend to get very aggressive.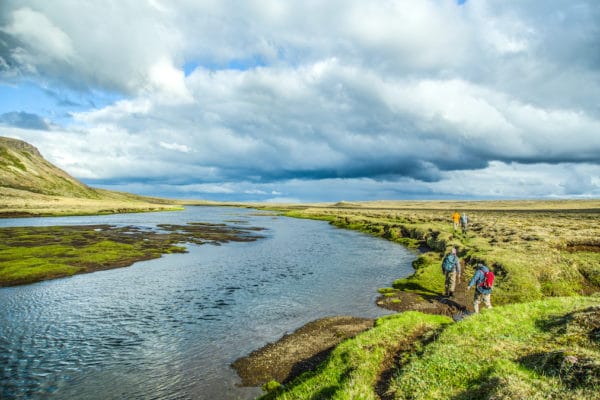 The home of mountain char, endless streams, rivers and lakes provides a varied fishing experience. There are three main rivers, the Vatnsdalsá, Alka and Brikakvisl, that break into many smaller streams when you venture higher. This is fishing with a backpack, exploring every lie and stretch of river in the hope of finding big Arctic char. Fish average 2 – 3 lbs with many ranging from 5 – 10 lbs. The fishing is predominantly done upstream with nymphs but the char can also come on to the dries in good conditions. This option is for anglers that want to be alone in the wilderness with endless possibilities of untouched waters. The only limit is your own imagination. You can walk up river, down river, fish a lake that you find interesting just whatever in whenever as fishing in the midnight sun in Iceland is an experience worth having. The accommodation is in basic highlands cabins, the food is prepared by your guide.
For more information on trout and char fishing in Iceland please contact Alex Jardine or call +44 (0)1980 847389.