Last week saw some interesting conditions changes. The North wind has continued bringing some very cold early morning temperatures and with blue skies and lack of cloud cover the temperatures have yo-yoed well over 20 ˚C – similar conditions to Norway. Bright sun is never great when salmon fishing as we know. Many of the west coast rivers have reported large runs of fish entering the river systems and this has been the saving grace. The influx of fresh fish has made a big impact on the catch statistics for this past week. As it is also known as the land of fire and ice, some mention should be made of fire. Last night one of the small volcanos in Fagradalsfjall on the Reykjanes peninsular began erupting for the second time in 12 months. Currently the lava is coming from a 200m long fissure and has caused no disruption despite being relatively close to Keflavik Airport.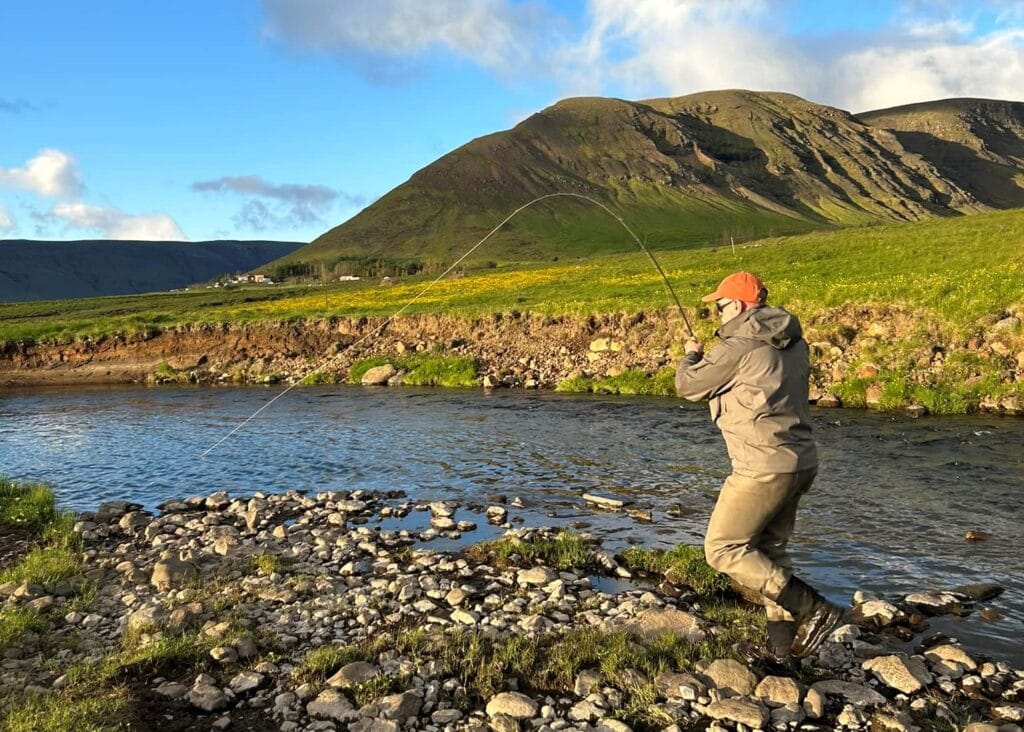 On Laxa I Kjos fishing has been hampered somewhat by a North westerly wind dropping air temperatures between 3 – 5˚C and water temperatures to 7˚C. There are still excellent numbers of fish running into the river on every tide, but even though they have seen a 100 fish going up the falls their progress up the river has been slowed. The weather is predicted to change this weekend to some rain and 15 – 16 ˚C which will be a gamechanger.  Despite this they have managed to land 33 fish in the last couple of days bringing the river total to 59 salmon and 11 sea trout. There have been some epic battles of note with big fish. One angler hooked a fish estimated at 25lb in Laxfoss before eventually losing it all the way down in Kvislafoss after 2 ½ hours! Four more fish over 80 cm (approx. 15 lb) have also been landed, the largest being a fish of 84 cm from Efra Stekkjarflot.  The top pools have been Laxfoss Sudur, Fossbreida, Laxfoss Nordur, Kvislafoss and Spegill. Top flies have been 1" Sunray Shadow, Black Frances, Valbeinn, and Kolskeggur hitch.
We still have a prime rod left on Laxa I Kjos in 26 – 29 July joining Peter's hosted group.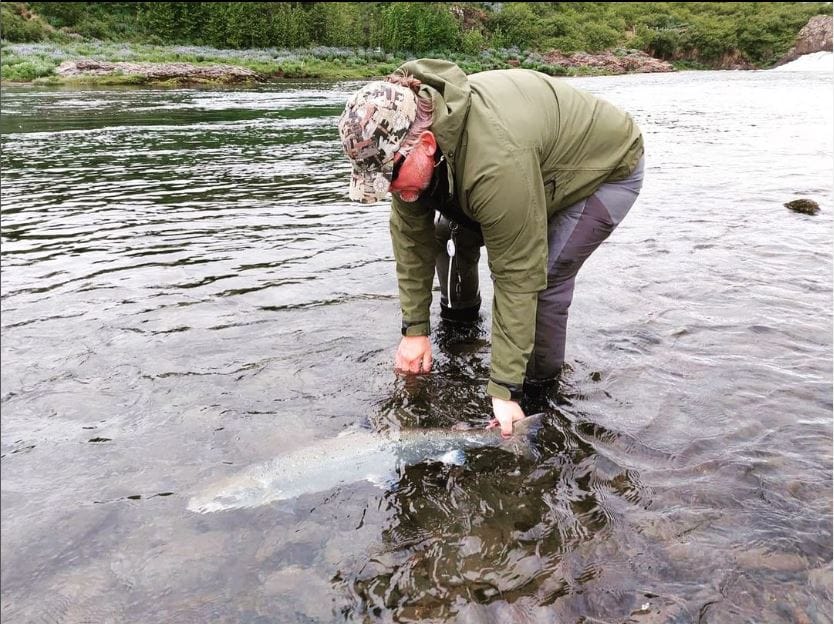 As Nordurá has had another great week landing 138 fish taking their total to 327. As one would expect the runs here continue to build and being a little further west have had some warmer temperatures with air temperatures hitting 14˚C. The spring tides are bringing fresh in on every tide and they landed 32 fish on the 28 June alone. Fish of note include a 96cm cock fish landed from Eyrin on a size 16 red frances, another 85cm fish laned from Réttarhylsbrot on a size 14 hitched tube Haugur and an 83cm fish landed on a size 14 Green Collie from Kýrgrófarhylsbrot. The numbers of grilse are increasing daily. Top pools have been Eyrin, Bryggjur, Stokkhylsbrot, and Brotid. 1" hitched sunrays have been the go-to pattern, alongside Red Frances size 14, Collie Dog, Haugur and Green Butt.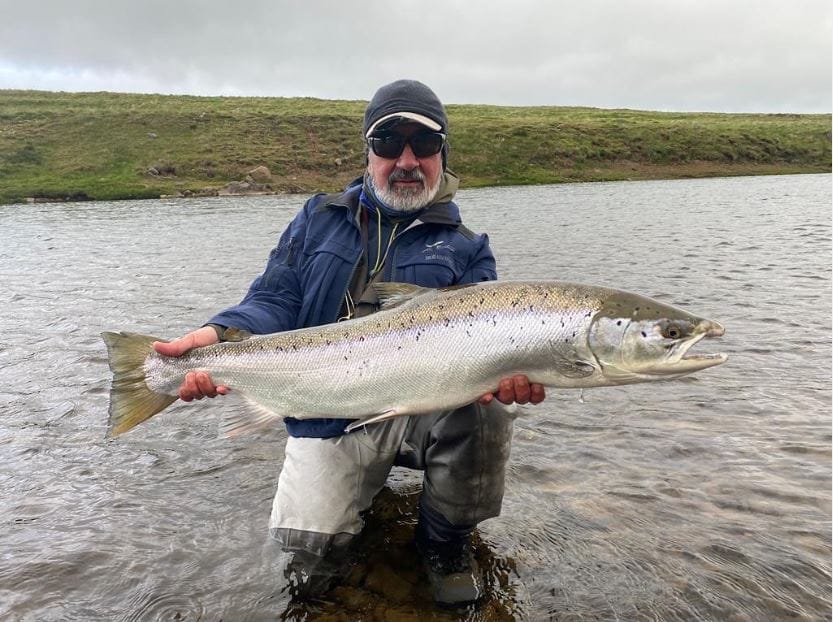 The Midfjardara had a better week and landed 37 fish taking their total to 75.  38 fish with an average weight of 11 lbs which is fantastic. The week began with some relatively warm temperatures to 14˚C before some cold rain hit in the middle of the week dropping it to 4˚C. Currently its cold, but sunny. They landed 11 fish yesterday as things have improved. Again, plenty of fish being seen in the river, but conditions are making them a little sluggish. The fish continue to be in stunning condition with a high average weight with a sprinkling of 90cm+ making an appearance. So far top pools have been Grjóthylur, Brekkulækjarstrengur 1, Horn – Miðfjarðará, Bæjarpollar and Brekkulækjarstrengur III.
We still have a prime rod left on Midfjardara in 5 – 8 August if you would like to fish this "dead man's shoes" river this summer.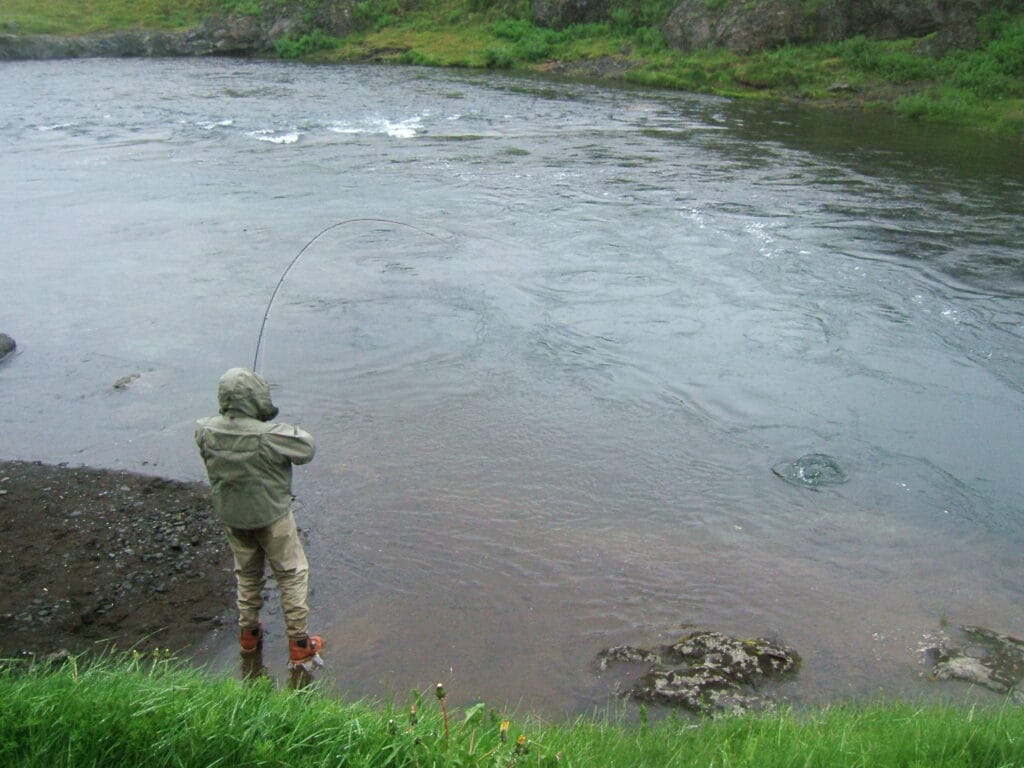 The Hitará has landed a further 29 fish this week taking their total to 80 with an average size of 10.5 lbs. Hitará is still only being fished by four rods, so these statistics are impressive. Yesterday and stunning 95cm fish was landed from Lesjufljót on a size 16 hitch tube. Top pools have been Breiðin, Kverk, Langidráttur, Flesjufljót and Grettisstillur. Top flies have been Red Frances, Sunray shadow, hitch micro tubes and collie dogs.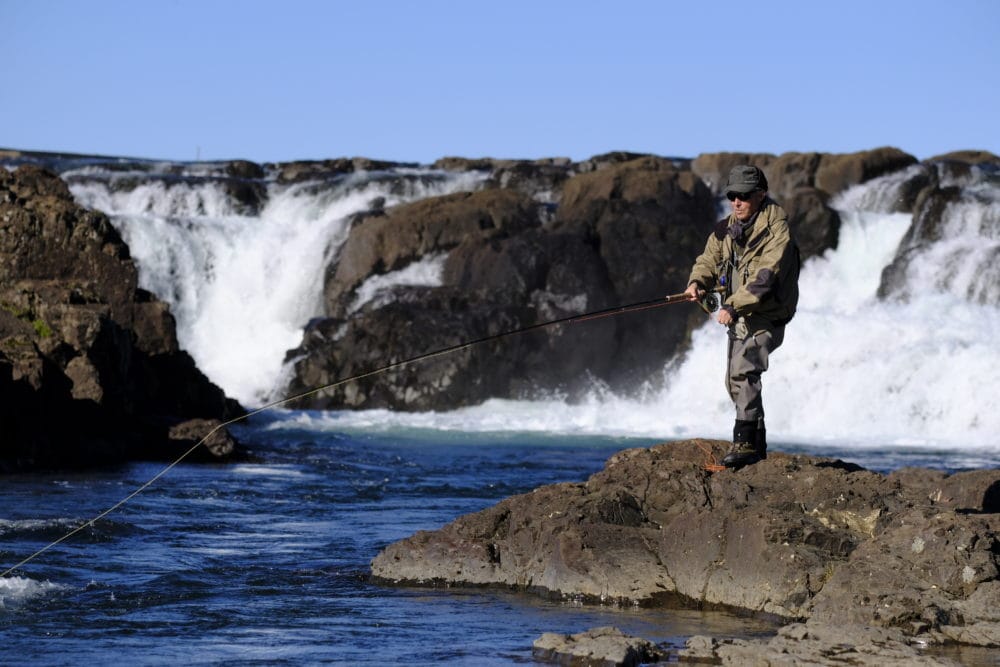 On Langá the river began a little slowly, most due to the temperatures, but is now gathering momentum over the last week. They have landed 36 fish in the last four days taking their total to 77 fish. Their average size at this point is 6.3lb. Top pools have been Breiðan (Lower foss pool), Strengir, Hreimsásskvörn (Accent hill corner) and Stórhólakvörn (Big hill corner). Top flies have been Sunray Shadow, Red Frances, Black Frances Cone and Green Butt.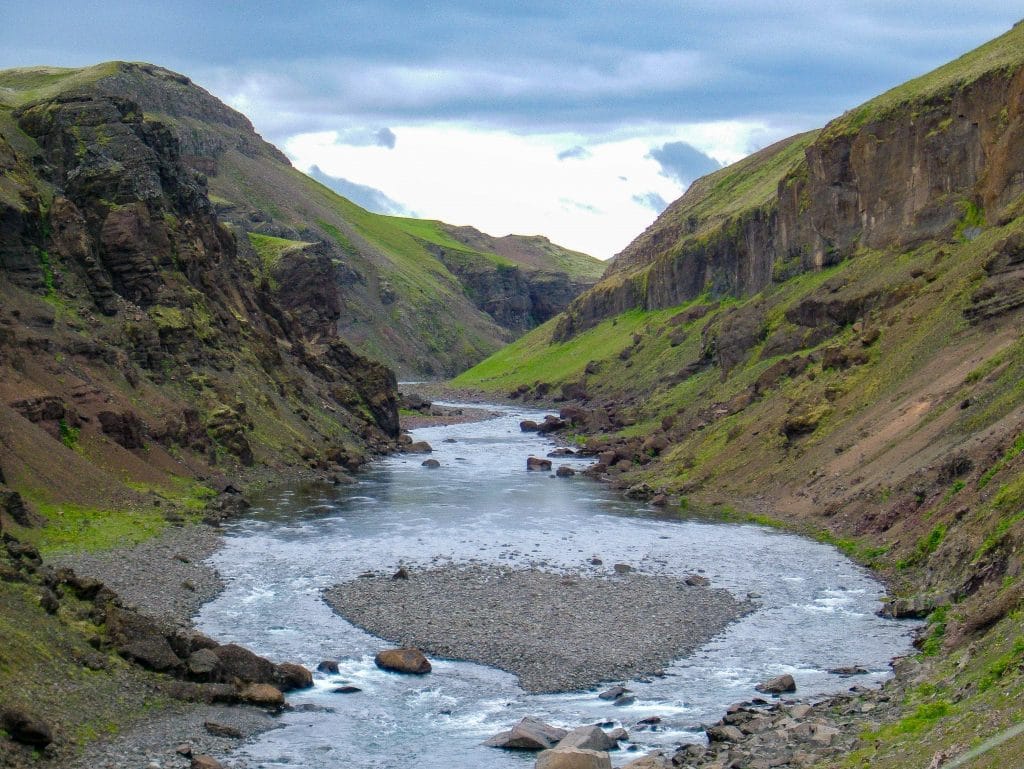 The Stóra Laxa has opened its account well and landed 29 fish last week taking their total to 51 salmon and 2 sea trout. One group fishing up in the canyon on beat 4 landed 18 fish in their three days with many war stories from the top canyon. one of Iceland's prominent rivers for large Atlantic salmon. The best fish was a stunning 99cm landed from Holmabreida on a size 12 Valbeinn.
We still have some last minute availability in Iceland if you dont want to miss out, click HERE or please do not hesitate to contact Peter McLeod or Alex Jardine or call our office on +44(0)1980 847389.