The Iceland summer has held on to its form of being cold and damp, with July reported to be 1C colder than the long August as a whole has been one of the coldest on record, and this past week as been no exception. The first frost in Iceland normally arrive in early September, but this year the first was on the 2nd of August! There has been no lack of fish moving through the river systems, but persuading them to take has been more challenging than normal. Looking at the daily statistics there has been a clear pattern of slow fishing when the air temperature has been between 3 – 7˚C and then between 10 – 15 fish a day when the temperature has been hitting 11 – 14 ˚C. Interestingly the cold snaps do upset the cock fish, so we have seen a few big cock fish being caught.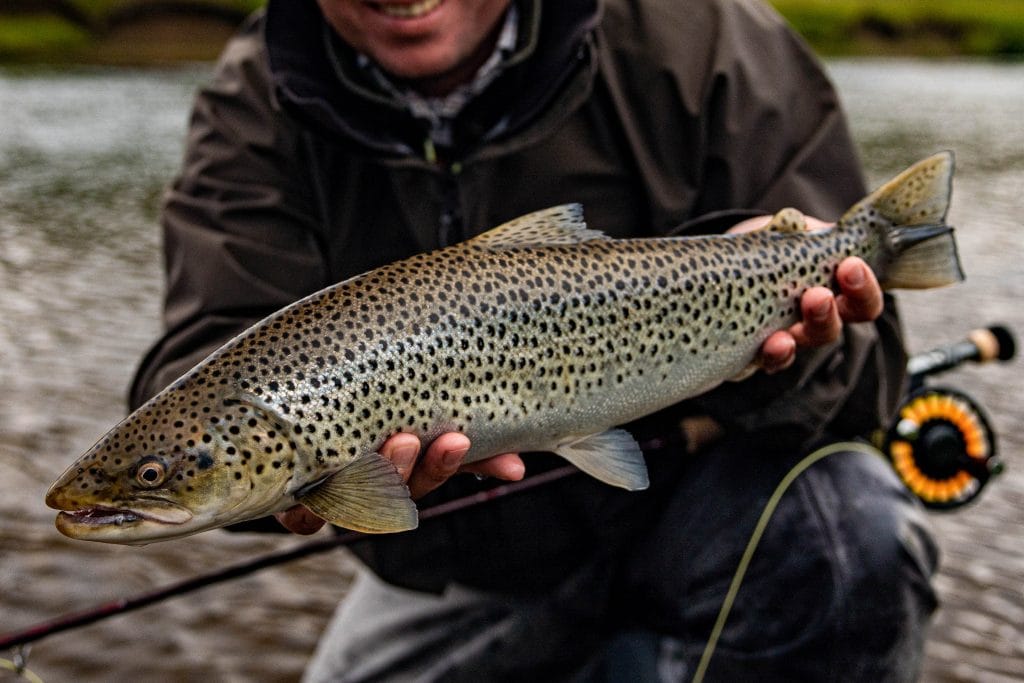 On Laxa I Kjos it has been a tougher week with fluctuating temperatures again, sometimes dropping to 1 or 2˚C at night. Again, we are seeing a direct correlation between temperature and catches, and last they landed 29 salmon to the eight rods taking the total to 629. There are quite a lot of sea trout being caught, but not many of the large ones which have avoided capture. Top flies continue to be hitched Sunray shadow, Red Frances, Black Frances, hitched Sunray, and the Valbeinn but all small, between size 12 and 14. The top pools have been, Kvislafoss, Laxfoss South, Fossbreida, Bollastadabreida and Helgufljót on beat 3.
Nordurá had a reasonable week last week considering the conditions. The river landed 104 fish last week taking their total today to 1037 and not far behind where they were last year at this stage of the season. The river is still landing on average 17 fish per day with an average weight of 6.2 lbs. Yesterday they landed a lovely 11 lbs fish from Bakkahylur that took a hitched size 14 Dimmblá. Water levels remain at a comfortable level for this time of year. The top producing pools have been Eyrin, Bryggjur, Breiðan, Myrkhylur and Pokiand best fly patterns Sunray Shadow, Red Francis, Collie dog, and Frances Red Cone.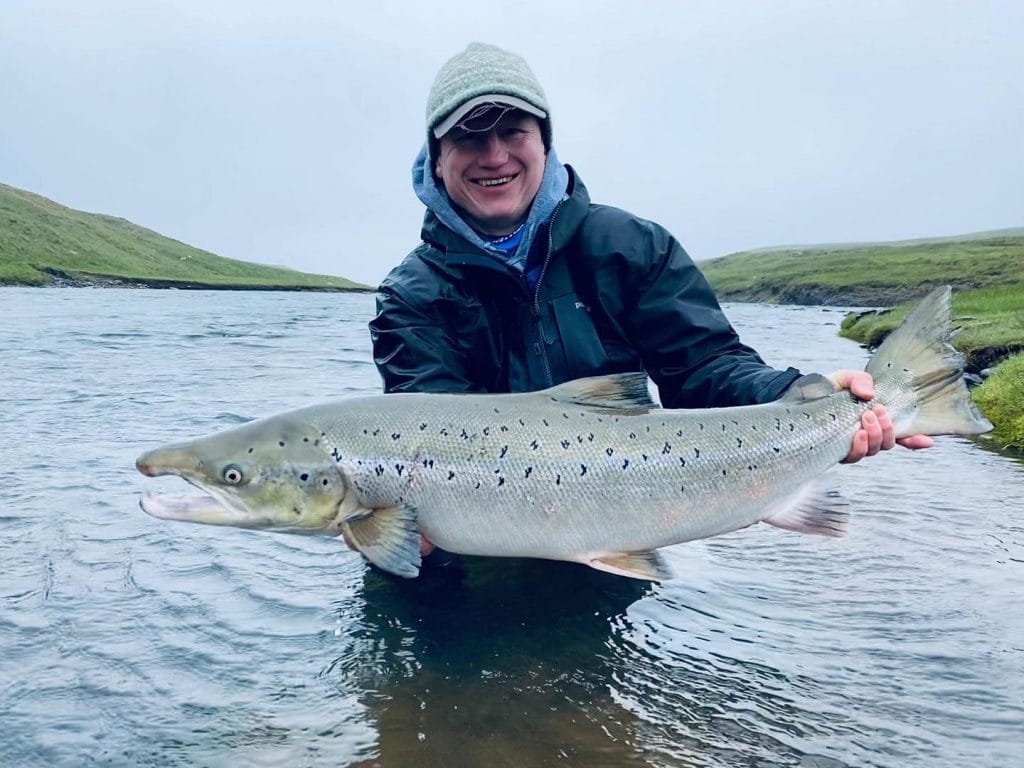 The Midfjardara has had a much better week as they have had some slightly warmer conditions and have been landing an average of 22 fish a day. This week they landed 141 fish taking their total to 1092 fish for the season. Like many others. There are some stunning fish being caught and we are still seeing a high proportion of multi sea wintered fish with an average weight of 7.7 lbs. The best day was the 16 July where the group landed 21 fish. Top flies have been micro hitched tubes, black sunray, Collie Dog and Red Frances. The top pools have been Brekkulækjarstrengur 1, Grjóthylur, Túnhylur – Vesturá, TT and Kotálar.
West Ranga has accelerated through the season and is now at the top of the league tables having landed 2,507 fish. The fishing on West Ranga has been very consistent as always highlighted but a stunning 97 cm cock fish the other day.
We do still have a few last minute options in Iceland for this season, for more details on fishing in Iceland please do not hesitate to contact Peter McLeod or Alex Jardine or call our office on +44(0)1980 847389.