The extreme low water conditions that the West coast rivers have been experiencing has made the fishing conditions very tough. Combined with blue skies and blazing sunshine with air temperatures hitting 24° C has made salmon fishing challenging to say the least. Some rivers are really showing their bones already, but some rain at the end of last week did produce a lift and bring some fish in. As we look to the coming week more rain is forecast with a band moving up from the Atlantic due to hit Wednesday through to Thursday with heavier rain at the weekend. Those heading out this week should be prepared to fish very small flies and light tippets. The north coast and East Coast Rivers have remained pretty unaffected with some of the East Coast Rivers almost on high water levels.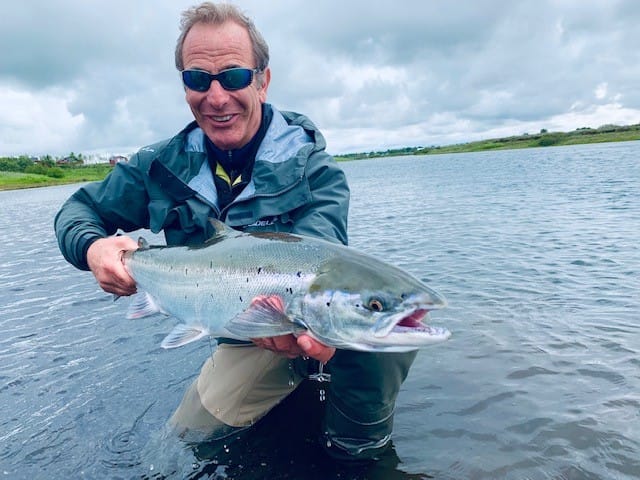 It rained in the Laxa I Kjos valley a week ago which lifted the river over a foot and brought some fresh fish into the system. 9 fish were hooked on Thursday and we are continuing to see very large sea trout entering the river. Robson Green landed a stunning 16 lbs fish straight off the tide as well as a 10 lbs sea trout. The average size has been over 10 lbs. A good number for grilse showed up with one angler landing two and losing one in very short order, and there has been some fantastic sport in recent days, with large salmon and sea-trout being caught, although some of the larger fish have been lost due to the tiny flies being used. It has been bright and sunny over the last three days which has made fishing tough,
Since the opening on Midfjardara the river is still very low, but groups continue to winkle fish of the deeper holes here and there. Again the bright conditions have made it tougher than usual but the river is holding its own despite this with some lovely salmon being landed.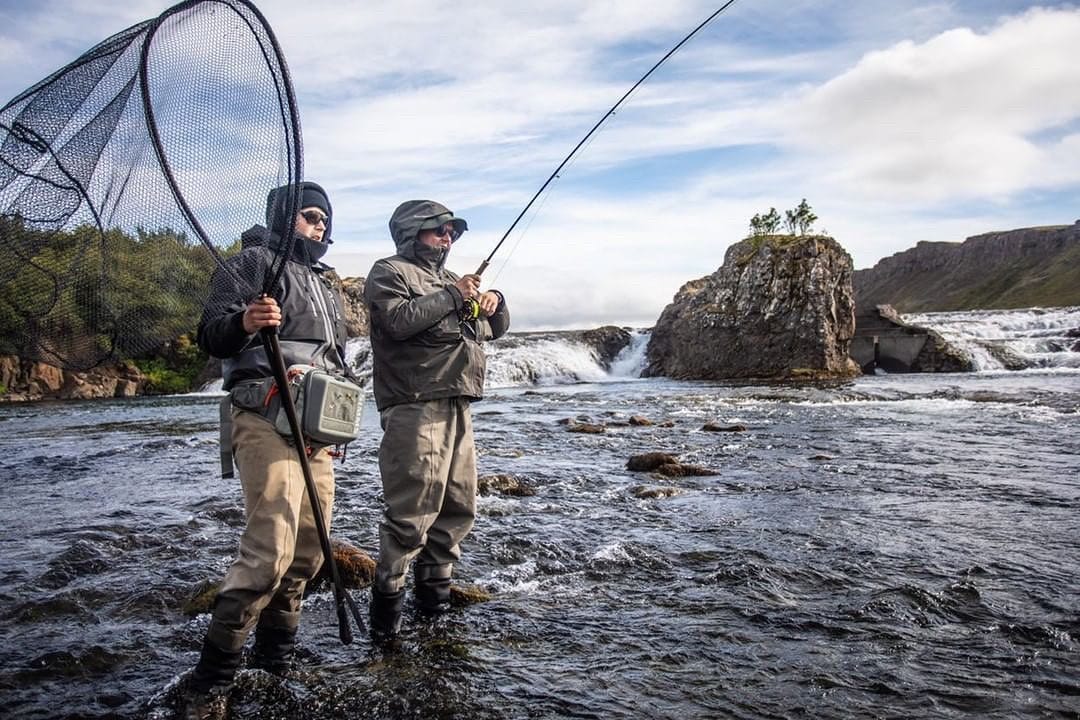 The Nordurá is also very low, but the rain they had in the middle of last week lifted the river just enough for some fish to run and a few more fish are distributed along the As of this morning the lower pools on the river have suddenly filled with fish, so if the rain forecast for this week materialises and the oxygen levels in the water increase then those fish will move up the river en mass.
The Grimsa has held its own and has not struggled in the same way with water. The river is producing 5 – 7 fish a day despite the bright conditions with the deep pools in the lower section such as Horror have been producing well. Fish are still being caught at the waterfall as they rack up to try and run the falls.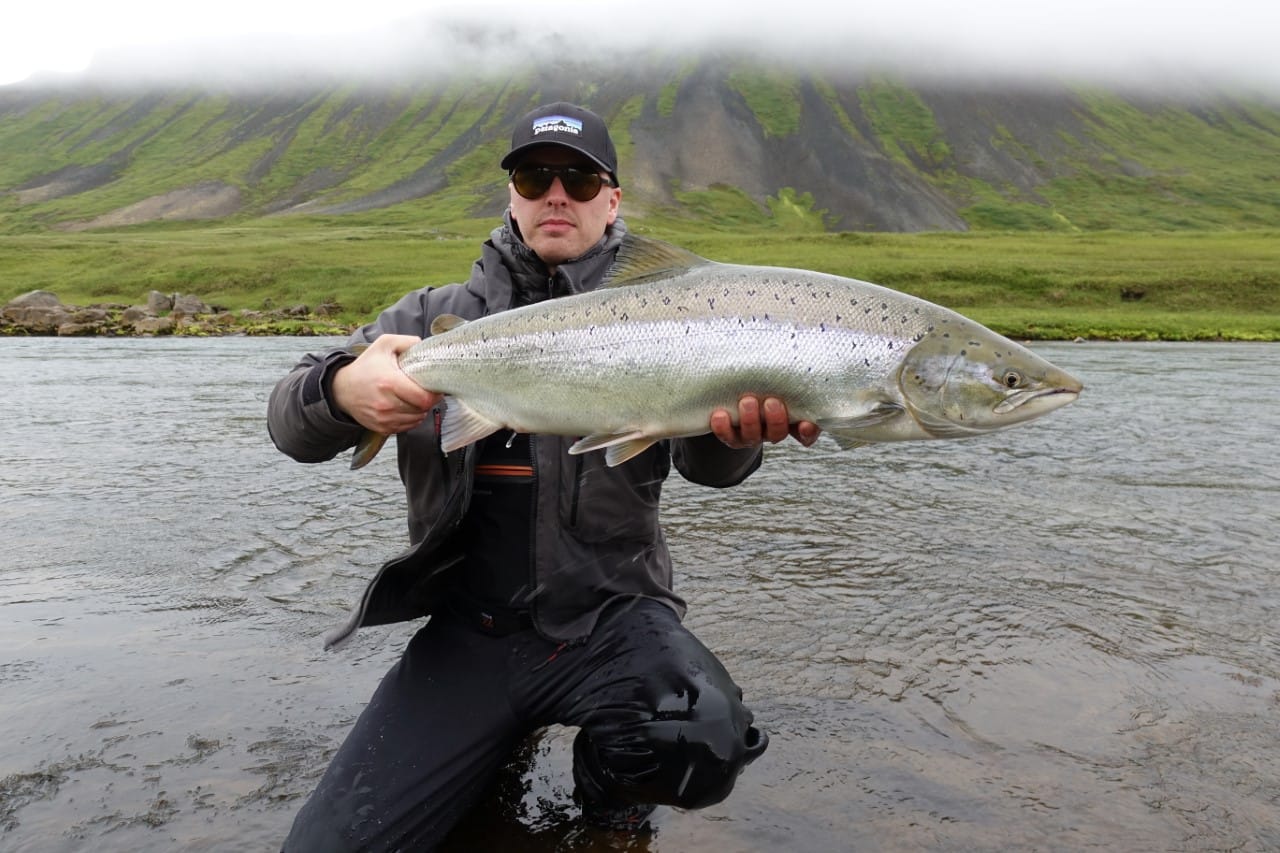 Svalbardsa opened a few days ago and had a cracking start. The two rods that arrived yesterday afternoon have landed 12 salmon so far, 9 of them today from the canyon. Conditions are good and water levels are normal.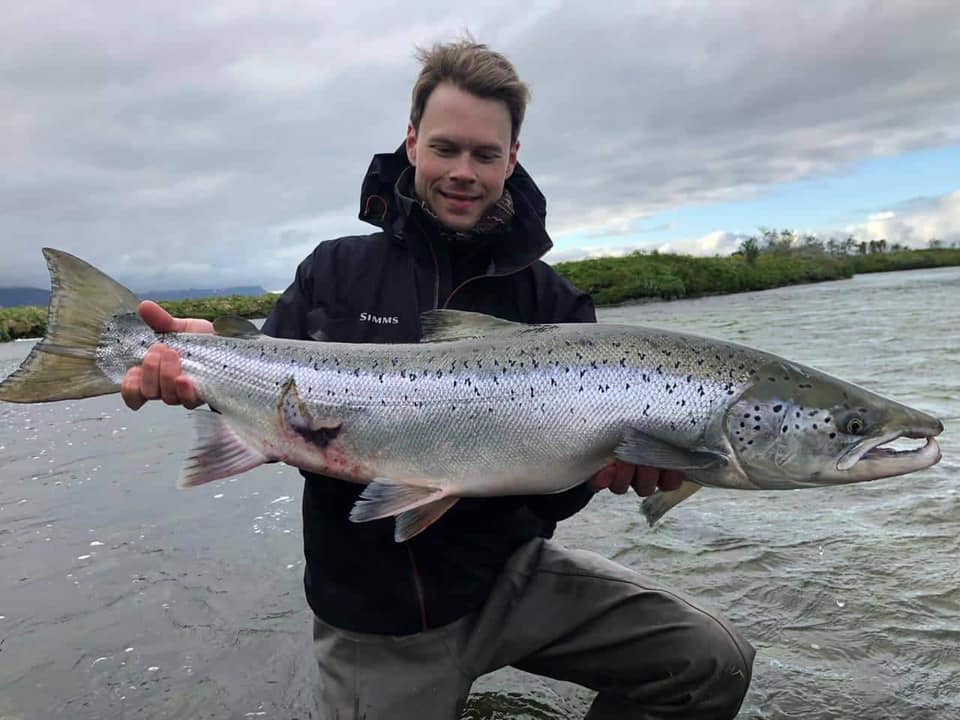 On the Nes beats of the Laxa I Adaldal fishing has started well with four fish over 10 kg landed so far. Jón Felix landed this 99cm fish in Höfðihyl last night which weighed 10.5 kg. We welcome Jón to the 20pound club.
The Hrútafjarðará has been very low so far. The conditions are due to lack of snow following a mild winter, and the fact that what snow there was, melted in April, followed by two months of no rain. It has finally rained on and off, but the rivers need it to be more consistent to make a difference.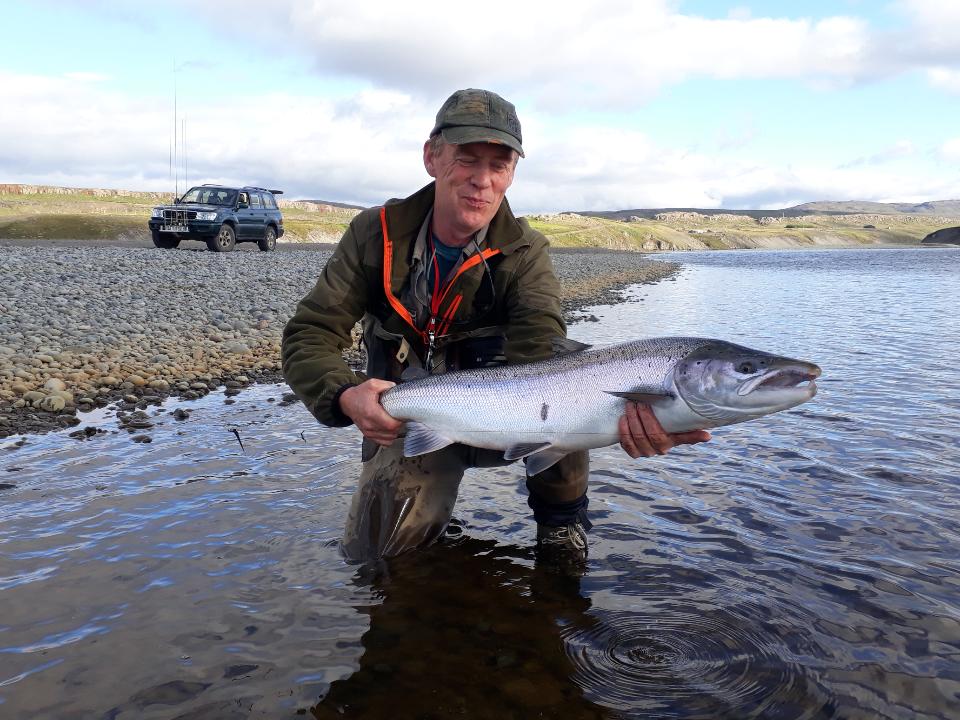 The Jökla has not been affected as it is a large volume river. It was opened at the end of June and has been delivering, such as eight salmon landed yesterday! Mws's are running like this nice fish above taken in Klapparhylur pool in lower Jökla. Breiðdalsá has also produced her first salmon, however it has been very lightly fished so far. Below is the first fish caught on opening day early July.
Sea char have been abundant in our rivers, with several hundred already hooked and landed, while Minnivallalækur has been better than in recent years due to more favourable conditions.
For more details on fishing in Iceland please do not hesitate to contact Peter McLeod or Alex Jardine or call our office on +44(0)1980 847389.