Day 1
 
The travel to Iceland is so simple and easy taking just 2 ¾ hours to get over to Keflavik. On the descent we went through shards of golden light marking the outline of every cloud which then faded away into a pink ambiance marking the point of sunset and sunrise for the Icelandic summer. I jumped into a taxi and headed over to the capital, Reykjavik, taking a further hour at a cost of 160,000isk (£80). It is an amazing journey for first time visitors to Iceland as you look over miles of expansive lava fields, unique to this part of the world. I made this journey at midnight, which in July never goes completely dark and there was an amazing twilight that graced all the surroundings.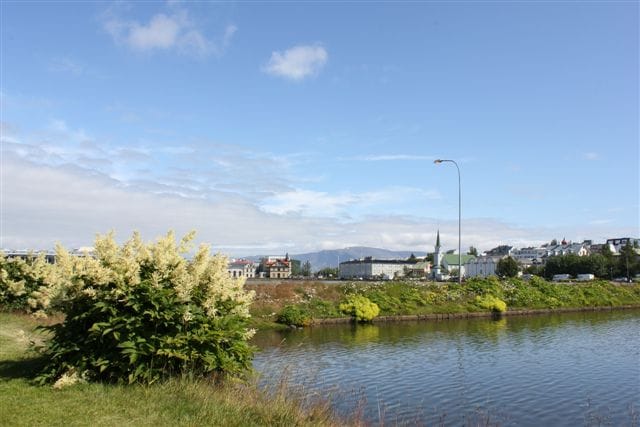 While in Reykjavik I stayed at the Holt Hotel, a comfortable place to stay with nice large rooms to settle in to. I experienced breakfast, which was laid out as buffet style, offering continental, cereal, and cooked breakfast with coffee, a range of teas and fresh juices. After being fuelled for the day I ventured off to explore Reykjavik, a lovely harbour town that is spread out and colourful. The shops are quaint and have an Icelandic personality, a very refreshing change to the big corporate shops of the UK.
 
The weather was warm and sunny in the capital which was perfect to walk around the lake in the middle town to get the full panoramic view of the place. Whilst on my walk I found a small pond with Arctic Terns nesting on an island, and in my inexperience I decided to get closer for a photo opportunity… Within seconds of stepping of the path one of the Terns locked on to me, completely oblivious to this I pulled the camera away from me to see it aim its dive bomb towards me! In my evasion I then upset the whole lot of them, now with approximately 20 'dive-bombing' terns chasing me off! Once out of attacking range I took the decision to retreat back to the hotel to prepare for my internal flight!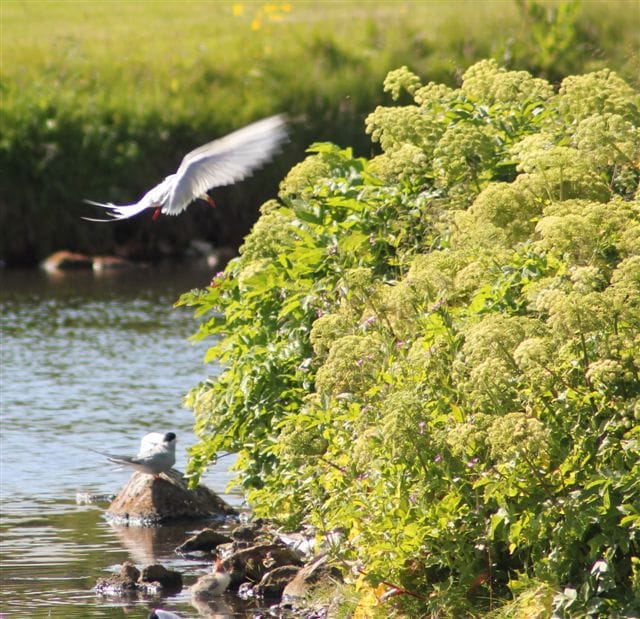 At the hotel I met up with two clients, Nigel and Elizabeth Taylor, and we headed to Reykjavik Airport, a small quirky place barely big enough to fit a plane's worth of people in it! The flight up to Akureyri is short, just ¾ hour, but it goes right over snow capped hills and offers views of glaciers in the distance. Before you have had a chance to dose off you are escorted across the tarmac at Akureyri airport, of equal size to Reykjavik domestic, and met by your bags and lodge guide almost instantaneously.
 
For us it was Guðmundur (Gummi) Bjarnason, son of the Myvatnssveit and Larxardal manager Bjarni Höskuldsson. He got everything in the car, including us! We headed out of fjord Eyjafjörður, the longest fjord in Iceland, and out across Northern Iceland, a comparably different landscape to the south. This area provides a scene of rolling hills with snow caps and snaking rivers. En route to our lodge we stopped at Godafoss, waterfalls of the gods where idols were thrown in sacrifice to the gods by the ancient Nordics. After a few quick photos we were back on our way with an air of excitement and anticipation of what lay ahead.
 
We arrived at our home for the next few days, Raudholar lodge on the Upper Laxá I Adaldal. Just a stones throw from the lodge was the pristine waters of the river, although on arrival a strong northerly wind and low clouds made the big river a daunting prospect as crests formed on waves heading upstream! So before braving the elements we unpacked our belongings and we were introduced to the wader room, I don't know if anyone has ever compared wader rooms but this would most certainly be an outright winner! It had cleaning facility, a radiator to dry boots, coats and waistcoats but most impressively it had a wader radiator that had a heat element for each leg of your waders, you soon learn that there is nothing better than a warm pair of waders in the morning!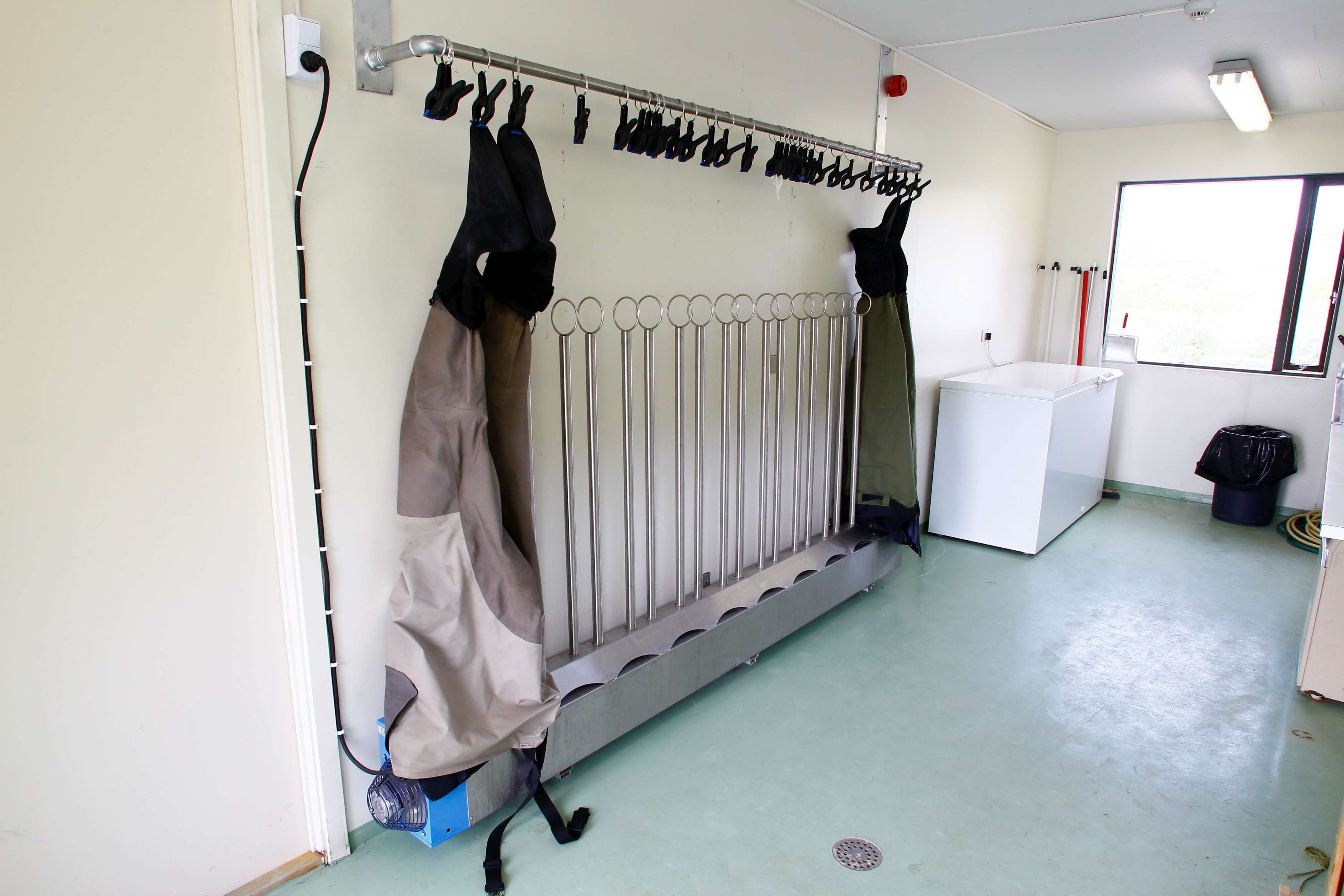 Layered up we were ready to hit the water for the first time, I asked Gummi if he would take Nigel and Elizabeth off to the best chance of seeing some fish and that I would just splash about outside the lodge for a while. Fishing with just a single dry began to feel hopeless as it would disappear for what felt like several seconds behind each wave. After wading for about 70 or 80 yards I suddenly saw a fish, just its tail not even 10ft in front of me, I covered it for a few minutes slowly realising that the fish was just mocking me! I saw just one more rise before reaching a large island mid-river, on reaching this point Reykjavik came back to haunt me. At first an Artic tern tried to pluck my dry-fly off the surface, at the point I pulled my fly out of the way the tern saw me and within two squawks it was joined by four of its cronies. They then proceeded to chase me, dive-bombing me along the way, for 50 yards, I obviously have a look about me that the terns take a disliking to!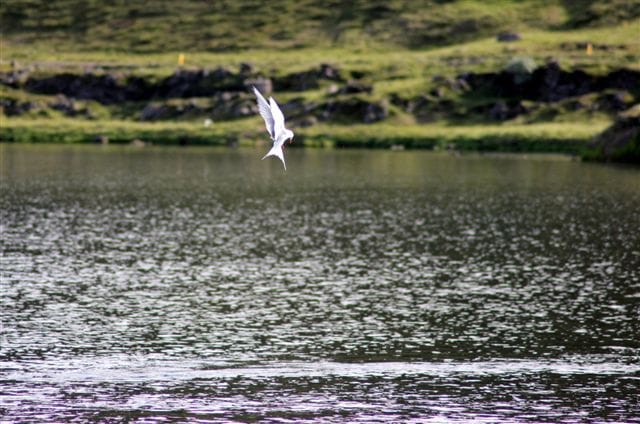 Nigel and Elizabeth had risen a couple of fish that evening but had not managed to stay connected to them unfortunately, so we therefore retired back to the lodge. Back at the lodge we were met by the rest of the group who had arrived later that day. We sat down to a hearty Icelandic dinner at 11pm and we discussed our hopes for the days to come. We arranged breakfast for 7am and fishing to commence from 8am, at which we all disappeared off to bed to get a few hours kip before the serious fishing began.
 
Day 2
That morning Peter and myself teamed up with Gummi in search of some of the Icelandic giants that inhabit the Laxardal beats, fuelled by an impressive breakfast spread. The weather had improved, the sunshine had returned but the 'chill-to-the-bone' northerly wind was still very much present. We ventured up the Western bank of the river trying to find a break from the wind, where we first stopped consisted of several deep holes. I waded through most of the likely looking places, some higher on the waders than others resulting in being nicknamed 'Depth Finder'. On the whole the wading is simple; it is a constant depth and current and caution just needs to be taken to avoid large volcanic boulders in the river.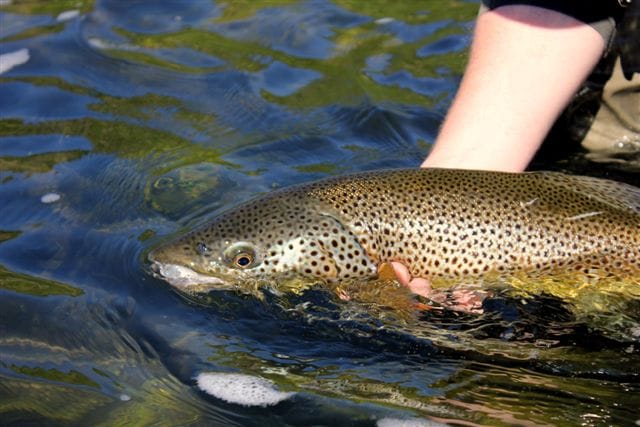 We were unsuccessful on our first stop and still getting fairly windswept so Gummi made the decision to move us up river to new spot. I looked at this part of the river and I was immediately confident that I could read the water and the possible fish lies. The flow was more pocket like, big boulders created small runs and holding pools. I set-up with a Klinkhammer with a Pearl Spider trailing behind New Zealand-style. I worked my way through these small holes until I thought I had seen a swirl up ahead of me, I  focused several casts over the rough area until my Klink drew away. At which point I blinked, checking my eyes hadn't deceived me, it was definitely under. I tentatively lifted at which point there was a pull back, very quickly followed by; line, flies and a very unhappy fish charging right at me. I dodged out of the way gathering in the slack to then watch the line fly back out the rod tip and disappear downstream. I waved like an overexcited child down to Peter and Gummi who had gone off downstream, the apparent intended destination of my hooked trout. I managed to hold the fish out of the main current and fought it until eventually its head broke the surface long enough for me to swoop with my pan net. My first Icelandic brown trout, and I was speechless, the fish was around 5 lbs and looked prehistoric. This point is the time when you realise you are fishing somewhere truly special, and I wanted more.
 
I continued to fish in this area, and found the coming together of two currents which looked like a great holding spot. On the first cast here the surface broke and a brown pushed at the fly, my strike saw my dryfly fly up in the air followed by tension, the greedy fish had taken both flies. The trout went air born immediately, every few yards it went down stream it showed its 7 or 8 lbs self until one jump too many and my fly lost its hold. I had just seen a possible fish of a lifetime disappear downstream no longer connected and I retired to the bank to sulk momentarily. Meanwhile Peter had also caught a good fish of nearly 4 lbs also on a Pearl Spider.
 
We had one last place to try before lunch, Gummi told us that it was the most likely place for a rising fish in those conditions, and sure enough he was right. A big nose was breaking the surface with regularity; I got in to position and began to cover it with various dries. I had got to a stage of pulling my hair out when on the eleventh or twelfth fly change it took. After a 200 metre sprint, by both the fish and I, followed by a test of stamina and the fish was landed. It was a stunning 5 ½ lbs brown trout. We then retired to the lodge for lunch, like dinner a hearty meal to set you up for the afternoon, and a siesta (very important particularly if you want to keep pace for an entire week).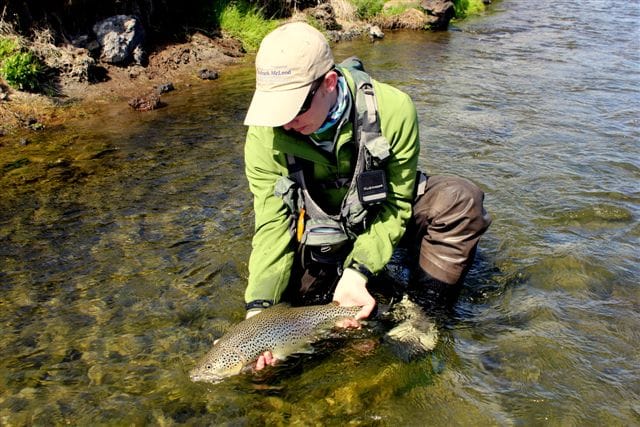 After lunch we were joined by Marcus, who had been fishing the Nordurá for salmon for the previous few days, a very technical fisherman and we watched for most of the afternoon as Gummi guided in tough conditions. Rain had moved in and the temperature had plummeted, putting the fish off from feeding on the surface. Marcus fished away with real intent and, as with all fishermen, as soon as his concentration dropped for just a second a fish took and was gone before any of us really knew what had happened. We retired back to the lodge and watched the weather begin to clear in the everlasting daylight of the Icelandic summer with high hopes that the next day would provide us with much better fishing.
 
Day 3
 
The third morning looked positively hopeful, the Northerly wind was still blowing but the sun was out and it looked like a warm day was on the cards, just what we needed for some great Laxardal dryfly fishing. We joined up with another of the group Chris for the day and went out in search of big browns rising. The first stop we made proved successful in the finding of a confidently rising fish. Gummi waded out with Chris and this fish made them work, with a coffee break and numerous fly changes breaking up the efforts to deceive the fish. Finally the right combination was struck and the fish sipped the dry in and…no connection was made. The fish, then rather unhappy that a meal had been stolen from its nose, failed to rise again and it was time to move on up the river.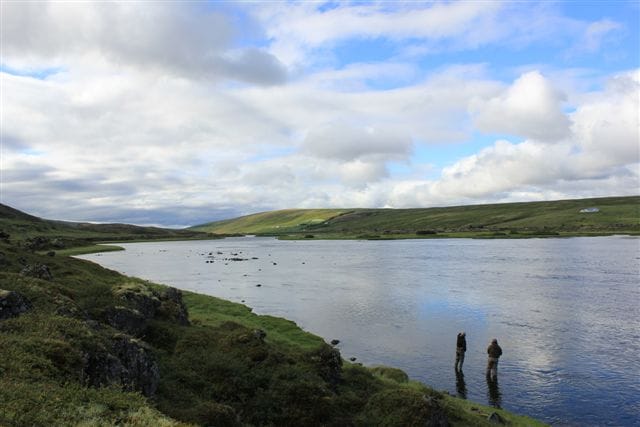 As we went up river we failed to find any other rising fish, we then got up to a pool with an amazing sweeping run, perfect for nymph fishing, and streamers if you are that way inclined… Chris and Gummi headed to the tail out, a known productive area and I setup with nymphs and a big indicator fly. Within 10 casts my indicator fly stopped, then dipped under, I tentatively struck and was met by a heavy thudding object, the hallmarks of a large fish. I applied as much pressure as I could on the fish, the rod was bending from handle to tip and the leader was singing in the upstream wind. The big spade like tail finally broke the surface after what felt like hours, by this point my arm was aching from the pure strength that these fish use. Eventually the brownie showed signs of defeat, Gummi prepared with the pan-net which was dwarfed by the fish. The fish was then scooped into the net tail first, and I just stood their in silent admiration of my catch, a beautiful hen fish of 63cm (25") weighing over 5 ½ lbs.
The rest of the morning went unrewarded, after lunch and siesta it was back out to the water still bathed in sunshine we were just praying for the wind to lay down. Our prayers were answered halfway through the afternoon fishing period, the wind disappeared and the river turned to a flat calm and noses started to dot the water surface. Chris waded out carefully to get in amongst the rises whilst Peter and I sat on the bank stunned by the shear size of some of the fish rising. One in which we nicknamed 'Dogfish' as each time it showed it looked like Labrador emerging from the water. A couple of fish were raised to the dryfly but getting used to not striking immediately and actually waiting for a big fish to go back down again is a hard thing to master and we therefore failed to get any hook-ups. The river had come alive and every ones spirits were high with most of the group catching some big Icelandic browns. The stories of those caught and those lost or so nearly hooked filled air over dinner, with everyone glancing back at the river still lit by midnight daylight.
 
The weather remained good for the following morning and we headed out with Nigel, Elizabeth and Bjarni the head guide at Laxardal. The river was looking perfect and the air temperature was warming, the fish were also beginning to rise. Bjarni took Nigel down Heygar ður to get to some rising fish whilst Peter and I guided Elizabeth through the head of the pool.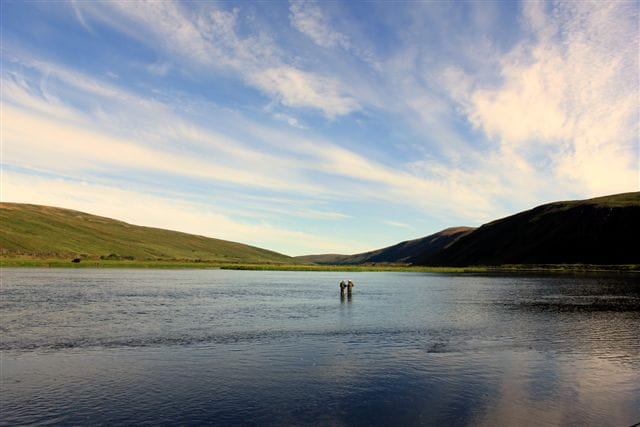 We got Elizabeth into a fish first, it went aerial immediately at which point Peter and I looked on in shock at the shear size of this huge Brownie. It continued on its path downstream with Peter giving advice and me running around trying to get some photographs. Elizabeth played out the fish brilliantly and after a long battle Peter squeezed it into the net, a beautiful cock brown trout over 6 lbs. This then put Nigel and Bjarni under pressure to catch up; it didn't take long until they were into another big Icelandic brownie, not quite as big as Elizabeth's fish though…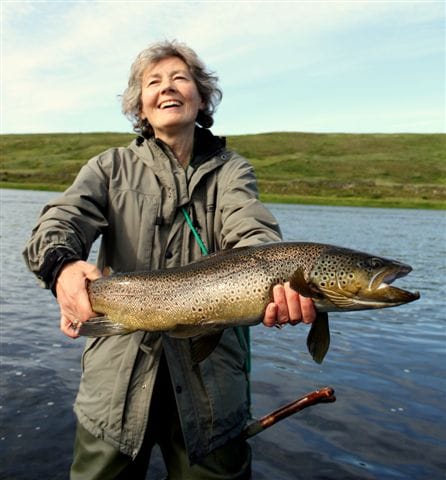 Elizabeth shortly regained her lead again using a CDC Hopper, which was proving to be the most deadly of the dry flies on the large fish. Mid-fight Nigel hooked up also and on the landing of both fish it was a draw going in for lunch. We had just had a glimpse of some of the Laxardal fishing at its finest.
 
Over the lunch the Northerly coastal wind picked up and cooled the water surface keeping the fish down for the afternoon making dryfly conditions hard, although some of the party still caught on nymph patterns and in sheltered areas.
 
This was the last evening at the trout lodge for our group, at dinner there were stories of fish landed and lost throughout the last few days. After a good meal and some semi-organised packing it was to bed before a last few hours fishing in the morning.
 
Day 5
 
The final morning, you couldn't have scripted it. The air was still, the temperature was warm, and fish were rising. Breakfast vanished within seconds with eager fisherman wanting to make the most of their last few hours on the river. Our dash to the water was made with Harley, one of the more successful members of the group, and guide Asgier, a trumpeter in the Icelandic Symphony Orchestra.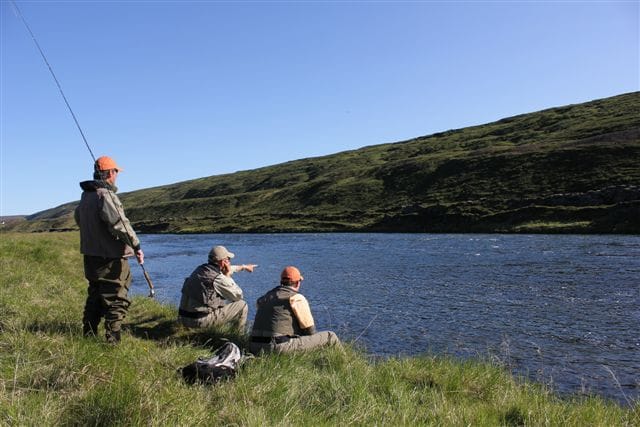 For our time on the water we exercised levels of patience, watching rising fish until we worked out an angle, approach and what fly would tempt our prize. Peter snuck up the bank and position himself in good range of a nose breaking the surface regularly to engulf unsuspecting midges floating down. After several casts the midge of choice became Peter's CDC hopper at which point the river turned into a jack in a box with a long powerful brown trout crashing around on the surface. A fish of over 4 lbs was brought to Peter's clutches.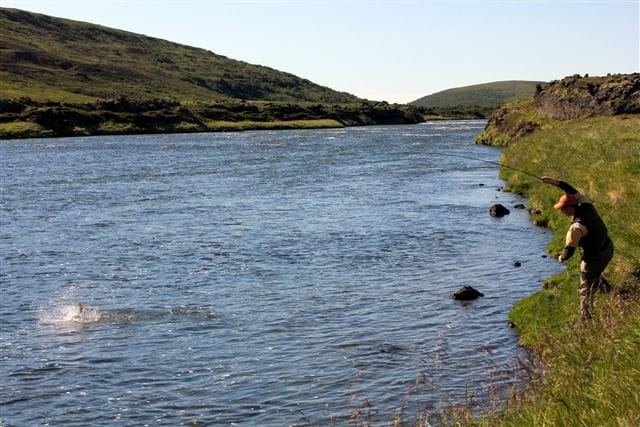 We moved down river where we were greeted by unforgettable scenes of large fish rising all over the place. The worst thought crosses your mind at this point; "this will be like shooting fish in a barrel" until you realise that the proverbial barrel has grown and the shot size has shrunk away to near nothingness. We waded out, in amongst the big rises, placing drift after drift over different fish but no takers. Running out of time we made the change, dryfly to wetfly (a spider at least). As it hung just below the surface on the first drift a brownie just couldn't help itself and we watched the leader draw away from us. This happened another couple of times with big fish just gorging on midges just sub-surface. The end of the session arrived and once again the fish had caused aching arms and substantial smiles all round.
 
Although I had the benefit of not returning home at this point and heading down river in search of large salmon, it was difficult leaving such fantastic brown trout fishing. It has definitely made it on to my 'must go back to' list, the sheer size and power of the fish is incredible.
 
Alex and his father, Charles will be hosting a trip to Laxardal in July 2013. For more information on this trip or Laxardal in general contact Alex by email: [email protected] or telephone +44 (0) 1980 847389