At the end of July I finally managed to escape the UK after the various lockdowns and once again head over to Iceland. This year I wanted to do a little exploring before I headed to Laxa I Kjos. I have spent the last 22 years travelling around Iceland and fishing many salmon and trout rivers that have all been close to the coastline. I have never before experienced the interior so I organised to visit some of the trout and char operations that I had heard so much about. We have had more and more enquires for trout and char fishing than ever before as it makes such a great add on to a salmon trip.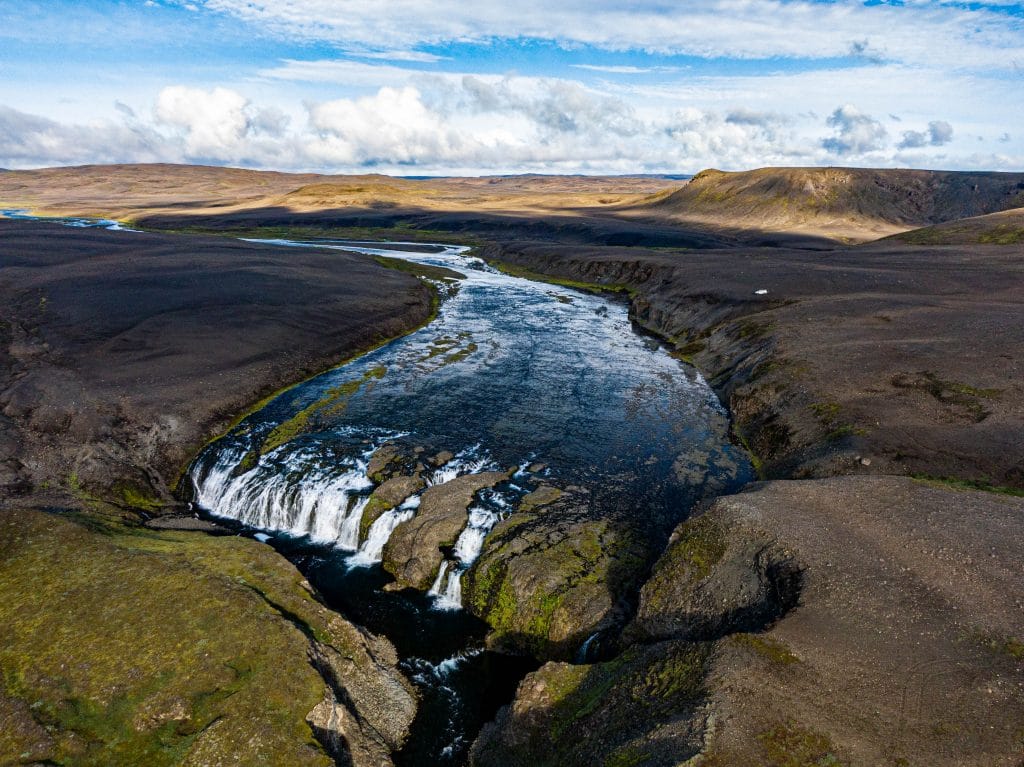 My focus was to be the stunning rivers of Kaldakvisl and Tungnaa. These two rivers are located in the central highlands of Iceland and out of some of the massive moraine lakes to be found in this area. The Kaldakvisl is over 16 miles of fishing and Tungnaa which is 8 miles long, both of which contain brown trout and arctic char to some pretty impressive sizes. Both of these rivers are based from a nicely appointed full service lodge located between the two making them easily accessible. There is also the Sandá river a little further down for those looking for a salmon to add to the mix.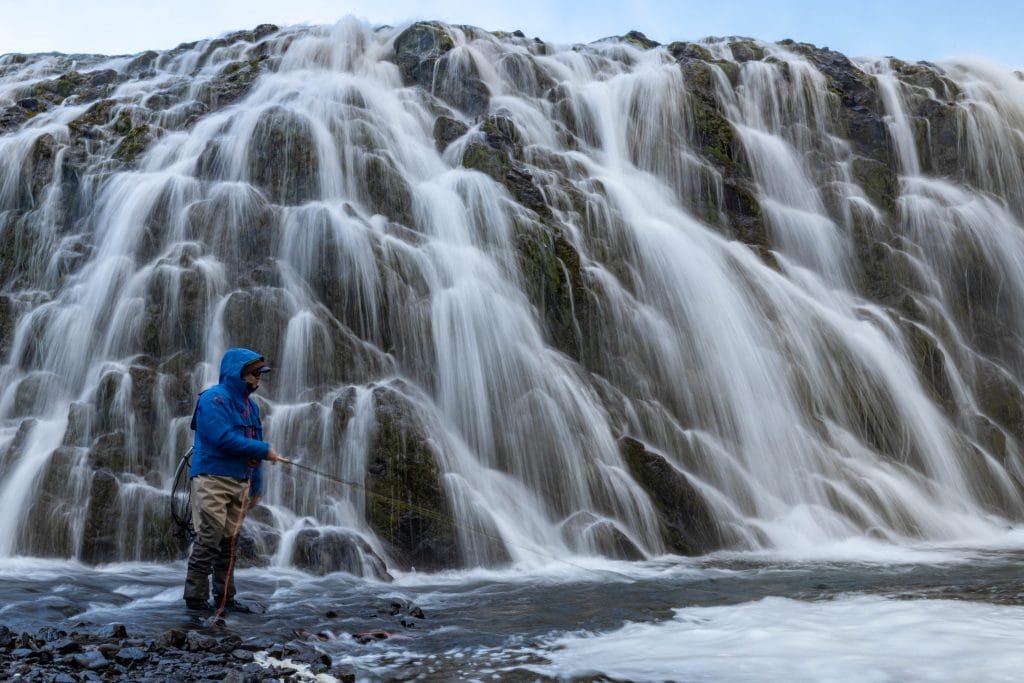 The central highlands areas is desolately beautiful. As you climb from the green lower valleys up onto the plateau the scenery gives way to rock and lichens, the fall out from ancient volcanoes and lava flows now scraped clean by the winter snows. Through this landscape winds the Kaldakvisl, flowing through large open pools strewn with large boulders and deep blue volcanic cuts. The perfect environment for large ice aged brown trout and arctic char. The fishing up here is a combination of dry fly, nymph and streamers, really dependent on the weather conditions. We spent some time hunting big char in the lower section of the river and I was immediately struck by how they did not spook. These large fish would contentedly sit in pools, clearly visible, and completely ignore a wading fisherman. I found weighted nymphs did the trick here and was immediately struck by how powerful they were, even on a 6# rod. The char average 3 – 4 lbs although there are specimens up to 7 lbs. the brown trout are sporadic but tend to be very big territorial brownies.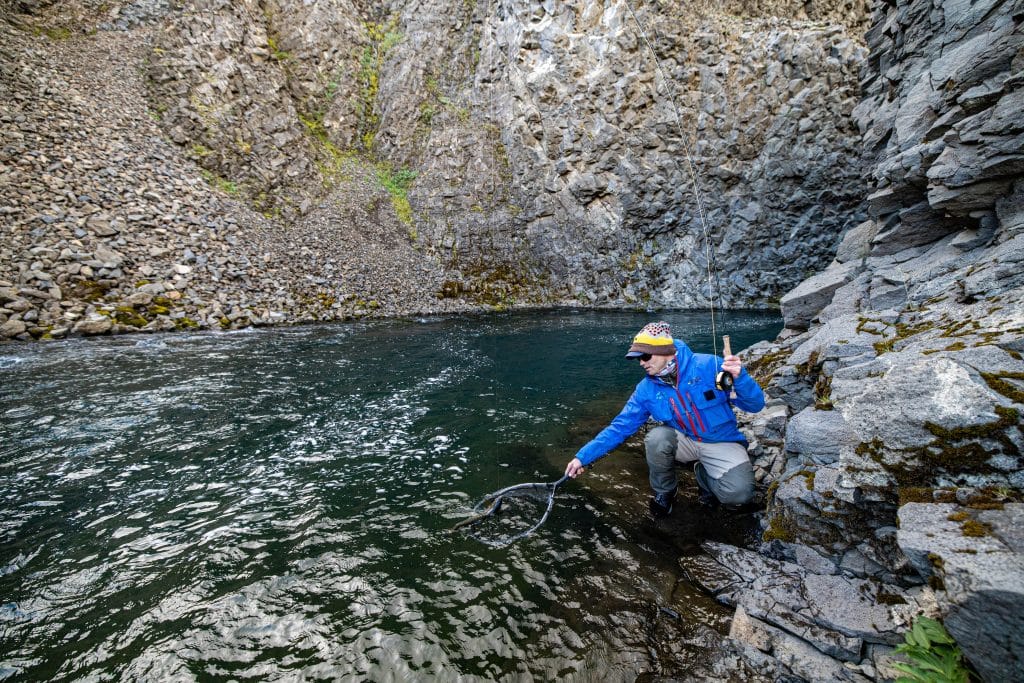 Moving to the upper section in search of big browns allowed me to geta full perspective on how big the river system was and just how much fishing was there. I suspect it would take many years to even fish half the pools. The scenery is broken by a massive waterfall system that flows through the "hidden" valley. Large trout live here and can easily be spotted from the cliff edges above which makes the experience extremely exciting. I have also discovered a serious love of streamer fishing. Although I have always loved dry fly and nymph fishing I have had very little opportunity to fish streamers in rivers. The take is explosive, a little like saltwater fishing – the battle intense and made me giggle every time I connected.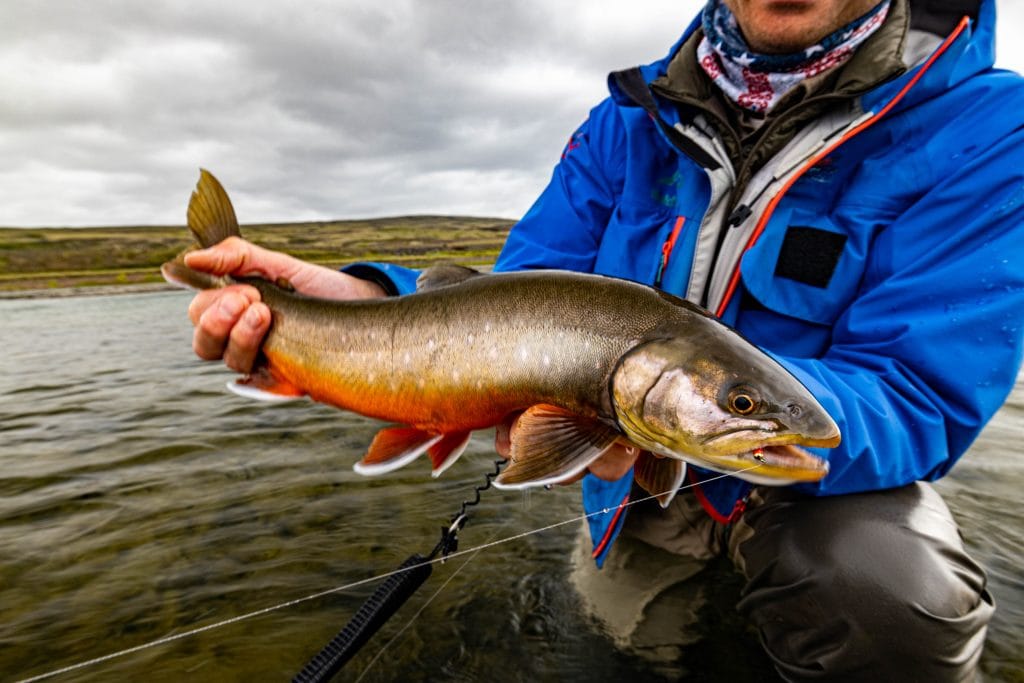 The Tungnaa in contrast is a smaller more intimate river in comparison. The top half runs through a ravine section of miniature canyons with some teered featured pools, but all easily accessible. Inviting pools hold very healthy populations of big char which will readily take flies. The river also holds large brown trout and I heard some incredible battle stories from amongst the other anglers. Fish average 3 – 5 lbs and some monsters up to 12 lbs have been landed. As the river flows further down the valley it begins to meander through glacial moraine making for incredibly easy access and wading in large open pools. This area is ideal for those that wish to catch big char but don't fish to do to much rock hopping. When the wind lays flat these areas can come alive with rising fishing which allows dry fly fishing for char and pretty unique.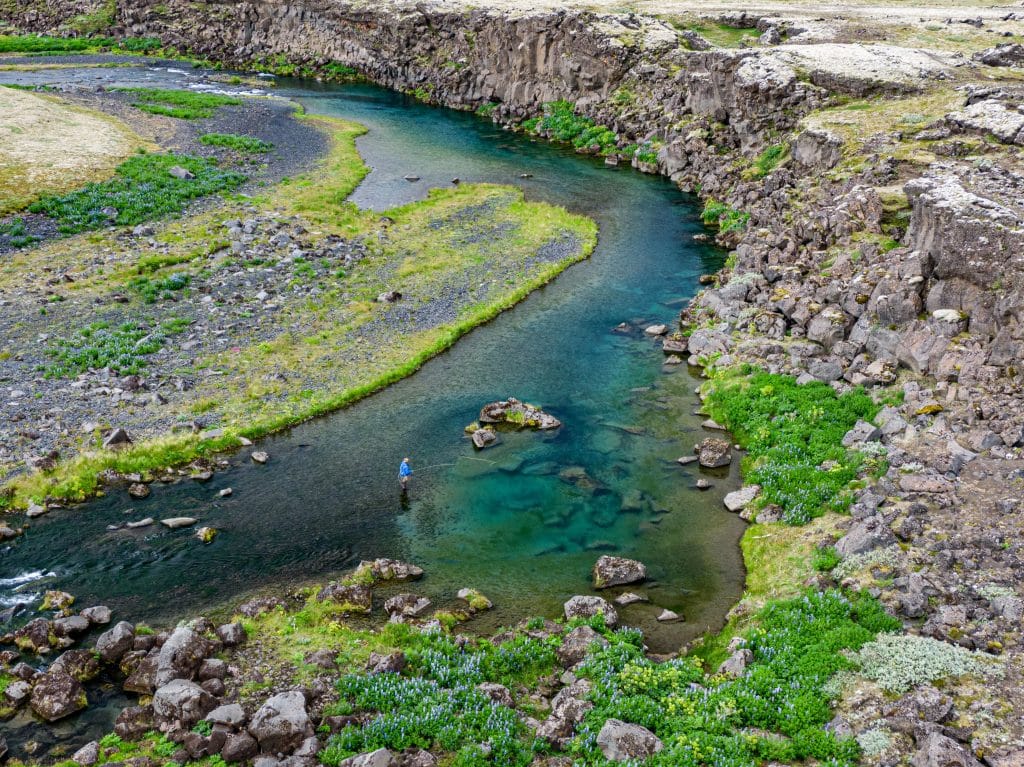 The lodge you are based from is an ideal setting for these two rivers. It is functional with shared rooms and communal shower and bathroom, lots of good food after a long day on the water and a large living room to enjoy a drink and a story in the evening. Nice touches highlight the attention to detail such as complimentary slippers to shuffle about in down to ear plugs on your bed. Outside on the deck is a large, heated wader room and rod rack so you can slip into warm dry waders in the morning.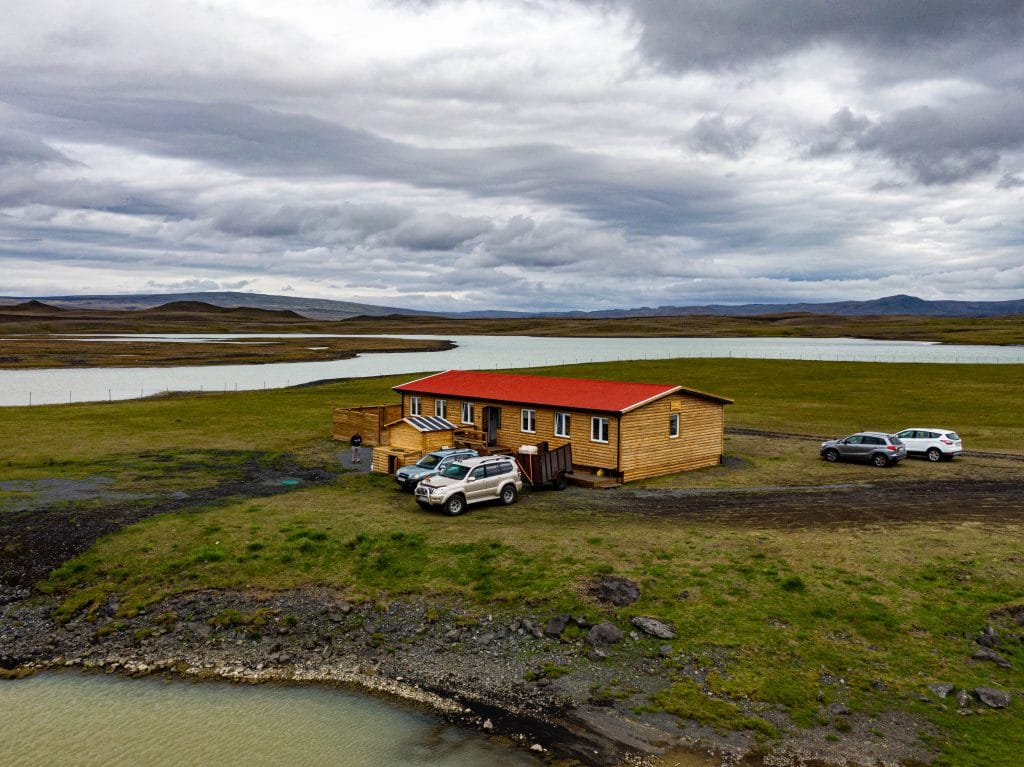 For those of you that love Iceland as much as I do I would highly recommend that you consider either adding three days up here to your salmon trip or even as a separate adventure all on its own. It's a remote part of Iceland that not many have the chance to see and the rivers are amazing.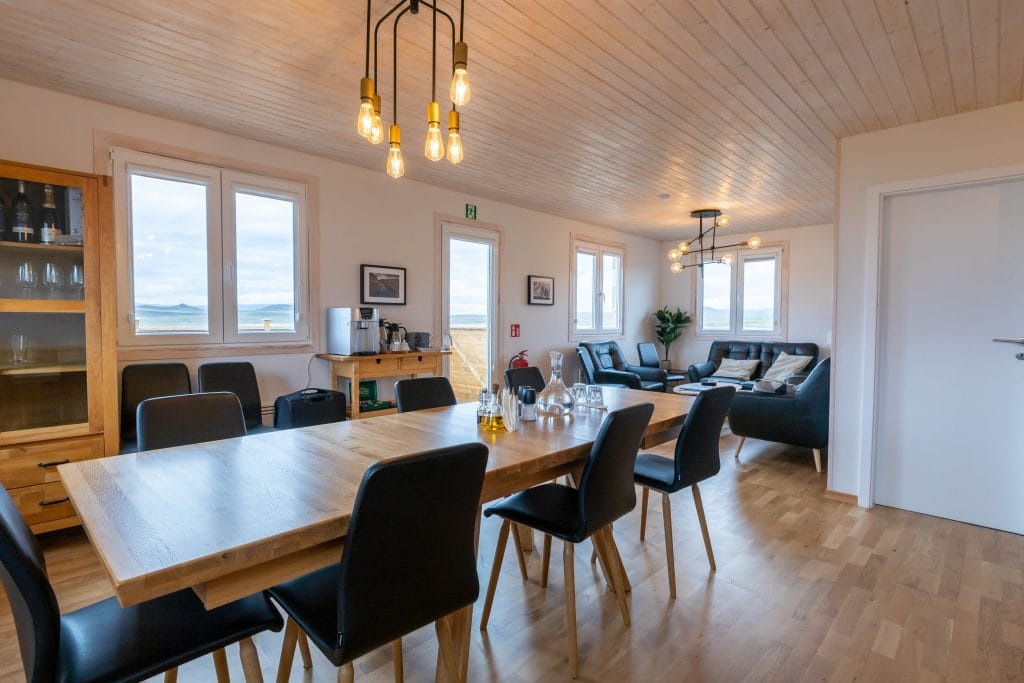 For more details on fishing these rivers or any other of our rivers in Iceland please do not hesitate to contact Peter McLeod or Alex Jardine or call our office on +44(0)1980 847389.