When talking of global salmon fishing many ask me why I have such a passion for Iceland. There are greater numbers to be found on Russia's Kola Peninsula, and certainly larger salmon in northern Norway. I think the answer lies in the method. The experience is visual, the tackle used is very light and the rivers of Iceland not only offer consistency, ease of travel and huge variety, but also that it is often possible to watch as a salmon rises in the water column and hits a fly off the surface.
I have known many salmon fishermen over the years who have found this experience to be the thrill they have been searching for. To begin with we just want to catch one. Then we want to catch a lot of them. The next challenge is to then catch a really large fish. Finally the true essence of salmon fishing emerges which is the "take". This becomes the all-encompassing experience that drives us to make that pilgrimage every year. Iceland is the land of the "take".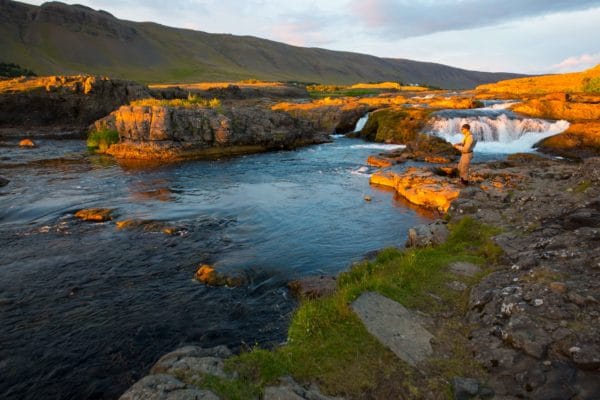 There are rivers to suit all preferences, but there is one that I keep coming back to as its where I learnt to fish small flies; The Laxa I Kjos. Using a single handed 7# to flick out a size 16 hitched Red Frances to a pod of silver fish on the Laxá I Kjos is something truly special. The water is so clear it is often possible to see the fish in the river, see their behaviour towards the fly, and often the moment that the fish commits to taking it.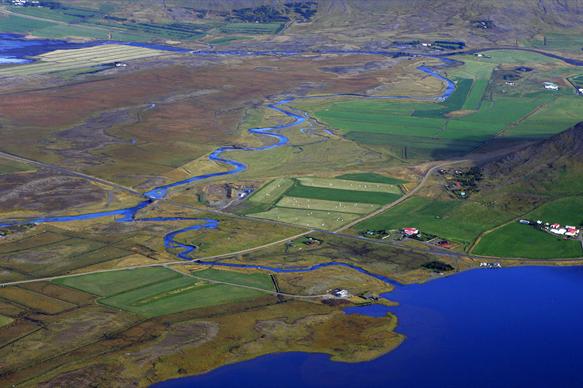 The Laxa I Kjos lodge is one of the prettiest and most comfortable in Iceland and sits overlooking the lower section of the river. The river itself is intimate and the fishing is more akin to trout fishing for salmon, a true hitchers' dream. Small rock pockets, canyons and open meadows are perfect for single handed fishing with tiny flies and it offers some very exciting sight fishing and hitch fishing opportunities for salmon. The river also has some huge sea trout which adds to the excitement. The lodge is just 30 minutes from Reykjavik and caters for 8 anglers in the early and late part of the season, and between 8 & 10 anglers through mid-July and August.
Next year we can offer:
26 – 29 June: 2 rods, ISK 612,000 per angler (approx. £4,710) – SOLD
29 June – 2 July: 2 rods, ISK 624,000 per angler (approx. £4,800) – SOLD
11 – 14 July: 1 rod, ISK 828,000 per angler (approx. £6,370)
26 – 29 July: 4 rods, ISK 804,000 per angler (approx. £6,190)
11 – 14 August: 4 rods, ISK 576,000 per angler (approx. £4,430)
14 – 17 August: 4 rods, ISK 540,000 per angler (approx. £4,150)
17 – 20 August: 4 rods, ISK 516,000 per angler (approx. £3,970)
We suspect Iceland is going to busy next season, so why not come with us and see the "take" for yourself? For more details on fishing in Iceland please do not hesitate to contact Peter McLeod or Alex Jardine or call our office on +44(0)1980 847389.