The autumn time is traditionally when salmon fishermen take stock of the season and plan their fishing for the following year and 2018 has been no exception. Many return to the same river in the same week year on year, knowing that every time they go they gain a little more insight into fish lies and tactics. Others like to try different rivers every year, looking to experience as much variation as possible. Either way we are experiencing higher demand for Iceland fisheries than ever before and looking for prime space in July and August is already becoming tough. Maybe it's the realisation that Iceland is only 3 ½ hours away, or that runs on these rivers remain consistent. Perhaps it's that the fishing is sold in three day slots or that rods can share to reduce the cost, but either way those that rest on their laurels this year are going to miss out. To that end we bring you a little focus on some remaining space that we have hand-picked: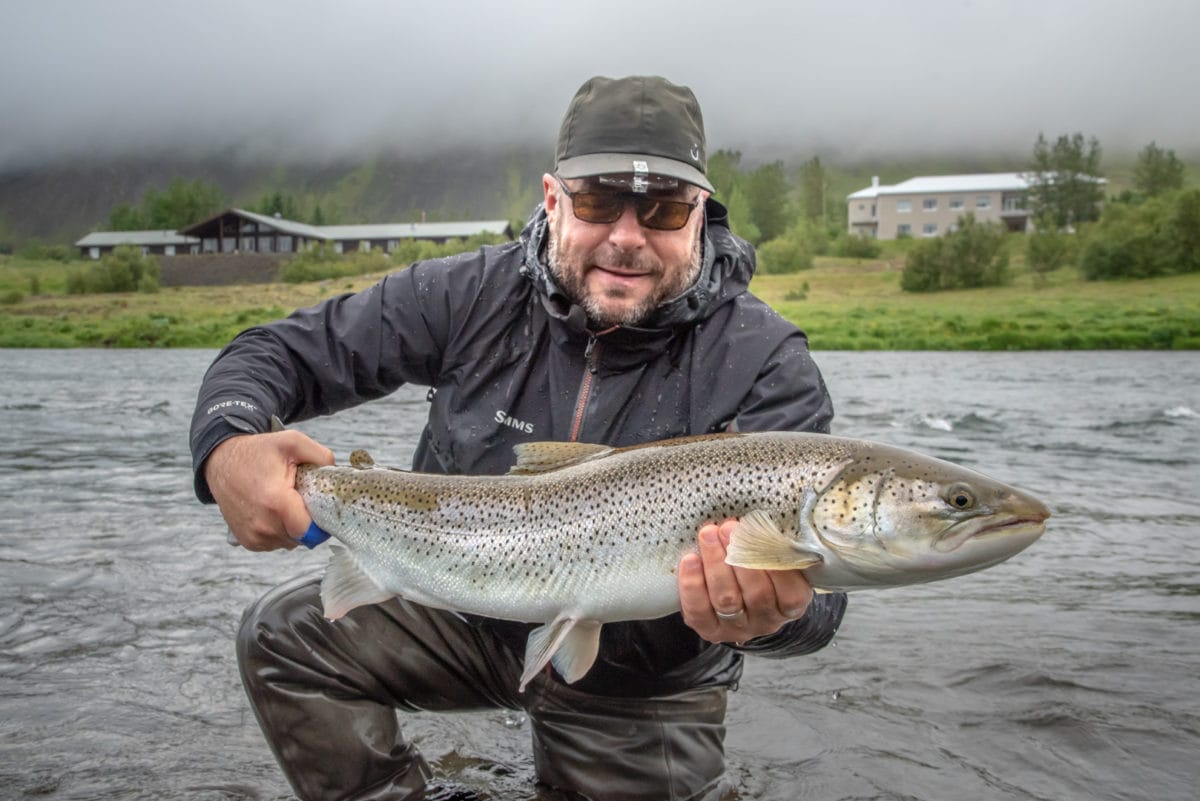 Laxa I Kjos
Still one of our favourite rivers as it really is the essence of Iceland. Clear water pools, light rods and small hitched flies create an incredible visual experience. Laxa I Kjos is also only 30 minutes from Reykjavik and combined with the wonderful lodge overlooking the river offers a wonderful salmon fishing experience. Peter will be returning to Laxa I Kjos this year to look after clients, so if you would like to join him there are only 4 rods remaining.
26 – 29 June: 2 rods, ISK 612,000 per angler (approx. £4,710)
29 June – 2 July: 2 rods, ISK 624,000 per angler (approx. £4,800)
11 – 14 July: 4 rods, ISK 828,000 per angler (approx. £6,370)
26 – 29 July: 4 rods, ISK 804,000 per angler (approx. £6,190) – HOSTED BY PETER MCLEOD
11 – 14 August: 4 rods, ISK 576,000 per angler (approx. £4,430)
14 – 17 August: 4 rods, ISK 540,000 per angler (approx. £4,150)
17 – 20 August: 4 rods, ISK 516,000 per angler (approx. £3,970)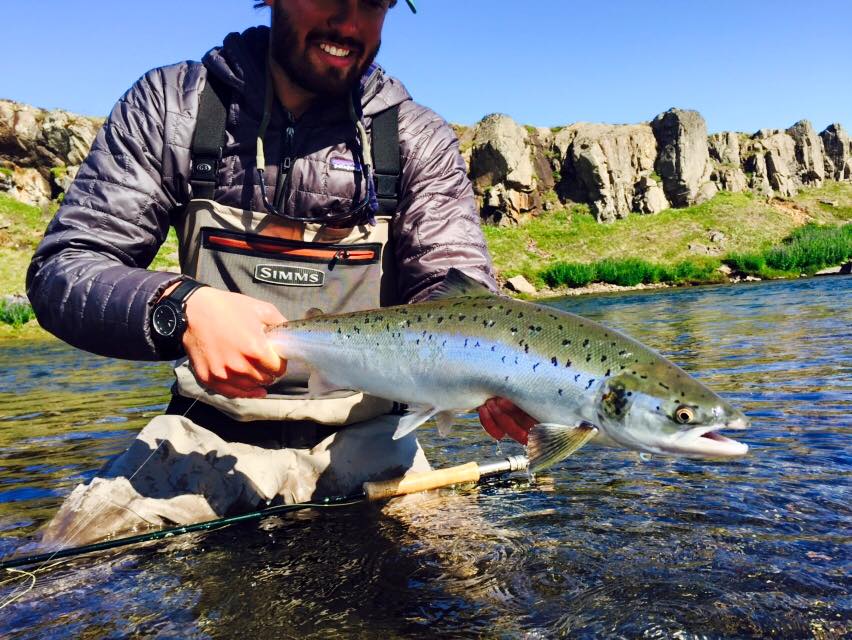 Langa
Over the last decade there is one west coast Icelandic river that has remained consistent during the peaks and troughs of runs and conditions, the Langá. The river was one of the first to be fished by the British and during that time they modified much of the course with fish ladders to make it more manageable to both salmon and fishermen. Being lake fed from Langávatn, water levels can be maintained via the dam even through the driest summer. The river exhibits all the classic characteristics of an Icelandic river with small canyons and open pools over its 36 km length, each easily accessible by vehicle. With over 90 pools to 12 rods it is perfect for hitching small flies on single handed rods and enjoying the true Icelandic fishing experience.
30 June – 3 July: 2 rods, ISK 737,640 per angler (approx. £5,680)
3 – 6 July: 1 rod, ISK 737,640 per angler (approx. £5,680)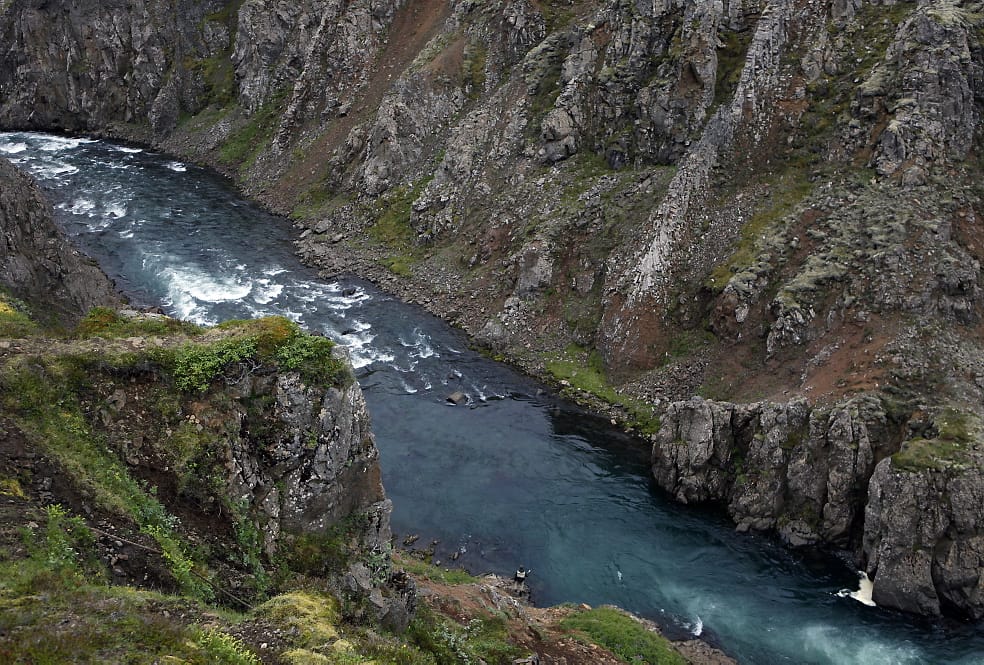 Hafralonsa
The Hafralonsa is a stunning east coast river with the promise if some big fish. It is more of a quality over quantity river, but there is 24 km of fishing including a large section at the top which is full of trout and arctic char. It is ideal for younger, fitter anglers who are looking for a bit of a challenge but the rewards can be big. It has a comfortable full service lodge and only takes 4 – 6 rods so has an intimate feel. The canyon section is spectacular, but does require some mountaineering to get down to. It's definitely two handed rod territory, although having a single hander in addition might be helpful.
17 – 22 August; 900,000ISK per rod (£6,930 approximately) 5 days
17 – 21 August;  744,000ISK per rod (£5,730 approximately) 4 days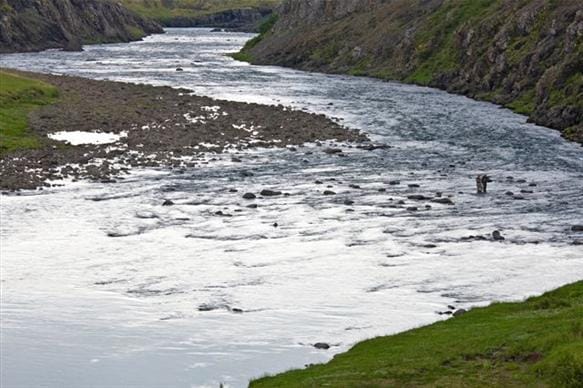 Nordura
The Nordurá is another 15 minutes further one from Langá and is larger still. It offers 65 km of fishing to its rods with well over 100 pools and again takes 12 rods. This time frame it prime time and the river lands over 2500 in a season. It has a huge variety of fishing to offer and they recently renovated the lodge adding a whole new room section, so the lodge is really lovely. The Nordurá is the first main river to open in mid-June and is often used as a benchmark to see how the season in Iceland will progress over all.
15 – 18 July: 1 rod, ISK 1,072,000 per angler (approx. £8,250)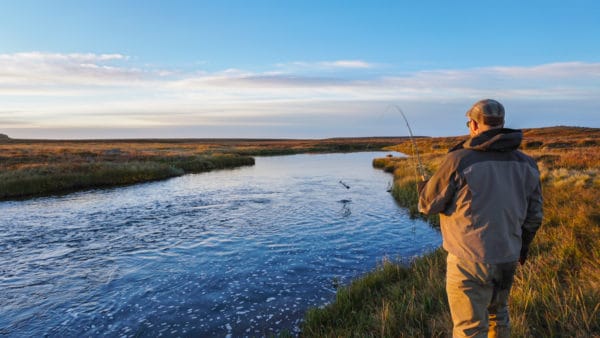 Deildará
It is a delightful three rod river situated in the north eastern part of Iceland. It may be just 7 km long but the 19 named pools offer the chance to catch large multi-sea wintered salmon, brown trout and Arctic char. It is a perfect lodge and river for a small group of friends or family. It offers great fishing from a comfortable lodge and is also in a great location to explore northern or eastern Iceland as part of a combination itinerary. The salmon prime time on the river runs from late July through August, with every chance of finding a salmon in excess of 15 lbs on light tackle and surface flies.
26 June – 2 July: €9,080 (3 rods, approx. £2,760 per rod) 6 days
8 – 14 July: €15,120 (3 rods, approx. £4,580 per rod) 6 days
23 – 29 July: €20,850 (3 rods, approx. £6,320 per rod) 6 days
4-10 August: €20,850 (3 rods, approx. £6,320 per rod) 6 days
19-25 of August: €12,960 (3 rods, approx. £3,930 per rod) 6 days
3 day options are also available.
We suspect Iceland is going to busy next season, so why not come with us and see the "take" for yourself? For more details on fishing in Iceland please do not hesitate to contact Peter McLeod or Alex Jardine or call our office on +44(0)1980 847389.