With fish already being reported nosing up the rivers already we are very excited about the coming season ahead. Water levels are looking good counters are clocking fish all over the country. Prime space has been in high demand once again but we have compiled a list of some of the best rivers and dates still available for the 2017 season below if you have not yet planned a salmon trip.
Langá

A river that can be fished with relative ease with good access to the pools and is fished well with single handed rods. It is much less susceptible to poor rainfall, unlike some of the other Icelandic salmon rivers, as it is lake fed. It has been extremely consistent even during very poor years and is the nearest you will get to a "Safe Bet". The runs are predominantly grilse and larger fish are seen occasionally through the season. The lodge is approximately 1 hour 20 minutes from Reykjavik and caters for 12 anglers.
23 – 26 July: 1 rod – £5,780 per rod – prime grilse runs
26 – 29 July: 4 rods – £5,780 per rod – prime grilse runs
29 July – 1 August: 4 rods – £5,780 per rod – prime grilse runs
1 – 4 August: 4 rods – £4,840 per rod – last of the prime grilse runs
Laxa I Kjos

The river has one of the prettiest and most comfortable lodges in Iceland and sits overlooking the lower section of the river. The river itself is intimate and the fishing is more akin to trout fishing for salmon, a true hitchers' dream. Small rock pockets, canyons and open meadows are perfect for single handed fishing with tiny flies. The river also has some huge sea trout which run throughout August and add to the excitement, a small tributary called Bugda boasts good numbers of brown trout. Laxá I Kjos offers some very exciting sight fishing and hitch fishing opportunities for salmon.
14 – 17 August: 2 rods – £3,630 per rod – prime sea trout and good salmon
17 – 20 August: 2 rods – £3,630 per rod – prime sea trout and good salmon
22 – 25 August: 2 rods – £2,600  per rod – prime sea trout and salmon
Svarlbardsa
Svalbardsa is a three rod, catch and release only river averaging in the region of 400 fish per year
. The river begins to fish well in mid July with the first good runs of extremely aggressive fresh salmon averaging approximately 10 lbs.The river exhibits classic pools starting with fast runs and ballooning into smooth tails. It is one of the secret gems of Iceland, fished year in and year out by the same fishermen and seldom offers much new availability. Svalbardsa is best fished with a 9-10ft 7 or 8wt and is perfect for those looking for larger fish. This slot just became available.
23 – 26 August: 3 rods – £5,850 per rod – prime salmon
Grímsá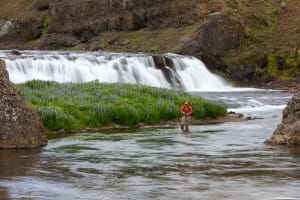 The lodge at Grímsá is very comfortable, it overlooks one of the best pools on the river where you will often see fresh fish jumping. The fishing itself is limited to just eight. The fish here also tend to be slightly bigger and the river is certainly larger than the other rivers on the West Coast, although it is still best fished with a single handed rod it is certainly worth carrying a double hander for the larger pools. The Grímsá is definitely an option if you are looking for a more exclusive river with slightly larger fish.
20 – 23 July: 2 rods – £6,680 per rod – prime grilse runs
26 – 30 July: 2 rods – £6,680 per rod
2 – 7 August: 2 rods – £6,680 per rod
Hitará
Though an average sized river, it has a long
and remarkable fishing history, dating back to when British gentry started fishing in Iceland. Hítará is a typical Icelandic river with complex currents, clear pools, small flies and technical fishing over its 29 km. The river accommodates six rods on the main salmon section and is ideal for private parties.  A single handed rod or a really light double handed rod are ideal here, and anglers are rewarded with quite a number of fish over the 7 lbs mark.
12 – 15 July: 6 rods – £4,890 per rod
27 – 30 July: 6 rods – £4,630 per rod
Hofsá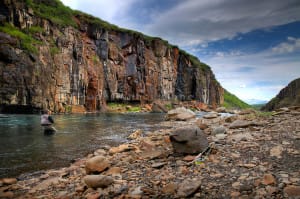 One of the two major Vopnafjordur rivers, the other being the famous Selá. The river has a long canyon on the top beats, a dramatic impassable falls and a string of challenging pools as the river thunders down the canyon. But once the canyon ends, the river turns into an almost endless string of long slow flowing pools, each one seeming more enticing and inviting than the last one. Hofsá is one of the best multi sea-winter fish rivers in Iceland and the average weight is excellent with good numbers over 20 lbs.
18 – 21 July: £8,120 per rod – Sold
30 July – 2 August: £8,120 per rod – Sold
Thverá

It is the lower part of the legendary Thverá-Kjarrá River and offers 107 diverse salmon pools over its 26 km length. The consistent salmon fishing makes the Thverá one of the most sought after rivers in Iceland. The upper section offers a shallow canyon before opening out across meadows and eventually draining into the glacial waters of the Hvítá River. The river fish incredibly well in the early part of the season when it sees a strong run of larger two sea-winter salmon. The lodging is comfortable and the service is first-class providing a great atmosphere.
18 – 20 June: 2 rods – £3,420 per rod – multi-sea winter salmon
Lower Rangá

The lowest part of the Rangá rivers is called the Hólsá river, East bank. The stretch is about 20 km long and goes from the junction of Thverá/East Rangá, through the junction of East/West Rangá and towards the sea. The East and West Rangá rivers are two of the most productive rivers in Iceland, but first their salmon pass through and hold up in the Hólsá. The river is best fished with 14 and 15 foot double handed rods to cover the water. There is a good mix of grilse and two winter salmon that run throughout the season.
15 – 17 July: 4 rods – £2,640 per rod – prime salmon run
17 – 20 July: 3 rods – £3,960 per rod – prime salmon run
6 – 8 August: 3 rods – £2,640 per rod -prime salmon run
Deildará

It is a delightful three rod river situated in the north eastern part of Iceland. It may be just 7 km long but the 19 named pools offer the chance to catch large multi-sea wintered salmon, brown trout and Arctic char. It is a perfect lodge and river for a small group of friends or family. It offers great fishing from a comfortable lodge and is also in a great location to explore northern or eastern Iceland as part of a combination itinerary.
18 – 21 July: 3 rods – £3,000 per rod – prime salmon run
28 – 31 July: 3 rods – £3,000 per rod – prime salmon run
31 July – 4 August: 3 rods – £4,000 per rod – prime salmon run
Mýrarkvísl

A very interesting river offering traditional pool and riffle water in the upper section, a canyon through the middle and meandering slow flows at the bottom. You can target good numbers of trout averaging 2 lbs with a few between 4-6 lbs. Dry flies and traditional nymphs work well and as the season progresses the chances of encountering salmon increase. Along with the river you also have access to a lake that has a good head of Arctic char (delicious eating if you want to take one or two for dinner). The river is limited to just four anglers, and a new lodge is being built for the 2017 season to offer very comfortable accommodation with full service possible.
13 – 16 June (3 days): £1,570 per rod (2 rods, shared guide, self catered) – good trout fishing
14 – 18 July (4 days): £2,380 per rod (2 rods, shared guide, self catered) – fresh salmon and trout
28 – 31 July (3 days): £1,680 per rod (2 rods, shared guide, self catered) – fresh salmon and trout
11 – 16 August (5 days): £4,710 per rod (4 rods, shared guides, full board) – prime salmon
16 – 19 August (3 days): £3,860 per rod (1 rod, single guide, full board) – prime salmon
29 – 31 August (2 days): £1,670 per rod (2 rods, shared guide, full board) – prime salmon
4 – 7 September (3 days): £2,500 per rod (4 rods, shared guides, full board) – salmon and trout
15 – 18 September (3 days): £2,190 per rod (4 rods, shared guides, full board) – salmon and trout
Miðfjarðará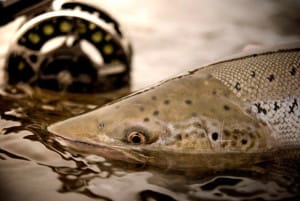 One of Iceland's top fly fishing rivers, it offers amazing sight fishing opportunities in gin clear water. The river is perfect for those that like to use single or small double-handed rods with floating line and small flies or hitch-tubes. The main run of the river is predominantly made up of grilse but in the early season the majority of fish tend to be multi-sea-winter fish in the 10 to 18 lb range. Maximum 10 rods per week, each enjoying single, en-suite rooms as standard in the newly renovated and comfortable lodge but early season weeks can be limited to 6 and 8 rods. Prime time is mid-July to early August.
Various availability in 2017, enquire for more details.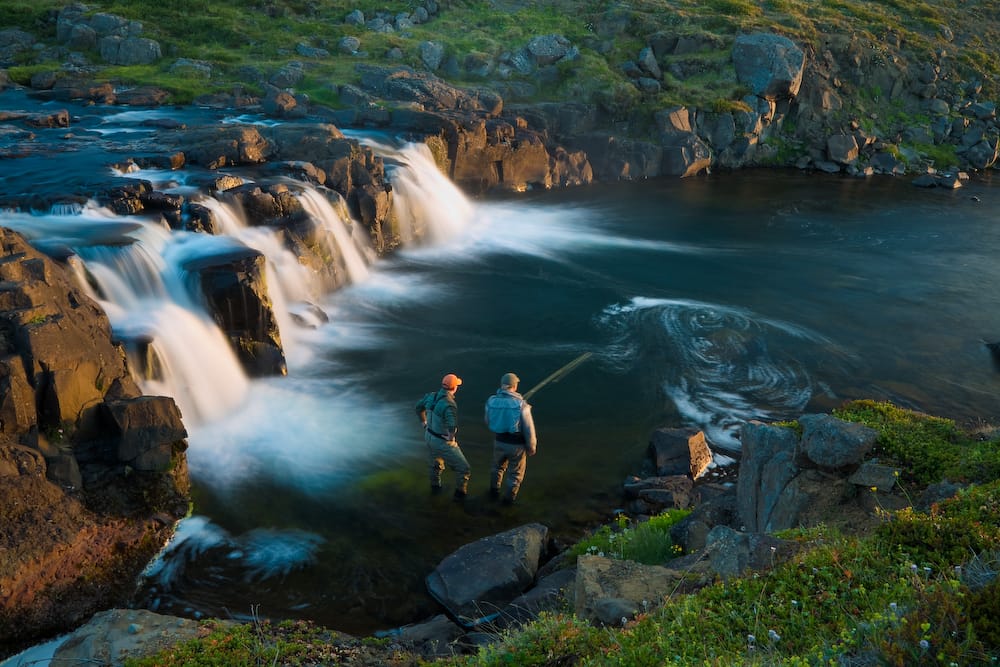 We are all fully aware that salmon fishing in Iceland is not cheap. It has always been one of the more expensive options worldwide, especially when looking at prime time on many of the rivers which commands a premium. What many don't realise is that the lodges are all set up for anglers to share a rod. Learn more HERE.
Already going to Iceland and want to add an extra day or three days is too long? Why not take a day trip out of Reykjavik? We can offer various day trips for those looking to be based in the capital, Reykjavik for salmon, brown trout, Arctic char and sea trout. There are numerous hotels, guesthouses and apartments to provide the level of accommodation you are looking for. From this base you can be collected after breakfast and be out on the water in under an hour in many cases and return to your accommodation in time for dinner. For more information click HERE.
Missed our Iceland Brochure, view it online HERE.
For more details on fishing in Iceland please do not hesitate to contact Peter McLeod or Alex Jardine or call our office on +44(0)1980 847389.