Laxa I Kjos Trip Report – July 2019
At the end of July last year I swapped my flats boots for waders and led a team to one of my favourite rivers in Iceland, the Laxa I Kjos. It was on the Laxa I Kjos in the early 2000's I learnt to fish small flies for salmon and first learnt to hitch tiny flies in clear water, so it has always been special to me. I love travelling to Iceland as it so easy. A quick three hour flight from London and another couple of hours transfer deposits you straight on to the river bank hunting salmon.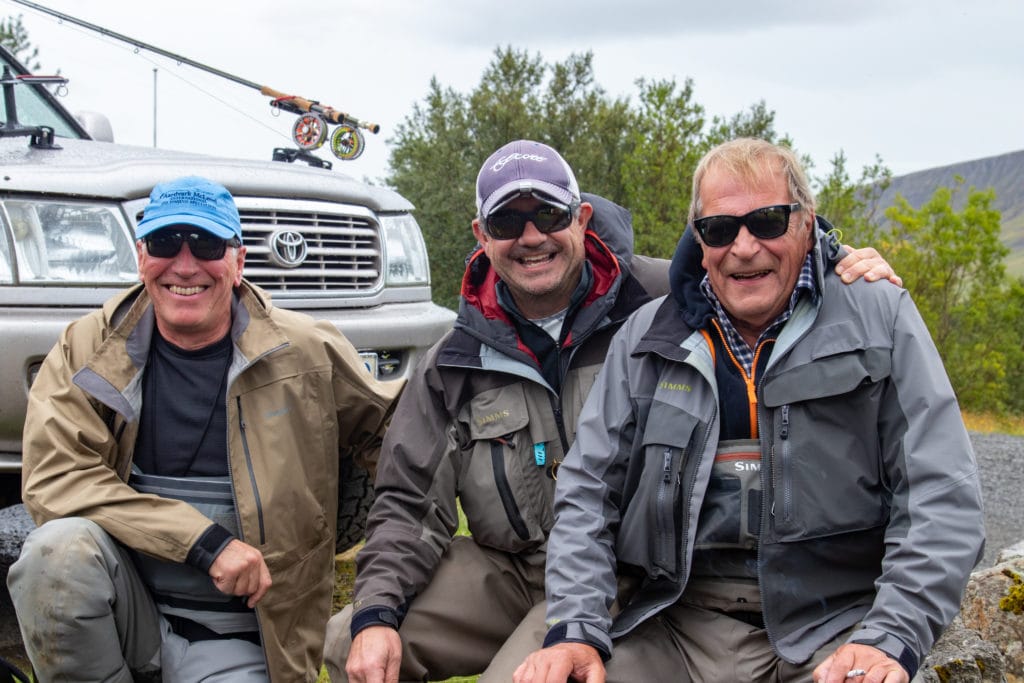 For those of you not aware Iceland had a mixed season last year, mostly down to conditions. There had been nearly no rain on the west from early May to the end of July and many of the rivers in this area were lower than we have ever seen them. I had prepared the team that things were going to be very tough conditions wise and we were going to have think outside the box to get results. Like most salmon fishermen, everyone took it in their stride. Sadly no one can control the weather so you just have to play the card you are dealt. Even though the river was terribly low as we drove over the bridge, spirits were still high for the days ahead. At least we were going fishing..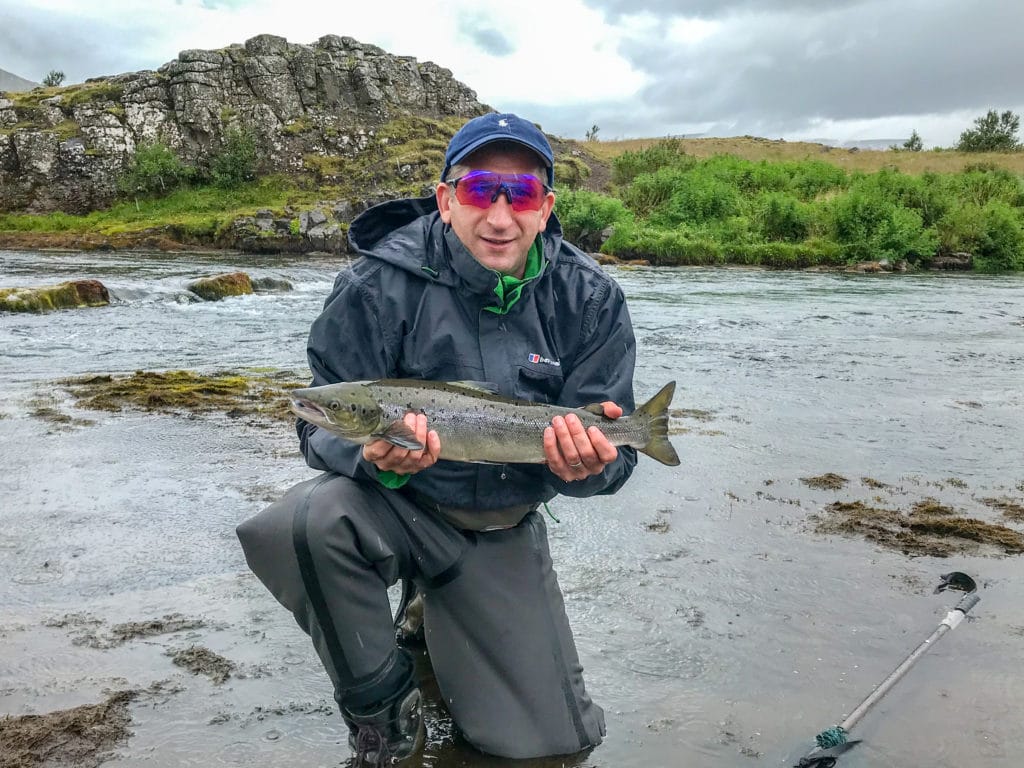 Fishing in Iceland has set hours broken down into two six hour sessions. Once bags were thrown in rooms and some coffee downed we grabbed kit and headed to the wader room to start the first session. Katka had taken David and Andrew down to the Meadows, so Halli and I went to see how they were getting on. The Meadows is a very special section of water on Laxa I Kjos and would come to play a key part in the fishing over the next few days. It is essentially a free beat, normally outside the rotation, separating the upper and lower parts of the river which are typically Icelandic – clearly defined rocky pool with clear water. The Meadows however meander their way from shallows to cut bank through the open grass plateau and slightly remind me of an Argentine river. Like Argentina, this section hold some massive sea trout from mid-July through to August, but can be challenging to fish.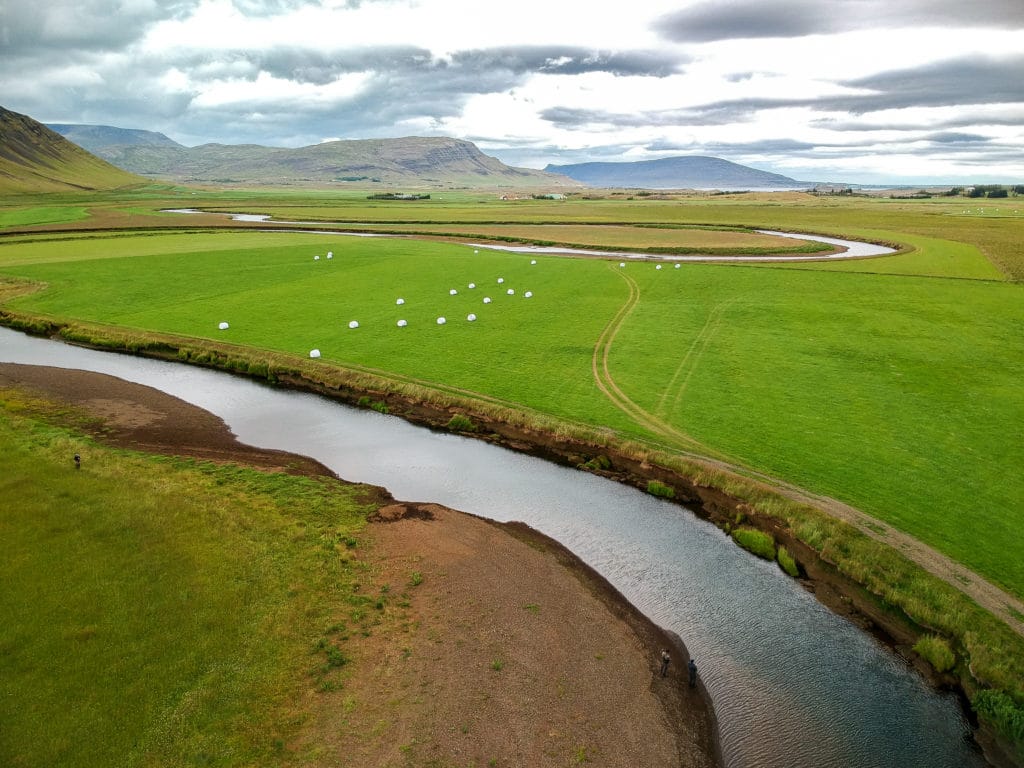 Sure enough, Katka had David out on a sandbar fishing down to a pod of rising sea trout with tiny nymphs. There is something very exciting about seeing fish that size sipping down dry flies off the surface and bulging just under. Katka is a master of European nymphing techniques as her background is competition river fishing, so David and Andrew were in very good hands. Halli and I then went down to check on those on the lower river. Leigh was fishing at Kvislafoss with Sibbi and they were seeing fish, but I did marvel at how low the water was. Although not as low as some rivers on the west coast we were going to be limited to certain pools that were holding fish. Although the normal hitch fishing and tiny size 16's micro trebles were still effective, the guide team had had huge success with upstream nymphing techniques and tiny size 16 pheasant tail nymphs. I know this sounds odd, but in low water conditions it can be highly effective. As we crawled out over the cliff top of Laxafoss to peer below, Phil hooked a fish and we watched him land the first fish of the trip. Later than night we all reconvened, and a few fish had been hooked with Jim landing a nice salmon of 75 cm.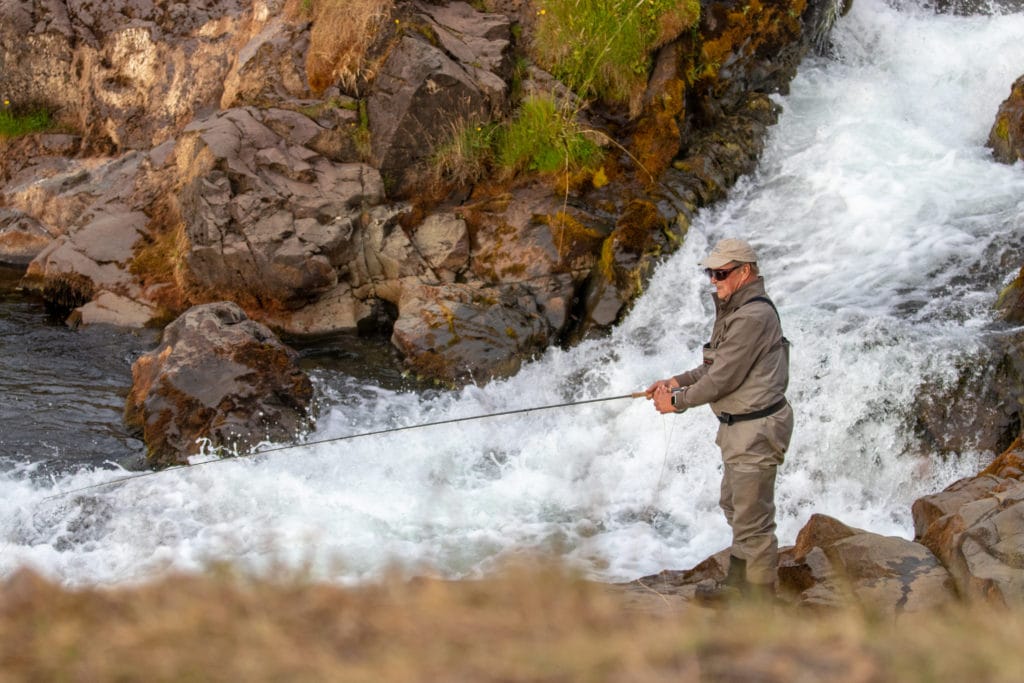 As we sat down to dinner I remembered the other reason I love fishing in Iceland – the food! That night was Icelandic lamb, ta akin to eating in a top restaurant each night. It was lovely catching up with everyone and as it was still trying to rain outside sprits were high despite conditions. After a few drinks we tottered off to bed to dream of silver.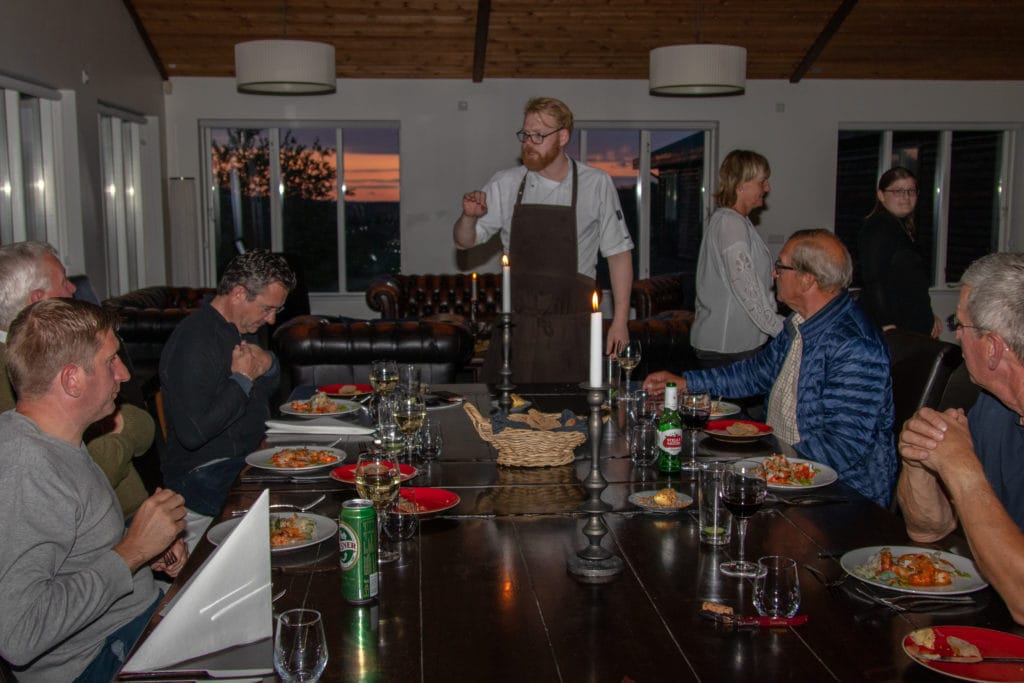 Day 2 – Upstream Nymphing
The following morning I awoke and immediately stuck my head out of the window. Low cloud and a light drizzle… Excellent! As Leigh had not done a lot of fishing beforehand and this was his first visit to Iceland he got me as a fishing partner. Sibbi was to be our guide and after a solid breakfast of scrambled eggs and bacon washed down with some strong coffee we were ready to hit the river. Out team had the lower beat in the morning, so hopefully a few fish had managed to make it up overnight.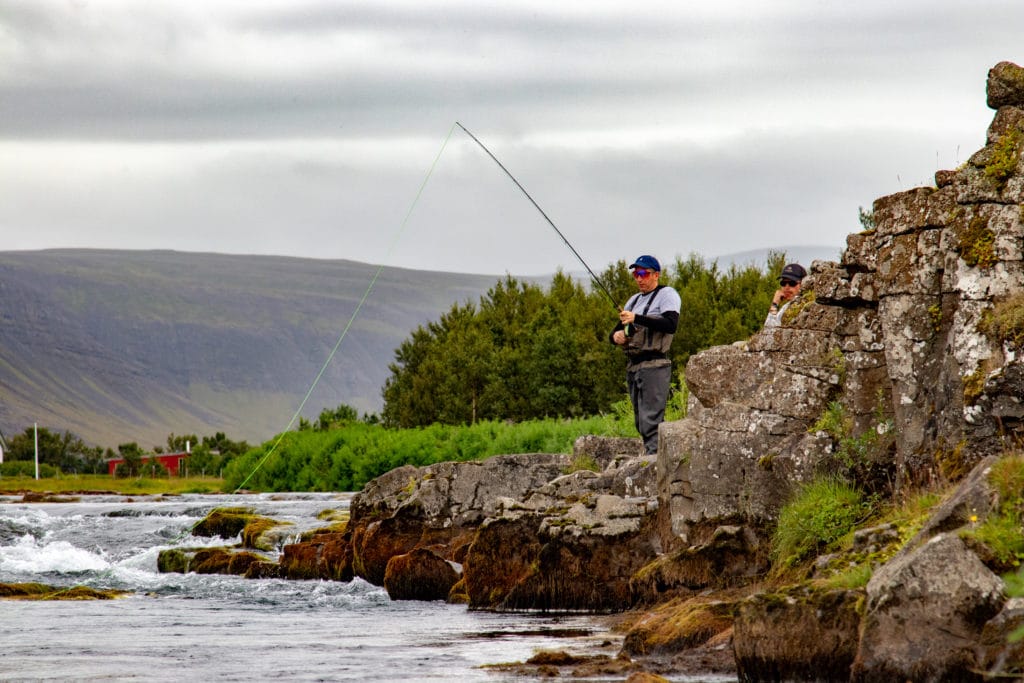 Sibbi drove us up to Klingenberg and immediately saw some salmon and a massive sea trout hanging in the tail. I sat and watched from the cliff top, making sure I kept a low profile against the skyline. They were going to fish this pool upstream using the nymphing technique, so they crossed over at the tail of the pool and made their way into position. Leigh worked out line and soon was covering them nicely. This is pretty much a Euro nymphing technique and is based around getting a position close by and working the fish you can see with the flies. Perched above I had a bird's eye view and oohed and ahhed as I watched their reaction to the flies. This is perhaps one of the best elements of fishing in Iceland – it's all visual and that's is what makes it so exciting. Leigh missed a couple of takes which happened so fast, but finally hooked a nice salmon that led him a merry dance up the pool. It headed for the neck and was trying to swim the shoot while towing his fly line behind. He managed to turn it and it then proceeded to turn tail downstream and leave the pool into the pool below where sadly they parted company as the fish wrapped him round a rock. Very exciting to watch though and great baptism of fire for Leigh.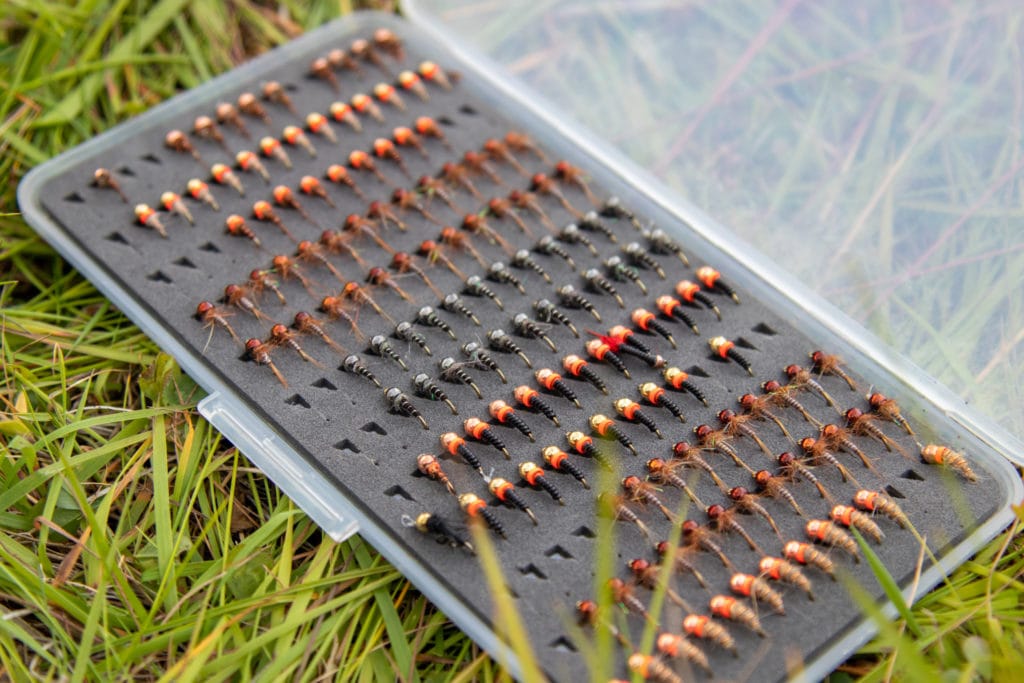 I left them too it to commiserate and wandered down the track to Laxfoss. The noise of a curlew keened out to my right and I stopped to see if I could pick it out. That cry is so imbedded in my memories of Iceland and soon I saw it hoping over the rocks, no doubt trying to lead me away from her nest. After that short interlude I arrived at Laxfoss and could not resist crawling to the edge and peering in. Sure enough, there were four fish hanging a little higher than they normally do – no doubt a result of the reduced flow. One of them was a beast and probably in the mid teens. My heart began to pump as I carefully made way round the back of the rock pillar to approach from below. With the thought of that large fish fresh in my mind I made countless casts and covered the pool systematically, but not a touch. I started to head up the track, but Sibbi had mentioned I should have a crack at one of the pools above, not much more than a hole really.
Keen to try the hitch I switched the rig and put on a tiny hitched tube, doing my best to slither over the rocks and be as stealthy as possible. Dropping into the water, I moved to the large rock at the head of the pool which splits the two currents. Normally underwater, it now provided me with some nice cover from which to hitch both currents. Nothing appeared from the near flow, so I switched to the far stream. To fish Laxa I Kjos this year I was using the 9' 6" 6# Hardy Zephrus and the new MTX reel. It's very light in the hand and the extra 6" helped when hitching. As the fly came through for the fourth time a grilse came clean out of the water and hit the fly before smashing its way round the pool. After a quick negotiation across the head of the pool I managed to subdue it before bringing it to hand, unhooking it and watching it swim away to continue its journey.
After the customary lunch and afternoon siesta, our team turned right out of the gate and drove up the river to the meadows beats to go and investigate the sea trout we had heard so much about. Jim had hooked a beast in the morning which had sadly come unstuck. Hrafn had estimated it at over five kgs which had us all pretty excited. We trundled across the grasslands and crossed over the river at a shallow ford. We arrived at Hrossholmi to some of the most extraordinary light I have seen. The thick black clouds higher up the valley were being highly contrasted by the bright sun shining up the fjord from the bay leaving us bathed in a lovely orange glow. We could see from the offing that there were plenty of fish in the pool, from the neck to a few pods pressed up against the far bank and various other fish scattered down to the sandy shallows in the tail. A few fish rose here and there, just to really get us going. For this session I opted for the camera instead of the rod as the light was so unique and let Leigh and Sibbi have at it. The upstream breeze was making casting a little tough and shortly after that the light was gone and a gentle drizzle had set in. I think the change in temperature killed whatever hatch had been happening and the sea trout went down. Leigh had managed to get one hook up on a dry fly, but sadly had parted company. Sibbi pulled out his stove from the back of his truck and made us some proper coffee to keep us going. In what seemed like a blink of an eye it was time to head back. Time moves fast when on the river.
That evening there was more talk of salmon hooked, lost and landed. Most had embraced the upstream nymphing technique which was certainly hooking us some fish, but with such fine leader and tiny flies many battles were ending in tears. Again, those visiting the meadows whispered in shallow tones of monster sea trout and close calls. I was beginning to get seriously excited as Sibbi had said we were heading there for the morning session.. so no sleep again for me again!
Day 3 – Sea Trout Heaven
The morning dawned grey and overcast, but warm and with a light wind.. perfect! When attacking the Meadows a wind is essential to mask your line on the open pools. Flat calm is the enemy. I wolfed down breakfast and adhered to the 'Henry Gilbey school of coffee drinking' – as much as possible in the window available. Waders were quickly donned, kit thrown in the back of the truck and I leapt into the back seat like an excited kid heading to a theme park.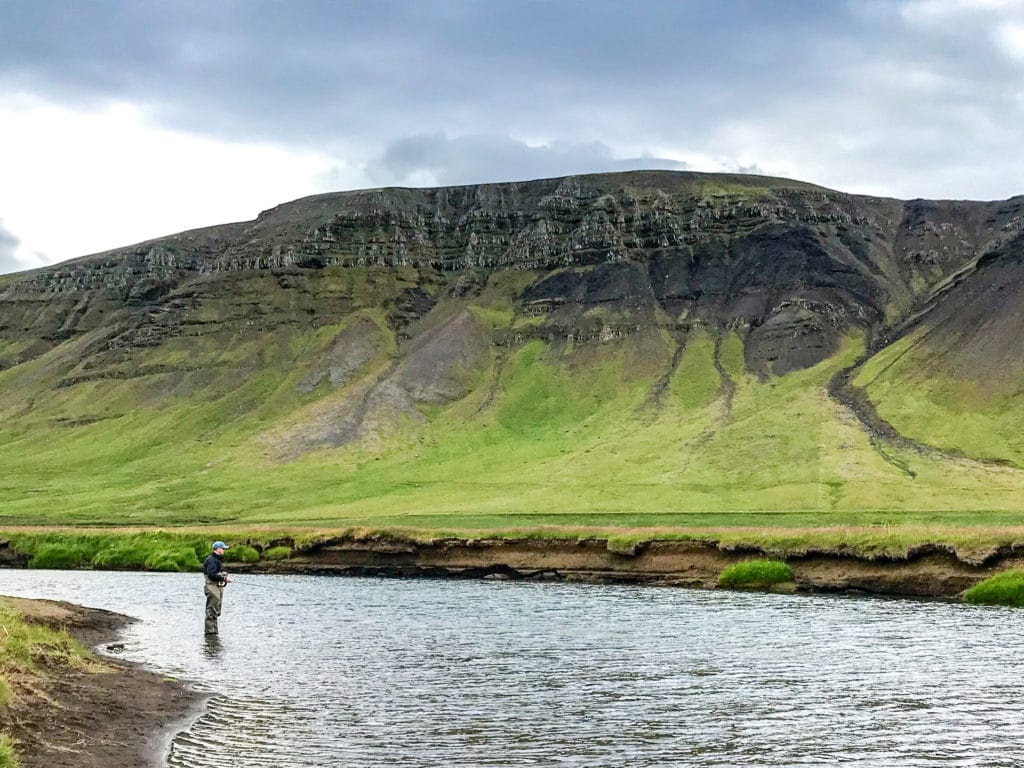 Sibbi drove down the track, bounced us over the little bridge, and we came to halt behind Alabakkar, a long sweeping bend in the Meadows. We jumped out to the sight of fish rising consistently in three or four spots… oh wow! Sibbi took Leigh up the head of the pool and I headed down river a little way. The rig for the job was a black Klinkhammer with a tiny size 16 pheasant tail suspended from the hook shank. I fished this fairly square and slightly upstream as there was not much flow, mostly the wind dragging the line around. Fish continued to rise, jump and generally make my hair stand on end. Suddenly the white post of the Klinkhammer vanished and I struck…. into something totally solid! The fish tore up stream, quickly stealing all the free line before the reel gave a tortured squeal. Not sure if it was this or my pathetic squeak, but Sibbi was already rushing down towards me. There was going to be no bullying this fish, so I settled in for a proper tug of war and just tried to steer it clear of the overhang on the far bank with some gentle side strain. I was also very conscious that it was a tiny hook keeping us joined. Slowly but surely, I gained the upper hand. The spade tail had betrayed it as a sea trout and it has been a very long time since I hooked one with these proportions.
Sibbi just gave gentle encouragement before finally the fish was ready and he scooped it into the net. I think I finally breathed at this point with a deep exhalation. That was some fish! The tiny nymph was lodged in the top of the jaw and Sibbi whipped out his tape measure, proclaiming 72 cm which is approximately 9 ½ lbs. Stunning fish.. after a few pics I cradled him in the water and he slid back into the deep water from whence he came. Fishing continued to rise around us, but at that point I was done and content to sit back and watch.
Leigh and I were absolutely buzzing when we returned to the lodge. The rest of the team had faired reasonably well picking up a few fish in the session using the nymphing techniques. Everyone was prepared that the salmon fishing would not be as prolific as previous years and with that knowledge we just enjoyed the experience of being on the river. We were all pretty excited by the possibilities of sea trout in the meadows and there was obviously a huge density of fish there currently. It became clear that here was a new facet to the fishery that required further exploration.
That afternoon Sibbi asked us where we would like to fish. As there was not much point scouting the upper part of the river which was our allotted beat, we looked at each other and almost said in unison… the Meadows! Again, we trundled down the track towards the same area we had been before lunch. Leigh went in first and fished down the same run. No longer than 15 minutes later he too hooked an absolute lump. This was his first sea trout ever, but he played it like an old hand despite some screaming runs under Sibbi's calm and expert tutelage, shortly after slipped the net under a 74 cm fish. Okay, the Meadows was my new favourite place on the river! I was slightly kicking myself that in all the time I have fished Laxa I Kjos from the early 2000's I had never taken the time to really investigate this part of the river. Sure, I had peered over the banks into the slow pools and seen the big sea trout hanging there, but the allure of fishing the rest of the river for salmon on the hitch had always proved too much. Now that the fishing was tough on the rest of the river only now did I fully appreciate the phenomenal fishery right under my nose!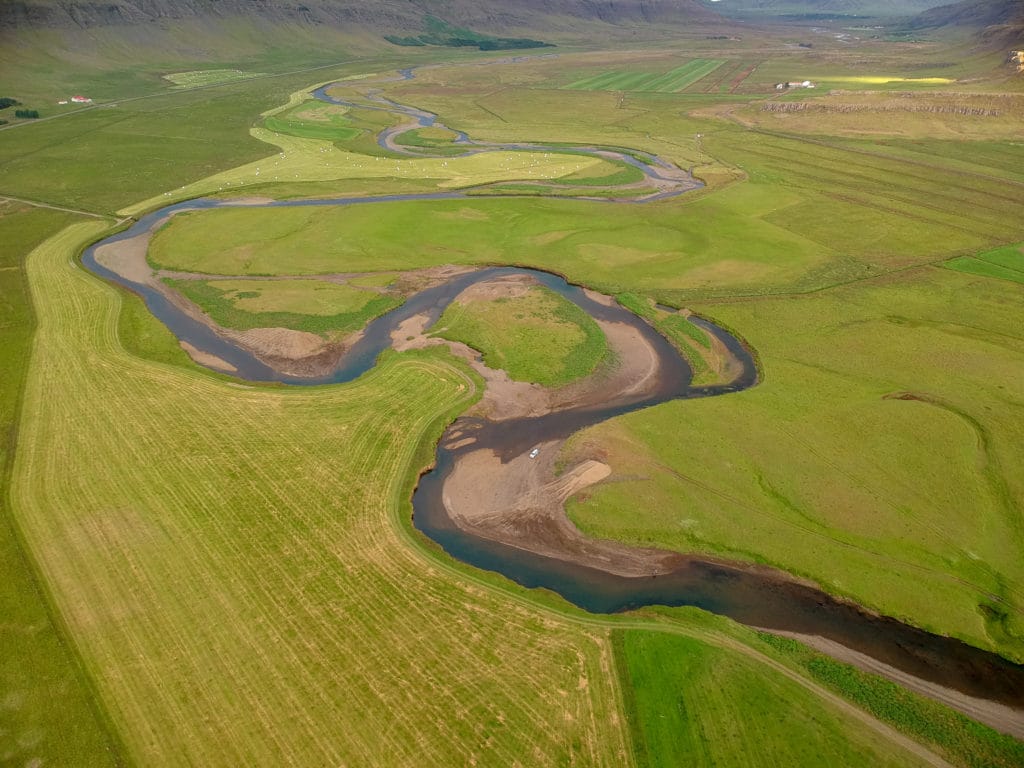 We had a few other takes before deciding to move upriver to another spot. The truck forded the river and we set up on the side of a gravel bar. Although the river was not as wide here, it was equally packed with fish that rose and showed themselves consistently. Patience was key and both Leigh and I settled in to the rhythm of cast and drift, ever waiting for that white post to disappear. Sibbi and I were watching Leigh's fly as it drifting along the cut bank on the other side and suddenly, it was gone. "Strike!" we both shouted in unison and Leigh struck into something solid beneath that tore down the pool before reversing course and heading back upstream. After a few minutes of battle sadly fisherman and fish parted company and all we could do was offer condolences.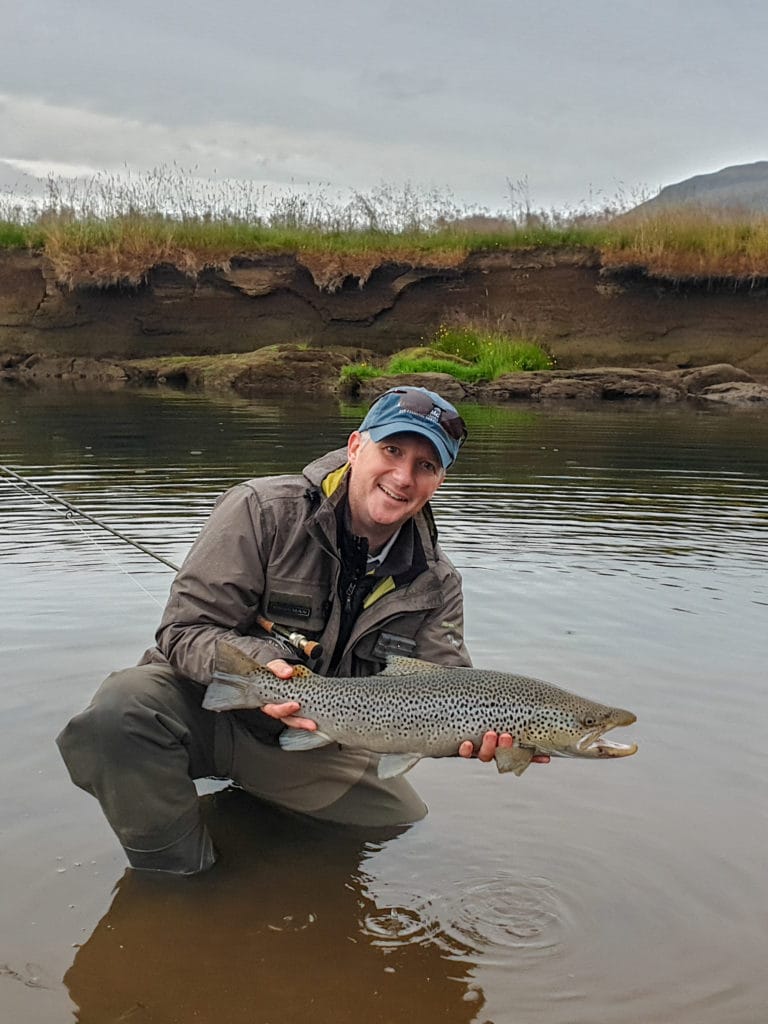 The temperature was dropping again, but still the sporadic rises and splashes continued. Finally I hit another on the dry at the top of the pool. I had been just hanging off the edge of a large chunk of peaty soil that had fallen into the river creating a lovely lie. At first the fish barely noticed it was hooked before it then woke up and shot down river giving my knuckles a proper pummelling as it went. The rod bucked and danced as the fish shook its head trying to dislodge the small dry fly lodged in the corner of its mouth. The Hardy Zephrus proved its worth as I applied pressure, bending in a tortured curve as I slowly turning its head before bringing it within reach of Sibbi's waiting net. Another stunning fish of 67cm, heavily spotted and angry. After a quick lift for a picture it was released before covering me in water with its massive spade tail. What a way to end the day!
Day 4 – The Canyon
On the last morning we thought it worth investigating the upper river to see if fish had finally made it up after the slight lift in water. The water was still very low in the upper sections, especially around Pokafoss, but we did find a few salmon hanging in the crystal clear water under the bridge at Kroarhamar. Although we ran some flies past their noses they were not interested. There were also a couple of fish right up in the upper canyon section at Skuggi, but with the low water we spooked them before getting close enough to have a cast. It was lovely to be up there again, and even though neither Leigh nor I caught anything we really enjoyed fishing those stunning spots. Sadly the time had drawn to end and it was time to head back to the lodge for the last time.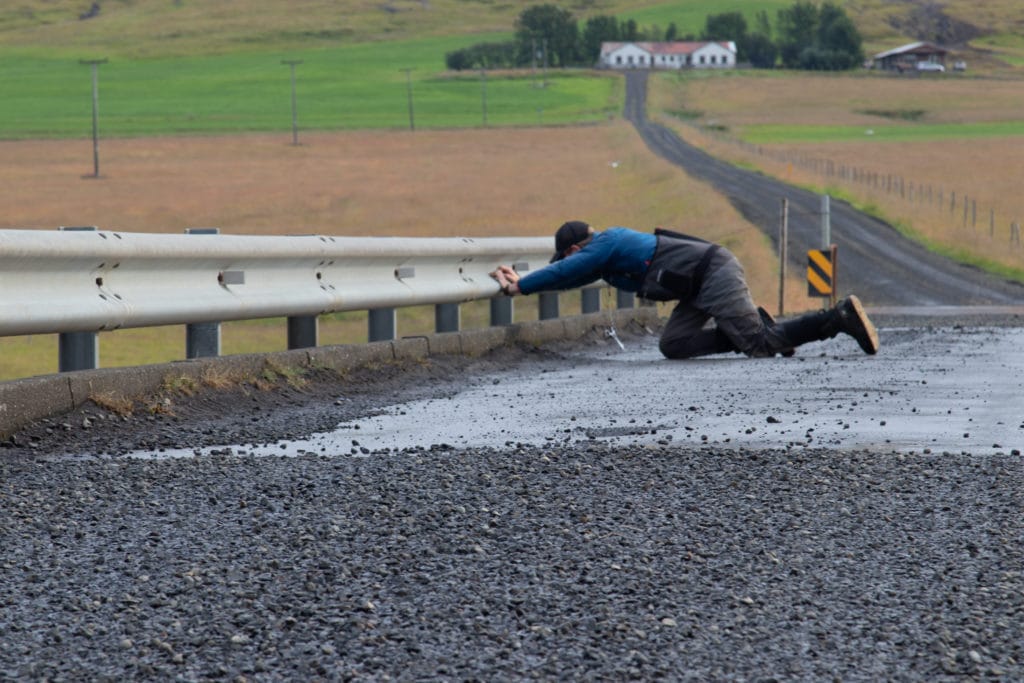 The three days had proved tough as we knew they would, but despite that the group landed 26 salmon in three days and over ten sea trout, some of them beats. Considering these had been caught in conditions that you would not even have bothered fishing in this country and most of them on tiny nymphs and dry flies it had been an extremely interesting experienced. Sadly not every trip has ideal conditions and prolific numbers of fish, but every time I do go somewhere and we have a tough week I always find I learn some new facet to a fishery, in this case the sea trout of the meadows and invariably some new technique. Who would have though you can hook and land salmon on tiny upstream nymphs? As always the camaraderie and banter combined with good food and wine more than made up for it and the group are already looking forward to returning this year.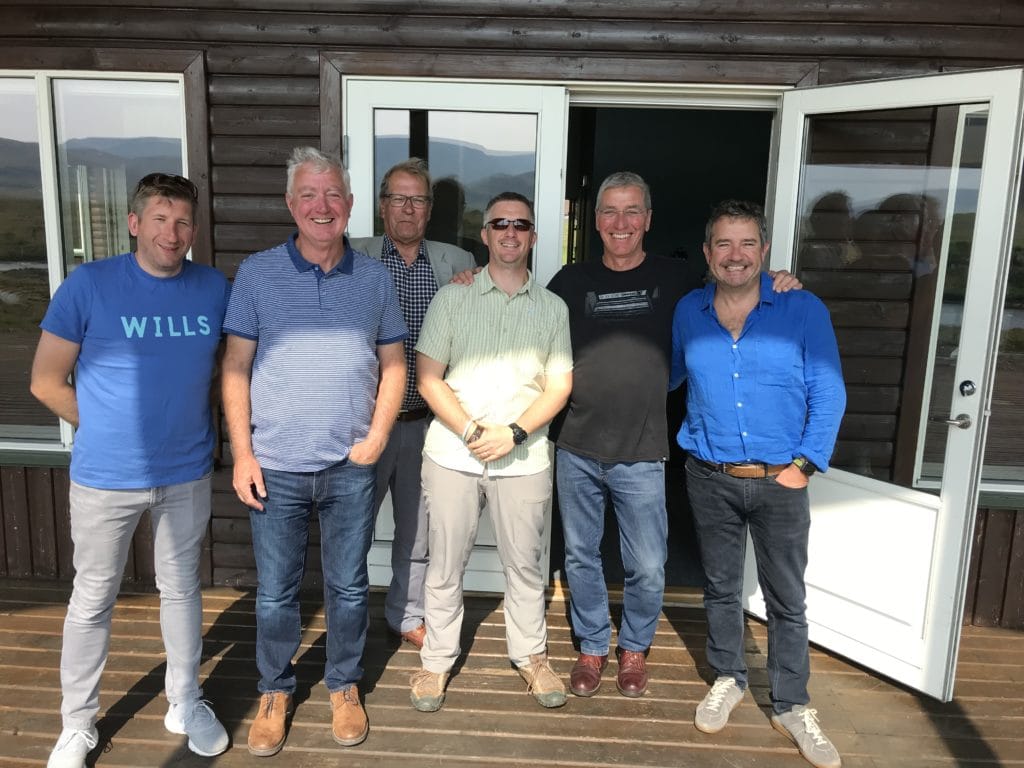 For more details on fishing in Iceland please do not hesitate to contact Peter McLeod or Alex Jardine or call our office on +44(0)1980 847389.