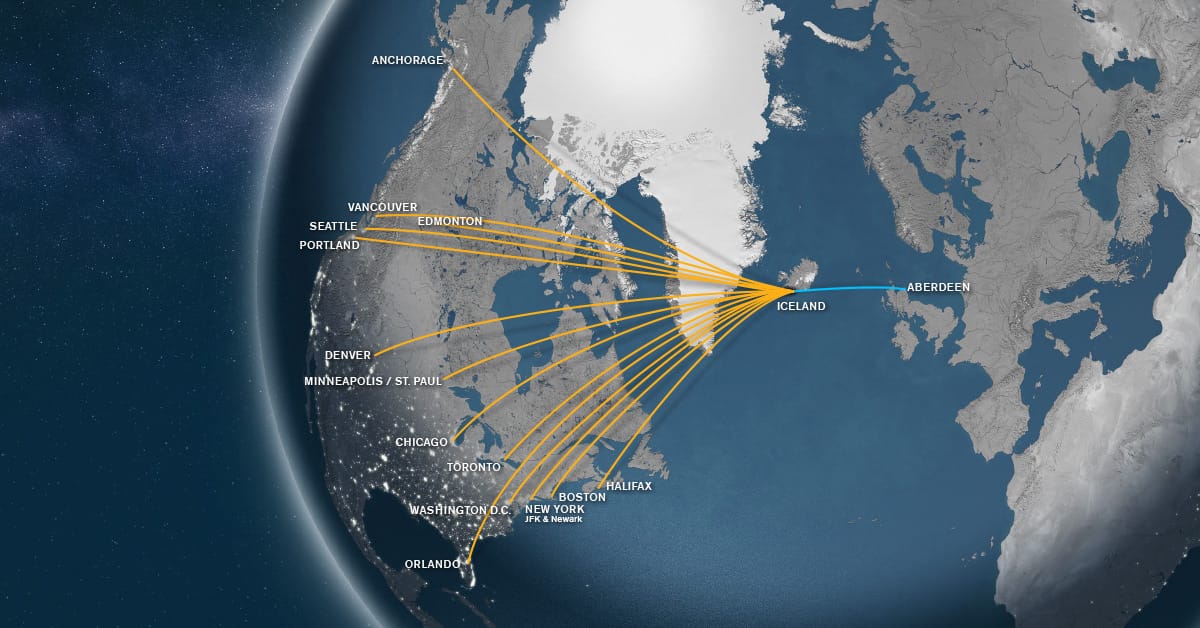 Icelandair have recently announced a new year-round service from Aberdeen International Airport (ABZ) to Reykjavik (KEF). The new gateway will become Icelandair's second in Scotland and sixth in the UK. Flights will begin on 9 March 2016 and operate four times weekly, Mondays, Wednesdays, Fridays and Saturdays. The flight to Reykjavik (KEF) will provide easy connections to Icelandair's 15 gateways in North America and reduce current travel times by up to several hours. Icelandair destinations in North America include New York, Seattle, Toronto and recently announced Chicago starting in 2016. Flights went on sale on 24 August.
"It is a pleasure to be able to announce Aberdeen on the same year as we celebrate 70 years of flying to Scotland. We see great opportunities in connecting this market to our route network of North American destinations. Travel times will be shortened and we're confident customers will appreciate the easy connections in our hub in Iceland" says Birkir Holm Gudnason, CEO of Icelandair.
Carol Benzie, MD at Aberdeen International Airport said: 'We're thrilled to welcome Icelandair to Aberdeen, our first direct flight to Iceland. The decision to commence the service from the North East is fantastic news for both leisure and business travellers wanting to reach Reykjavik, and of course the extensive number of onward connections to the US and Canada now available. We look forward to working with Icelandair and its subsidiary Air Iceland and wish them every success with the route'.
Icelandair has a long, illustrious history of providing flights between Europe and North America. This year marks the airline's 70th anniversary of flights to Scotland. The story of Icelandair's relationship with Scotland started on 11 July 1945 when the airline initiated the first scheduled passenger flights in post war Europe. A Catalina boat plane flew from Reykjavik, Iceland to Largs Bay, Scotland, carrying 4 crew members and 4 passengers. Three years later, a Skymaster aircraft made the airline's first transatlantic flight to New York on 26 August 1948.
The new Aberdeen-Reykjavik service will be operated on behalf of Icelandair by Air Iceland, a subsidiary of Icelandair Group. Aircraft used will be Bombardier Q400 seating 72 passengers and offering passengers two cabins to choose from, Economy and Economy Comfort.
Icelandair also operates UK flights from London Heathrow and Gatwick, Manchester, Glasgow and Birmingham all of which connect into the airline's network to North America.
For more information on travelling to Iceland please contact Peter McLeod or Alex Jardine or call +44 1980 847389.