Christmas Island has long been synonymous as a saltwater fly fishing destination, originally its fame was gained through its fantastic bonefishing, but it was soon realised that there was a wide variety of fishing and species to discover. This resulted Christmas Island becoming one of the original destinations for giant trevally to be targeted on a fly, back in the 1980s. Being located a long way south from Hawaii, Christmas Island is only 200 km north of the equator which means it has extremely stable weather conditions making it a truly year round destination.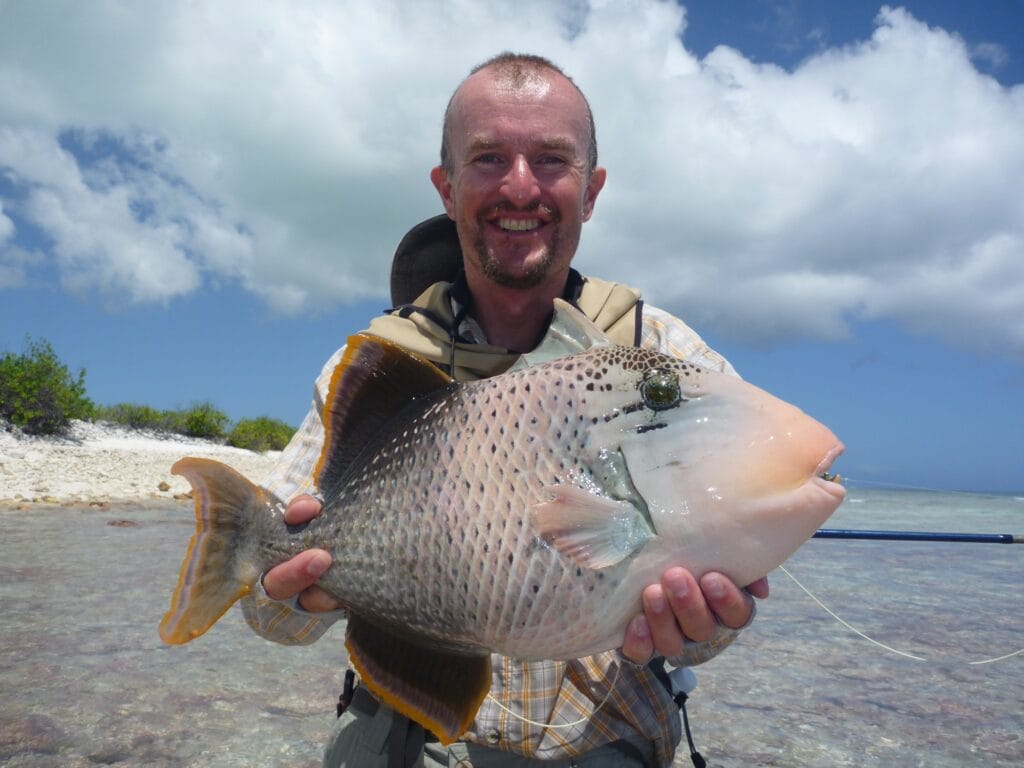 The Atoll
At just over 250 square miles Christmas Island is the largest atoll in the world and in comparison most Seychellois fisheries seem small. The central lagoon system extends some twelve miles across, this is small in comparison to areas like the southern coast line which runs for over 60 miles. There are five primary species targeted, bonefish, giant trevally, triggerfish, milkfish and bluefin trevally, although, as with many atolls the water teams with life and there is full of a host of other interesting fish to catch. Christmas Island has long held a reputation as a superb bonefishery and much light has been shone on its GT fishing, less talked about are some of the other opportunities that its waters offer.
Triggerfish – Christmas Island has a very healthy population of triggerfish and some of them at truly massive specimens, looking like rugby balls. It is a great place if you want to test your skill against the Jack Russell of the flats.
Milkfish- There are HUGE numbers of milkfish on this atoll and at times these gather into enormous schools. Although hunting them inside the lagoon system can be challenging, some of the largest schools gather in bluewater on the outer-side of the reef.
Bluewater fishery – Due to the extreme drop off the atoll has a prolific bluewater fishery and great fishing for sailfish, wahoo and tuna can be had throughout the season. It is possible to catch bones on the flats and then try for sailfish to catch a "Bill and Bones" slam.
There is no doubt that a trip to Christmas Island offers great value for money and is one of the cheapest shots at many of the species we would normally target in the Indian Ocean.
The Lodges

There are three primary lodges on Christmas Island, each is excellent and they all have their own unique selling point. The premium package at Ikari House offers the only single skiff fishing on the atoll. Christmas Island Lodge is the smallest and most intimate operation and offers single room accommodation as standard, and the Villages is the only lodge that includes a guiding ratio of one to one as standard. All are excellent options and fish similar areas of this wonderful fishery, it is just a question of which lodge fits your needs best?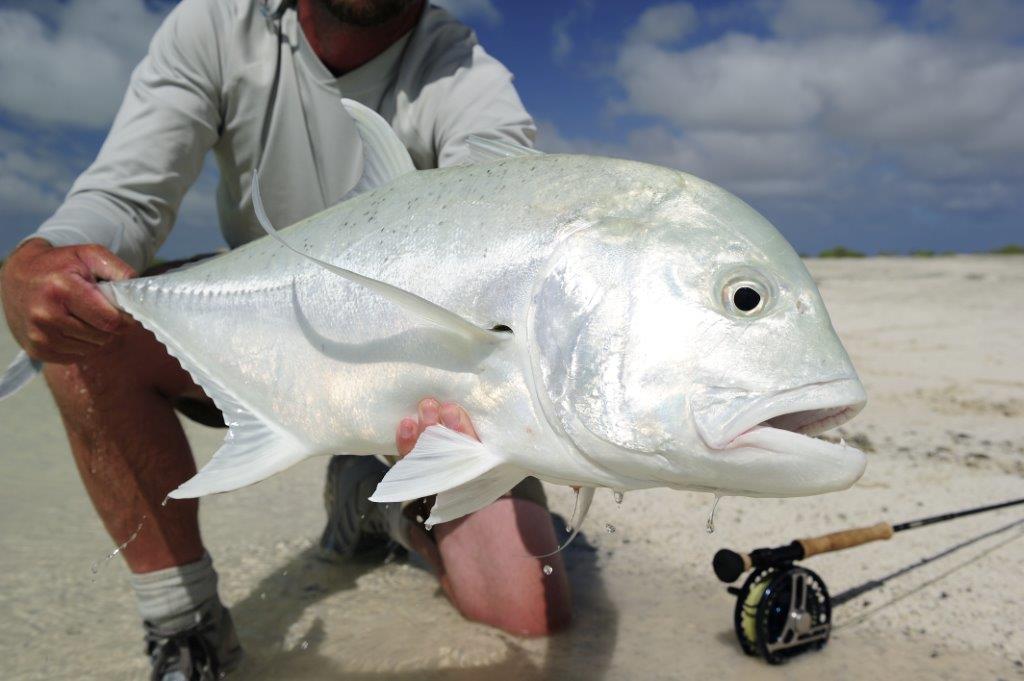 Ikari House has for some time raised the bar in terms of accommodation and quality of the fishing package on offer at Christmas Island. Run by Jacob Teem this modern lodge is a cut above the rest offering cold beer, hot water on demand, clean rooms, nice beds, and very good food. The lodge offers
Ikari House is one of the newest operations on Christmas island and offers comfortable air conditioned rooms, good food, experienced guides and one of the best locations just round the corner from the dock in London negating the need for a morning drive to get to the boats. It generally means that those fishing at Ikari are often some of the first onto the flats.

The other element that makes Ikari unique is that it is the only lodge on Christmas Island that runs two fibre glass hulled centre consoled boats in addition to their standard Island style outriggers that available for single anglers. They can therefore offer a premium package with a single guide and boat which is ideal for those looking to concentrate on GTs, milkfish or triggerfish.

2024 Cost
The standard package, which includes a 7-night stay and 6 days of guided fishing based on shared guide and boat is US$3,650, and the premium package is US$5,950 based on single room accommodation and single skiff.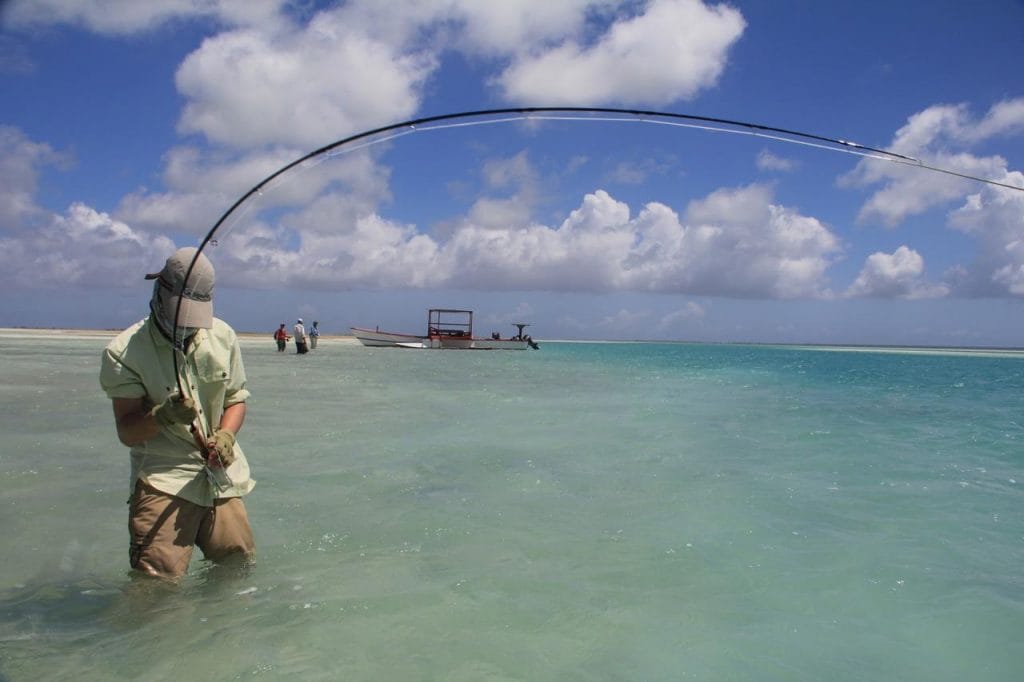 Previously known as the Captain Cook Hotel and the original fishing lodge on the island, the property underwent a complete renovation and is now known as Christmas Island Lodge. It is conveniently located on the island's north shore, just a short distance from Cassidy Airport. Instead of having to travel to London, the lodge provides private boat access, located 2 ½ kilometres south on the northern edge of the lagoon. With only four bungalows catering to a maximum of eight anglers, this lodge offers a more intimate experience compared to others and is the only lodge on the island that includes single accommodation as part of the standard package.

2024 Cost
The standard package, which includes a 7-night stay and 6 days of guided fishing, starts at a rate of US$3,950 and is based on single room accommodation, shared guide and boat services.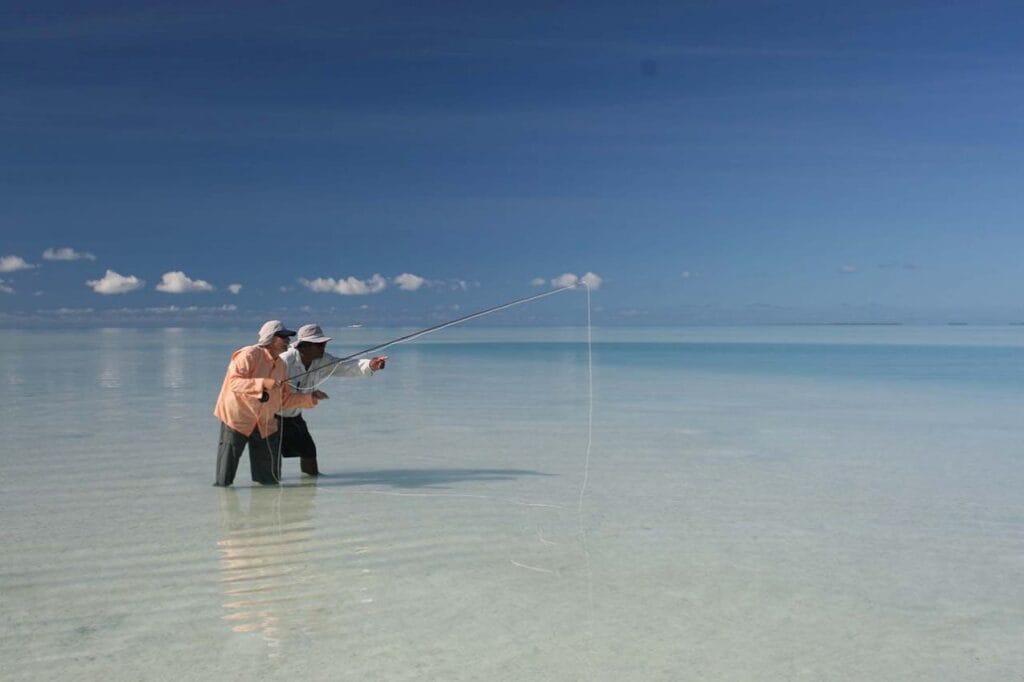 The Villages comprises ten twin-bedded bungalows, all air-conditioned, and arranged around a communal traditional lounge and dining room known as the 'Maneaba.' This lodge is situated on the inside of the lagoon, approximately four kilometers north of London. While The Villages uses traditional Christmas Island outrigger boats, what sets them apart is their standard offering of single guiding. The boats are conveniently anchored right off Discovery Beach, just in front of the lodge, ensuring quick access to the flats.

2023 Cost
The standard package for a 7-night/6-day stay, which includes a shared accommodation, guide and boat, is priced at US$3,290. If you'd like to upgrade to a single room, there's an additional charge of US$460.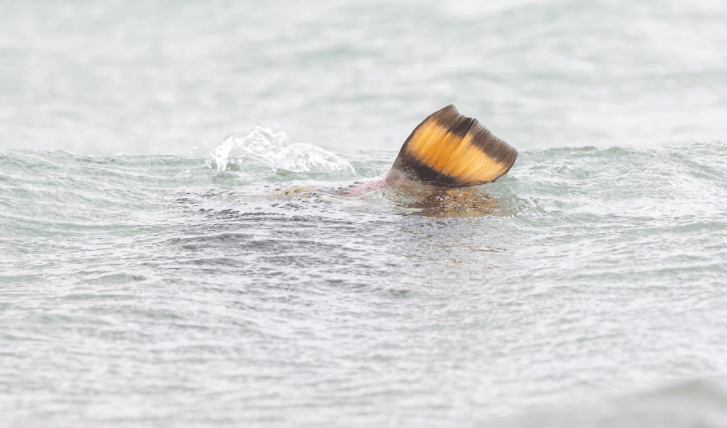 Travelling to Christmas Island
There is only one flight each week to Christmas Island/Kiritimati Island's Cassidy International Airport (CXI) on Fiji Air that departs from Honolulu International Airport (HNL) every Tuesday morning. This means that you must arrive into Honolulu on Monday at the latest in order to make the Tuesday morning Fiji Airlines flight. We suggest to arrive on Sunday to allow for any potential delays with your flight over to Hawaii. The Fiji Airlines flight is around three and a half hours to Christmas Island from Honolulu. On arrival, you will pass through immigration/customs and where you will be met for your transfer to your lodge.
Your departing flight from Kirimati (CXI) to Honolulu will cross the international date line. Depart the following Wednesday (arrive in Honolulu on Tuesday). We recommend overnighting in Honolulu again on the way home in case there are any delays with your flight from Christmas Island.
If you would be interested in further details or an itinerary then please contact Peter McLeod or Olly Thompson alternatively call our office on +44(0) 1980 847389.