This week at Kau Tapen saw the return of a small group, of which 3 have been coming to the lodge for 21 years! They know the Rio Grande very well and enjoy every moment spent at Kau Tapen. The week started with very high, fast, and dirty water due to the heavy rain a couple of days before.  The situation was very tough, almost unfishable but still they went out and tried very hard and it paid off with fish caught every day.  We were all looking forward to having the water clear and drop to have excellent fishing as this high water combined with the full moon few days before were the perfect combination to bring a lot of nice fresh fish in from the sea.
 On Tuesday the river cleared up and dropped further and they caught 7 fish, and then on Wednesday 9 more. All were very fresh and powerful bars of silver, fighting hard and great sport.
 We ended the week with 21 fish on the last day and Nicole Stroh caught a huge 25 pounder fresh cock fish just arrived form the sea, as well as a very nice 24 pounder for Randolf Harison. The two biggest fish of the season so far.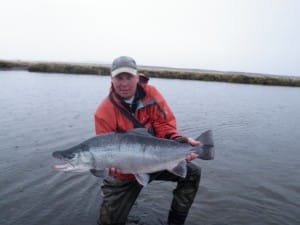 This is a lesson of fisherman's life. Never give up and keep positive attitude and put your fly on the water if you want something to happen!