Checking for the Iceland Air flight and getting through security at Heathrow was remarkably swift and painless, as was the flight despite the best efforts of a garrulous Irishman who had started his weekend early with vodka and orange – lots of it.   It's not often you arrive at your destination really pleased to find that it is raining hard but it was…and I was.   Although the runs of salmon this year are numerous and early, and the rivers are in a good state, rain is always welcome.  My first stop was Langá for the night and Friday morning dawned bright and sunny with scattered cloud.
Leaving Langá and getting to Dölum was like playing pass the very large parcel: Óli (the head guide on Langá) drove me down to Borganes where I met Hjόrdes who was driving north to Laxá I Dölum to join her partner.  He is a motorbike policeman in Reykjavik most of the year and normally spends his summers guiding on Nordurá.  His spending this season up at Laxá I Dölum and he is also on the Board of Directors of the Reykjavik Angling Club – with that in mind I remained on my best behaviour for at least 10 minutes.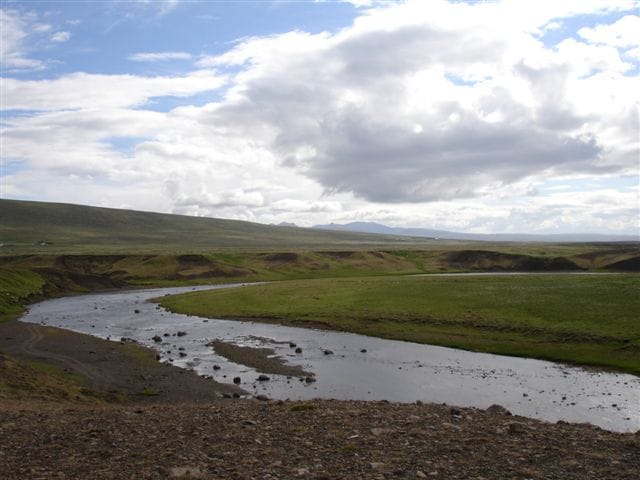 The drive north to the lodge was uneventful (no pirates), the scenery stunning and the time passed swiftly chatting to Hjόrdis.  The waterfalls above the lodge are a fantastic backdrop to the lodge itself.  There is no mobile signal at the lodge, no wi-fi, no TV and no radio: all of which is wonderful but you do pick up a good signal a few minutes away from the lodge.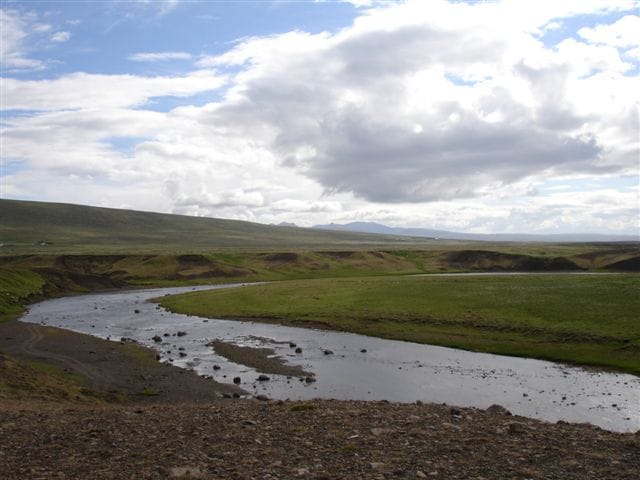 I fished the evening session the day I arrived and being very early in the season, we fished the lower beats, rotating around up to pool 10 where we could see, from the hill, a big fish hanging in a pool by the near bank.  Despite several changes of fly, and angle, this particular salmon wasn't interested at all and we left him in peace and headed off to fish the lowest pools; 1 to 3 which are below the bridge and then 5 and 6 which are higher up, above the bridge.   This lower part of the river is typically rocky but not difficult to negotiate as long as care is taken.  A wading stick would not be a bad idea for balance if, like me, you are a tad clumsy.  However, my new Hardy EWS wading boots, with their tungsten tipped studs, had fantastic grip and made my progress much easier. At this point in the season the water levels are relatively low and water to knee height was normal.  From the lowest pools you can see the sea and from the headland, looking down, we could see the salmon entering the river and beginning their arduous journey up its 25 km stretch.   Casting at one particular boil, had a salmon on in quick order but unfortunately it shook the hook and was off.  As the weather drew in and the rain strengthened, it became harder to spot those telltale signs but fishing the hitch, Árni had another salmon on from the same section of the river.  Sadly the story was repeated and after a bit of muttering, Árni decided to change tactics and go up a size.  The pools on this lower section are deceptively deep and in one, on the far bank and gliding in and out of the white water, we saw five beautiful, big fresh bars of silver just waiting for a well placed fly.  Sadly our time on these pools was already up and we had to move on.  However those salmon eluded the two Icelandic farmers fishing there after us … which made us feel a tad better about having to walk away without even one cast at them.  Small minded?  Damn right.
We moved up above the bridge to fish 4a, 4b, 5 and 6 – again quite rocky but with some great pools.  The weather by this point was, quite frankly, dreadful.  It was raining and the north east wind was blowing hard and very cold and whilst well insulated (both naturally and in my thermals and waders) I have to admit to being happy to return to the lodge for a well earned hot shower.  Having dinner at 11.30 in the evening is odd but after a six hour stint on the river, I was ravenous and my meal absolutely delicious.   I slept so soundly that when the 'wake up' bell rang at 6.30 the following morning (shades of boarding school) I was ready to face the day and two six hour sessions.
Our day started again on the lower pools which we fished for the first two hours before we moved on to our next session on the higher beats of 9 and 10.  A combination of unseasonally strong wind and few fish in this section meant that Hjόrdis de-camped back to the lodge to 'read her book' (sleep) while Árni drove me up to beat 31, the last of the named pools.  This is just below the waterfall that marks the upper reaches of the salmon journey up this wonderful river.   We worked our way back down, stopping at each pool so I could see how the river changed and how the three beats differ.   The upper and lower beats are rockier, with more individual pools to fish while the middle beat is much wider with easier wading.   There are deep channels in the middle of the river and long curving bends where the fish skulk in the deeper water of the outside bank.  We returned to the lodge for lunch which is always a hot and cold buffet and suitably fortified, I repaired to my bed to 'read my book'.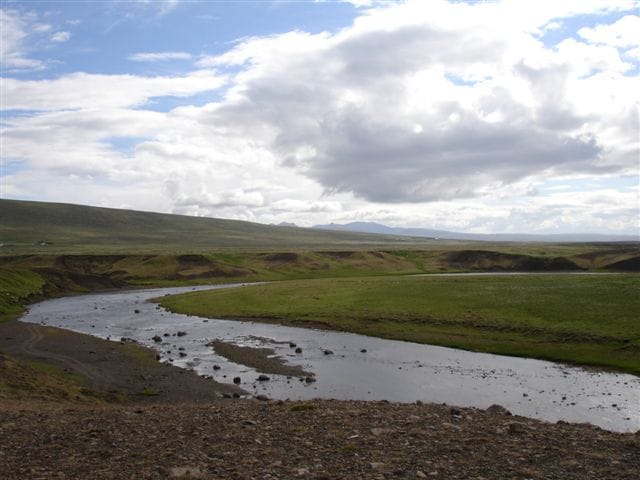 At 4 pm, duly togged up, we set off again and despite our best efforts, came home empty handed.  The fish were there – not in great numbers as it's still very early in the season – but they just weren't interested in anything we presented to them.  In desperation I tried a Pink Puff which had somehow found its way into my freshwater fly box and to my astonishment, it elicited a look from the lock-jawed salmon.  The wind dropped and we moved down to fish the more open pools, again occupied with truculent fish who wouldn't come up to play. The only thing that I did catch was my bum – an ill advised back cast over my right shoulder into the eye of the wind saw my fly attach itself to my nether regions.  No-one laughed which I was quite touched by.  We repaired to the lodge at the end of our session to shed the waders and enjoy another of Valli, the chefs, wonderful dinners.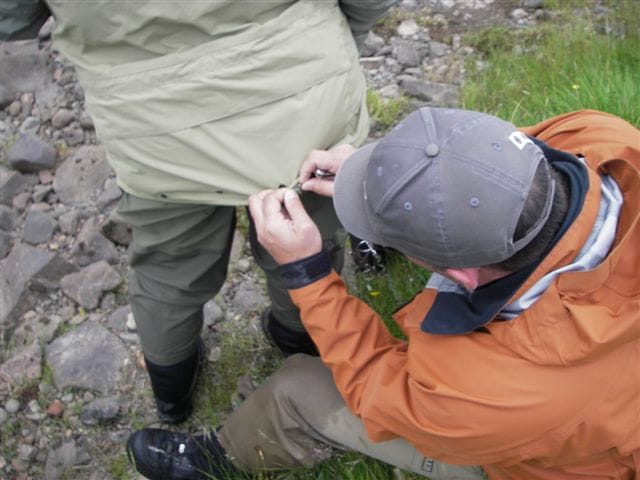 My last morning and we had the first two hours on the lowest pools.  I stayed on the lower pools while Hjόrdis moved higher up the river.  Having fished one pool for 20 minutes I had reached that 'one last cast before I move' stage when my hook was hit with an almighty thump, my rod came up, the salmon danced on the surface and ….. shook itself free.   I couldn't believe it – the closest I had come to my first salmon and it was over before it had a chance to begin. I nearly cried in frustration and knew I would have to report my sorry tale back to Blofeld.
We moved up to fish under the bridge for 20 minutes or so before heading further upstream to 4a, b, 5  and 6.  Again, I stayed lower while Hjόrdis fished the higher pools.  Spotting fish is like spotting game on safari; after a while you get your 'bush' eyes.  In my case nowadays, my 'fish' eyes and what I had originally thought was the dark underside of a rock transformed in a very big salmon.  Again, we tried every fly on offer including the startlingly coloured Stekkur Bla but it just wasn't going to be my day so, time up, with a heavy heart, we turned back to the lodge and the end of my stay on Laxá I Dölum.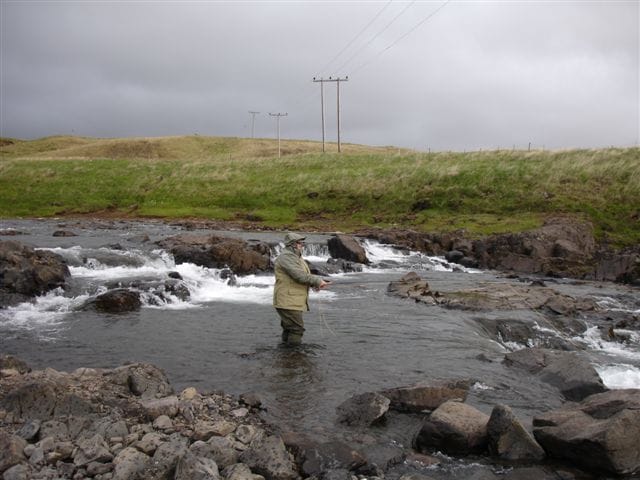 My lack of success should in no way reflect what Laxá I Dölum has to offer: 25km of river, with 31 named pools split into three beats and fished by only 6 rods. The other rods were all catching 2 or 3 fresh fish each day despite this being the opening week and as the river comes into its own later than Nordurá and Langá, it looks like it is gearing up to be a great season.