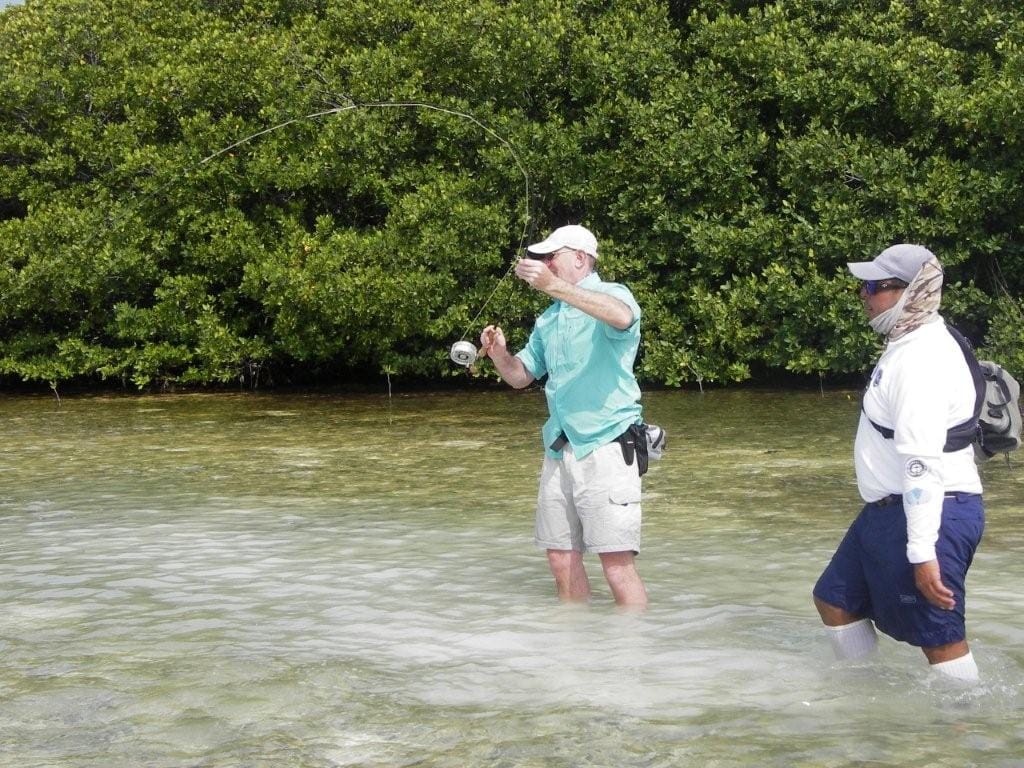 A number if us woke up early this morning and headed down to the dock to see what was happening about 0600. The usual pelican activity was abundant and apart from the giant bonefish that cruise around down there hovering up minnows there were also the odd tarpon rolling. Ian Hutchinson hooked one good fish that released him after a short tussle, and our little band headed back to the Posada for some scrambled eggs and bacon. The weather was a little overcast today with high cloud twinned with hazy light, it was going to be tough to see.
I fished with Ian Hutchinson today with Rapheal again and our first stop was an edge down at Isla Larga. At first glance it did not look much, a rough coral edge with lined with mangrove. Alex our boatman immediately spotted some tailing fish along the edge, but the time we had organised ourselves and slipped over the side of the boat they were gone. One on to the edge Rapheal led us through the mangroves into a stunning ocean side lagoon with crystal clear water totally sheltered from the wind. It was the kind of fishing one dreams about, wading through a sand bottomed area with glass like water. Ian hooked one that tore of down his edge making him work for his line which he promptly landed, kissed and then returned. Ian is a fish kisser for his sins. I then came group of bonefish were making their way down the edge of the mangrove, feeding as they went and sticking a tail in the air every so often. I had switched to a weighted Christmas Island special to match the deeper water and cast it up to an area about three feet in front of them. As they neared I gave it one short strip and the lead fish made a B line for before hovering it up and charging into some weed before kindly returning my fly to me only slightly molested. "Boooo" I heard from across the water (the banter was to be particularly harsh today.) I made up for it by landing a further three in quick succession and Ian loosing another, but it was a good start to the day.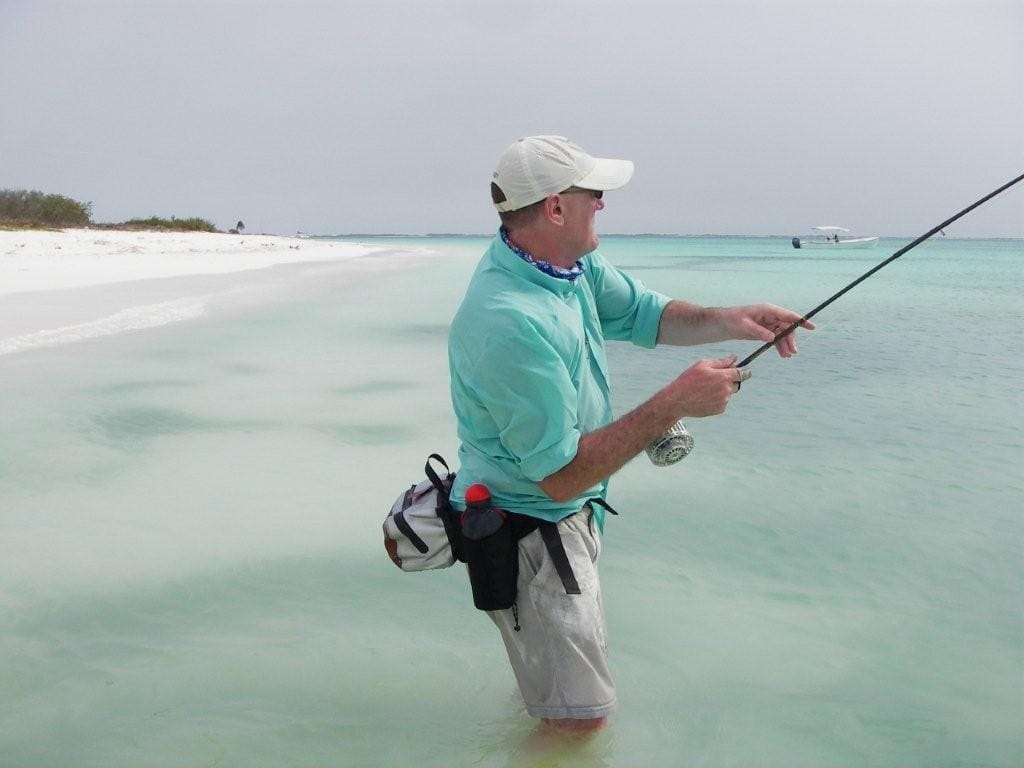 The light became very bad, so we headed to the pancakes to make the most of the tides. Wading across the first I saw a truly massive double figure bonefish that had to be well into double figures which I did an extremely good job of scaring before landing another of his smaller brethren. The tides were moving into slack water after lunch, so Rapheal and I made a plan to head over to Crasqui, try the lagoon a the back or the beach on the front. Half way over there we passed a white sand flat which i spotted a massive Barracuda of 30 lbs or so sunning itself. After quick 180 degree turn all three of us slipped over the side to see if we could not persuade it to eat a fly. Ian slightly struggled with the 10 weight directly into the wind and passed the rod to me. I put the fly passed his nose a couple of time but only succeeded in spooking it… seemed to be a common theme today. Still, it was good to see it on the open flat.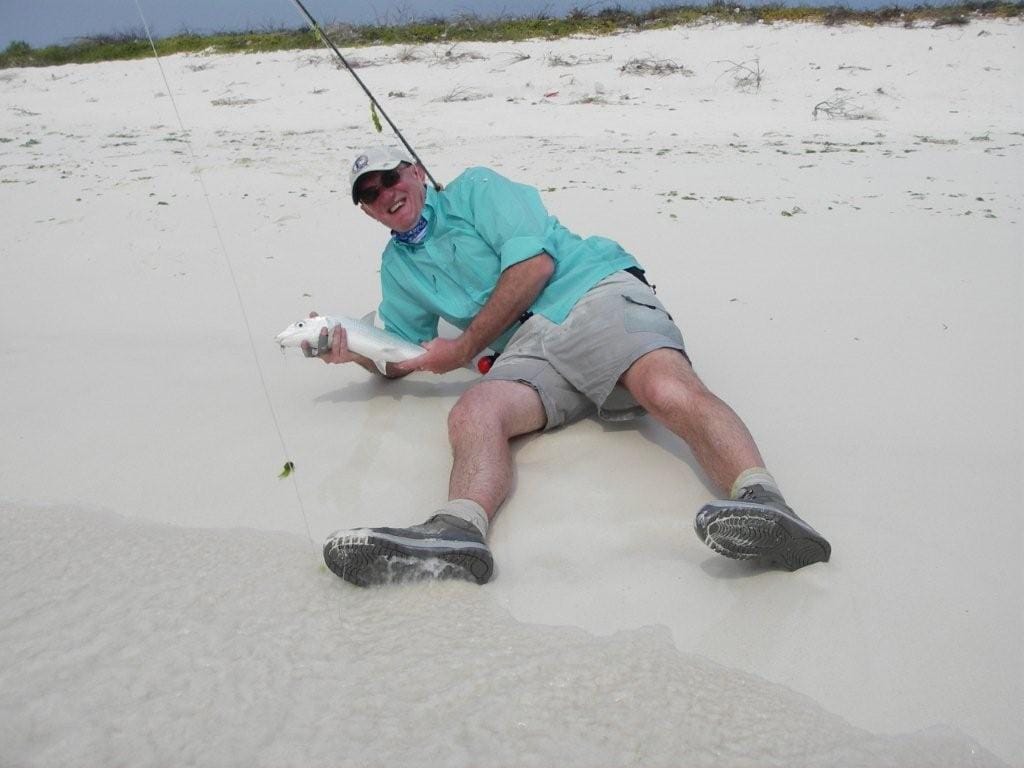 The tide was really too big for Crasqui lagoon, but we still saw a few tailing fish… which I also spooked. Rapheal moved on the beach flat along Crasqui to have a crack at the minnow feeding bones amongst the diving pelicans. This is still the only place in the world I know where bonefish attack minnow patterns off a beach among the diving pelicans. Ian landed a lovely fish that absolutely hammered his hotflash Minnow, and I had 5 or 6 that swirled, followed, chased, and then failed to eat. Finally we tried out luck in the lagoon at the end of the runway on Gran Roques. This again is an ocean side lagoon completely crystal clear, and last year produced some very large fish for me. Ian and Rapheal moved down one side and I the other and after only moving twenty yards or so I saw massive tail waving below me. I cast a long line and dropped a large bonefish bitters right on its head and the fish immediately pounced on the fly. This fish was between 6 and 8 lbs and charged towards the safety of the deeper water while simultaneously spitting my fly back at me with enough force that the fly landed at my feet!  Summed up my day really!
Luckily the others had better luck with the group landing a further 48 bonefish. Geoff Haslam had a 5 lbs bonefish bitten clean in two by a Cuda, and Bill Thomson had spent an hour chasing a Permit that his guide Darwin estimated at between 35 – 40lbs, simply huge! Some large bones had been lost today, and it appears I was not the only one having similar luck.