This morning we were again greeted with inclement weather and patches of rain. The sky is still overcast making fishing spotting on the flats tough. Right now we also have a very high spring tide in the morning, so the optimum height for the pancake flats is not really until lunch time. Today I was fishing with Alistair Robjent and Jose as our guide. Jose is relatively new to this operation, but I fished with him about five years ago and knew he was good. Jose is especially keen on tarpon and other species. We left Gran Roques and headed a long way down into the South east of the archipelago before turning into the lea of one of the cays. The mangrove shore line looked like a perfect home for snook and baby tarpon.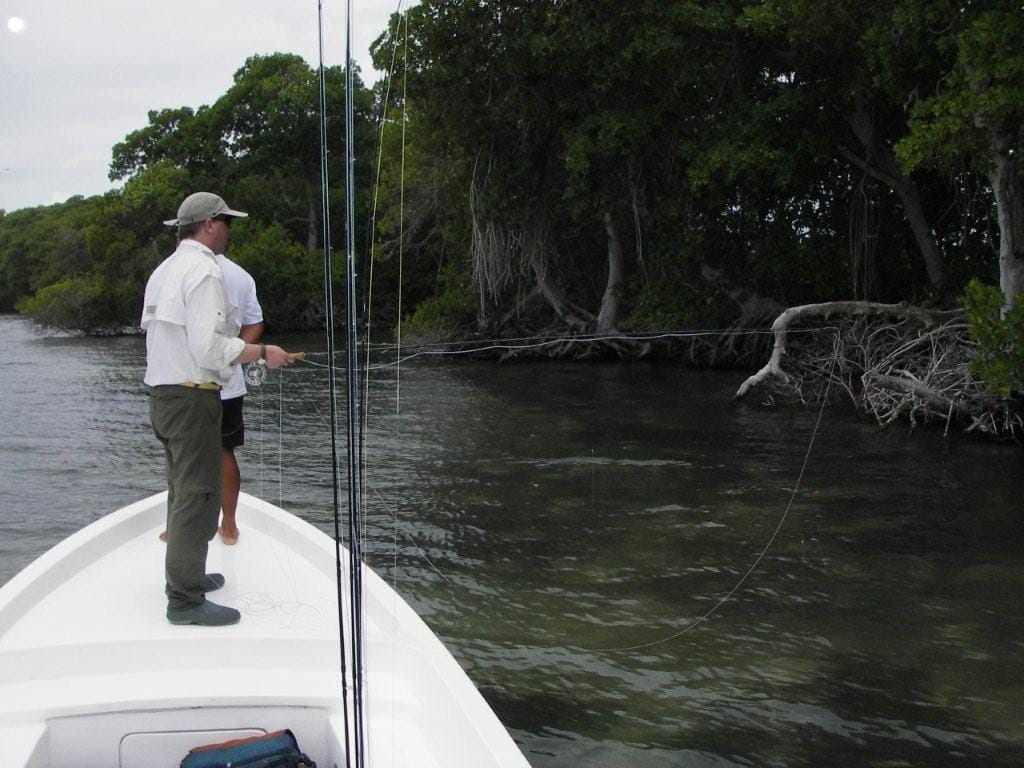 Sure enough within about ten minutes Alistair was furiously casting into the small holes in under the mangroves at a pod of baby tarpon. His fly was a Black Death tarpon bunny that was very mobile in the water and proved too tempting for a small tarpon that broke away from the pod and hammered the fly. Alistair struck, but unfortunately the fish immediately jumped towards the boat and spat the hook.  At this point we hopped over the side and waded along the edge, taking pot shots at any fish we saw. I found three or four snook laid up together, but unfortunately stuff the fly in the mangrove above their head and spooked them when I went to retrieve it. As the wind was still bringing the spitting rain in sideways Jose took us into one of the sheltered tarpon lagoons that proved a lovely respite, and I succeeded in catching a nice bonefish much to my surprise as it scoffed a large white tarpon fly.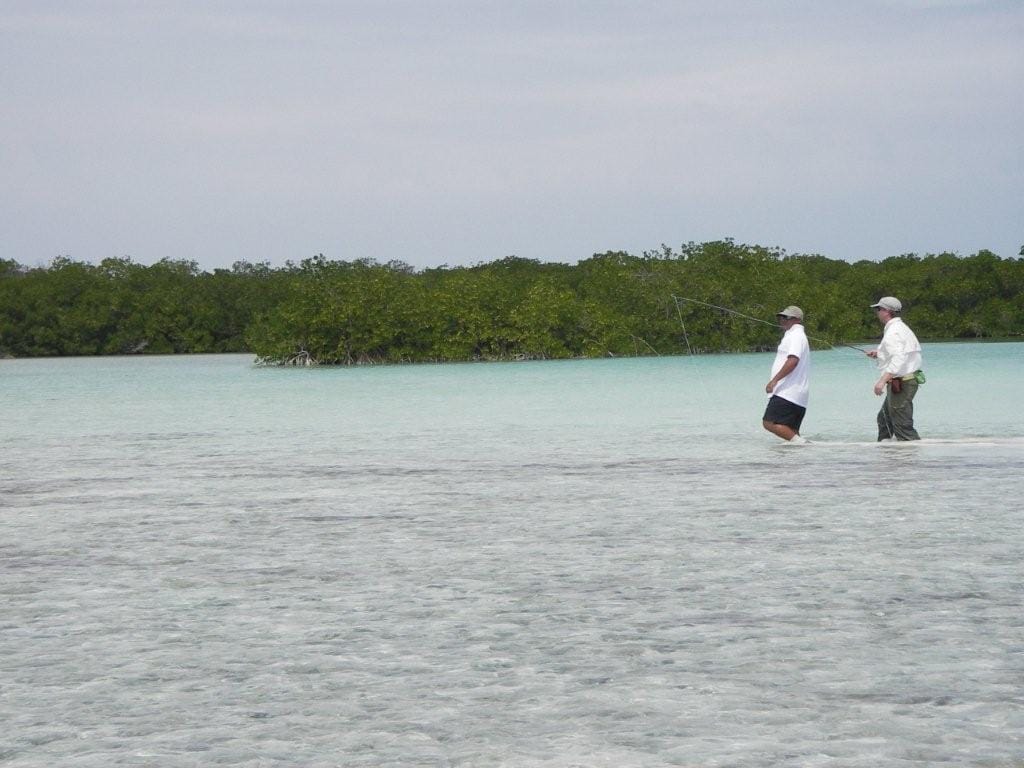 As we had lunch the grey clouds lifted and the first rays of sunshine lit up the flats. We headed to a huge white sand flat around the central lagoon and began to wade with the sun lighting up the flat in front. Perfect. Soon we began to intercept small pods of bones feeding into the wind and the fun started. Over the next hour we caught and released something like six fish between us. I caught my on a small gothcha and Alistair was using a small glass shrimp that he swears by and seemed to do the trick. One fish that Alistair released we saw a little later floating belly up with no tail. At first all of us just thought it was a tailing fish as all we could see was the fin glinting in the sun. As we got closer we could see it had been cleanly cut in half by a barracuda. We then saw that the cuda was still there and it came back to grab the other half. It swam along with half a bonefish in its mouth like a dog with a bone. Alistair was trying to throw a fly at it while I videoed it, but it was quite an interesting sight. We finished off on another marly flat with the tide dropping fast. The problem here was although the wind was at our back the sun was in our faces that meant the fish could see us a long way away. Stealth was needed, and when those tails appeared it was imperative to get down on one knee before making the cast. We ended with a couple more good bonefish before heading home. Although we had not caught a huge number of fish they were in tough conditions and we had seen some good variety with Jose.