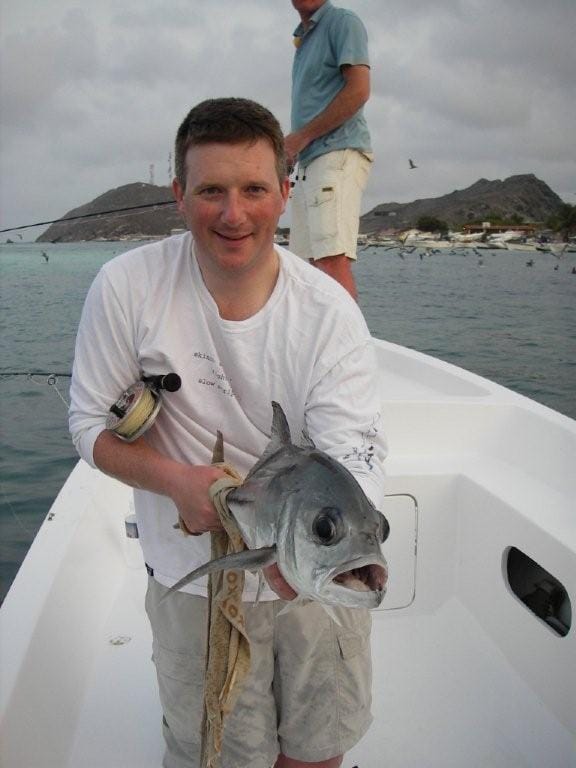 As the tarpon are around in numbers currently in the bay Phil, Ian and I decided to have a crack early this morning, but rather than casting off the dock I organised to have a boat to take us out at 0530. Alex our boatman arrived at the appointed hour and we motor a little way out into the bay before anchoring up. Despite the early hour the pelicans and gulls were crashing all over the place and tarpon rolled among them, lazily sucking in mouthfuls of minnows. We fished until 0700 in which time Ian hit one tarpon  and I caught an 8lbs Horse Eyed jack on a 9# which was really good fun. The fish ran out under the ropes and we had to pass the rod under many of them before finally the fish hit clear water and I could apply some proper pressure.  It never ceases to amaze me how powerful they are. It was a little frustrating though in that there were large tarpon rolling everywhere and we could not hook them. I put this down to the huge quantity of bait in the harbour so they hardly have to put much effort into feeding.
After breakfast I headed off with my boat partner Mike Timms for the day. Chris Yrazabel joined us and our guide was Callito who is an old friend. We began the day on the pancake flats as normal, and they proved to be particularly tricky today. There are over 200 pancake flats, but we all have our favourites. Even my favourites this morning we tough with the fish almost spooking themselves. For a lighter presentation I decided to fish with a 6# today and I feel I got as near to dry fly fishing for bonefish as possible. I spotted a single fish finning its way uptide and as I moved into position I began to strip off line. I had gone light on purpose and had a 16 ft leader tapered to 8lbs point and a tiny shrimp pattern with rubber legs on a size 12. I dropped down on my knees, and the line sang out of the rings and dropped the fly inches from the tailing fish. It immediately lunged forward and tailed as I strip struck and tightened on the fish. As half of its body was out of the water it went nuts careering across the flat before vanishing of the edge of the flat taking my entire fly line with it. Not quite what I was expecting and a bit of a rude wake up call. The 6# bucked viciously, but I have to say at no time did I feel out of control and I had the fish back on the flat in no time. It turned out to be a cracker of about 5 ½ lbs. I slipped the barbless hook from the corner of its mouth before gently returning it. For me this was an achievement and what I truly love about fishing these pancake flats. When the fish are in this kind of mood it is imperative to remain low and have a light presentation. Sometimes it helps to lead the fish a good few feet so that you are effectively ambushing them. Mike fishing with Callito hooked and landed a lovely 6lber followed by a smaller fish of about 3 lbs, so we were off to a good start.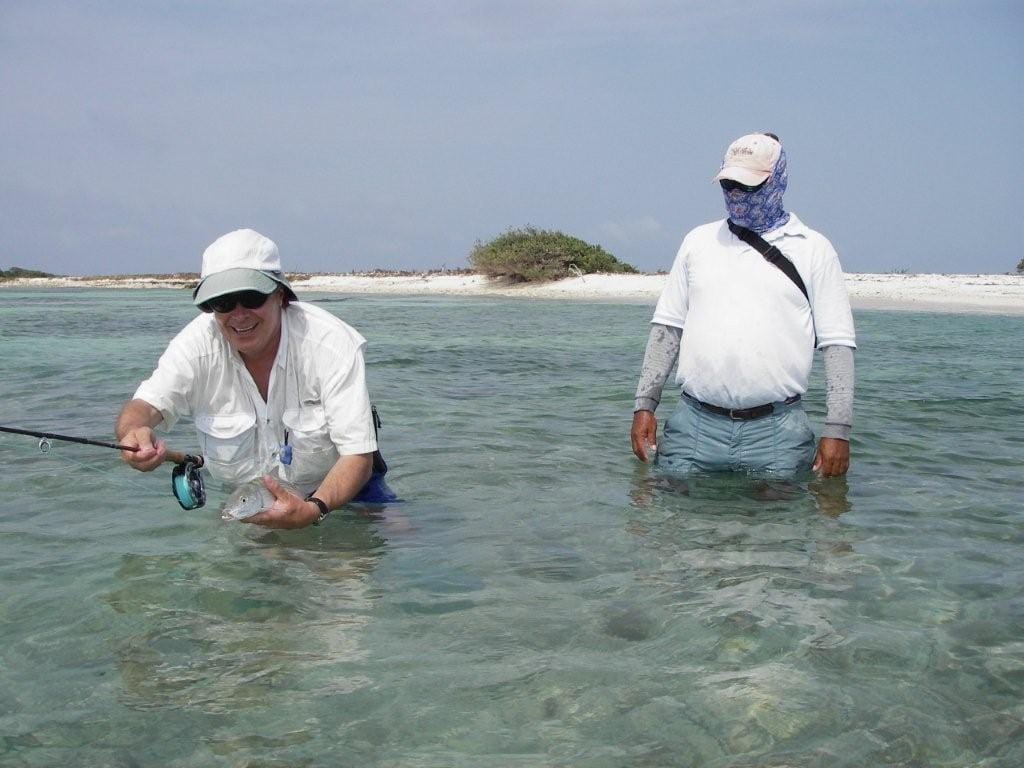 Our happy little crew bounced from Pancake to pancake spooking some and catching a few more and as he light became increasingly difficult Chris told us he was taking us to lunch. He took us to the lobster restaurant  on Augustine Cay where we had some of the best lobster I have had in a long time while sitting on benches with sand about our feet. The fired snapper was also outstanding and it took us a little while to get going again. I did not fancy more pancake flats in the afternoon as the light was too high and going against the wind so I suggested we head over to Francisqui so mike could experience a little beach fishing with minnows which he had not done yet. The north side of Francisqui is open to the ocean so often has some very large fish cruising its margins. I left Mike with Callito and wandered round the corner as Mike hooked into a couple more fish spotted by the eagle eyed Callito.  After patrolling the beach for 20 minutes or so I rounded the corner of the island to find a stunning flat sheltered from the wind. It had about a foot of flat calm water on it and I could see small groups of bones cruising around with their dorsal fins and tails in the air. I love finding fish in this condition and did my best o sneak up on them. I waded out as quietly as possible, flanked by a white heron with the same thought in its mind.
The first pod I managed to get to very kindly ate my bonefish bitters before I decided to yank the fly out of the fishes mouth with a trout style strike. After a self reprimand I located another single set of fins and proceeded in that direction. The line flew true, the fly landed with a small plop about five inches from its head. I let the fly sink and then gave it one small strip. The fish turned and greedily engulfed it. This time I stripped struck and the fish was on. This one took off like a small submarine ripping the line across the flat in a wide arc making a tearing noise as I clear the line and then the reel made a tortured scream as it took up the fight. I was fishing with a 7# at this point and the rod danced its merry jig as line continued to peel of line and first hundred yards of backing. I truly love this game. After a couple more tearing runs I brought him to hand and weighed him on the boga grip. 6 ½ lbs. In the words of my friend Henry Gilbey….. Awesome!
I wandered back to the boat and Jesus and I motored round to pick up Mike and Callito who had a found a school of fish hanging off the edge of the beach and were giving them a hard time. We had just enough time to check the lagoon a the end of the runway before heading home, and Mike picked up a lovely fish tailing on that small flat, again of 5lbs. They are never small in there. What was unusual was that the fish actually attacked Mike's fly, and Enrico Pugalaisy construction . It actually almost came out of the water as it pounced on it. Very exciting to watch.
On returning to the lodge and doing the tally in the evening it transpired that Graham Birkett had missed a grand slam by a whisker. He caught a lovely permit of about 8 lbs, and bunch of bones and had been smashed to peices on the coral by a tarpon of about 20 lbs. The fish had wrapped itself around a coral outcrop, and despite the guide swimming out and releasing it the back parted. Nevertheless a permit is a permit is a permit as they say. Score was 47 bonefish, my horse eyed jack, 1 Bonito by Phil rapidly becoming the Bonito boy, and another cracking needlefish of about 3 lbs.