I normally notice that by this stage of the week everyone is just a little more sluggish in the morning, and this morning was no exception. There was not a huge hurry to get out the door, and in my opinion it also shows that people are actually beginning to relax on their trip. It is a pity sometimes it take so long. Ian Hutchinson and I were fishing with Hower today, and we decided to head out to one of my favourite beach flats, Cerenero. This is a long white beach flat that takes a whole morning to fish normally and the average size of fish here is high. It does take approximately 45minutes to run to, and Ian and I passed the time talking about techniques for spotting fish out there, such as looking for the white lines moving through the minnows. When we arrived I was disappointed to find that the combination of high tide and strong winds had churned it up to an extent that it was not possible to sight fish, so we headed off to another nearby flat.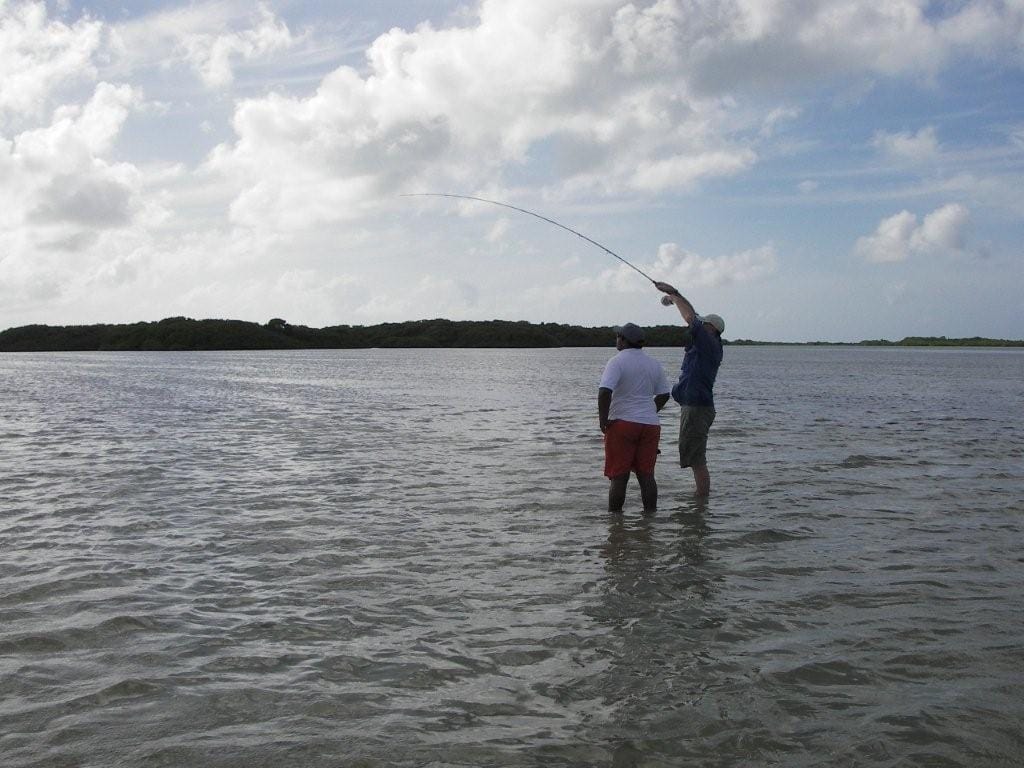 Glinting tails greeted us and I managed to drop one off and then land one fish of about 3lbs. Not huge, but in the conditions I was pleased. As the tide has been steadily dropping through the day it has made the fish very spooky to the extent that they will often spook away from the fly with one twitch, even if you put that fly down well ahead of them and ambush them. I actually caught this fish on a stripped minnow pattern on the flat where as normally I would switch to a Gotcha or Bone fish Bitters. Maybe this was the way to counteract their spooky behaviour and appeal to Ian had a few shots but did not manage to hook up. The water on the flat was still a little deep on with the sun flashing in and out spotting was very difficult. I stepped on more fish than I saw.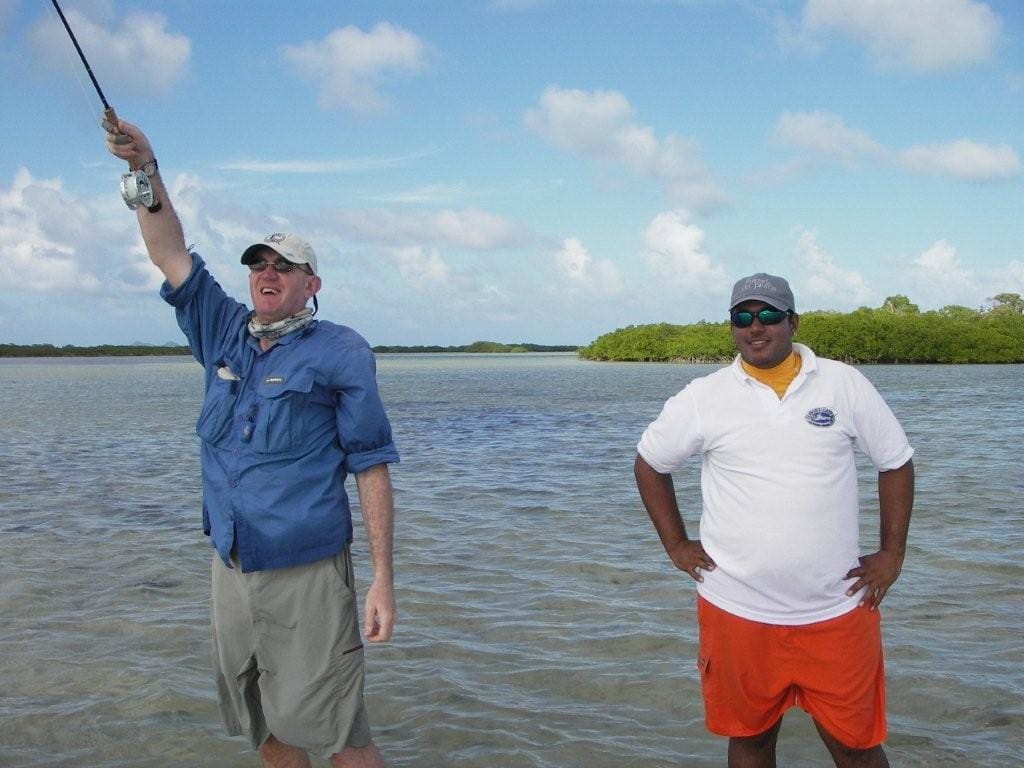 We had some lunch on the boat, did a little casting practice off the bow, and then proceeded to Francesca Cay. This cay is home is right on the extremities of the archipelago, and home to one of the lobster camps. There are huge piles of Conch shells around the island that have taken decades to accumulate. We found a couple of schools of bonefish on the small flats in between, but they were directly into the wind and Ian struggled to get a line to them unsurprisingly. Very tough cast. Hower came up with one last plan and took us to a large open lagoon area with a slightly marly bottom. Time was ticking on by this point and the sun crept lower in the sky, and in amongst the weed tufts were groups of waving tails. Perfect. Ian's line sung out and the fly landed just in front of the nearest cluster of tails. He gave a couple of shorts strips, everything went tight and his Zane reel began to scream as the fish shot off across the flat. We were absolutely delighted as he had worked so hard all day. After a couple more blistering runs he subdued it and Hower released a lovely 3 lbs fish for him. He then proceeded to catch another three fish and I managed a couple into the wind that pleased me. The day had been a tough one, but saved at the last, and in the perfect way. Nothing beats casting to tailing fish and watching them come onto the fly.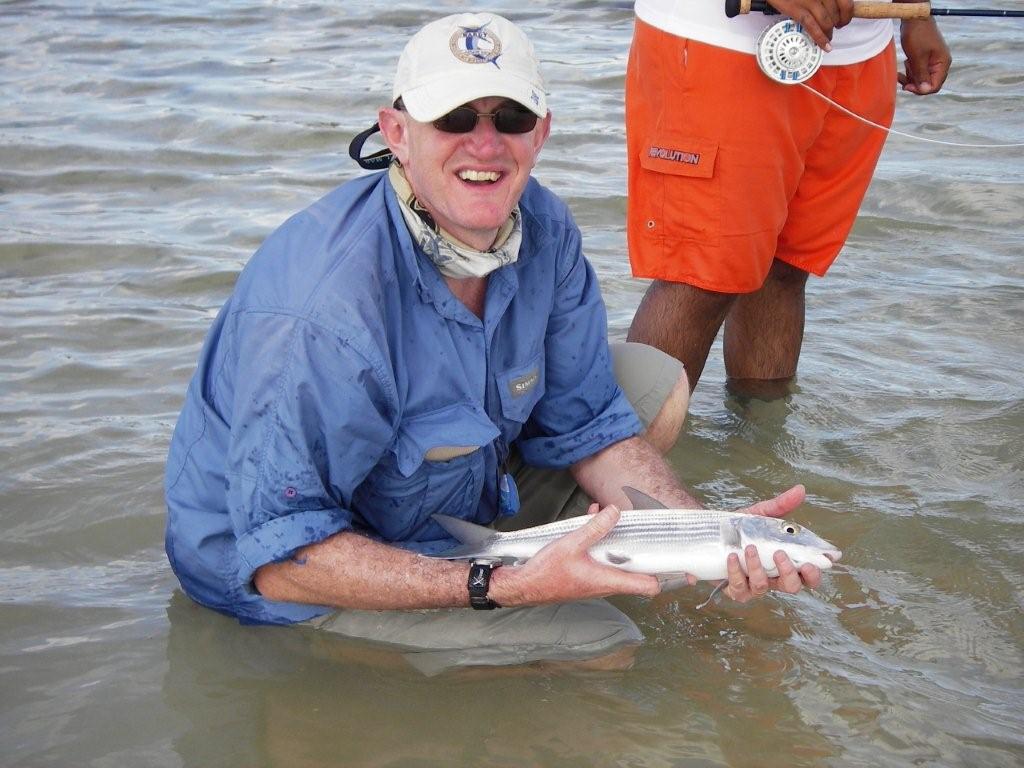 On returning to the lodge I heard the news that Tim Aldiss had caught a bonefish estimated at 14 lbs. He caught the fish off one of the beach flats on a bonefish bitters as it cruised along the edge. As soon as it was hooked it  headed for deep water and the anchor rope of the boat which was rapidly hauled up and disentangled before the fight was resumed. After an awesome battle and a few more close calls Tim skilfully landed the fish. What a bonefish!