As light slowly dawned on our last day the wind returned again, but not the grey clouds. By this stage in the week it takes everyone a little longer to get going in the morning and more coffee is consumed than usual. For those who have not yet found what they have been searching for such as a specimen bonefish, elusive permit or large jack the last day represents that last chance to achieve goals.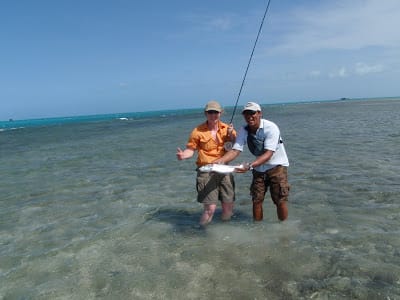 As usual the small fleet of boats disappeared into the depths of the national park.
Kirsty
and Alistair especially were on the track of some large fish as they had been a little unlucky in terms of numbers up to this point. This had really been as
Kirsty
had been fishing her heart out to catch her first
bonefish
all by herself with out any help, and had worked hard at it. Alistair in his efforts to make her dream reality had asked the guides through most of the week to concentrate their efforts on achieving this goal. Finally after some very hard work
Kirsty
triumphed producing an excellent
bonefish
of approximately 5 lbs stalked on the flats and cast for her all by herself. So after this Alistair was going to get stuck in. He proceeded to take 5 fish off the flats in fairly quick succession, most of them on the pancake flats which was no mean
achievement
in the wind.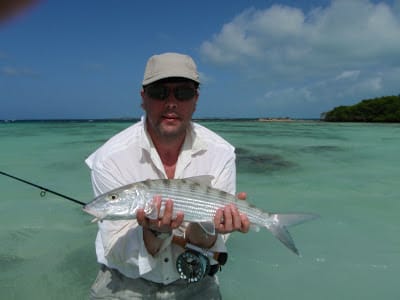 While standing on the edge of the flat his guide Efren saw an
approaching
school of blue runner, and instructed Alistair to throw out a long line. "Further" he said.
Alistair
stripped more line of the reel, wound up his
Loomis
Crosscurrent and chucked it out in the direction of the school. He looked at Efren. "Further" came the reply. Alistair now pulled off a couple of handfuls of backing, and after a couple of fast hauls shot the lot out of the rings. Strip, strip, bang! He was attached to a good sized blue runner on his 8 weight and in for a battle! The fish strained against his line, and Alistair got a taste of how powerful these small Jack/ tuna cross fish are. After about a 15 minute fight he managed to land it.
Kirsty
topped this off with a couple of fine barracuda on the spin gear to finish off with.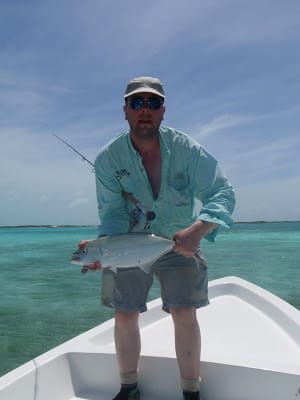 Will and Jamie had headed off to
Crasqui
with with Jesus and fished the white sand beach up towards the beer shacks. The bones were really finicky in calm clear water but he managed to hook one after a frustrating first half hour of near misses. Unfortunately after all that effort it headed out into deeper water and was promptly consumed by a 20lb
cuda
! Very exciting stuff, but slightly irritating none the less. Jamie then stalked a good bone off the beach of about 3.5lb on minnows. Jesus then took them off to one of the
lagoons
to try their luck for some baby tarpon and
snook
, and also to evade the powerful winds. After an hour or so Will landed a good bone of about 4 lbs with a 15 yd up wind cast that for once went according to plan. The small band then took off into the back country and did about a mile through the bush to get to a nice beach and flats. Will fished one side of a spit while Jesus led Jamie down the other. After loosing another
bonefish
and landing one more Will then landed a nice little pompano. A tougher day than before, but still rewarding.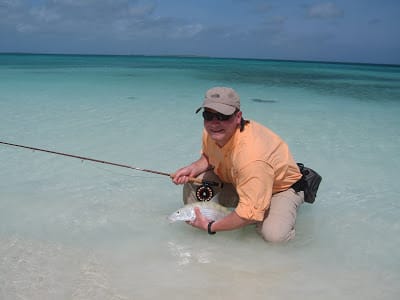 Rick's final day started out with so much promise. Fish were thick as thieves, and he had never seen a flat like the first one. Unfortunately his streak of luck/skill was waning… After a 30 minute wade with
Cayito
, they came upon the first group of
bonefish
and with his first cast hooked one… Sadly as it ran, it wrapped the line around a mangrove shoot and quickly popped the line… About two minutes later he hooked into another one and either had foul hooked it, or did not set the hook as well as he perhaps should have, after a brief fight, he was off. Not ten minutes later, he hooked into yet another bone, but a failure of the leader saw that one slip through his fingers. By this stage Rick was beginning to wonder if his luck had run out. However the intrepid pair then came upon the sweetest of honey pots. Rick managed to hook and land his first fish about 20 minutes later and from there, it was game on. He landed another two in quick succession, all good sized, between 3-5lbs. He remarked "the fish were as thick and friendly as any I had come across." The schools just kept coming in waves and this is despite the fact that there were many natural predators in the area (he saw two lemon sharks and a few sizable
cuda
). This brought his morning session to a total of five fish off that flat.
After a brief lunch it was back onto the flats. For the afternoon session locating the fish proved a little more difficult. After the run he had experienced with the flat in the morning he thought it was just fate balancing out the world. They went to three more flats and only managed to land one more fish for the afternoon. In the fading light, he came across some tailing fish just off the beach, but they expressed no interest in the gummy minnow that we were using. With that, we returned to the boat, pulled up anchor and made for home for a well deserved cold beer.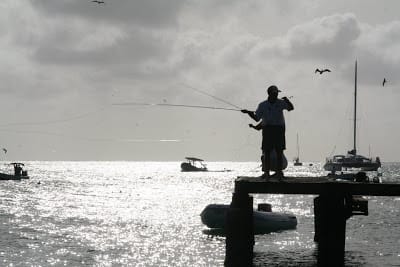 That evening I organised a casting competition for the guides on the dock. We each chipped in $10 making the total pot $100 to the winner of the longest cast. I always enjoy this as it gives the guides a chance to show us how it is done, and also the clients an opportunity to spike fun at the guides for giving them such a hard time during the week. To many taunts of "more to the left!" and "the fish is further our!" our winner was Howard, the dark sheep who came from now where to beat Raphael the favourite. After a few more beers and some good stories we said our goodbyes and thank yous to our friends, and turned out noses back towards the
posada
and our final supper at
Acuarela
. Most of us beat a
reasonably
hasty retreat to bed that night as we had a very e
arly
start the next morning. However, I discovered later that some members of the party had
snuck
out, discovered one of the guides who shall remain anonymous, headed to the nearest bar and consumed a massive amount of beer. Luckily the guide was not working for the next couple of days, but I laughed hugely in the morning when they we still nicely intoxicated.
Well, we are sad to be heading back to the world of civilisation and to leave this little island piscatorial paradise. We have had a fantastic trip, and I am already planning to return next year to see all my friends again. Los
Roques
has been and still is one of the finest
bone fisheries
on this planet, and with some exiting developments next year will continue to be so for many years to come. Roll on next year!