Finally today is THE day! Loaded up with half of Grangers Fishing shop, courtesy of the fabulous Ben Granger I am on my way….all is starting well. Spoke to soon, flight to Paris is delayed….it is starting to look like I may be fishing for frogs in France rather than sailies in Madagascar!!!! Land in Paris with 10 minutes to clear customs, get bags and check in….. Not sure if it was luck or the fear of seeing a grown woman cry but the man in baggage services somehow makes it happen and I am boarding my flight to Saint Denis…..huge sigh of relief!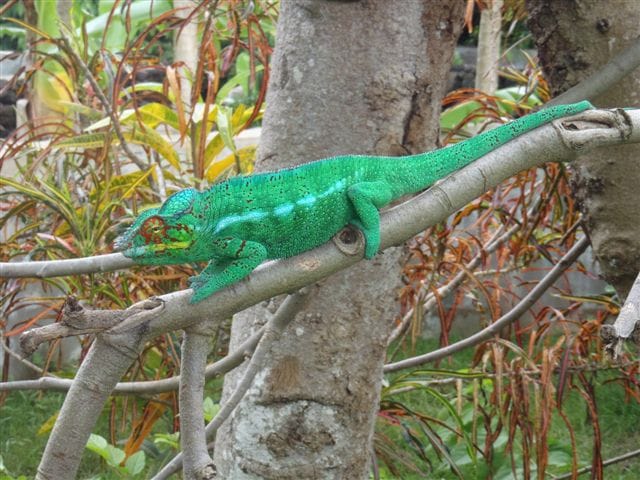 Landing in Nosey Bay, through customs and whisked off by Antony the taxi man…… We manage to make it the 20 minutes in one piece whilst veering round cows and carts, other vehicles, cyclists etc. He even pulls over to grab me some ylang ylang flowers which are heavenly and get some pictures of a chameleon although how I saw it when my eyes where shut most of the journey I shall never know. We are met at the beach by two of the guys from the lodge who, straining to carry my luggage, take me down to the boat for the 10 minute ride over to Sakatya.  Brandon and Jason are there to meet me in a stunning secluded bay.  The lodge is located up from us and looks out across the water.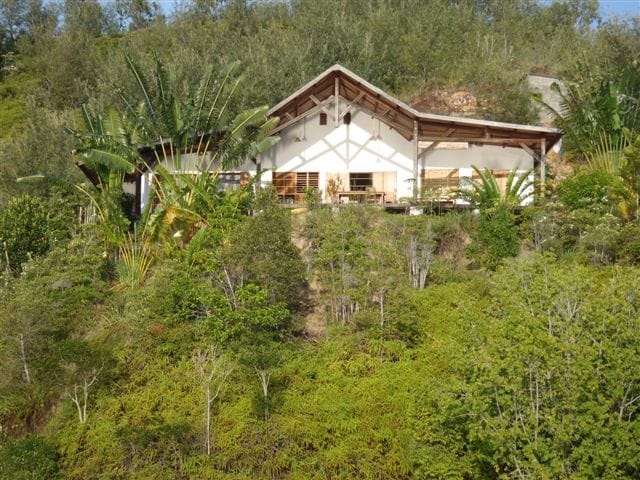 Then it's down to business, rods up, lunch, chat about what we want to do over the week fishing etc….. I already feel at home. My room is large and comfy, with ensuite shower and views across the bay…bliss. After lunch we snorkel round the bay looking at the coral and getting pictures of a turtle on the bottom then it's time for dinner, drinks and bed ready for an early start.  I wake at 0430 to a beautiful sunrise. On the boat by 0600 and we are off. We cast to schools of fusiliers, for some GTs first but the two we find are not playing ball. So it's a little bit of dredging with a heavy Clouser but nothing.  We catch a few salad fish to use the belly on the saily teaser then off to trawling for a sail fish.  By 1500 Brandon is looking a little nervous.  Some more dredging produces a beautiful blue fin trevally and smiles are all round. Then I hook into a monster king mackarel but he comes off as I very ungracefully launch myself off the front of the boat onto the floor…oooopps. (On the plus side we now have laughter from my main man). The rest of the day is spent hunting for GTs off bait balls but the air pressure has dropped and there is nothing about so we head home at 1800 for a much needed beer. A truly fantastic day on the water.  Dinner overlooking the bay watching the lightning and listening to the rain on the tin roof talking about what we are after tomorrow.
Day 2 – An early breakfast of fruit and lots of coffee at 0530. Today we have Jason with us too so we put him straight to work! The weather was not great and visibility was poor so after a few hours of poppers over the bait balls we change to a sinking line on a 12# with a heavy Clouser and, bingo, a huge king mackerel – perfect sashimi for dinner and some silver belly for the sailies. Now it's off to tease for sailies. To pass the time we reminisce over past fishing trips. As 11 am rolls round it is snack time so Jason decides its time I learnt a new trick. How to blow an egg is on the agenda.  Apparently if you crack both sides and blow the shell pops off…….ahhhh you learn something new and uneggspected every day!! The conditions are tough today and with no luck on the sailies apart from the occasional false alarm where something steals the baited lure we decide to try another species.  There are beautiful secluded bays all around the islands so we start with a popper on the 11# and then onto a sinking Clouser on the 9# but nothing is interested. By 1500 it is time to hit the bait balls again. The weather has finally lifted and we all have a good feeling about this. The first 3 have no predators on them but then it happens. Perfect cast with a Hardy 11# and a specially tied pink "fat boy" and 2 huge bluefin trevally tear after the fly, BANG, one is on the reel and the boat erupts with shrieks of joy, Jason is taking pictures although I look almost constipated with concentration.  I do not want to lose this one (I also don't want to look like grumpy in the picture so try to crack a smile). Finally after a few tense minutes where he has tried to take me under the boat etc there he is….and it's a GT!!!! He beat the bluefins to the pink fly wooooo hoooo…..Brandon is smiling from ear to ear although looks slightly startled when I lunge at him to give him a fishy sweaty hug (poor guy)… The perfect end to a tough day so we set off home grinning like Cheshire cats. A fantastic dinner watching the bats and listening to wildlife and we are in bed by 2030….shattered!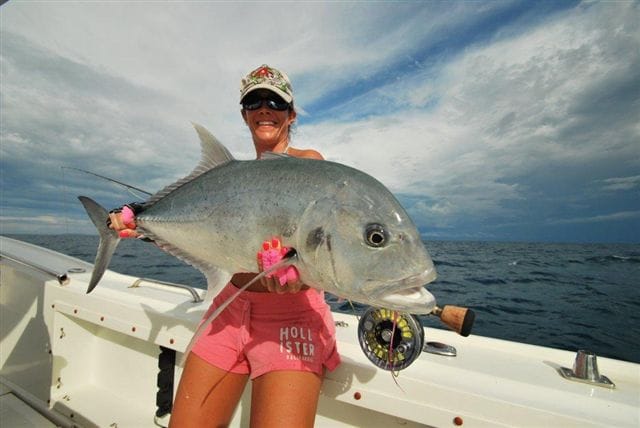 Day 3 – Weather is looking slightly better today so Brandon and I head out. Starting again on the fusiliers then onto some dredging with heavy Clousers and trawling for sailies…….nothing! By the time we get back to the bait balls they have gone deep so with no luck we head home, the clouds are in. The pressure has dropped and it is looking ominous. Arriving back we find there is a cyclone building above us and they are not sure how it will turn out. On the bright side it's New Year and the lodge is stocked with more booze than Oddbins so we can drink our body weight in alcohol and ride out the storm! No-one made it to midnight but we had a great time trying to get there!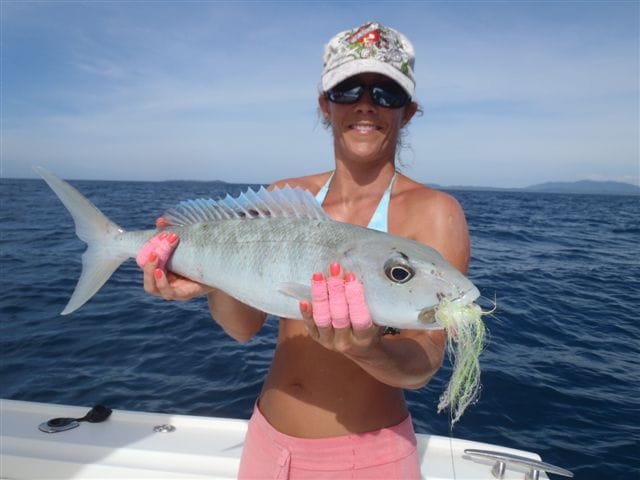 Day 4 – Woke at 0730…. Happy New Year! We decided to have a little walk to the village over the ridge to get rid of any hangovers. A genial meander turned into a full on hike in flip flops. We got lost in a deep overgrown ravine so had to climb half way back up.  We finally found our way down after much slipping swearing and sweating. Walking through rice fields picking fallen mangoes from a huge tree we came to some wooden huts where a little girl guided us through to a deserted beach for a much needed swim to cool off. Setting up the 9# and 11# (much to the bemusement of the girl who had guided us there) we waded out to the surf line and cast our way down the flat…..it was a long shot but it looked promising.  The prospect of the hike home was too much to even think about so Brandon flagged down a local boat to take us back.  After much groaning the engine sprung to life and we were off at warp speed with the anchor flailing in the air, we both looked at each other as if to say big mistake….should have done the walk! Back safely, we tucked into homemade fish quiche and went off for a well deserved nap. Then fish and chips for dinner and bed early as we are off for a two day trip, staying on the yacht.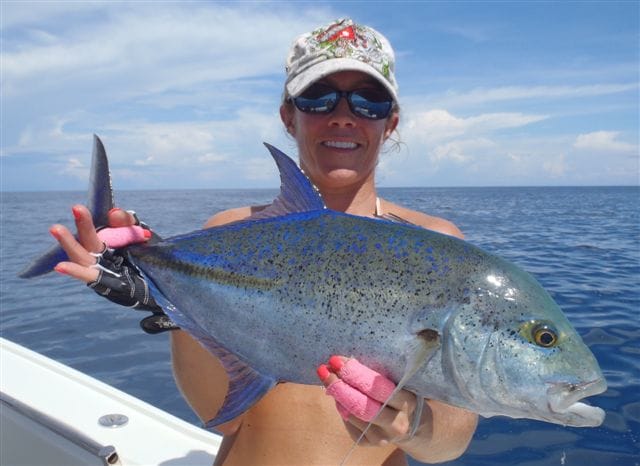 Day 5 – Early start today as we had 60 km to cover. The weather was holding up but the pressure had dropped. We fished the bait balls but had no luck. The landscape was beautiful and large rock formations that rose out of the water and dropped tens of meters below the sea level looked very promising but just a few bait fish were to be found.  I decided we needed a jigg/dredge so with me with a heavy Clouser and Brandon with a jigging rod and rubber worm, we had ourselves a little competition….which he won!  But on a positive note it produced a lovely yellowfin so at least we had dinner! Trawling after lunch to the mouth of the river. By this point we had fished very hard all day and nothing was showing an interest. Putting a few poppers across the service by the river mouth was not exciting them either, so we tried dredging with a heavy Clouser. To be honest it was 1700 and we had fished for 12 hours so I subtly handed the rod to Brandon and snuck a big swig of vodka when he wasn't looking.  It seemed to do the trick as, on my next cast, a nice green spot trevally grabbed hold of the fly and shot off.  At this point the line went everywhere, tangled up, wrapped round my head and Brandon frantically trying to help reel in the slack in such a hurry he reeled the wrong way causing mass hysterical laughter from me (the vodka had just kicked in) and the fish was off so we called it a day.  Back on 'Now Now', the catamaran we were sleeping on which had docked a few hundred yards inside the river mouth, to a well earned shower. A fab dinner and a few more drinks we came to the conclusion it was a great idea to sleep on the deck and watch the stars …. at 0200 we got soaked!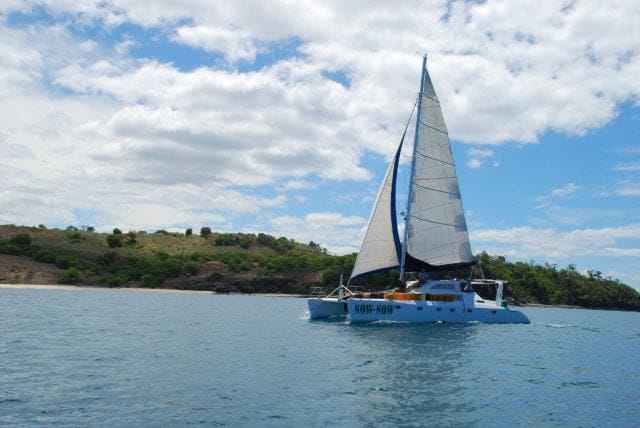 Day 6 – Woke to heavy rain so we had a lay in until 0700 and it didn't look like it was getting better. So, 60 kms from the lodge we started to make our way back. The sea was very rough, with 4-5 metre waves and it was raining so hard you couldn't see land. After what seemed to be a lifetime, we saw land and we were safely back, thanks to Brandon's skilled navigation. He found it extremely funny that my nail marks we now embedded in the metal rail I had been clinging to. The rest of the day was spent relaxing and recovering…..what may tomorrow bring (bearing in mind Brandon had now tried to kill me off twice, once with a hike now with the boat). Could my boat jokes really be that bad?
Day 7 – The sea was rough again so we decided to head in land to the local lemur park. We got to feed the lemurs, see chameleons, crocodiles, snakes etc. Then on to a local bar for a well earned beer.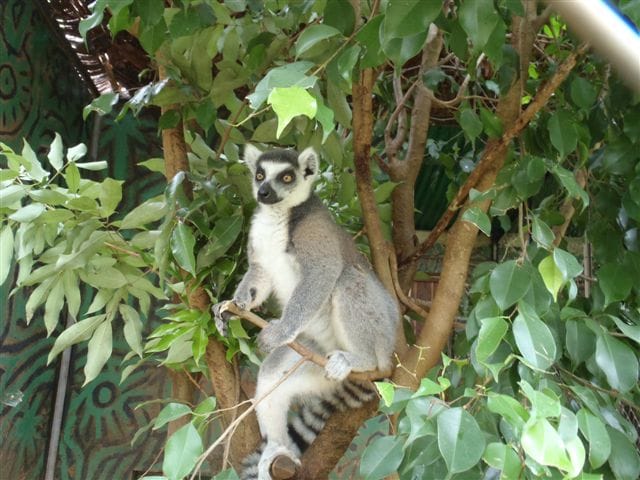 Day 8 – Back to why we came….fishing! The weather was turning and the bait balls where back – things looked on the up. Another tough day…..more for Brandon than me as my jokes just got worse! The is something about trawling that puts me to sleep…..as soon as the lures go out I just pass out! No fish today but another fabulous day on the water of laughs and fun.
Day 9 – Today was Castor Banks……we started to head out but the sea was just too rough so we decided to stay close.  We had a few bluefin trevally and a nice GT chase the fly off the bait balls but nothing on the hook! On the bright side the weather was changing for the better and Brandon finally got to hear my 3 legged chicken joke so the last day ended with a very good giggle….(and Brandon looking secretly pleased he wasn't going to have to put up with anymore of my terrible jokes for at least another year.  The day ended with a fabulous dinner of mini beef burgers and well earned beers.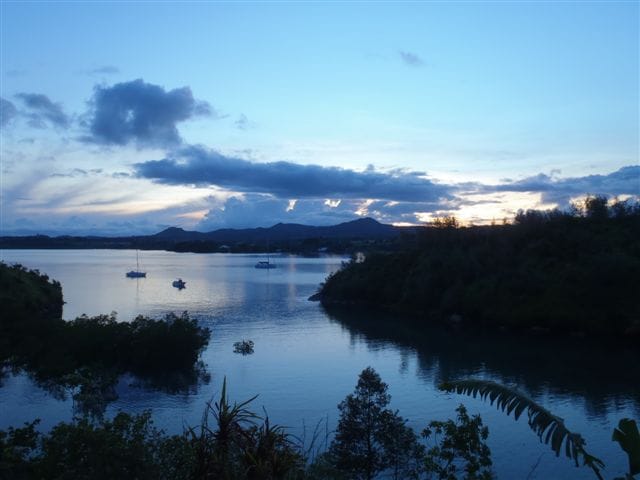 Day 10 – Time to pack up and make the Anika Rice journey home….which turned into just that. The new guests arrived with more tackle than a tackle store so I said my goodbyes and headed to the airport. Sad to leave but having had the most fantastic (and slightly terrifying) experiences…… hurry up next year! We were unlucky with the weather and I would really like to experience this fishery under normal conditions and see what it can really do!