Finding that elusive fly fishing and beach holiday combination is something of a holy grail for anglers and their families. There are places it does work including some lodges in Seychelles, Belize and various in the Caribbean. I was accompanied on my recent trip to the Maldives by my fly fishing fanatic husband and we took the opportunity to see if there were any fly fishing opportunities in this tropical idyll. The answer is, yes, there is some fly fishing to be had but it's not a regular thing and you need to be prepared to explain what it is you want to do. Don't expect a full on fly fishing experience, more that there's a chance to spend a morning or two exploring a remote sandbank. Here's what he found at three of the four resorts we visited.
Fly fishing at JA Manafaru
JA Manafaru organise deep sea fishing for whaoo, tuna, sailfish and grouper. The best time for sailfish and marlin is in the rainy season when the winds are stronger and the waves higher. The fishing is done just off the outer reaches of the atoll and starts within 15 minutes of the lodge. The lodge also offers reef fishing, and sunset cruises with some fishing. Although the hotel is not set up as a fishing lodge, the locals are all mad keen on fishing, so there are plenty of people to help. I don't think that they'd had anybody fly fishing at the resort before but were perfectly willing to give it a go.
I went out with the main fishing guide, Hammed, and his colleague to drive the boat. I'd packed an 11# and a 9# with assorted GT and crab flies. We fished for three hours going from deserted island to reef, all within 15 minutes by boat from the hotel. I saw plenty of good sized bluefin trevally, various parrot fish and one trigger. There are apparently GTs around, which they call jacks, but I did not see any.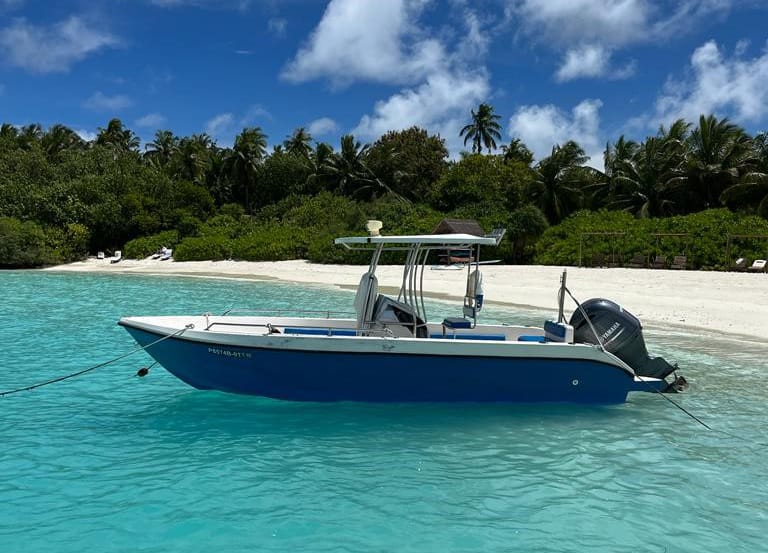 Speed boat at JA Manafaru
Hammed came with me, but had no wading boots, so could only wade on the sand. He had good eyes and I probably had six really good shots at bluefin trevally. I was fishing with 100lb test and in hindsight should have gone down to 60. The flies were all big GT flies and again I should have used smaller bait fish patterns.
We went out at low tide, with the tide coming in, and in a blustery wind so there were only certain areas we could go. I would have undoubtedly had a better day had we gone out the following one when there was no wind. As it was, we were not able to go to the big sand point on Dhigufaruhuraa as the waves were too big. This was a pity as it's where Hammed expected to see GTs crossing the point and chasing bait on an incoming tide. Instead, we fished the leeward side of Dhigufuhuraa which was a 400m flat, accessible at low tide, and where I saw bluefin, parrot fish and where I would expect to see triggers if the waves had been less. The wading was not too difficult, but you needed proper wading boots. I had to swim back to the boat to get off the flat.
We fished Huvahandhoo which is a deserted island with a lovely sandy bay. We saw multiple big bluefin, a lot of bait and at various times the mullet were being attacked by something we never saw. This was easy fishing and I should have fished with a crab pattern as I think I would have had more luck. Later we drifted the boat looking for grouper off the islands' coral bommies.
We also fished Gavaafushi which is the deserted island that the hotel uses for its castaway experience. This was completely beautiful and very similar to fishing one of the Seychellois islands.
At various times we saw fast moving schools of bonito chasing baitfish in the lagoon with birds above them. We never tried to fish for them, but I'm sure we could have quite easily. In the lagoon there were big schools of fusiliers and the coral heads had plentiful fish on them.
Under Maldives' law you are not allowed to catch triggerfish or parrotfish or walk on a coral flat. That said, our guide was completely comfortable with me targeting them as the rules only apply to taking fish to eat. Net fishing is banned within the lagoons and I assume this is what has protected the fish stocks.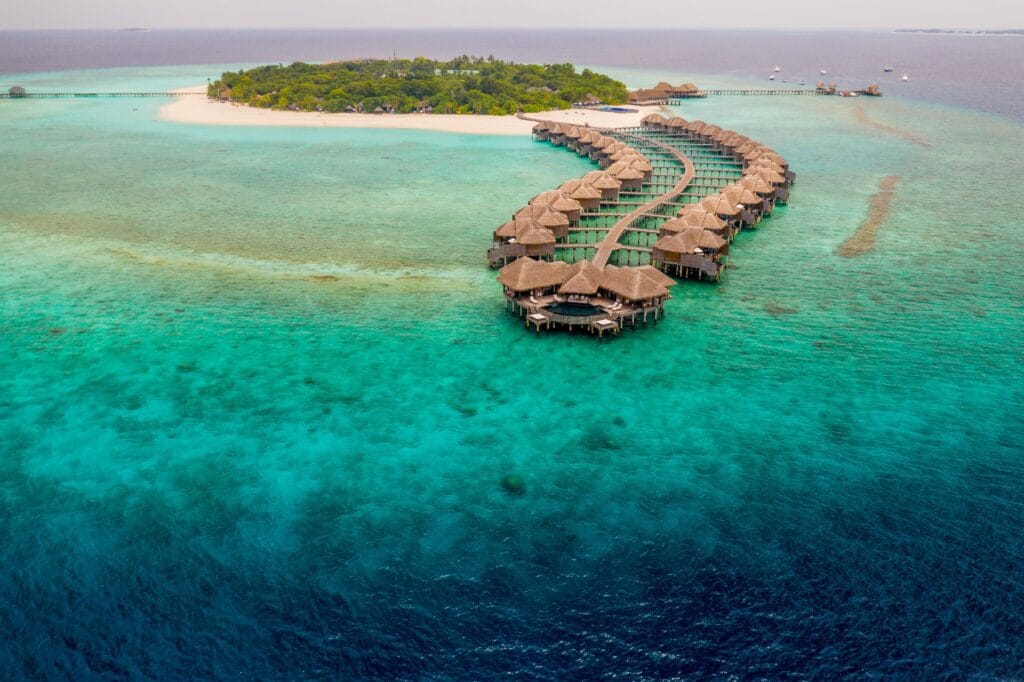 JA Manafaru in it's beautiful setting
If I was to come back it would be for a week with my family, packing my fishing gear and anticipating going out two or three mornings to fish. You are effectively self-guiding, but with the right weather you should be able to catch bluefin, the odd GT, grouper and triggers. It is a rare resort that would allow you to have a brilliant family holiday, with some fly fishing thrown in. That said, please don't come thinking you could go fishing all week (though there is enough water for this) there are better places to go.
Fly fishing at LUX* South Ari Atoll
LUX* South Ari Atoll is not a fly fishing destination, but for the fly fisherman who wants two or three mornings' wandering along some sandbanks then there are areas to explore. The staff have no idea about fly fishing but are good at spotting fish and were intrigued as to what this mad Englishman was trying to do.
Fish caught here are bluefin trevally, some GTs, snapper, queenfish, bonito and grouper. There are five sandbanks with shallow sandy areas around them where you can walk and fish. These range from 10 to 40 minutes from the hotel, the majority within 20 minutes on a calm day. The guides said that there were bonefish on one of the sandbanks, although I didn't spot any.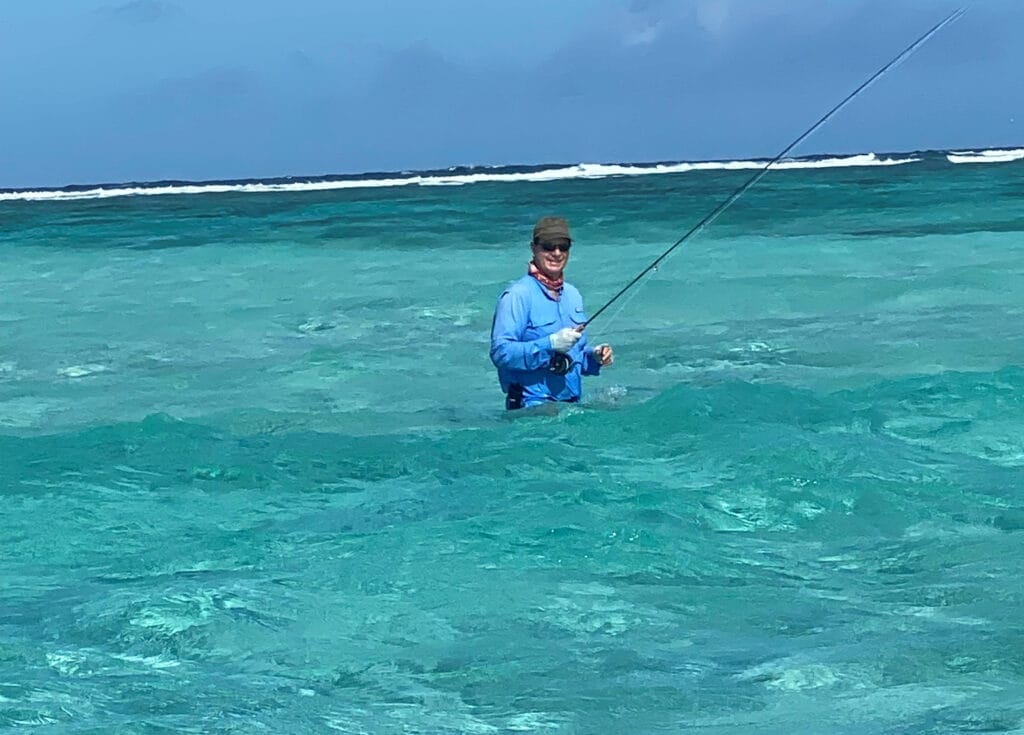 Testing the waters around LUX* South Ari Atoll
There are three boats that can take you out fishing at LUX* South Ari Atoll, the first two are more for deep sea trolling, but the third, which is a small speedboat, is ideal for taking you across the protected waters inside the reef. The advantage of the speedboat is that it can go into shallower water and up onto the sandbanks. A fun outing would be to take a picnic out with some snorkel gear, do some fishing, have a swim and enjoy your own Robinson Crusoe private island experience.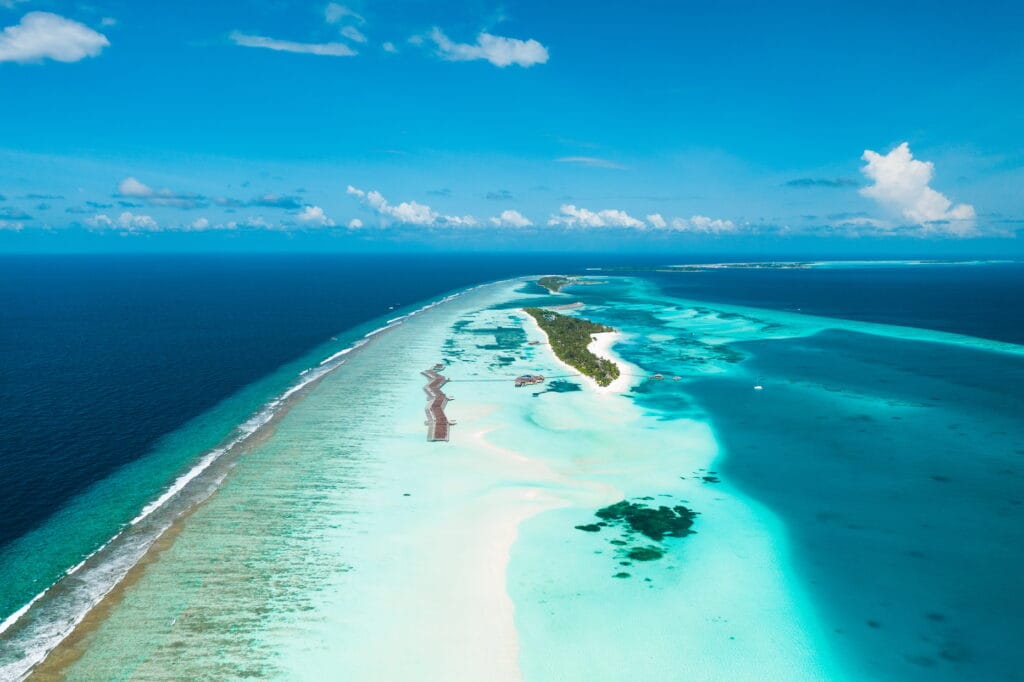 LUX* South Ari Atoll in its pristine ocean setting
Talking to the guides they said that the offshore fishing is better in December through to April when the seas are calmer. Fish caught on offshore expeditions include whaoo, dorado, GTs, grouper, tuna and some sailfish. The fishing operation is a concession at LUX* South Ari Atoll but the staff are fantastic and could not have been more friendly or tried any harder.
If I went back, I would fish the shoreline on an incoming tide for triggers and the sandbanks with small baitfish flies for bluefin trevally on a dropping tide. I would also chase the bonito which appear regularly under the birds chasing bait.
Fly fishing at Conrad Rangali
As in the rest of the Maldives, fly fishing is not a usual request at Conrad Rangali but the watersports staff tend to be keen fishermen and are curious about what fly fishing involves. Once you explain the basic idea they are enthusiastic about finding areas to try, and our guides here, Mohammed and Saameed, were as keen as any to see what I wanted to try.
I spotted schools of bonefish around the resort, and at night, in floodlit waters, there were numerous decent sized GTs and bluefin visible. There is no fishing inside the lagoon, but you can go elsewhere by speedboat although the boat rental is expensive at US$500 per hour.
The best flat to target is the Fenfushi sandbank about 10km south of the hotel. This six kilometre sandflat is just next to the reef and although the water was pushing across very fast when I fished on an a rising tide, I think it would be great on a low to rising tide as the fish migrate across from the lagoon side to the ocean. Our guides said they regularly saw GTs and bluefin on the flat and good numbers of triggers on the ocean side. At low tide you would also be able to access the reef area.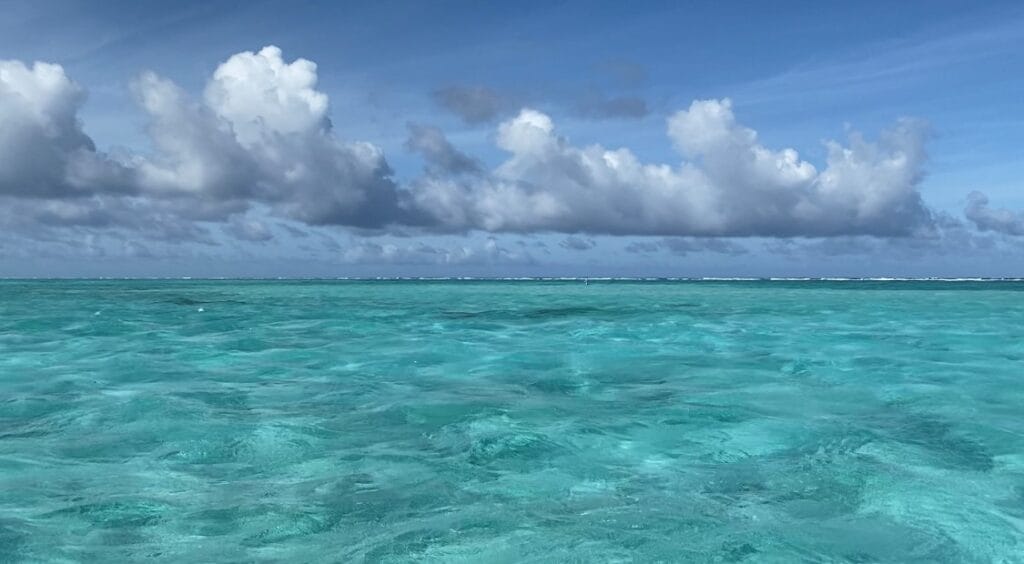 Stunning water around Fenfushi sandbank
From here we moved to a sand bank below Fenfushi where I saw more fish and a couple of rays. The sandflat is very close to the reef and the bait at high tide were being attacked by bonito between the two. Our guides could not have been more charming – navigating through quite choppy seas to reach the best areas and with Mohammed hopping into the water to test the depth before I was let over the side.
The ocean reef side is wonderful territory for triggers and the locals love to try to target GTs at low tide with popping rods casting into the sea. Having said this in the week we were in the Maldives I never saw another person on a reef, flat or sandbank.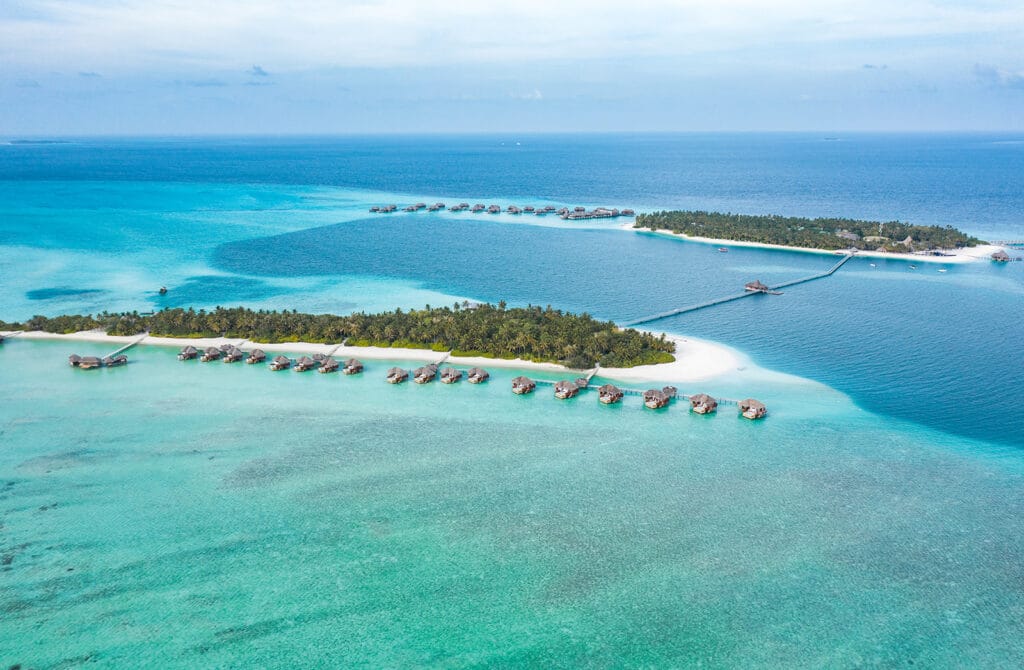 Picture perfect setting at Conrad Rangali
Overall, it is possible to fly fish from Conrad Rangali, and the Fenfushi sandbank was the best flat I saw in the Maldives. It is just expensive to arrange and the wind in May was an issue. If you came in December through April I think you would find calmer waters allowing you to get to the flats more quickly and see more fish.

For further information on holidays in Maldives please contact Charlotte Opperman or call us on +44 1980 847389.