Mana Pools National Park is situated on the banks of the mighty Zambezi River and John's Camp nestles amongst canopies of Trichelia and Mahogany trees. As a slight departure from our usual total focus on fishing, a report from our friends at Robin Pope Safari's John's Camp.
Across the vast floodplain one can walk with the giants – African Bull elephants, dine amidst herds of buffalo, gaze upon prides of lion, enjoy sundowners with hippos on the banks of the Zambezi River and bird watch over 400 species of birds. The camp comprises of 10 beds, made up of 5 twin or double en-suite Meru style tents, a common dining area and a star gazing sleep-out platform for the more adventurous safari traveller. Fishing is an option for guests at John's Camp, both for tigerfish and for bream.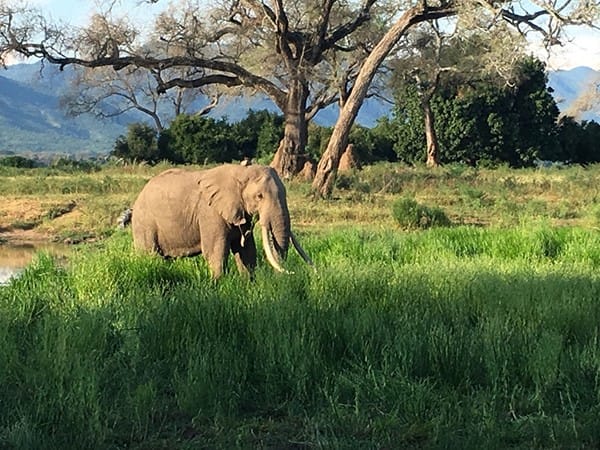 John's Camp is closed this time of the year due to a slight issue of road access, but Milo does make the occasional trip all the way into Mana Pools to check on everything there and was kind enough to give us a little update. Milo over to you: "Upon arriving in Mana after 20mls of heavy rain the night before, we came across one of Mana's pride and joy; Boswell, our dancing elephant. Boswell is a very unique and rare bull African Elephant only found in Mana Pools, he has developed the special ability to reach up high into the canopies of the albidas on his hind legs. This gives him an extra 2.5-meter height advantage over any other elephant on the flood plain, thus making the picking's rich for him and his adoring cronies that follow him closely. Boswell also happens to be very well endowed on the ivory front so this and his dancing really does make him our most iconic bull. You will notice that for this reason he is fitted with a GPS satellite tracking collar that is monitored 24/7, 365 days a year.

Whilst in Mana we were able to take advantage of our new Star Deck and sleep out on it for the 2 nights we were there, it was nearly full moon so what an experience. We built this right at the end of last year as a new addition to what we have to offer so we got to take full advantage of it and all we have to say is: guests stand by, this deck is waiting for you and what a place to lie at night and listen to the amazing sounds of the African wild as well as the bonus of being able to stare into a night sky illuminated by thousands wonderful stars and far away galaxies.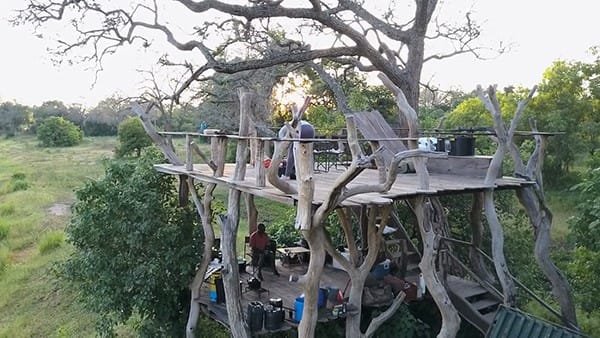 In contrast to staring into the magical night sky, the sunrise over the Pan behind John's Camp is similarly spectacular. The pan is a very rich water source where guests are often treated to whole prides of lion drinking and resting up after a hard night's work! And just to finish this Monday off with a couple of wonderful and very special scenes we have an aerial shot of the flood plain in front of John's Camp leading into the Zambezi River, as well as the view up river from John's Camp, again Aerial in the wet!".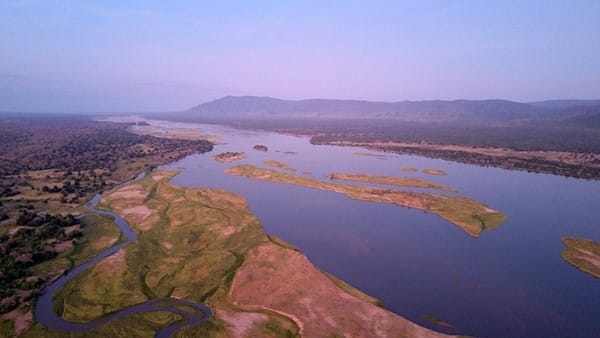 Thanks for that Milo. As for news from Nsefu, well the last guests had some incredible sightings but here is a little snippet from Michael who was looking after them whilst they were in camp: Out on the Luangwa River at Nsefu on a drizzly "London weather" afternoon, it's hard not to appreciate the beauty of the emerald season! Little known to us we were in for a real treat. Braston who was guiding at the time spotted a fleeting glimpse of a wild dog, this raised much scepticism amongst the group. However Braston was sure of his sighting. We then climbed ashore and set about tracking the lone dog, this was worth the effort, then again it's always worth the effort, as we were led to the main pack of fifteen wild dogs. They had clearly just made a kill and where in full play mode. After the greetings and ceremony was done we were kept entertained as the dogs chased one another, biting and nipping at every opportunity. This was incredible to witness as it was truly natural unblemished wild dog behaviour. It left us with spirits soaring on a high! Thanks to Braston's good eyes and patience! Yet another day on an emerald season safari! What a treat this week, I do hope that you have enjoyed reading all about what has been going on. So now I am going to leave you all to it and head out into the rain, which has been quite consistent over the last few days and do my usual walk about to see what is happening. So off I go, I do hope that you have a fabulous time with plenty of smiles and laughter and don't forget to look after one another.
If you would like more information please contact Charlotte Chilcott or call us on ++44 1980 847389. Alternatively click HERE if you would like us to contact you.