Having had just a glimpse of Mexico's Ascension Bay in June 2018, I was desperate to get back out there and see the full extent of what this destination has to offer. This time we headed to the Punta Allen Fishing Club in March with a mixed group of first time saltwater anglers and Ascension Bay returners.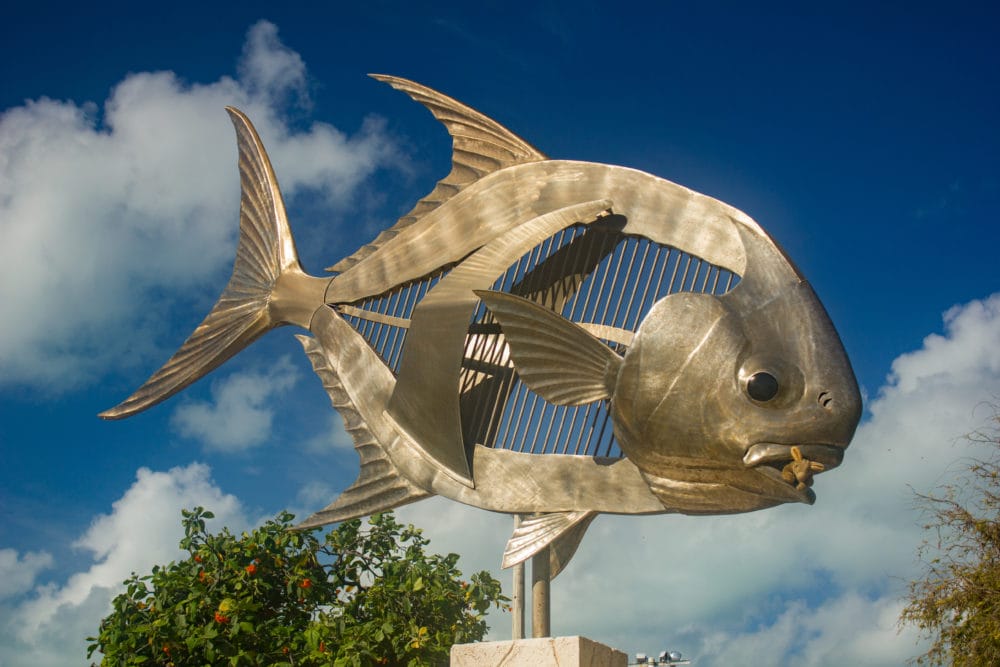 Arrangements ran smoothly from the start, minus a spell of mistaken bag identity that we resolved as swiftly as possible in Mexico. The format ran slightly different with the group arriving in on the direct British Airways flight to Cancun, a quick transfer to the Cancun Hotel Zone where we had a relaxing evening at the Intercontinental El Presidente. It gets its name from being the former presidential residence on the coastline, chosen for the fact it has the best beach in the area.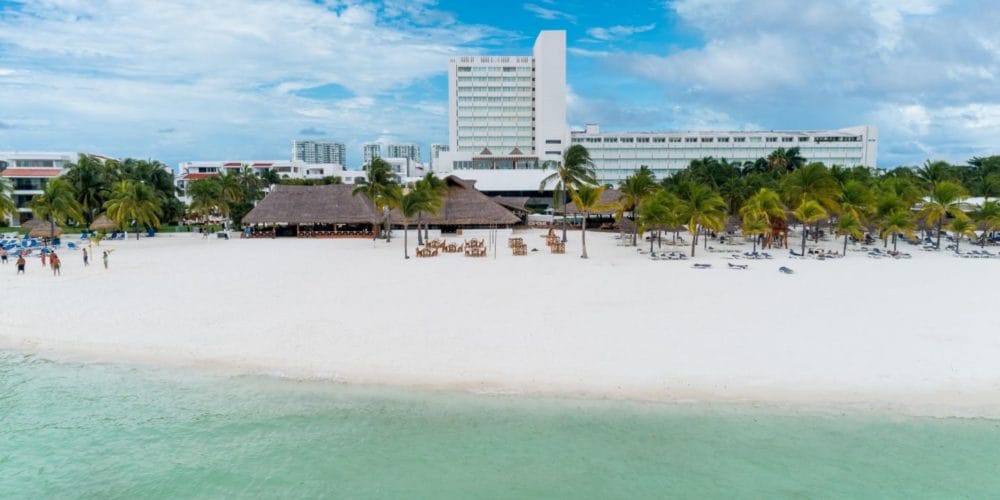 The following morning it was time to get up early and transfer down to the lodge; firstly a 1 hour 30 minute road run to Tulum folloiwed by a 20 minute dirt road bounce to the Boca Paila Bridge. At this point we were met by our lodge host and owner Tiziano along with our guides for the day and a big saltwater crocodile that happily bathes just off the bridge. We each paired up, strung up rods and headed straight out on the water with our guides, whilst our bags carried on by road to the lodge – a bumpy journey that is best avoided if possible.
The pangas (fishing boats) headed off in different directions, some staying within the Boca Paila Lagoon and others heading out into Ascension Bay itself. Irvin, myself and guide team Miguel and Pablo, tried a few places within the lagoon before motoring south in search of wading flats for bonefish. On our way through some tight mangroves a fish suddenly went airborne before crashing down in the boat, our first 'catch' of the week in Mexico – a fairly stunned mullet.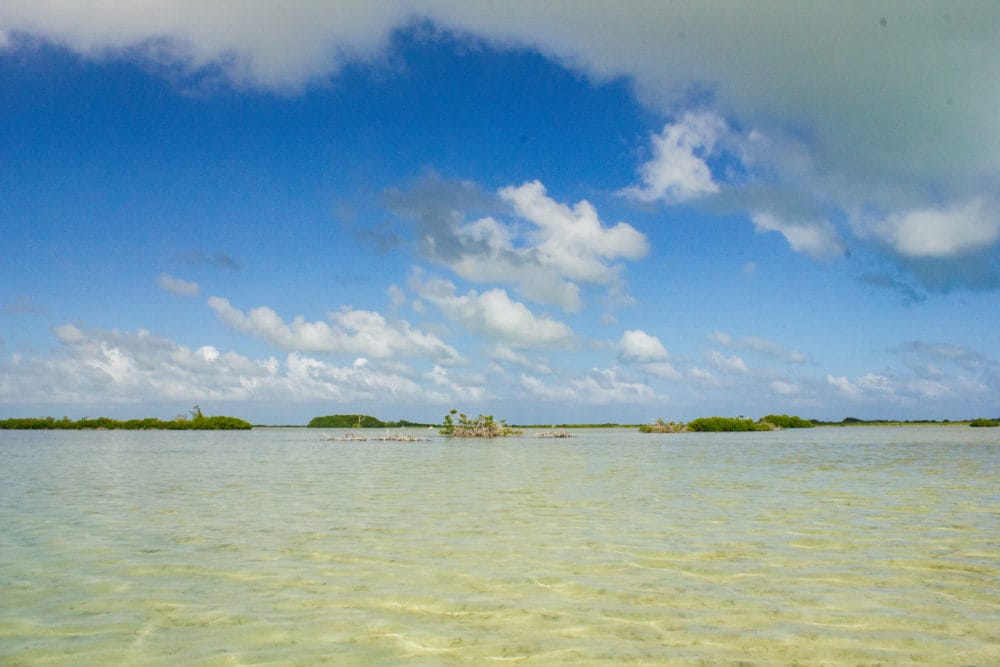 We hopped out of the boat onto the slightly soft white sand, littered with mangroves and scattered with sharp, crumbly coral. Eyes scanning left and right we looked for any signs of bonefish activity. Soon we found small patches of nervous water, as bonefish moved through the shallow water. With glare and the sun slightly against us, it was tough to see the fish before spooking them. Once we rounded a mangrove island we were able to spot more bonefish and at further range, this allowed us to get in position and place the casts required.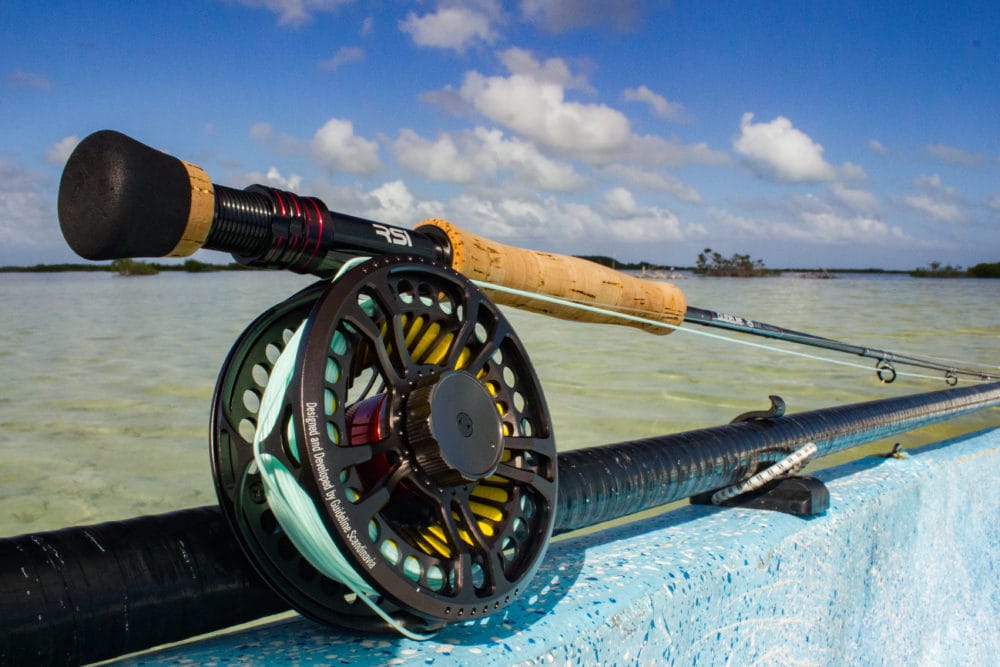 Setup with a 9 foot 7 weight Guideline RSI rod, floating line, 9 foot tapered leader to 16 lbs and a Fulling Mill Stealth Gotcha, we were ready for spooky fish on the shallow sand flats. The fish appeared endlessly in schools on the flat mainly in the 2-4 lbs range, they would often pause in food rich areas and you would see their tails protrude from the water as they burrowed for various crustaceans. Hooking them in this ultra-shallow water resulted in searing runs, and often found yourself trying to avoiding lone mangrove plants that were waiting to hang up any passing line.
We shared our flat with numerous birds, from the colourful flamingos, to the crisp white ibis, imposing black vultures, hunting ospreys and hovering frigates. It is always a pleasure to spend time in this ecologically rich area of the world.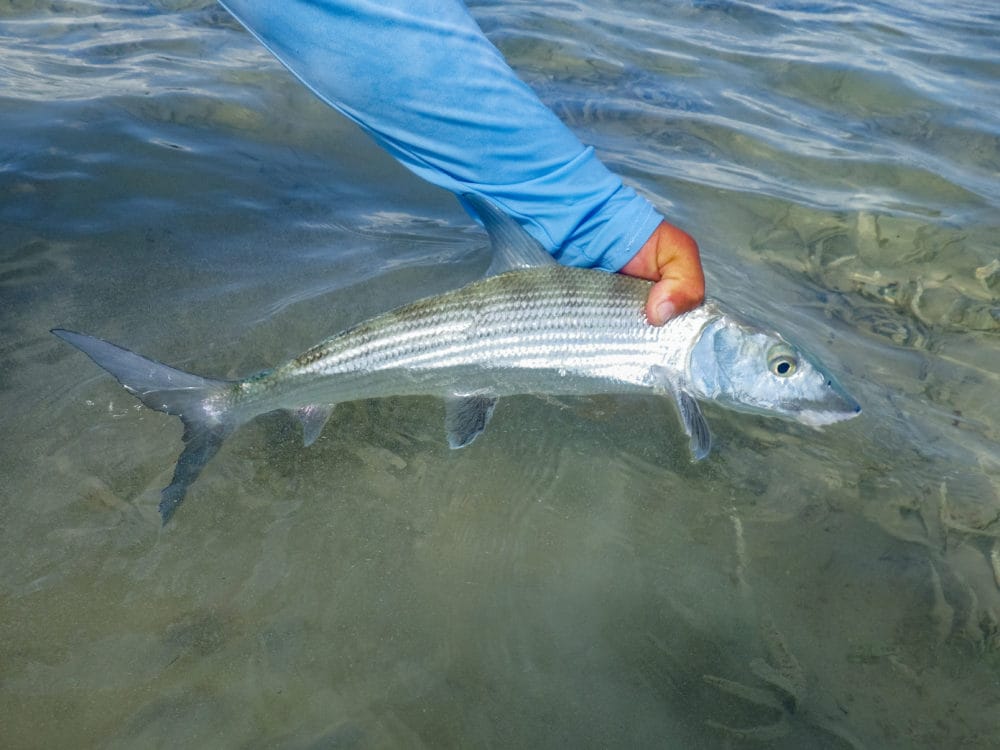 Having opened our bonefish account for the trip we then retired back to the lodge that evening, where everyone had a chance to settle into their rooms before enjoying some colourful cocktails and cold beers. This was complimented with Mexican nibbles and then a full sit down meal with flavours to stir the senses. Success was mixed among the group on day one, but most had landed bonefish, Dave and Greg had hooked a few baby tarpon and lost a snook and Barry had seen but not hooked a number of permit.
After a good night's sleep and the obligatory early morning jet-lag wake up, I was able to enjoy the Caribbean sunrise from the upstairs palapa along with a fresh cup of coffee. As the daylight spread, the group assembled and enjoyed the multi-course breakfast. Guides now meeting us at the lodge, we partnered up and headed on the short walk to the boats with new plans at the fore.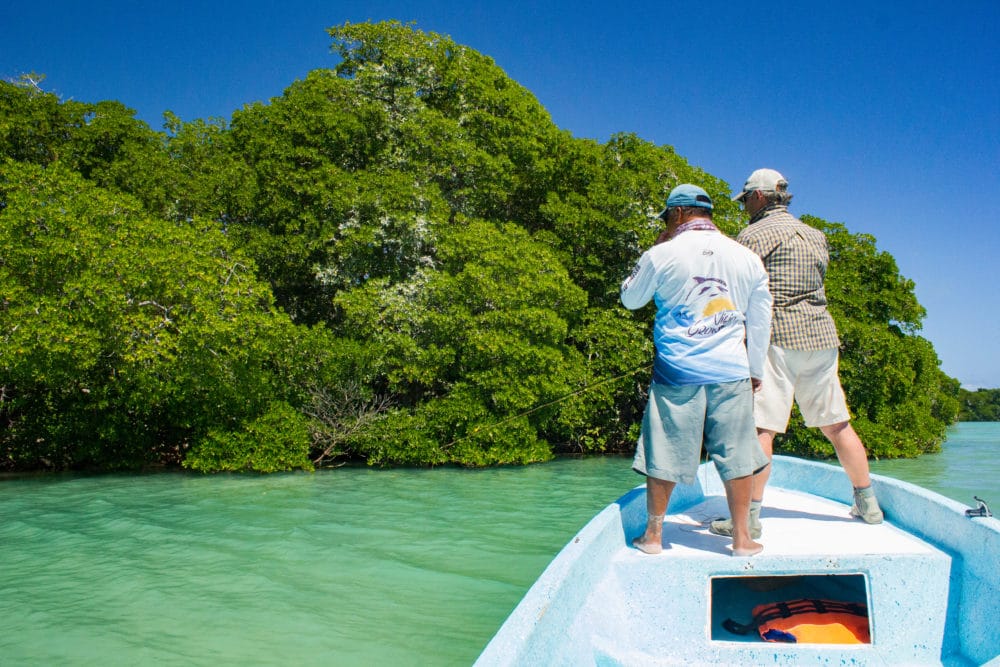 Once again, teamed up with Irvin, Miguel and Pablo, our plan for the day was to try and hunt out a permit. As with much of Mexico and the Carbbean, those keen to search for permit will be better placed by looking for them in the mornings. This is because you will often be able to pole the boat, or wade, with both the sun and the prevailing winds at your back. This does not make it an easy quest but certainly helps.
Irvin was up first, as we drifted into position on the southern side of a series of long islands in the centre of Ascension Bay, Mexico. The water is around 6 to 8 feet deep running over a mix of sand, turtle grass and some coral patches. As you pole along your eyes scan for any movement near the surface, for the permit here are travelling between feeding areas and do so by travelling near the surface. It was moments before the first permit appeared, and then more and more. In all we probably had about 10 shots on that first drift, as with permit anywhere they often appeared in the wrong place, the fly landed in the wrong place or the fish simply ignored us…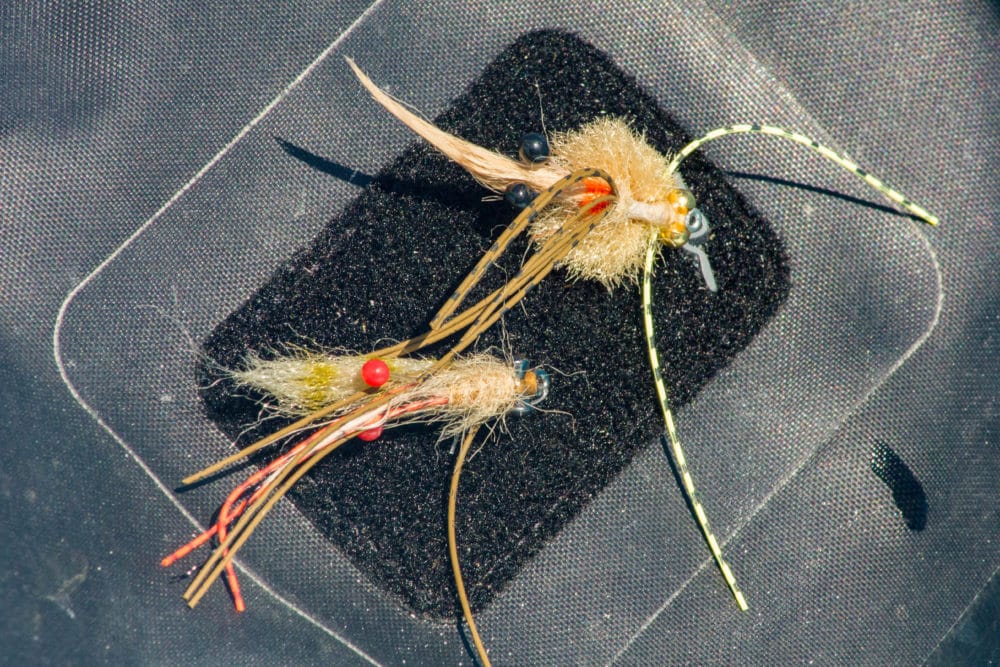 With so much activity on the one flat we decided to drift over it again, this time it was my chance up front. It was as if we were in a different location, a half hour went by without a single fish appearing. My eyes continued to scan, and then the shout of "palometa" came. Spinning round I saw the linear grey back closing in on the boat at a rate of knots. First cast was 30 feet, at which point the fish responded to the fly by going deeper, in my head I thought it was spooked. Casting again, now 20 feet, I let the fly sink to the permit. Its eyes lit up, its focus sharpened, and its pace increased towards my offering. One long strip and I felt the tension as fisher, fly and fish made contact, with just inches of fly line outside of the rod tip.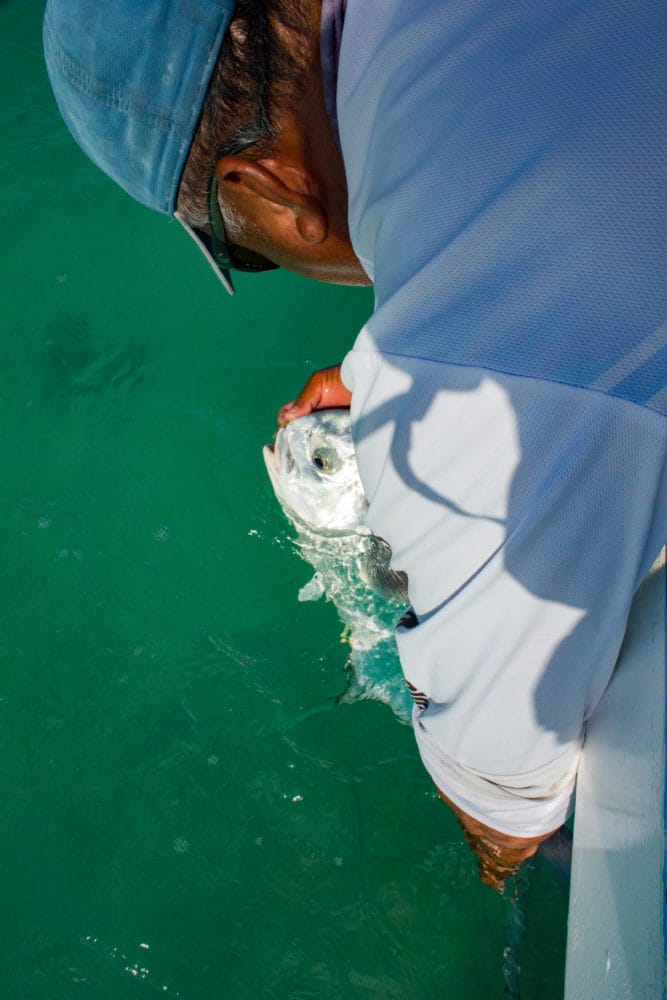 Within seconds all my loose fly line was out of the rod tip and the reel was spinning at velocity. The guides chuckled to themselves, dropped anchor and took a seat – clearly preparing for a long battle. The tussle was now taking place with 200 yards of open water between us, gaining 10 turns before losing them again. Slowly but surely I began to gain ground, and the fish approached the boat. Rather than getting easier, the nerves began to take over – like a cricket batsman entering the nervous 90s! Line, leader and pressure all stood strong and eventually we had this prized fish to hand.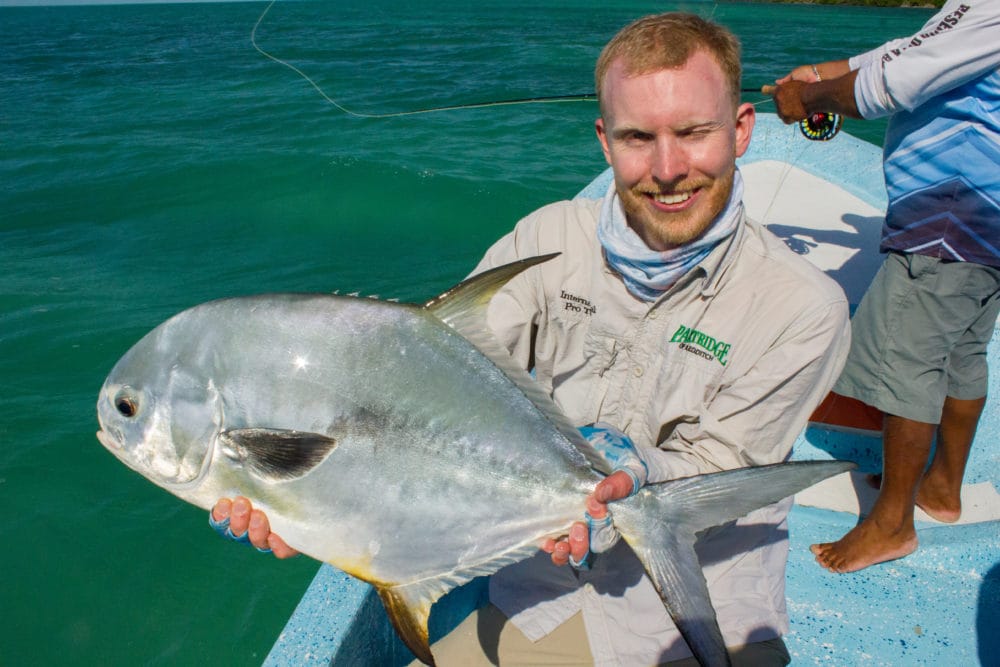 The subsequent drifts had us see more permit, but few were quite as obliging as the one we landed. With the morning now behind us and hearty lunch taken on board we decided to once again wade for bonefish, this time in the sandy lagoons at the entrance to the Santa Rosa lagoon system. These lagoons were filled with hungry bonefish enjoying the high spring tides, and the fresh feeding grounds that become available at these times. Glistening tails and grey shadows could be regularly spotted.
They were again ultra-spooky, and it was easy to see why, small lemon shark patrolled the slightly deeper parts of the flat looking for any wayward bonefish to make a wrong move. That said, in patches where the fish were feeding well, with a well-placed and delicate cast they were very attainable.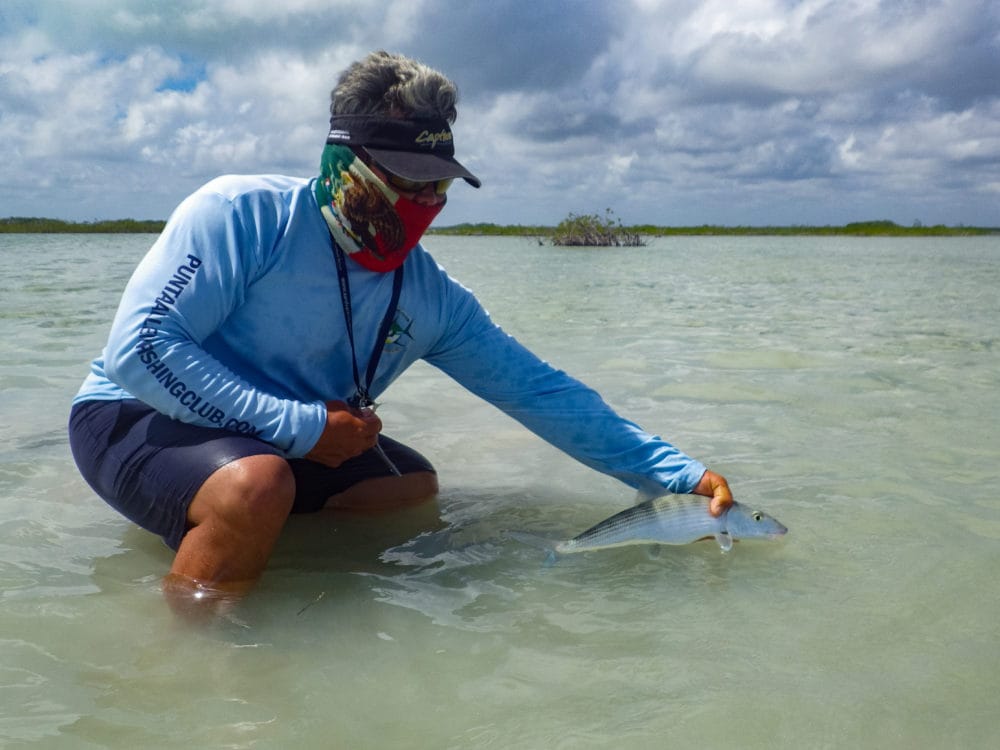 As with the whole week in Mexico, we returned that evening to the attentive lodge staff who would be ready to greet us back with big smiles and cold drinks. Followed by plentiful nibbles and fantastic Mexican-inspired dinners. Some homemade spiced rum would usually appear towards the end of the evening and then it was just a case of navigating safely back to our rooms.
Indulgences in food and alcohol never seem to have as much impact when on a fishing trip, and without fail the group would assemble with joyful smiles in time for breakfast each morning.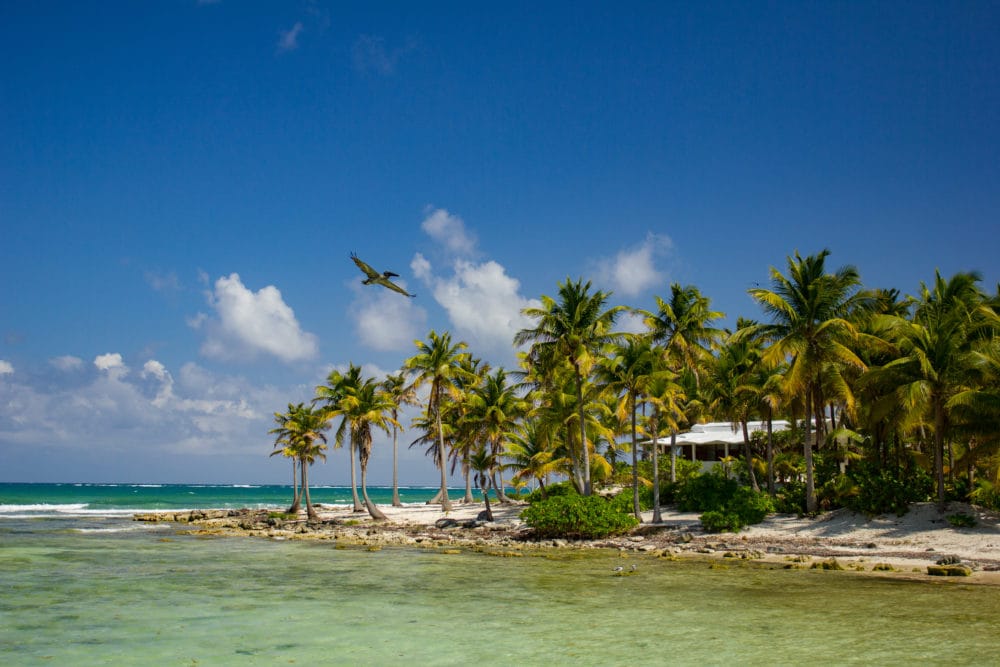 The third day on the flats I had decided to visit two lodges further south (Casa and Playa Blanca) thus leaving the group to take on the fish of Ascension Bay by themselves. I returned to stories of good numbers of bonefish, a snook to Dave and then the retelling (with props) of a missed permit opportunity for Greg. The prop being a fairly mangled looking shrimp pattern where the dumbbell eyes had been crunched in half!
Looking at a permit on the outside, you may wonder how it could crush metal dumbbells with its rubbery mouth. But towards the back of the mouth, permit have a series of granular teeth on its tongue that have the sole purpose of crunching molluscs. Greg's story is certainly not the first and definitely will not be the last as these infuriating fish have perfected the art of eating a fly without an angler knowing.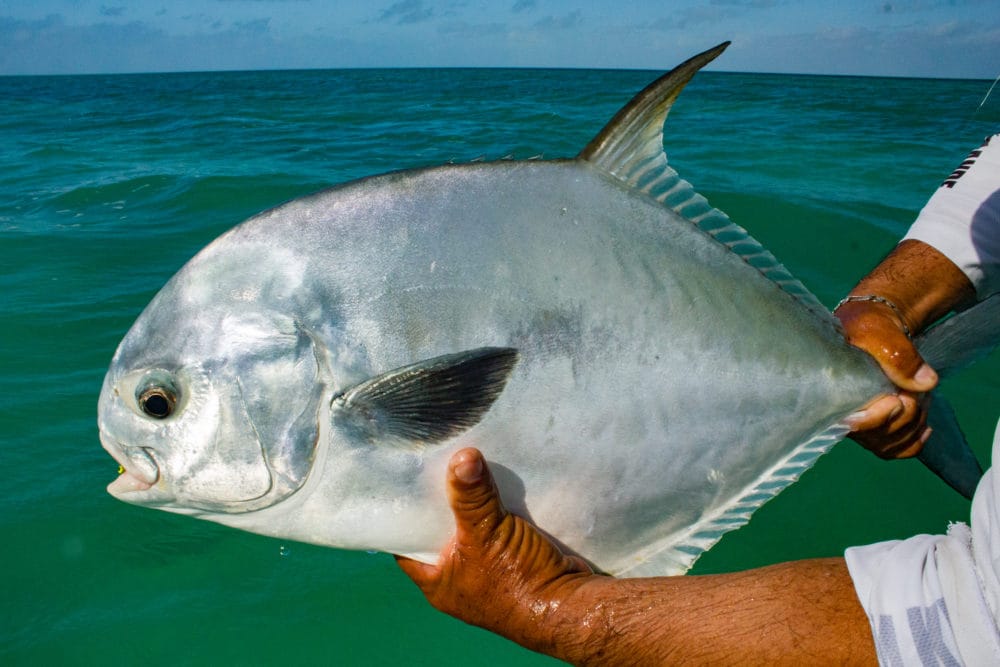 Unable to go whole day without making a cast, on returning to Punta Allen in the afternoon, I grabbed my bonefish rod and headed to the main beach in town. In between piers, new and old, and dodging holidaymakers it was possible to make out tailing bonefish right in the breaking waves. Whilst they were feeding hard they were next to impossible and eventually I retired empty handed, maybe next time…
Now halfway through the week, knots were checked, flies changed and minds refocused for the final fishing days. The morning I headed out with Irvin, Xavier and Tommy in search of big barracuda with spinning tackle. We searched the outer edge of Ascension Bay, locating small blue holes where baitfish and predators like to hang out.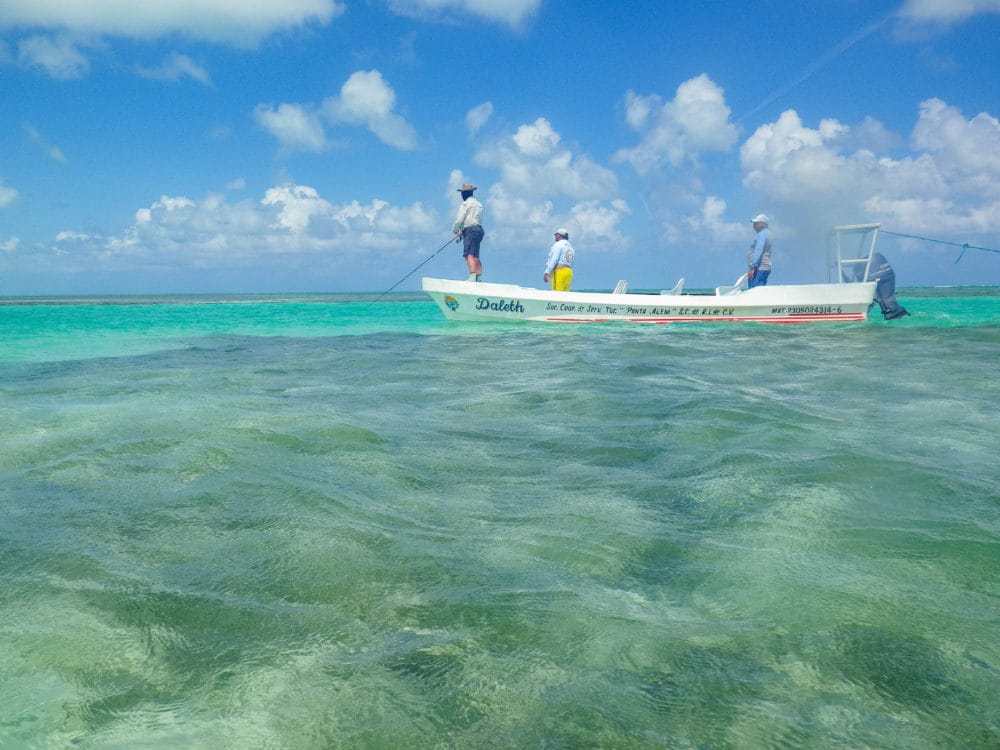 Action was slow until we found a deep edge running along a mangrove island, before long there was a huge surface explosion. Soon there was a big barracuda tail walking and cartwheeling across the surface, but then bang. The line snapped!
Not to be deterred, we re-rigged and got going again. Finding a nice channel between two shallow flats, I left Irvin to plug away as I went on foot in search of some bones. As I stalked away I could hear calls from the boat as Irvin found a shoal of aggressive jacks keen to smash the lures.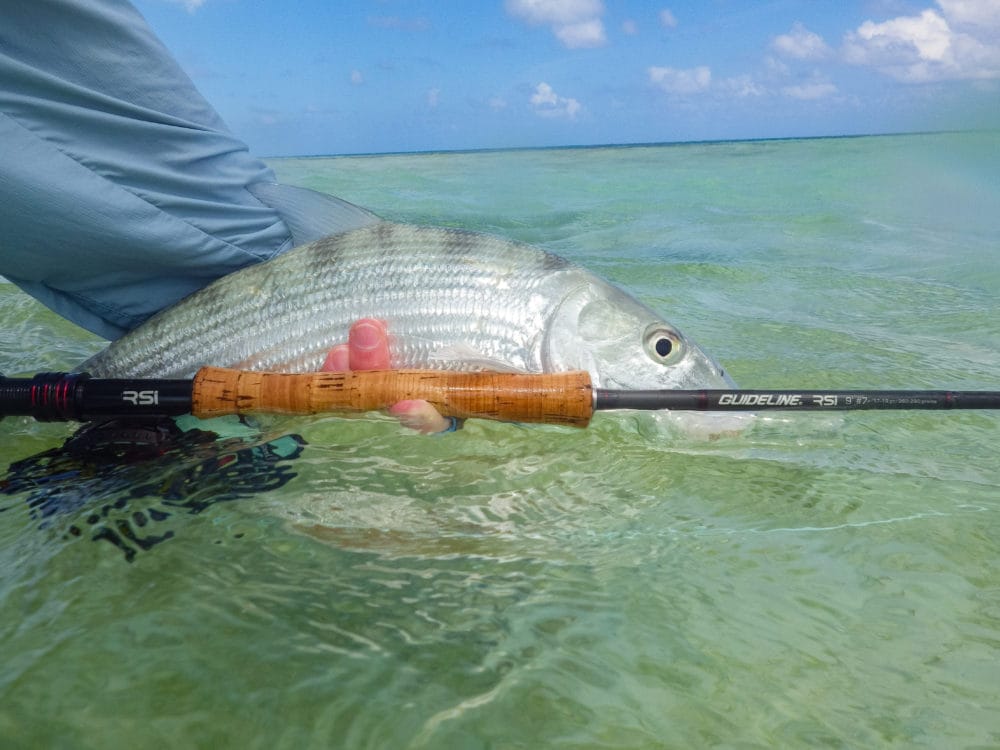 Being on the outer edge of Ascension Bay the flat, whilst barely more than ankle deep, had small waves being swept across the mix of turtle grass and white sand. The waves made spotting fish very difficult, and before long I had sent a small shoal scattering in all directions. Now more in tune with the flat and the way the fish were moving across I located more shoals, in the shallow water I had to almost crawl along on my knees to keep a low profile. This new approach brought immediate success and I soon was able to land and release half a dozen bones before attracting the attention of some small sharks who were keen to see what the splashing was about.
Returning to the lodge there were tales of woe as one big permit had eaten but not set, and another had been lost after a 10 minute battle. That said the group had managed to land a small permit, a snook, jumped a baby tarpon and landed a good number of bonefish.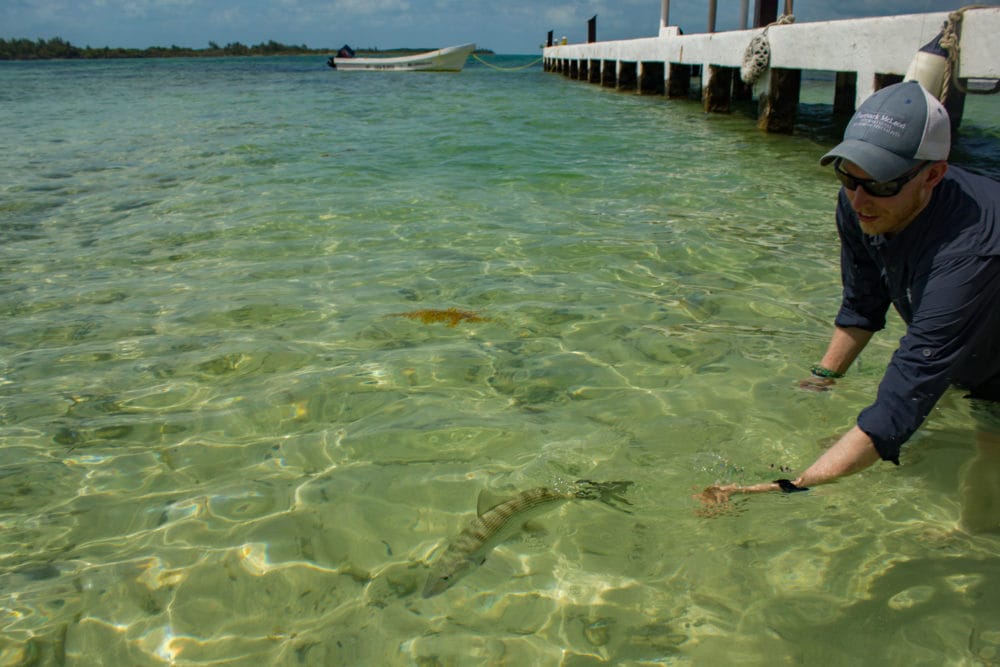 Now with the trip to Mexico drawing to a close I headed back out for permit on Day five, but this time the wind had picked up causing the ocean swell to push across Ascension Bay. This made the morning running rather bumpy as we headed south, and despite the bright sun it made spotting very difficult. There were a couple of fleeting shots before we decided to wade a little for bonefish.
The bonefish we found would come in extremely hot on the fly, only to refuse the offering right at the last minute. After a quick couple of fly changes, we selected an almost white winged Gotcha that did the trick on the pristine white sand.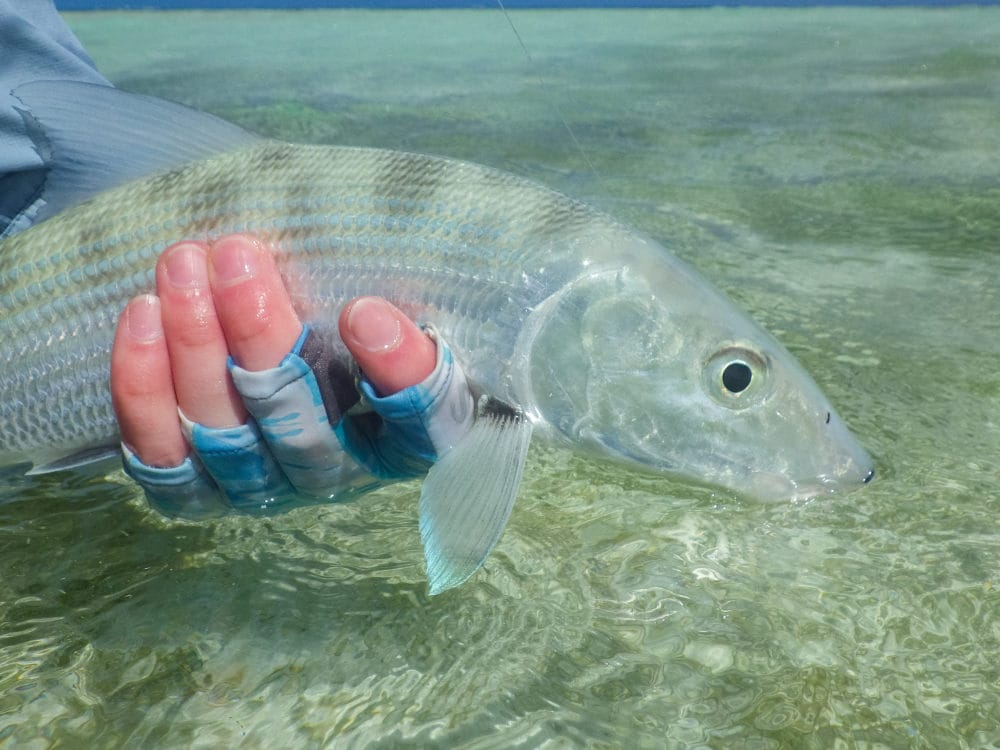 We wanted to give the permit one last shot before heading back to the lodge so we went on a long poled drift, along the way we had a couple of quick permit shots both showing little interest in the fly. We kept going, and into view came a 'V' wave about 100 yards off, it was moving fast. Readying myself the excitement was thrilling. We then watched as the biggest permit I have ever seen sailed past the boat outside of casting range and continued travelling into the distance and beyond.
The story back at the lodge that evening was much the same, plenty of bonefish landed and permit seen both from the boats and also whilst wading but none landed.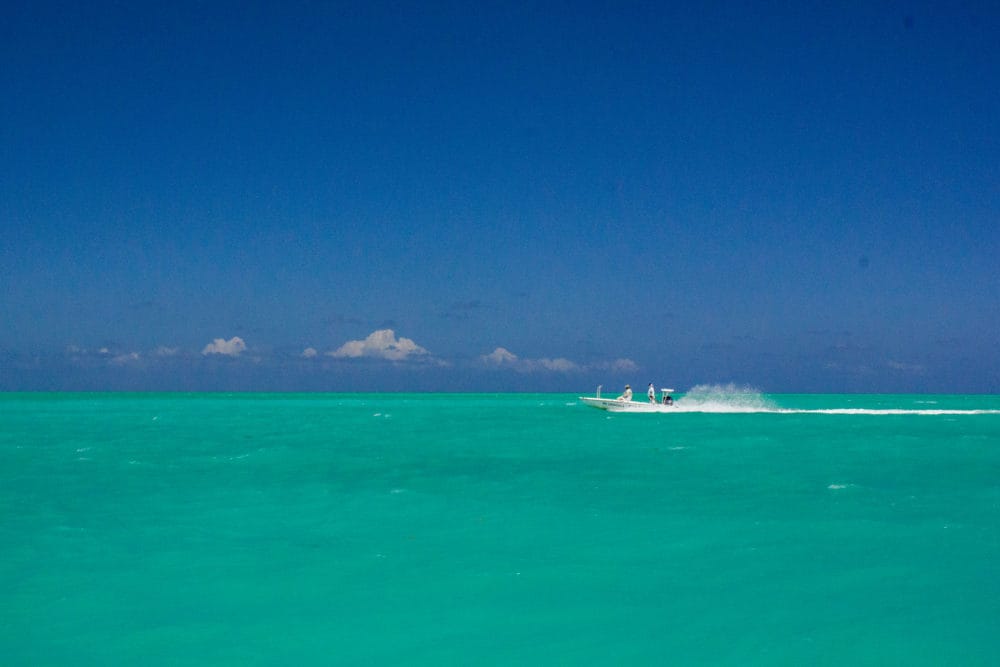 In the blink of an eye, and barely touching the surface of Ascension Bay again, our last day in Mexico was upon us. One last chance to find permit, bonefish, tarpon, snook and anything else that may swim our way.
The morning was again spent searching for permit way into Ascension Bay, but are searches proved fruitless apart from for a couple of lone bonefish that we hooked. Wanting to feel feet against sand we set off on a couple of short wades, at one point finding a huge shoal of small bonefish. We had a few minutes of fun before Dave hooked into a bonefish that was promptly eaten by a big barracuda, which then turned and swam off with bonefish, leader and the tip of the fly line!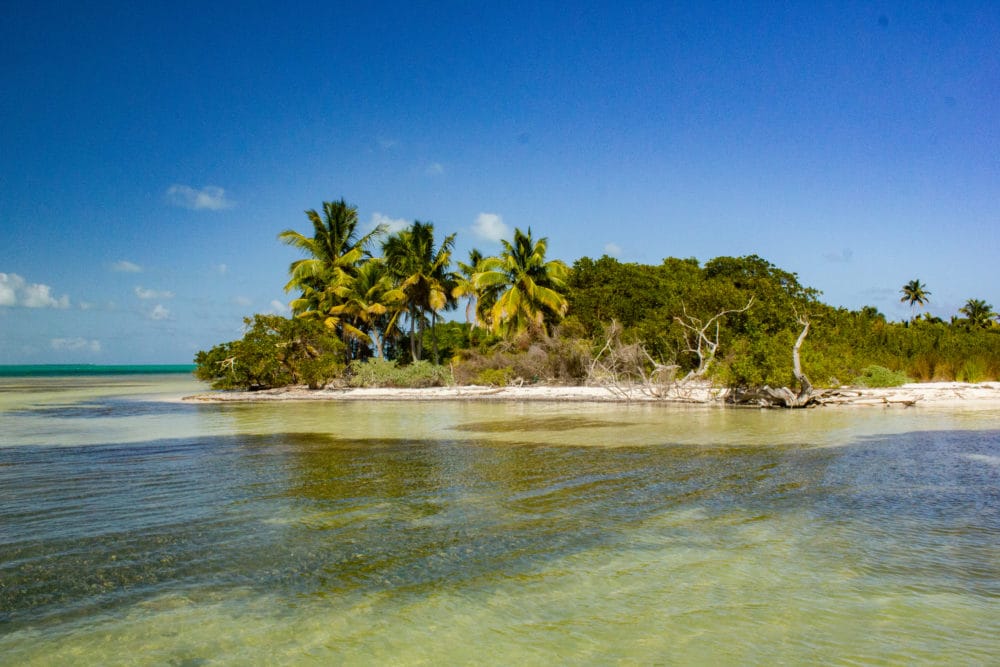 Before we knew it, lunchtime had come and we quickly ate through another tasty selection in the boat and headed off in search of more fish. We were onto our last wade, a notorious bonefish spot where the bigger fish come to feed, surrounded by deeper water the small flats gets churned up by multiple currents meeting in one spot – prime feeding grounds.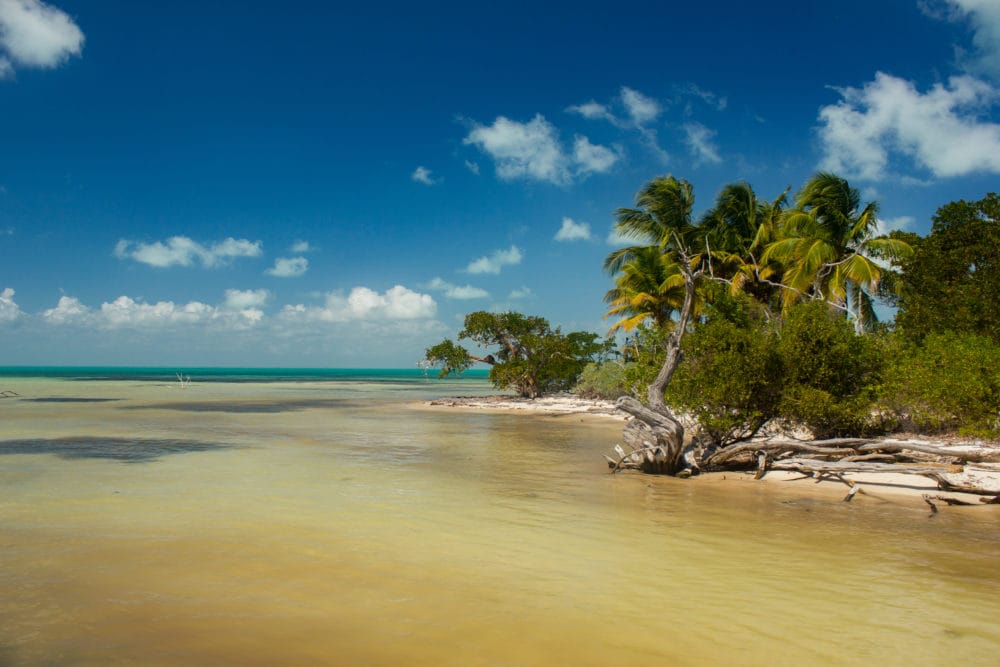 The water was milky in parts making spotting challenging, but from time to time grey shadows would weave in and out. Stalking, step by step, both Dave and I had good shots but the fish were wary to our efforts. We split up to fish the final edges of the flat.
On my side I found a small pocket of white sand, half in and half out of the water, and sat right on it was a good bonefish feeding feverishly, often with its back and tail well clear of the water. I called out to Dave to come and have a go. His first cast was a little off target and the fish ignored us and carried on burying for food. Another shot, this time in the zone. The fish slid slightly the wrong way, only to spin round, it then saw the fly move and almost beached itself to chase it down. The tail twitched and the line drew tight. Soon the reel was singing as the fish disappeared off into deeper water. Eventually the lovely bonefish was brought to hand, photographed quickly and sent back on its way.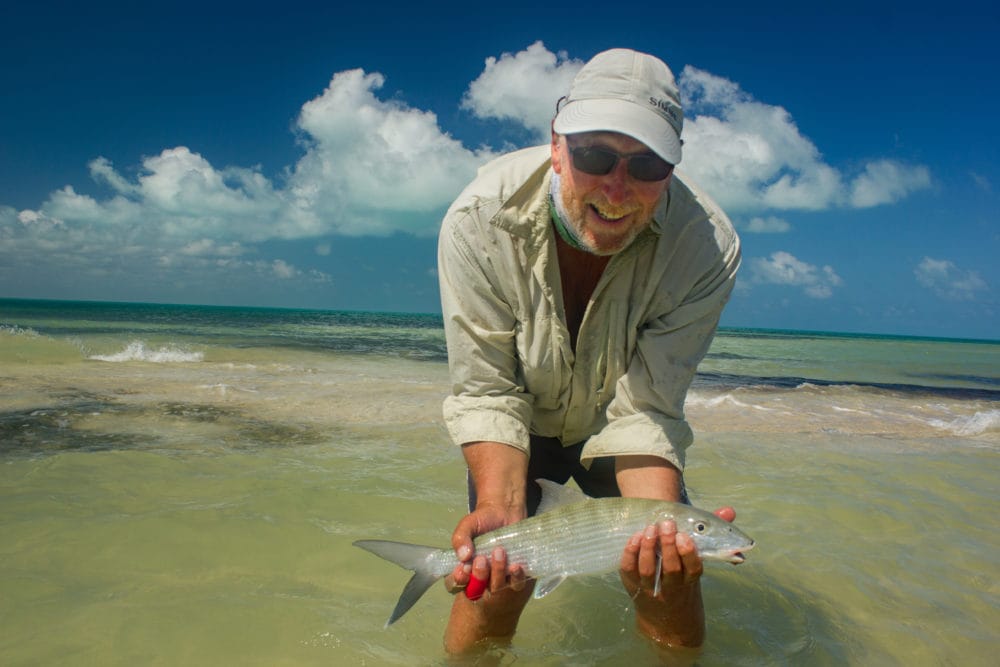 As if to give us one final wave farewell, and osprey dived right in front of us to grab a small snapper and a large ray jumped clear into the air in the deeper water.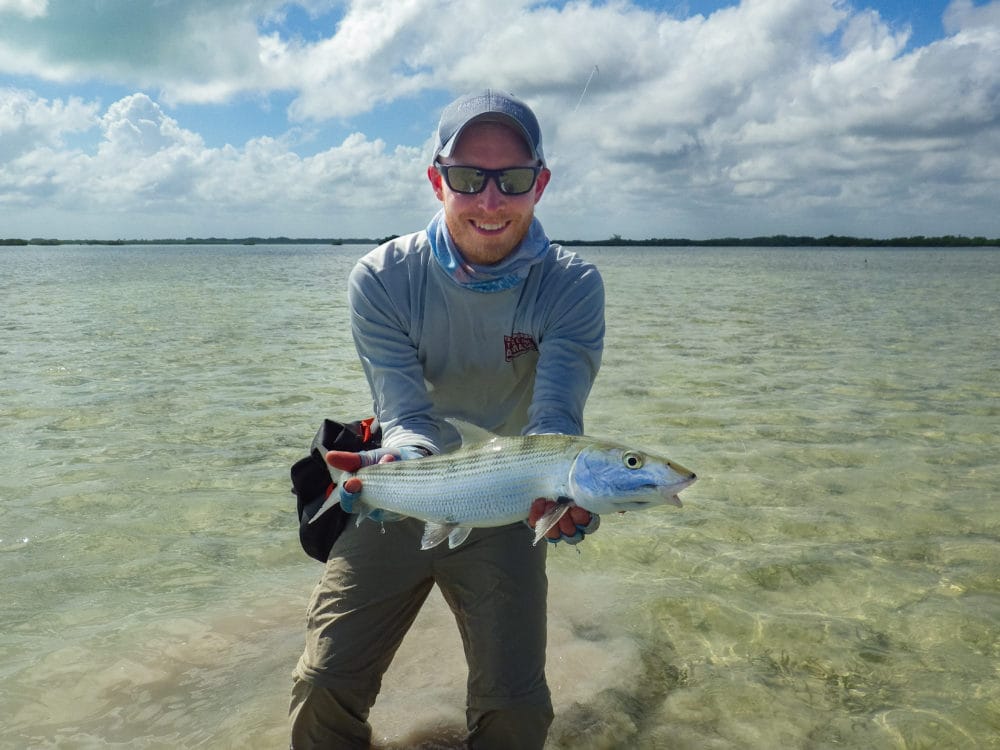 The final day had again brought mix fortunes to the group, permit shots, one small one landed, more bonefish and a chance to drink more spiced rum. A huge thank you to the whole team at Punta Allen Fishing Club for another very enjoyable week's fishing in Mexico.
We are looking to head back to Punta Allen Fishing Club, Mexico in March 2020, if you would like more details on this week or the destination as a whole please contact Alex Jardine or call our office on +44(0)1980 847389.