Fly fishing the Minnivallalaekur River in Iceland offers the chance to target huge brown trout with dry flies, nymphs and streamers.
If the prospect of having a lodge and river all to yourself for just £300 per day per person appeals to you, then look no further than the Minnivallalaekur (Minni) in Iceland.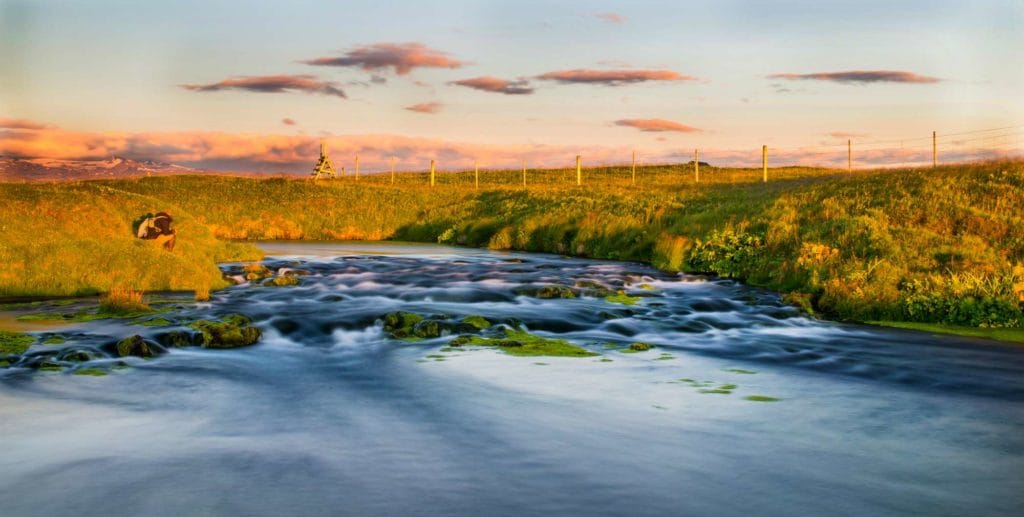 You have will have private and exclusive use of the lodge, which is set literally metres from the river. The lodge is well equipped, complete with a fantastic kitchen, large living room overlooking the river, and a wrapping decking area complete with hot-tub. There is also a barbecue for you to use, should you wish to cook alfresco. Non-anglers will enjoy the lodge and experience as much as the anglers, with plenty to see and visit within the area; Mount Heckla overlooks the river and you are within fifteen minutes' drive of the nearest town, Hella.
The fishing can be nothing short of fantastic. It is a dry fly angler's dream river. Think quality over quantity, with several wild brown trout of over 10 lbs caught every season. This is not an easy river, with the inexperienced finding it tough going. However, for those used to approaching big, solitary fish you will be in heaven. A good day would be 2-3 trout per angler, as there is often a lot of watching and working out how best to approach your target before wetting a line. This is also best done in tandem with a friend; very much akin to New-Zealand. The reward is very much worth the effort and these are some of the hardest fighting trout you will ever hook.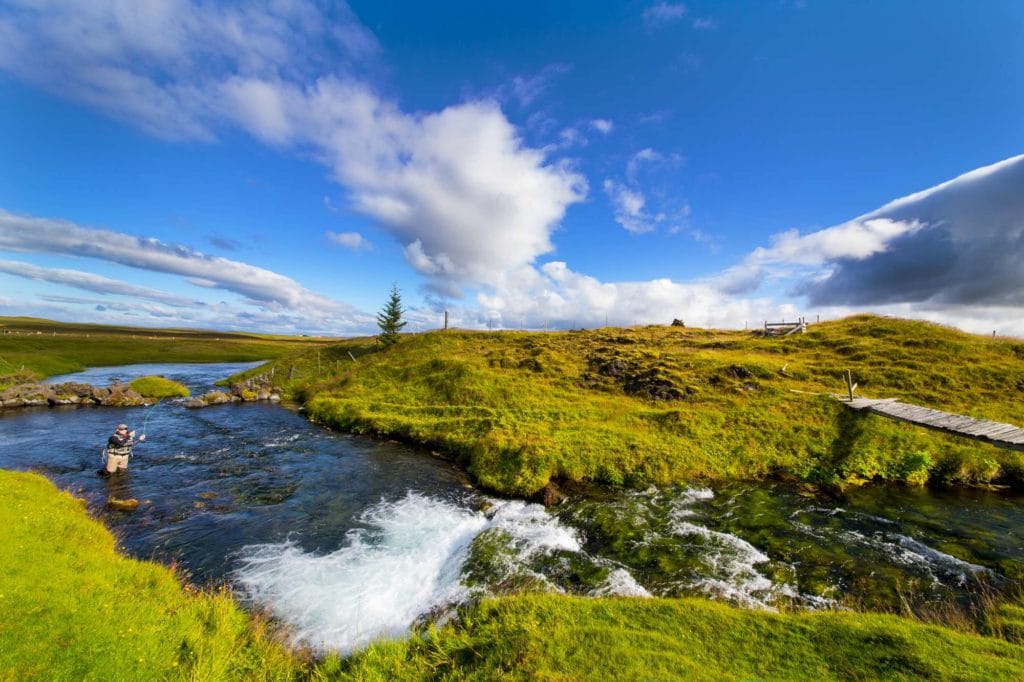 July and August would be regarded as prime-time for the river, as this is when the dry-fly fishing will be at its best. We are pleased to announce that we have some fantastic availability during this window, listed as follows:
2021 AVAILABILITY:
Good availability in July and August.
Please contact us for the latest availability this season. There is a minimum stay of 3 nights, but no parameters beyond that. If you would like to explore earlier/later dates please make contact.
COST
The lodge and river are taken exclusively for up to four rods, who will all have a private room at the lodge. You will have the river and lodge all to yourself. the cost is £1,200 per day, or just £300 per day per rod.
The lodge is self-catering, but is very well equipped with everything one would expect and need to find in a kitchen.
There are no transfers included in this price. These can be arranged, but the river is easily reached from Reykjavik within two hours drive. As such, car rental is advised for those looking to keep costs down. There is no need to hire a four-wheel drive vehicle; the roads are good and even the one along the river can be navigated with a standard car if care is taken.
Guiding can also be arranged and this is advisable for at least the fist day. This can be arranged accordingly for you.
For more information please email Alex Jardine or phone 01980 847 389.