The Mongolian government has announced that its borders will be open to international travel from 1st May 2021. Specific procedures and requirements for entry have not yet been released, but we hope to have more information soon. This is excellent news for anglers looking to make the most of some of the excellent autumn space currently available.
Over the past few years, the taimen fishing in Mongolia has continued to improve. Much of this is due to the continued hard work from local communities and conservationists. Along with taimen the Mongolian operations also offer excellent fly fishing for lenok trout, grayling, Amur pike and Amur trout.
The Mongolian trips fill up quickly, and there are limited spaces for the next two seasons. Now is the time to look at 2021 & 2022 dates to secure your preferred week, please see the various camps and prices below (please note all costs exclude international flights and gratuities):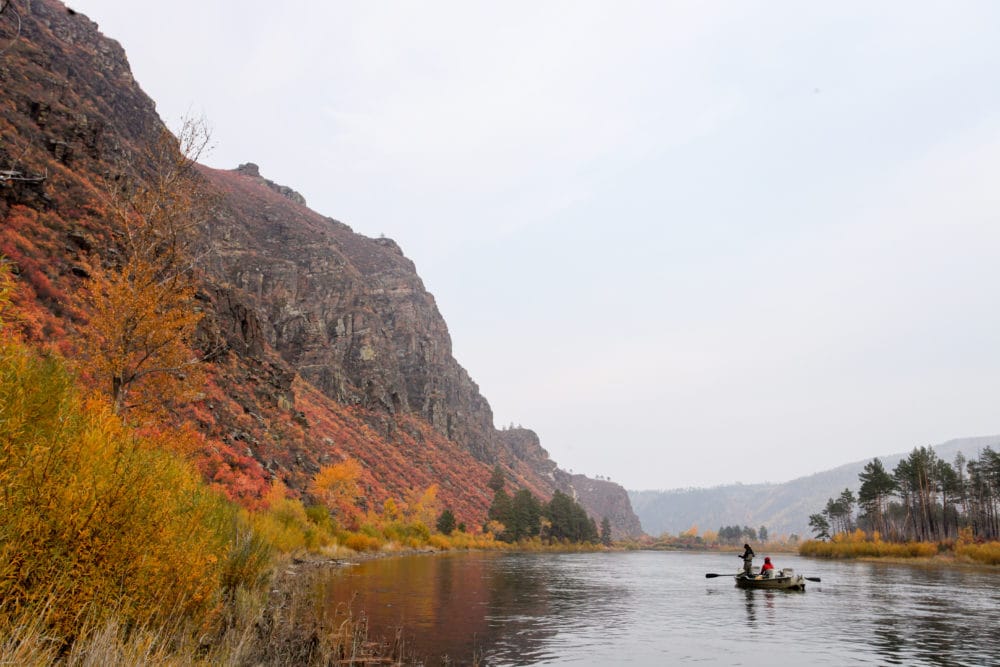 Mongolian River Outfitters have such a vast conservation area of prime taimen water that they have designed two float options that allow anglers to fish great water while resting large areas to avoid over fishing. Firstly, the Upper River Adventure; this is the classic MRO journey, great comfort, six days fishing and new water daily. Secondly, the Lower River Expedition; this float trip accesses a very beautiful and remote stretch of the river. Seven days fishing, new water daily and accommodation in a cosy ger camp and comfortable tented camps. As well as the taimen and lenok trout the river is also home to amur pike and amur trout.
2021 Season
10 – 18 September (Upper): 1 rods
16 – 26 September (Lower): 3 rods
17 – 25 September (Upper): 4 rods
24 September – 2 October (Upper): 2 rods
30 September – 10 October (Lower): 5 rods
1 – 9 October (Upper): 7 rods
7 – 17 October (Lower): 5 rods
8 – 17 October (Upper): 2 rods
15 – 24 October (Upper): 6 rods
2021 Cost: US$6,950 per person.
2022 Season
2 – 12 September (Lower): 1 rods
17 – 25 September (Upper): 7 rods
24 September – 2 October (Upper): 6 rods
23 September – 3 October (Lower): 7 rods
30 September – 10 October (Lower): 6 rods
1 – 9 October (Upper): 8 rods
7 – 17 October (Lower): 8 rods
8 – 17 October (Upper): 2 rods
15 – 24 October (Upper): 6 rods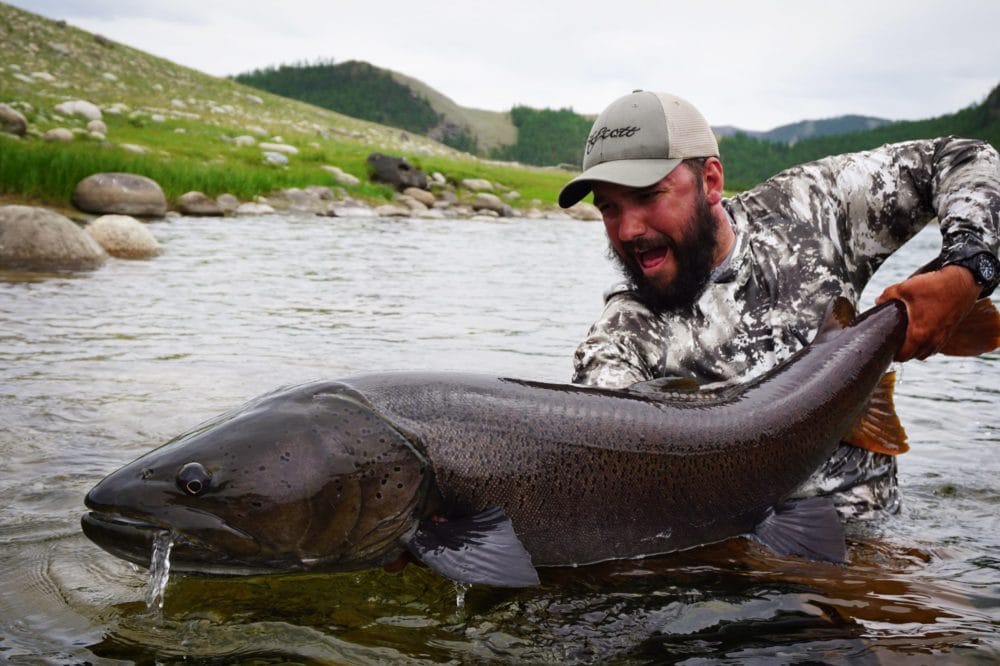 The Delger River flows through western Mongolia, a beautiful freestone river shadowed by limestone and granite cliffs rising hundreds of feet above the river. Steep gorges filled with larch and birch forests cascade towards the valley floor. Extremely large taimen lie in wait within the easily negotiated rapids and rock gardens. Banks covered with willows give way to deep pools, sparkling braids and wide gravel bars. Numerous lenok trout lie in wait for a big dry fly to float by and offer tremendous light tackle sport. The float trip offers you an incredible experience as you raft down covering new water each day. Each night you are based in comfortable ger camps set up in different locations along the river.
2022 Season
22 June – 1 July 1 rod
26 June – 5 July: 4 rods
14 – 23 July: 4 rods
19 – 18 July: 4 rods
28 July – 6 August: 4 rods
1 – 10 August: 6 rods
6 -15 August: 4 rod
15 – 24 August 2 rods
19 – 28 August 6 rods
24 August – 2 September
The guides call this place "The Temple". The river here is extremely isolated and strikingly beautiful. Steep, forested walls frame the boulder filled stream. The high-country river is very well protected and holds ancient taimen that rarely see a fly. The Headwaters Expedition is about quality, not quantity. You fish meticulously, quietly walk/wading accompanied by a professional guide. There are some enormous fish in these waters. When the river is clear, there are opportunities to sight fish for extremely large taimen reaching sixty-inches. The trout fishing is generally spectacular. This is a more rugged and adventurous trip requiring a good level of fitness. Most of the trips also require a basic knowledge of horse riding but the trip can be organised without.
2022 Season
15 – 24 June: 1 rods
21 -30 July: 4 Rods
30 July – 8 August: 4 Rods
8 – 17 August: 4 Rods
17 – 29 August: 4 Rods
Located in the Khövsgöl region of Northern Mongolia, the Sweetwater operation created the World's first taimen conservation project, working with the local communities to protect this truly incredible fish. The ger camp is situated on the banks of the river and is your base while you explore the Eg-Ur watershed by motorised boats each day. As with all the operations, most of the fishing for taimen is done with dry flies, including big mouse imitations, as taimen love to attack a skated dry fly.
2021 / 2022 Season
Availability upon request.
Please note that due to the limited number of rods space can change quickly and some rods may no longer be available.
For more information on fly fishing trips in Mongolia please contact Alex Jardine or call our office on +44(0)1980 847389.