I have just returned back from the wilds of Outer Mongolia where myself and a small team have just completed a float trip of the Delger-Muron River. I had read everything I could get my hands on in preparation for this trip and these pre historic fish, but nothing prepared me for what an incredibly beautiful country it is. The travel was actually quite painless using Aeroflot via Moscow on their fleet of new Airbus 320 aircraft. After a brief cultural overnight in Ulaanbaatar and a small internal flight to the northern town of Muron we found our selves rumbling over the Mongolian Steppe in a pair of Land Cruisers.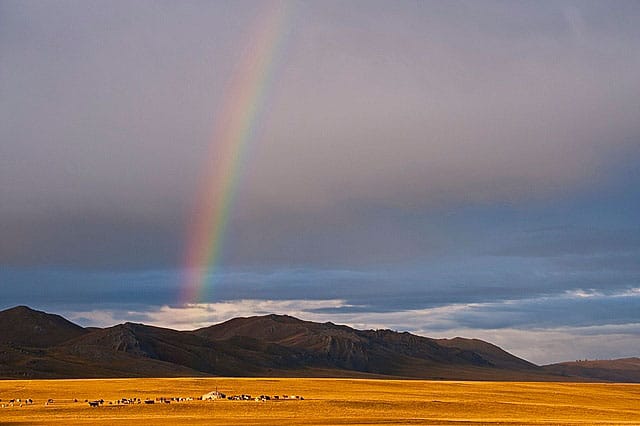 The first night we spent at Fish Mongolia's fixed ger camp on the Delger-Muron River, and I had to pinch myself that we were there. Poking my head out of the ger in the morning revealed an incredible vista with breathtaking scenery. While our merry band hit the river for the first time the boats were prepared by the crew. Although this was to be a float trip, Andy Parkinson has refined the experience in the extreme over his years of experience fishing this river. We were to cover approximately 40 km of river over the following six days, and no detail had been left out. The equipment boats would carry all the tents, food and accessories, and by the time we reached each camp site in the evening fires were lit, tents had been erected and dinner was well on the way. There was nothing for us to do except have a drink, and sit around the fire swapping stories of the days events.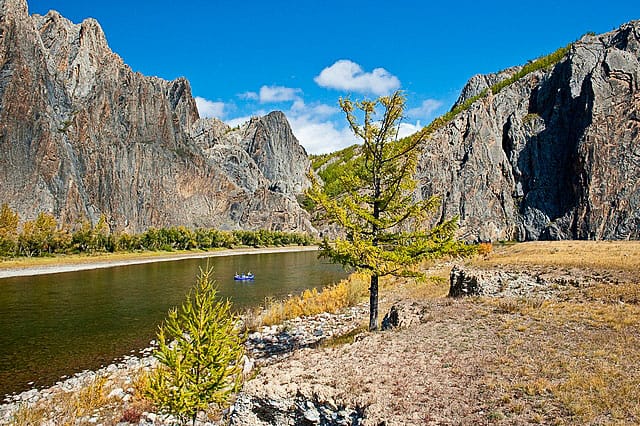 Taimen, for those that have not come across this species before, are prehistoric ancestors of salmon and trout species and can grow in excess of 60lbs. They are an aggressive predatory fish whose main diet consists of lenok, grayling, mice, steppe squirrels and even marmots if they swim the river. They are a territorial species and in someway behave a little like pike. To find fish of this size living in such an incredibly beautiful river is mind blowing. Although our primary target was taimen, what I had not been prepared for was the eager lenok and grayling in the river. These were fantastic sport and I actually would do the trip just for them. The biggest we landed was 8 lbs or so, and they would readily take dry flies and nymphs – Chernobyl ants and stonefly patterns being the most productive. The lenok are dogged fighters and on light tackle will give you quite a fight. The grayling are beautifully marked with yellow bellies and blue fins.
The first couple of days produced large temperature fluctuations, and on the second morning we awoke to find a fresh covering of several inches of snow. I suppose on any normal expedition this might have been a downer, but the fires were lit and Tolga, our human dynamo of a chef, already had a full English breakfast ready for us. At this point our main weapons of attack were two handed rods and large streamer patterns to get down to the fish, but by lunch time the sun was out, the snow had all gone and it was back to shirt sleeves. Taimen are affected by temperature fluctuations, and although we knew they were present in the pools we were fishing over only a couple had been caught at this stage.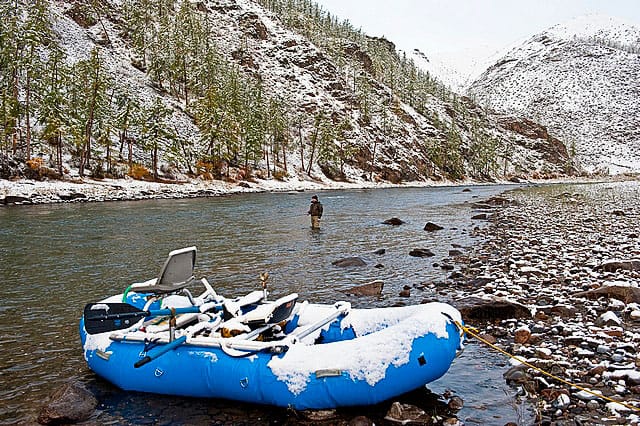 On most days we fished from the bank only using the rafts to move from pool to pool, fishing along the way. On the third day I took a turn at the oars of the raft with my brother Alex in the hotseat on the front. I manoeuvred us down a set of rapids and into a long slow pool. Alex was using a single handed 9 weight with a tan gurgler as a fly. This pattern is large and creates a spray of water as it is popped across the surface. As we drifted down the pool I spotted a long dark shape hanging off one of the boulders. Even though I had not actually seen a taimen lying in the water it looked very fish like. Andy confirmed it was a fish and as I began to frantically back row Alex threw a cast that swung the gurgler across its nose. The fish very lazily swam along its line of travel now directly below the boat before turning off much to our frustration. Alex popped the fly a couple of times and unbelievably the fish turned back and opened its huge mouth sucking the fly in.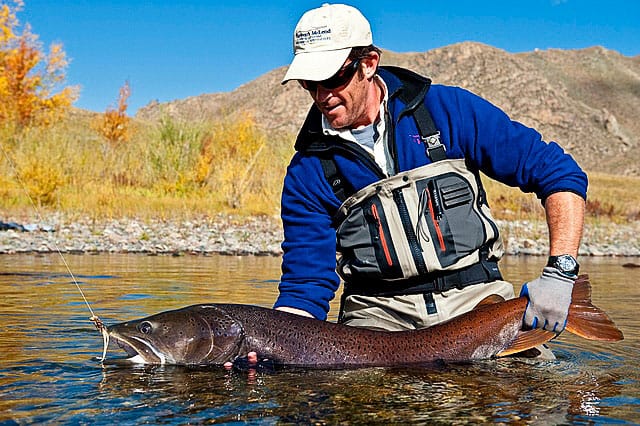 Alex struck and the fight was on. The fish moved back across the pool, relatively un- perturbed that it was now towing an angler and a raft, and I rowed us to shore so that Alex could continue the fight from the bank. His rod was bent double as he slowly began to work the taimen into the shallows. All of us actually kept remarkably quiet at this point, almost holding our breaths that we may land this monster. Andy offered encouraging instruction to Alex as the fish loomed closer and closer to the shore and retrieved the landing sling from the boat. He slowly moved up behind it, but as soon as it saw him the taimen realised that something was not exactly right here and began to thrash madly on the surface. It reminded me of a tarpon when it makes that gill rattling shake of the head and I just prayed it would remain attached. After a slow run across the pool Alex managed to bring it back to the shore and after a brief battle Andy and Tudve, our assistant guide, slid the fish into the sling and quickly clamped the ends shut. The elation on Alex's face said it all. He had been waiting for 23 years for this moment, and Andy measured the fish at 125 cm, approximately 35 – 40 lbs. What an awesome fish!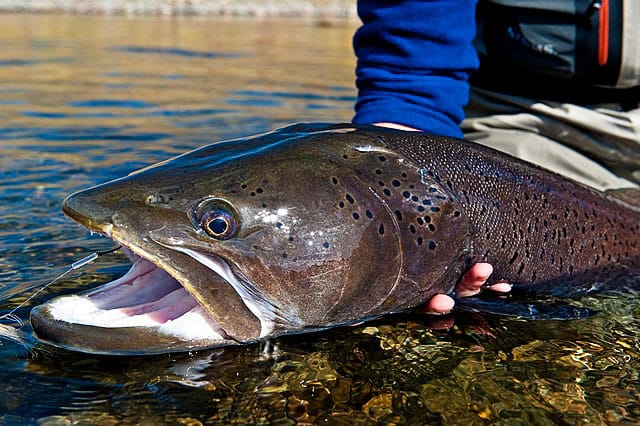 As the week progressed Ian Reilly and Stuart Forsyth both picked up a few more taimen each to good sizes, and in between all of us hammered the lenok and grayling. It was wonderful to intersperse fishing for taimen with these sporting fighters. On this trip I almost have to say that the fishing took second place to the experience of just being there. During the course of the week I only saw four other people, local herders checking on their horses or hunting marmots. The herders in this area lead the traditional life in their gers, looking after their herds of yaks, sheep and horses. It is incredible to see people still living like this, and the temperatures they experience up here in winter command the utmost respect. You can easily see why this tough race of people once conquered over half of Asia.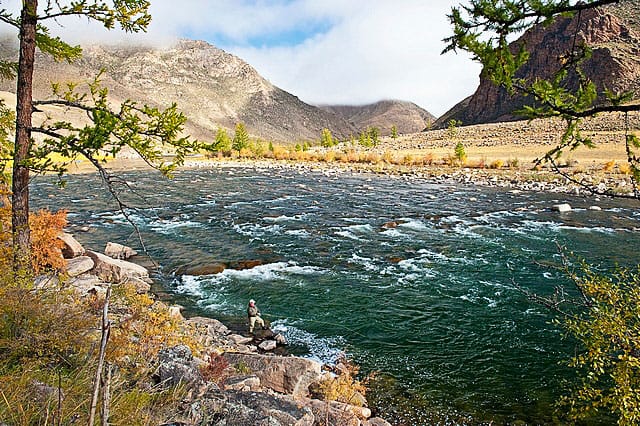 The Fish Mongolia operation is one of the slickest float trips any of us have experienced, and now that I am back I know I have found another country and river I am desperate to revisit. The season for fishing in Mongolia is June and September. The June weeks are normally warmer and have higher catch rates, but are more susceptible to heavy rains. The September weeks historically have caught fewer but larger fish as they put on fat for winter, and the autumn colours are magnificent. If you are looking for something completely different to do or just literally get away from it all I can not recommend this experience highly enough.