Early Autumn is a transition time on rivers and streams across Montana and some exciting options present themselves as nights get longer and water temps begin cooling down. Fishing is generally very good but is also less predictable depending on the prevailing weather pattern. Indian summer and hot days can result in some of the best terrestrial fishing of the season. Early cold fronts and low cloud ceiling overcast days bring a hint of fall fishing. Browns are just starting to gain their autumn colour and will soon be moving out of their lairs in preparation for the spawning runs in October. Some of the lower elevation waters that produced poor fishing in the summer turn on as water temperatures cool and levels rebound with the demands of irrigation water ending. Many of these trout have not seen flies since the middle of June. Although the lower reaches of rivers like the Madison, Yellowstone and Gallatin along with the Upper Missouri and lower Jefferson do not have high trout counts compared to the more famous sections farther upstream (or in the case of the Mo downstream below the dam) they often hold some nice trout. September also brings fewer anglers once holiday season winds down and the go to floats of the summer like the Upper Madison, Yellowstone and others see much less pressure and the trout start to drop their guard again.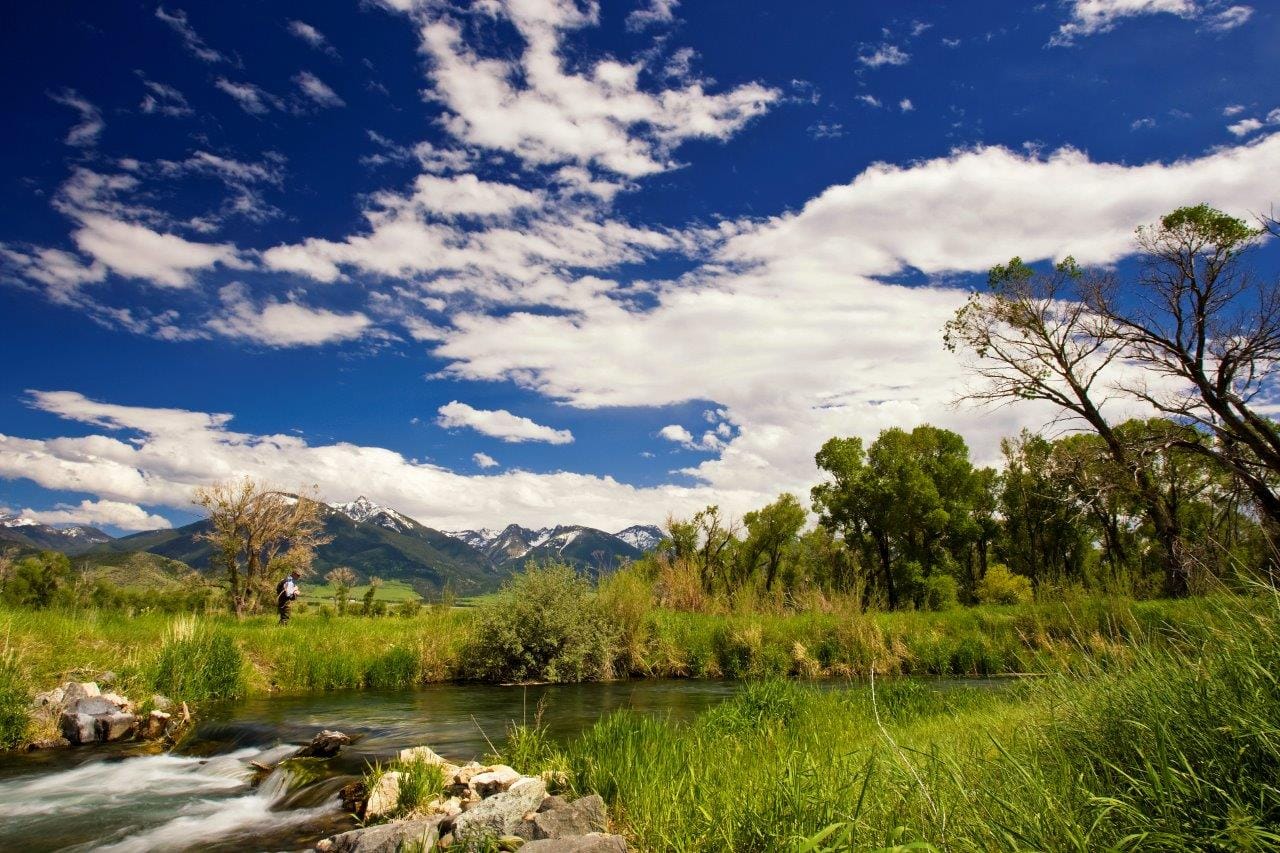 Generalities
Water levels are low and trout are hungry but spooky. In some cases flows will soon be increasing on rivers that receive a lot of irrigation now that the ditches are being turned off. In rivers above the irrigation they are mostly holding steady now at their base levels. Water temperatures are declining and even though some days are still very hot the nights are so much longer that the prolonged cooling affect when the sun goes down is bringing temperatures into the sweat spot. Almost all fisheries around the state are now an option from tiny meadow streams to low elevation waters. The lower reaches of rivers finally cool down again and the high mountain streams are still not so cold as to put trout in a deep freeze. The productive fishing hours are quickly transitioning to later in the day and getting out at the crack of dawn is not as important as it was just a few weeks ago. Fishing conditions are all over the place and vary by the day – some days they are looking for hoppers, other days small mayflies and nymphing is also productive. Streamer fishing is also getting better by the day as the big browns become unsettled before the spawn.
Hatches
Many of the aquatic hatches have run their course. There are still some late tricos on some waters and some mahogany duns and spinners are popping in the late afternoons and evenings. It is still a bit early for the baetis hatches but on some fisheries a few will start showing up soon on cloudy and rainy days.
Terrestrials are still very important across Montana. Hoppers are now mature and flying. The hopper fishing on the smaller meadow rivers continues to be very good and is day by day on the larger rivers depending on location and wind direction. On some rivers they aren't quite looking for them and on others the bite is very good. The quality of the "catching" over hoppers depends on the amount of pressure trout receive. They get pretty smart after they see a dozen foam hoppers a day so look for waters that see less anglers for the best hopper fishing. If you are targeting more popular fisheries you may have more luck with smaller terrestrials like small beetles and ants. In the mountains hoppers are less important but keep an eye out for spruce moths – they are flying in the mornings and trout love them. Ants are a favorite early fall option as well. Many species of ants produce large mating flights in the late summer and early fall and these can really get the trout moving for them.
Fly selection
Trout in most waters are much more opportunistic now that many of the aquatic hatch cycles have finished. The exceptions are if there is a strong hatch like the trico or callibaetis (lakes) on the water or perhaps a very windy day blowing lots of hoppers in. The reduction of aquatic hatches can be a good thing for the angler because trout are not as willing to move long distances when there is a strong hatch. For surface patterns nothing beats a hopper if you are on lightly fished waters. If you are on waters that see a lot of summer anglers then try more subtle patterns like ants and beetles. Mayflies are starting to become more important as the mahogany duns and a few others sprinkle off and sometimes fishing small wulffs and adams can be quite effective. For nymphing trout will start moving for a lot of sculpins but if nocturnal stones are around a size 6 rubber legs will still produce. For dropper nymphs try smaller patterns on more pressured waters. Although the beatis aren't hatching in force, they are an important food source for the trout as nymphs and small size 20 beatis emergers can be deadly this time of year. Smaller droppers and finer fluorocarbon tippet sometimes makes a difference but no need to drop to anything below 5x unless you are on a spring creek.
Reading water
Where the trout are holding will depend greatly on water temps. On the bigger waters where water is still warmer trout are still in the riffles but are not in the heaviest water like they were a week or so ago and they are already starting to drop back into the transition areas where the riffles meet the slower runs. As we move later into the fall and water temps continue to fall start to watch the slow slicks and big seams because as temps keep dropping trout will begin moving back into the softer water, slow seems and foam eddies.
For more information on fishing in Montana and the American West please contact Alex Jardine or call our office on +44(0)1980 847389.