Last year I heard the first rumours that a new Seychelles airline was in the pipeline, offering direct flights from Europe to Mahe.  News has been sparse since then but we recently received confirmation that the formal application for the proposed "Seychelles Airlines" has been submitted and accepted.  We wait to receive more details of the routes as another direct flight from mainland Europe or the UK is hugely anticipated.
Currently only Condor, flying once a week from Frankfurt, have a truly direct flight although on 1st July, Air Seychelles, in conjunction with its code share partner, Etihad, initiated their twice weekly 'direct' flight from Paris. Be aware that the flight does touch down in Abu Dhabi.  The flight arrival into Mahe at 1255 is too late to connect with some of the smaller inter-island flights but it is fine if you are heading to Praslin or Desroches or having a night or two to explore the Mahe itself.
We shall wait and see what Seychelles Airlines brings to the table but in the meantime, below are the two most recent press releases in relation to flights to Seychelles from Europe.
Seychelles Airlines submits formal application for air operator license
After some 37 years that Seychelles has had one national airline, Air Seychelles, flying the archipelago's name through the skies across the Indian Ocean to the African, European and Asian continents, a second airline bearing the Seychelles name has applied to the aviation authorities to start flying in the near future.  A private venture in the making for a little over a year, the 'Seychelles Airlines' submitted on Friday June 20 its formal application and all necessary documentations to the Seychelles Civil Aviation Authority (SCAA) for an Air Operator Certificate. Once this certificate is granted the new airline will be able to move on to apply for an Air Transport Licence from the Seychelles Ministry of Home Affairs and Transport. Responding to SNA's inquiry on the process to obtain an Air Operator Certificate, the CEO of Seychelles Aviation Authority, Gilbert Faure, said there are several steps involved and that he cannot specify exactly how long this will take.
In a press statement, the Chief Executive of the Seychelles Airlines, Ahmed Afif said "in the meantime Seychelles Airlines is putting in place all other aviation components to be ready for flight operations soon after obtaining its Air Transport License."  In a recent interview with SNA, Afif said the new airline is on track to start flying in the second half of this year as long as the processing of all these licences is done in 'a timely manner.' He added that while the setting up of the airline is a challenging and complex venture, so far they've not come across any obstacles and has expressed appreciation for the continued support and encouragement from the various ministries, government agencies, actors in the tourism trade as well as the public.  The setting up of the new airline was conceived in March last year following appeals from the Seychelles tourism industry and the wider public to bring back direct flights between Seychelles and major tourist and commercial destinations across the globe.
"The (Seychelles) tourism trade has been crying out for such operations and we are informed by travel agents and tour operators, locally and overseas, that not only is direct flight the preferred mode of travel but that many tourists will not travel except on direct flights which would translate into more tourists coming to Seychelles," Afif told SNA in an e-mail interview. The national carrier, Air Seychelles which entered into a strategic partnership with UAE's Etihad Airways in January 2012 has not been flying directly to Europe, the island's main tourism market, for a few years now. Air Seychelles currently offers cargo and passenger services to destinations within the archipelago itself as well as in Africa, the Middle East and Asia, also has codeshare partnerships with airberlin, Cathay Pacific Airways, Etihad Airways, and South African Airways, extending its network to 39 cities around the world.  On July 1, it will be launching a twice weekly services to Paris-Charles de Gaulle, via Abu Dhabi in the United Arab Emirates.
'Seychelles Airlines' is aiming to offer local travellers and tourists alike, direct routes to and from Mahé, the main island of the Seychelles archipelago in the Indian Ocean. Firstly targeting the European market, it plans to undertake five (5) weekly flights from Seychelles to France, Italy and Germany.  "These will be operated by a Boeing 767-300ER with a two (2) class configuration that is a business and tourist class. With the introduction of a second aircraft soon thereafter, the airline plans to cover the United Kingdom, Russia, Singapore, and India," said Afif.  Condor is currently the sole airline directly linking Seychelles to Europe.  While the airline industry remains a highly competitive, dynamic and risky industry, Afif noted that, Seychelles Airlines will "strive to ensure that its business model is always relevant and reflective of changing trends" in this market.
"We believe with careful planning and good foresight, we should be able to assure the market of both a reliable service of high quality as well as the long term sustainability of our operations."  Even though it has not launched its formal recruitment programme yet, many individuals have shown interest in boarding this new venture. According to the CEO of the Seychelles Airlines, to date, they have received 138 applications for jobs within the airline, but for now these will remain pending until the licensing process is completed. Afif said that as soon as the green light is received from the authorities, they can "immediately put in place and activate all technical and commercial modules such as recruitment, IT infrastructure, marketing and reservation network, finance and accounting operations and management systems."  He added that they've already identified key personnel and service providers at all destinations for its flight operations soon.  The Seychelles Airlines is being promoted by Intershore Aviation Limited, a local company that forms part of a wider chain of companies involved in financial services and real estate both internationally and in Seychelles, which are owned by Philippe Boullé, a Seychellois lawyer and former presidential candidate.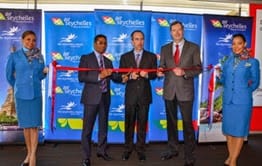 Air Seychelles, once more flying from Paris to Mahe
Air Seychelles has recommenced flights to Paris from its home base in the Seychelles after a gap of two and a half years in conjunction with its code share partner, Etihad.  The flights go from Paris to Mahe, with a brief stop in Abu Dhabi.  The schedule is limited with the arrival time on Mahe too late to connect with the majority of inter island flights other than Praslin but it is another option for the Seychelles bound.  The Indian Ocean island-based carrier is deploying its brightly-coloured Airbus A330-200 aircraft twice weekly on the new route, offering 18 lie-flat seats in Business Class and 236 seats in Economy Class.  The flights operate with a brief stopover in Abu Dhabi. Flying via Abu Dhabi, Air Seychelles' new Paris schedule will offer 1,016 extra seats per week to and from the Seychelles and, when combined with codeshare partner Etihad Airways' existing twice daily Paris-Abu Dhabi operations, provide travellers with a choice of 18 connections per week to and from the Indian Ocean island archipelago. The new Air Seychelles Paris flight schedule has also been designed to provide easy access to the Seychelles from more than 40 cities across Europe.  This includes connecting flights from Paris to Belgrade, Berlin, Birmingham, Bologna, Dublin, Düsseldorf, Florence, Genoa, Helsinki, Lisbon, Lyon, Madrid, Nantes, Newcastle, Stockholm, Vienna, and Warsaw.
For more details please
contact us
or call us on 01980 847389.