It is unseasonably cold for February and we don't have waders. Unfortunately the lack of heat hasn't stopped the sand flies from being their usual aggressive selves. Three of us are deep in Fjordland in New Zealand's South Island, fishing a river system that can only be access by boat. Our kind of fishing, remote wild and untouched, a trout fishers paradise.
For two days we have walked through a densely wooded and steep sided valley, sight fishing our way upstream to healthy fish up to six pounds. Now day three, we start with our usual routine of drinking coffee and making porridge, heaven. The mist is still sunk to the valley floor and there is little warmth in the air, it is unlikely we will be fishing dries to start with.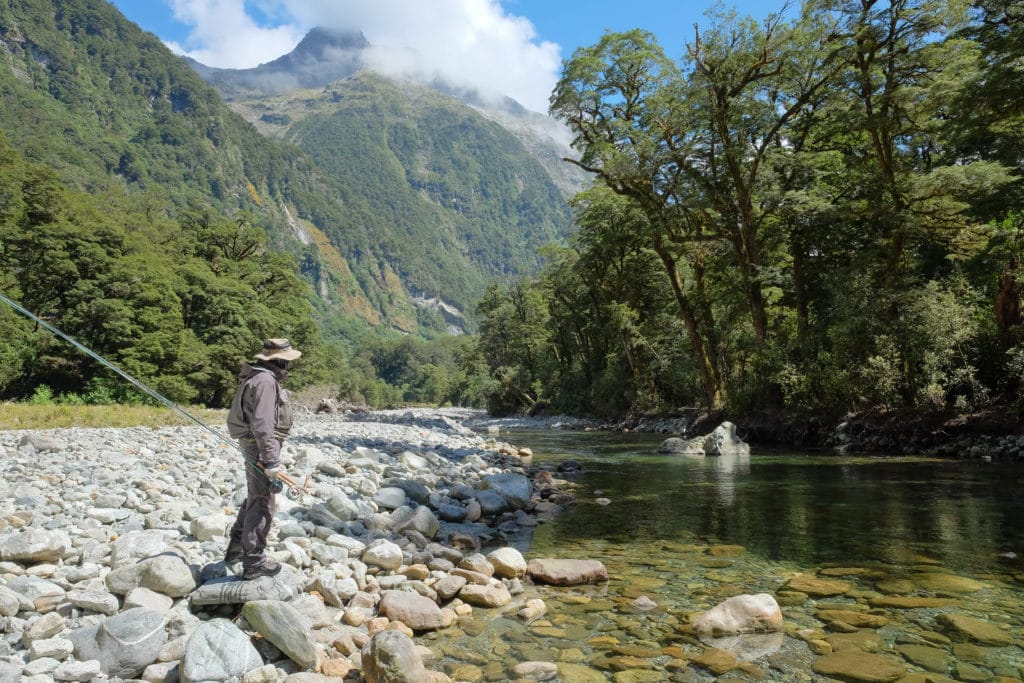 Over glugs of fresh coffee we survey the map and discuss a plan of attack. Two options, continue on the main river or branch right up the tributary. The maps shows a series of waterfalls up the tributary that run for several kilometers before flattening out into some pretty fishy looking water. I do my best to convince Matthew, Mike that the upper waters will be worth the walk. In truth I was apprehensive and by trying to convince them I was also trying to convince myself.
Pack on and rod in hand our heavy set boots trudge over wet greasy rock, moving upstream to the unexplored. Until the gradient increases there is still good water to fish, this is confirmed by a good brown perched just upstream of large flat rock. Matthew casts, giving enough lead for his nymph to sink into the zone. It sinks, seconds later the small tuft of sheep's wool that is his indicator goes down also. Putting a bend through to the cork the fish launches upstream and Matthew follows, skipping on top of and around the slippery rocks. After ten minutes of rock hopping and several heart in mouth moments a broad shouldered and fin perfect brown comes to hand.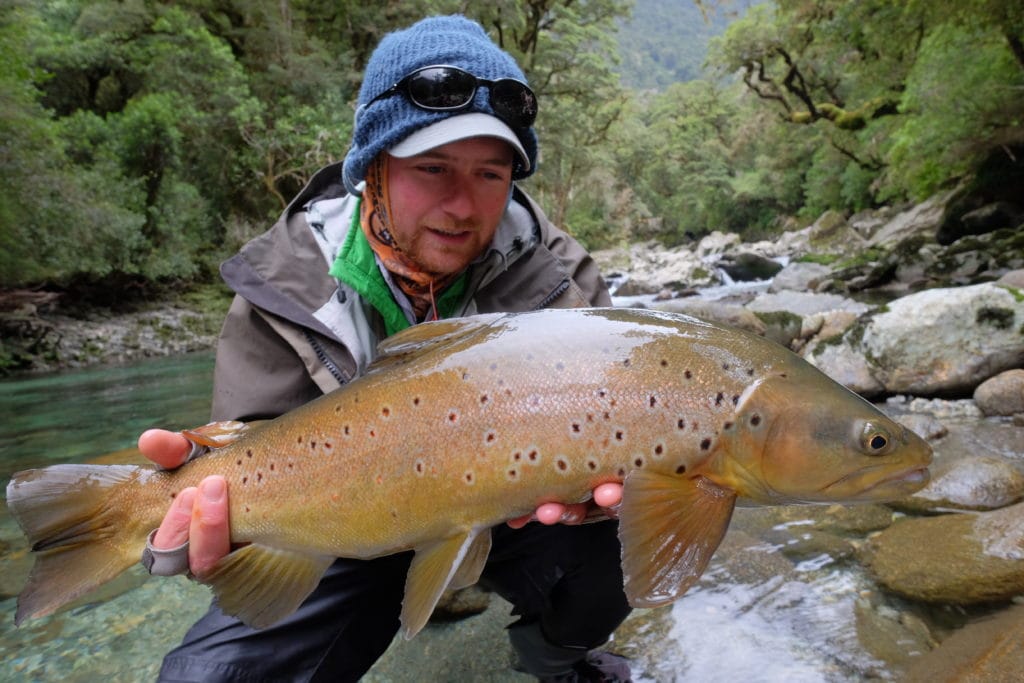 This was the last and only fish we saw before the waterfalls. Slowly, the three of us slugged our way up ever steepening ground, weaving our between large boulders. After several hours of hard graft there seemed little sign of any holding water. I was becoming increasingly anxious and I sense the others were getting frustrated. Two more kilometers of path finding and eventually the white water began to settle into a series of riffles and glides. Although looking fishy we had passed an awful lot of heavy waterfalls and it seemed unlikely any trout will have been able to make it this far. My worries were soon comforted by the sight of a small half pound rainbow, not what we came for but a confirmation that fish are there.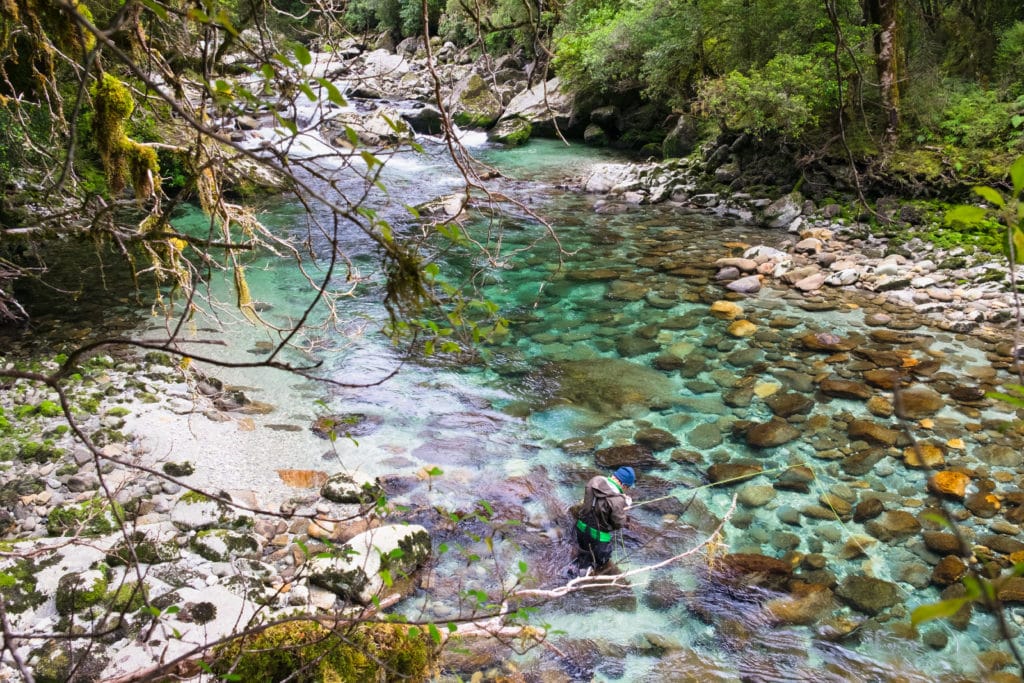 The river was now small, intimate and crystal clear with a bed made of small stones. Steep sided hills fall down to the valley where they meet dense beech woodland and then the river. The scenery is Jurassic, untouched by man's hand.
Slowly creeping upstream we scan every inch of water. Until coming to the third of the bigger pools this proves fruitless. Cruising in the smooth water is a large rainbow, motionless we watch, trying to get a feel for how the fish is moving. It is soon clear the fish is patrolling the perimeters of the pool and is on the hunt. The others kindly give me the shot, all left is to decide on tactics. Although small, the pool is wrapped in a cage of sunken logs, I know if the rainbow takes on my five weight there is little chance of a happy ending. Six weight, clear intermediate and small streamer it is.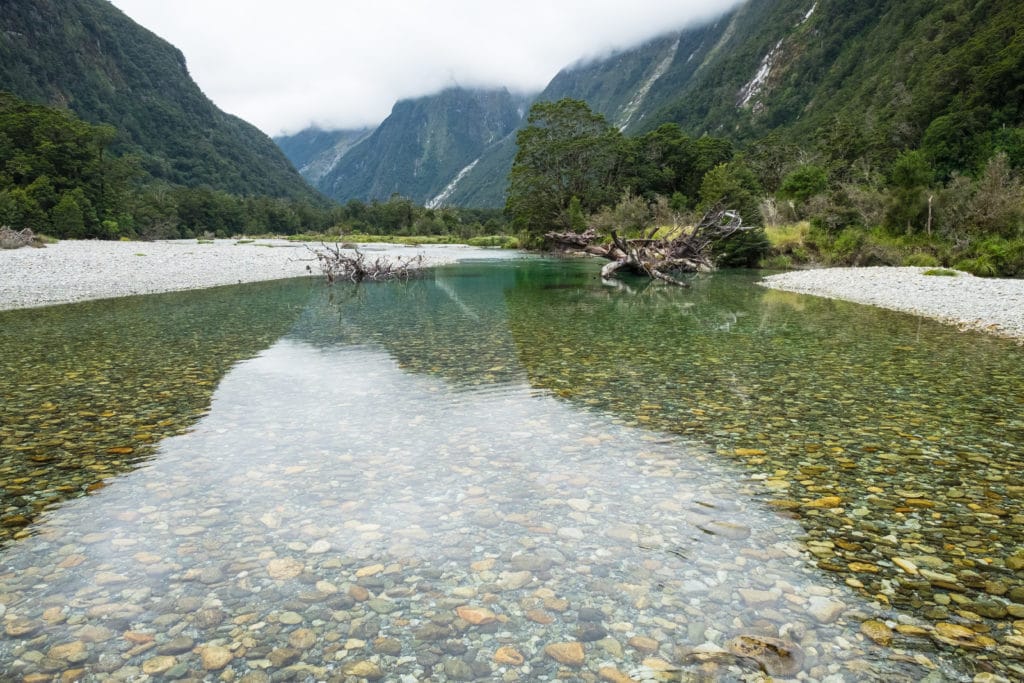 I wait for the fish to turn and swim the other way, knowing he will arch back around soon. Cast out…….wait……. the streamer settles to the bottom. As predicted, the big rainbow turns and starts to swim along the edge of the sunken log towards my fly. Its size and beauty now exposed, I try to keep my cool and stop my legs from shaking like Elvis, drawing ever closer the time is soon near. One long strip lifts the streamer and the fish charges, slamming the small olive streamer. Like a jack russell desperate to escape his leash the fish rolls its head side to side, then makes a bid for the safety of the structure sunk below. The six weight combined with 12lb fluorocarbon allows me to pile on the pressure and the fight is intense but short lived.
In his thick Irish accent Matthew barks profanities as Mike sprints over to net the fish, oh f….. she's a tank, bigger than six! She was, we didn't weigh the fish, we didn't have scales, did it matter? Not really, we had walked far, been eaten by sandflies, got cold….. and wet, but were happy with two great fish and still with time for Mike to have a cast.
Mike carefully stalked two big fish just around the corner from where I landed mine, despite accurate casting and good presentation it was not to be. The climb back downhill was far easier and less uncertain than the way up. Still with several days in hand we nestled back into our camp, happy and smug. The following day was to be Mike's.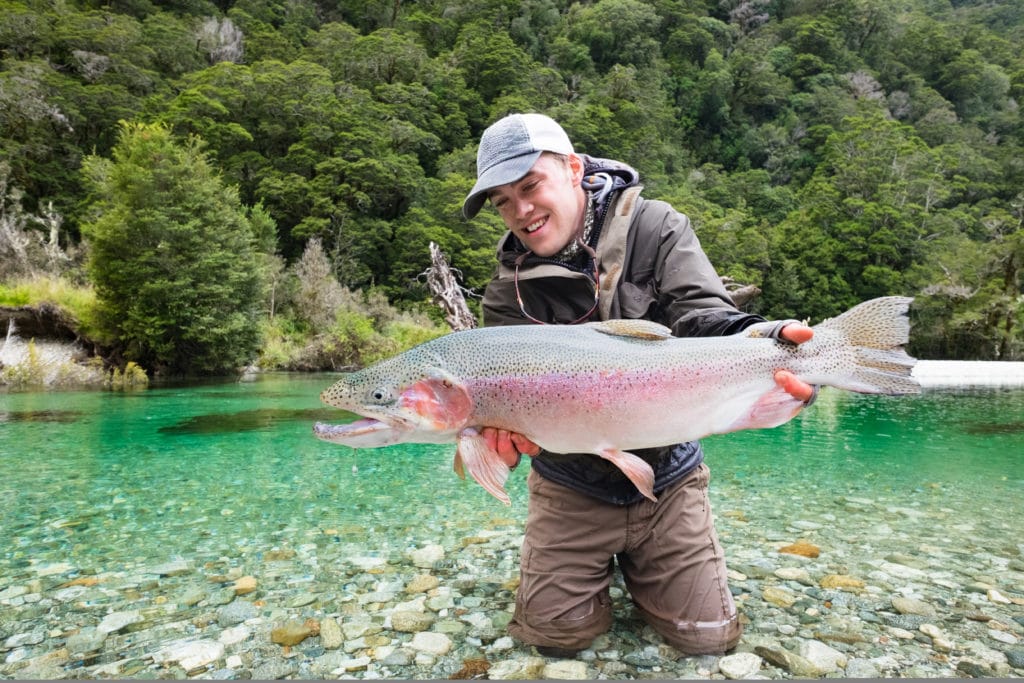 For more information on fly fishing in New Zealand and Owen River Lodge please contact Olly Thompson or Alex Jardine or call our office on +44(0)1980 847389.