Have you ever wanted to fly fish for big tarpon? As in R-E-A-L-L-Y big tarpon……well, look no further. Tapam Lodge in the Nicaraguan jungle started with a bang in 2019. We seriously doubt that there is any place in the world today where you have a greater chance of catching a really big tarpon on a fly rod. We have always been honest about the fact that fly fishing for big tarpon isn't easy and that our fishery might not be for everyone. Big tarpon are old – and old fish get old for a reason. They aren't stupid. We have limited capacity and we don't need to exaggerate or sugar coat things.
This season the largest tarpon to date was landed estimated at 200 lbs! The dimensions were 82" (fork length) x 50" circumference.  Bonefish and Tarpon Trust weight calculator came up with 256 lbs! If you can cast an 11 or 12 weight rod for hours on end, if you can put real pressure on very big fish – and if you understand that just because there is a lot of big tarpon around it is not a given fact that these big fish will suck in each and every fly you throw at them – then look no further:
Big tarpon on the fly? Well, then Tapam is it!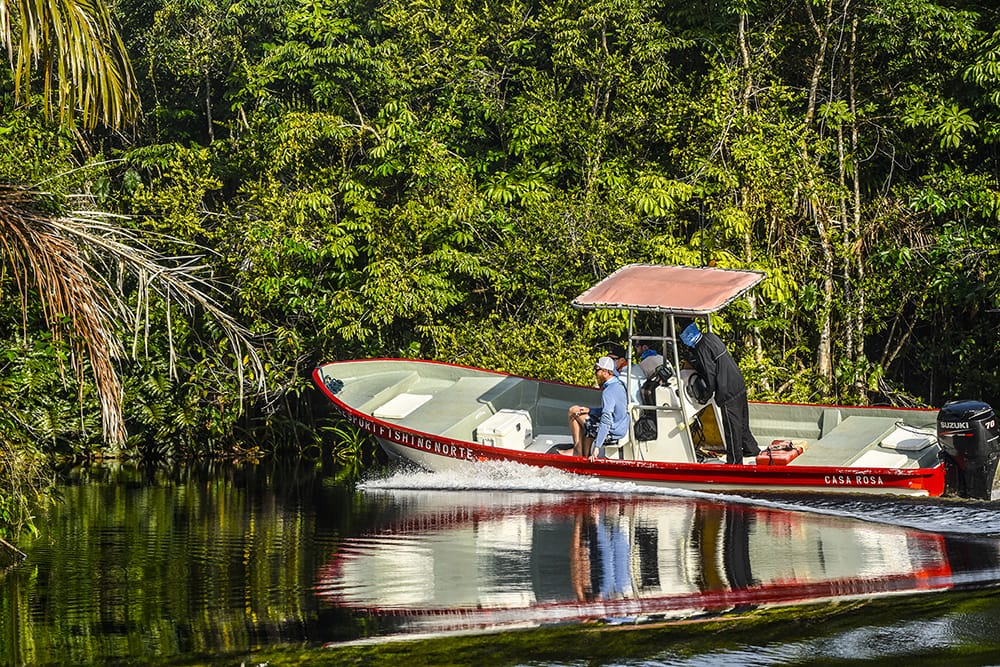 Are you ready?
If you're ready to rumble with the jungle poons during our 2020 season we still have some openings.  The itinerary has changed a little from previous years giving one less days travelling and one more days fishing. The lodge fishes two anglers per boat for up to seven days. That's six long days with approximately seven hours in the morning and another three to four hours in the afternoon. At each end of the trip you can fish from dawn until lunch time. That's a lot of fishing time – and hopefully a lot of tarpon action.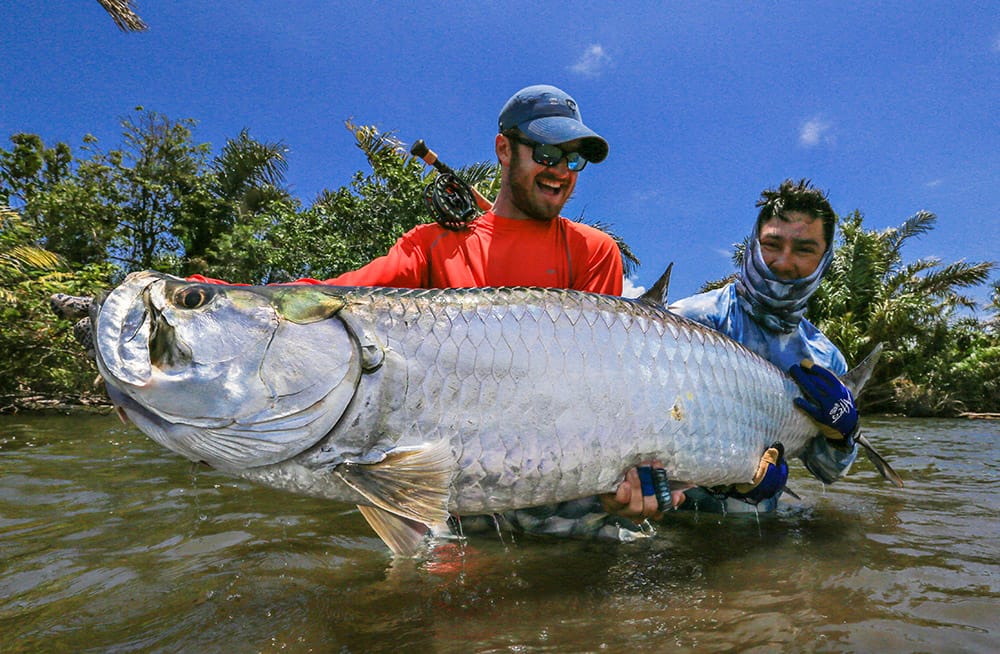 Open Tapam spots for 2020:
April 2-10: 1 open spot
April 10 -18: 1 open spot
Cost for 2020 will be US$4,950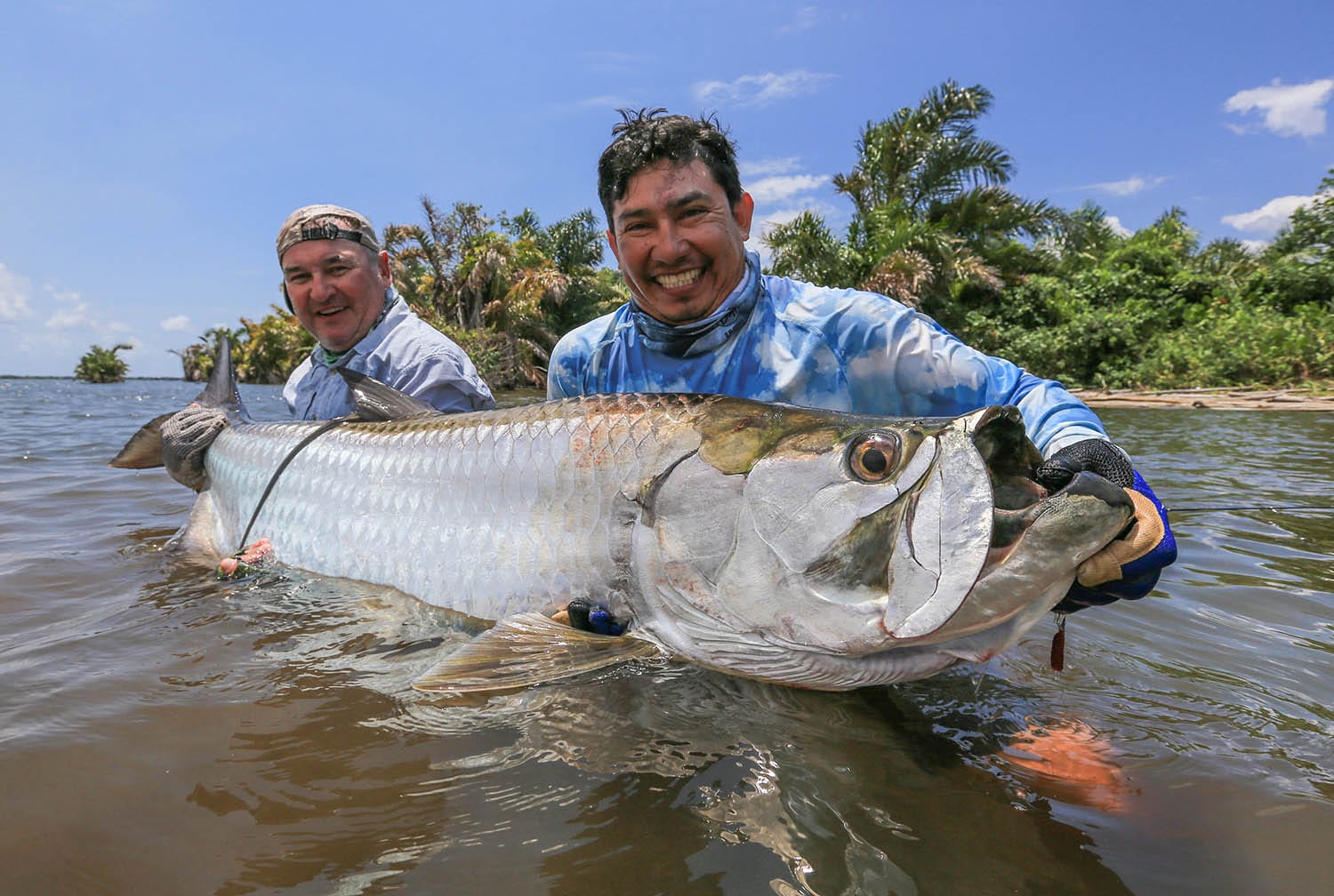 Fish food. What's on the Jungle Poon's menu?
During our first season at Tapam we mostly cast pretty big baitfish imitations. They worked great when we hit the crazy feeding frenzies that Tapam is now famous for. When the tarpon are feeding on mullet being pushed up river on the incoming tide you probably can't throw too big a fly. We still fish these bigger patterns a lot.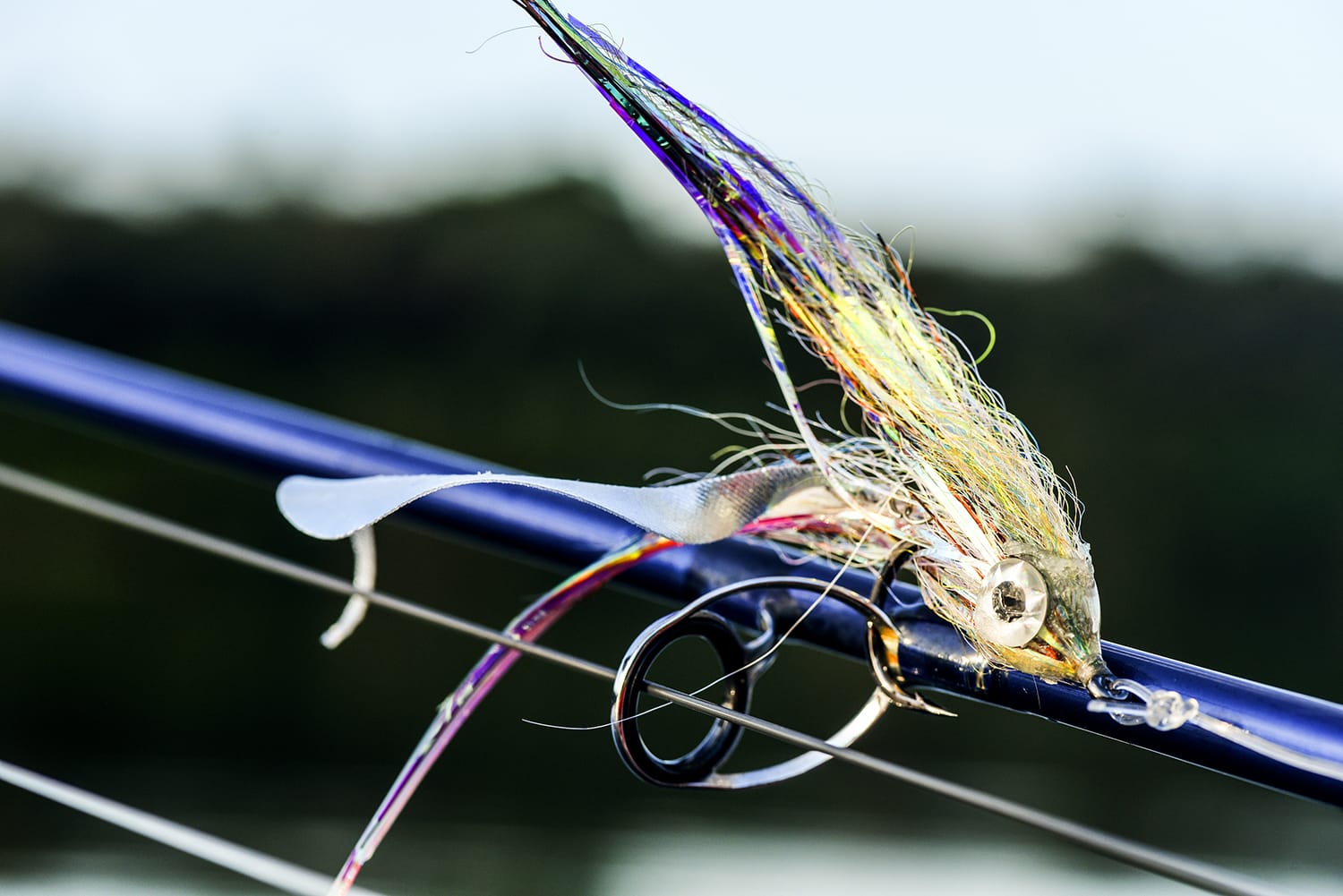 This year we started incorporated Wiggle Tails on some of our baitfish flies which worked great, especially in clear water and on fish hunting actively but less aggressively. Anyone who has experienced a true Tapam feeding frenzy can be excused for thinking that these big tarpon eat anything – anytime. They pretty much do when they are smashing mullet like there is no tomorrow. Well, even at Tapam, there are tomorrows. And for those days, when the poons are much tougher to fool, we needed some new tricks.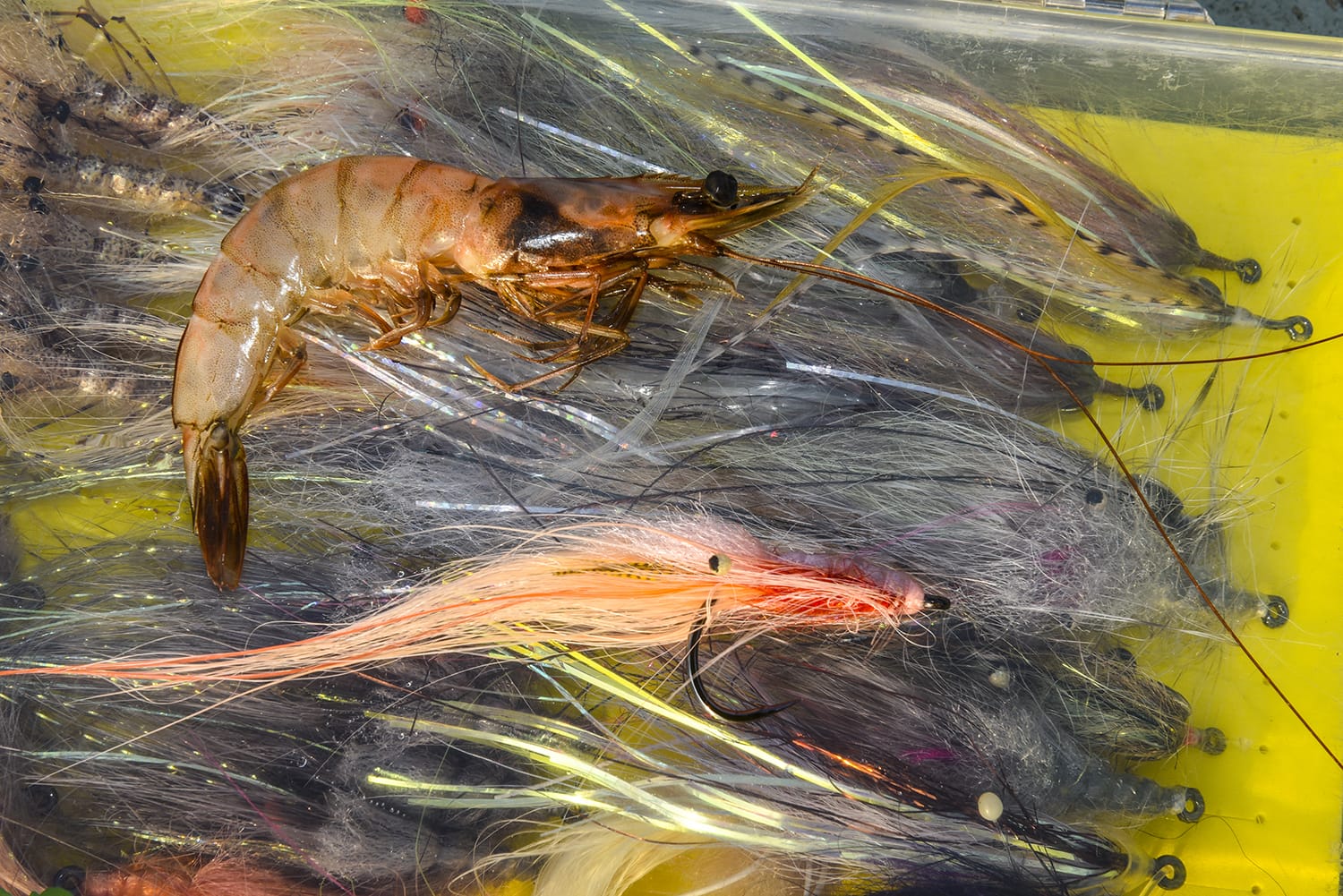 On several occasions tarpon have been found feeding in huge swirls on the surface, without the least sign of any bait activity. It didn't take long (though possibly a tiny bit longer than we like to admit) for the penny to drop: These tarpon were obviously popping shrimp. The lagoon systems are rich on poon-food; that's the main reason these big fish leave their salty home and spend months on excursions into rivers and lagoons. Here, shrimps are a big part of their food source – and at 12-15 cm (5-6 inches) they're a pretty decent snack.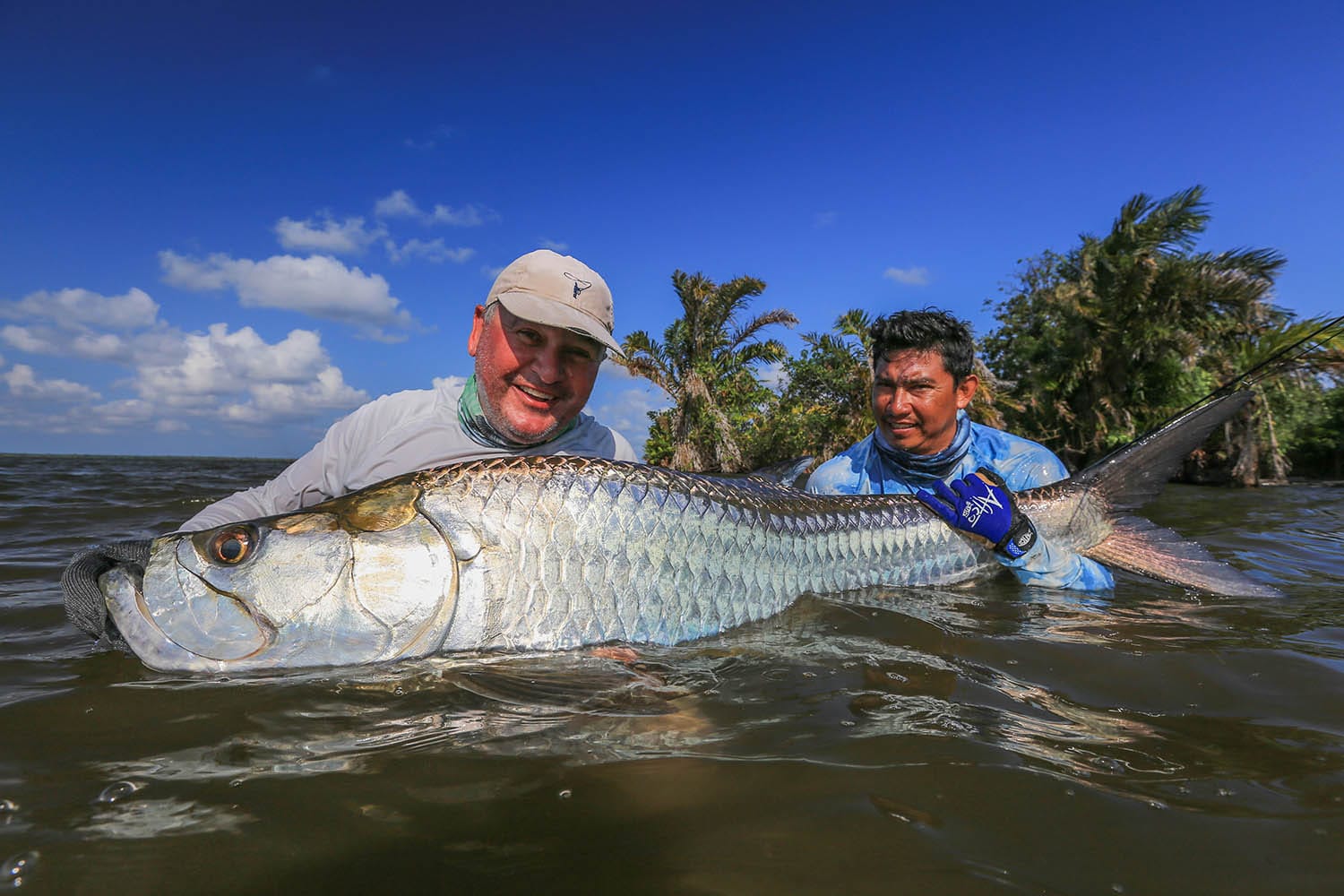 We had some great results fishing big shrimp patterns this year, not only when the tarpon were clearly already popping shrimps on the surface but under many different conditions. Surely, various shrimps patterns will be amongst future go-to flies at Tapam. Bring plenty!
Other jungle species
While Tapam is primarily about Megalops atlanticus – the one and only tarpon – we don't mind having a bit of fun with other jungle species.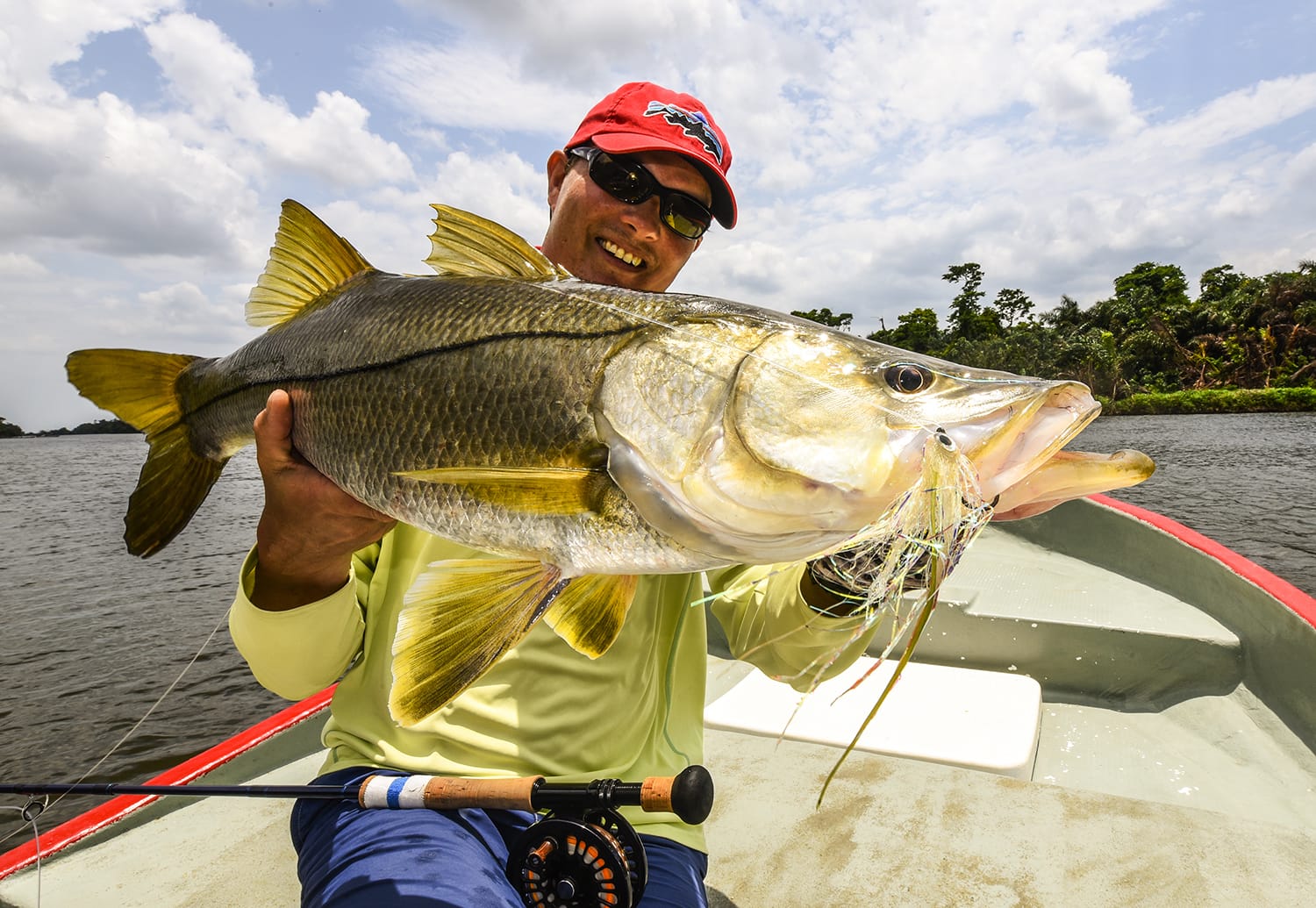 Our preferred bonus catch is the snook. A great fighter, even on tarpon rods, and very heavily built. They aren't easy to fool with the fly but after a few lucky catches during our first season we have now found a few spots where we can actually target them with some success. Our biggest fly caught snook at Tapam is 26 lbs (caught in April 2016) but most are between 6 and 20 lbs. Of course, we always let the big females go but we do sometimes bring back a six pounder to the lodge – there just too delicious to let them all go!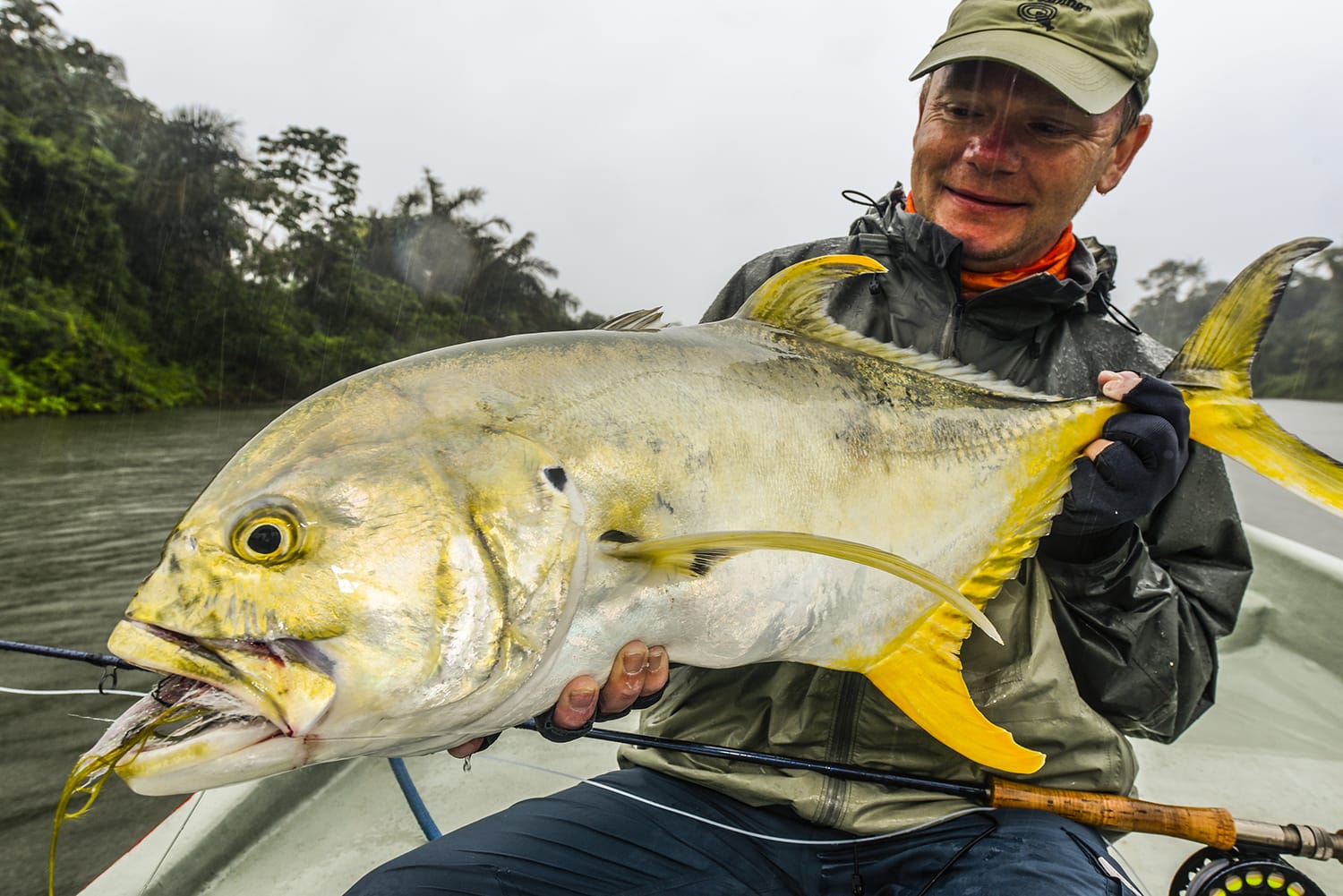 The jack crevalle is another great fish to catch. Sometimes we have a lot in the rivers, other times they're few and far between. They fight like hell – pound for pound probably better than any other fish – and a fifteen pounder will give you a good work out. Finally, there is the mighty catfish! There are a couple of productive tarpon flats in one of the lagoons that the whiskers really like, too. You are fishing to really big rolling tarpon…suddenly you feel the line tighten, your heart skips a beat or two, you set the hook with all you got…and then…it's a…catfish! Well, at least they keep you on your toes…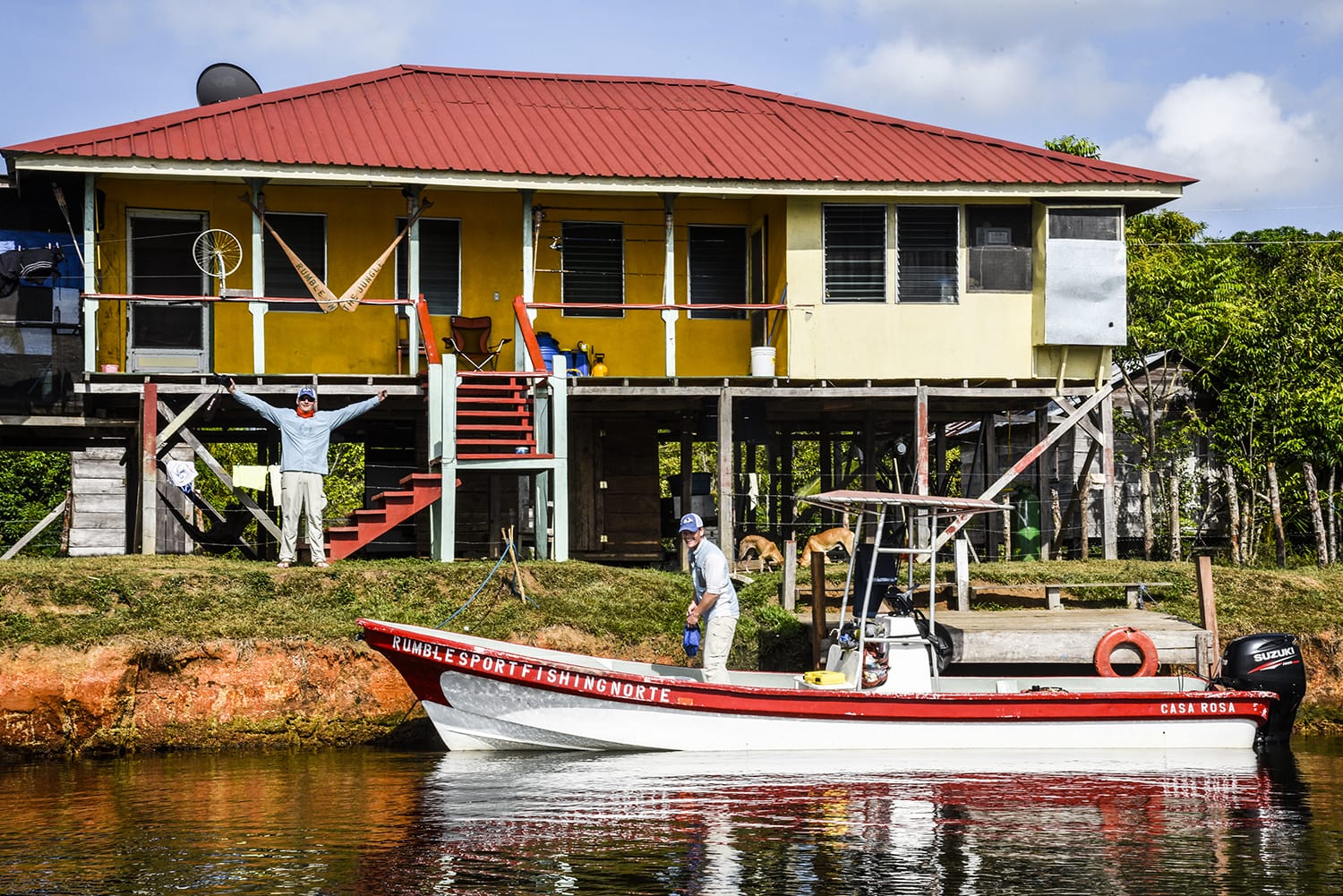 Lodge upgrades
We have always been very clear about the fact that our Tapam Lodge is not the Hilton. It's a simple home for hardcore anglers in a small village in the middle of the jungle.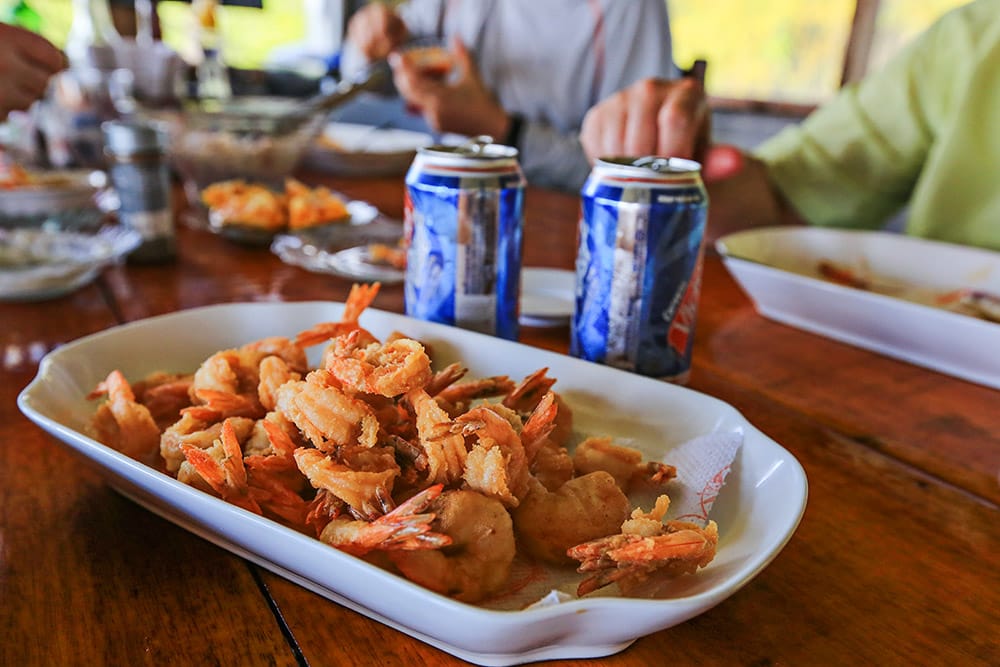 Well, maybe it's about time we are a little less modest. There has been quite a few improvements since our first season. We now have a screened paddock, all our anglers stay in single rooms and the food is great. We have also been working on the boats, fine tuning them with better casting decks, new electronics (including VHF radios) and for next season we are planning to add electric trolling engines.
Tapam short films
Well, if you came this far then you might even be interested enough to watch our two short films from Tapam.