Check in here for 2023 season updates from Nicholas Dean Outfitters on the mighty Skeena River in Canada's British Columbia.
2023 Nicholas Dean Outfitters season updates – Summer/Fall
We've had a good season so far, and definitely super busy – probably our busiest summer/fall to date, which is good. The fishing has been reasonably good for salmon in the rivers and out on the ocean. Steelhead numbers are a little lower than we'd like to see this year, but they do seem to be holding their own in recent weeks as we're starting to see more fish show up in the river (and in the test fishery where numbers are tabulated), which is good.
Last availability for 2023 season
If you want to visit this magnificent spot we can offer rare availability for a few last rods for the 2023 season:
September 24 to October 30: 5 day/6 night trip and 6 day/7 night trip – 1 rod available
October 29 to November 5: 6 day/7 night trip – 6 to 8 rods available
2023 Nicholas Dean Outfitters season updates – Spring
The season is well underway and is proving to be even more productive than the last couple of years. The steelhead are 'strong, mean and healthy and some great fish have been landed'.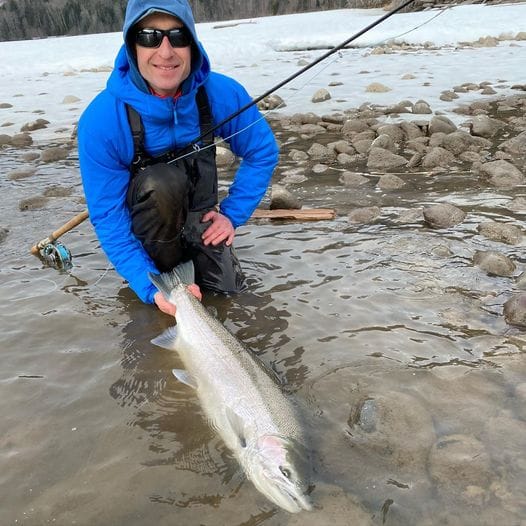 The spring fishing here can be incredibly exciting, and with years of exploration behind them, the team at Nicholas Dean know all the best spots. Spring fishing encompasses many wild and scenic rivers ranging from the small and unnamed to medium sized rivers like the Kalum to the broad, shallow riffles and tailouts of the majestic Skeena – all for large, wild steelhead. Fish of up to and over 20lb are regular targets.
The spring steelhead season here is short and runs from mid-March to mid-May and tends to fill with repeat visitors.
Guests stay at Yellow Cedar Lodge which is perfectly located to access all the rivers in this area.
Cost for five days guided fishing (six night stay) is from CAD$6,395.
If you would like more information on Nicholas Dean Outfitters or fly fishing elsewhere in Canada then please do not hesitate to contact Peter McLeod or call our office on +44(0)1980 847389.
More about the author: Peter McLeod