The Lakselva runs through Porsanger in the Finnmark county of north Norway and has for many years been an unknown fishing river in comparison with the bigger rivers in the area. Recently this pearl of salmon fishing has caught the attention of anglers that are looking for big salmon and for the last few years it has shown to be amongst those with the highest average number of big salmon per season. Many salmon between 40 and 50 lbs have been seen with the record standing at 55 lbs, but several fish lost larger than this.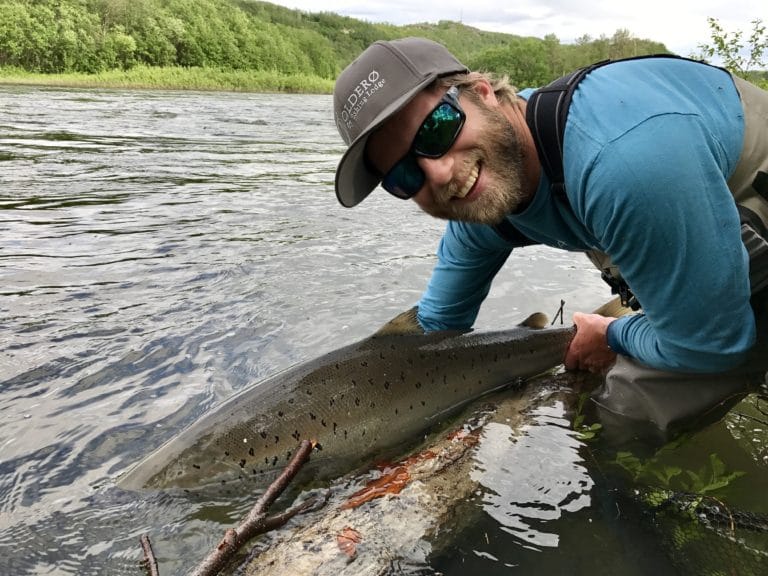 If easy wading, floating lines, riffling hitch and a true big North Atlantic salmon is what you are after then Lakselva is the perfect spot for you. Olderø fly fishing Lodge has six beats to offer to clients while visiting. Fishermen join the rotation schedule which all anglers will follow during the seven day period they are staying. This way all beats will be covered and guests will have the best chance to enjoy some exciting salmon fishing during their stay.
In 2017 guests fished following beats when visiting Olderø fly fishing Lodge; Olderø (homepool) – Holmen – Stangnes lower part – Ratama – Stangnes upper part and the new beat for 2017 "Swimmingpool". The beats are carefully selected so that fishing can be experienced in every water level.
If you have ever wished to try for a Norwegian monster then we have two rods available in 12 – 19 August that have just become available at the cost of €8,450 per rod.
For more information please contact Peter McLeod or Alex Jardine or call our office on +44(0)1980 847389.