Norway and Atlantic salmon are two thing that have gone together since virtually the beginnings of fly fishing, and still to this day Norway remains one of the top destinations to visit. Like the rest of Europe this summer (Iceland excluded) it suffered much of the season with low water and warm temperatures, yet it still was able to produce some wonderful weeks. It may not offer the numbers of fish as elsewhere in the world but one thing it does have is big Atlantic salmon. The salmon rivers of Norway have legacies that date back well over one hundred years, and still to this day we see fish in excess of 30 and even 40 lbs each season.
If you are yet to plan your salmon trip this season or are looking for an extra week to fit in here are some of our top picks that are still available this year: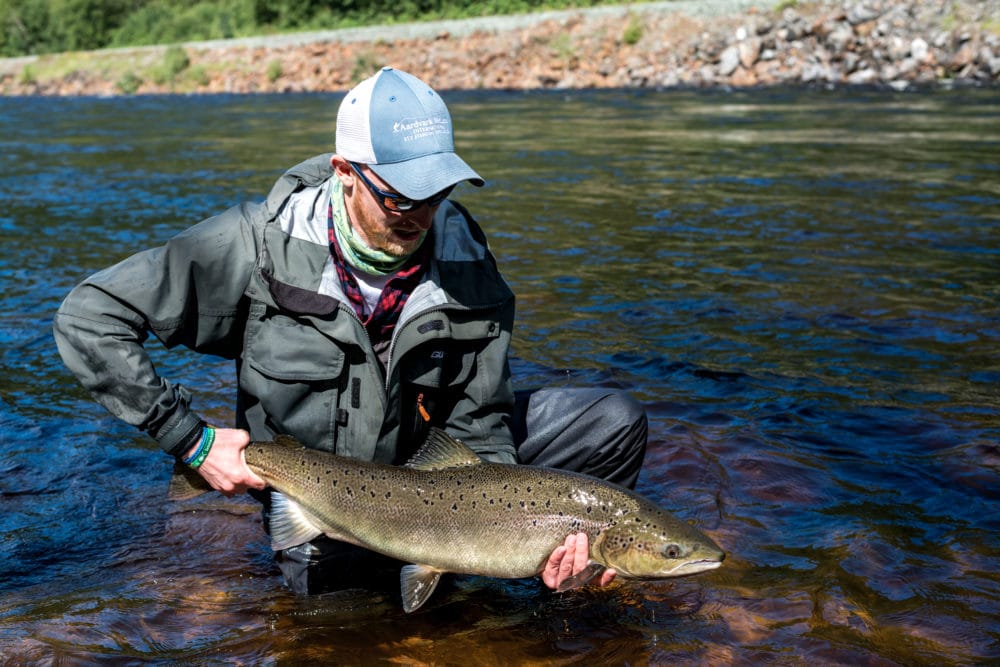 Founded in 1882 when the first British salmon fishers, known as the 'Salmon Lords' (Lakse Lorder) used the house as a base for their summer fly fishing adventures on the Gaula River. Travelling salmon fly fishers have now enjoyed over 130 years fishing and staying at the lodge. The Gaula is one of those Atlantic salmon rivers that needs little introduction, it is regarded as one of Norway's finest and known as 'the river of silver and gold'. The river sees strong runs of salmon averaging between 14 – 18 lbs with many fish exceeding 30 lbs and a few over 40 lbs. The river is full of character and when clear it carries a slight golden tinge. The surrounding scenery is one of thick evergreen forested slopes interspersed with small villages and farms. The lodge is a traditional big family house and includes seven double occupancy rooms along with a self-contained family apartment in the form of a small house that dates back to the 1700's. In 2018 one of the Winsnes Lodge August weeks produced a fish of approximately 43 lbs, along with several notable 20 lbers and one or two touching 30 lbs.
2 – 9 June (week 23): £1,320 per person (big spring salmon)
9 – 16 June (week 24): £1,400 per person (big spring salmon)
16 – 23 June (week 25): £2,350 per person (big spring salmon)
14 – 21 July (week 29): £2,650 per person (prime big spring salmon)
21 – 28 July (week 30): £2,250 per person (good numbers of fish in the upper section)
4 – 11 August (week 32): £1,800 per person (good numbers of fish in the upper section)
11 – 18 August (week 33): £1,800 per person (good numbers of fish in the upper section)
18 – 25 August (week 34): £1,800 per person (good numbers of fish in the upper section)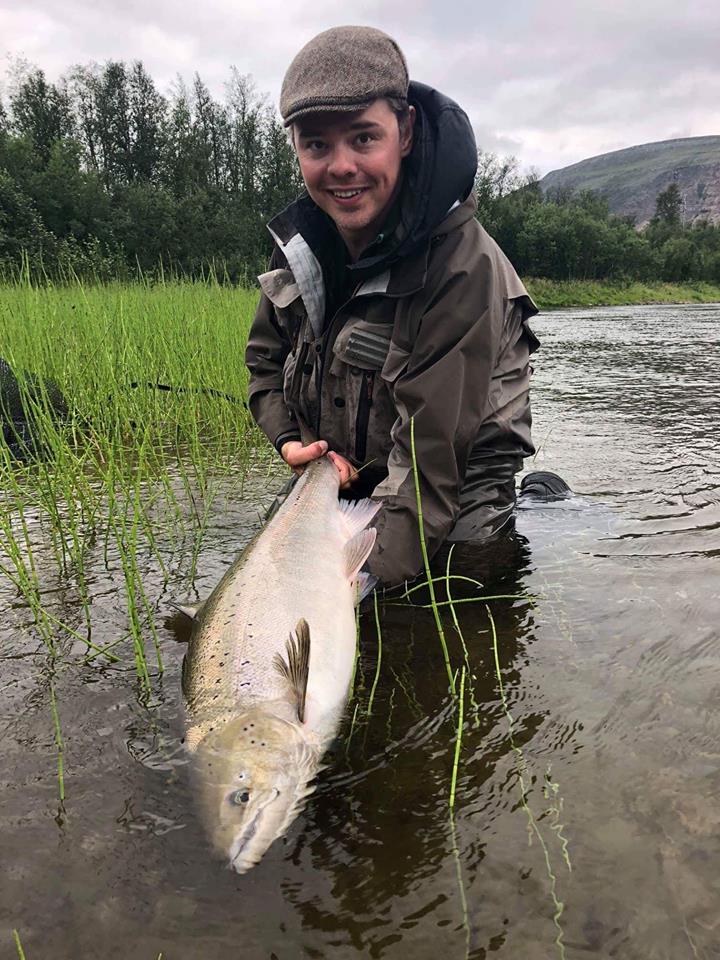 The Lakselv itself runs through Porsanger in the Finnmark county of north Norway and has for many years been an unknown fishing river in comparison with the bigger rivers in the area. In the recent years this pearl of salmon fishing has caught the attention of anglers that are looking for big salmon, and in particular Olderø Lodge. Whilst only a small river, the last few years it has shown to be among rivers with the highest average number of big salmon per season. Many salmon between 40 and 50 lbs have been seen with the record standing at 55 lbs. The river offers easy wading, floating lines, riffling hitch and big North Atlantic salmon. Olderø fly fishing Lodge fishes a total of 6 beats in a rotation that is decided upon at the beginning of each fishing week. During a week anglers will fish all of the beats and will have the best chance to get into some exciting salmon fishing during their stay.
21 – 28 July (week 30 – 2 rods): £8,500 per rod (Prime Week)
2 – 9 September (week 36 – 8 rods): £1,250 per rod (sea trout fishing – sold as pairs only)
9 – 14 September (week 37 – 8 rods): £1,250 per rod (sea trout fishing – sold as pairs only)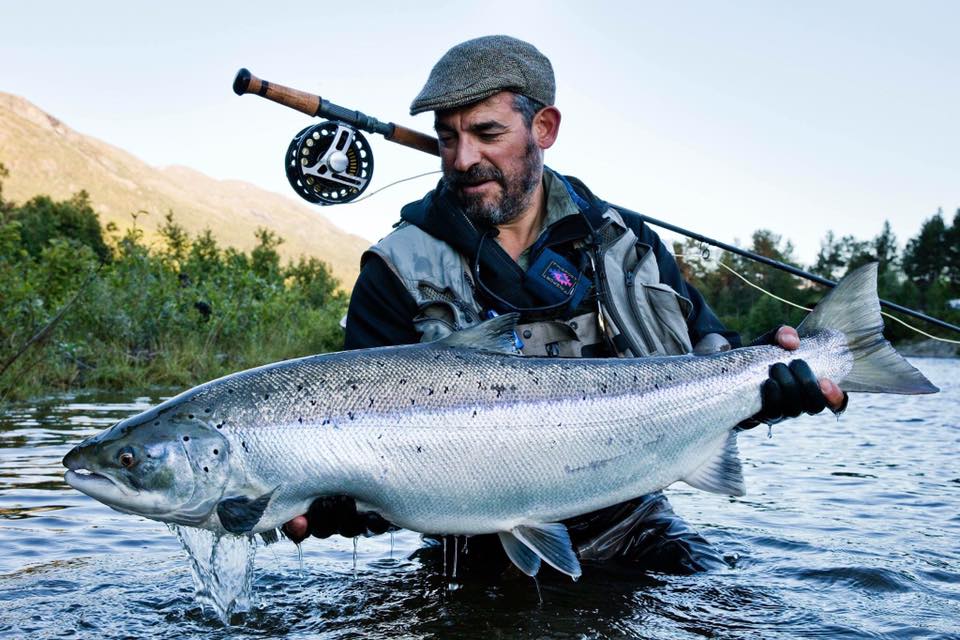 The Reisa River, originating in Finmark and surrounded by spectacular mountains and forested valley sides, offers 85 km of beautiful salmon fly water. Not only is the river stunning to look at but it is also home to some of the largest Atlantic salmon on the planet. Each season fish of around 20 kg (44 lbs) plus are landed on the fly. Complimenting the wonderful river, Reisastua Lodge offers a comfortable base for salmon anglers to explore this majestic valley. The lodge offers fishing throughout the length of the river, including access to some of the hardest the reach pools by the use of river boats.
21 – 28 July (week 30 – 2 rods): £5,800 per rod (Prime Week)
Other availability on request.
For more information about salmon fishing in Norway please contact Alex Jardine or call our office on +44(0)1980 847389.