To go salmon fly fishing in Norway is to give yourself the chance of landing the fish of a lifetime. We still have some great weeks available at our lodges on the Gaula, Orkla, Reisa and Lakselv. With good snow levels recorded during the winter the first half of the season fished well on many Norwegian rivers. From summer through to the end of the season many of the rivers rely rainfall. However, the last two years have seen good fishing through to late August, this season looks to be no different as salmon stocks seem higher than they have been for some time.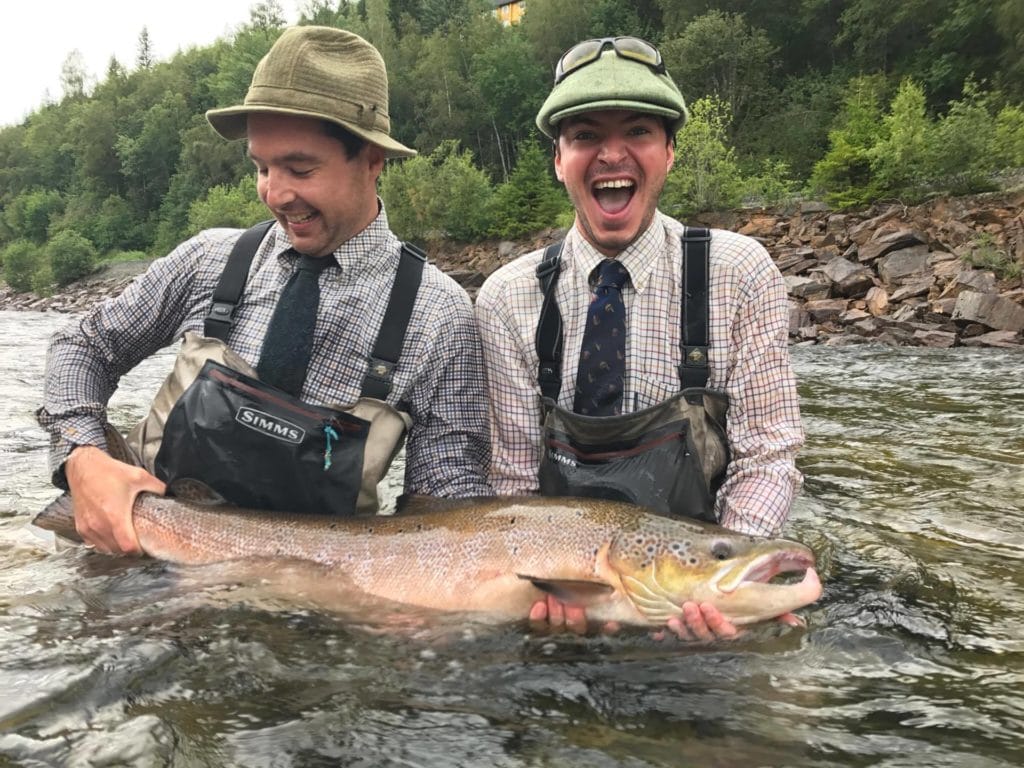 Much like Scotland, there are lots of lodges, beats and associations when looking to go salmon fly fishing in Norway. It is hard to know which ones are the right ones to choose and whether they will offer the experience that you are looking for. It is with this in mind that we hand select just a small group of lodges that offer you some of the best fishing, lodging, all round experience and, most importantly, value for money.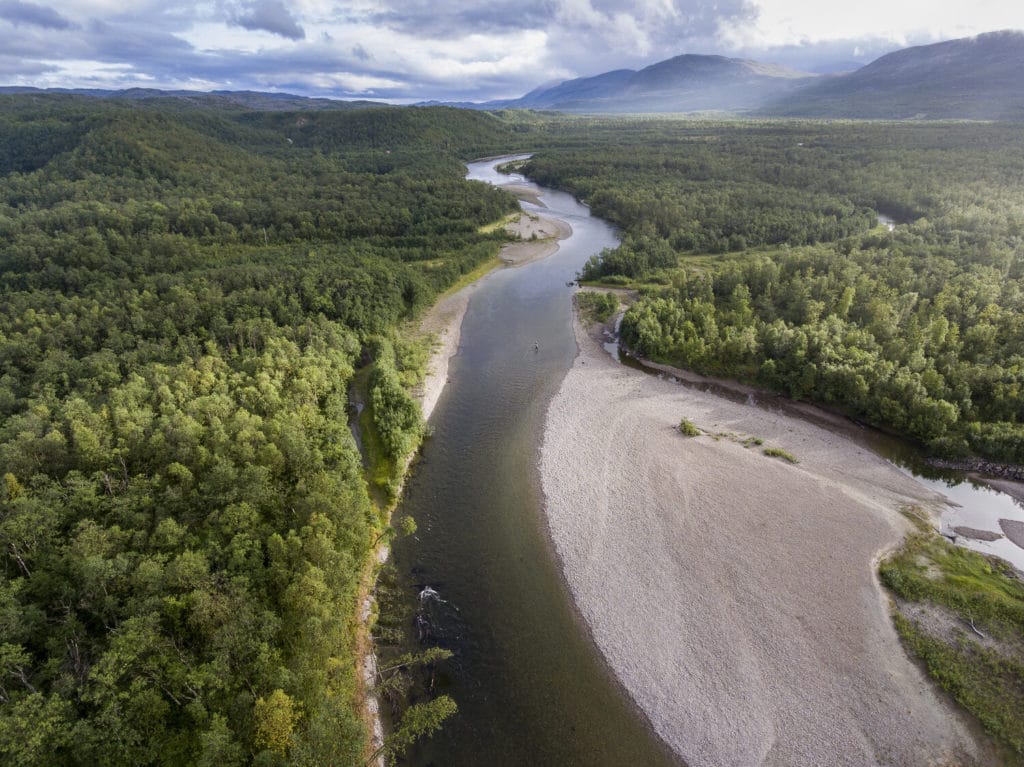 Expectation when going fishing anywhere is vitally important and this is certainly true with Norway, if numbers of salmon are what you are after this is not the country for you with options in Iceland and Russia proving more suitable. Norway, for the large part of it, is the home of big Atlantic salmon and gorgeous fly fishing rivers. With this in mind, a general rule of thumb is that 1 to 3 salmon in a week is a reasonable expectation, of course, it is possible to land more than this but these are exceptional weeks. Depending on time of year and location, you also have a very good chance of one of those fish being in excess of 20, 30 or even 40 lbs.
Below we have detailed our Norwegian Salmon Fly Fishing Lodges along with five key reasons why we love them.
The lodge founded in 1882 when the first British salmon fishers, known as the 'Salmon Lords' (Lakse Lorder) used the house as a base for their summer fly fishing adventures on the Gaula River. Travelling salmon fly fishers have now enjoyed over 130 years fishing and staying at the lodge. The lodge has 4 km of private double bank fishing located above Gaulfossen. The river sees strong runs of salmon averaging between 14 – 18 lbs with many fish exceeding 30 lbs and a few over 40 lbs. The river is full of character and when clear it carries a slight golden tinge. The surrounding scenery is one of thick evergreen forested slopes interspersed with small villages and farms. The lodge is a traditional big family house and includes seven double occupancy rooms along with a self-contained family apartment in the form of a small house that dates back to the 1700's. The lodge offers fully catered accommodation and anglers receive light guiding. It is possible to arrange more formal guiding for those looking for more advice on the water. The fishing runs on a 16 hour rotation per day enforcing two fixed 4 hour rest periods on the river, one at night and one at lunchtime.
4 km continuous private double bank fishing
Fantastic fly water
Good beat rotation and resting periods so there is always fresh water
Fly fishing and catch & release only
Good food, fully licenced bar and relaxed family style accommodation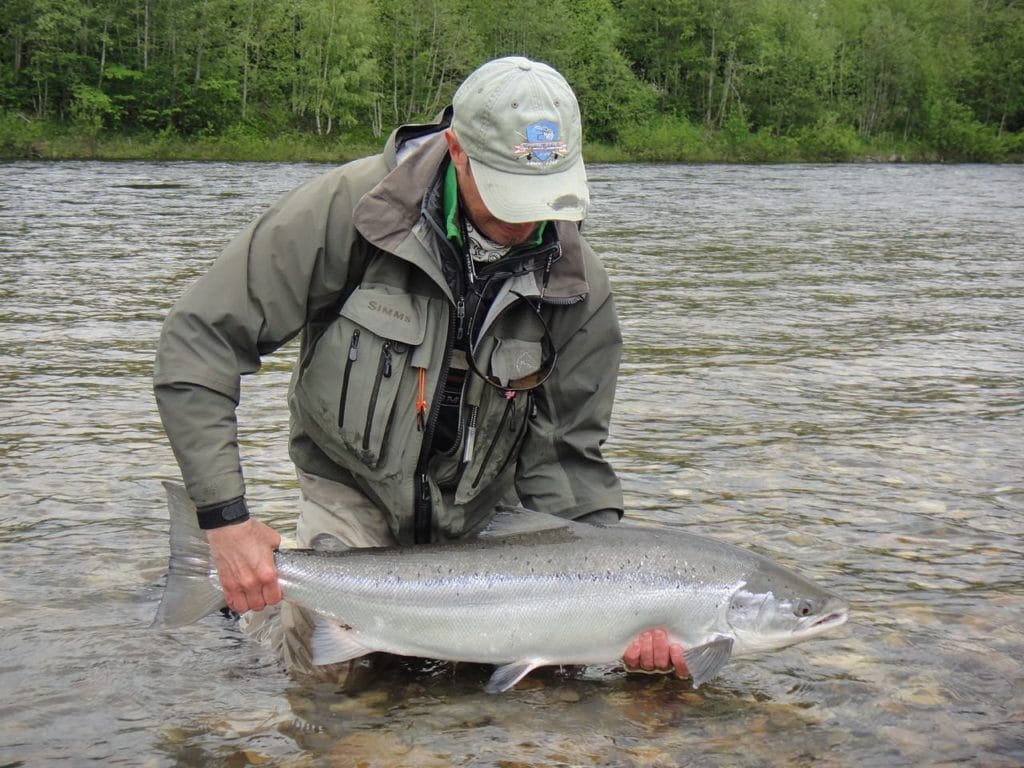 The NFC on the Gaula offers access to over 12 kilometres of private waters (both single and double bank) on the middle and lower river both above and below Gaulfossen. The fishing rotation allows access to all sections of the river during the week's fishing. The river is full of character and when clear it carries a slight golden tinge. The surrounding scenery is one of thick evergreen forested slopes interspersed with small villages and farms. Due to its location on the lower river it tends to see fish earlier than the upper lodges and can be a great early June option, by July it is still seeing fresh big fish along with a run of smaller summer fish. You can either enjoy your stay in one of the recently renovated traditional self-catered farm houses or full service accommodation at the newly built NFC Lodge at Rogstadmoen. The fishing runs on a full 24 hour rotation, meaning that you pick when to sleep and eat to fit around your pool allocation.
24 beats and pools in the rotation (traditional 24 hour rotation with no rest periods)
Fishable water above and below Gaulfossen offering great fishing from start to end of each season
A fantastic team of experienced salmon guides
Choice of accommodation; full service and self-catered
Fly shop on site for restocking of the best flies, leader and lines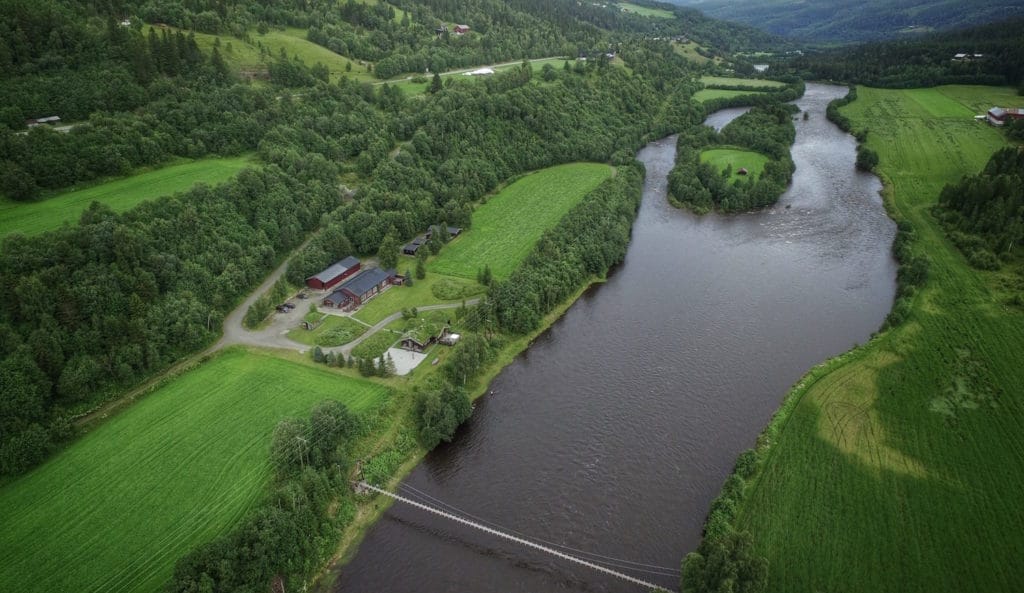 Aunan Lodge is located on the banks of the River Orkla and offers 5.5 kilometres of continuous salmon fly fishing consisting of 17 very different pools, most of which have both banks controlled by the lodge which is very unique by Norwegian standards. Just 12 rods are allowed on the waters giving guests the space and variation to fish methodically and not feel rushed through pools. The Orkla is one of the five major rivers that run into the Trondheim Fjord, along with the Gaula, Nidelva, Stjordal and Verdal. The salmon can run nearly 90 km up the river from the fjord, with great holding pools and runs along the way. The Aunan Lodge is conveniently based 55 kilometres from the mouth of the river meaning that fresh fish can reach the waters quickly and will often take up residency in the pools throughout the season. Each group will also have two guides that will divide their time between the 12 anglers, offering advice and invaluable insights where possible. The size of fish is very similar to that of the Gaula, with most averaging 14 -18 lbs with many fish exceeding 20 and sometimes 30 lbs.
5.5 km continuous private double bank fishing (longest private stretch on the Orkla)
Hydro-dam controlled creating more stable flows in low and high water seasons
Single rooms as standard in the lodge
Fly fishing only (except for intact parties when spinning may be allowed)
Good food and fully licenced bar
The Lakselv itself runs through Porsanger in the Finnmark county of north Norway. In the recent years this pearl of salmon fishing has caught the attention of anglers that are looking for big salmon, and in particular Olderø Lodge. Whilst only a small river, the last few years it has shown to be among rivers with the highest average number of big salmon per season. Many salmon between 40 and 50 lbs have been seen with the record standing at 55 lbs. The river offers easy wading, floating lines, riffling hitch and big North Atlantic salmon. Olderø fly fishing Lodge fishes a total of 6 beats in a rotation that is decided upon at the beginning of each fishing week. During a week anglers will fish all of the beats and will have the best chance to get into some exciting salmon fishing during their stay.
A combination of private pools and access to the 6 salmon fishing Zones on the Lakselv
Consistent producer of salmon in excess of 30-40 lbs
Relatively easy wading on a medium sized river
Fully guided trip, one guide to two anglers (single guiding also available)
Single rooms as standard, great food and fully licenced bar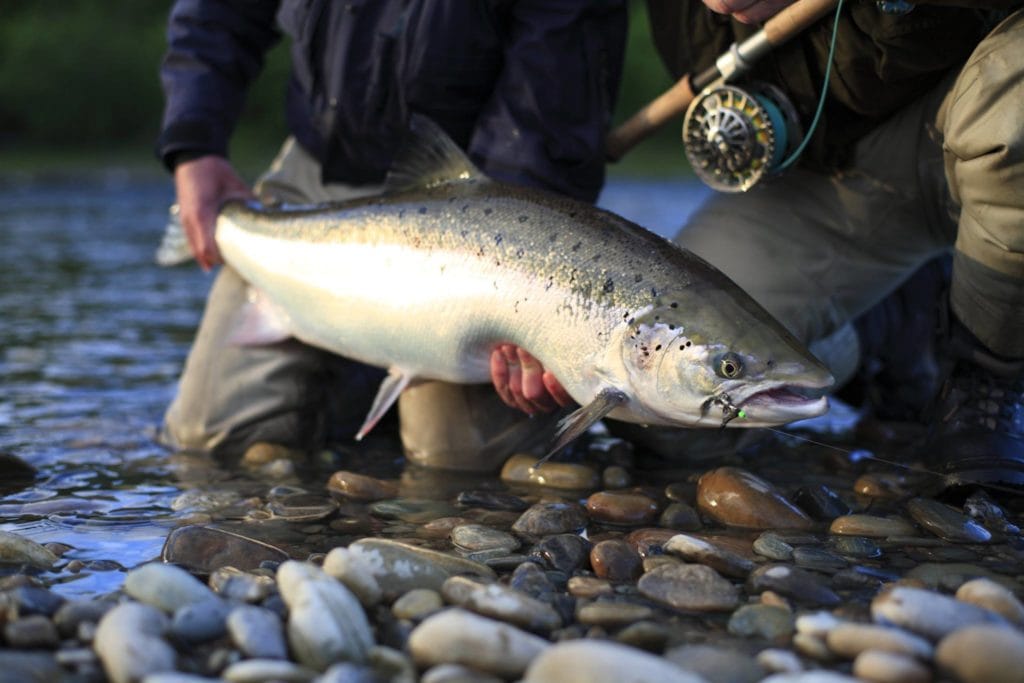 The Reisa River, originating in Finmark and surrounded by spectacular mountains and forested valley sides, offers 85 km of beautiful salmon fly water. Not only is the river stunning to look at but it is also home to some of the largest Atlantic salmon on the planet. Each season fish of around 20 kg (44 lbs) plus are landed on the fly. Complementing the wonderful river, Reisastua Lodge offers a comfortable base for salmon anglers to explore this majestic valley. The lodge offers fishing throughout the length of the river, including access to some of the hardest the reach pools by the use of river boats.
Access to the full length of the river, rotation of zones
Consistent producer of salmon in excess of 30 lbs
Fully guided trip, one guide to two anglers (single guiding also available)
One of the most beautiful valleys in Atlantic salmon fishing
Single rooms as standard, great food and fully licenced bar
Reisastua Lodge Availability in 2020
Availability on request.
When heading fly fishing in Norway in search of Atlantic salmon make sure you pick the right lodge for you so that you make the most out of this wonderful country.
For more information about salmon fishing in Norway please contact us or call our office on +44(0)1980 847389.