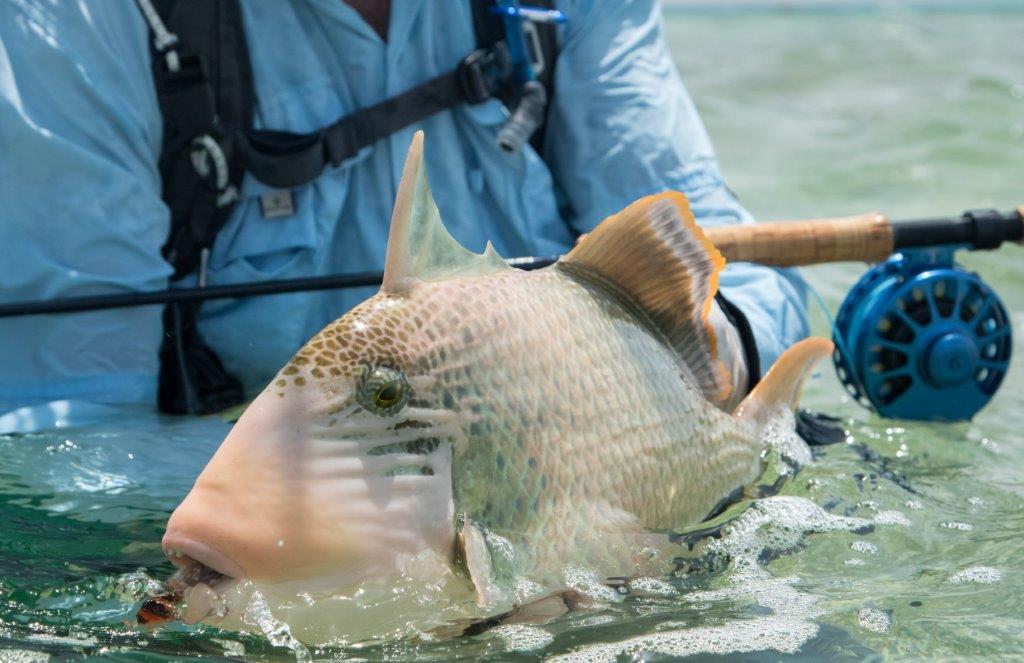 When thinking of saltwater flats destinations Sudan is hardly a name that springs to mind. In fact pretty much the opposite. When the Nubian Flats operation was launched 18 months ago, reports began to trickle through of giant deserted flats teeming with fish. There appeared to be a very high density of trigger fish, good numbers of bluefin and boha snapper and a few GTs to be considered a bonus. I am always on the lookout for new adventures and the thought of an untapped saltwater destination full of trigger fish thrilled me. For anyone that has fished for triggers they will be aware what an obsession they can be, like an attainable permit. However, Sudan? My limited knowledge of this part of the world immediately made me nervous as most news reports of Sudan are hardly favourable. I began to research it further and discovered I was very wrong. Sudan is a huge country, and when I say huge, I mean huge. It is some 1200 miles across and the area which is troubled is an entirely different country; South Sudan. The distance from this area to the Red Sea is some 1100 miles which to put it into perspective is the same as the UK to the Russian border with Poland. The more I understood about the area the more I began to have any worries I might have had dispelled.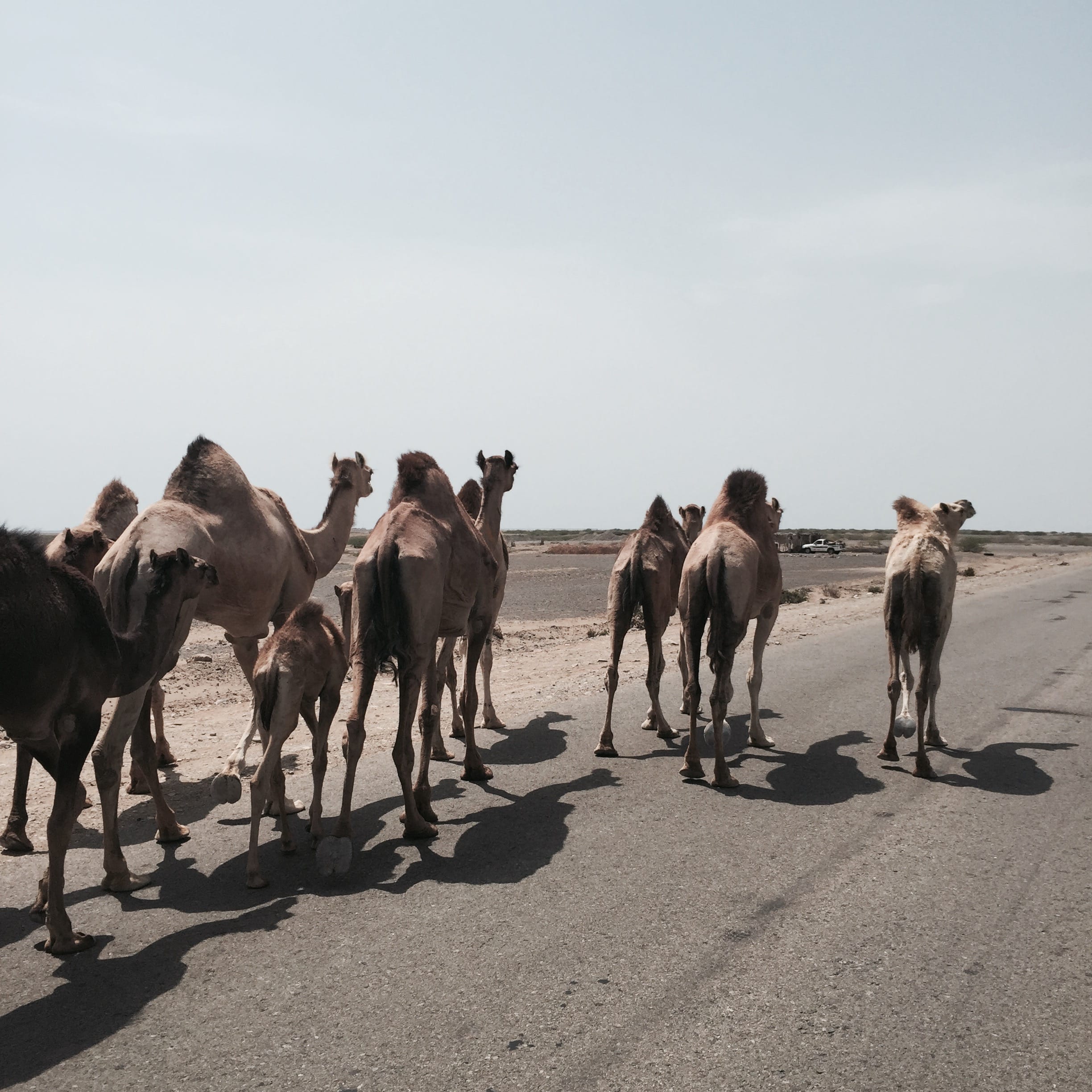 The coastline being explored runs from the Egyptian border all the way South to the Eritrean border of some 300 miles and contains innumerable islands, flats and pinnacles surrounded by some of the clearest oceans and the best diving in the world. This coastline is for the most part deserted as it is the Nubian Desert inhabited by nomadic populations of camel and goat herders with no fishing communities. This is key as there is no commercial subsistence fishing apart from a handful of small open boats using hand lines. The pressure is effectively nil. This was beginning to sound more and more interesting by the minute. I therefore put together a small team of six anglers to go and continue exploring the potential this fishery might have. What we found has me as excited as our early live aboard expeditions into the Indian Ocean in 2005.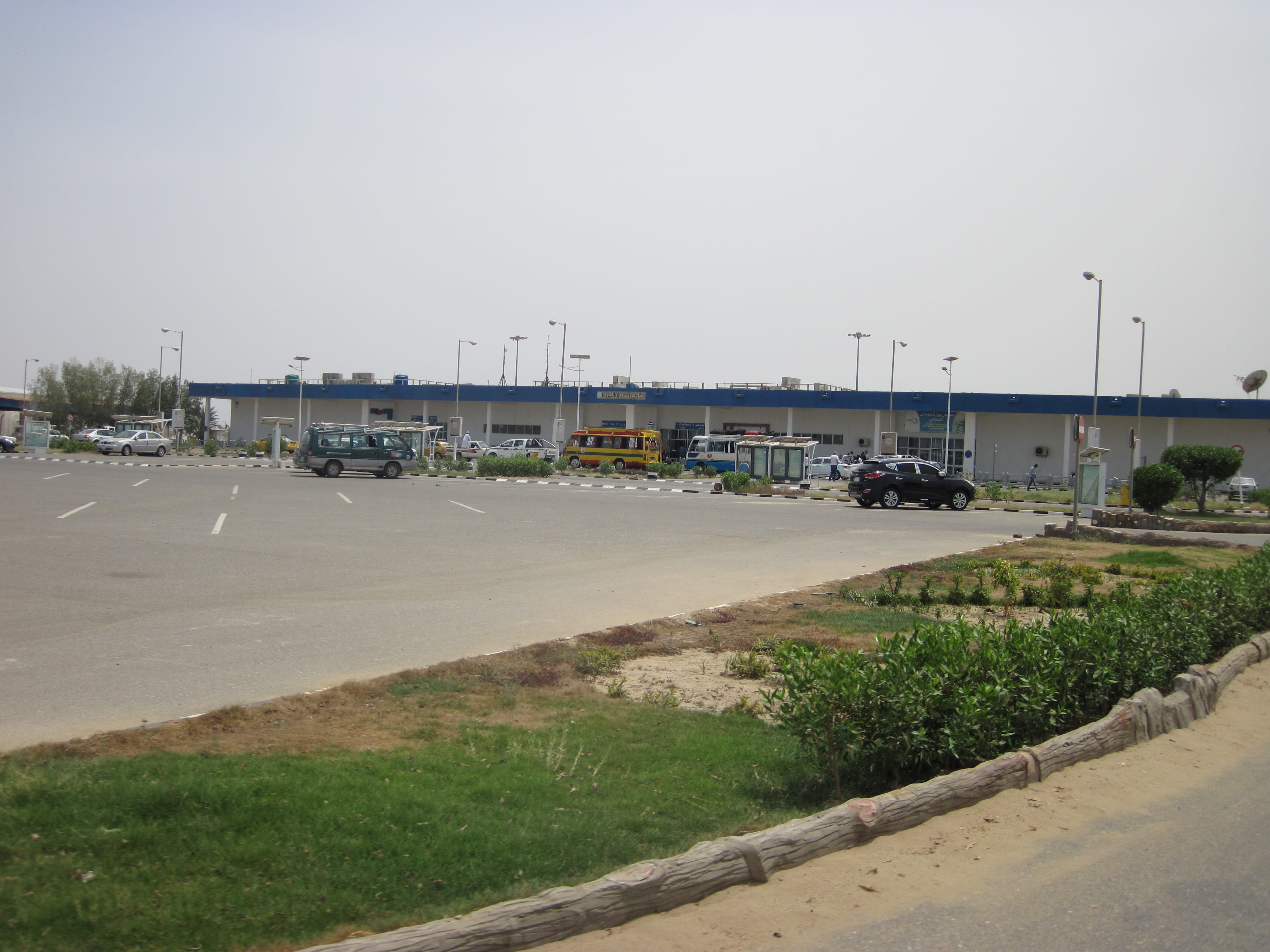 The route in is extremely simple with direct flight to Dubai on Emirates followed by connecting flight to Port Sudan with Fly Dubai on a brand new 737-800. We left on the Sunday night and on Monday afternoon found ourselves at the desert airport of Port Sudan. Our team was met by Chico from the Tourette fishing's ground handlers who met us coming through customs and showed us to a minibus. Our bags were loaded into the back and we headed off across the desert to the coast. A cooler of water bottles was on hand, a nice thirst quencher as our bodies adapted to the heat. A twenty minute drive had us in the town of Port Sudan where we picked up our chef and then we proceeded north along the coast for a further 2 3/4 hours through some of the most extraordinary landscape I have seen. Wild desert with huge jagged mountains visible in the distance through a haze of dust and heat, punctuated by a few patches of scrub, goats, and a few camels wandering about. As the sun began to descend behind the mountain range we turned off the road to the sea through the largest port in the north, Muhammed Qol. In effect this was a tiny community of sandy streets leading to a military outpost of two jetties and a handful of boats. The soldiers mostly wore football shirts from Arsenal, Barcelona and Real Madrid which was somewhat surreal.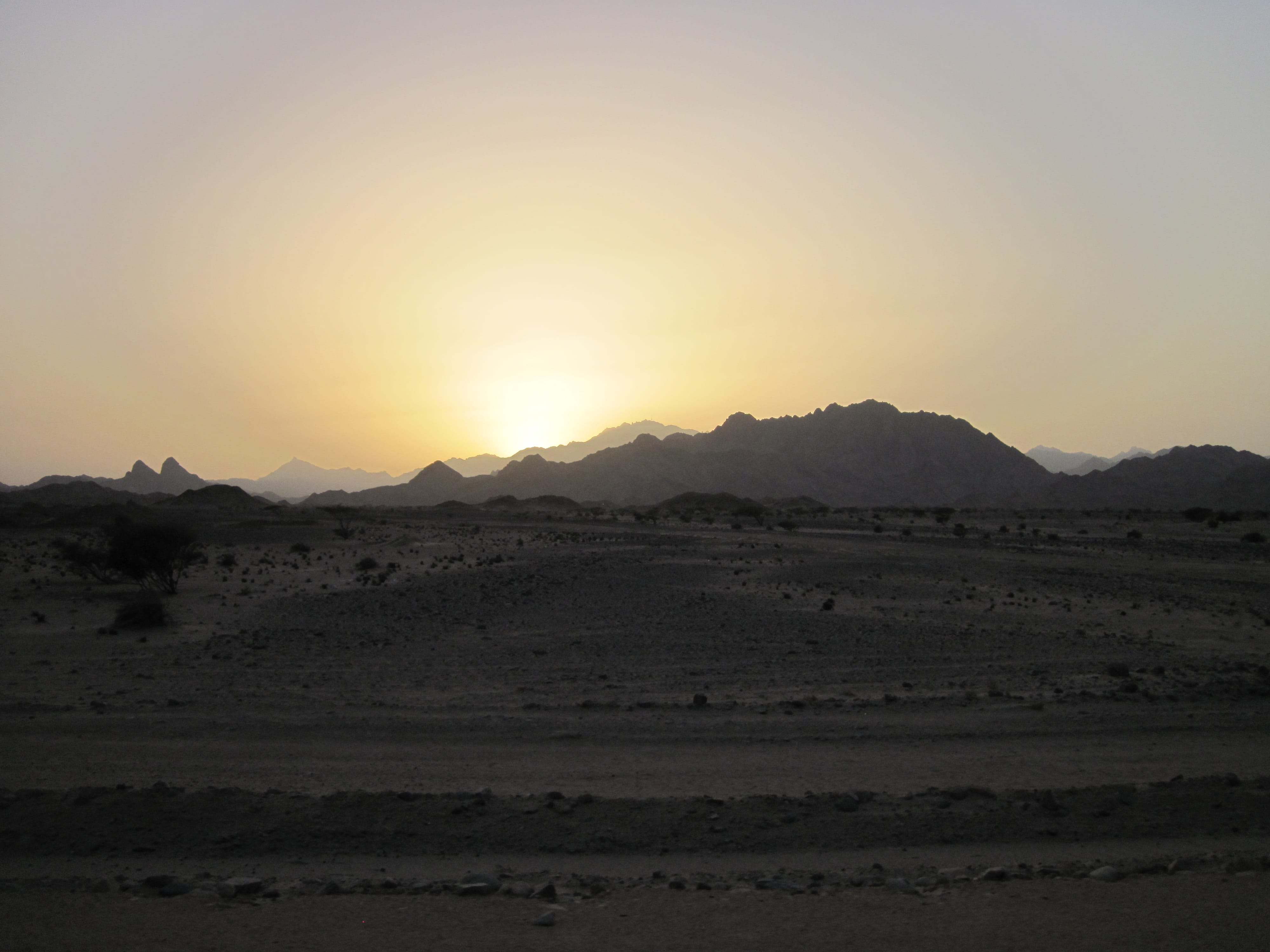 Our bus drove down the jetty where we laid eyes on our home for the week, the 60 ft motor catamaran, Scuba Libre operated by the Italians Nicola Vitali and Federico Castignoli. As tenders she has two 23 ft fibre glass pangas equipped with 30 and 40 hp two stroke engines. Nicola had been on the flight from Dubai with us and had been excellent company giving us a large amount of background information on his explorations in Sudan and Socotra. They have just bought a new 28 ft boat with twin 200hp engines that he was commissioning in Port Sudan so would not be with us for the week. Our team was ferried across with our luggage, buzzing with excitement and met by the guide team from Tourette Fishing headed up by Mark Murray. Cabins were quickly allocated and then Mark briefed us on the week to come over a much welcome cold beer. That night we would stay in port before heading out to our first anchorage at Magarsum Island, and then continue to move around to further anchorages exploring the flats as we went. He introduced us to Federico (Fede) and Stuart Harley (Stu) who would be our guides for the week. We also had two boat drivers, Mahmoud and Ibrahim, our chef Adi and our Captain Adel. To look after us at meal times we had Mohamedino.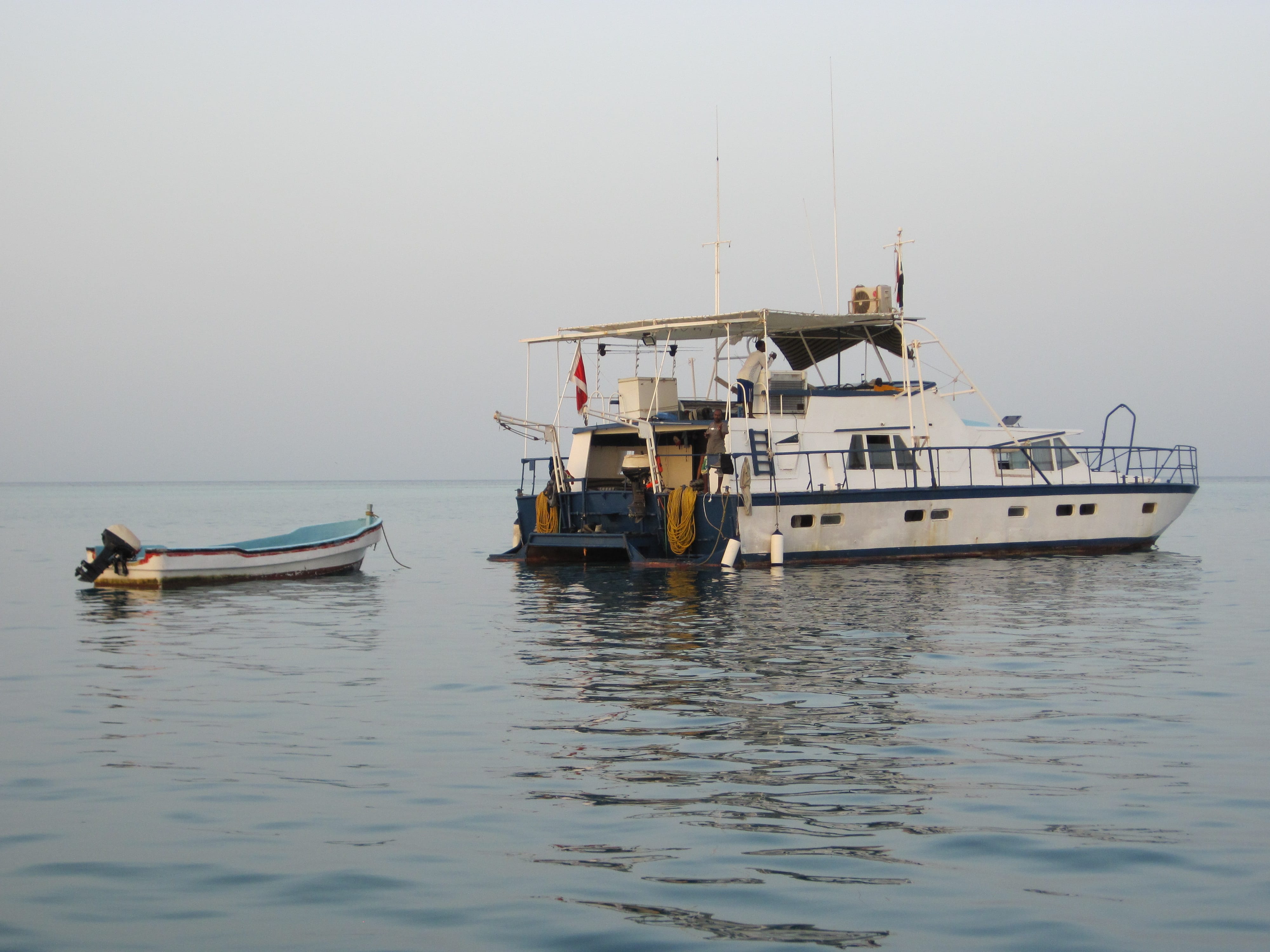 Kit spewed out of bags as we took everything up to the top deck in allocated kit boxes amidst much chatter of latest toys purchased for the trip, benefits of other pieces of kit and fly selection. The guides set up rods, patiently listened to theories and then everyone was called down for dinner followed by bed. Although everyone had a cabin, when it comes to sleeping the guides and crew all sleep topside along with most of the fishermen. Although equipped with fans it can get very hot down stairs and most prefer the open air and sleeping under the carpet of stars. We revelled in the gentle offshore breeze, lapping of water and the total contrast to our normal lives as we drifted off to sleep.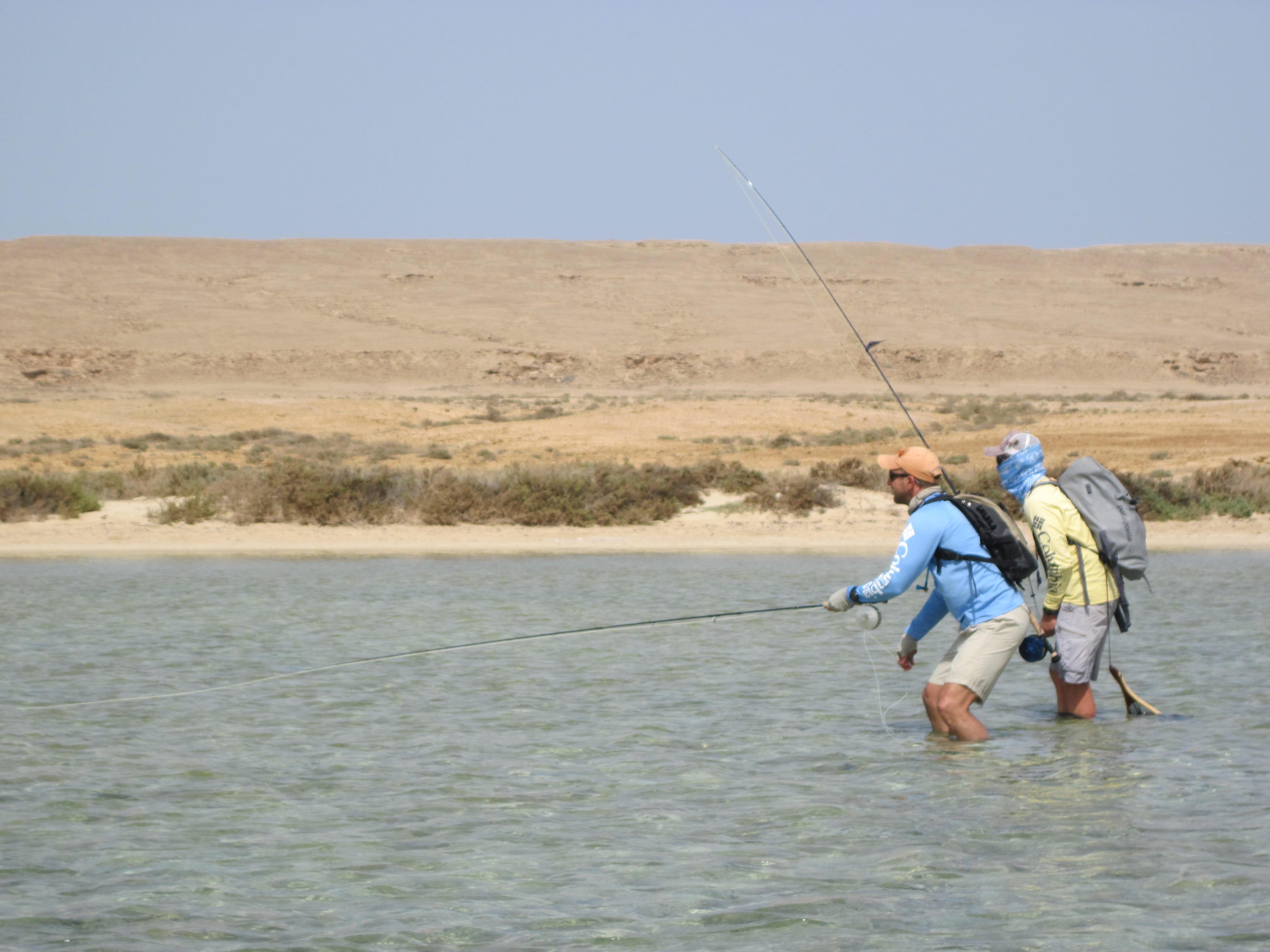 Day 1 – Trigger time
The first morning dawned crystal clear and flat calm. We motored over to our first anchorage Mesharifa while having a delicious breakfast of omelettes, pancakes and freshly baked bread. I teamed up with Chris and Phil guided by Mark and Stu. Mahmoud ran us south down the side of Magarsum to the bottom which took approximately 45 minutes. The clarity of the water was astounding and as we stepped out onto the beach I felt a thrill of excitement pulse through me. The flat was some 150 – 250 yards wide from the beach edge to the reef and dropping off into aquamarine water with the contrasting red mountain of the island climbing up to our right. Almost immediately I had a shot at a small titan trigger off the beach, but in my excitement I slapped the fly down on his head and spooked him. As we lined up across the flat and proceeded to wade slowly north what ensued was staggering. The flats was crawling with triggers, titan and yellow margin tailing on the mixture of coral and weed. However those who have fished before for trigger fish will be fully aware that even though there are many fish it does not necessarily mean you will catch many! They are tricky little guys, each one with an individual personality. Sometimes it is not about finding the right fly but sometimes about finding the right trigger.
The three of us had many shots, follows and near misses. Some of the titans especially were huge, there orange spade tails waggling in the morning sunlight like small flags. Although I saw fewer in the shallows, Phil and Chris had many in the slightly deeper water. Chris did get two shots at GTs that appeared along the edge, but no interest. The yellow margins although numerous were behaving oddly. Pairs chased each other around and daisy chained that Mark thought was their spawning behaviour making them especially spooky. (Apparently the reverse had been the case earlier in the season with the titans behaving that way in March and early April). I spotted two titans tailing in a small depression and dropped the fly off to the right. After letting it sink I gave the Gumby Crab one small twitch and one large titan charged over to investigate. It tailed on the fly three times as it followed it towards me and I could feel it nipping as I maintained contact with slow strips. Finally everything went tight and he was on! I felt the weight and then as if on purpose the fish spat the fly back at me nearly hitting me in the face.  To change the pace we moved out to the drop off to throw a few teasers and see what might be lurking in the depths. A large bluefin came charging in on the first attempt, inhaling the fly with only the leader stuck out of the rod tip. After a quick lunch of pasta, fruit and coffee the team continued moving up the flat line abreast.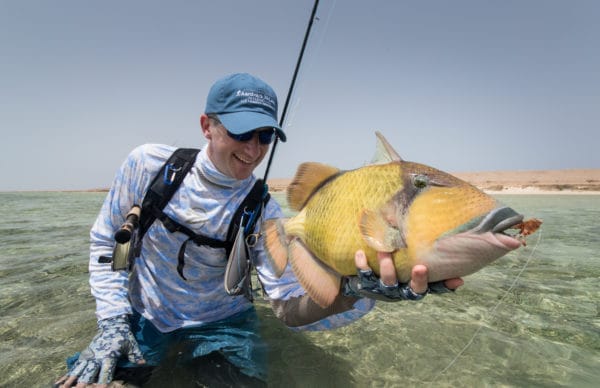 Wading up we saw at least 15 tailing triggers along the edge, some the size of footballs. Again the excitement of follows and near misses. Finally I found a lovely titan tailing between myself and the bank. I moved into position and dropped the Gumby crab 10 ft to the left on a back hand cast across the breeze. The aggressive titan did exactly what it was supposed to and charged over and hit the fly like a ton of bricks and I was in! This one was not getting away as it tore off to the coral edge and I began to pump it on my 8 weight Hardy Proaxis. I was on a Rio Saltwater tapered leader to a 20 lbs point with two feet of 19 lbs Seagur tippet so I knew I was safe. I quickly landed my first Nubian Flats trigger of about 6 lbs.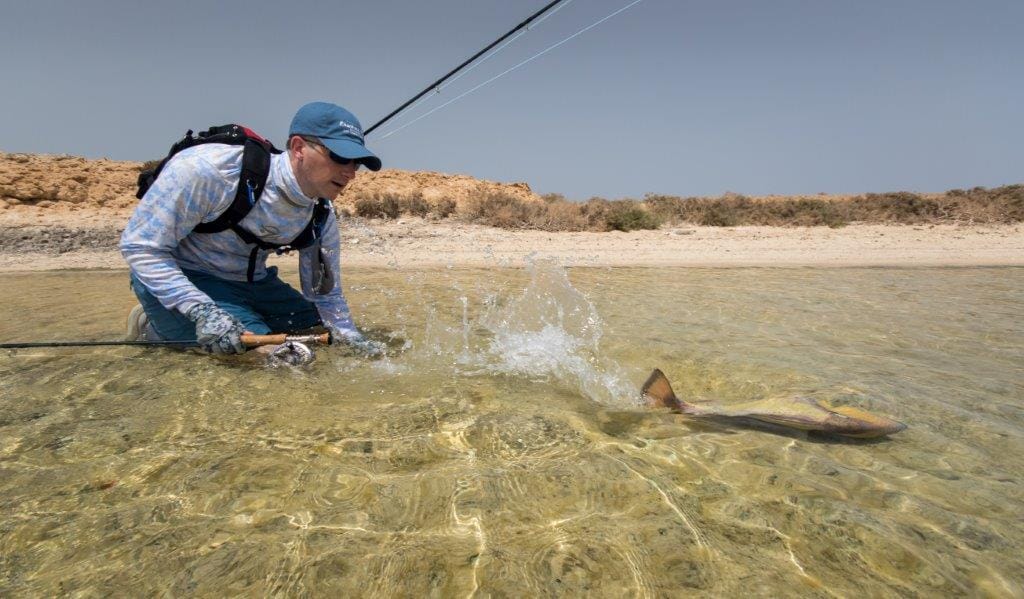 We swapped around and I now took the outside line. Suddenly Mark indicated for us to stop, and there just ahead of us was a school of tailing permit. Although I could not see them myself due to the angle of the sun the other guys stood like statues and Phil cast out a stunning line that dropped the fly gently near them. One of the fish dropped its tail and scurried over immediately and tailed on the fly. No one uttered a word and our hearts were thumping in out chests… Phil took up the slack… and nothing… Arghh! Permit are the same where ever you are in the world, but that was about a good an opportunity as anyone would have. We continued up the flat and as I was scanning around I had a quick look behind me and suddenly there was an explosion of water. A GT had snuck up on me, probably thinking I might make a good meal before charging off the edge of the flat. As the light faded we had another quick tease off the off the edge and Chris landed another nice bluefin. During the session Chris had hooked three triggers that parted company and we estimated we had had between 15 – 20 shots each. We had tried every fly in the box.. Sometimes it's not the wrong fly but the wrong trigger.. a saying that would be coined on this trip.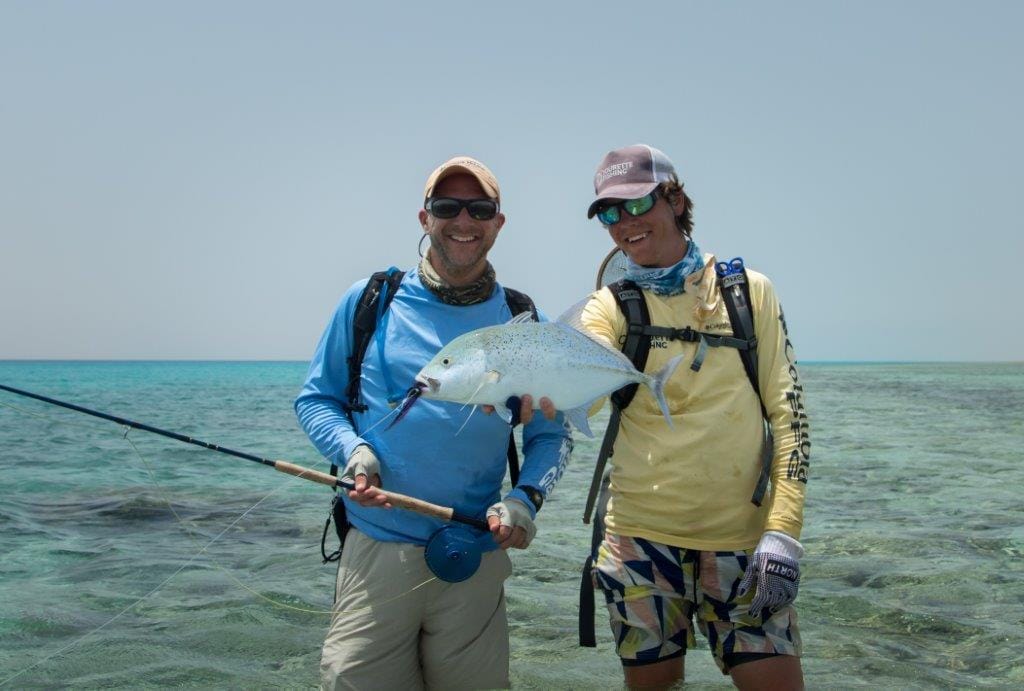 Arriving back at Scuba Libre, now moored up at the bottom of Little Snake Island, we caught up with Andrew, David and Fede who had fished the North West edge of Margasum. David had lost a yellow margin and had a shot at a bluefin, and Andrew landed a lovely 6 lbs yellow margin. They too had seen lots of tailing fish along the edge and had similar numbers of shots. David had also had the excitement of a big GT on the flats that had chased his fly but not connected, and crowned it off by landing an octopus on the fly. I snorkelled off the back of the boat over some coral bommies with Stu for a quick refresher. That evening Fede indoctrinated me into catching batfish off the back of the boat which became a bit of an obsession. We all collapsed into bed that night and drifted off dreaming of little flags waving in the ripple.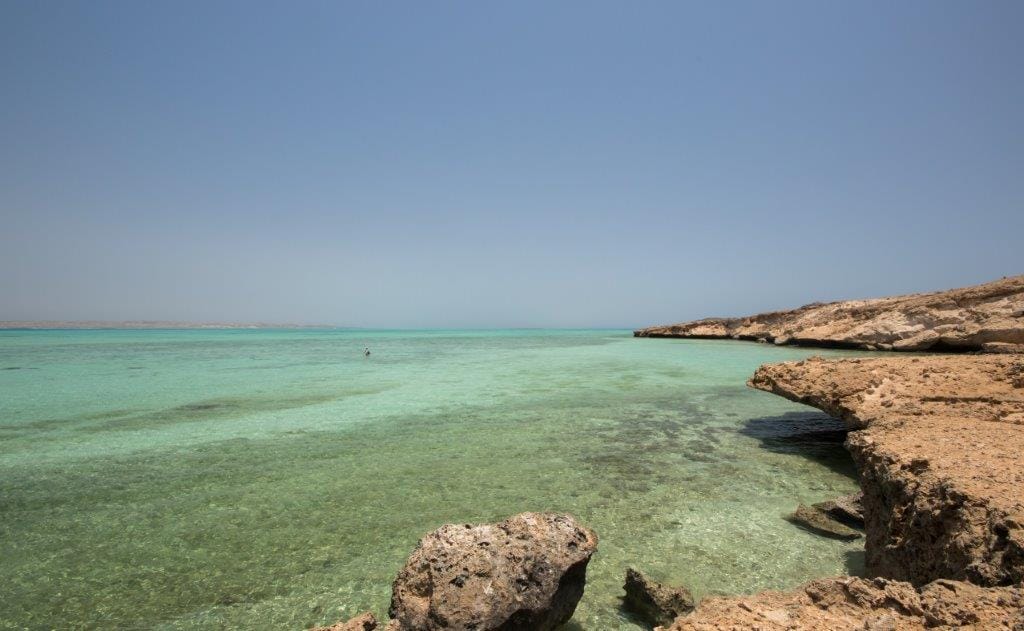 Day 2 – Little Snake
The sun jumped into the sky like an orange football against the back drop of the red sand mountains as the groups took to their boats like some kind raiding party. Phil, Chris, Fede, Stu and myself headed for Little Snake Island. The island very much reminded me of some of the undercut petrified coral outcrops of Cosmoledo, although the centre was covered in red sand and dotted with Osprey nests.  Chris, Stu and I picked our way up the west side, sighting for triggers from the higher ground. We saw some huge double figure titan triggers from the higher ground but they proved extremely spooky with the light not in our favour. Stu then spotted two yellow margins tailing under the overhang and manoeuvred Chris into position to try and get a cast in. Chris dropped the tan crab in, but they snuck round the corner as they continued to tail annoyingly. He managed to bend a cast round the corner but the fish unfortunately spooked.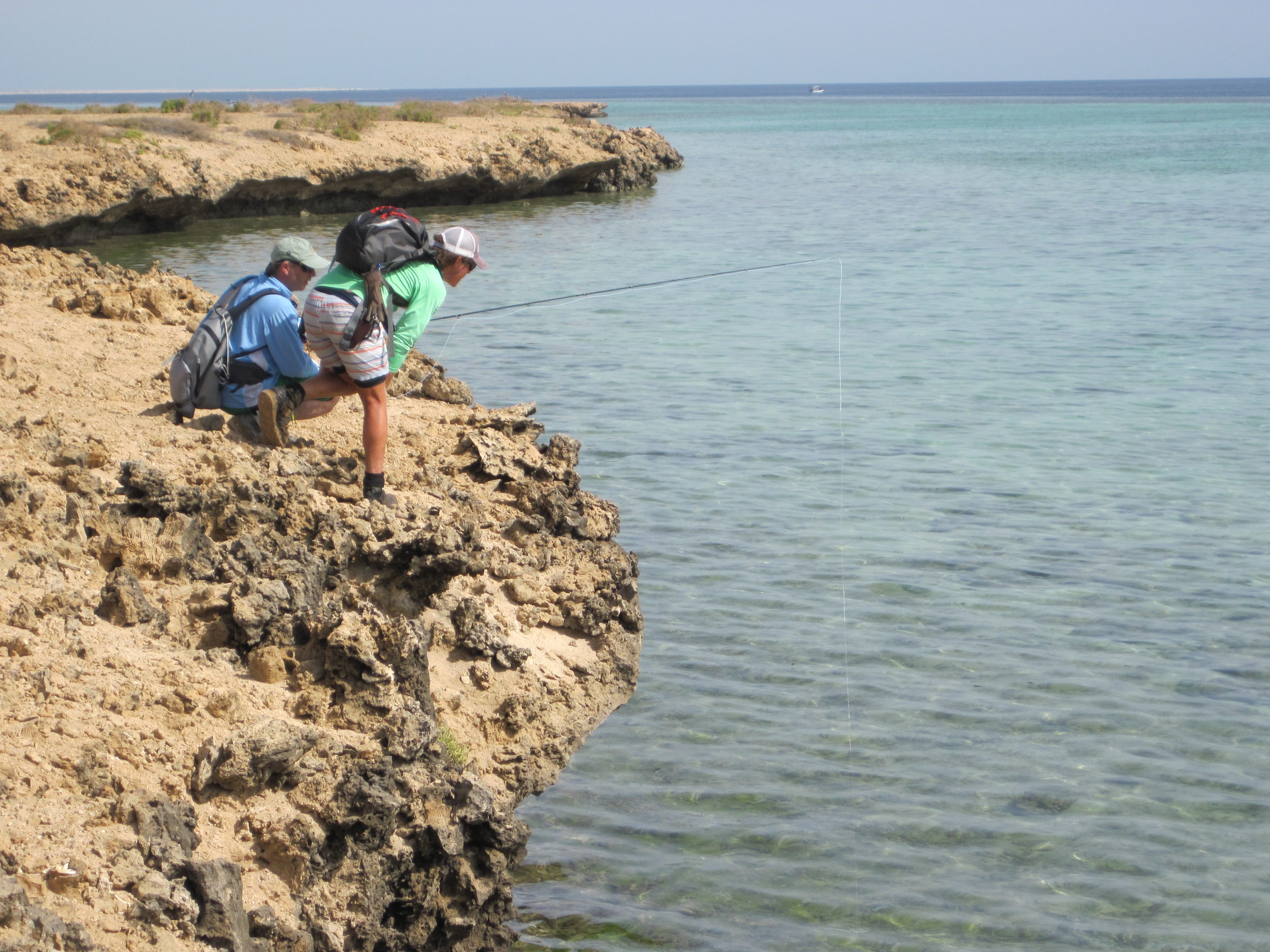 We encountered a couple of blue holes in the flats and although we stripped flies across them nothing appeared other than a small grouper, but you never can tell if a GT might be in residence. As Chris and Stu continued up to the north I suddenly caught sight of Fede and Phil running up to the north point stripping line off as they went. I ran up to join them thinking it must be GT for sure. As I arrived panting I found Phil in the water and Fede directing from above. Fede had heard something smashing bait, but it transpired to be a massive cuda that Phil was frantically trying to get a brush fly to. The cuda followed a couple of times, but then turned off and cruised north around the small island like a submerged submarine. A tank of a titan trigger also came wandering round the other corner and after following the fly a couple of times also decided to shun us and cruise off nonplussed into deeper water.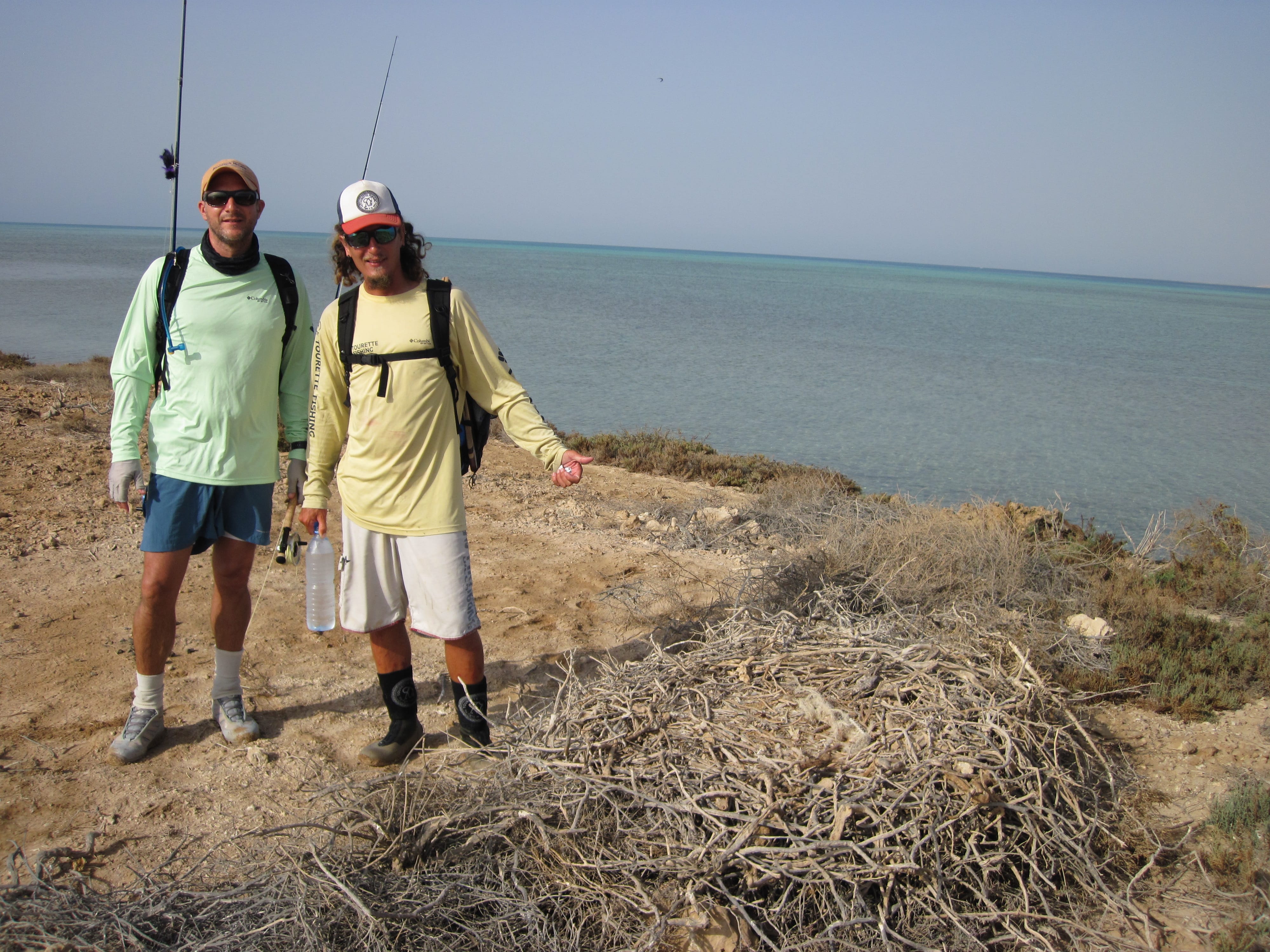 Turning around we began to retrace our steps down the island until Fede spotted a yellow margin tailing against the coral outcrop. With Phil at water level we directed him onto the fish and his Cuban shrimp dropped invitingly five feet from the twisting trigger. He gave it one small twitch and the fish rushed over to eyeball the perspective meal. It tailed nipped, followed the fly as Fede and I held our breath with a perfect view of proceedings. Finally it got to close and saw Phil before spooking off. Heading out onto the flat below Phil and I had plenty more shots amongst the herd of trigger looking box fish that had taken up residence and I hooked another briefly before heading back for lunch. Andrew and David had fished with Mark on the Eastern side of Margarsum. They reported a couple of shots at tailing triggers, but the water had been deep and slightly green that had made spotting tough.  I should point out that fishing in the Red Sea is very different to fishing in the Seychelles. There is very little tidal movement, and the only wave action is generated by the wind. Therefore on a calm day you can fish the edges with no waves at all which is somewhat surreal and takes a little getting used to.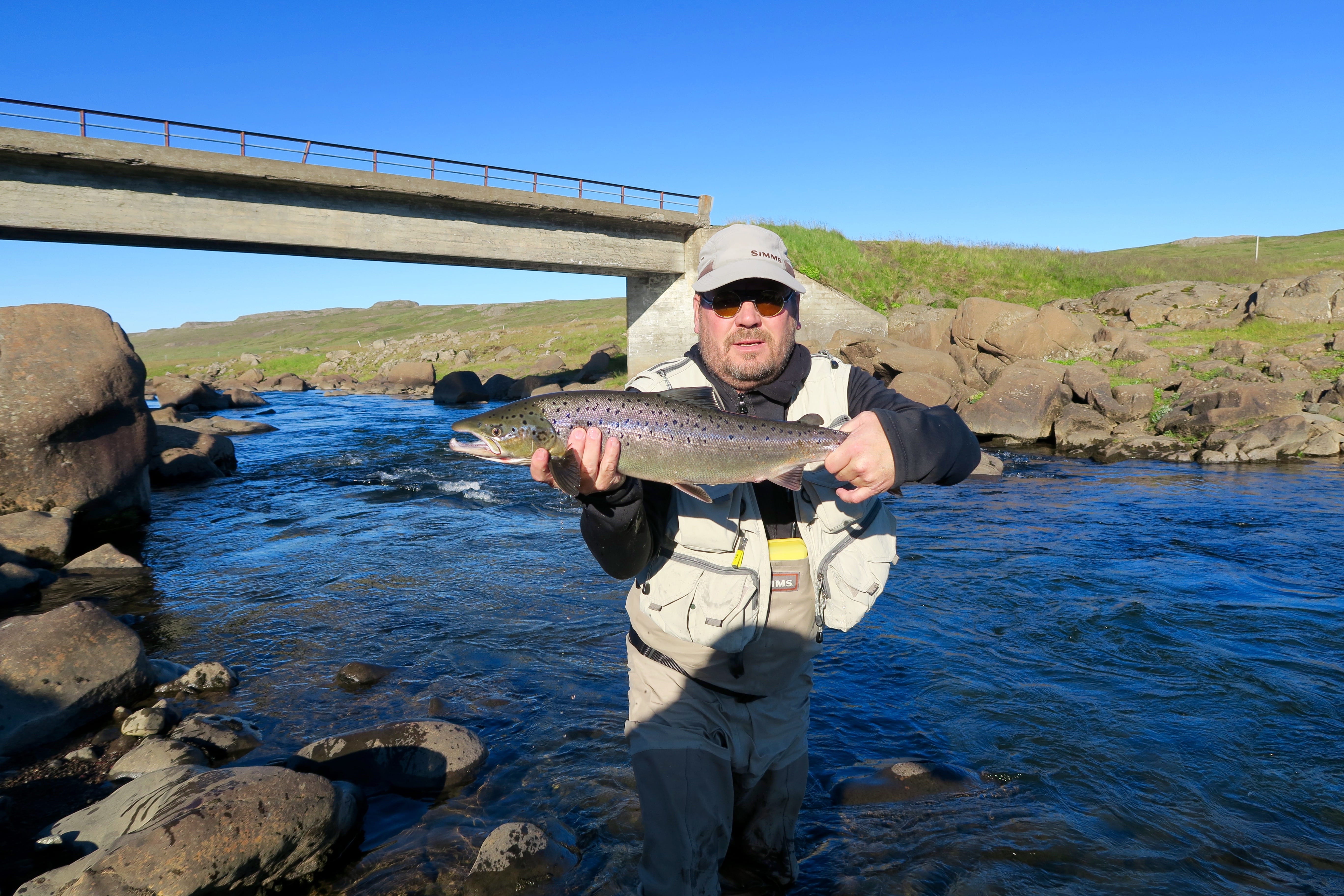 As we had lunch Scuba Libre motored over to an outer area called Shambaya. This is a huge sand flat dotted with areas of broken coral and the green snot weed found on some of the flats in the Seychelles. In the afternoon we all went to fish this flat as there was more than enough room for five of us to wade line abreast. The water level was deep, up to our chests at some points, but this did not stop the guides spotting triggers all around us. Phil and Chris both landed lovely yellow margins , and as they both knew that this particular species has eluded me over the last 15 years began to  heckle me about it. Andrew and I left them to it and broke right to avoid the abuse while David brought up the rear with Mark.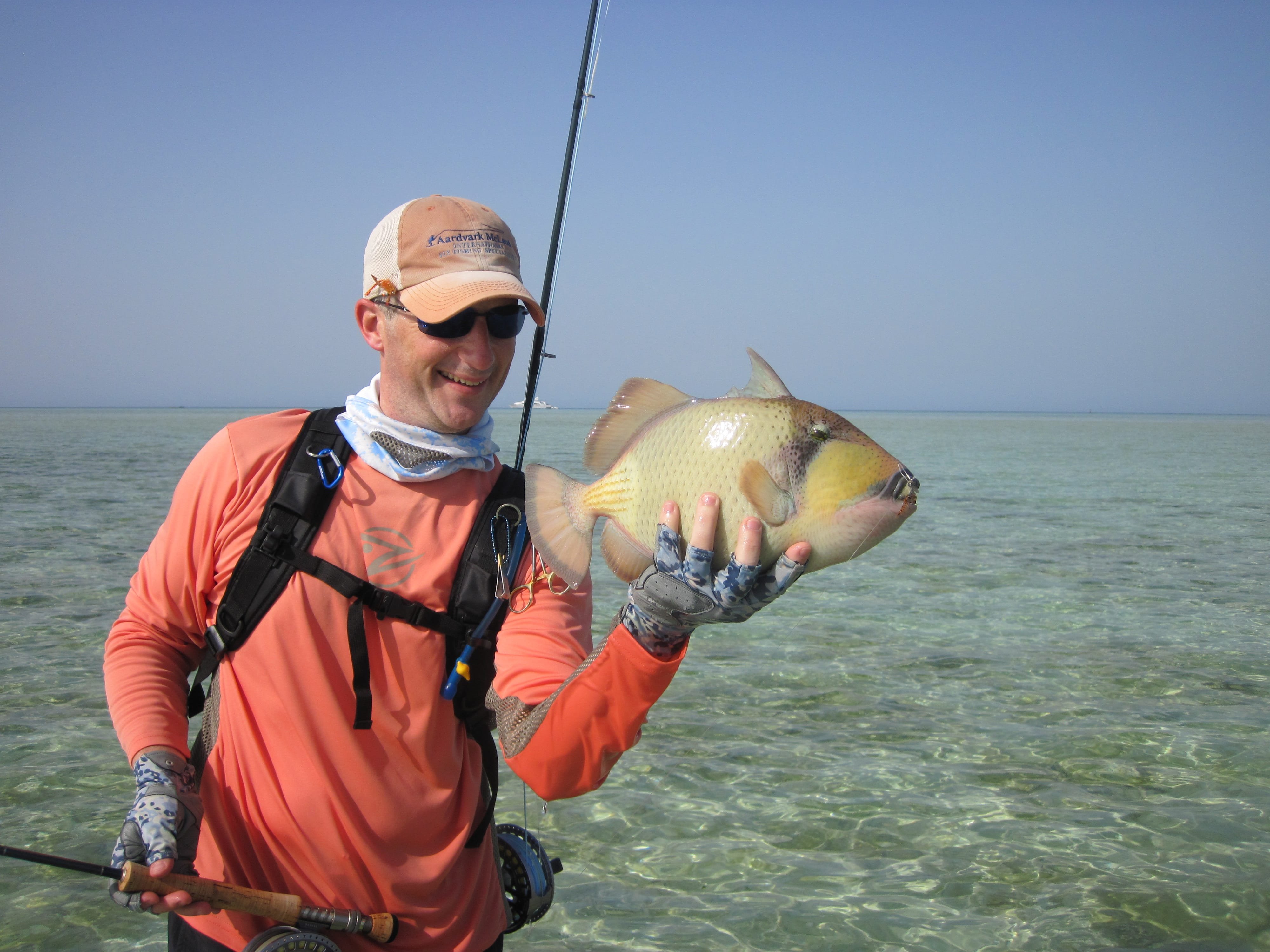 We took alternate shots (yes, there were more than enough triggers to cast at to make this feasible) and we both managed to land some lovely titans.. and the yellow margins continued to give me the fin, spooking off, following and refusing to hook up. As we neared the sandy Island the density increased and Andrew and I were astounded by the size of some of those fish. I found a massive fish in the deeper water that came in furiously on the rolling bead Gumby Crab I was using and proceeded to chew the hell out of it without hooking up. Infuriating! But that is why trigger fishing is so exciting…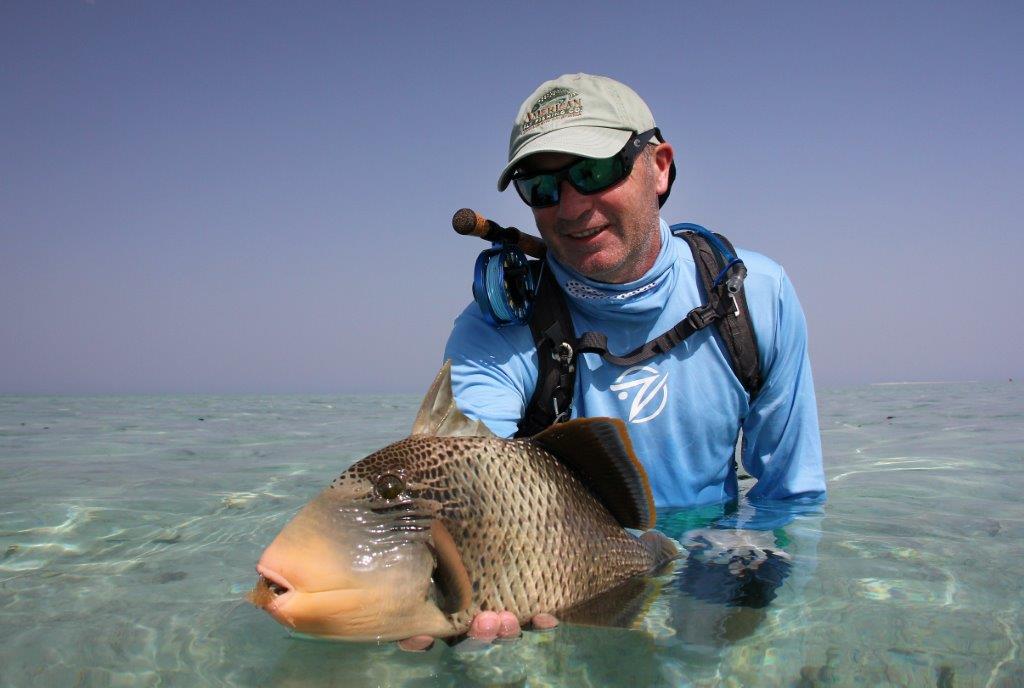 As the light began to dip Andrew and David teased the north side of Shambaya, while the rest of us had a crack at the eastern edge. I will also draw attention to the coral edges of these flats which are some of the most uneven, slippy and tough edges I have ever waded, and not for the faint hearted. The guides have taken to wearing felt soled leather wading boots for this destination, and I quickly discovered that my normal Simms Flats sneakers although tough enough were pretty slippy. All our boots took a pounding over the course of the week, and my Simms neoprene bootie/ gravel guards protected me from a lot of cuts. When I return some kind of neoprene coral gaiters will be called for.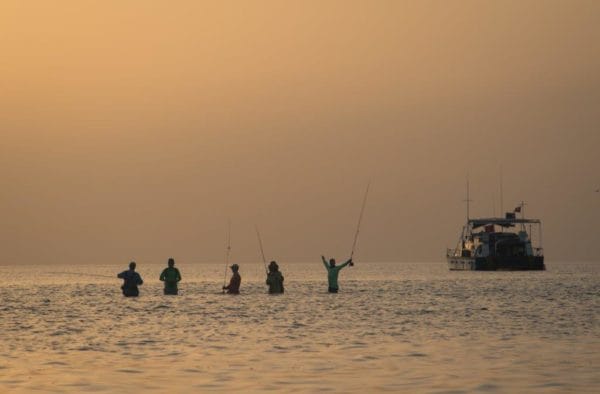 While teasing a large boha came out of nowhere, snaffled Phil's fly and disappeared from whence it came. Wow! Yay!.. oh…. Stu (nicknamed Aqua boy after his consistent donning of mask and disappearing to retrieve fish) came to the rescue. He swum out over the edge and as Phil braced himself to resume battle Stu suddenly erupted from the water like Poseidon holding the enraged boha over his head. Shortest battle known to man.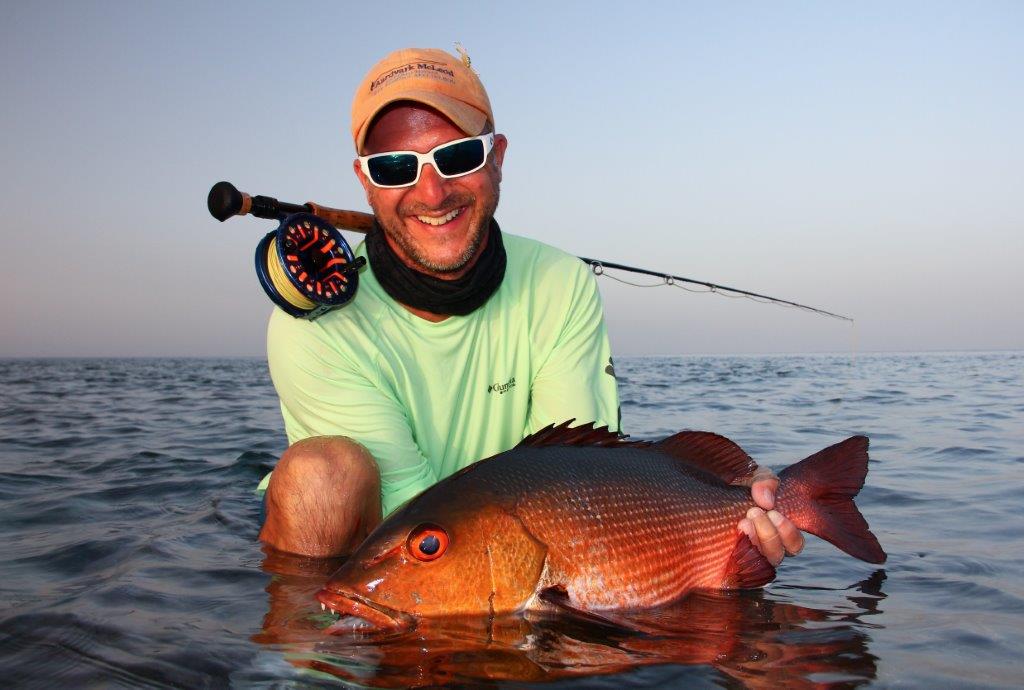 That evening after dinner the "bat attack" continued. These strange fish are incredibly strong and as soon as you latch on they try and tear you straight down into the coral. I landed three on my 8 weight which was an incredible test of its strength, and Phil and David both landed them on Phil's light spin outfit. Chris continued to fish properly with light tackle off the back. Finally he hooked something proper which smoked him in the coral. We retired..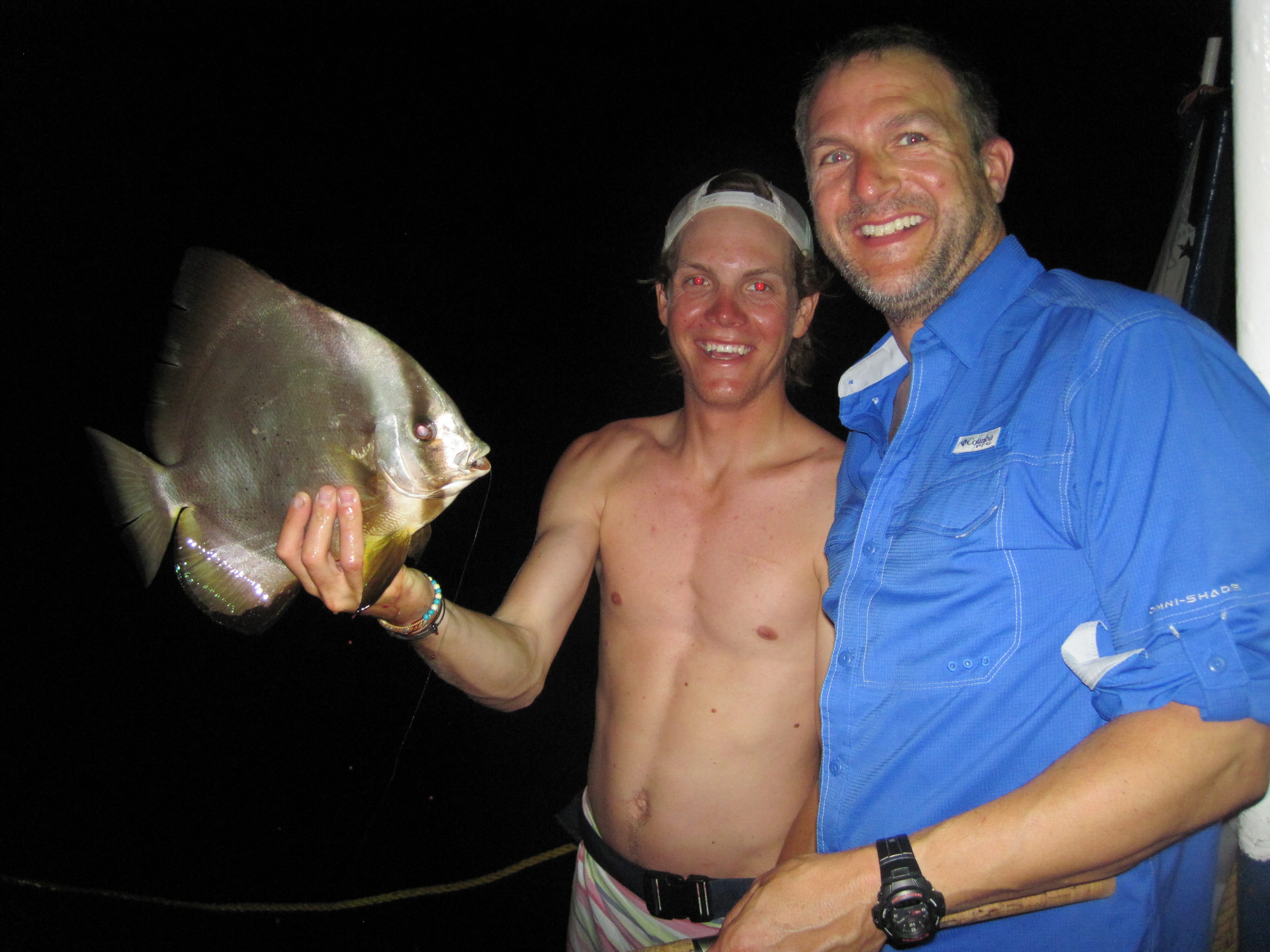 Day 3 – Nubian GTs
With unfinished business on Shambaya, Mark, Andrew, myself and David headed back to the open flats. The weather was crystal clear and a flat calm on the water. Some current was pushing in from the Red Sea producing even higher water than the previous day. While using the boat and Mark as a human pole in the deepest bit we encountered one of the largest GTs I have seen on the flats that was being followed by a shark.. not the other way round.  I got one shot off, but the fish did not see it and continued unperturbed. It did however leave me shaking for ten minutes or so afterwards. As the water level dissipated it was time to wade. With a flat calm and no ripple the triggers were seriously on their guard and would spook within a 30 metre window making it very frustrating. We did see a school of milk fish cruising around which also spooked everything in their path. I managed to land a lovely yellowspot trevally on my 8 weight which was a first from me. David also landed a specimen Picasso trigger on the edge which was pushing to be the size of his palm. For those that know about Picassos that is a real monster!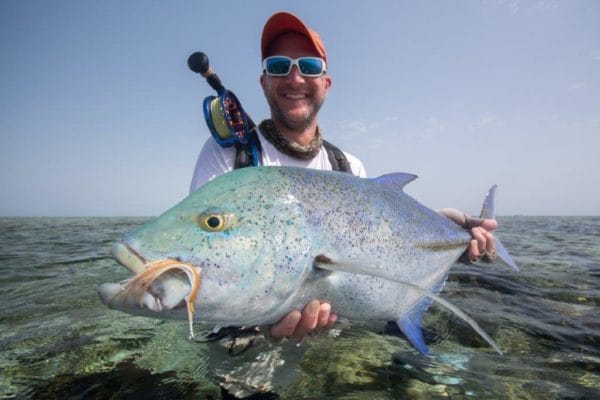 Chris, Phil, Fede and Stu headed off to an edge flat called Merlot. Here the coral edge that you can wade to drops away to 600 ft and creatures live down in the depths. The edge is interspersed with dark blue crevasses and holes which can be treacherous if you don't watch your step. What ensued was mayhem and unexpected. First tease Chris got a hit from an enraged GT and Phil connected with a giant barracuda which cut him off. Then Phil hooked up with a nice bluefin that yanked him off the coral bommie he was standing on, submerged him completely and tried to pull him off the edge. The fish then wrapped itself around another bommie over the edge that Aquaboy Stu dived over and retrieved and landed. A cracker of 12 lbs. Phil then decided to take a breather and blind cast a bit at which point a massive coral trout came from nowhere and reefed him immediately cutting his line. They continued south along the edge dodging crevices as went. Behind them they suddenly saw a huge Goliath grouper tailing on the flats estimated at 50 kgs surrounded bluefin. What it was doing there no one knew. Chris caught one of the bluefin there. As they headed for the Southern tip six really hot GTs charged in on the tease, Chris hooked one and trout struck losing it. After some severe abuse his next cast hooked and landed a stunning GT of 85 cm. As if this was not enough they rounded the corner to be faced with a herd of bumphead parrot fish, the smallest of which as estimated at 60lbs and the largest at 150lbs. They gave chase and Phil managed to hook one. After one long run he managed to turn it and was just beginning to get line back on the reel before everything went slack as it had bitten clean through getting line on reel and bitten clean through hook shank. What a morning! They returned to the boat looking like troops returning from the front line.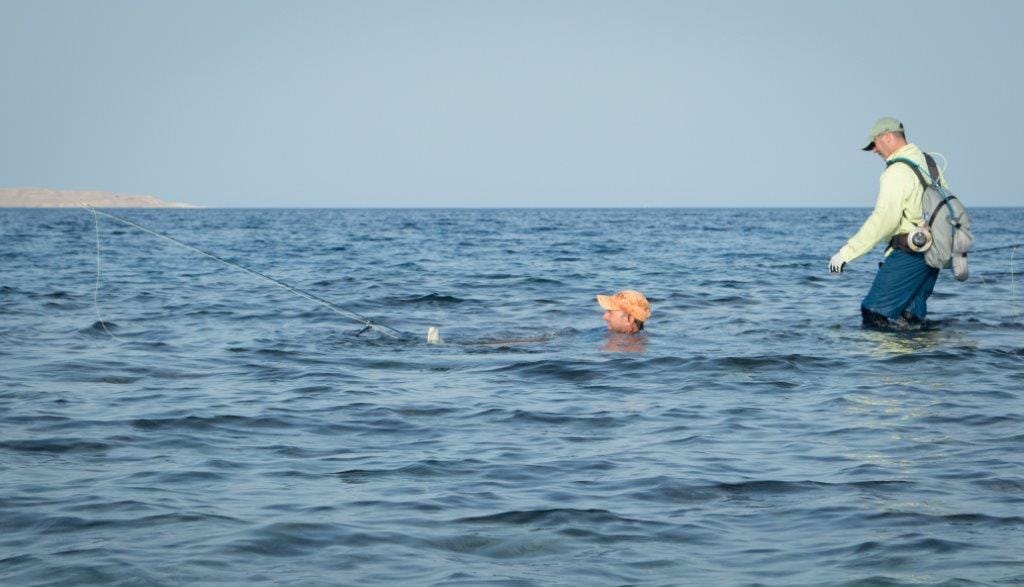 Their afternoon did not prove any less eventful as Phil, Chris, Andrew, Fede and Mark went to a tiny pinnacle of land called Angorosh. On arrival they immediately spotted a massive black GT cruising the edge of the small island. Angorosh is a tiny pin prick of an island some 100 yards long with a rough coral edge around before dropping off the edge into the dark blue. Chris hooked a GT immediately which corralled him and cut through the 150 lbs leader. When I was first advised that we would need 150 lbs leader I really thought this was excessive.. Now that I have seen the edges it is not I can assure you. Phil staked out the island and suddenly from stage left appeared another beast GT. He managed to contain the excitement and put a cast out. The GT missed it, turned and he cast again stripping the black and purple semper past its nose. It accelerated to attack speed, planed and savaged the fly before heading for open ocean… and the edge. Unfortunately Phil had not retightened his drag after the cast and was desperately trying to palm the reel, his fingers taking a massive pummelling. Andrew began to run towards him figuring out what had happened, but by then it was too late and the fish wrapped him through several coral heads and severed the connection. The action continued as Andrew had shots at two cruisers and while Phil re rigged another four came in and Andrew had another shot but did not hook up. They then began to tease off the edge. While blind casting with a NYAP of the edge Chris hooked up to another GT and immediately ran to the edge to try and prevent being sliced. All was going well and he thought he was in the clear when out of nowhere his fished got taxed by large silky shark. The shark then came up the wall onto the flats looking for another meal, but finding nothing headed back into the depths.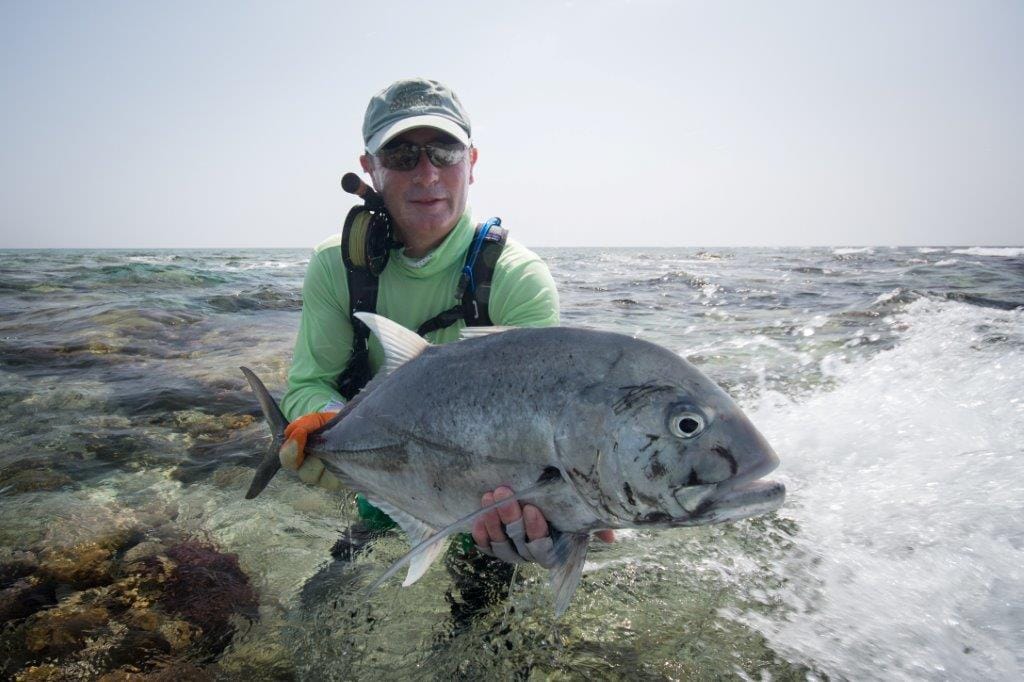 Meanwhile… on Merlot….. David and I went with Stu to have a crack at the bumpies. We saw them appear on the flat on the lagoon side, huge bluey green tails in the air. Stu pushed the boat along as a platform and both David and I had shots at the giant bumpies. They were substantially large than anything I have seen in the Seychelles. David had a couple tail on his crab with Stu guiding as I pushed the boat. After a while the bumpies wised up to us and headed off to deeper water so we walked over to the edge. On the first tease a GT comes in hot and I managed to get a fly in just behind as Stu whipped the teaser away. The fish annihilated my black and purple brushy and I ran/ fell/ swam to the edge and started grinding him. After a short battle where I refused to give any line I managed to get it up onto the flat. At one point the line grated dangerously along the coral, but Stu pushed it away from the edge and we tailed it in the shallows.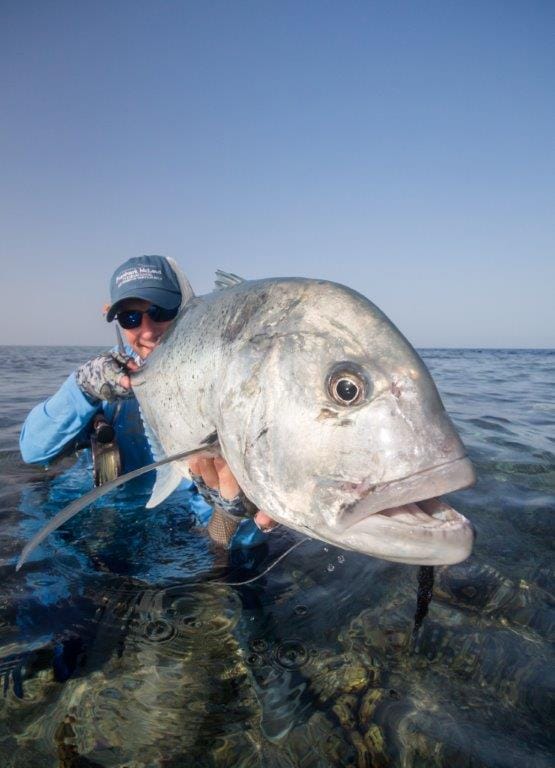 A little while later a big fish came up from the depths and smashed David's fly. It tore off in the blue water and David managed to get to the edge in time.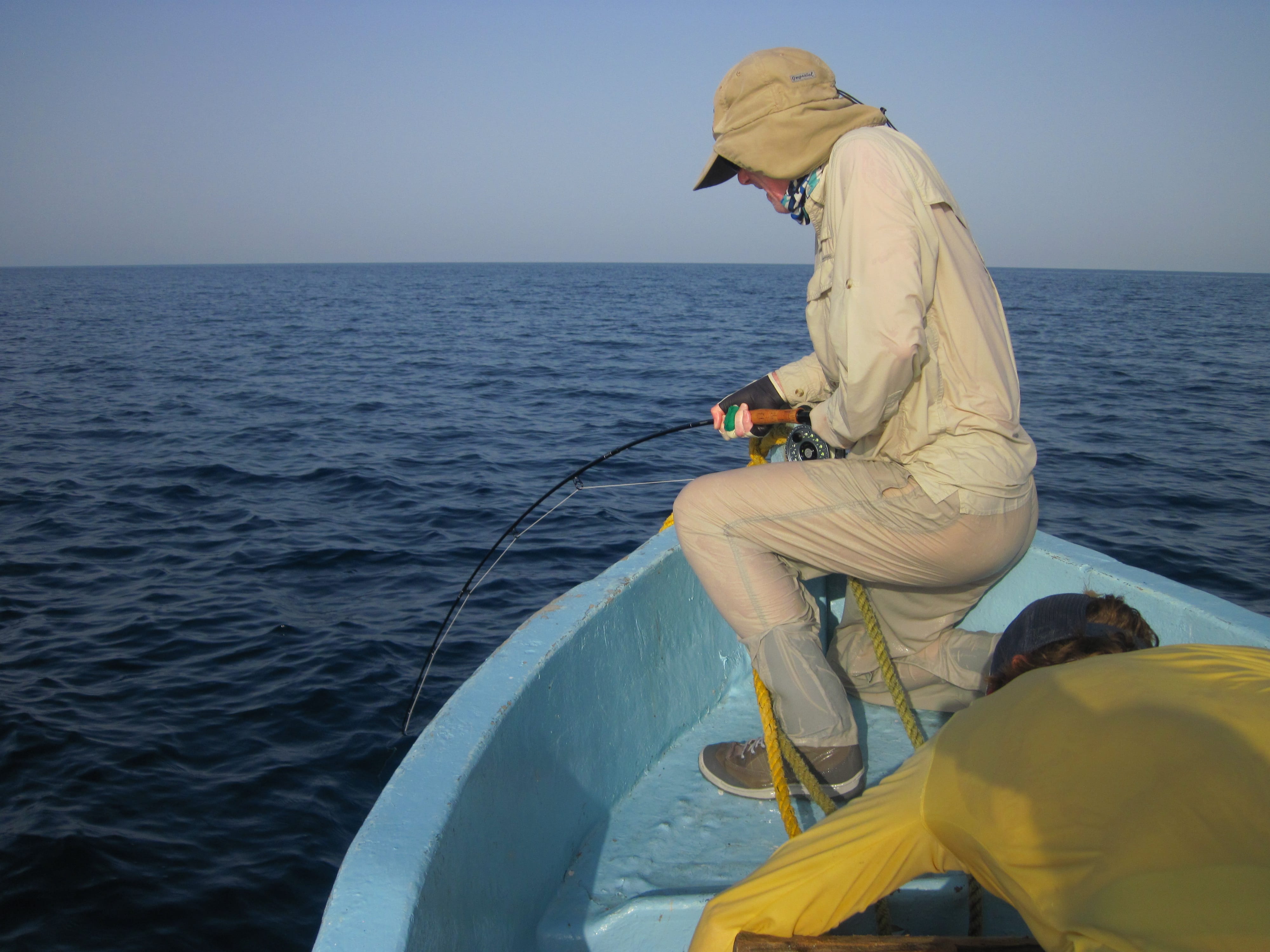 While I hung onto him to prevent him nose diving over the edge, Stu went for the boat and we continued the battle from the floating platform. Finally it tired and David was clutching his first ever GT of 88 cm. Exhausted but totally elated we returned home for cold beer and medals.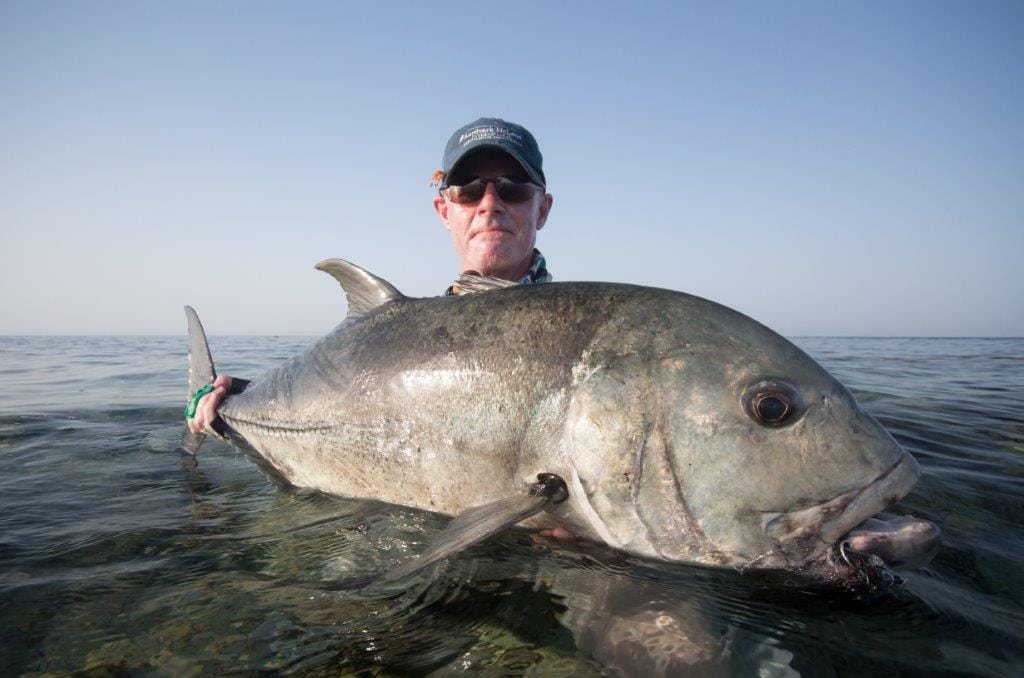 Day 4 – GT Fever
After yesterday's adventures everyone woke feeling a little sore and beaten up. Phil was sporting more coral cuts. David, Phil, Mark, Fede and myself headed for Angorosh in the morning, looked around and saw a couple of fish, but it was all quiet. We turned back to Merlot and while David chased bumpies with Fede, Phil, Mark and I tried our luck along the edge. I landed a nice boha that came up and over the edge, but again other than that it was quiet. The three of us waded back to the middle of the flat, picked up David who had hooked a bumpie that had also bitten through the hook and went back for lunch.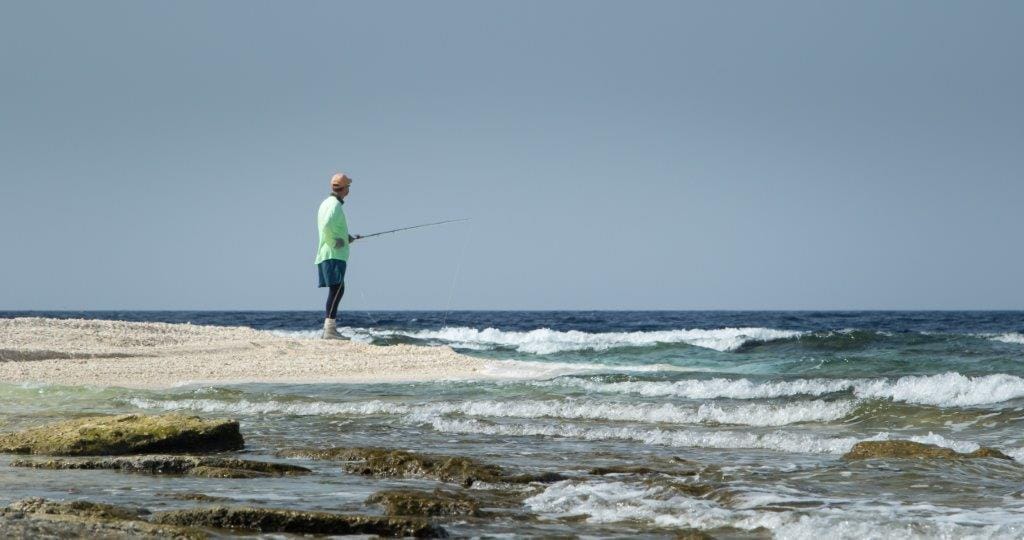 In the afternoon our little group motored back to Angorosh and staked out. There was amazing light with stacks of baitfish piled against the trough on the east side by the rising surf. I saw a big black metre plus GT coming along the edge, tried to cast backhand into wind but could not get a reasonable shot in. Ten mins later Phil came running down the beach towards me as another big GT cruised the edge with a big bluefin in tow. Phil got the shot in and the fish chased the fly but infuriatingly turned off off at the last minute. We headed to the edge to tease and got battered in the surf now coming in. While David and Phil put flies in the tease stream I blind cast to right hand side, let the fly sink and started to retrieve.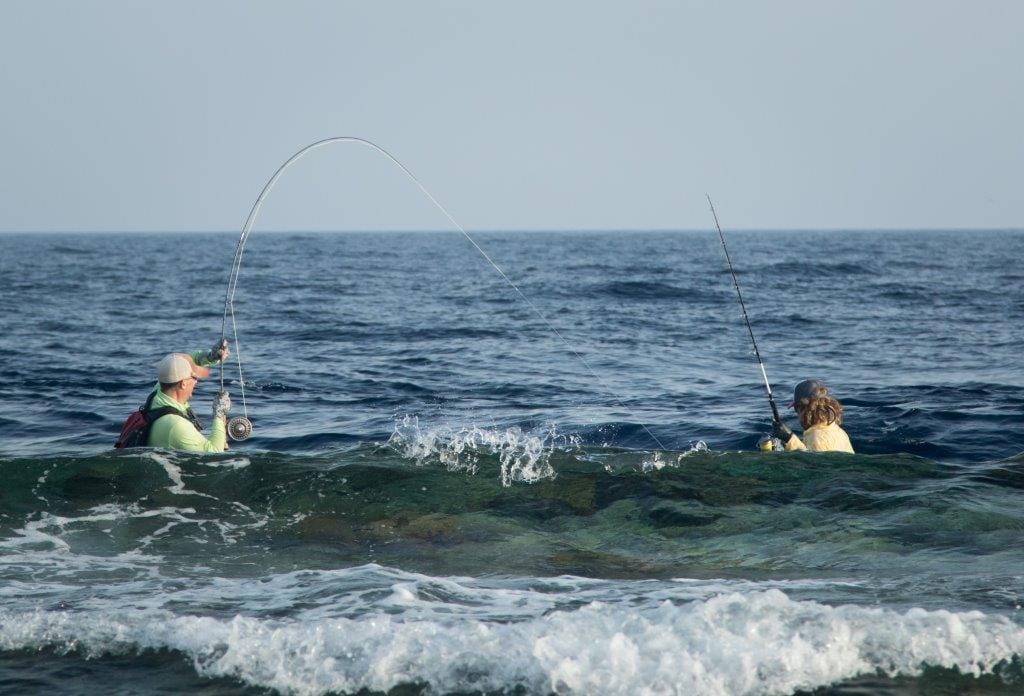 Bang! A massive yank and I was nearly pulled straight off my bommie. I staggered through the surf to the edge to stop being cut off on the coral. Fede rushed to aid me and managed to free line that was wrapped around coral head. Looked over the edge into the blue I was astounded to see that the fish I had hooked was just one of a school of nearly 50 fish! After some grunting, sweating and clenched teeth accompanied by encouragement from Fede I managed to pull it up and over the edge. The fish did a big circle around me back onto the flats before trying to head back to the drop off. Finally I brought it to hand, a lovely GT of 70 cm. David and I then chilled watching Phil fish. He hooked one more but got torn through the coral and his loop ripped to pieces… Time to head for home.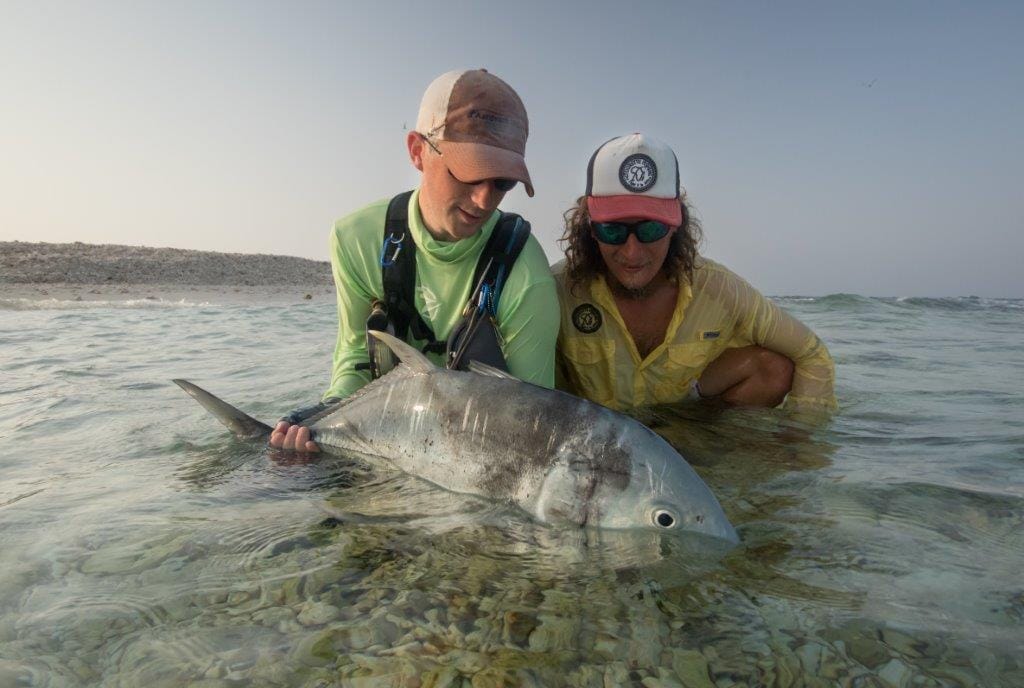 Chris, Andrew and Stu had gone to another rock pinnacle with a large tower on it called Abington and sight fished and teased for GTs. Having staked out the tower and seen little they walked to the edge with Andrew hooking and landing one of 60 cm blind casting. Chris then caught another about 65 cm blind casting with a NYAP off the edge. The team then walked on the north side and had shots at two more big GTs cruising but they did not see the fly. They walked a further 100 yards and saw two more big GTs which spooked so headed home for lunch.  In the afternoon they had returned to the edge of Merlot and Andrew landed a lovely GT of 80 cm. This appeared to be the theme as after snapping his rod and landing the fish with the rod butt and the reel, Chris also had one of 80 cm. Having landed yet another 80 cm GT Andrew was then slightly surprised to see a large moray eel come across the flats and eye him up. Not something you see every day, but luckily it decided Andrew did not look appetising and headed back down one of the crevices.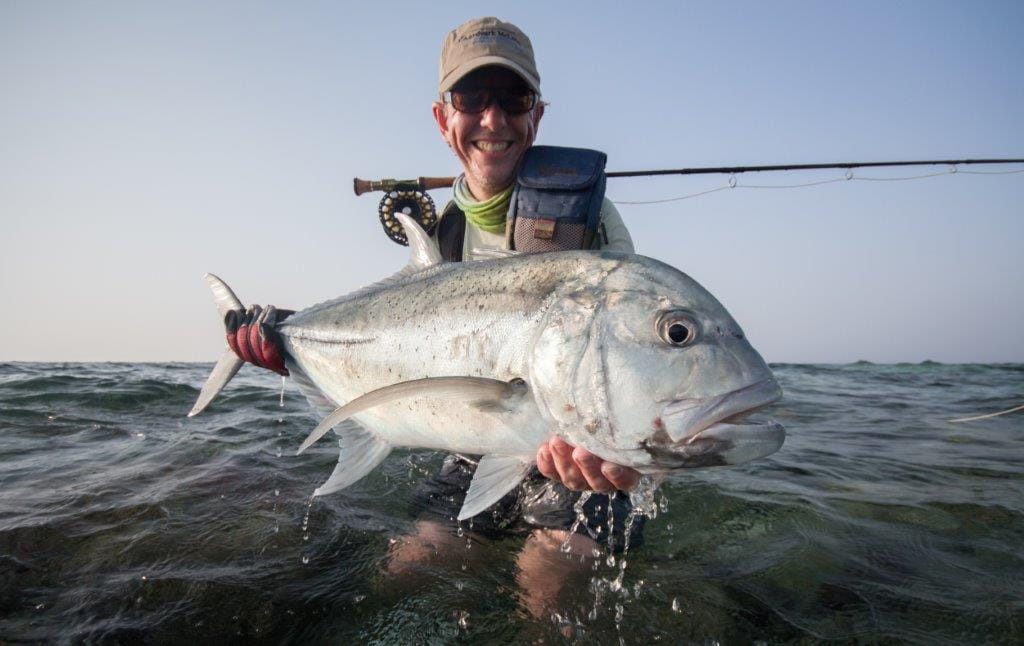 That evening the cost of tackle and damage was weighed up and numerous battle stories related. We were all too tired for evening fishing but were hugely surprised by the number of GTs we had encountered. We all agree though that many of these fish would have been lost if we had not been fishing with the new RIO GT line with the 50 lbs cores as we would have lost far more lines otherwise… and the guides and their swimming abilities.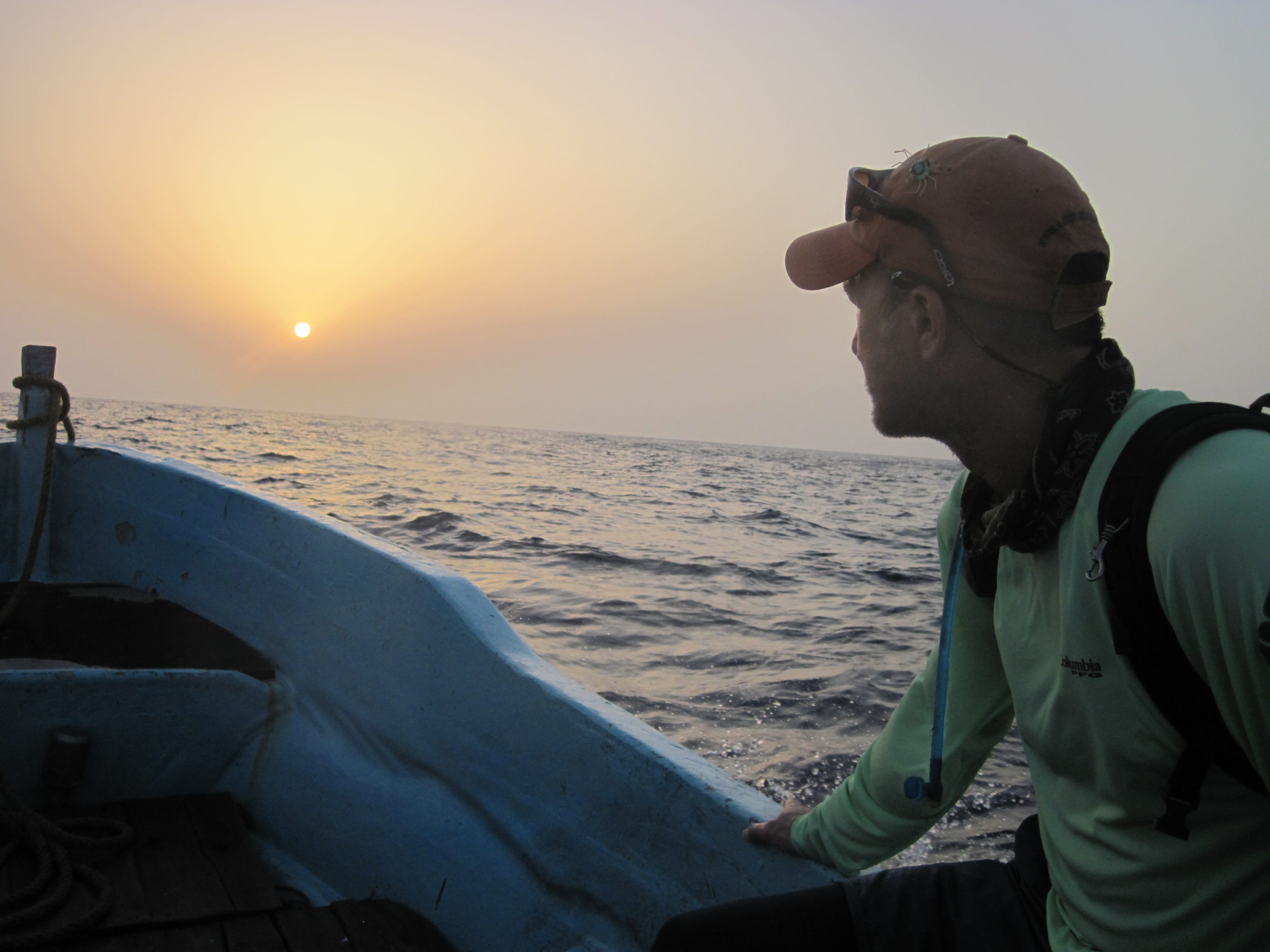 Day 5 – Damn you Yellow Margins!
In the morning Andrew, myself, David and Fede went to Shambaya to look for triggers again. Casting a 9 weight was a joy in comparison to the previous days of whirling a heavy 12 weight around. This time we began quite far north and did a few drifts looking for triggers and GTs but it was quiet. As we hit wading depth and began to move across the flats the depth was considerably shallower than the previous day combined with some wind on the flats. We saw many triggers, but they were still quite spooky. The yellow margins were engaged in their spawning dance around the flats and chasing each other.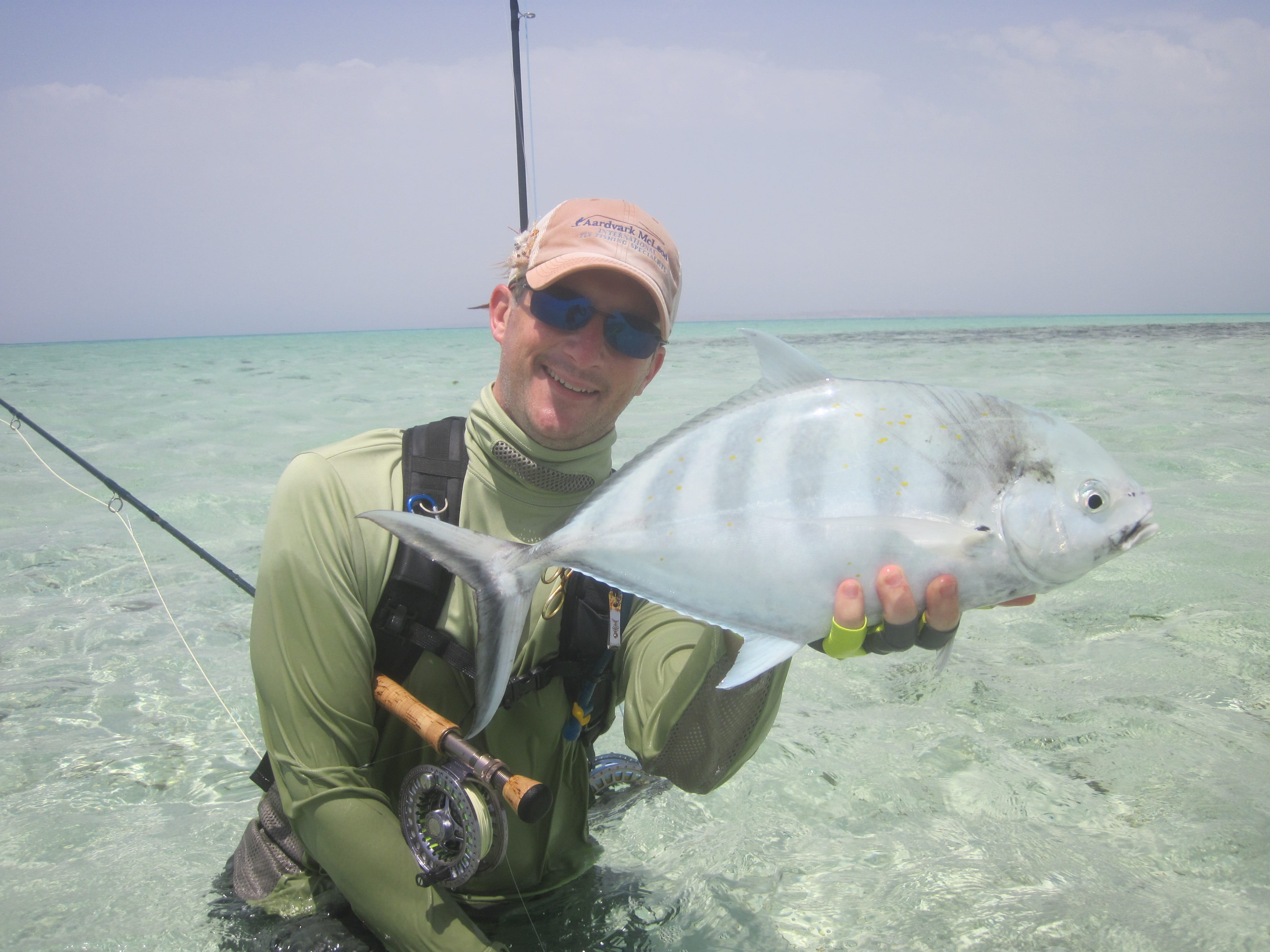 I had shot after shot after shot with most fish spooking, but I lightened up the fly and had a couple of follows and nibbled from yellow margins on the Sand Prawn. Andrew was experiencing similar issues. Finally I made it up to the island to find two massive yellow margins tailing against the sand drop with a nice current flowing over them like trout in a stream. I successfully spooked both and was beginning to feel I was cursed with this species. As I very slowly waded down to bottom of island there, on the white sand was a yellow margin tailing happily away. I switched to a light Cuban Shrimp hoping the light presentation would make the difference. As soon as the fly landed the fish came straight over following the fly, nipping at it. I continued to slowly draw it towards me and finally hooked up! Yes! The trigger looked very confused, did a big back peddle with its pictorial fins and spat the hook back at me. Argghhh!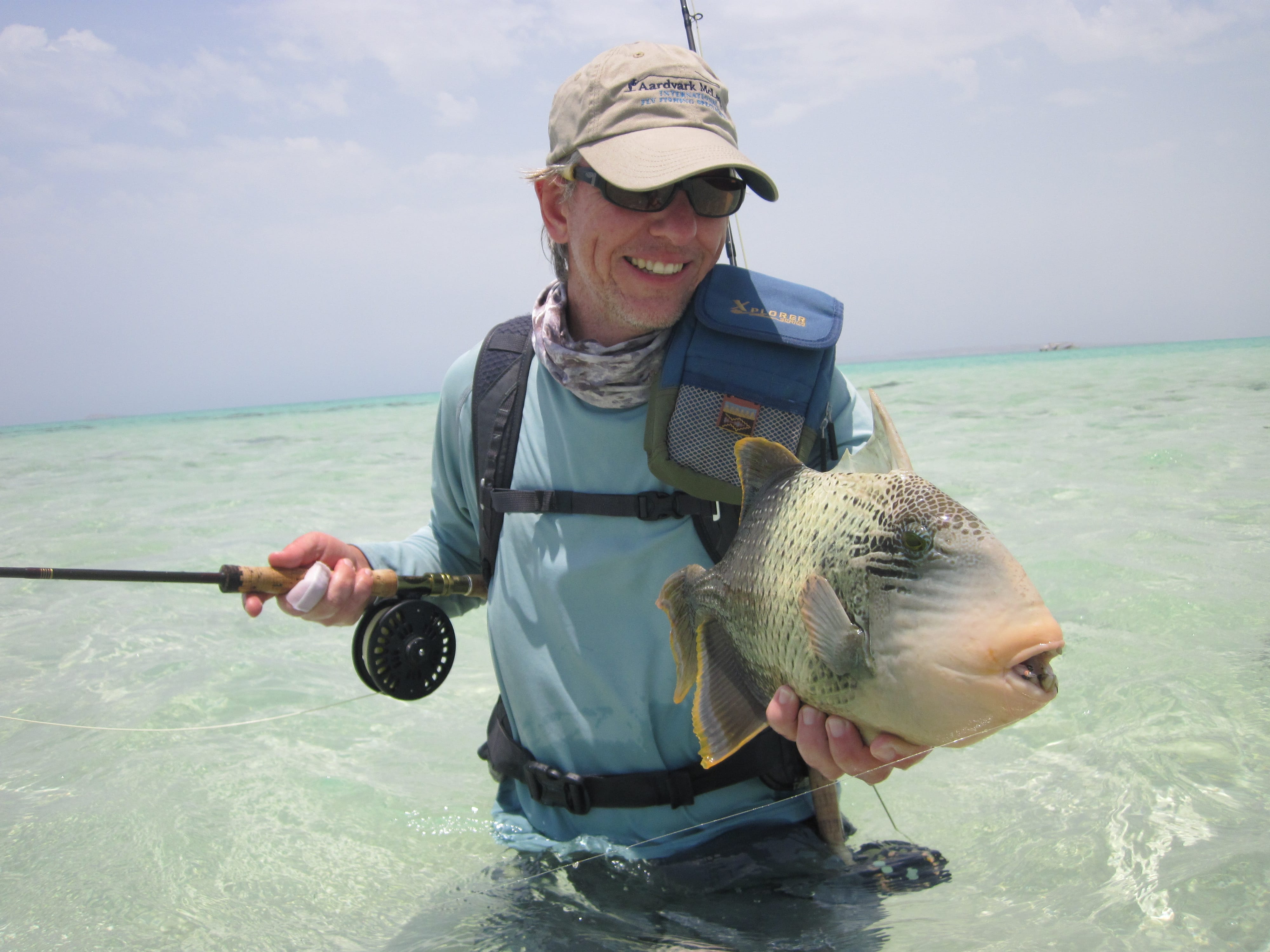 As I was down on one knee the fish did not spook, so I cast again. Again, it charged up, chased the fly and everything went tight. I raised the rod tightened up and it was on! Yes, got the yellow margin….. or so I thought…. after a few seconds the trigger did exactly the same thing, did a back peddle with its pec fins and spat the hook back at me. I have to say I very rarely lose my temper when fishing but in a moment of extreme anguish I MIGHT have uttered some bad language and I MIGHT have thrown my rod ion the water…. Andrew had witnessed the event and tactfully turned around to "Check something" while I had my temper tantrum. I calmed down and as the fish was now headed towards him I requested politely that he catch it for me as I appeared to be inept. He turned round and after a couple of minutes and some follows he hooked up and managed to land the fish, a lovely yellow margin. He unhooked it, and almost immediately cast at a titan and hooked and landed that as well on a small lead eyed Beck's shrimp. I was delighted that he had caught that cursed fish!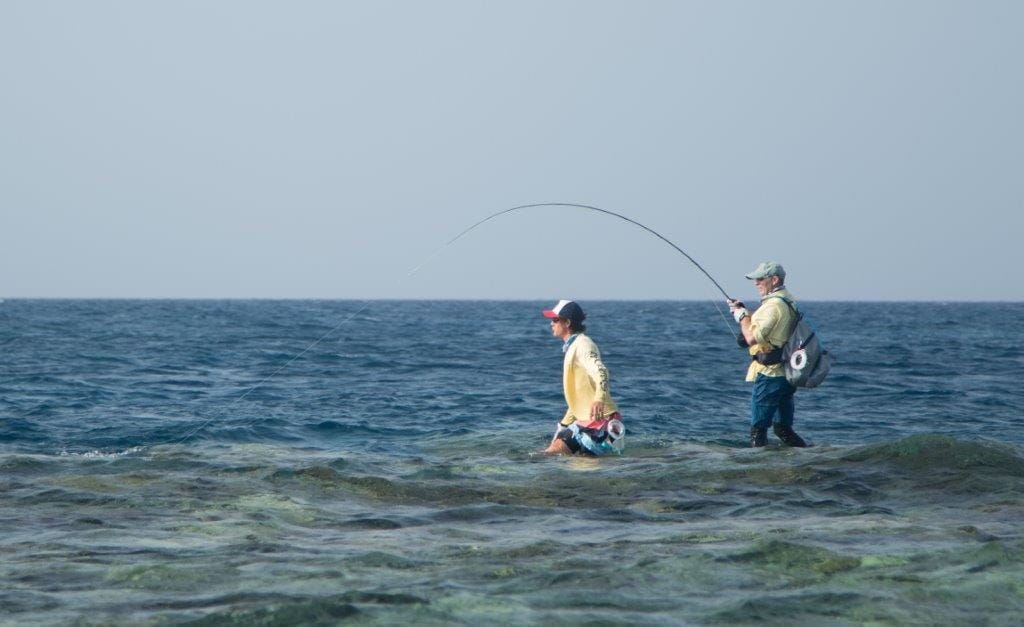 During lunch Scuba Libre cruised back to Snake Island and I opted to join Andrew and David to fish little snake. Andrew caught another nice titan at the top in deep water with Mark guiding from the rocks, and I fluffed more shots at yellow margins under the overhang… cursed fish…. We finished the evening by staking out the top looking for GTs but saw none.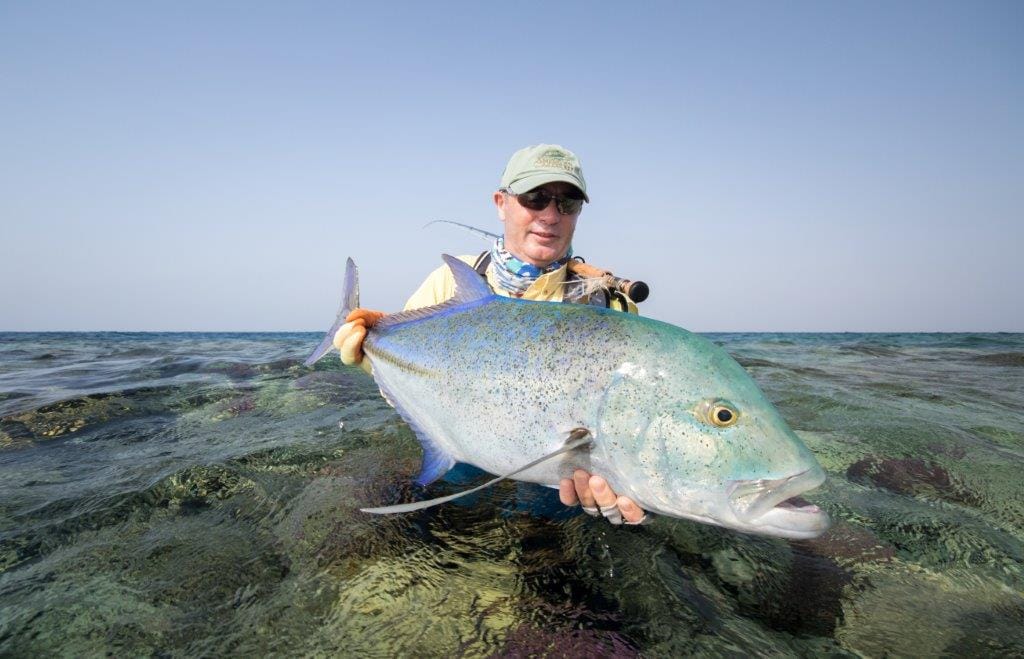 Chris and Phil had returned to Merlot in the morning with Stu. The currents around it were still perfect so it seemed the right thing to do, take advantage when you can. Chris had landed two GTs and massive bluefin. One tease had been chased by a boha, bluefin and a GT. The GT ate Phil's fly before spitting it out, the bluefin hammered Chris' fly and the boha had been left confused before sloping back off the edge. Chris ran to the edge, fell down a coral hole, landed on his back with his line ripping through the coral. Aquaboy leapt in to the rescue unclipped the line and landed the fish. It was an astounding 20 lbs bluefin.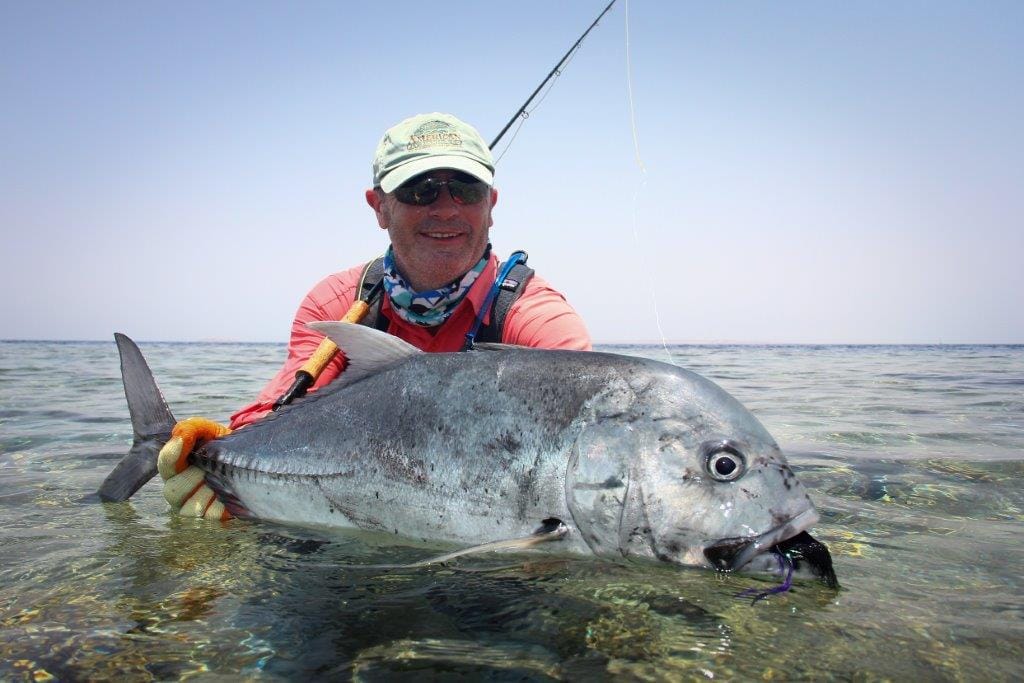 More GTs had piled into the flats and Phil landed one bluefin that went bananas. While he was fighting the bluefin a GT was head butting it trying to make it disgorge the fly. Chris then landed another 78 cm GT on a brown brush fly. Phil hooked a little snapper and during the fight it spat the hook to be eaten by a small GT which he landed. In the afternoon fishing Snake Island, the biggest excitement was a big Cuda caught by Phil. The big barracuda turned sideways and hit the fly so hard it came clean out of the water.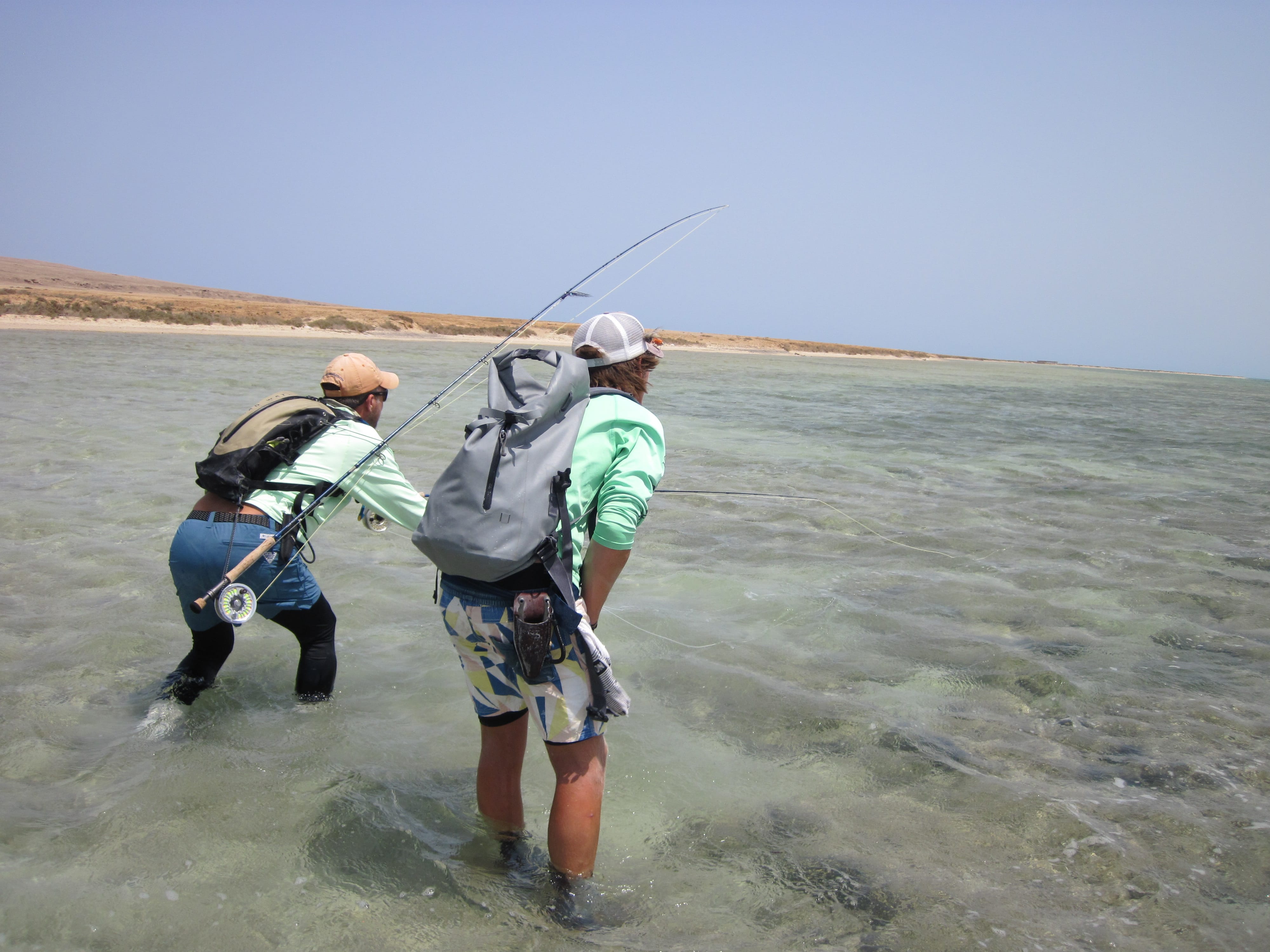 Day 6 – The final hour
For the final day the wind had picked significantly and as we headed out for the final sessions on the pangas spray jackets would have been helpful.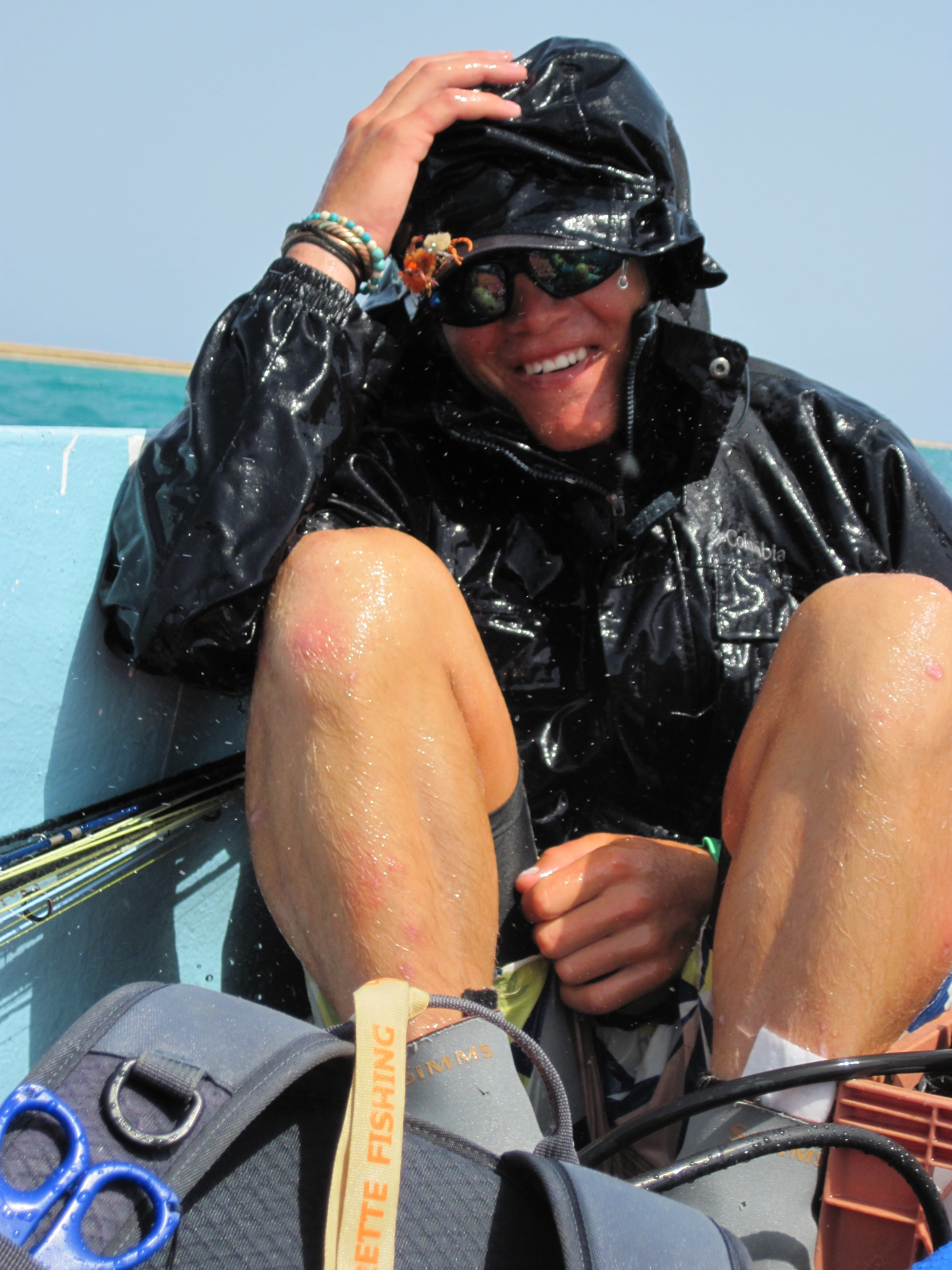 Chris, Phil, Mark, Stu and I fished together on west side of Margasam where we had been that first session, but this time we went much higher up the island and fished it the other way round with the wind at our backs. The wind strengthened with gusts of 20-25 knots, but the sun was clear and we began to wade line abreast down the flats. Although there were not as many triggers as we had seen on the very first day we still saw some really good sized fish. My first cast was to a large titan that chased the sand prawn straight in, bit the fly two or three times but then spooked and flew off. Phil went high, myself in the middle and Chris on the edge. Chris hooked and lost two bluefin trevally on his 9 weight on a natural crab fly before landing a lovely bluefin of about 10 lbs.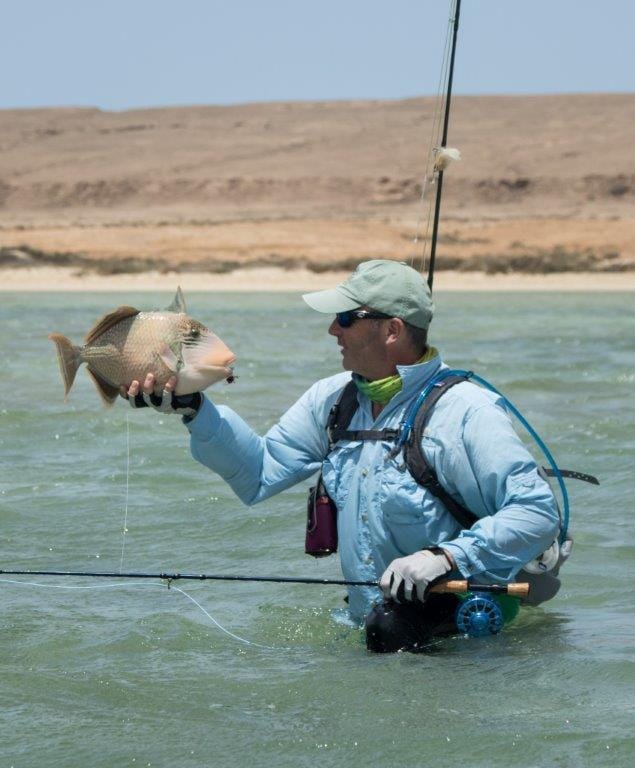 As Chris continued down the flat a good sized yellow margin tailed on the edge and he put an excellent cast in. The fish reacted but he recast. At the moment the fly landed another bluefin came past that tried to compete with the fly so the trigger savaged the crab. A lovely yellow margin which produced further scorn down the flat to my tender ears about yellow margin triggers being easy.. Another yellow margin tailed on the inside and Phil put in an orange crab and stripped it back fast. The trigger launched itself and actually came into the shallow water on its side to eat it, unfortunately coming too close and spooked. I was beginning to really feel the pressure, but it was obvious that with the wind cover and choppy water the fish were being far more aggressive than before, and were also charging orange. Chris had about 10 shots with follows, Phil 12 shots and myself 10 shots all of which I spooked.  After lunch I switched back to the orange version of the Gumby crab I had had success with before – my last one. I at last found a yellow margin in a slight weed depression. This time I landed the fly five feet away to the left. It then totally surprised me… and did what it was supposed to do! The trigger charged in hammered the fly. After a brief battle where not a word was uttered I clutched the fish. Finally I landed a yellow margin with 10 mins to spare. On that note it was time to head back to Scuba Libre as we needed to be back at Muhammed Quol by 5.30pm. What a way to end!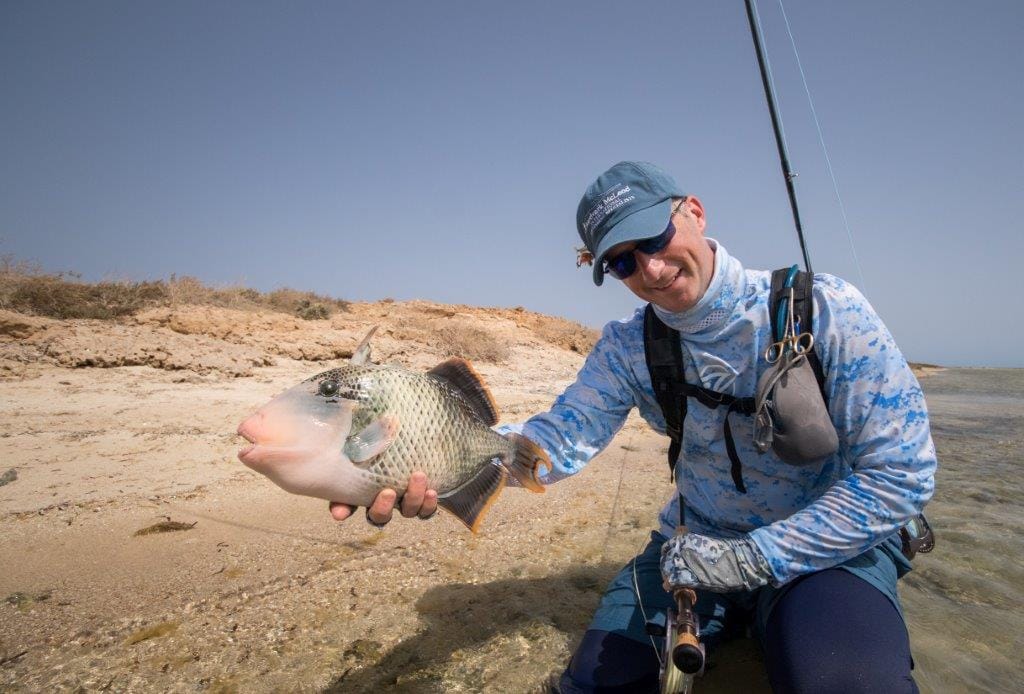 Back on board we met up with the others. They too had had a fascinating last session fishing the North West of Margasum. Andrew and David had some good shots on the beginning, encountering triggers every 10 – 15 mins. David had been fishing for a titan that chases his fly but had refused. The "Trigger Sensei" Andrew then turned around as it moved into his area and presented an EP spawning shrimp and dropped the fly close. The trigger played the game of cat and mouse. One strip and miss, kept following strip and he was on. The trigger knew better and ran into a hole in the coral but Fede went swimming and winkled him out.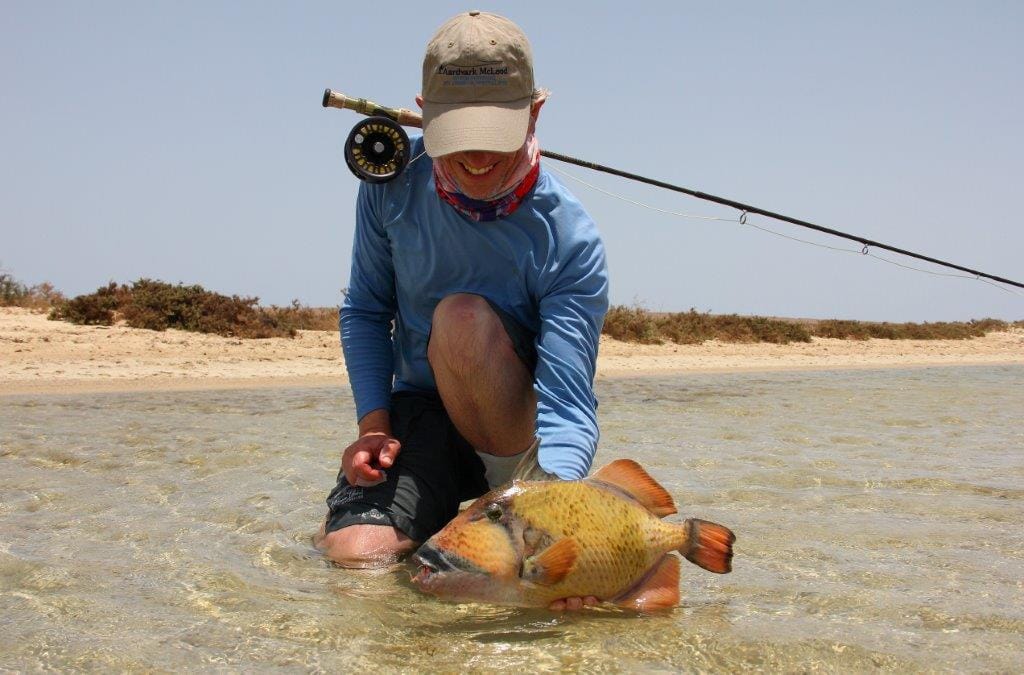 Further down the flat the group saw a big barracuda of approximately 30 lbs in the shallow on the edge. Fede stripped line off the 12 weight and handed the rod to David. He made two casts, second landing just on the right. The cuda turned his head and ate the fly with Fede shouting he was on! However the dastardly cuda continued to swim towards them and David could not tightened. Finally he took in the slack and stuck him. The enraged cuda charged off across the flat and jumped three time on its first run taking 50 m of backing. David's reel began to make screeching noises… not a good sign. They regained the fly line when they were nearly within leader range the fish finally bit through the leader. Not wanting to finish on that note Fede pushed on to find one last tailing yellow margin trigger close to shore. David cast the spawning shrimp and everything went according to plan. David finally landed a yellow margin with 10 minutes to go.. While Fede was taking pictures, Andrew hooked another yellow margin, but it fell off. Oh for one more tail! But alas, it was the end and time to head for home. That night was spent tucked against the mainland at anchor as we began to pull all our kit together while reminiscing the events that had transpired.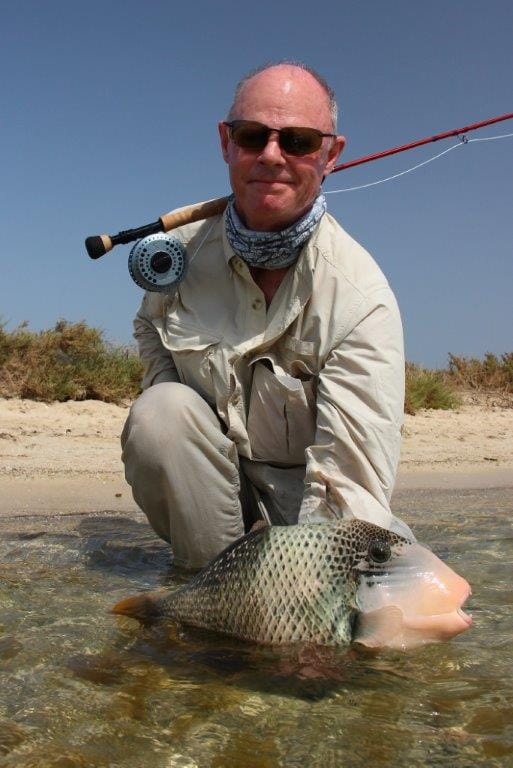 Day 7 – Homeward bound
Having settled bills and said good bye our bus driver headed south and once more we travelled though the unfamiliar desert landscape to Port Sudan. As we re-entered the trappings of civilisation we stopped for lunch in Port Sudan before heading back to the airport. Once again the ground handlers aided us through the rather chaotic process and soon we were on our way back to Dubai, Wi Fi, 3g, emails and text messages and air conditioning. I think it does the soul good to unplug every so often, become a sea gypsy and dream of tails in the air.

For me this was an extraordinary trip that far exceeded my expectations, but there are some important points to note. Trigger fishing is not easy. That is the same anywhere you go in the world, there is no quick fix in catching numbers of them. Each fish has its own personality and behaviour, and they are smart. The fishing is technical and can be frustrating, but you will have more opportunities here over a prolonged period of time than anywhere I have encountered previously. The lack of tidal flows expands the windows of opportunity dramatically, and there are some truly massive triggers here. Triggers are the prime target, and the GTs I believe should be considered a bonus and not a certainty. Fishing for them is tough in difficult conditions, and expect to bleed kit. The coral is extremely unforgiving so this is not a trip for those not prepared for that. Our tally for the week was roughly 15 triggers, 16 GTs, an excellent number of bluefin to 20 lbs, 2 boha, 8 bat fish and a few other miscellaneous species. We hooked probably the same again that ended in tears. Although teasing can be a contentious issue the guide team DO NOT tease on the flats. They only tease the drop offs, and in reality this is about the only method of effectively fishing these areas.
The guiding is outstanding. Mark, Fede and Stu work incredibly hard to get you on fish and are extremely knowledgeable about their fishery. They go above and beyond the call of duty to land your fish. Many of those we landed would have ended in tears if it were not for them. I would like to thank them for all their hard work.
Accommodation on Scuba Libre is basic but functional. Be prepared to sleep up on deck which is an experience in itself. The marine toilets are electric, there are fans in the rooms and the communal areas are shared by everyone. In my opinion this is part of the experience and part of the adventure. The crew looked after us very well and are very much part of the team. The food was good considering where we were and although quite carbohydrate heavy was more than sufficient in quantity.
With this being one area we fished along a 300 mile coastline I am extremely excited about the fishing opportunities that Sudan holds for the future. This could just be the next major saltwater fishery to be discovered, and being also the closest to the UK to reach could prove very popular. This trip is by no means for everyone, but if you love triggers and the possibility of some GTs and other trevally species this could just be the adventure you are looking for.
If you would like to learn more about this fascinating new destination then please come and join us at Farlows for our Sudan presentation on the 11 June next week.
For more information or a detailed itinerary please contact Peter McLeod or call +44(0)1980 847389.