Having never embarked on an exploratory trip of this magnitude I was a little unsure what to bring along. We were going to camp our way along the coast of Oman and explore as much of the water as we could in 4 weeks. In a tent!  I wasn't entirely sure if I was a 'tent' kind of girl so naturally I insisted on almost every luxury, apart from the kitchen sink, which I would have happily included had I been allowed to. We had decided on renting a large Nissan Pathfinder as our wheels for the trip which turned out to be an excellent due to the vast amount of clothes, camping equipment and food I had packed.  Its ability to deal with the terrain was a given, its space a blessing. After carefully filling every possible millimetre of space we were off on our journey.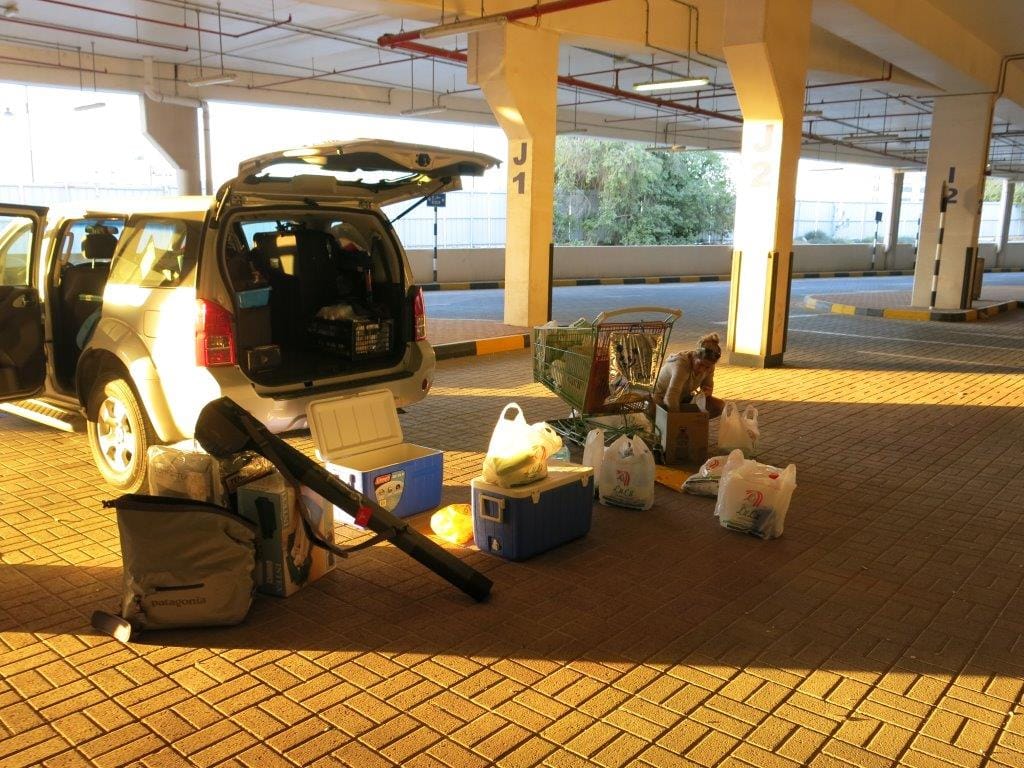 Starting in Dubai we drove to Muscat, stayed the night in a hotel so I could say my final goodbyes to a shower and hairdryer before we set off on the journey to Salalah. The landscape is breathtaking, from the Hajar mountains to the vast deserts and their dunes….along with the odd camel, goat ……. and speed camera.
Armed with a Clutch Archipelago 9# rod and my trusty pink Able Super 9 reel I was ready. We spent the first few days fishing some of the beaches and rocky outcrops but the weather was a little cool; with a spinning rod I am sure we could have enticed a few fish but we were here to fly fish. There was a certain area that we wanted to explore so we set off further north. Reaching the start of the track I had no idea what we were in for. A nail biting hour of serious off-roading along some of the most unforgiving terrain imaginable. With our hearts still in our mouths we arrived and it was stunning, not a boat or person in sight and the sea was crystal clear.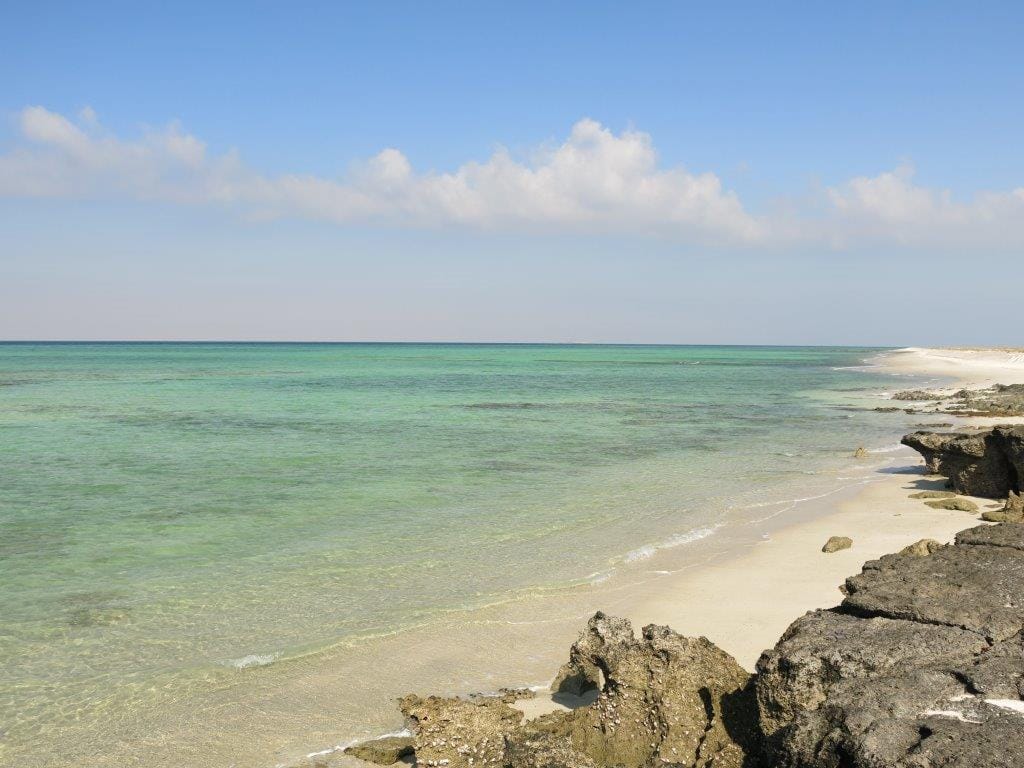 This didn't stop our fun though, the waters were rich with a variety of species. We spent the rest of the afternoon chasing up and down the beach changing from mini NYAP's (thank you James Christmas) to crab and shrimp patters and then to clousers. Almost every cast we had a bite, from aggressive shad (blue fish) that leapt out of the water, to crazy reel ripping large 3 spot pompano and even a few cheeky Omani bream. I don't think I have ever had an afternoon like it, we were hoarse from the shouting as we finally headed back to camp for a BBQ and sundowners…bliss!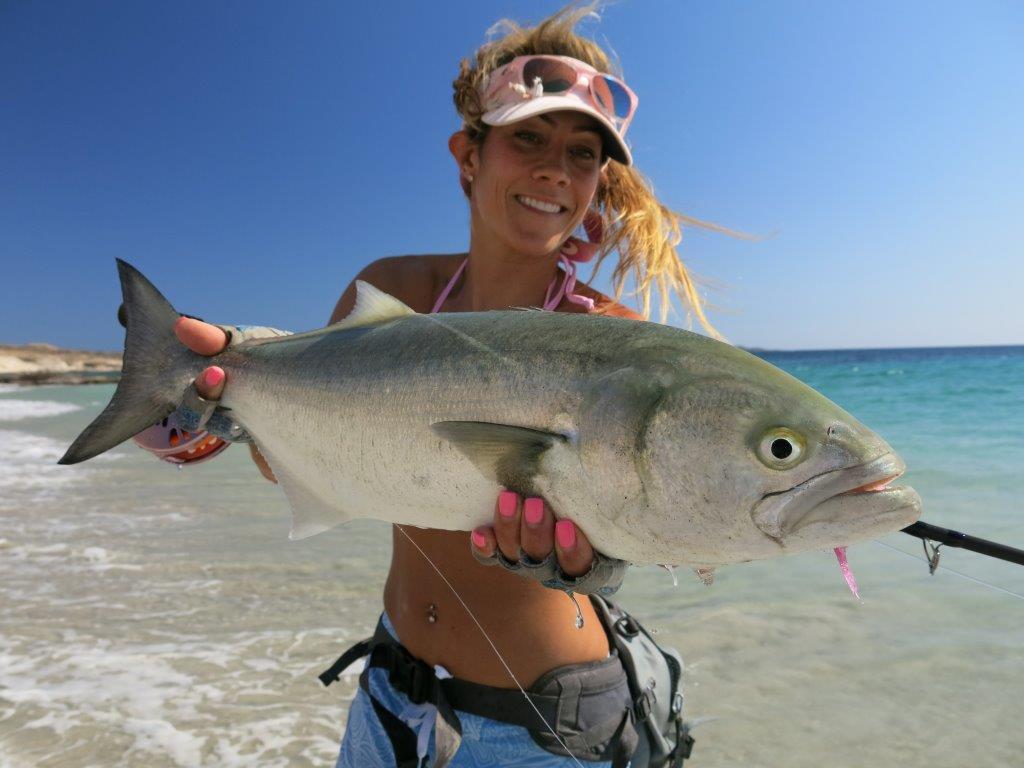 Waking the next day the ocean was flat calm and waters were clear. As I whipped up some scrambled eggs I could see some nervous water heading slowly inshore. Finally close enough, Brandon's eyes lit up…"MILKFISH grab your rod". We tore down to the edge of the rocks stripping line as we went. Reaching the edge I could see that there were around 30-50 fish in each pod and there were pods everywhere. We started to cast to them but each time landing just short… so frustrating.  We needed a boat, or a dingy, or even a big bit of wood to float out on, anything to get to them! Admitting defeat we headed for the beach. Typically the milkfish followed, slowly teasing us as they swam along the shoreline, just out of casting reach. But we didn't let that stop us from having fun as we again got stuck into the species that these rich waters had to offer us….what a day.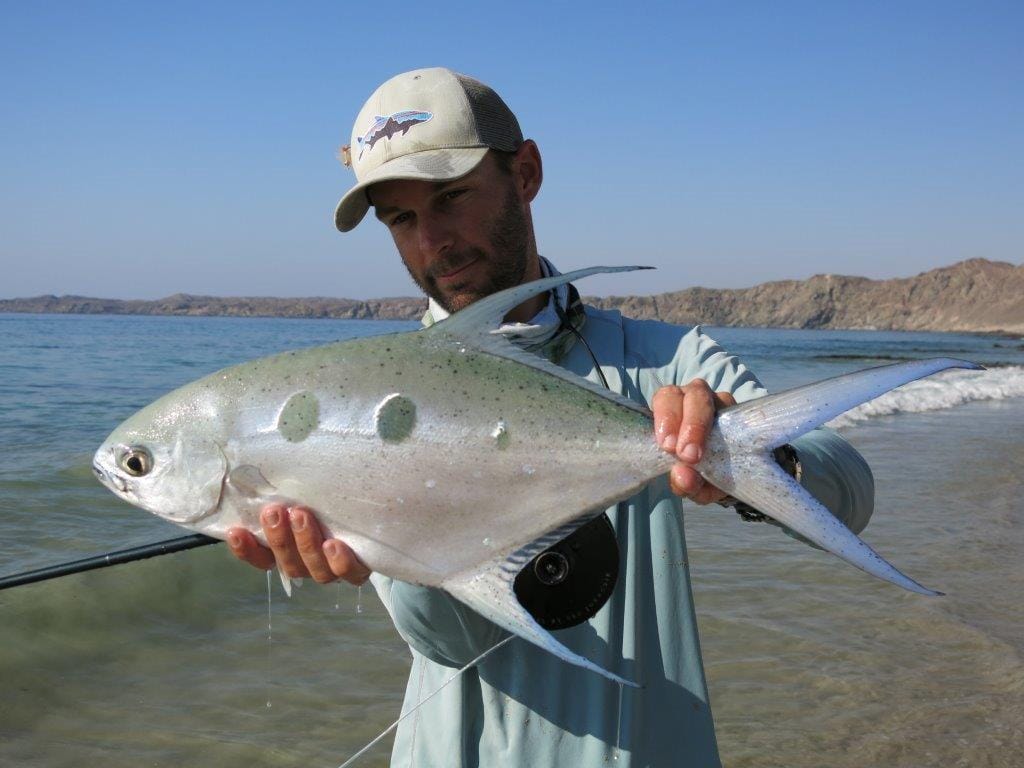 Sadly we knew we must continue on to new water so we set of early the next day and headed north again. Of course we hit the early morning traffic…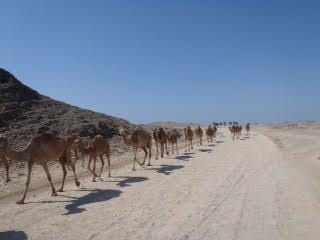 Further along the coast we reached huge stretches of sandy beaches with small wave breaks. It was at one such location that we pulled off the main highway only to look down and see an enormous permit on its  side in 3 inches of water lazily feeding. A rough estimate of its size was 12 lbs! A very frantic few moments ensued as I managed to explode the entire carload of kit onto the side of the road to get to my rod but alas he had vanished ……next time! After stalking the beach for the next couple hours without any luck we decided to drive on.
We eventually arrived at what would soon be known as permit heaven, a huge expanse of flat sandy beach stretched out below us, looking very fishy indeed. Rods at the ready we headed for the water, my weapon of choice was a secret little crab pattern I had devised. The tide was starting to push and the water was perfect. We were ankle deep staring out to sea when Brandon let out a huge scream and leapt in the air. Fearing he had been bitten I promptly ran for shore only to find out he had almost squashed a permit that had come in to feed. After that all hell broke loose; there were permit everywhere. I had never seen so many permit in one area ranging from 4 to 15 lbs fish. They were surfing in on the waves and feeding aggressively in the shallows, it was epic! Brandon managed to land an absolutely huge fish that came in on its side to feed in about 6 inches of water then took him right down to the backing as it shot out to sea.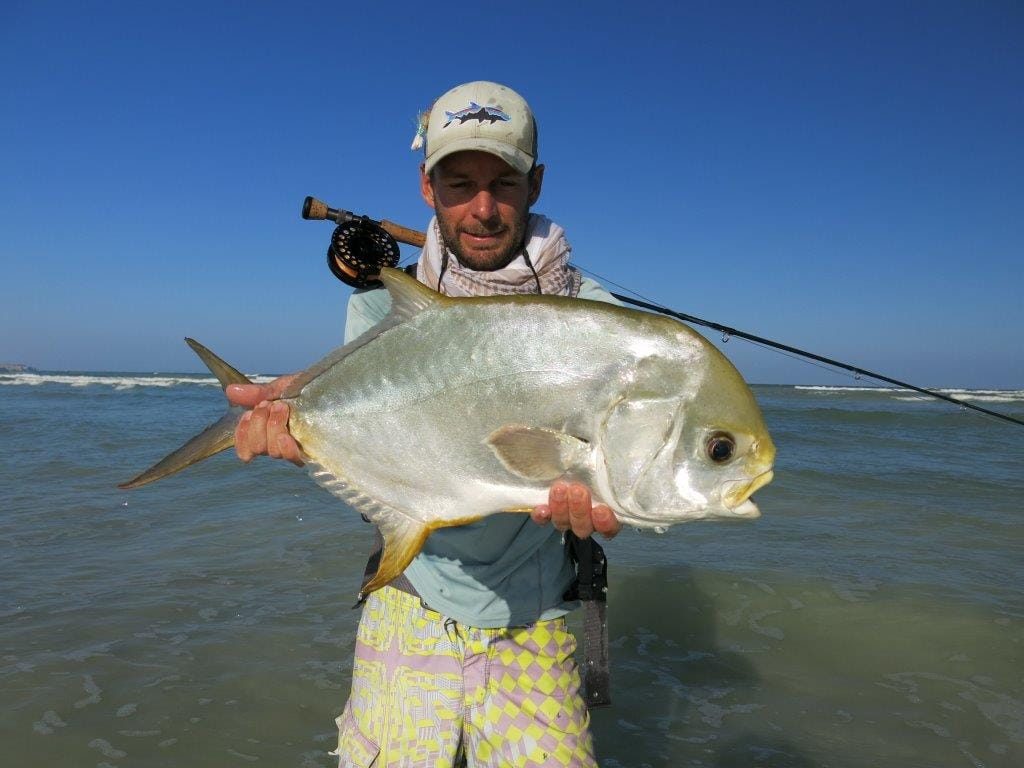 Sundown came all too quickly so we headed back to camp for a BBQ and to relive the days experiences….I was so excited I hardly slept that night.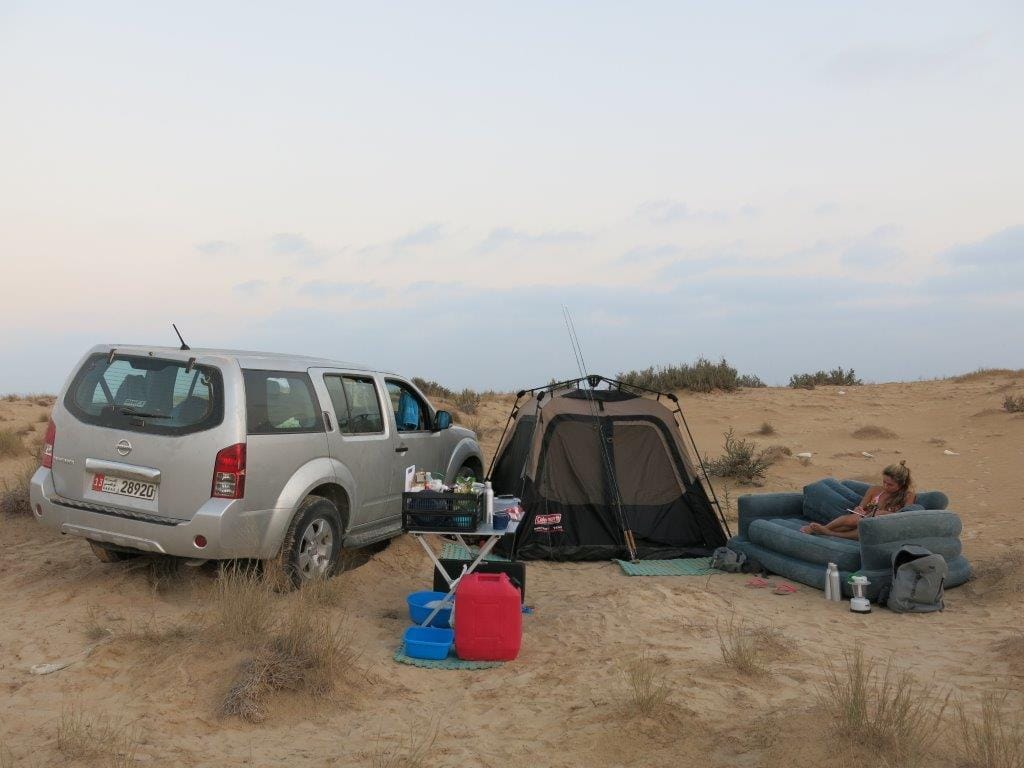 The next day we returned in the morning on a dropping tide. As we reached the first sand spit there he was – my little piece of Omani gold, slowly feeding. Bent over I crept to towards him, cast out my fly, let it sink and started to strip. The temptation of my fly must have been too much as he immediately shot over, tailed up and inhaled the fly. I was so stunned I struck too late and pricked him as the fly came back out of his mouth. To our astonishment, he was clearly unperturbed as he shot over to the next sand spit and carried on feeding so again I cast out. This time he saw the crab as it landed and angrily chased it as it started to sink, tailed up and bang he was on. The water erupted. This was my first permit and I stood there for a second in shock until Brandon's voice penetrated "get the line on the reel". Snapping into action I gingerly reeled him in, I was so scared of losing him I barely put any pressure on him at all. I'm sure he only finally gave up and came in because he was bored….my first permit!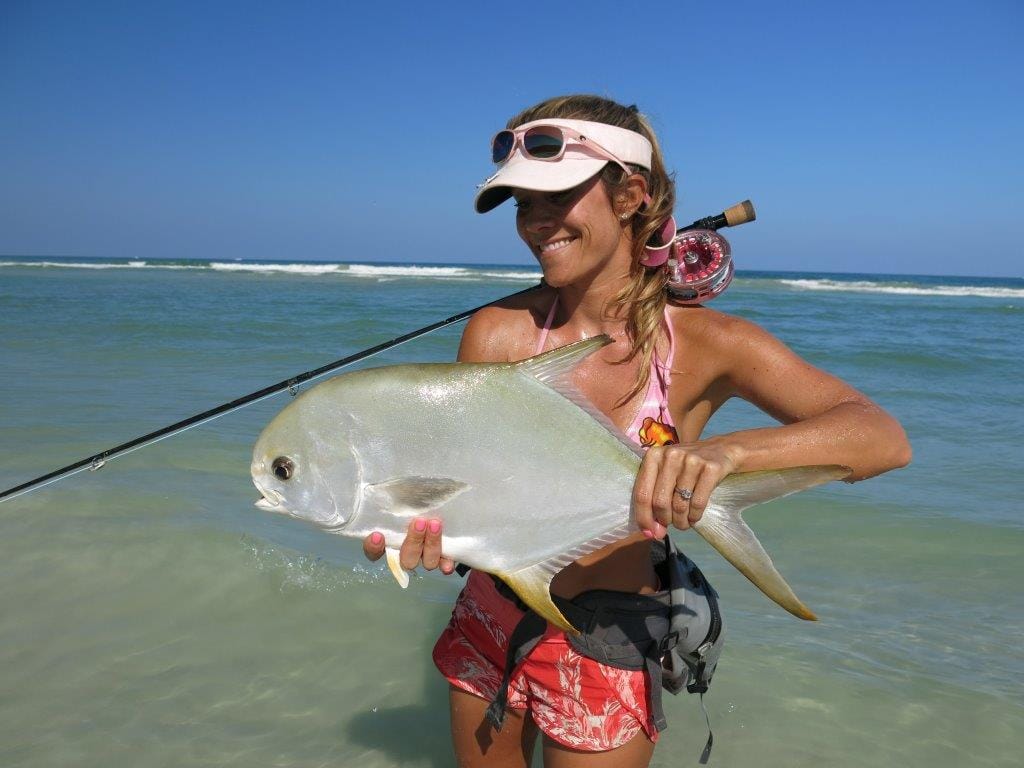 As I held him in the water gently I could finally stare closely at his beautiful silver body and golden fins gleaming in the sunlight….he was perfect.  With a few pictures, the obligatory permit kiss and I sent him back on his way to fight another day…..we continued on and spotted five more fish over the rest of the day, this was a truly special place!
The next morning was our last half a day so we headed down for a final cast, spotting three fish,  Brandon cast and managed to land an absolute monster. It looked like it had been a few rounds with Mike Tyson with his gnawed fins and bruises. That made the tally 3 for 3!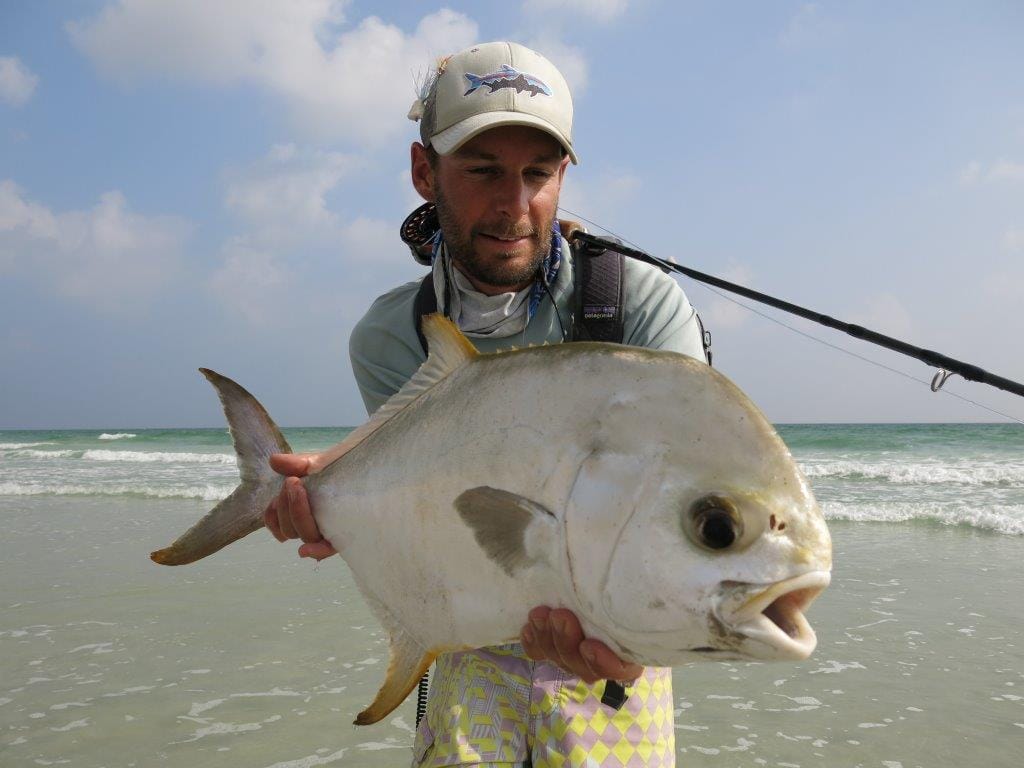 We have noticed with the Omani permit that most of the fish over 6 lbs seem to have short torn stubby fins and grazes on their bodies. The consensus seems to be either that they feed so shallow their fins get burnt in the sun or due to how aggressively they feed they get damage themselves in pursuit of their prey, or a mixture of both.
With luck on our side we continued on to our next destination. Arriving we set up camp on a secluded beach, Brandon had even fashioned me a kitchen, shower room and chill out area to watch the sunset….it was heaven.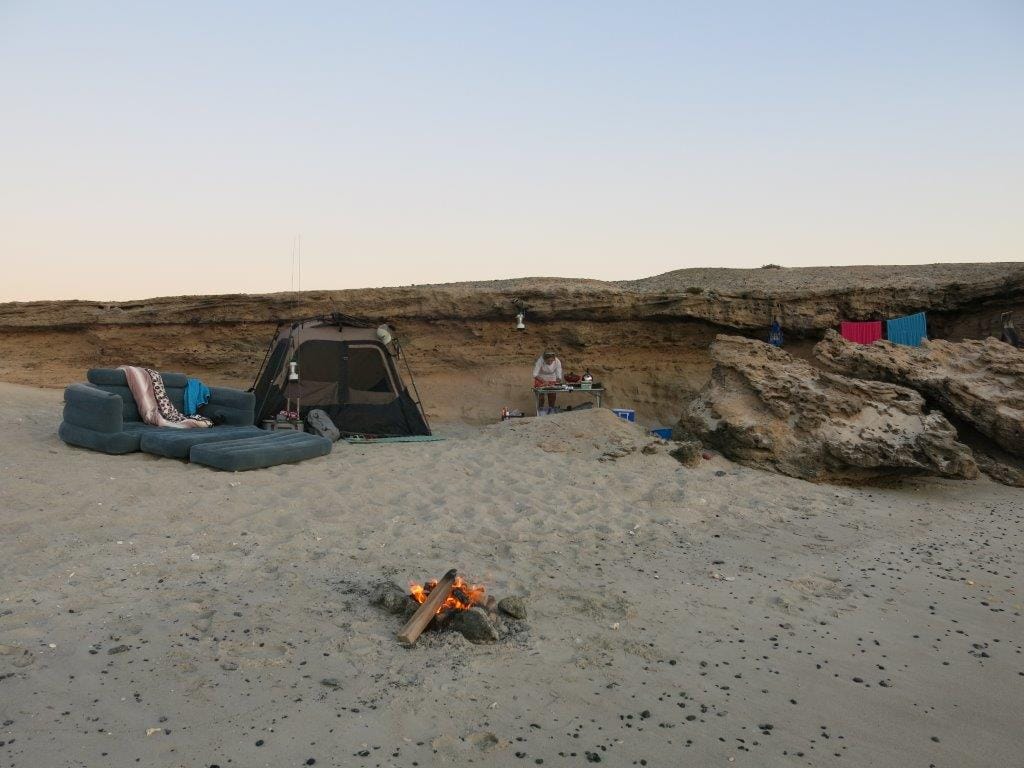 We set up ready for the next day and fired up the braai. Tonight was chicken and my trusty veg stew or "Jollop" as Brandon had now renamed it. We retired to our tent under the stars listening to the lapping of the waves on the shore……..I'm almost getting used to this camping malarkey…..almost!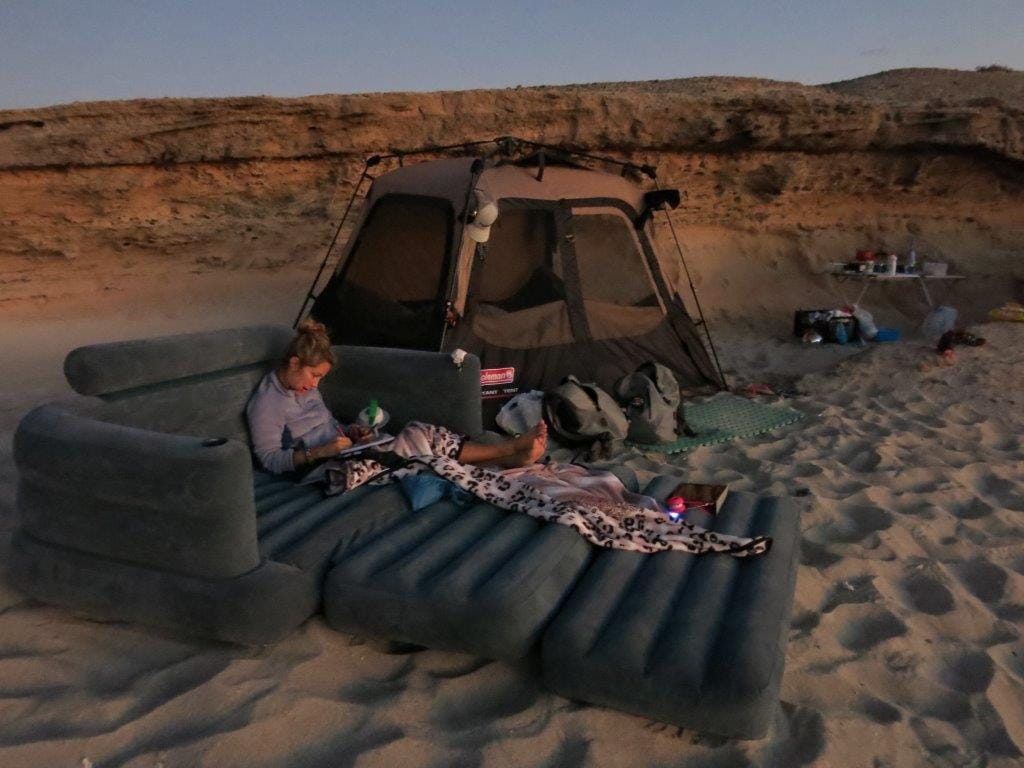 The next day we headed for some of the surrounding beaches. As I was walking through one of the fishing boat areas I could see a large fish swimming around the anchor line…..I couldn't believe it….permit….in my excitement I cast too close and spooked him…damn, must remain in control!
We waded the beautiful flats and beaches but there was a lot of water to cover on foot. In the afternoon I was walking the beach and Brandon had waded out to some rocks. All of a sudden he began shouting….I started to wade over only to find him waist deep with another huge permit on the end of his fly line….I had never tailed a permit in deep water so it took a few attempts and a lot of colourful language from Brandon but we managed in the end and what a beauty it was.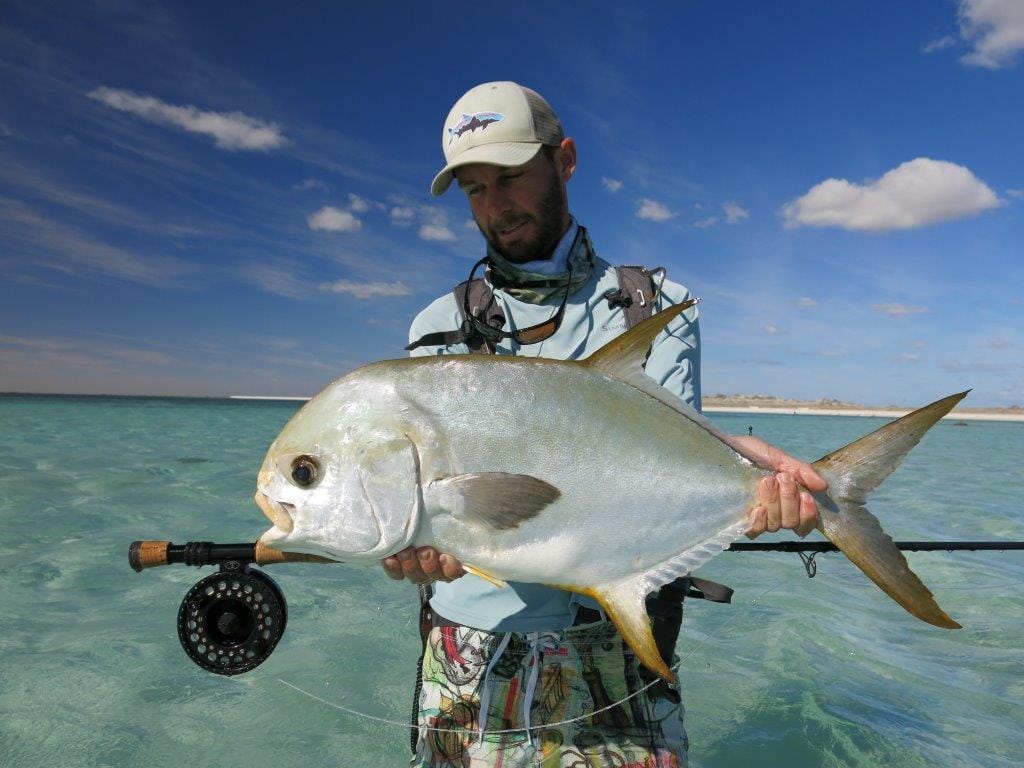 The next day we headed out again, walking the beaches and wading the flats. Ahead of me I could see something big tailing. Stripping line out I got ready. As its tail broke the surface I cast out my trusty crab pattern and waited then started to strip. Bang he was on, the reel was screaming and Brandon was running towards me. I could see his dark bars light up as he shot across the sand and turtle grass, it was a beautiful Golden trevally. These are one of my favourite fish, part of the trevally family which I love to target because of their aggression. I especially like their mouths; they seem to detach and shoot forward like a suction cup.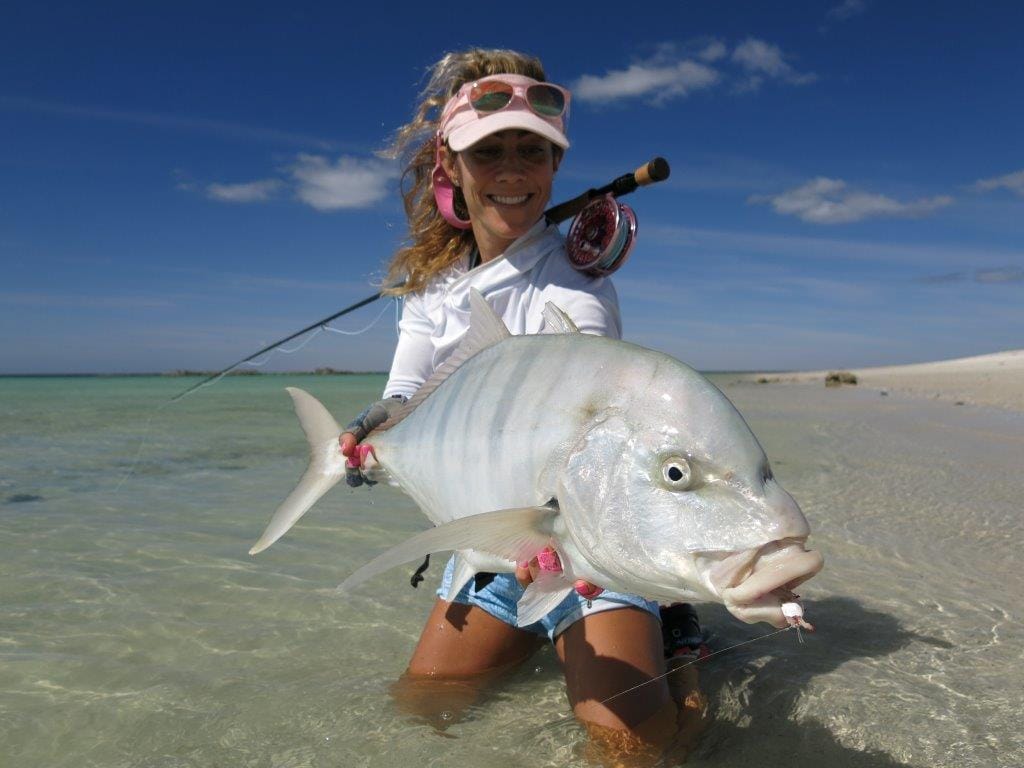 Over the next few days we chased everything from permit to shad and even caught some nice size Omani bream. It was a fishing paradise with so much beautiful water to cover, it was hard to know where to start.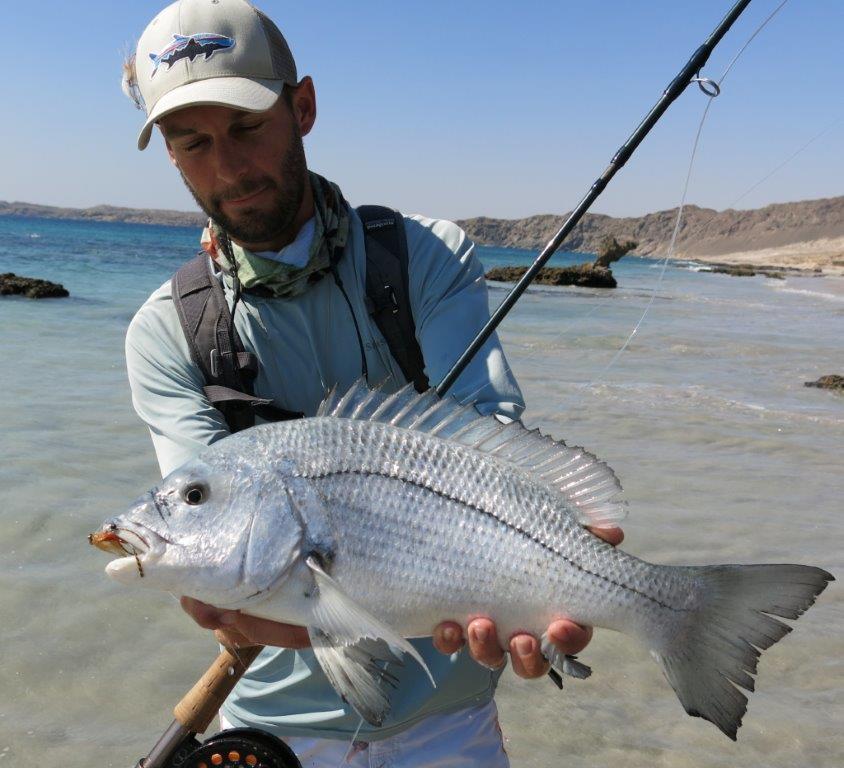 Sadly every trip must come to an end but what a trip we had had and we knew we would be back very soon. So we packed up, said our last goodbyes to the locals and we were on our way.
Oman is a truly spectacular, relatively unknown in fishing terms and for fly fishermen, a destination just waiting to be explored……watch this space!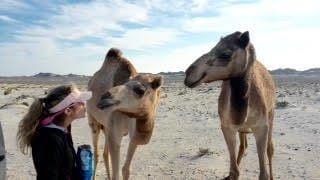 For more information or a detailed itinerary please contact Charlotte Chilcott or call +44(0)1980 847389.