Where next? Take a look at some of our personal favourites.
We are fortunate to travel to some amazing destinations across the world. However, given a choice what would be our favourites? Where would we return to tomorrow? And where would we like to visit next and why? This week it's Charlotte's turn.
We are very fortunate to have the opportunity to visit some amazing fishing destinations across the world. This may be for personal aspirations, product knowledge or even to unearth the next gem. Regardless of what brought us there, many present several reasons to return and some really do become like an annual pilgrimage. It is difficult not to become attached to some places, be that because of the fishing alone or because of wider variables that make a journey or lodge memorable such as the guides, house staff, lodge or setting. Within the Aardvark McLeod team we all have our individual passions and areas of interest, which helps form the backbone of our experience that we assist venturing anglers with every day. To put this into perspective we thought you'd like to see what gets us all excited on an individual basis, where we have enjoyed visiting the most, where we would return to tomorrow and where we would like to visit next. In doing so we hope this will help guide you on your next journey on where to explore but also help you see where our individual strengths lie when you next make contact.
I've always been a wanderer and the lure of travelling still runs strong. Not being able to travel in the past few months has given me time to reflect on those amazing places that I have been lucky enough to experience first hand. Every single place I've been has left its mark – some more literally than others – but my three favourite places are very much set in stone; they are completely different and yet it is in those very differences that the attraction lies.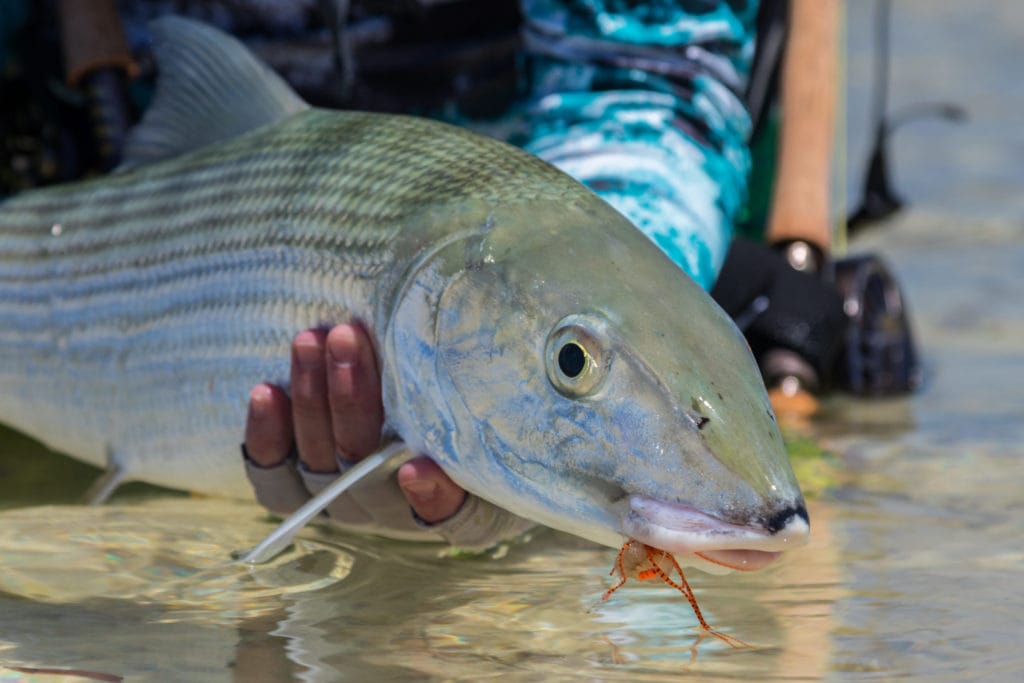 Alphonse Island and St Francois atoll, Seychelles. As I've been going back to Alphonse every November for the last ten years, the Seychelles – and Alphonse Island in particular – is firmly in my top three destinations. It is where I first experienced fishing on the flats, I learnt how to tie flies there; over the years its become home from home. I can count on one hand the places I have been to more than once and to have repeated my journey for so long, speaks volumes. The St Francois atoll has to be one of the most diverse saltwater fisheries on the planet. Not just in terms of species to target but in terms the environment in which to fish. It's bonefishing is off the charts, triggerfish and permit haunt the flats while trevally species hunt the baitfish. Both within the lagoon and outside of it, milkfish are a challenge for any angler, there are reef species galore on the edges and around the coral bommies and in the bluewater, sailfish, wahoo, dog tooth tuna and the elusive marlin are there to be targeted. The transformation of the island over the years has been fascinating to watch and it is now one of those very rare places in the fishing world; somewhere your wife, partner, family will be equally comfortable and will feel immediately at home. The new four bedroom Villas are a fabulous addition to the portfolio; perfect for groups of friends fishing or just for those travelling together, enjoying island time and perhaps getting a line wet occasionally. I head back in November once more and I know that the atoll has yet more challenges in store for me and I can't wait to get back.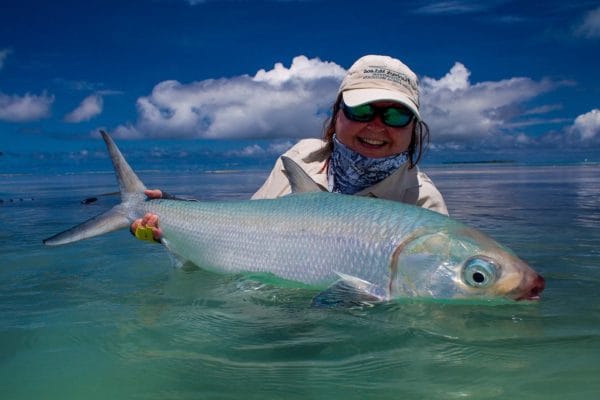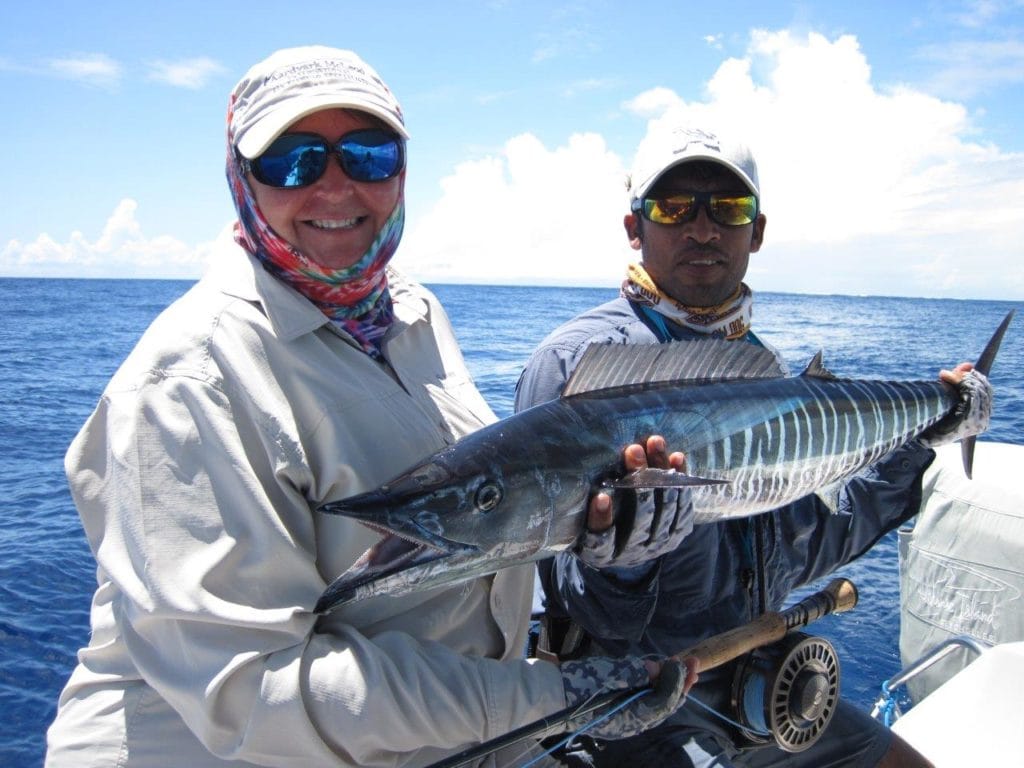 Nubian Flats, Sudan. Sudan has, to be blunt, a less than stellar appeal on cursory glance and it wasn't the most obvious place to pick as a fishing destination. Italians have been heading to coastal Sudan for a long time to dive but a hardy few had been popping and jigging for trevally and reef species and for those in the know, this was a chance to fish new water. What was the initial draw? Triggerfish. They are not the only target species here by any means; aggressive GTs prowl the drop offs and pinnacles and maraud their way across the flats. Bluefin trevally hunt the edges, there are significant reef species to target, sailfish hunt between the pinnacles and permit feed on the flats. Very, very occasionally very big bonefish are seen, there are coffee table sized bumphead parrot fish and milkfish. The king of the species (at least for me) are the triggerfish. They are here in number. Triggers are picky and unpredictable and, in my view, have been a vastly under-rated target species. When induced to take, they fight hard and dirty. Sometimes they come in hard and at other times the take is so delicate it's akin to trout nibbling on a nymph. They might grind your crab into the sand before eating, they might just inhale the fly on their way past it. You can do everything right and they ignore you. You can get it totally wrong and they'll take the fly. They will spook at something half a mile away or let you walk right up to them before casually heading off. They are absolutely fascinating and frustrating and while I'm as keen to land a GT as the next person, when I'm on the flats, triggerfish are king. I'd go back in a heartbeat to see those tails waving at me once more.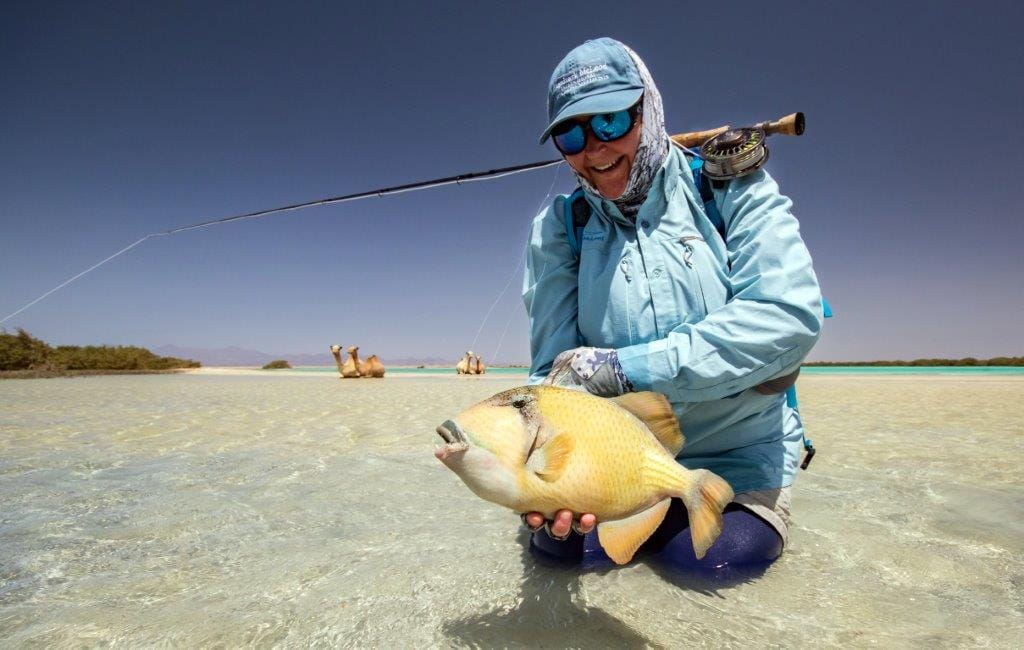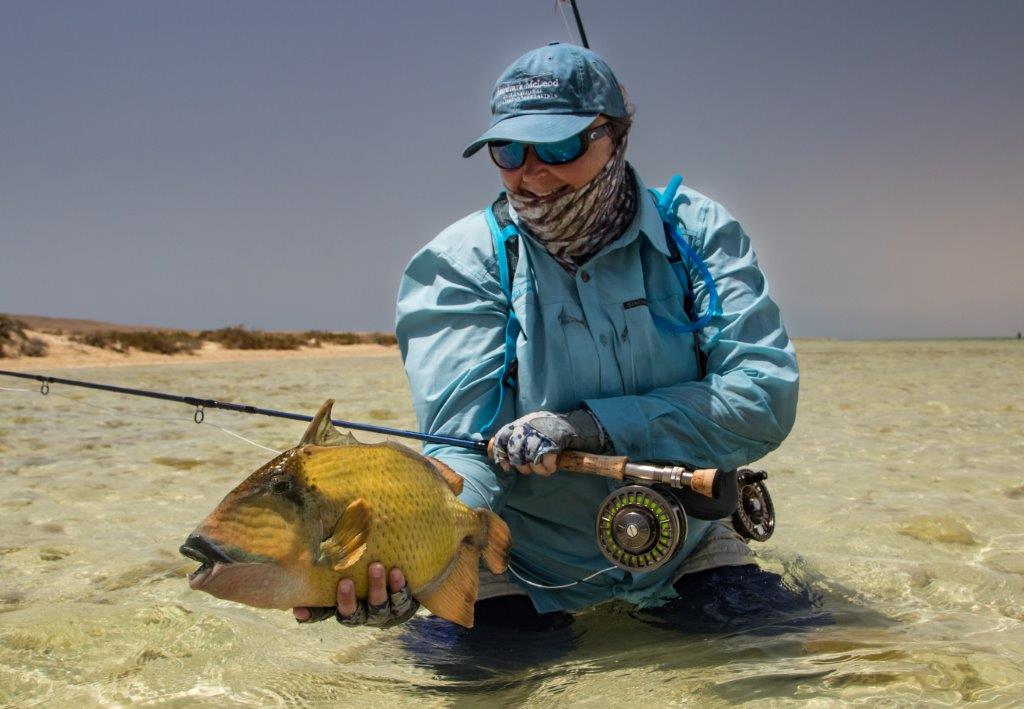 Tanzania tigerfish. There is something very special about Tanzania and being able to experience the remote rivers of the Mnyera and Ruhudji rivers. As remote as they are, this corner of Tanzania remains relatively untouched by man; I say relatively because nothing is truly untouched but man's impact is at least low level so far. It is a stunning ecosystem and with the huge variety and number of birds it is very easy to forget that many of the species you see every day are in fact rare and not numerous. Birdlife and environment aside, what is the attraction? Tigerfish. Hydrocynus Tanzaniae to be precise. With razor sharp teeth, incredibly hard mouths, a propensity to aerialise once hooked and dirty fighting tactics landing a tigerfish of any species should never be taken as a given. Add to that the challenges of the environment where you are fishing – structure, both visible and hidden, and other toothy critters of Africa's rivers stack the odds against the angler. Considering all of that, you'd be forgiven for wondering what the attraction is. What it comes down to is their size. The power of the take and the sheer challenge of the fight. Combine all of that it and makes the challenges fade into the background. With "small" fish weighing in at 6 lbs, the most commonly caught range is from 8 lbs to 12 lbs. In a week fishing, it is rare that anglers don't also land fish in the 12 lbs – 16 lbs range. 17 lbs and 18 lbs fish are landed regularly and both rivers produce fish in excess of 20 lbs every season. In addition to the tigerfish, there are yellowfish, catfish, pacu type fruit eaters and I daresay a whole host of species that we just know nothing about.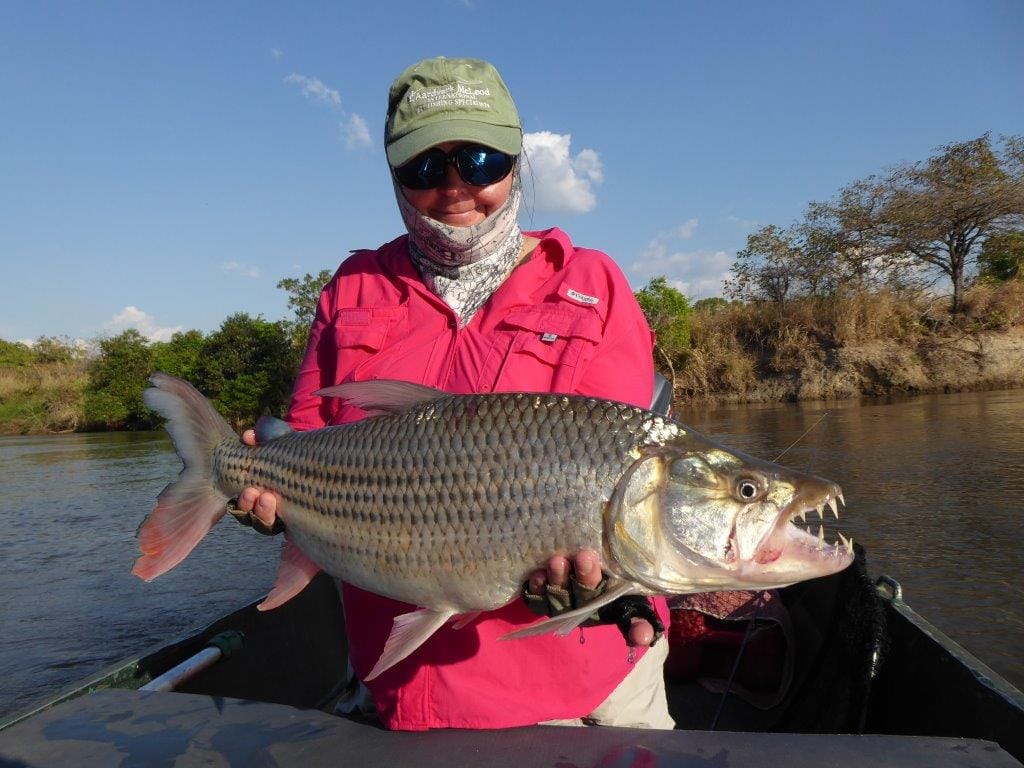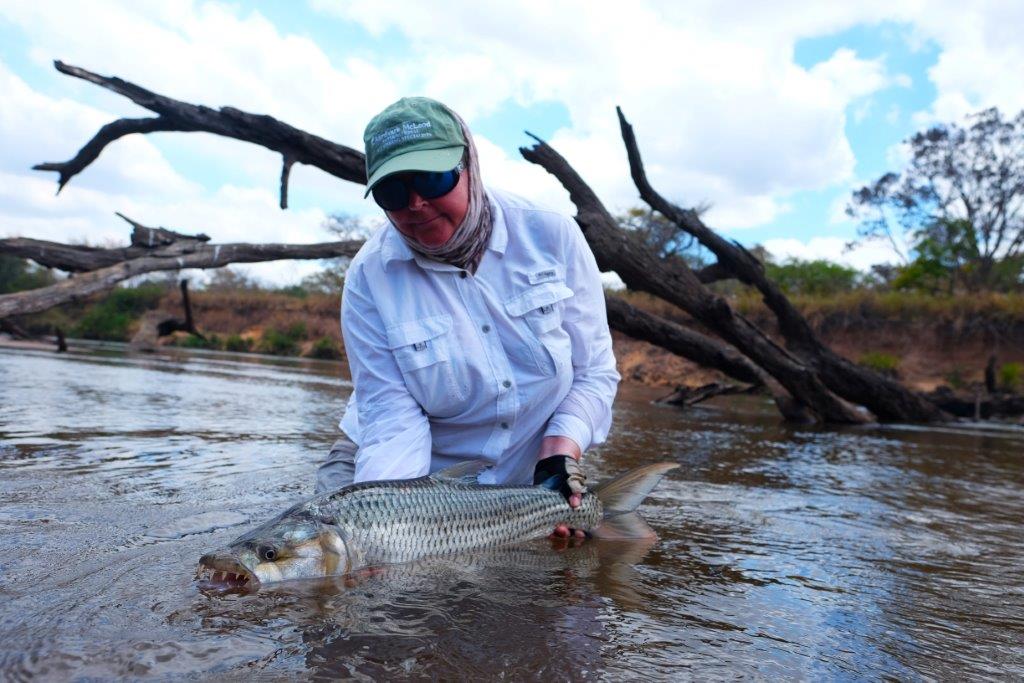 Where would I go back to? St Brandon's atoll in Mauritius. If I had one more trip to do before I couldn't fish ever again, it would have to be St Brandon's atoll in Mauritius. Everything about St Brandon's is big; the flats are vast and while the fish may not be there in Seychelles numbers, they more than make up for that in size. Its remoteness its it's protection from over fishing and it should be on every saltwater anglers bucket list.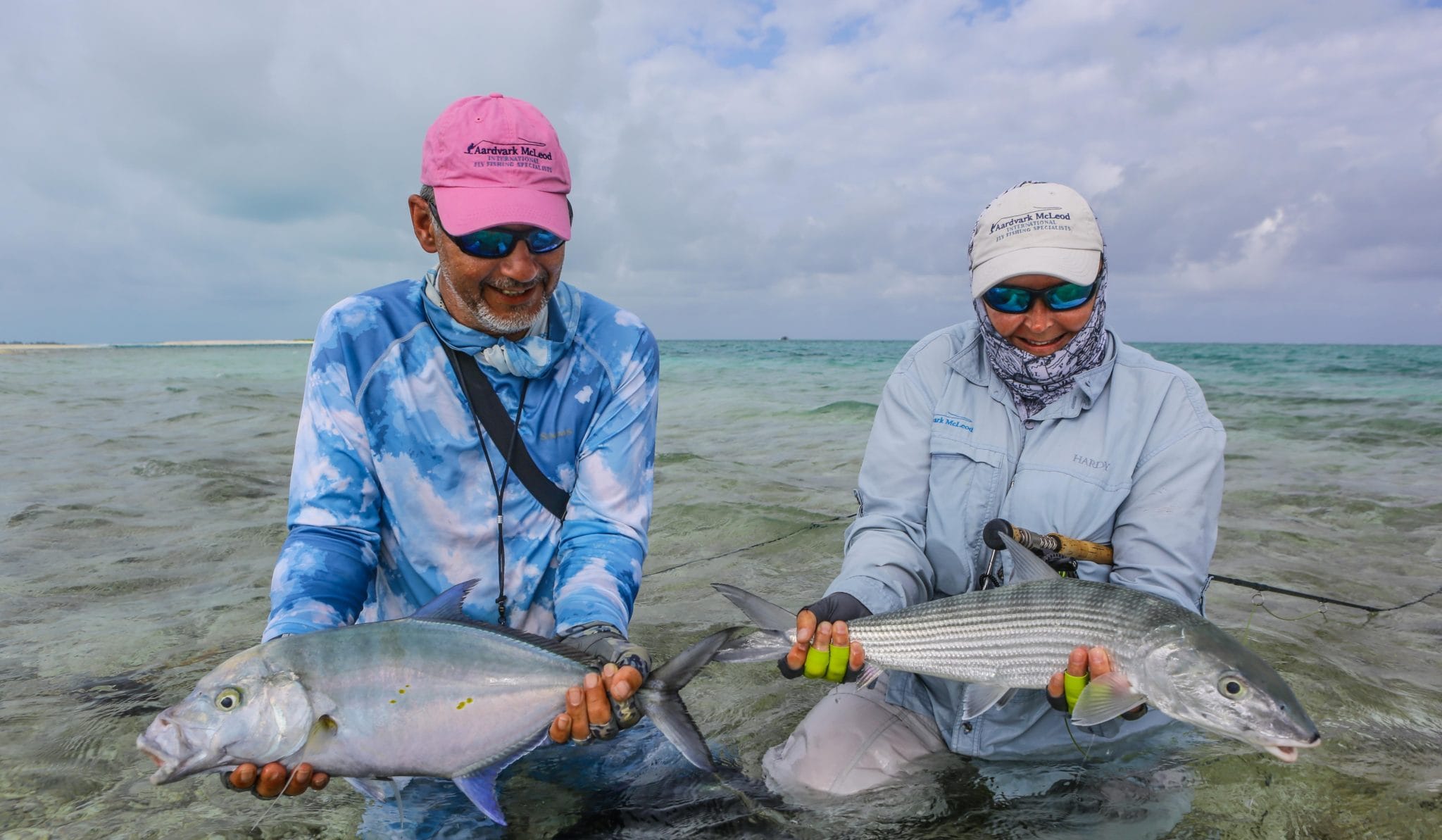 Where to next? If everything were to go to plan, and let's face it, not much has so far in 2020 then it would be back to Africa in search of more tigerfish and more Nile perch. A completely new destination, it's an unknown quantity but for me, that is where the experience lies. The attraction is in the unknown; we know the fish are there …. the challenge will be to land them.
If you are interested in travelling to these or any other destination within our portfolio why not contact Charlotte Chilcott or call our office on
+44(0)1980 847389.